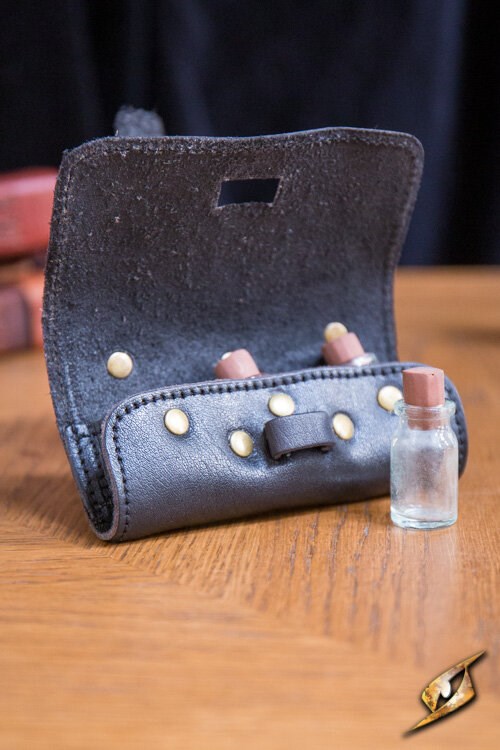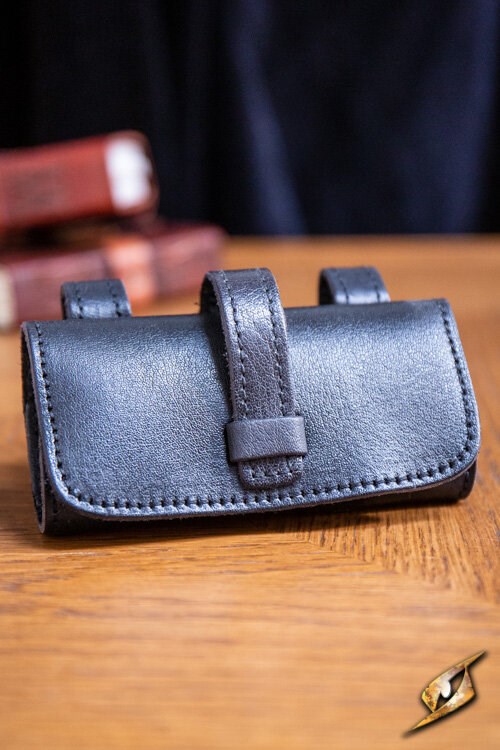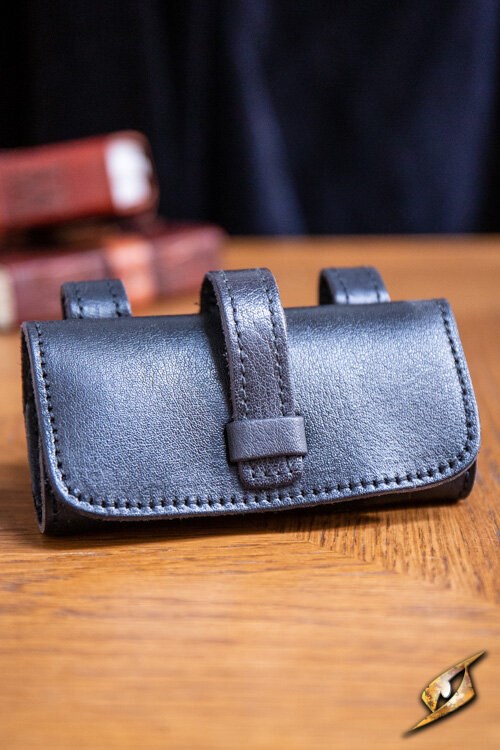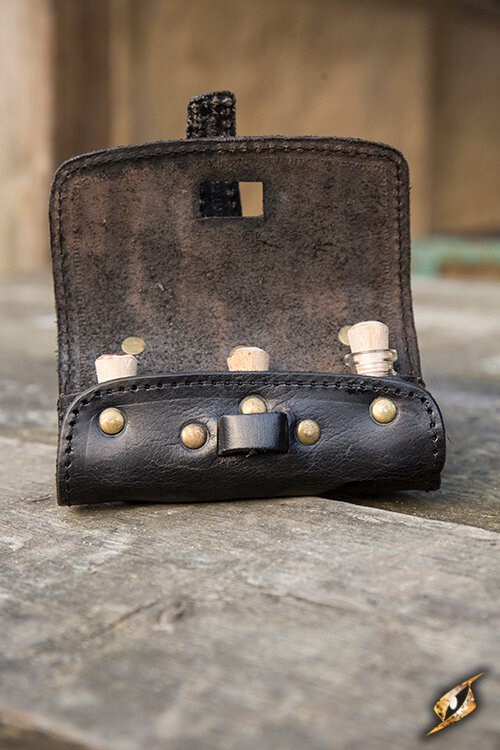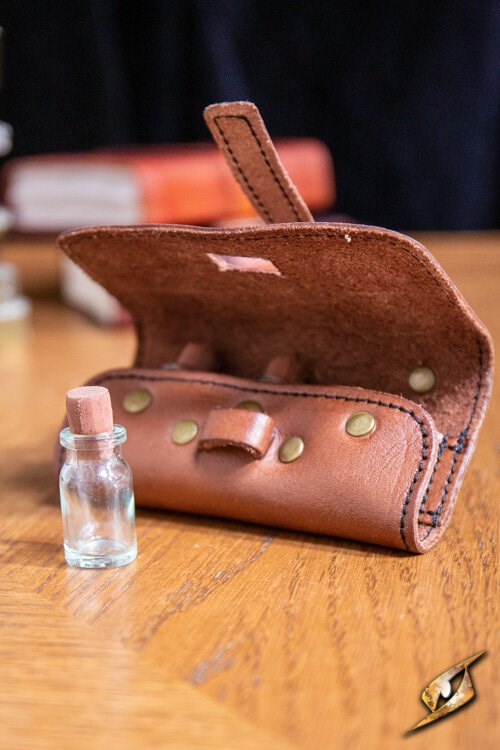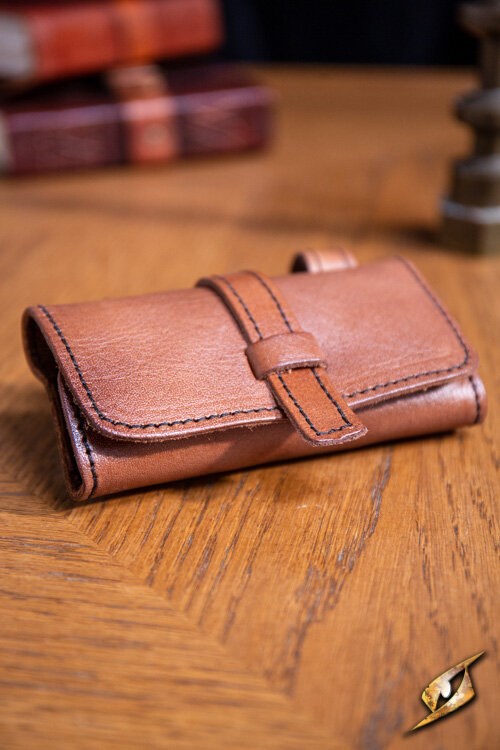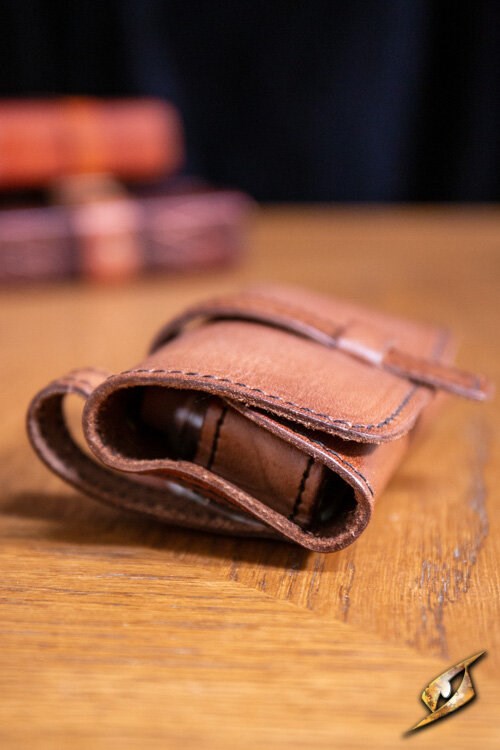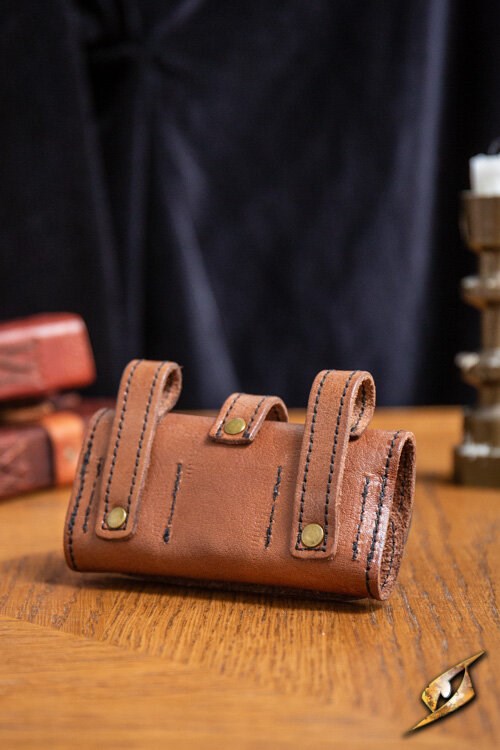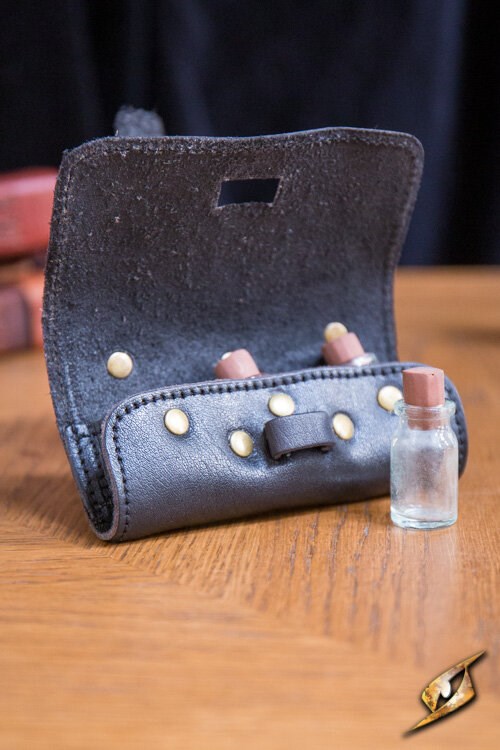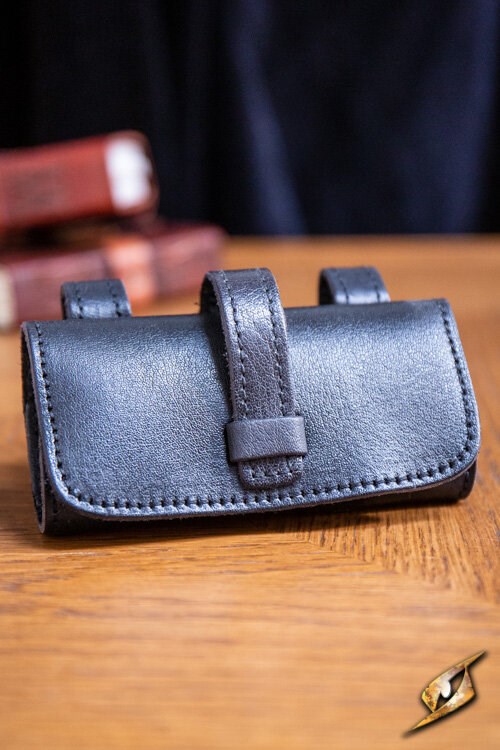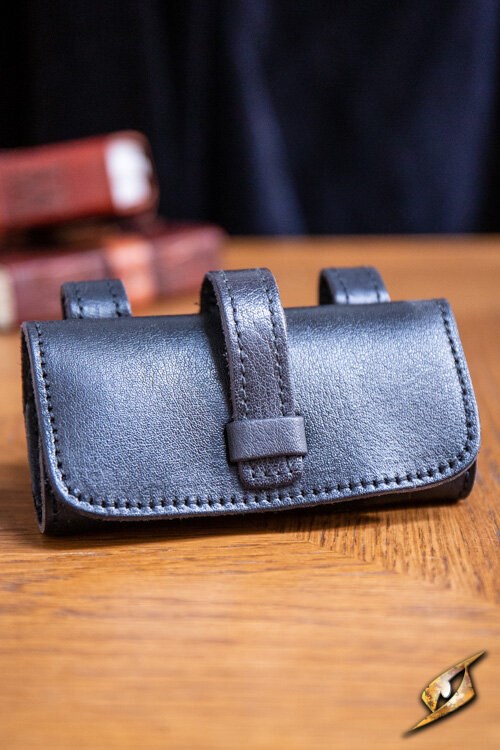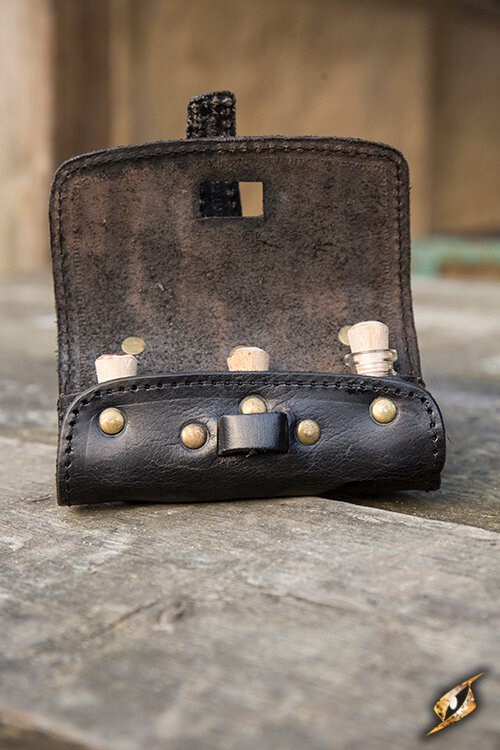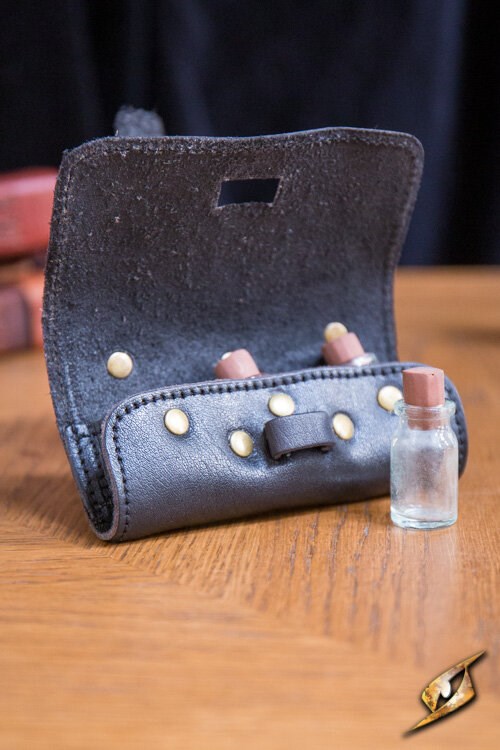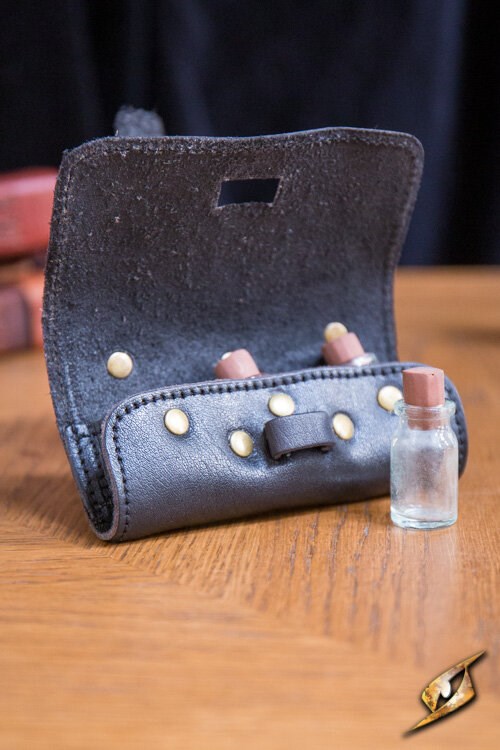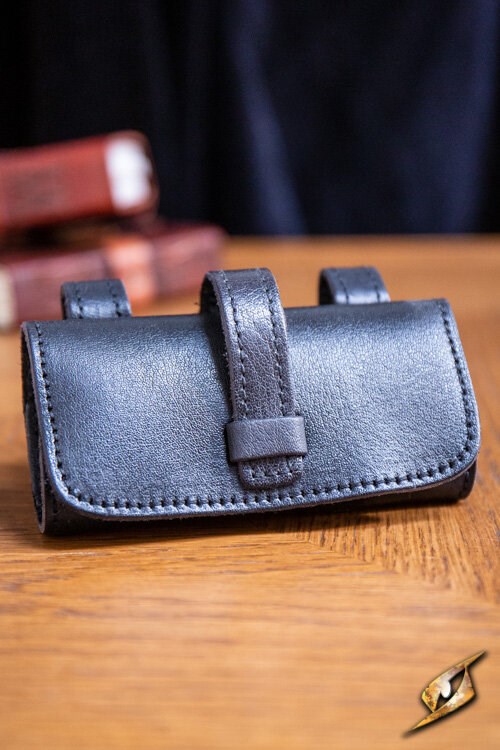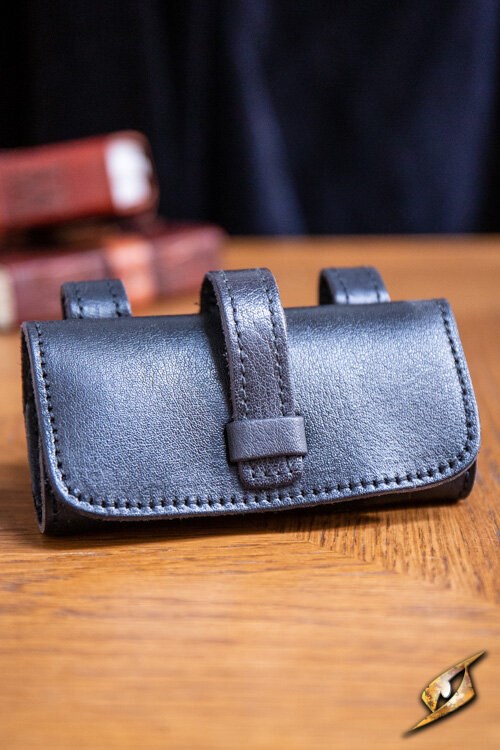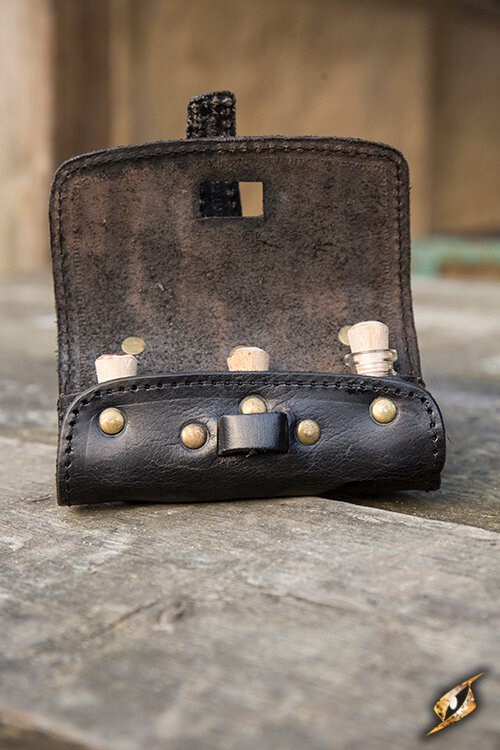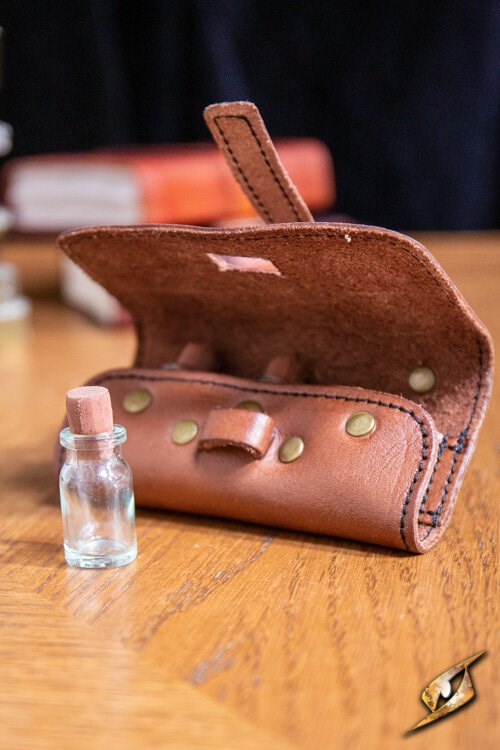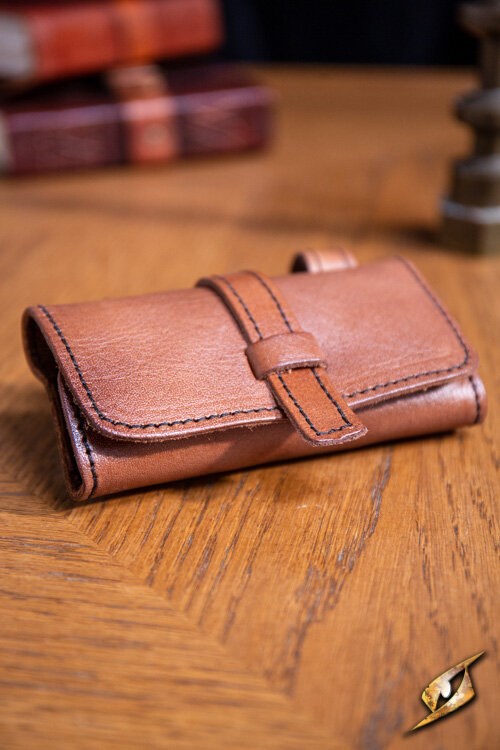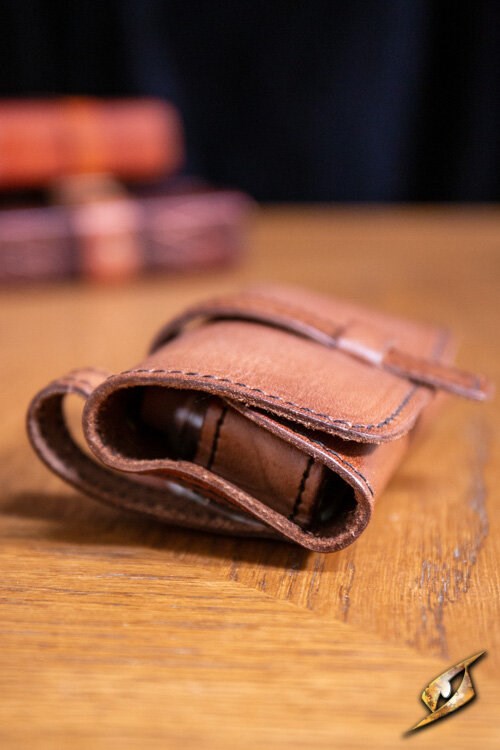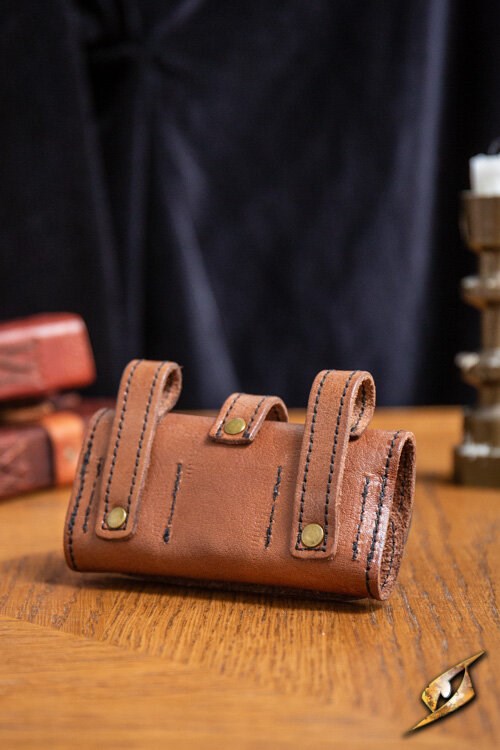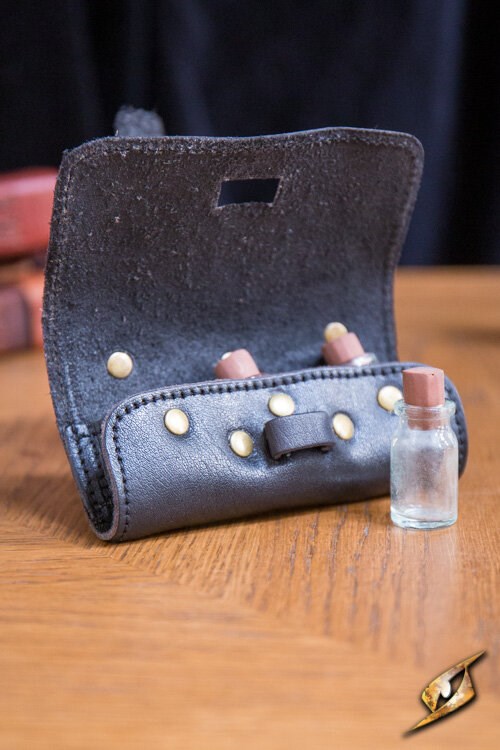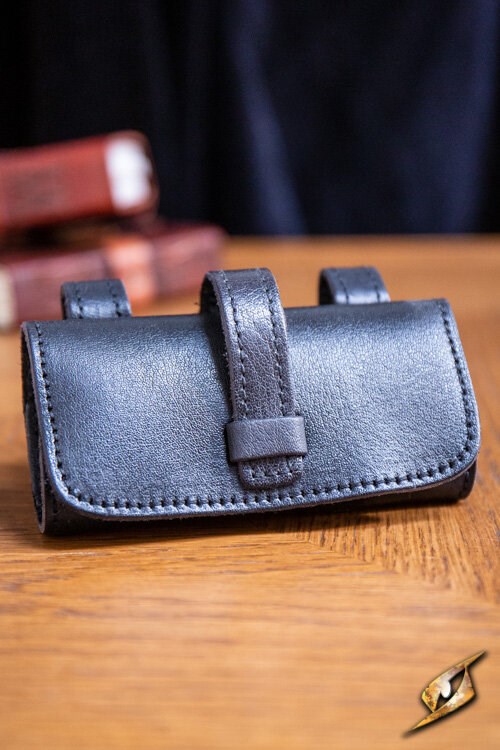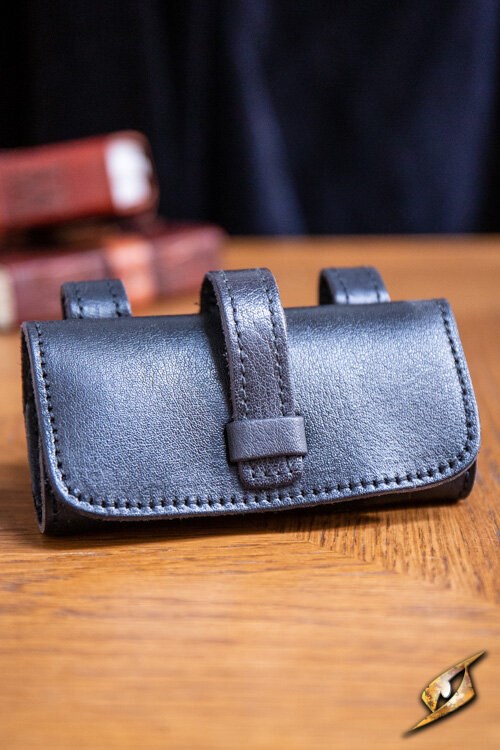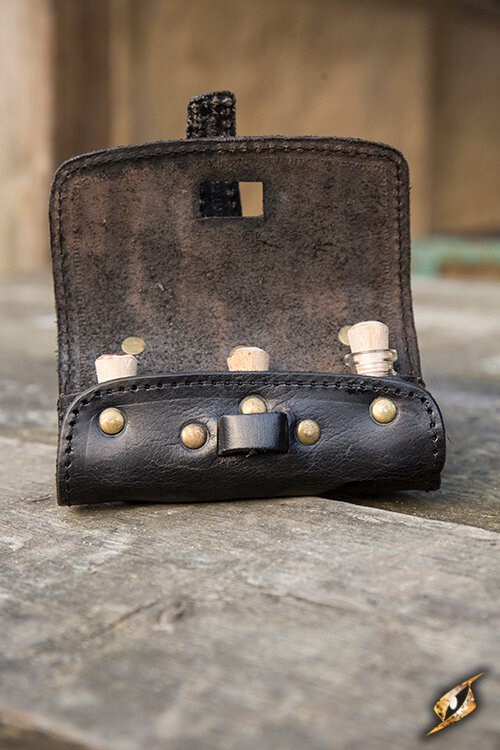 Description

Quality

Technical Details
The acrid smell of solvent hangs in the air of your lab, mixing with the sweet and tangy perfume of oils and spices. You have been testing a new solution--when did you start? Was it this morning or yesterday? The work has taken such concentration you are uncertain just how long you have been locked away.
The moment of truth is upon you as you feed the pungent potion to your rat. It seems to like the taste, eager for another sample. That is a good sign! To your relief you see the potion's desired effects. The rat begins to shrink.
A job well done, you fill three small vials and place them into your Potion Holder. These might very well come in handy.
DETAILS
Epic Armoury's Potion Holder 3 Piece is a small unnoticeable bag for keeping potions safe while adventuring. The bag is made from tough plated split-leather folded around three small glass bottles with rubber stoppers, each capable of holding approximately 5 ml of fluid.
The bottles are held securely by leather pockets preventing them from making contact and breaking during combat or other rough play. Lock the pouch closed by sliding its solid leather strap around the flap and through a leather hoop. The pouch can be attached to a belt via two belt straps fitted with brass studs, and will fit most Epic Armoury belts. For the adventurer who likes his or her healing potions intact, this Potion Holder is an essential part of any kit.
Available in Black and Brown.
INSPIRATION
Alchemy is a protoscience that contributed to modern chemistry and medicine, but unlike modern science, was rooted in mythology, magic, religion, and spirituality
Alchemy could theoretically be used to create an Elixir of Life, restoring a person's youth
Alchemists believed in four elements: Fire, Earth, Air, and Water
Made from natural, full-grain quality leather
Straps and fittings made from natural, top-grain quality leather
Stitching around edges strengthen structural stability and increase lifetime
Colours dyed into material
Handmade by qualified professionals. Measurements are approximations.
This product is handmade and hand-painted and therefore unique. As a result, when compared with similar item numbers, this product can have natural deviations in pattern, colour and shape, which are not considered defects or faults.
We produce our image material in a natural environment, where lighting and surroundings can affect colors and contrast. The displayed images may therefore appear different from the product you receive from us.
Measurements are all in cm if not stated otherwise.
Brand:
Epic Armoury
Universe:
Defiant
Materials:
Leather
Position:
Belt
Product type:
Accessory
Release date:
09/01/2009
Maintenance
Natural leather products are very durable, but require regular maintenance with leather care products to stay flexible and to increase life-time. Make sure your leather products are kept dry when stored. Let wet leather dry naturally before treating. If frequently wet and dry, increase frequency of maintenance.
Cleaning
Clean by removing dirt with a hard brush, then gently rub on leather soap with a clean, damp cloth until the leather appears clean. Remove soap with a separate damp cloth to wipe away any soap residue and then use a dry cloth to wipe away any remaining water from the leather.
Conditioning
You should always condition leather after cleaning, since the soap will have removed some of its natural oils. Treat the leather with mink oil, olive oil, or beeswax polish with a clean cloth, gently rubbing a small amount of oil or polish in circles into the leather. Allow the leather to soak in the oil before wiping the leather with a final clean cloth to remove any excess residue.