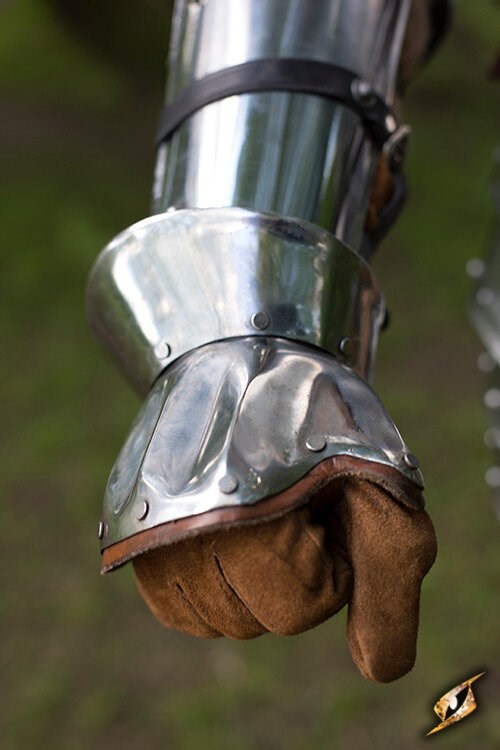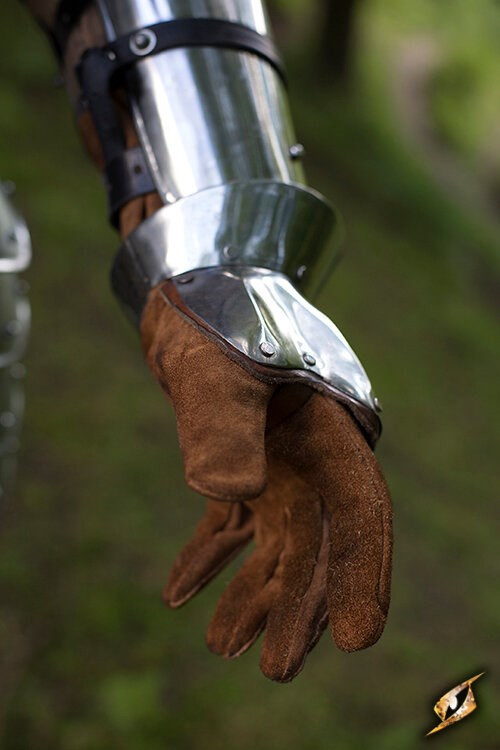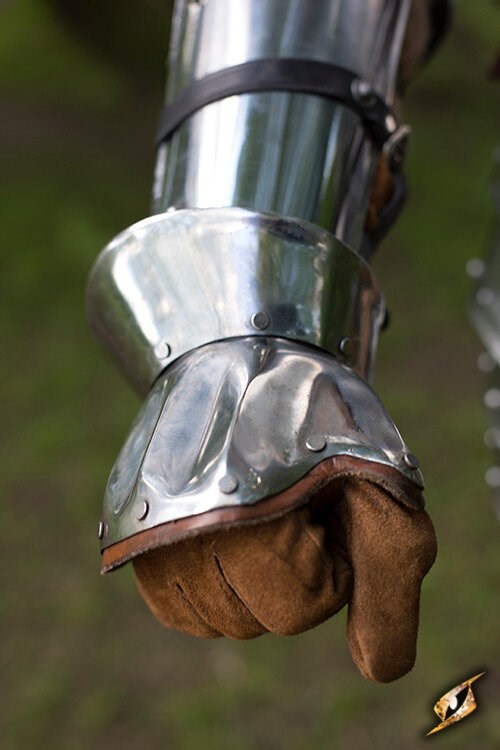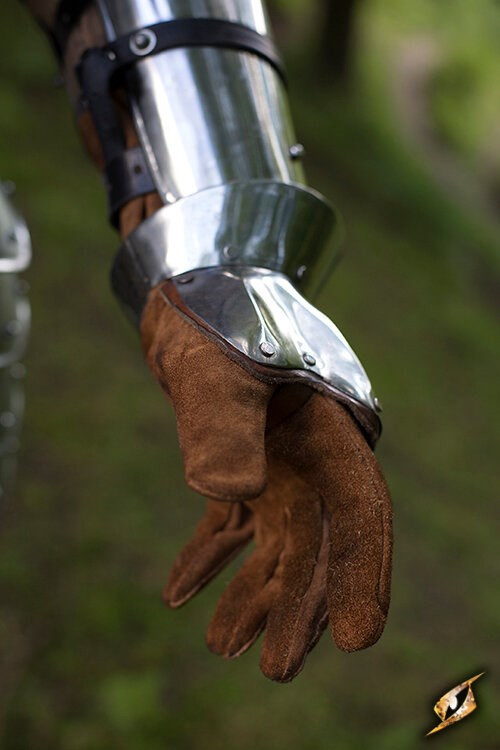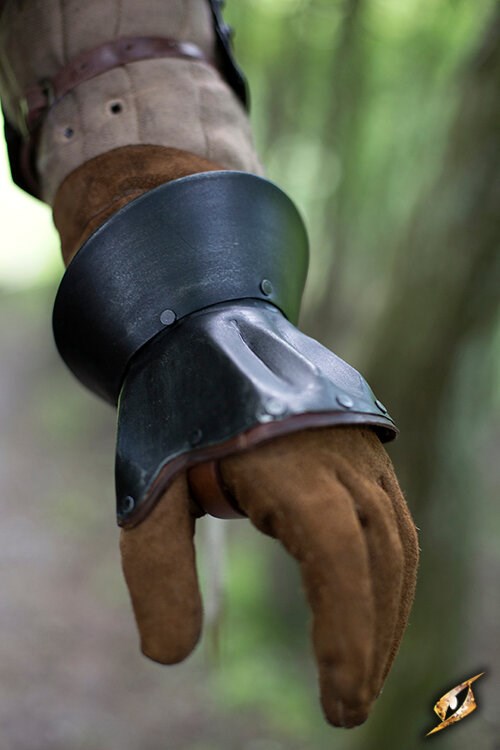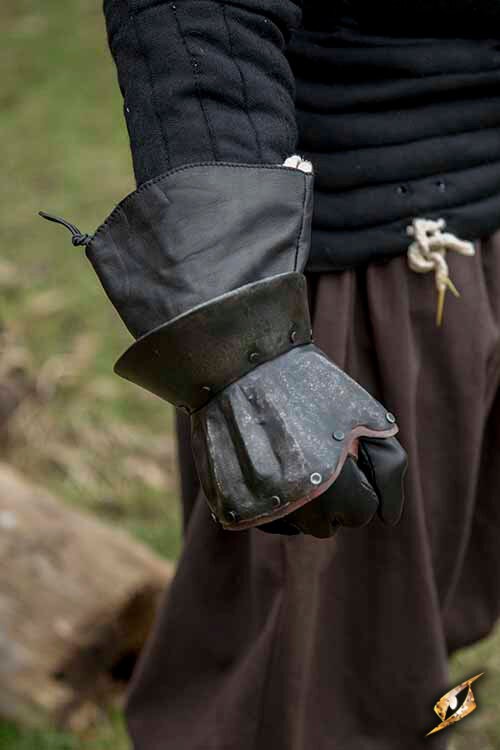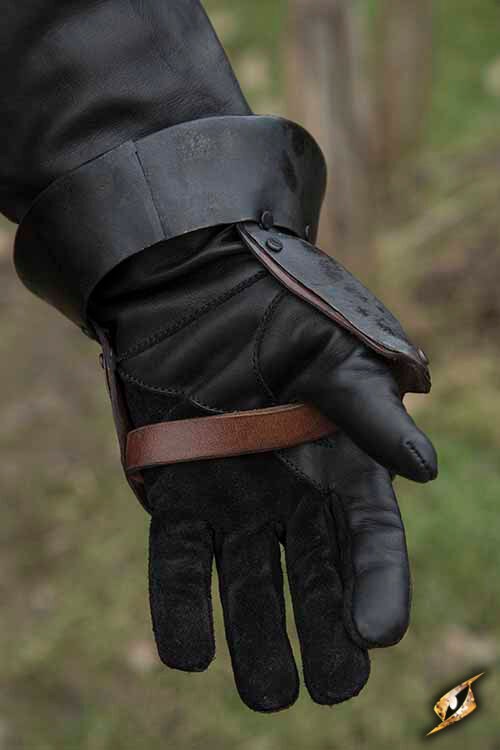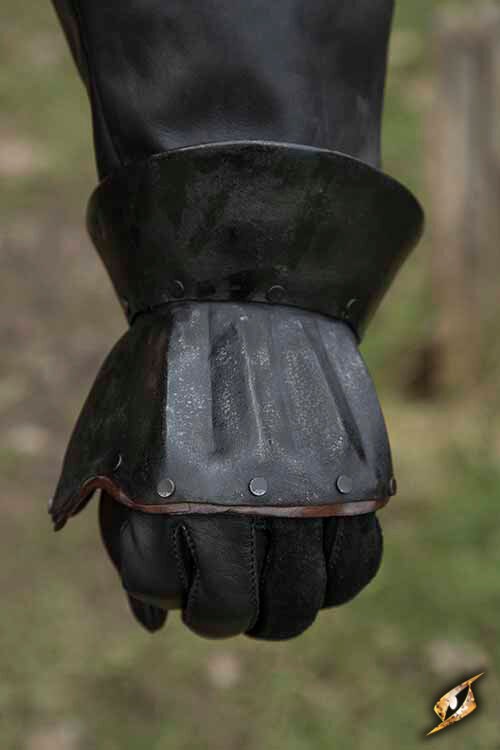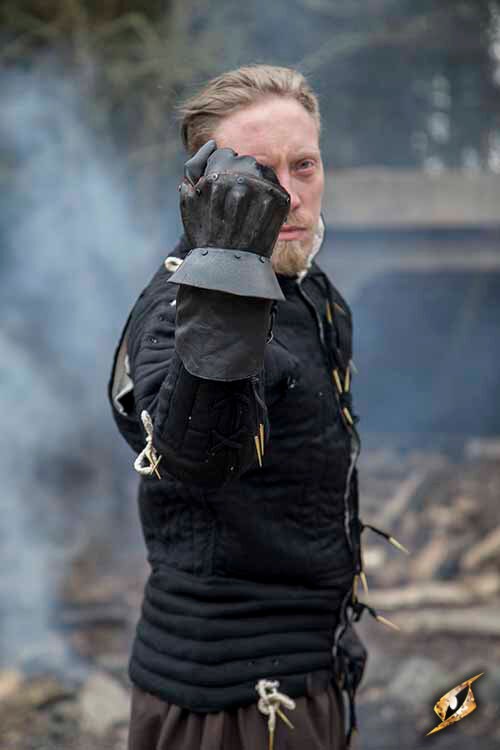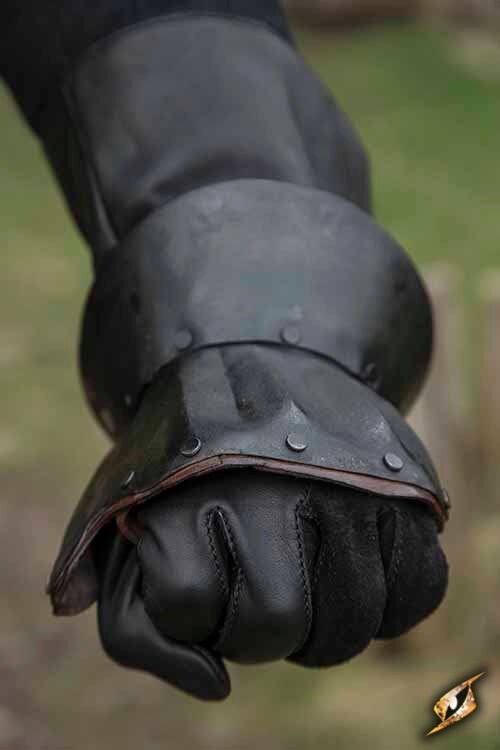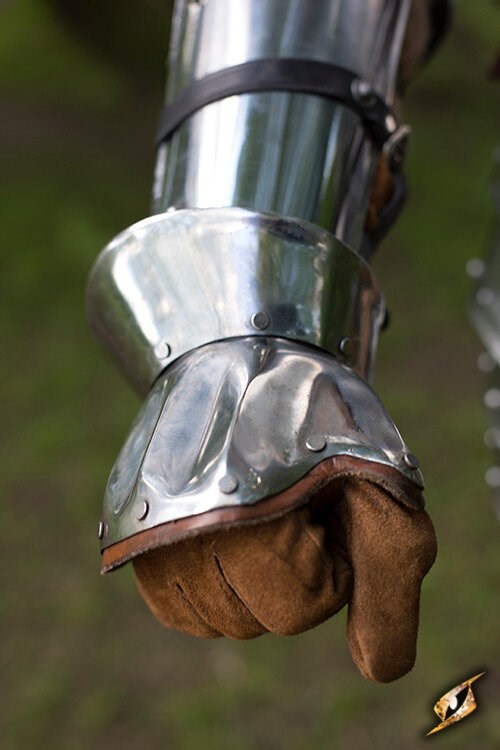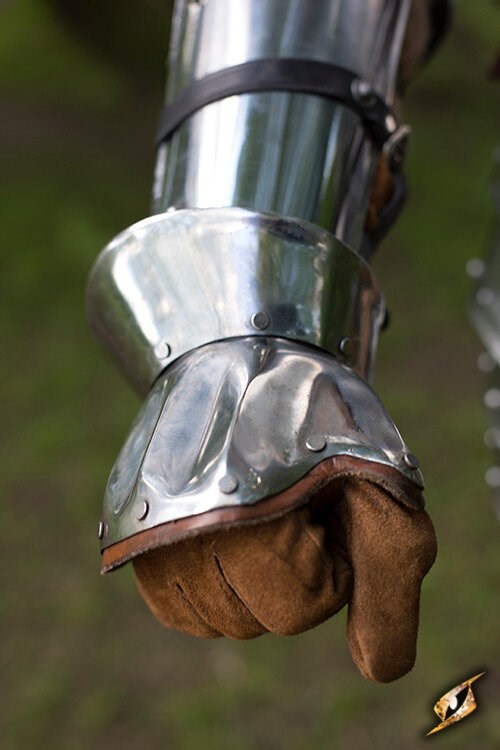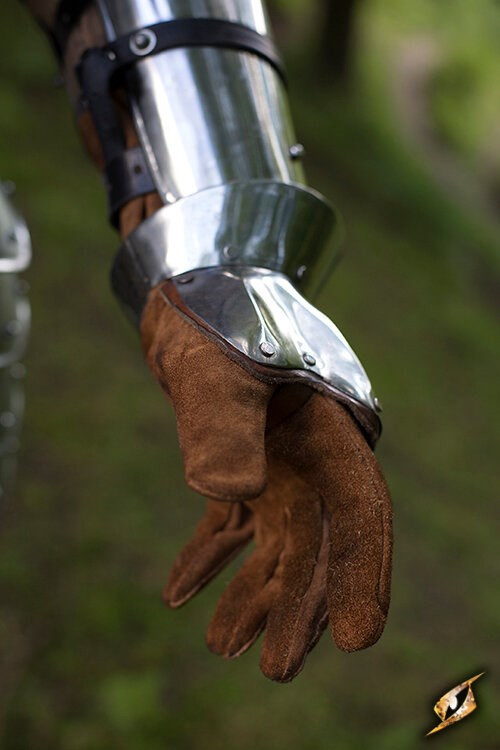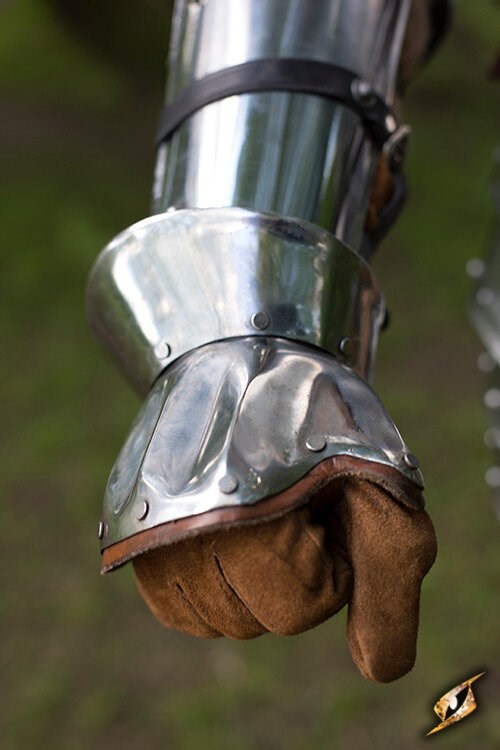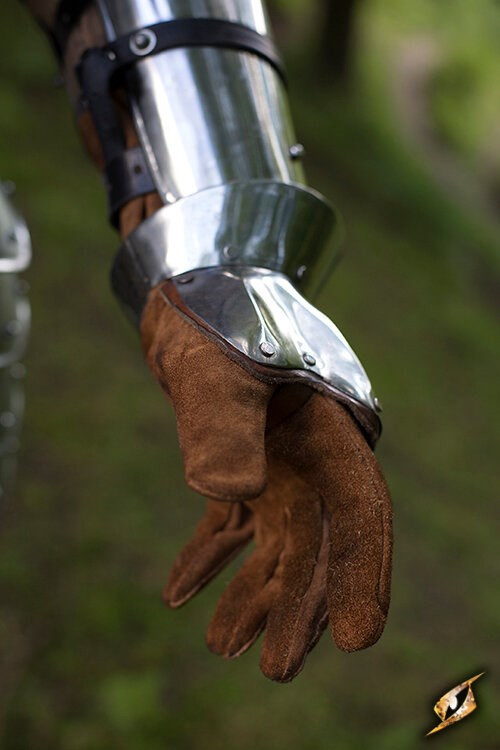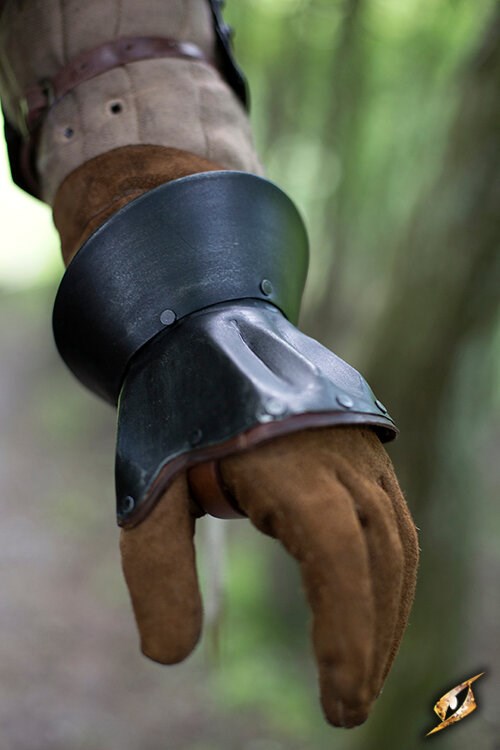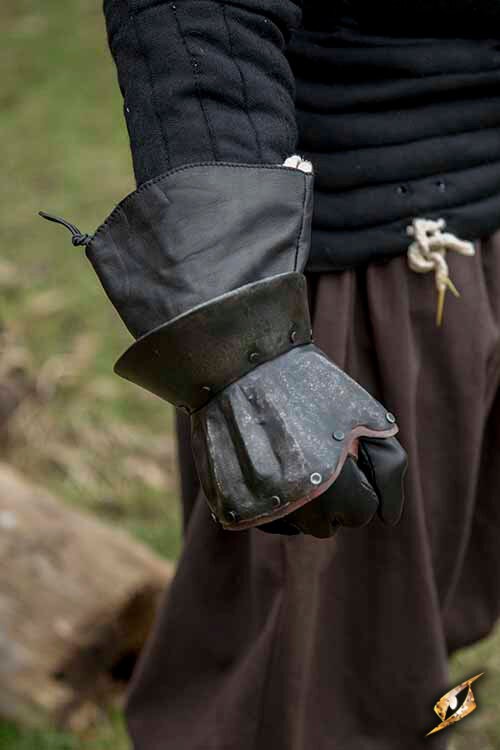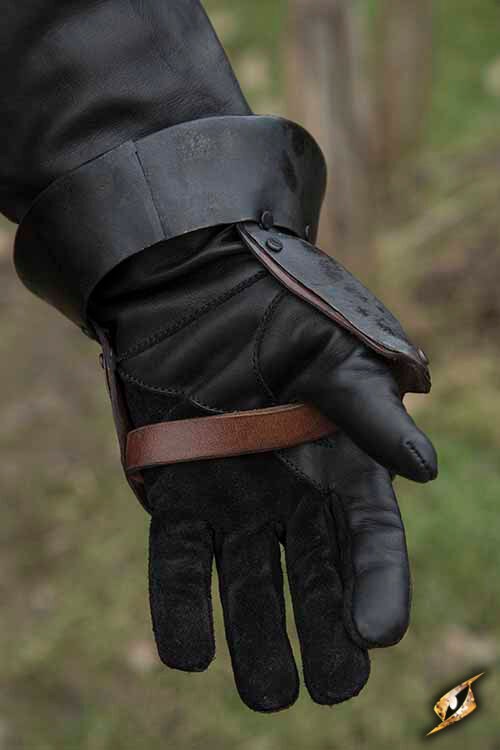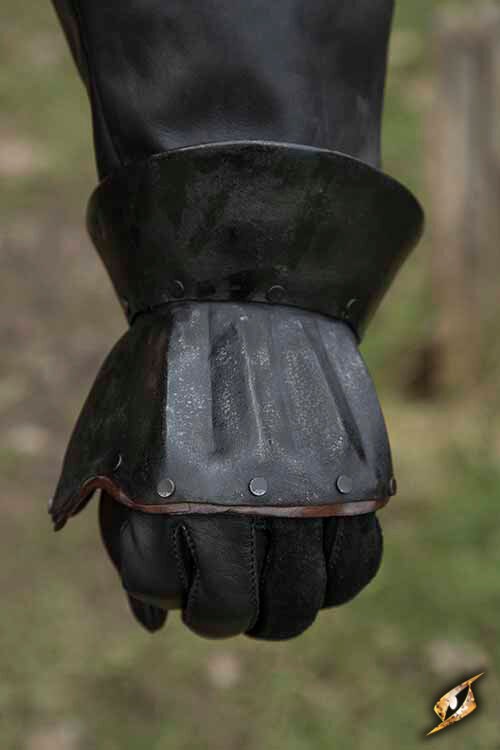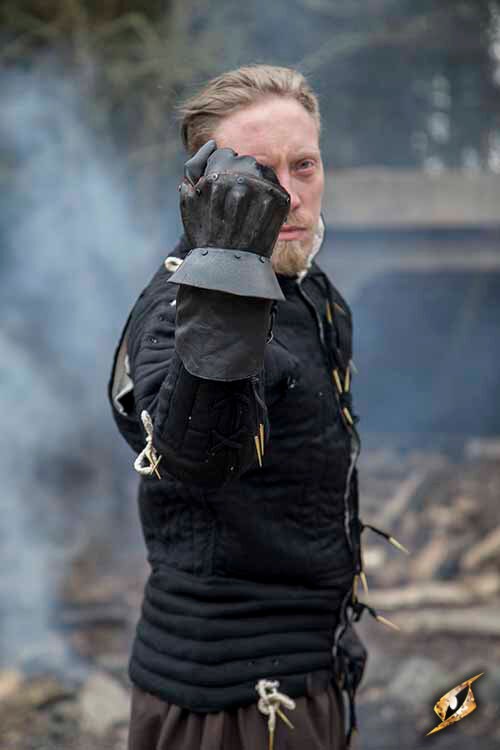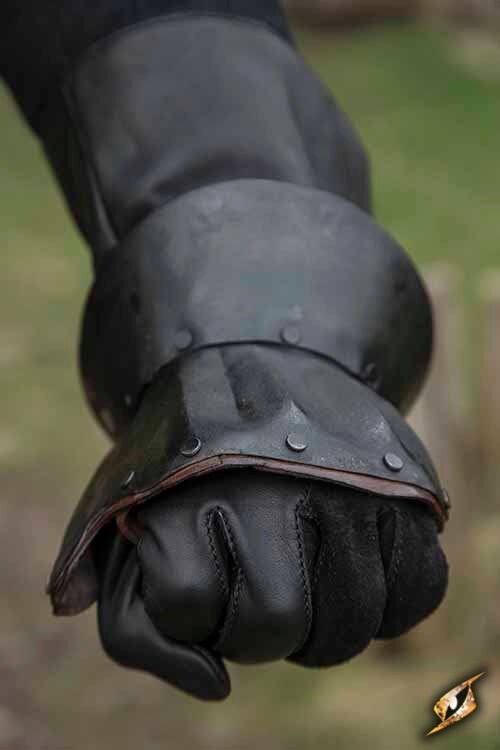 Description

Sizeguide

Fitting

Quality

Technical Details
Your squire slips the leather band of your custom-fit Hourglass Demi Gauntlet over your hand, adjusting it to be comfortable and snug. You paid top coin for this armour, and you expect people will be impressed when they see how it shines on the battlefield.
Your blacksmith assured you that the Hourglass Demi Gauntlets' design was the latest in technology, able to withstand and deflect attacks--even the worst of slashes to make it beyond your sword's crossguard. You are a mighty warrior, indeed, to be the owner of such fine craftsmanship. A fitting symbol of your godly-given status.
DETAILS
Epic Armoury's Hourglass Demi Gauntlets are a set of mild steel gloves designed to protect the wrist and back of the hand in combat without compromising manoeuvrability. Each gauntlet is forged to fit comfortably over the hand, overlapping the first knuckles with a thick metal plate decorated with shiny metal rivets. A short vambrace protects the wrist.
The steel fits comfortably over your own leather glove, worn through the vambrace opening and secured with a leather band around the palm. Made from polished mild steel with rolled edges, these demi gauntlets are impressive and affordable. With its low-fantasy and neutral appearance, these Hourglass Demi Gauntlets are easily paired with other Epic Armoury metal works.
HISTORY
Various forms of gauntlets have been around for millennia, but reached a pinnacle during the early renaissance
Historically used by soldiers and knights and considered an essential piece of armour
Demi gauntlets allowed better dexterity than a full gauntlet, while sacrificing the safety of the fingers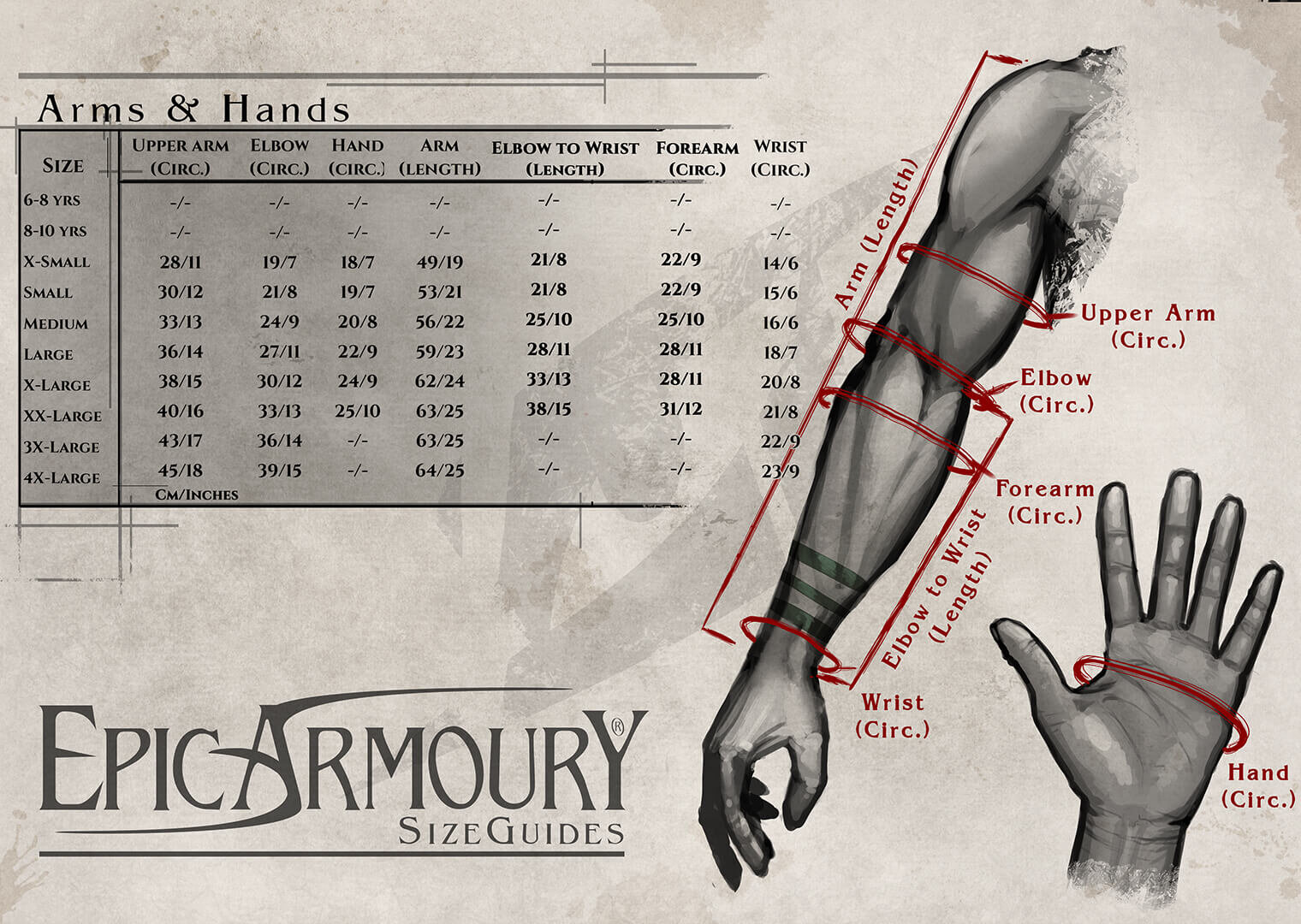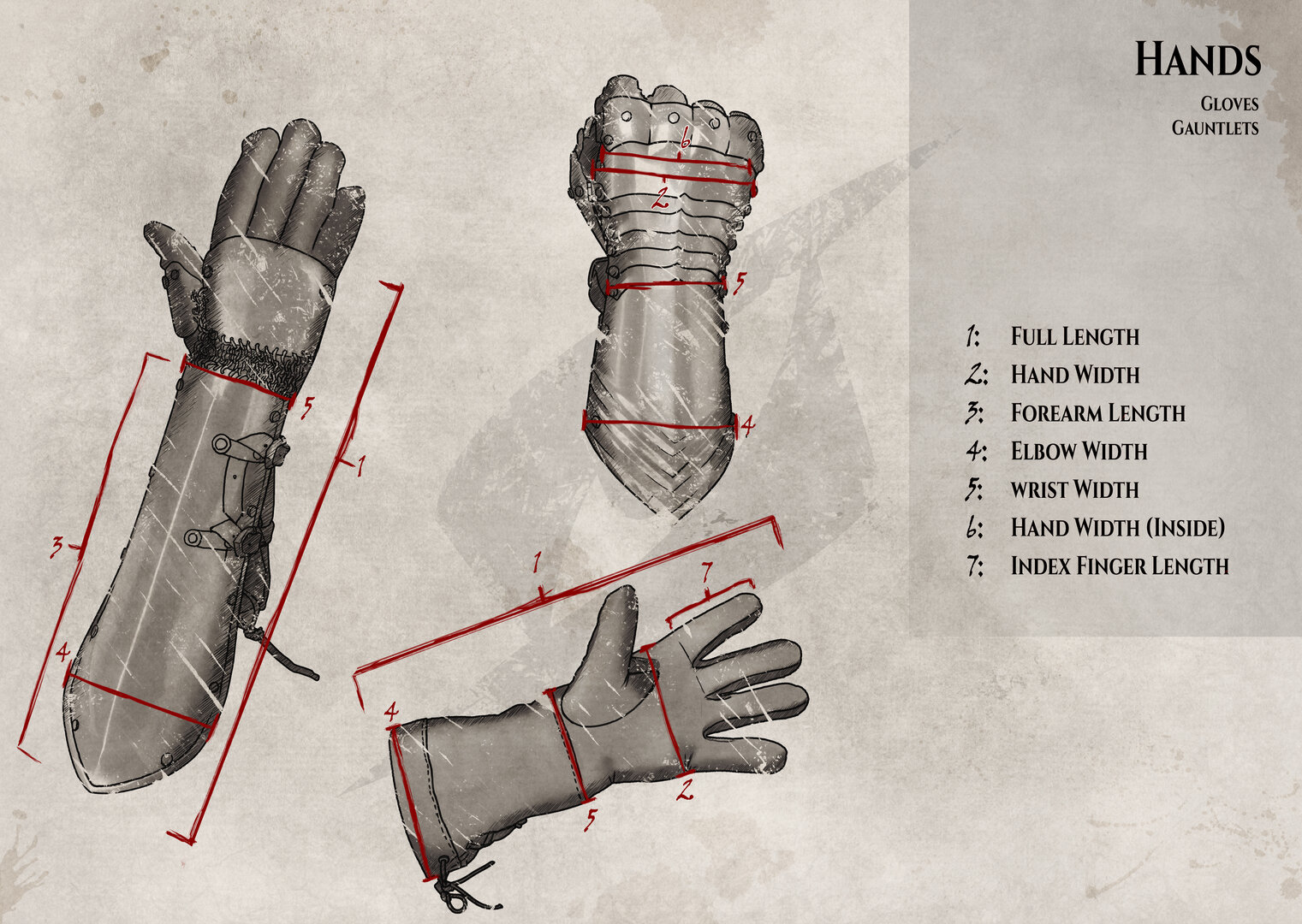 Made from 1mm/19 gauge thick mild steel
Rolled edges with no sharp edges
Straps and fittings made from top-grain leather
Hand made, welded pieces for maximum durability
Polished steel finish
This product is handmade and hand-painted and therefore unique. As a result, when compared with similar item numbers, this product can have natural deviations in pattern, colour and shape, which are not considered defects or faults.
We produce our image material in a natural environment, where lighting and surroundings can affect colors and contrast. The displayed images may therefore appear different from the product you receive from us.
Measurements are all in cm if not stated otherwise.
Brand:
Epic Armoury
Universe:
Sovereign
Materials:
Mild Steel - 1mm/19 Gauge
Position:
Hands
Product type:
Hand Protection
Release date:
03/25/2015
Maintenance
Epic Armoury metal works products should be treated with a wax or quality acid-free vegetable oil and kept in dry storage. Metal armour containing leather parts would needs a separate maintenance for the leather. Please read the "Leather Straps and Fittings" section below for leather cleaning and maintenance using leather-care products.
Degreasing and preparing your armour for use
When you open your armour, you may be overwhelmed by the smell of grease and oil. The oil has been applied to protect your armour during storage and transport. Use a degreasing product or mineral spirits and a dry cloth or paper towels to remove all the oil from your plate armour parts. Chainmail is a bit harder to remove all the oil from the links, but it can be done in much the same way. Wipe off as much as you can with a dry cloth, and with the remaining oil, you can remove the grease from the chainmail with mineral spirits or another solvent by spraying it on the links. You can also choose to fully submerge your chainmail in a degreasing product and use your hands to agitate the metal in the solution, this will completely remove all oil and grease from your links. After removal of the oil, make sure to dry your armour thoroughly. Strong, warm sunlight is great for drying your armour, but you can also use a hairdryer or a heat gun to speed up the process. Be careful not to overheat any leather parts when using a heat gun.
Cleaning
Moisture is the enemy of armour and chainmail. If your armour does get wet, it is important that you dry it thoroughly as soon as possible. After handling, wearing, or after six months of storage or display, all metal should be wiped with a clean cloth. Lightly oil the clean surface with a quality acid-free vegetable oil. Alternatively, you can apply a coating of wax to the entire surface of the exposed metal. Allow the wax to dry for a couple of hours and then buff it lightly with a soft cloth.
Rust-Prevention and Removal
Store your armour is a dry place and check it every couple of months for signs of rust. If any is found, remove it by gently rubbing the affected spot with a mildly abrasive pad dipped in wax or quality acid-free vegetable oil. Epic Dark products are specially treated to resist rust, but should still be treated with oil and kept in dry storage.
Leather Straps and Fittings
Clean by removing dirt with a hard brush, then gently rub on leather soap with a clean, damp cloth until the leather appears clean. Remove soap with a separate damp cloth to wipe away any soap residue and then use a dry cloth to wipe away any remaining water from the leather.
You should always condition leather after cleaning, since the soap will have removed some of its natural oils. Treat the leather with mink oil, olive oil, or beeswax polish with a clean cloth, gently rubbing a small amount of oil or polish in circles into the leather. Allow the leather to soak in the oil before wiping the leather with a final clean cloth to remove any excess residue.