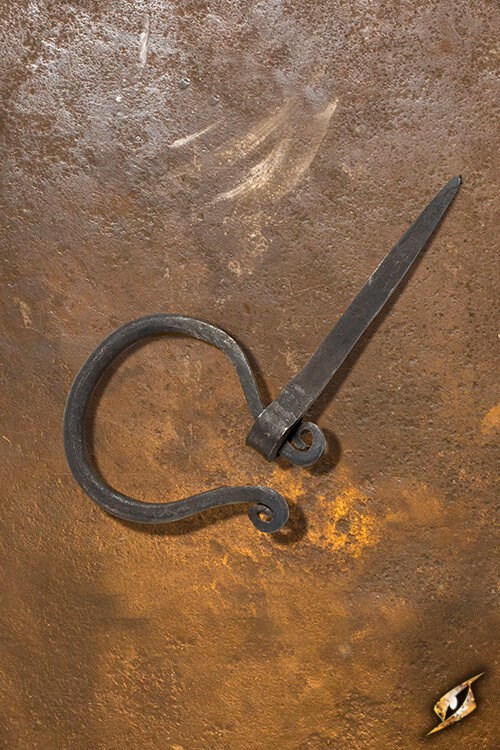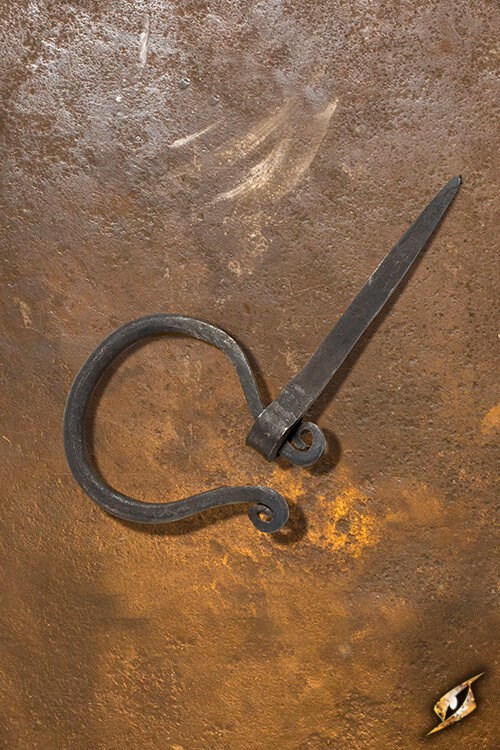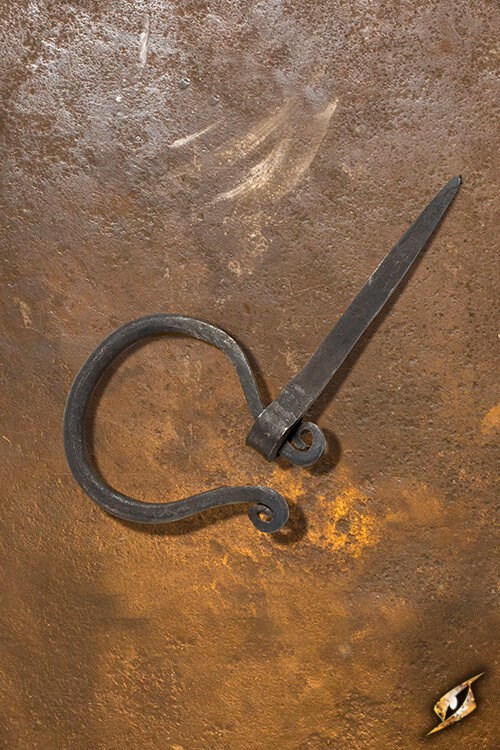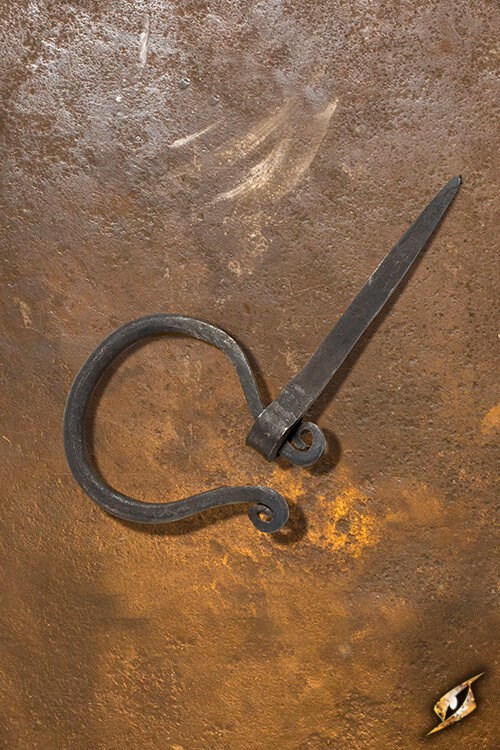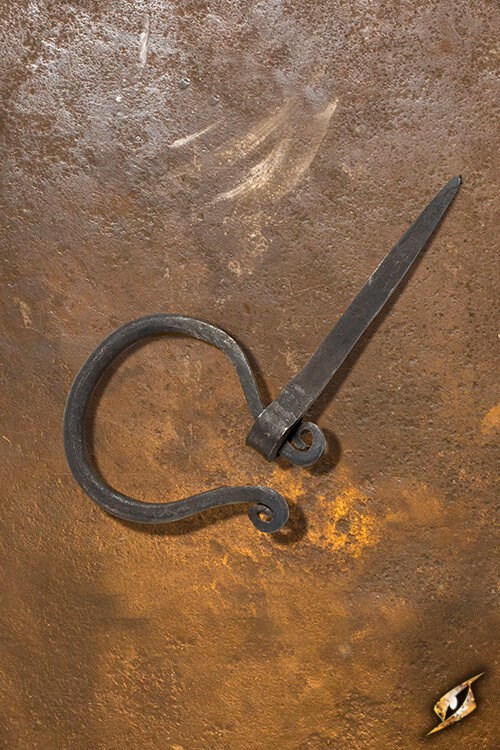 Description

Quality

Technical Details
The snows have come, but despite the cold your village still depends on you to defend it from hungry raiders. The northern winters can be harsh, making men and women particularly desperate.
Thankfully, your cape is secure thanks to your Cloak Pin, and it keeps you warm. You keep the hood over your head as you patrol the walls, pulling it close to keep away the biting wind. At least it is easy to spot incoming trouble against the pure white of snow. You'll see anyone coming.
DETAILS
Epic Armoury's Cloak Pin - Omega is a durable metal pin inspired by the historical penannular brooch. Made from a black iron ring and bar, use this pin to close your cloak by sliding the bar through both layers of pinned fabric and securing the bar with the ring.
The Cloak Pin is an authentic accessory that adds a special detail to your costume beyond just a simple leather cord or frog on your cloak.
HISTORY
Cloak pins were found in female burial sites of Ancient Celtic women
Inspired by the Celtic penannular brooch which was popular in Ireland and Scotland, and later adopted by the Scandinavians
Made from 1mm/19 gauge thick mild steel
Rolled edges with no sharp edges
Straps and fittings made from top-grain leather
Hand made, welded pieces for maximum durability
Polished steel finish
This product is handmade and hand-painted and therefore unique. As a result, when compared with similar item numbers, this product can have natural deviations in pattern, colour and shape, which are not considered defects or faults.
We produce our image material in a natural environment, where lighting and surroundings can affect colors and contrast. The displayed images may therefore appear different from the product you receive from us.
Measurements are all in cm if not stated otherwise.
Brand:
Epic Armoury
Universe:
Stalwart
Materials:
Iron
Position:
Accessory
Product type:
Jewelry
Release date:
01/08/2015
Maintenance
Epic Armoury metal works products should still be treated with oil and kept in dry storage. All our metal armours contain leather parts that need regular maintenance using leather-care products to keep the leather from drying out.
Cleaning
If your armour does get wet, it is important that you dry it thoroughly as soon as possible.
After handling, wearing, or after six months of storage or display, all metal should be wiped with a clean cloth. Lightly oil the clean surface with a quality machine or mineral oil. Alternatively, you can apply a coating of wax to the entire surface of exposed metal. Allow the wax to dry for a couple of hours and then buff it lightly with a soft cloth.
Rust-Prevention and Removal
Store your armour is a dry place and check it every couple of months for signs of rust. If any is found, remove it by gently rubbing the affected spot with a mildly abrasive pad dipped in paste wax, oil, or water-displacing liquid.
Leather Straps and Fittings
Clean by removing dirt with a hard brush, then gently rub on leather soap with a clean, damp cloth until the leather appears clean. Remove soap with a separate damp cloth to wipe away any soap residue and then use a dry cloth to wipe away any remaining water from the leather.
You should always condition leather after cleaning, since the soap will have removed some of its natural oils. Treat the leather with mink oil, olive oil, or beeswax polish with a clean cloth, gently rubbing a small amount of oil or polish in circles into the leather. Allow the leather to soak in the oil before wiping the leather with a final clean cloth to remove any excess residue.