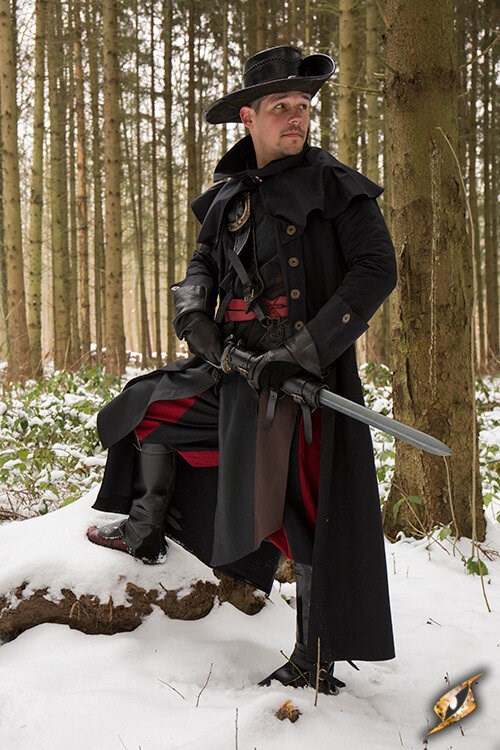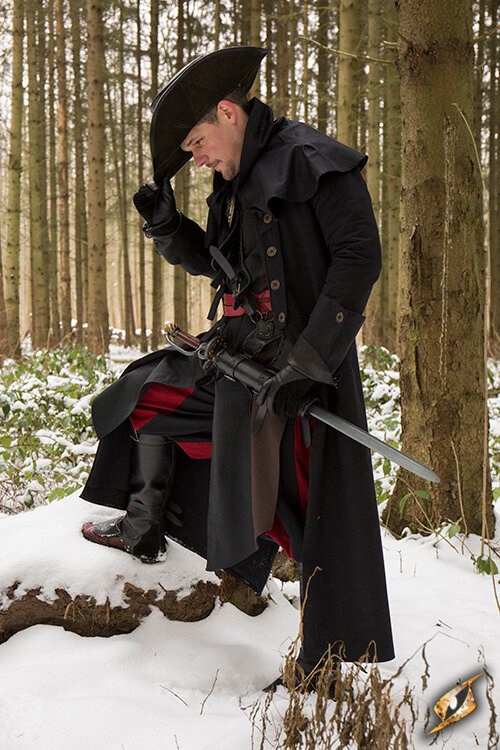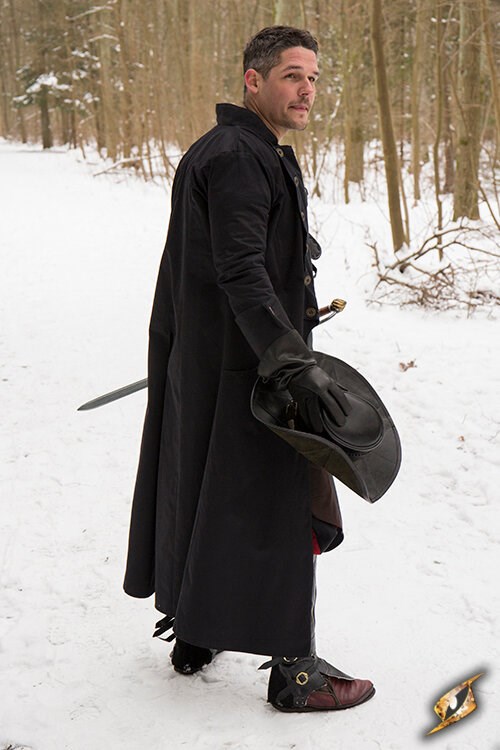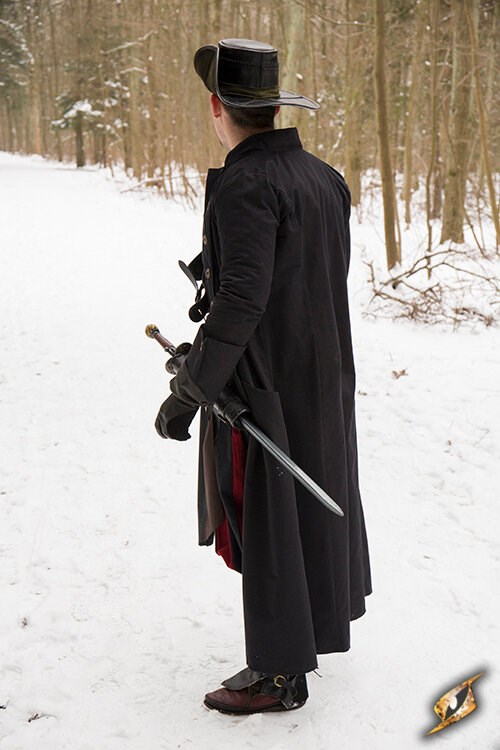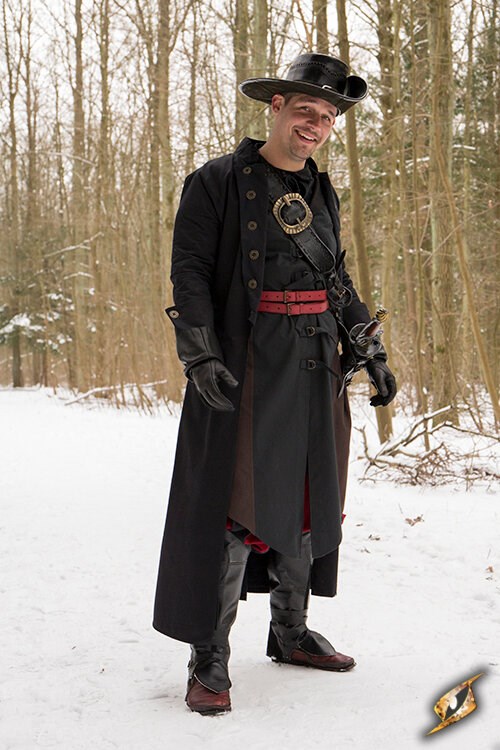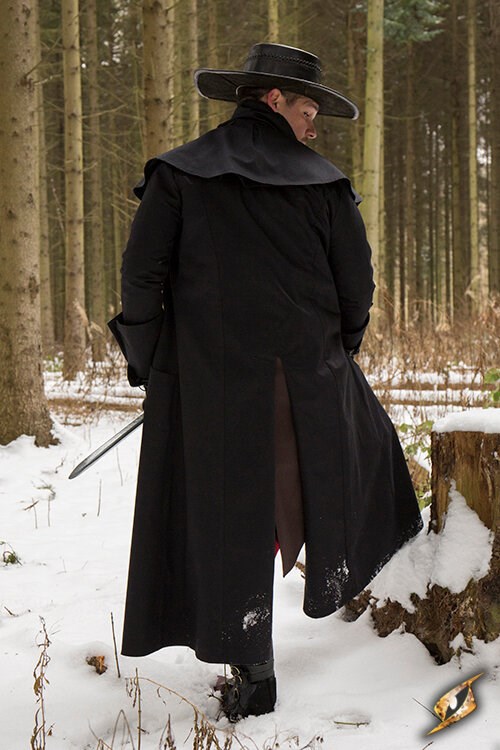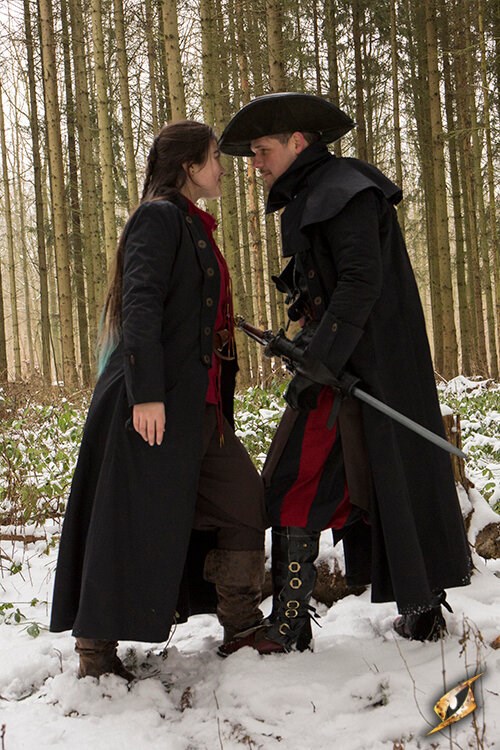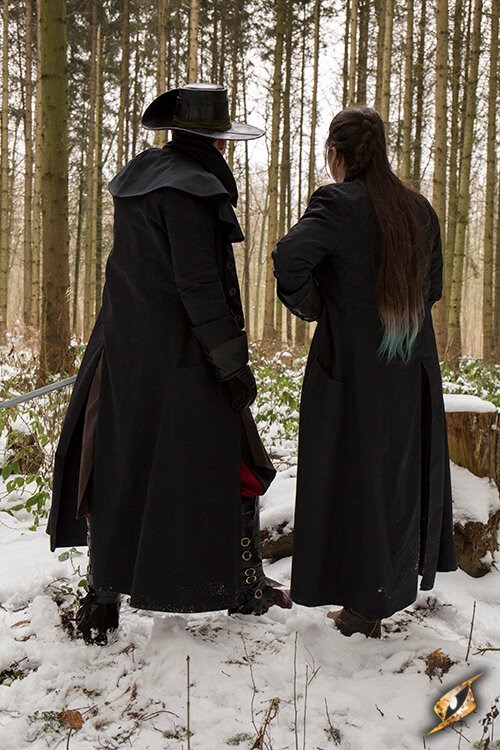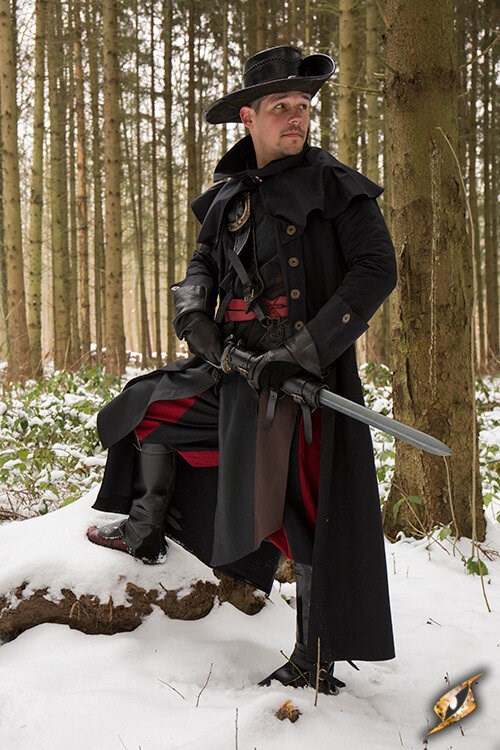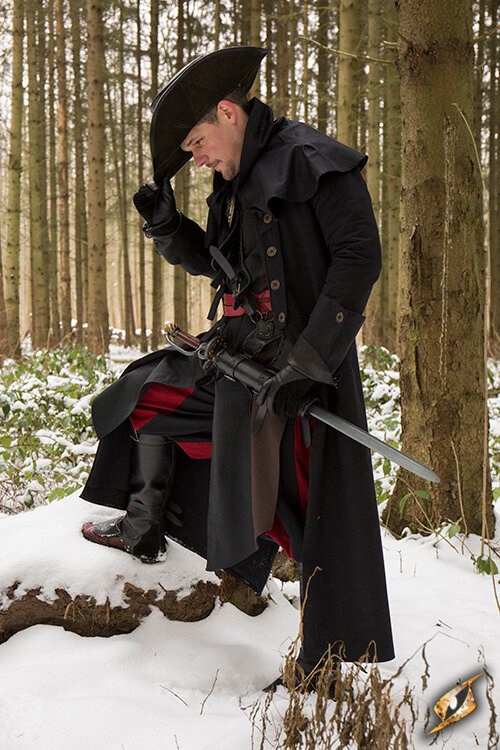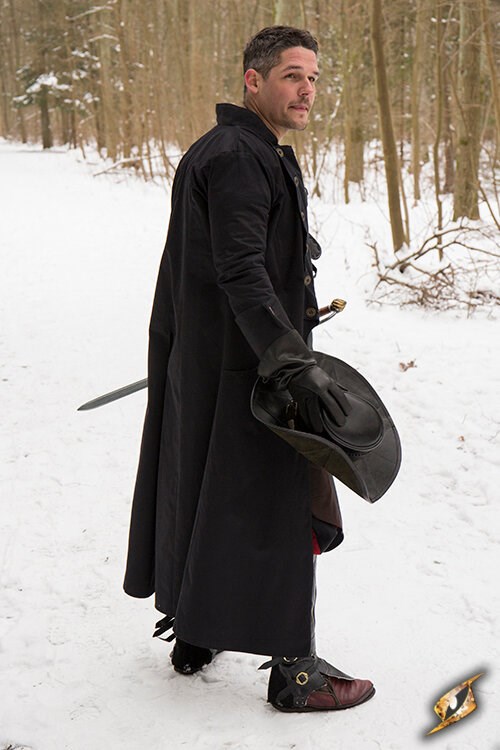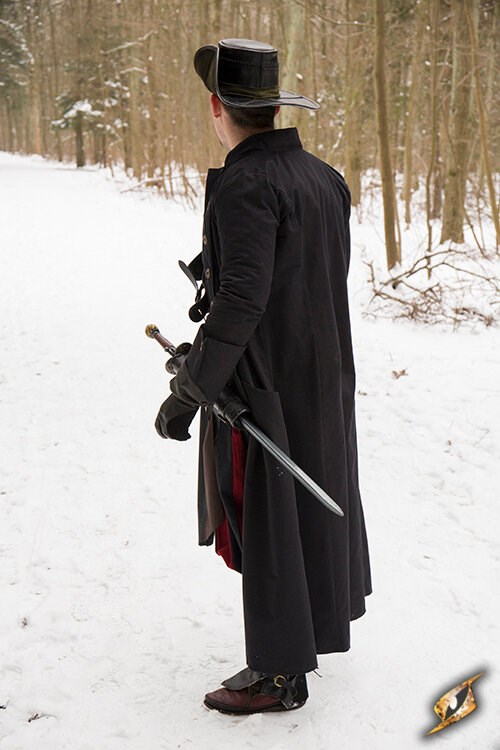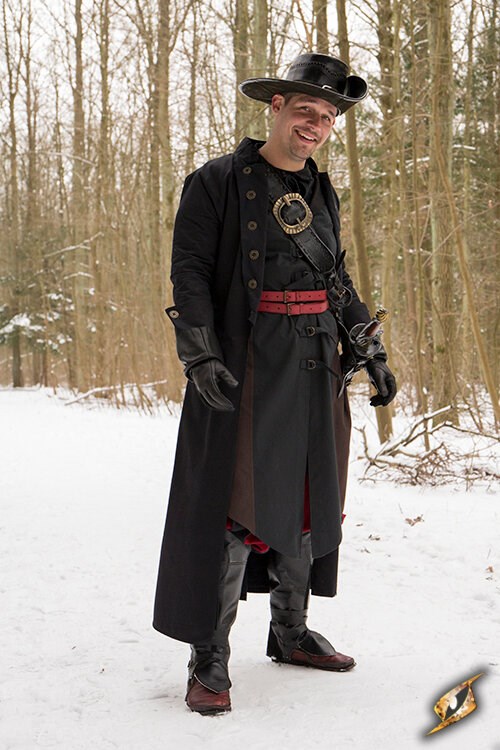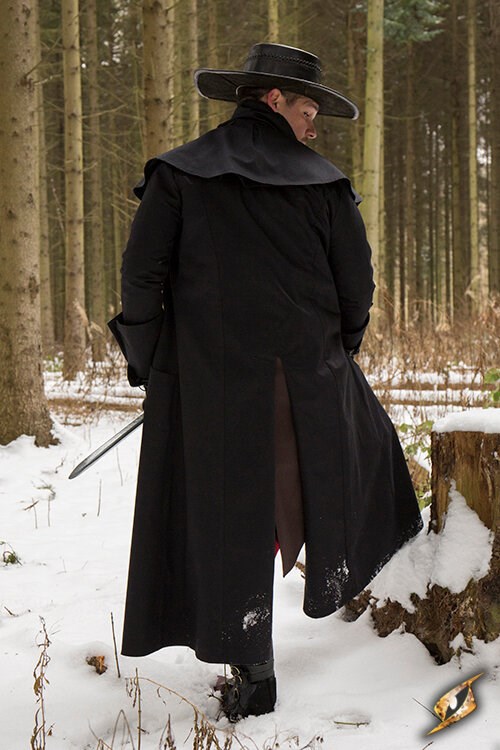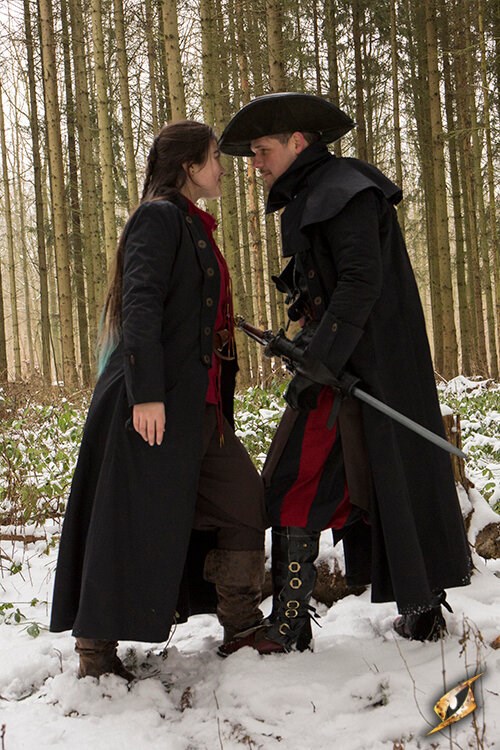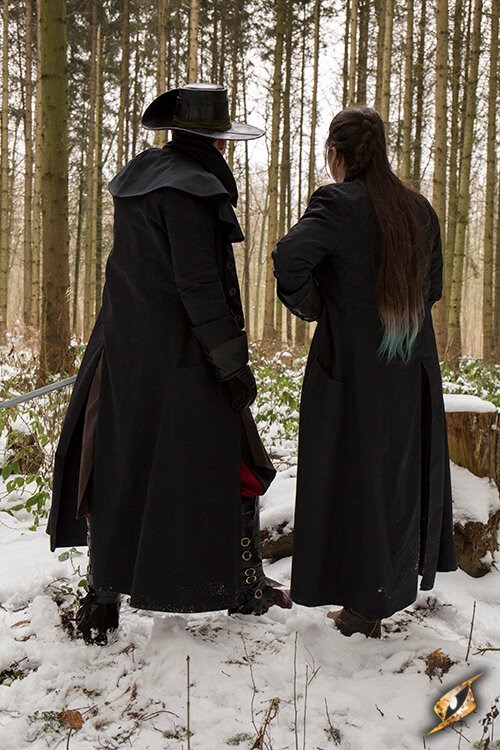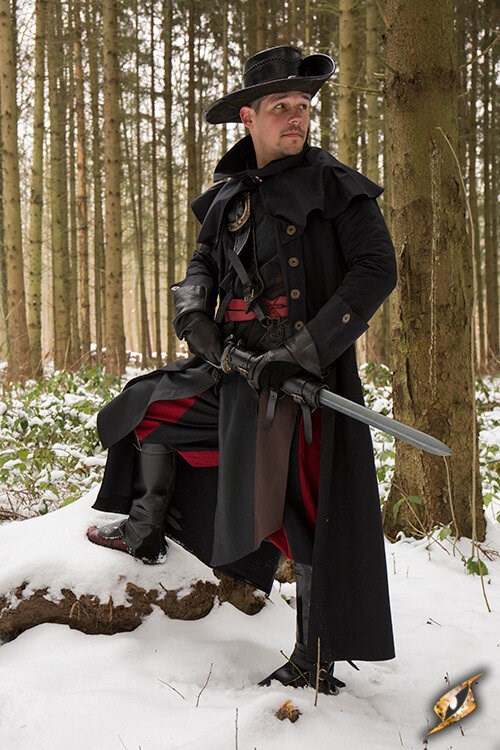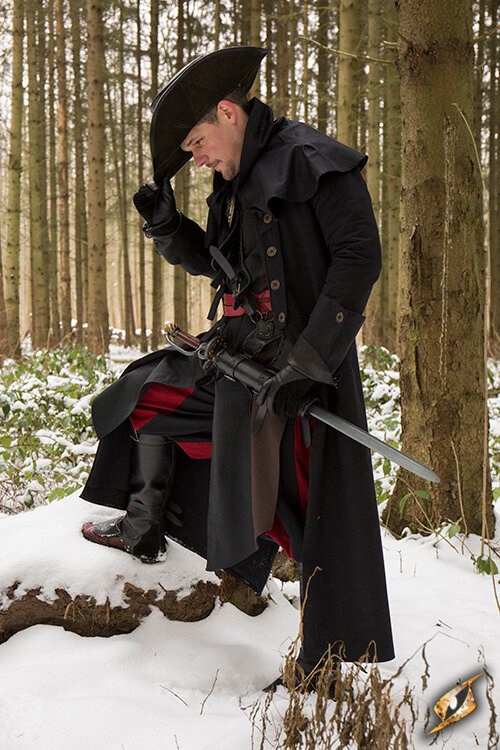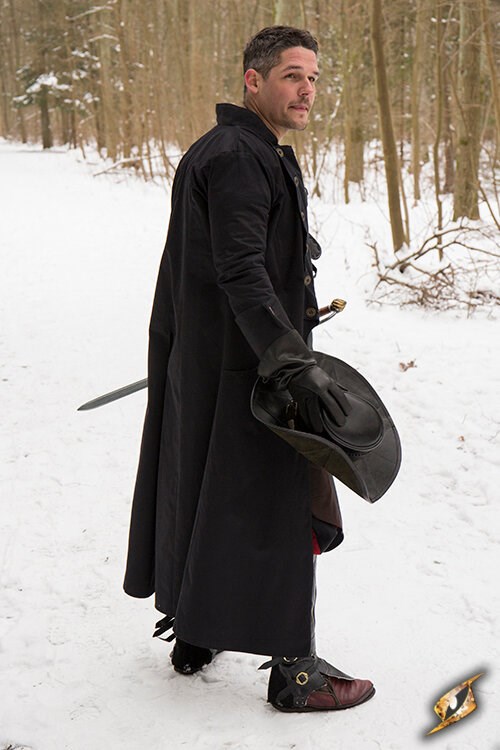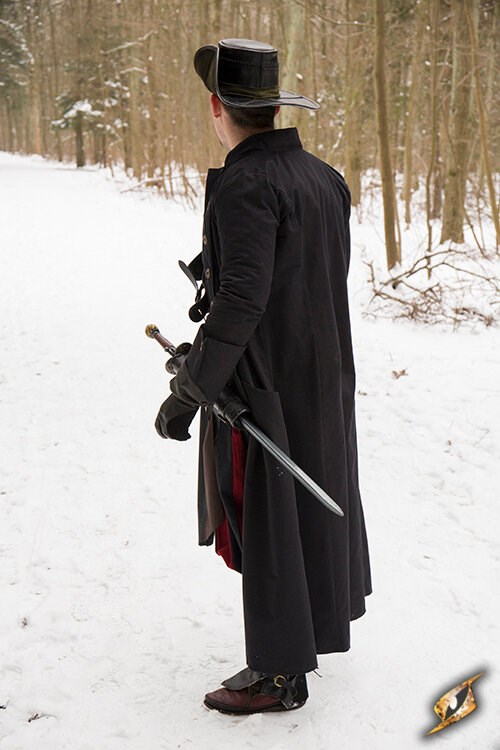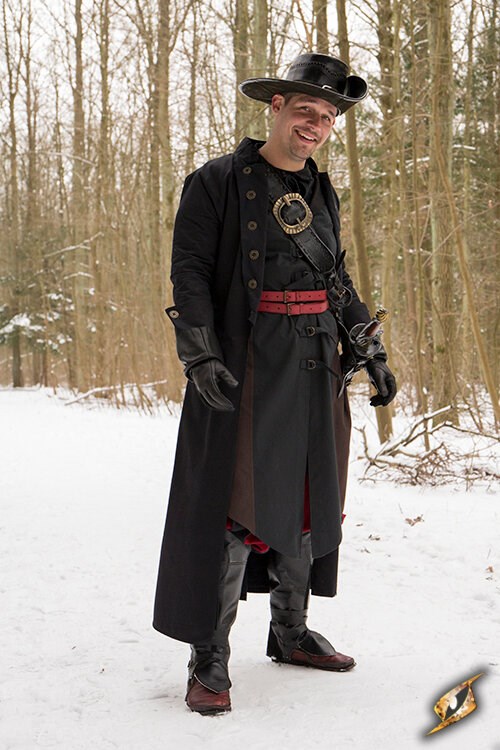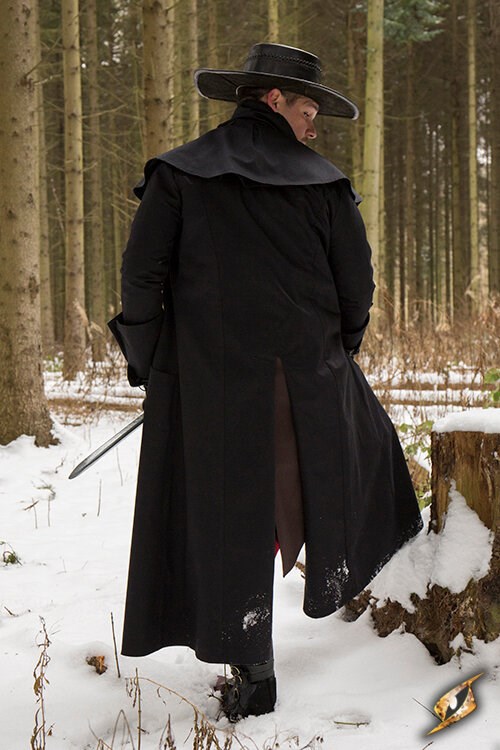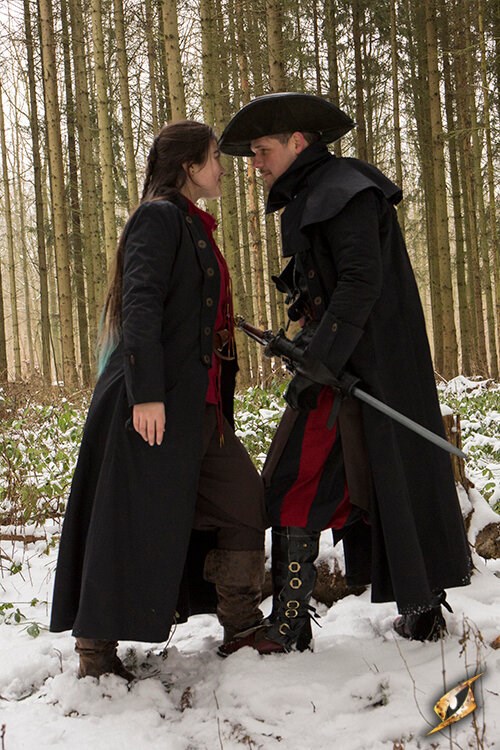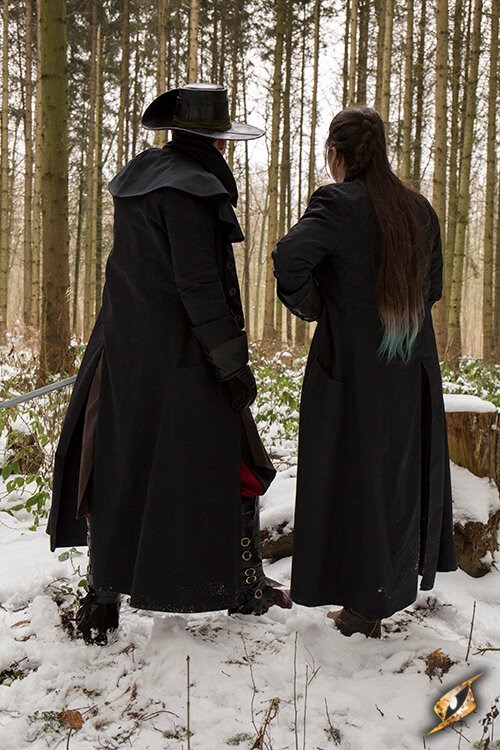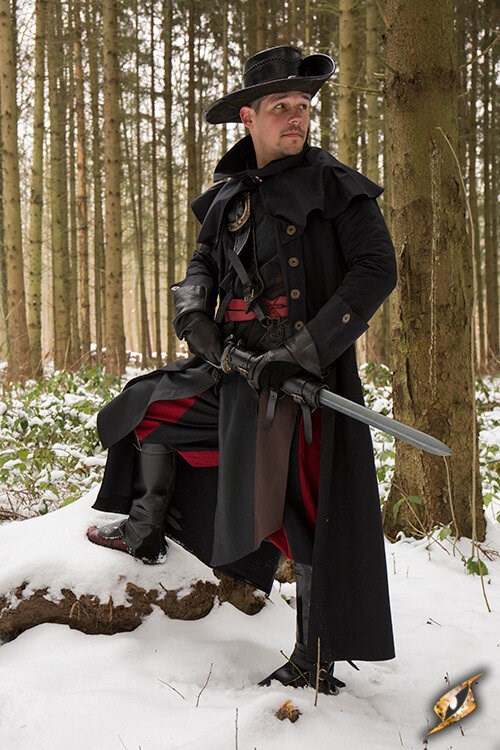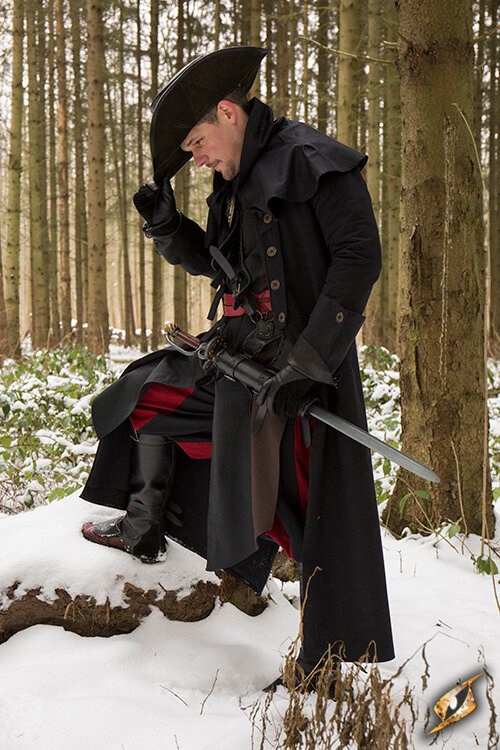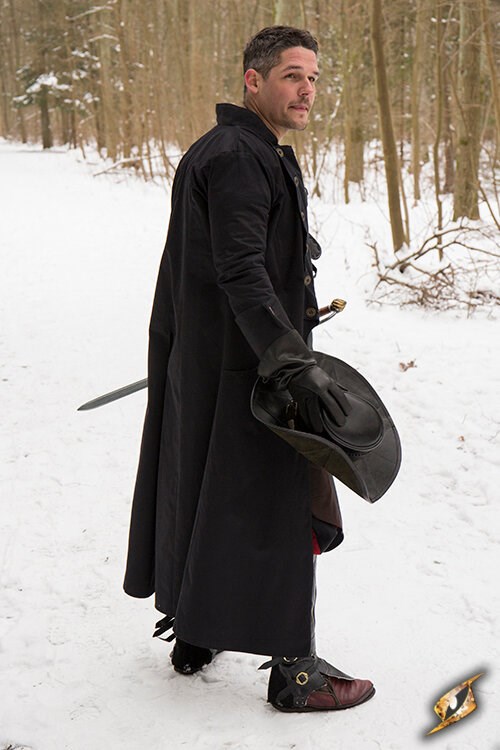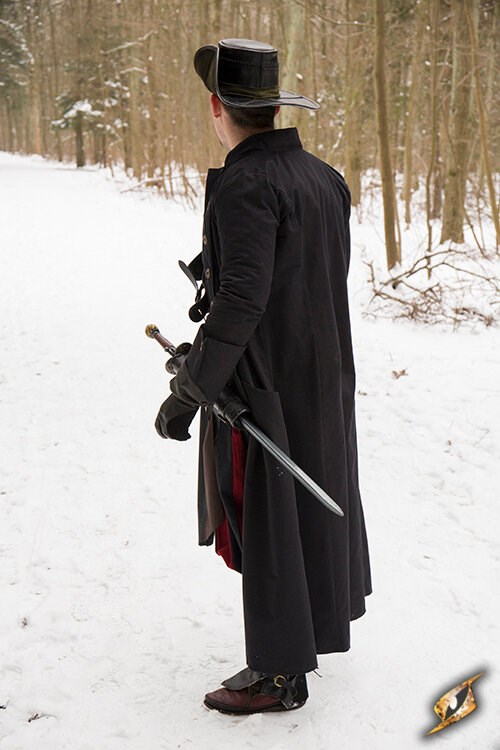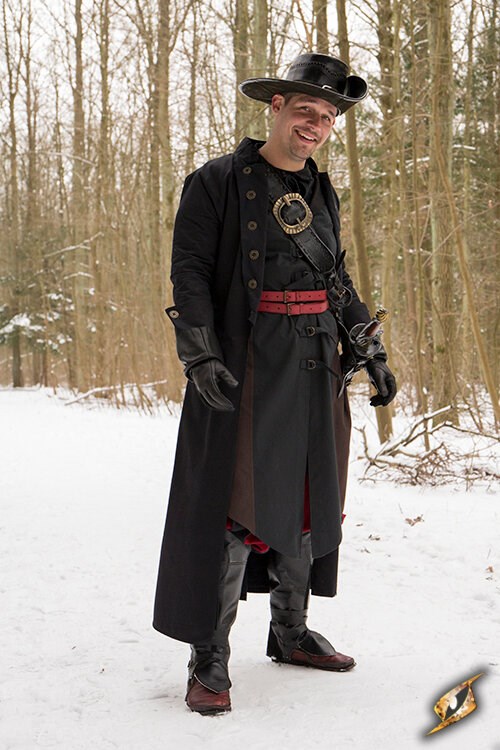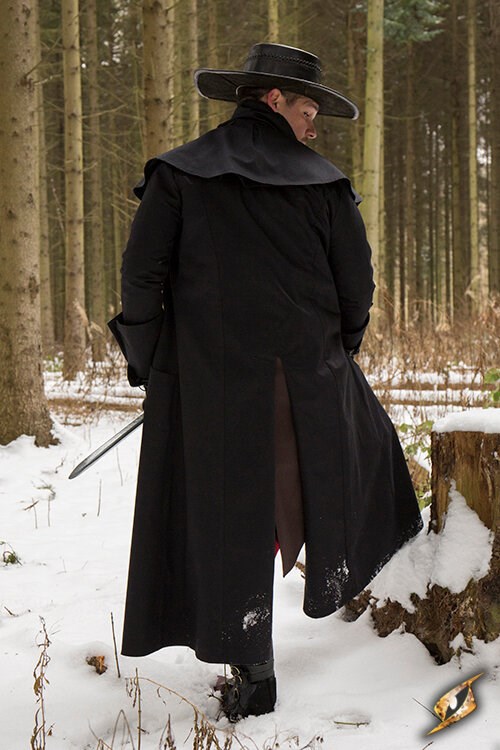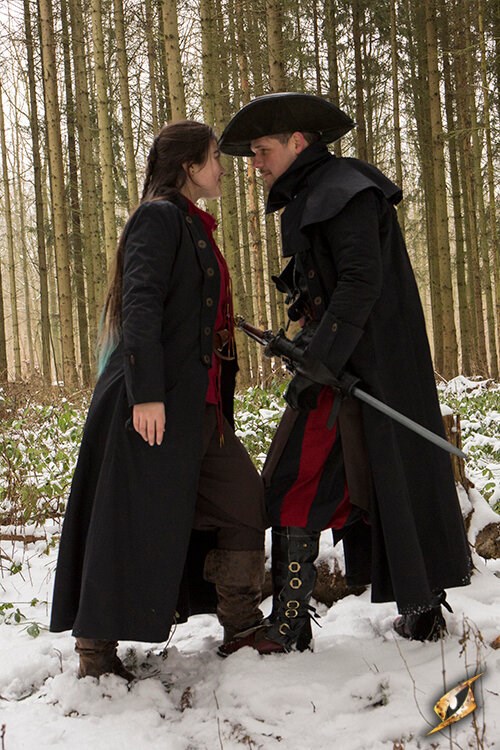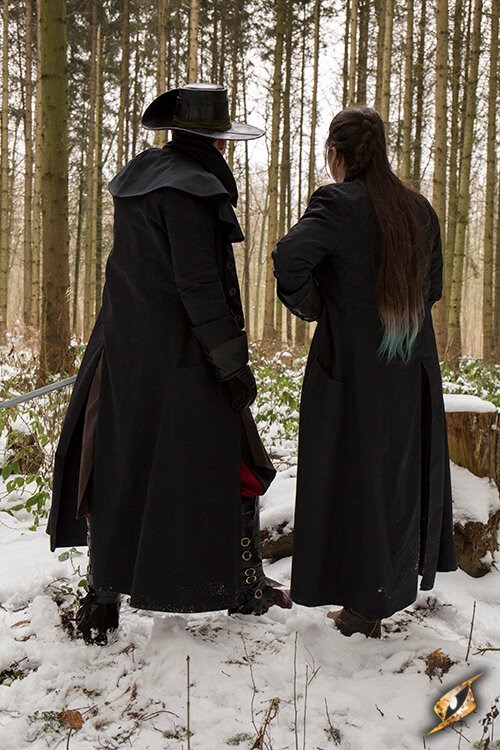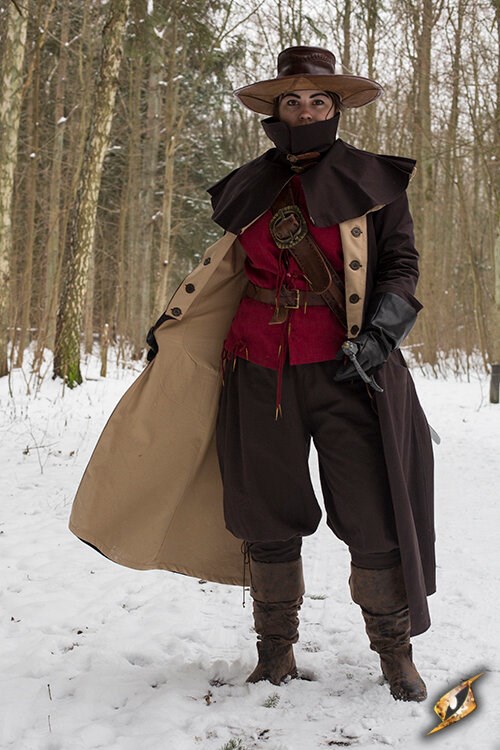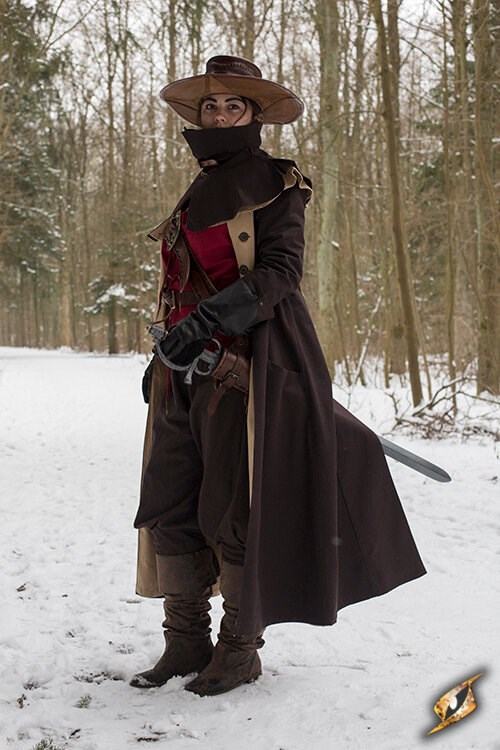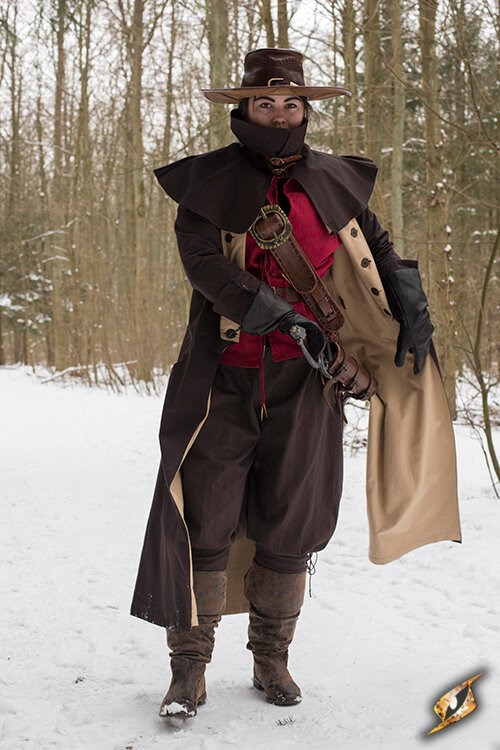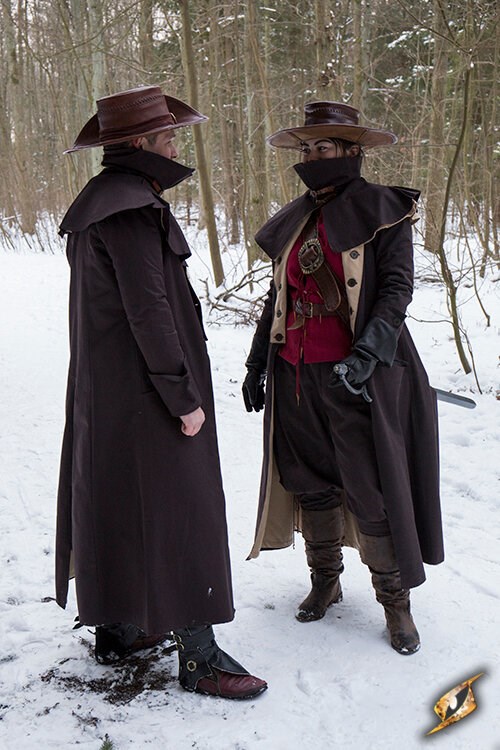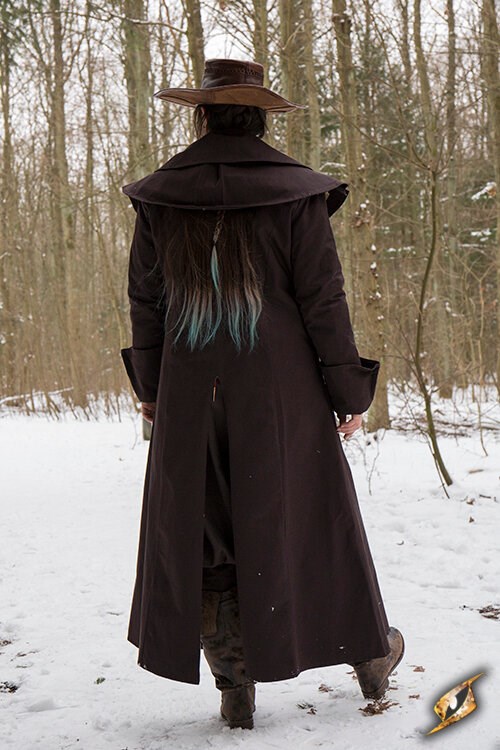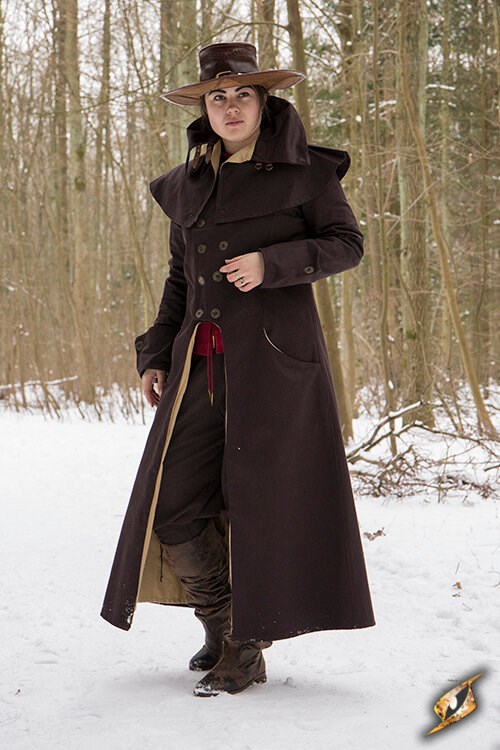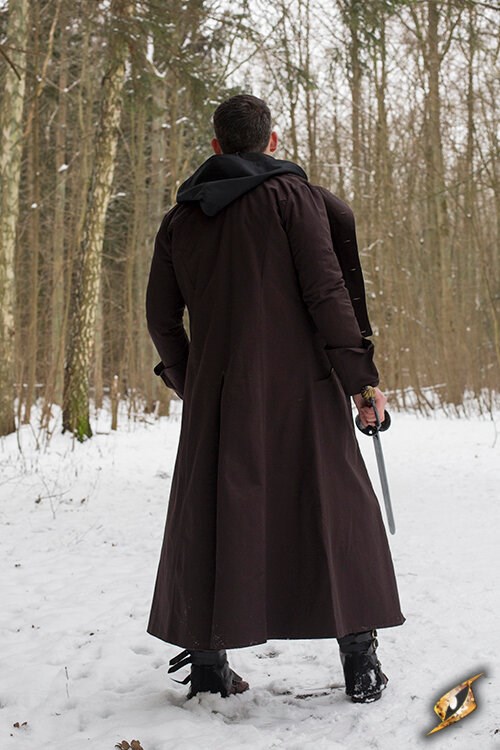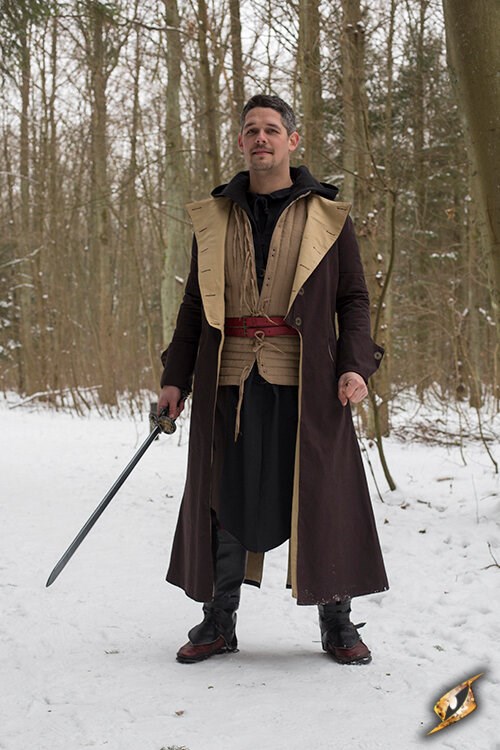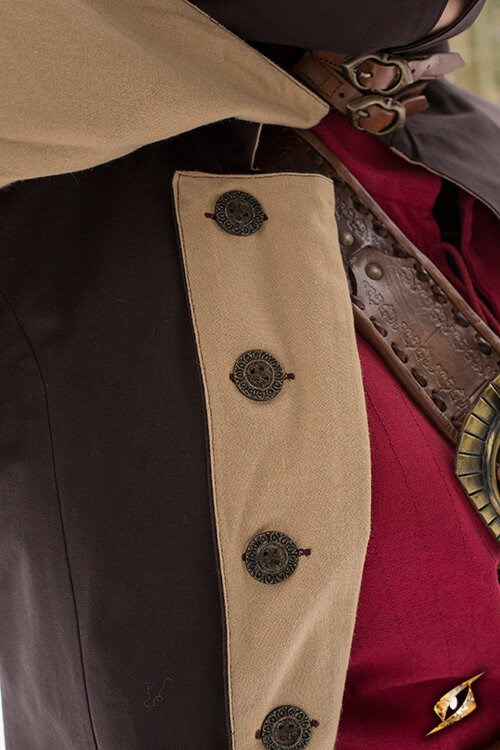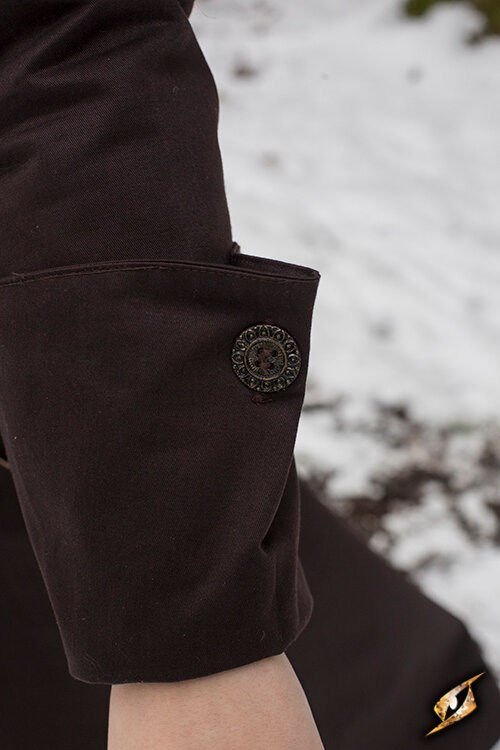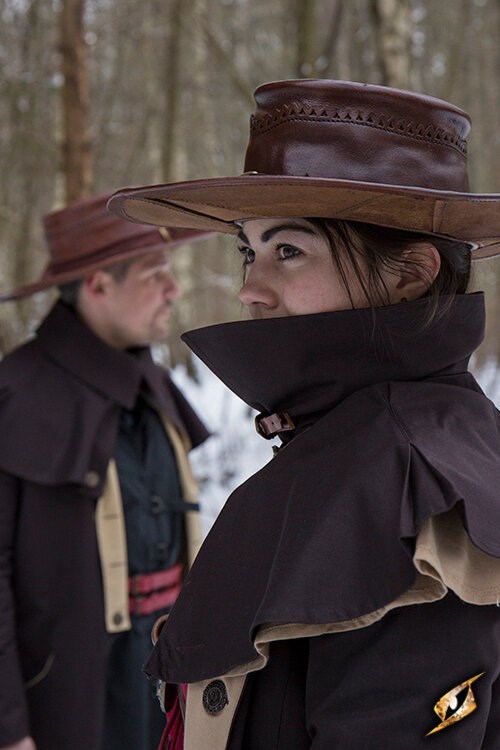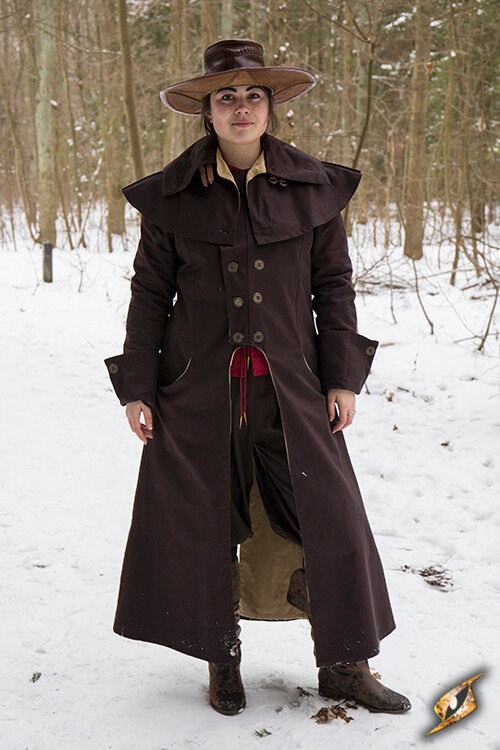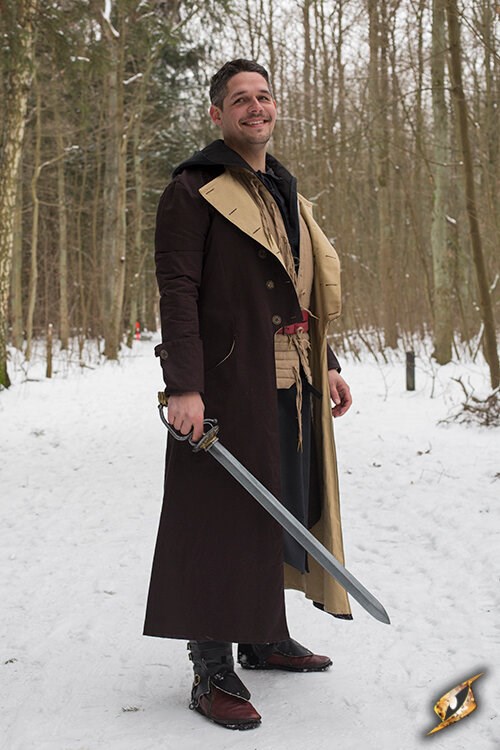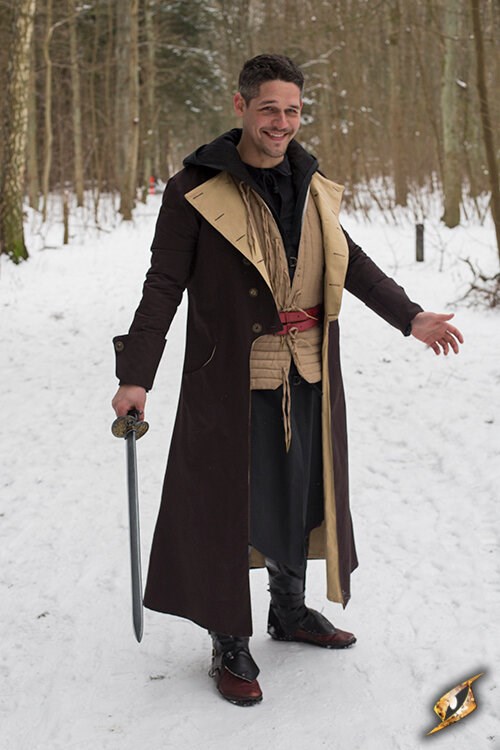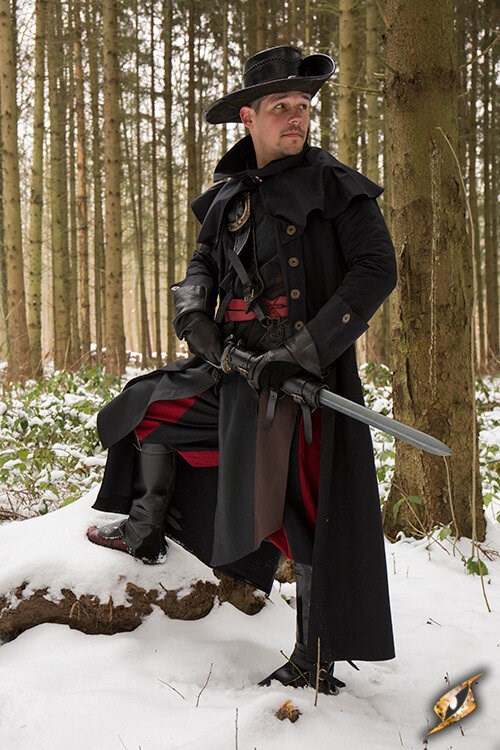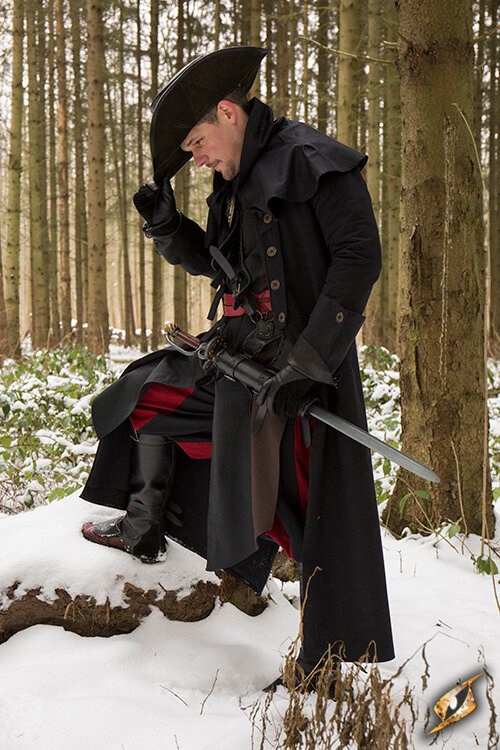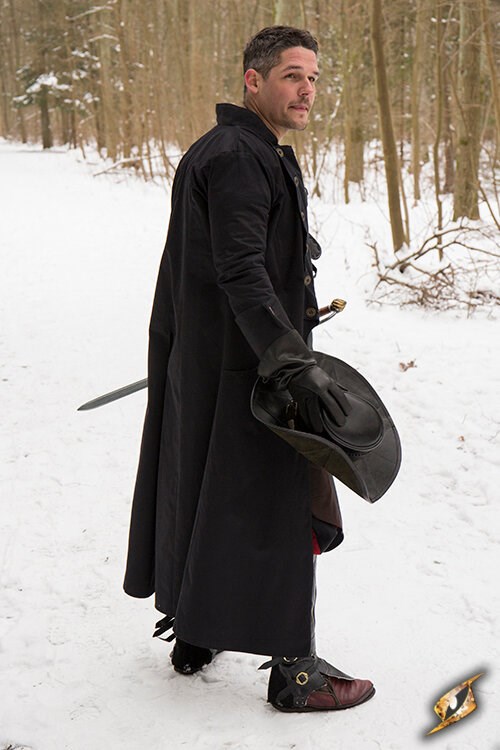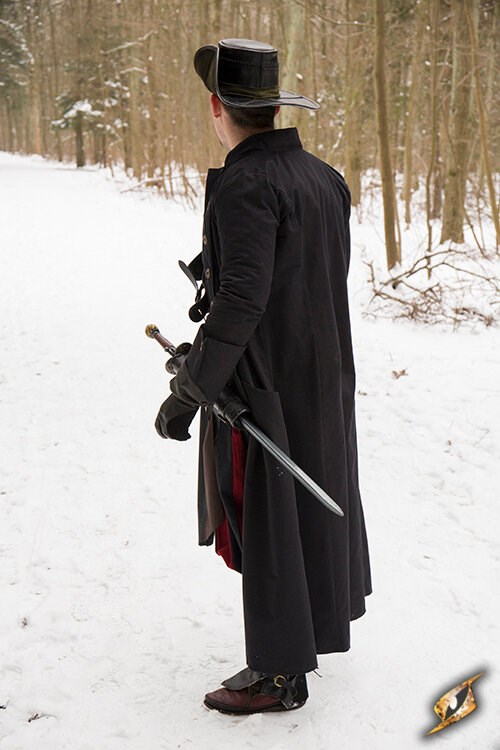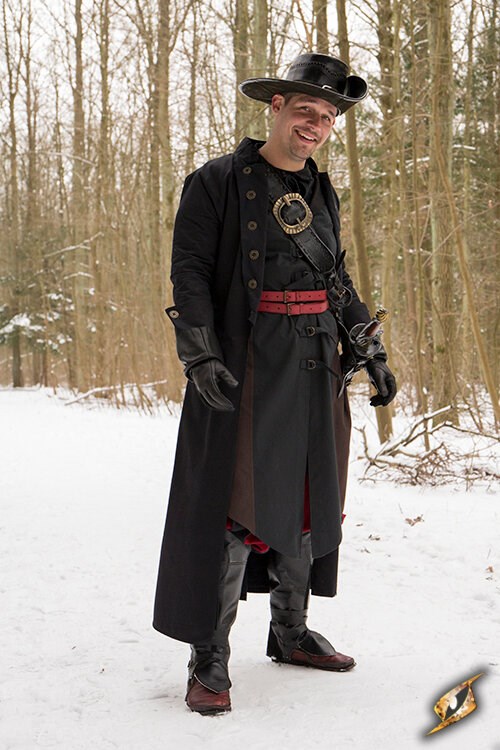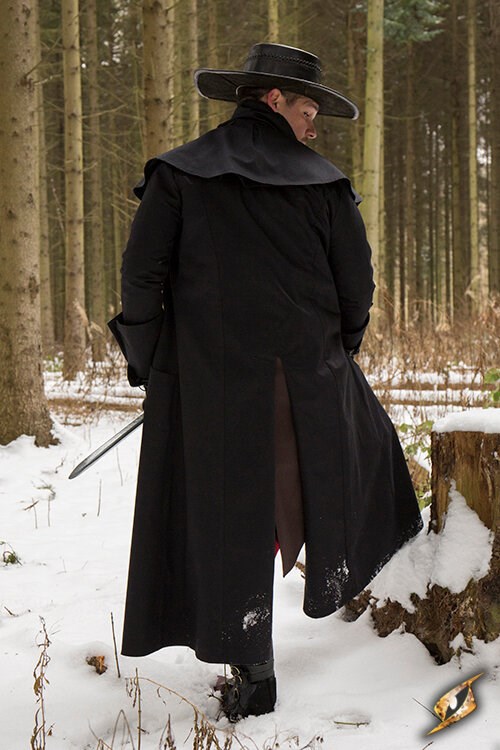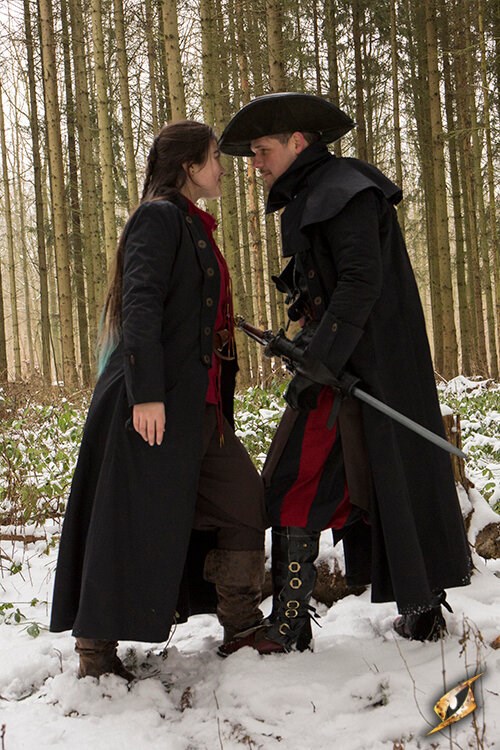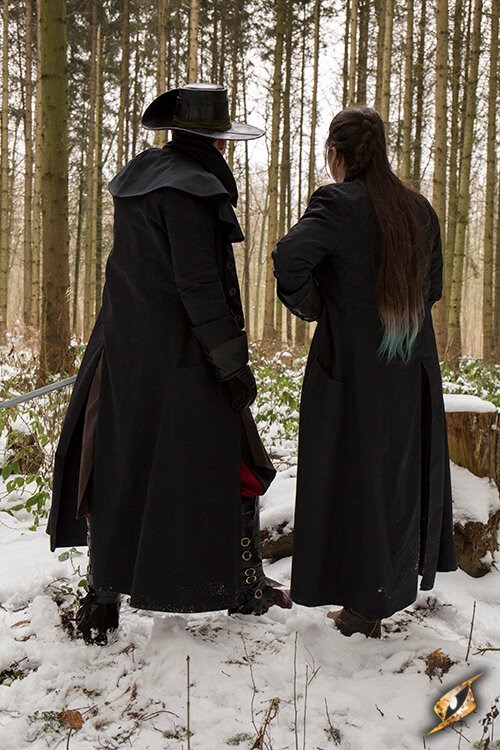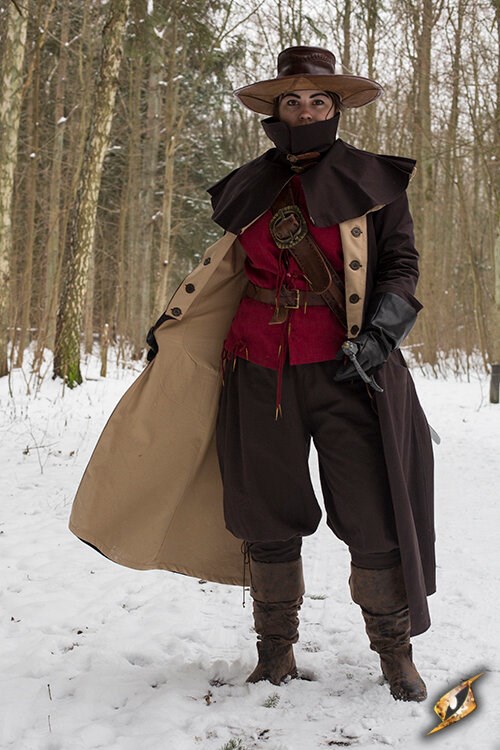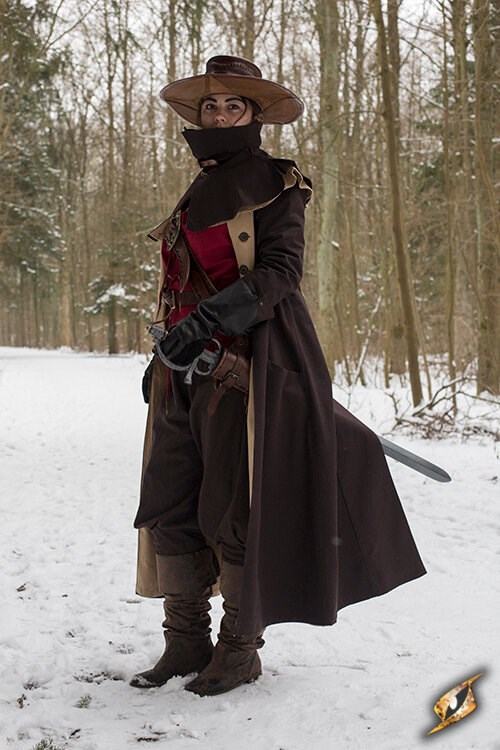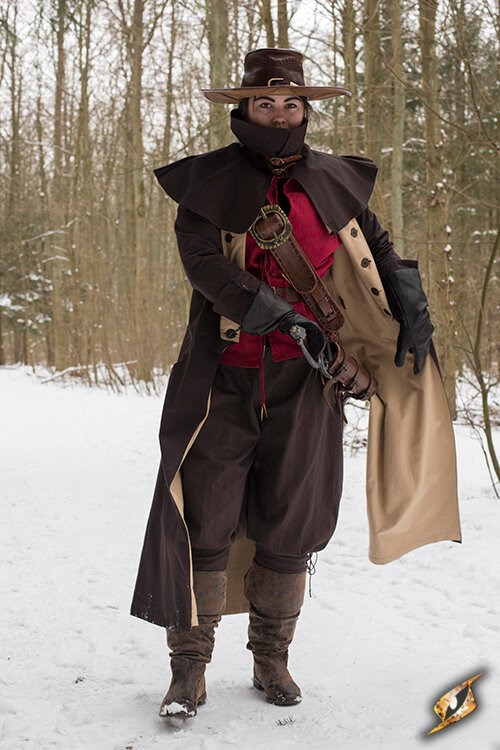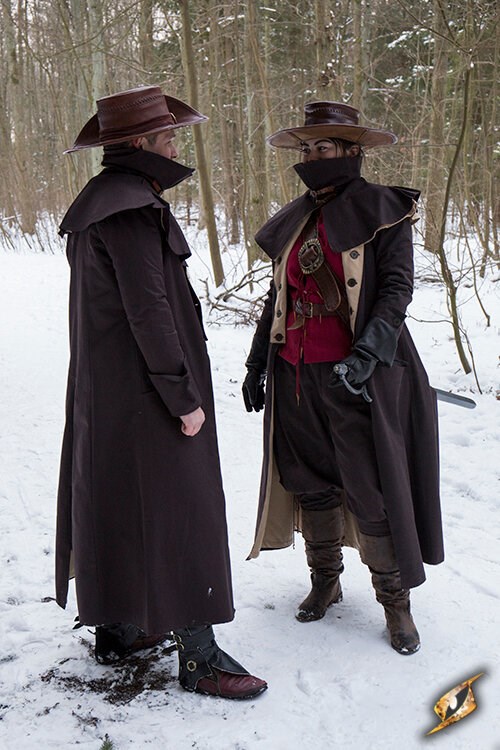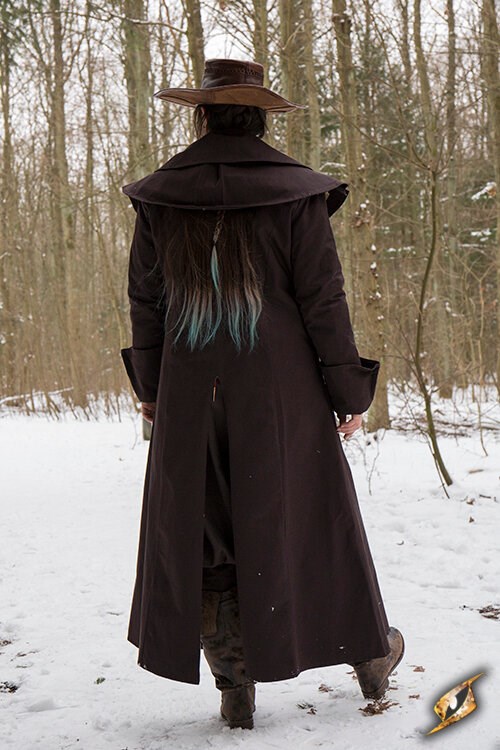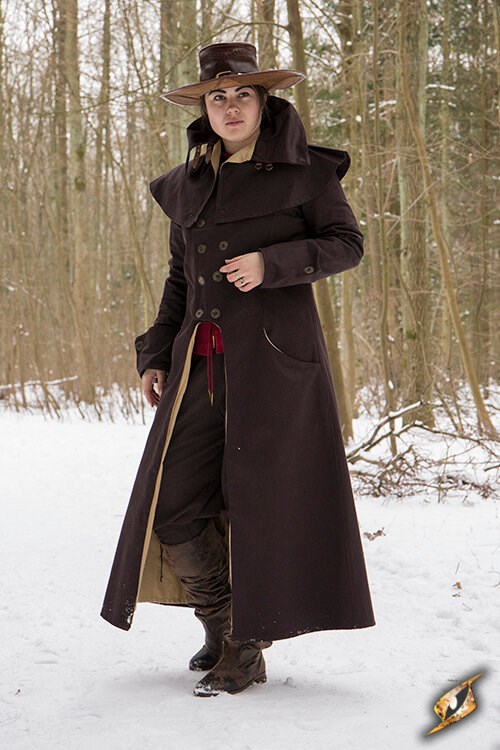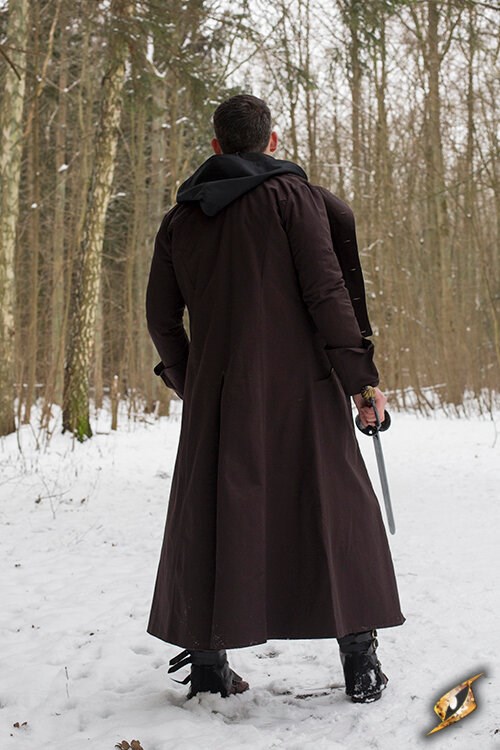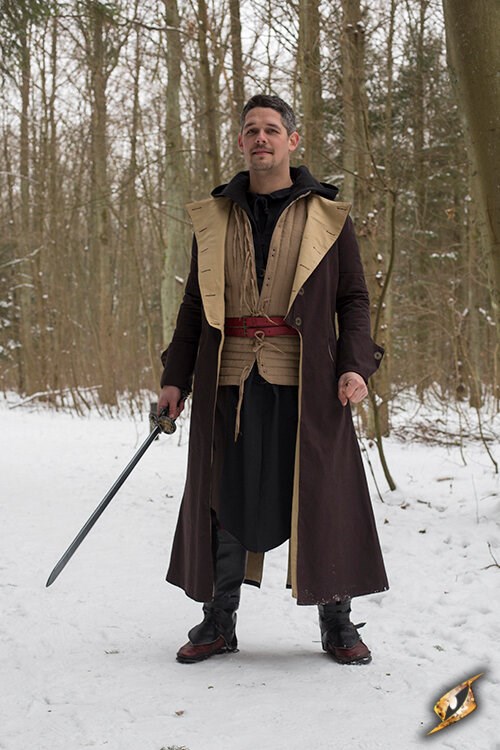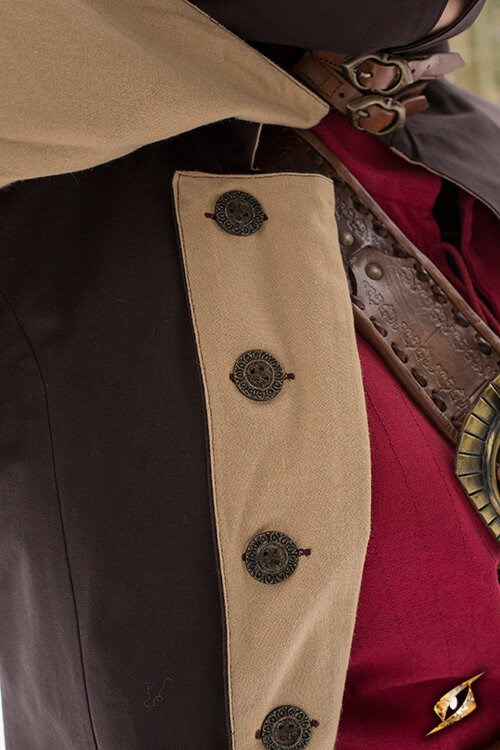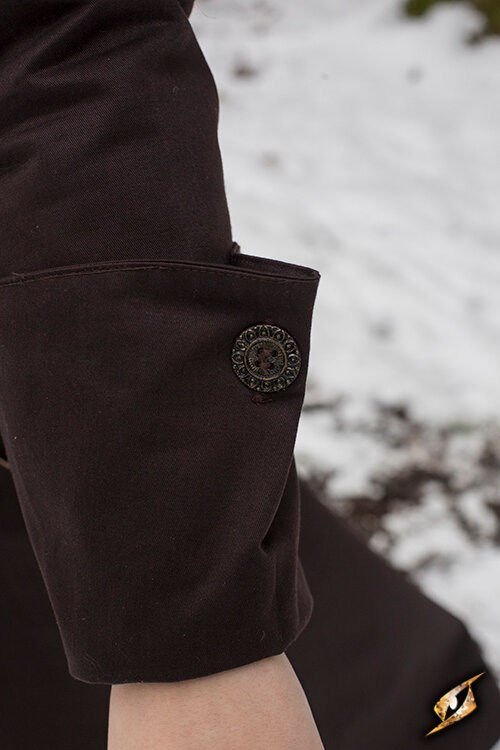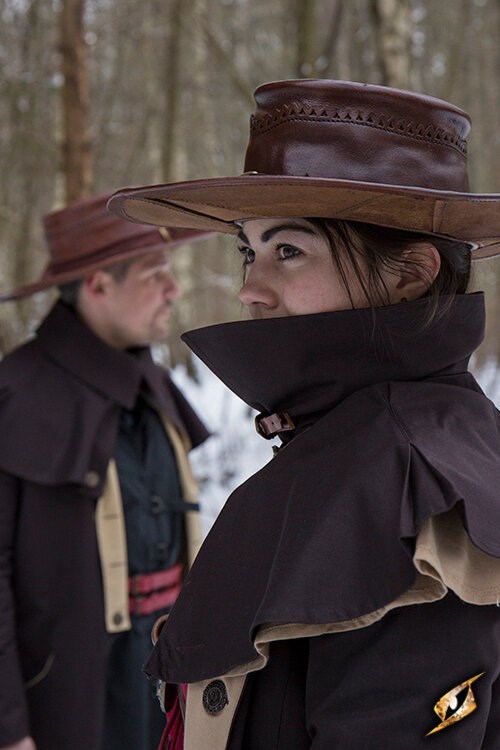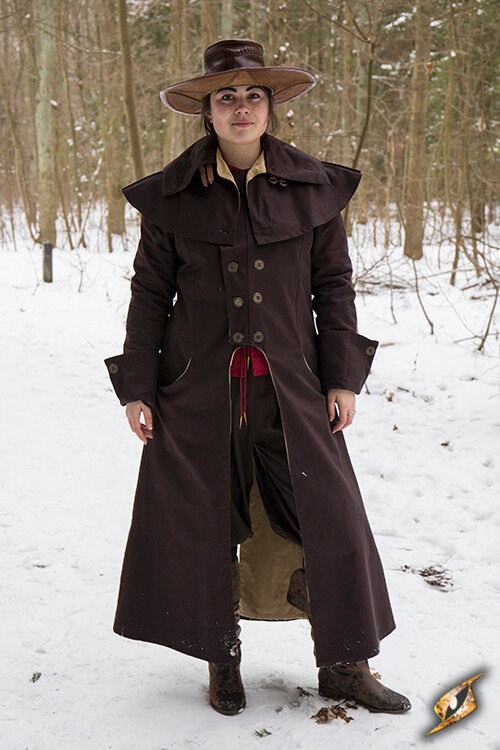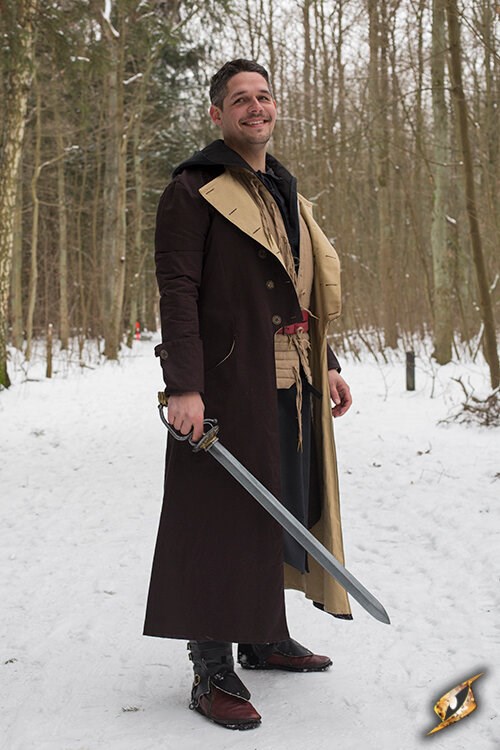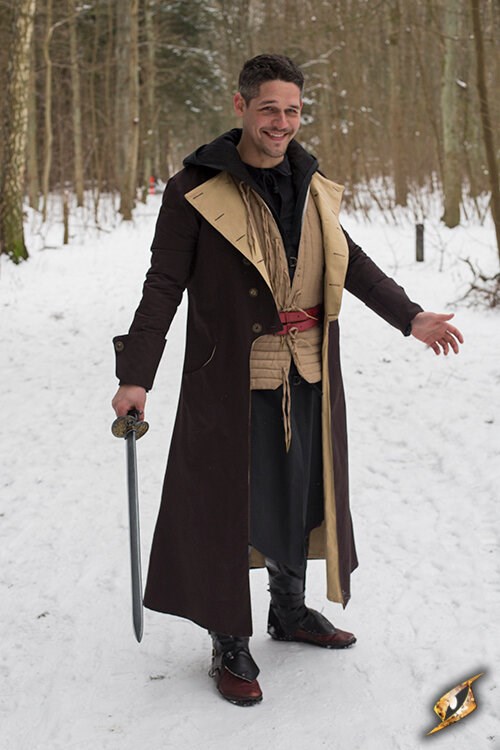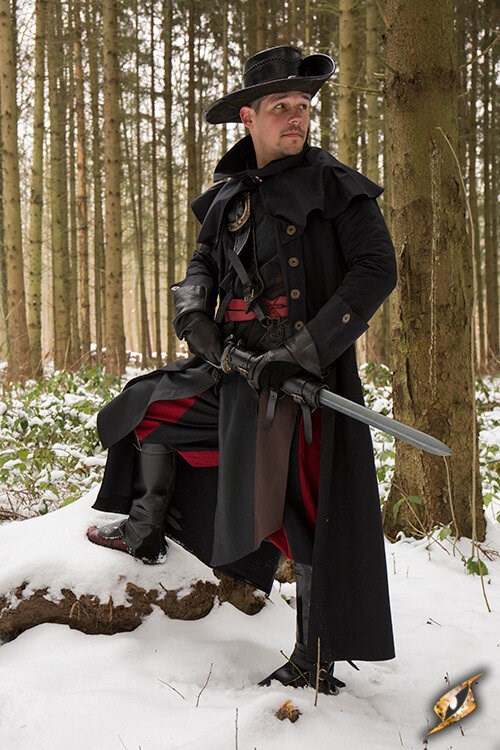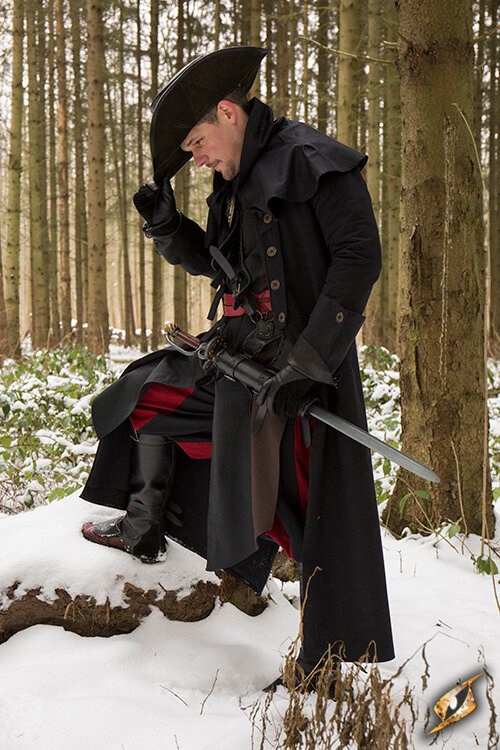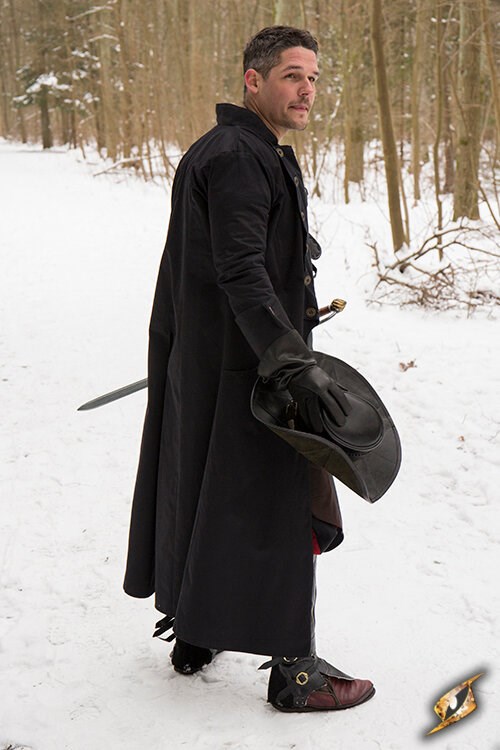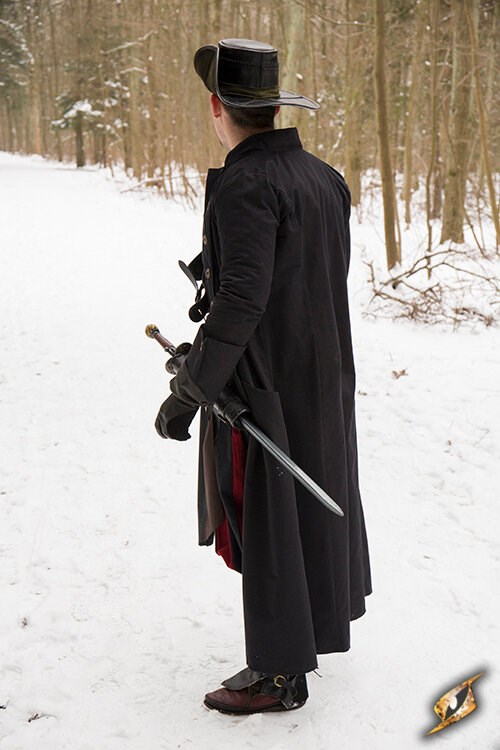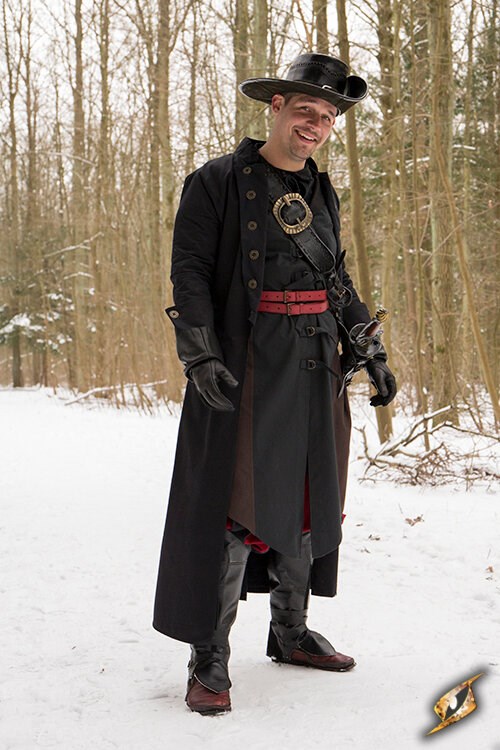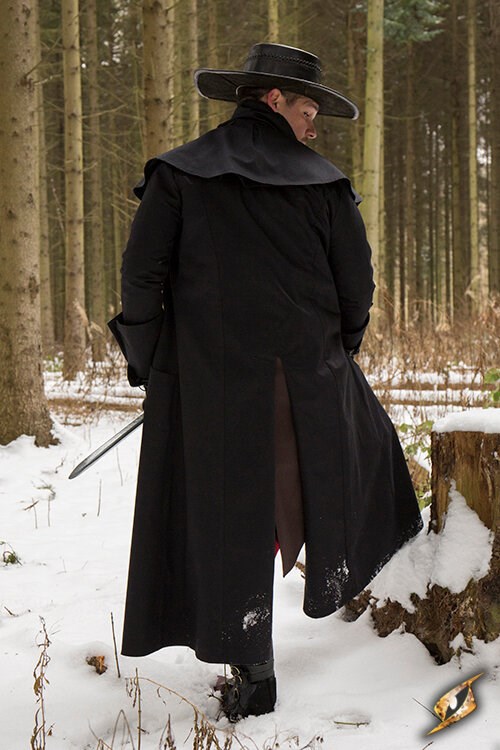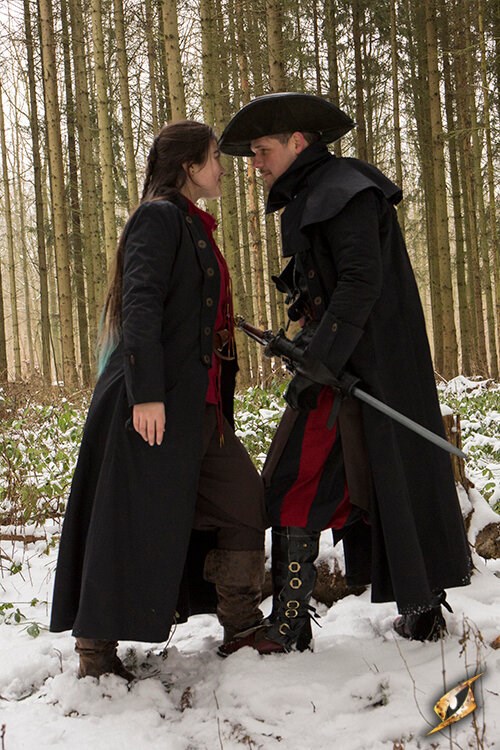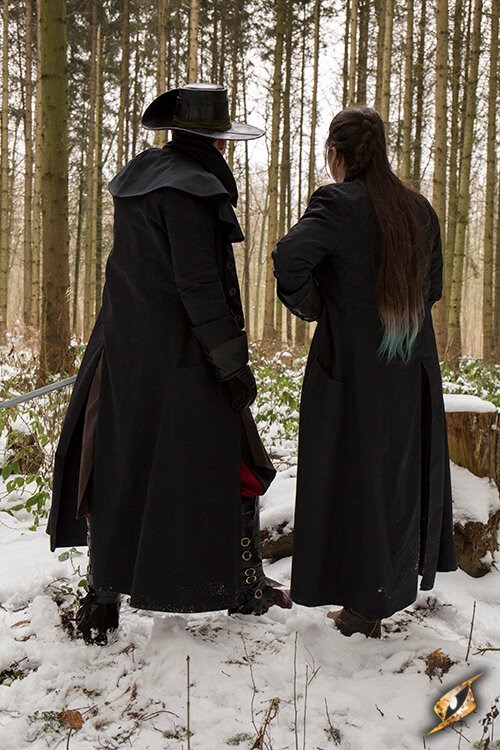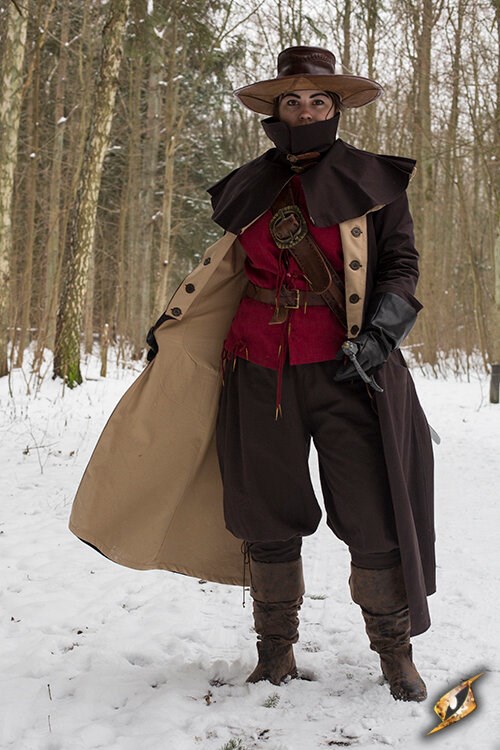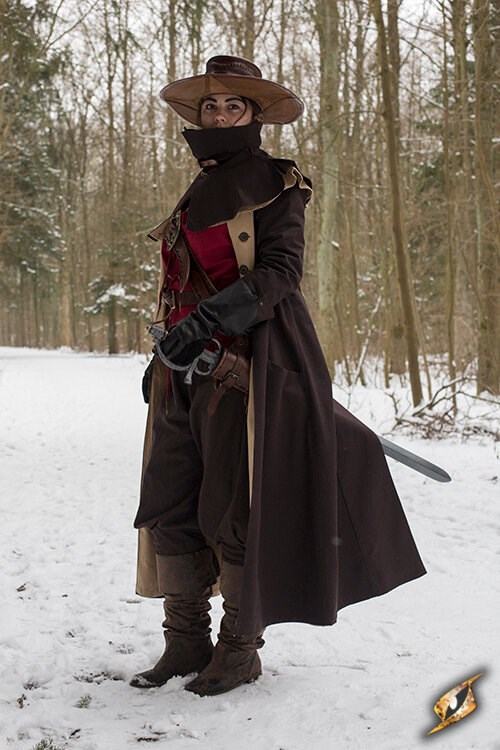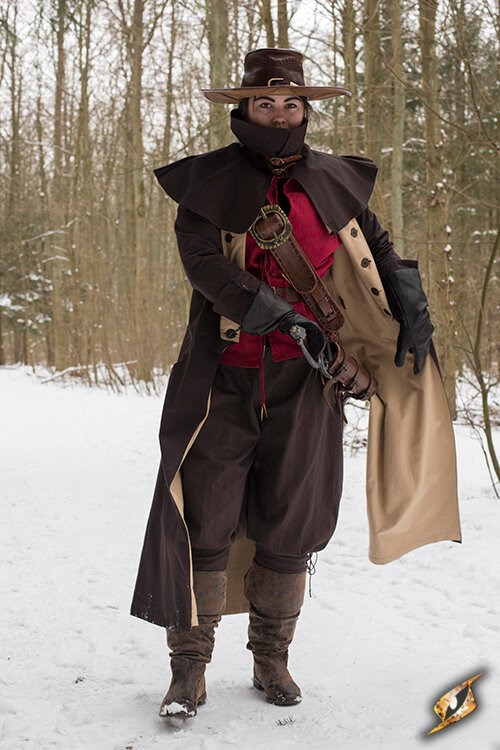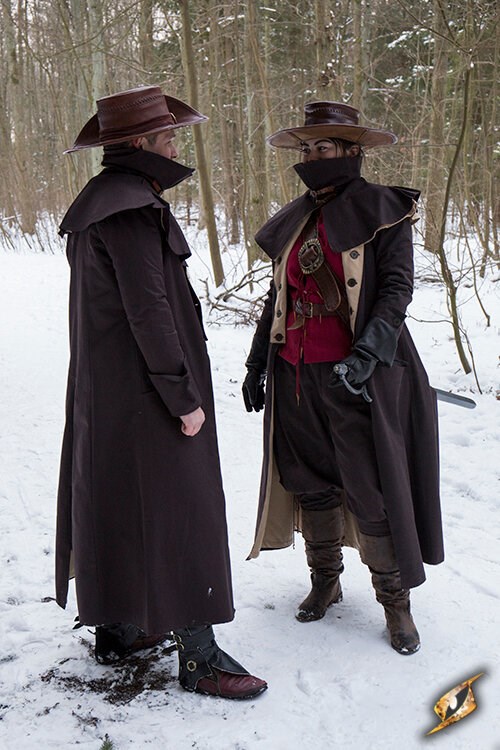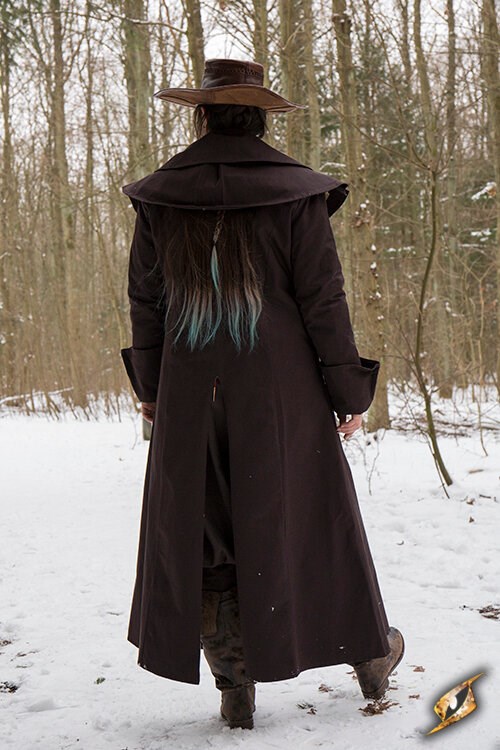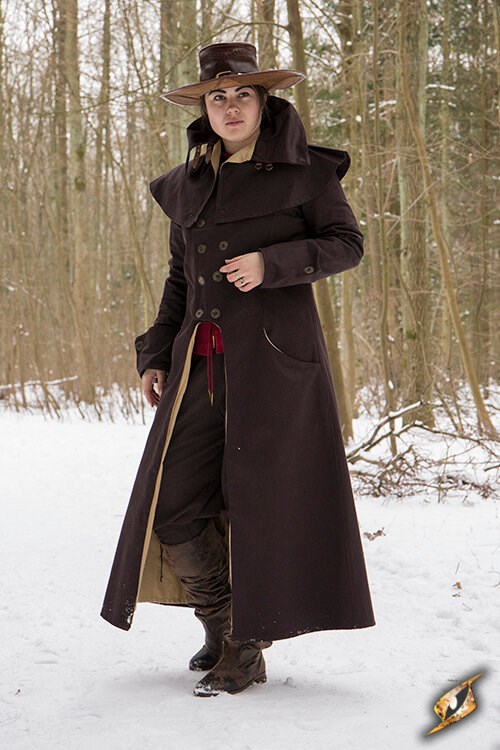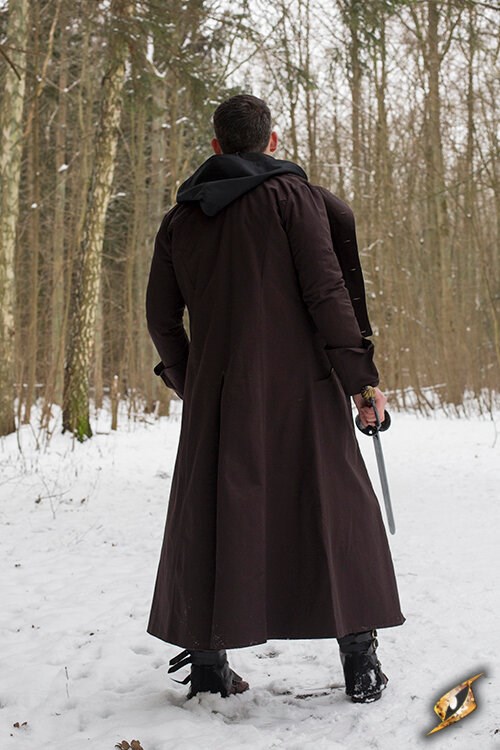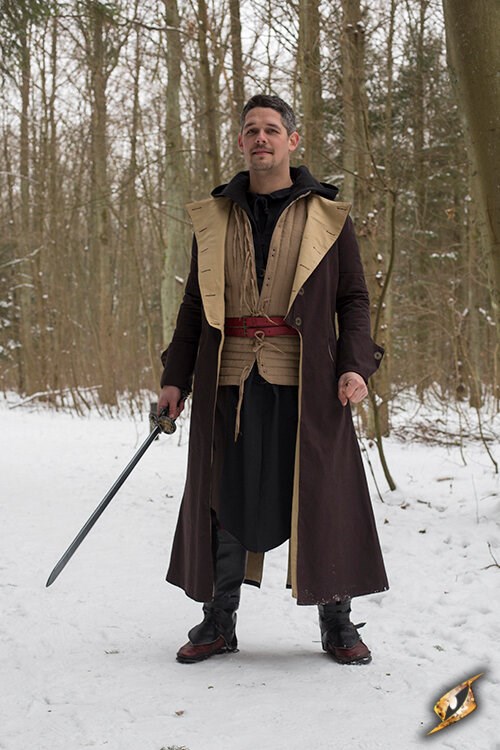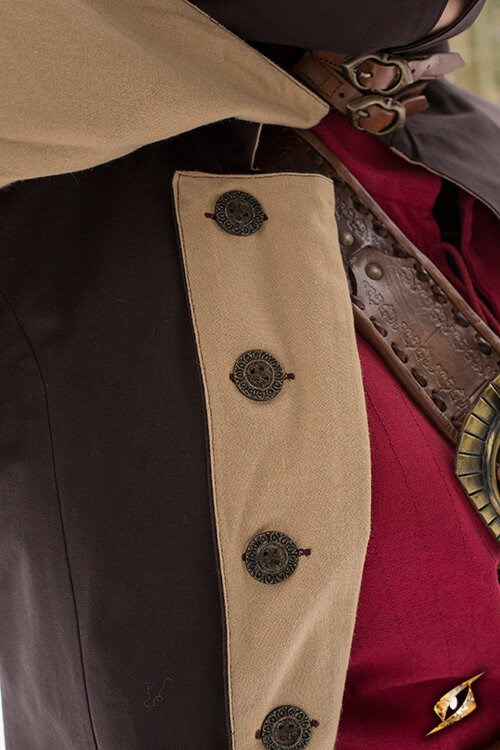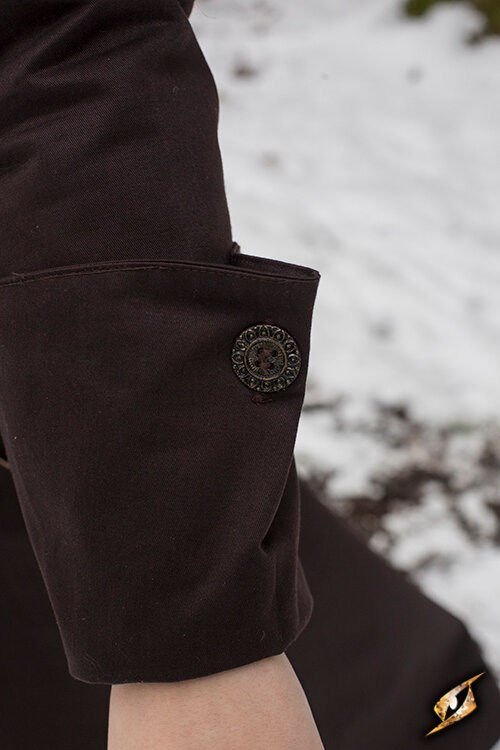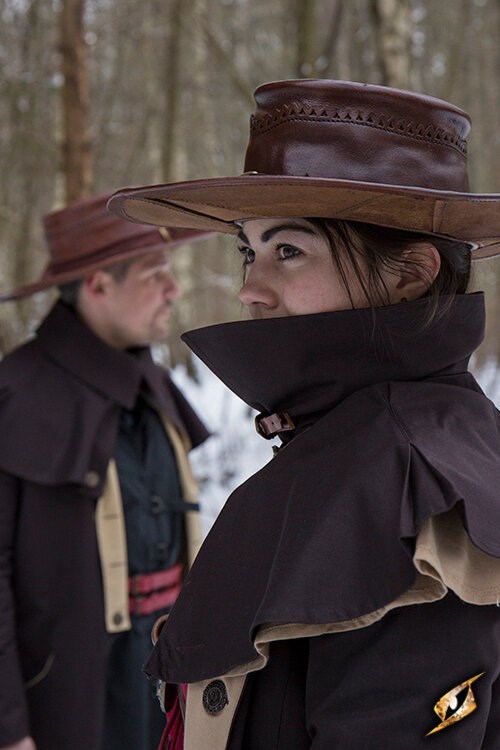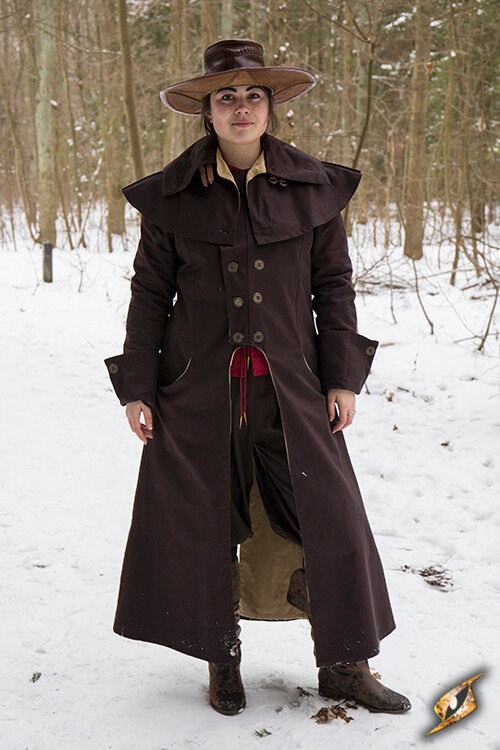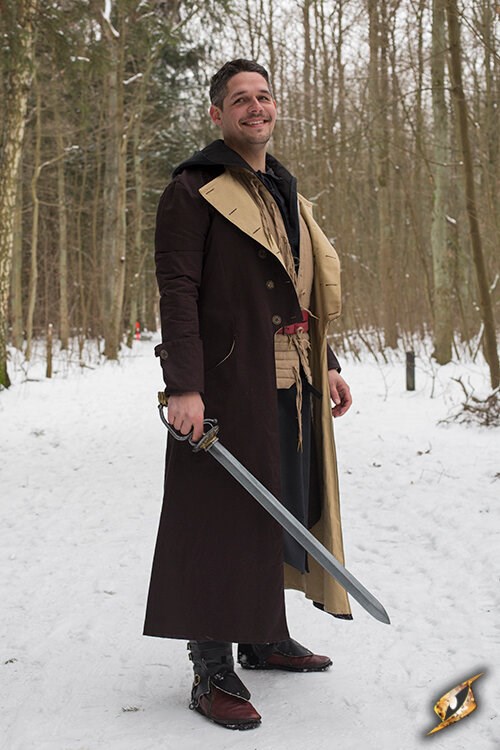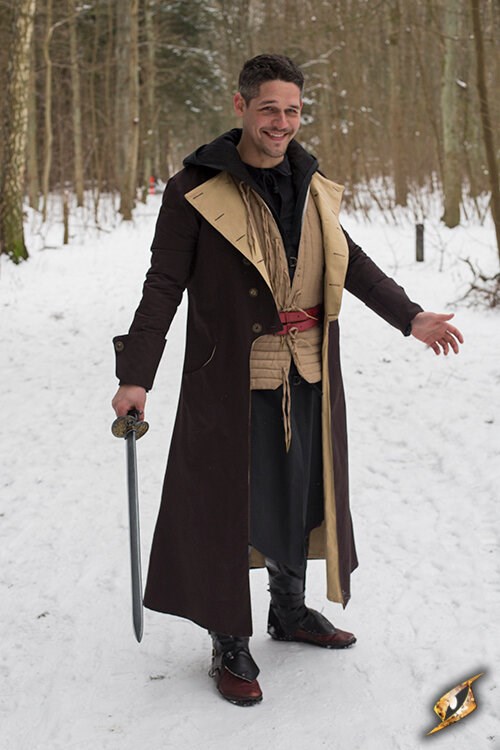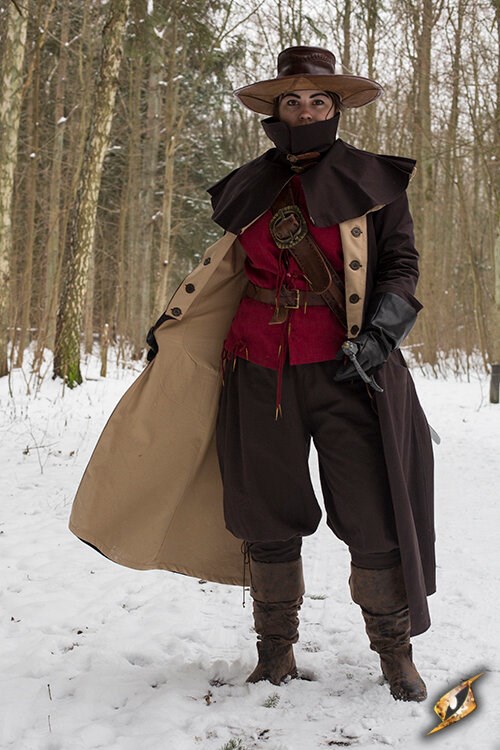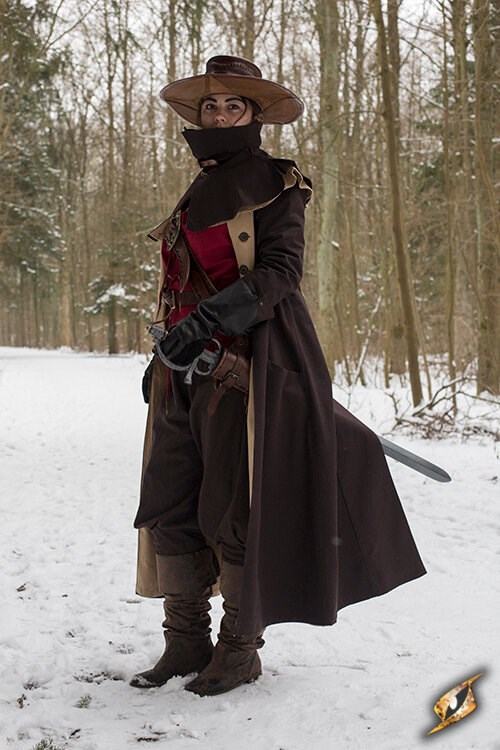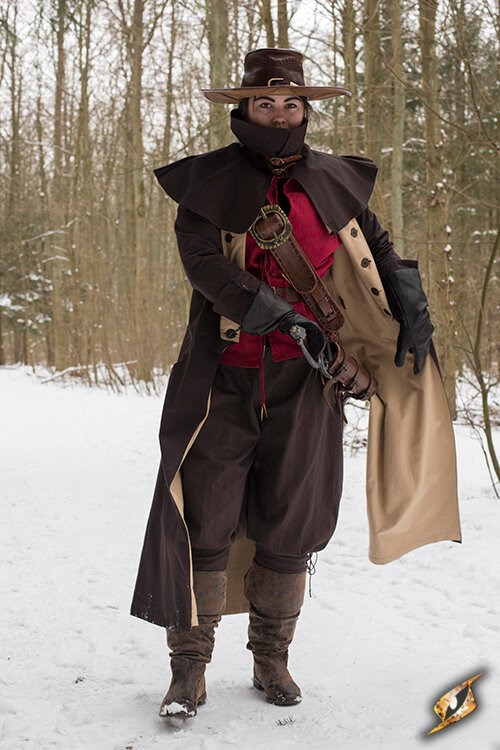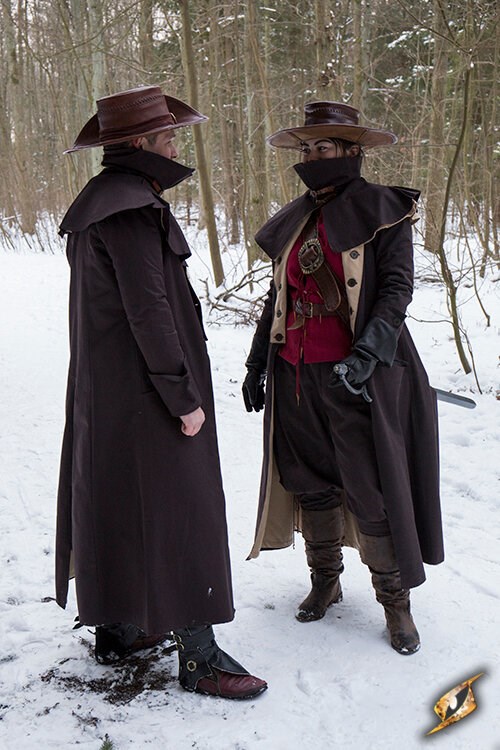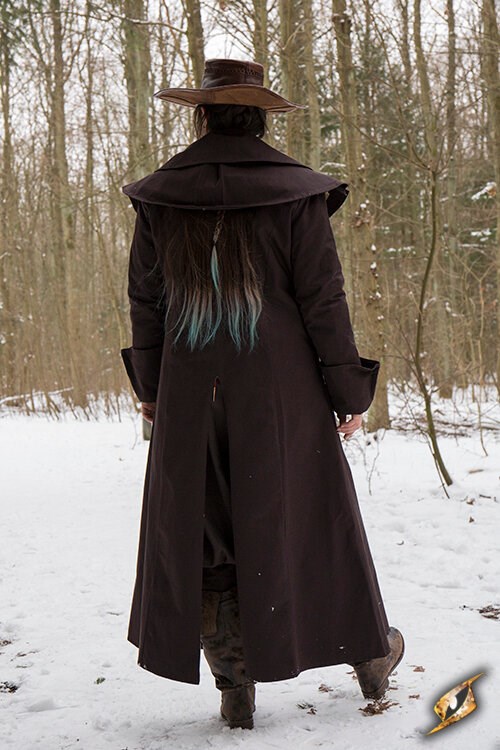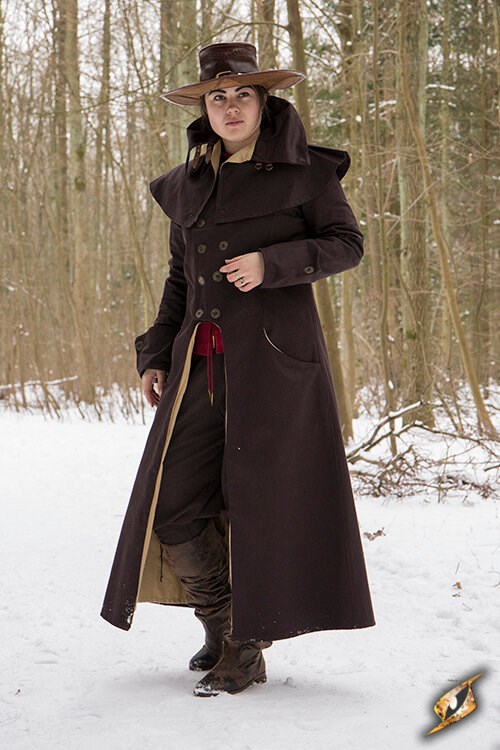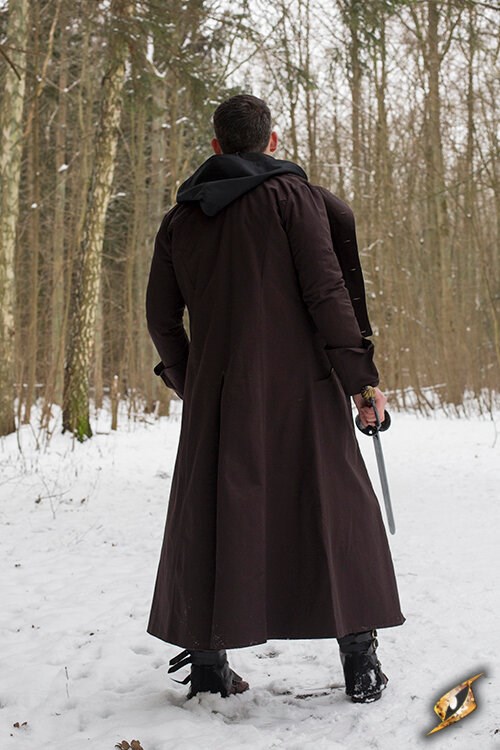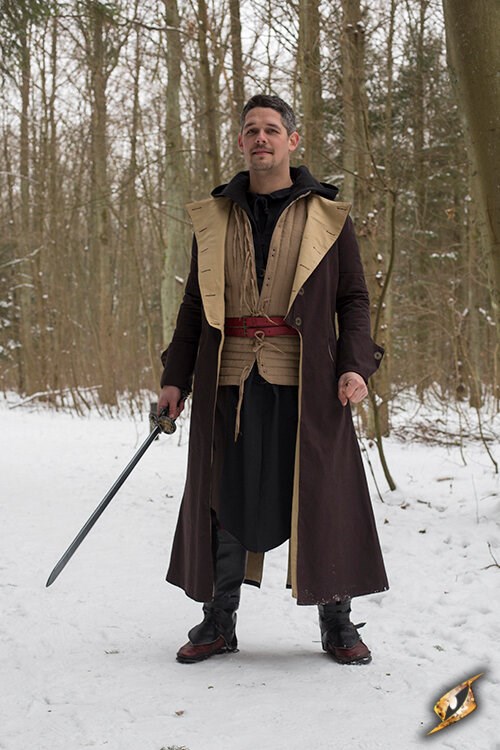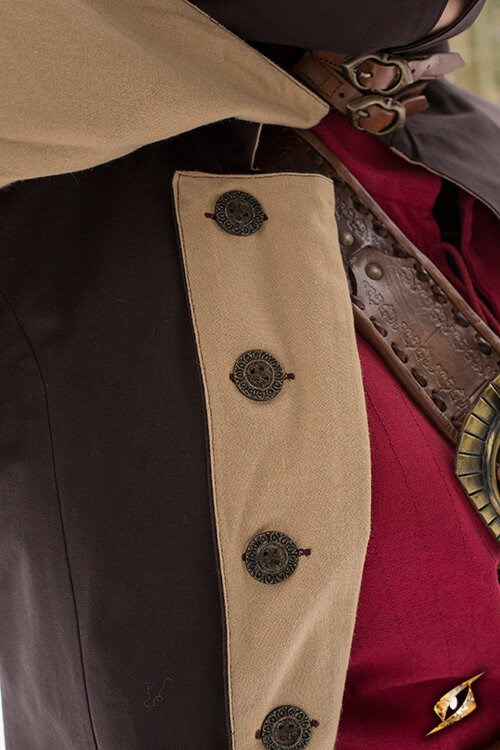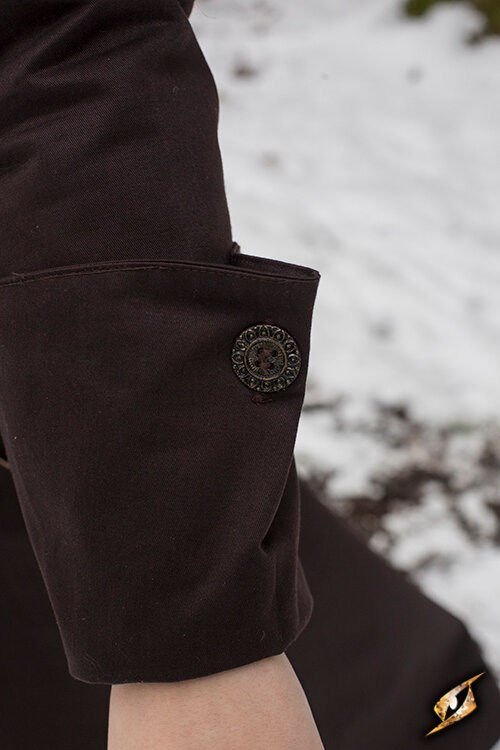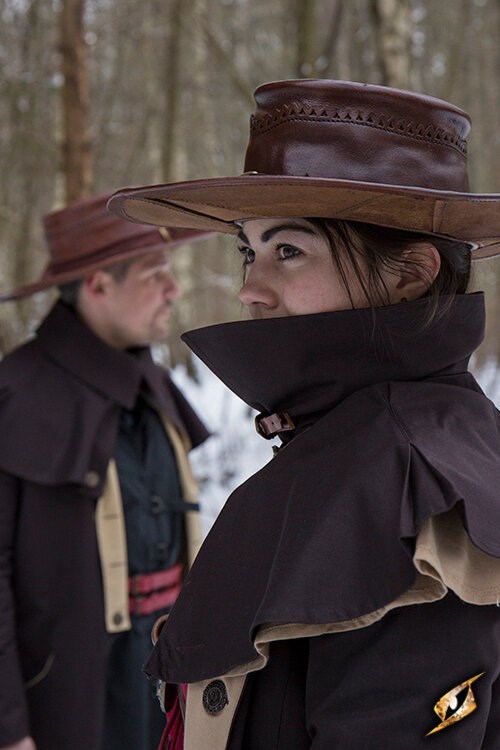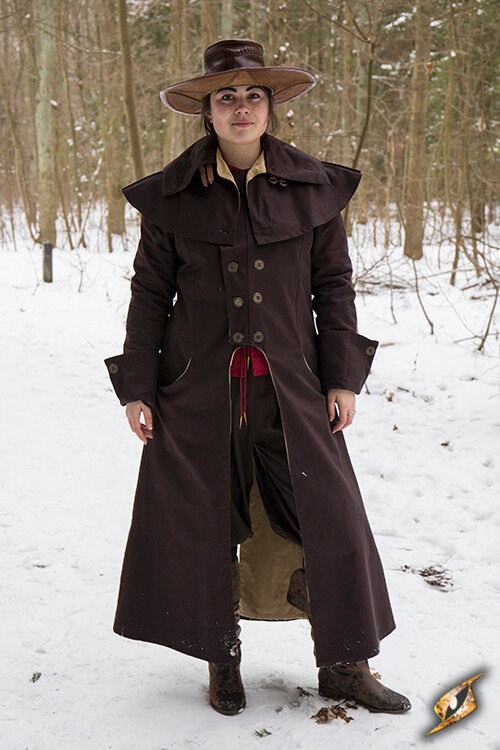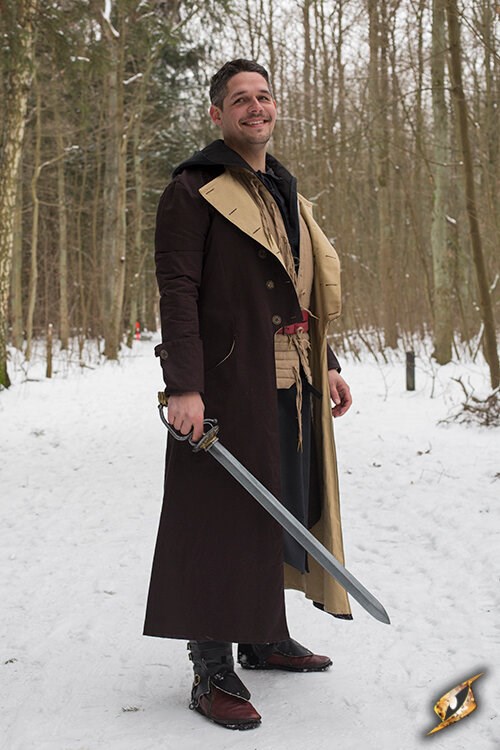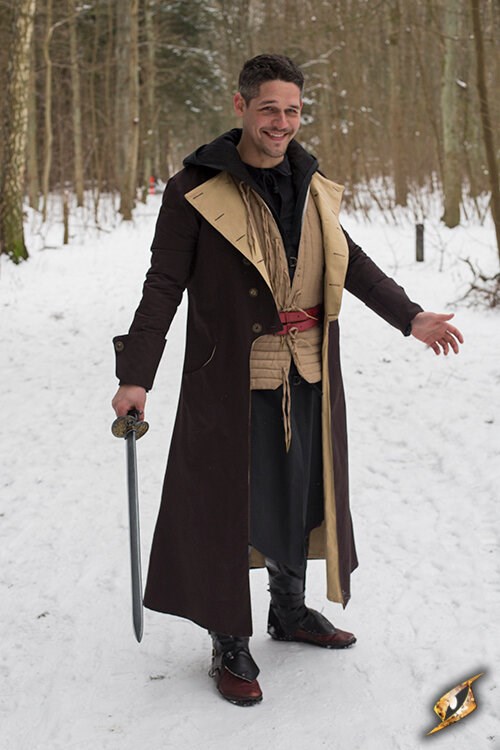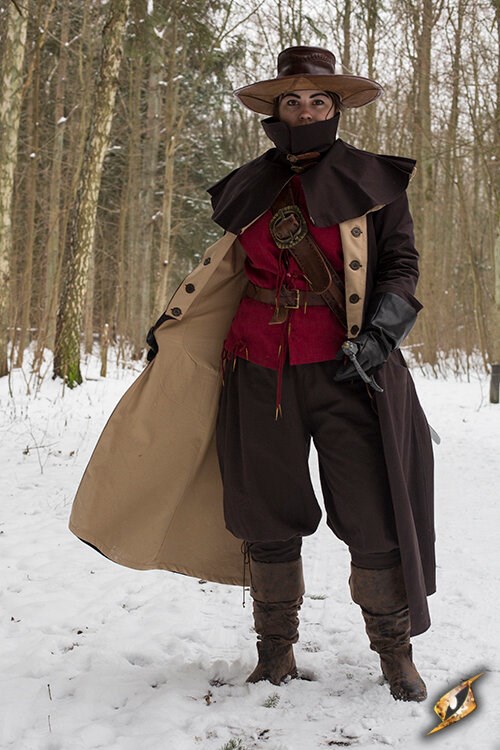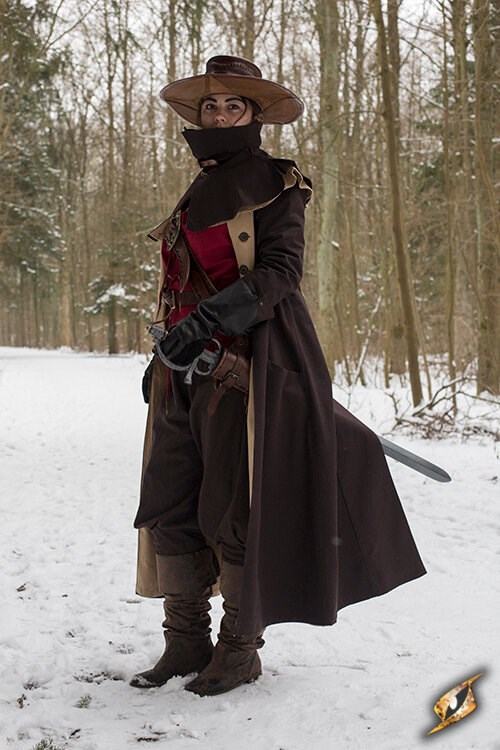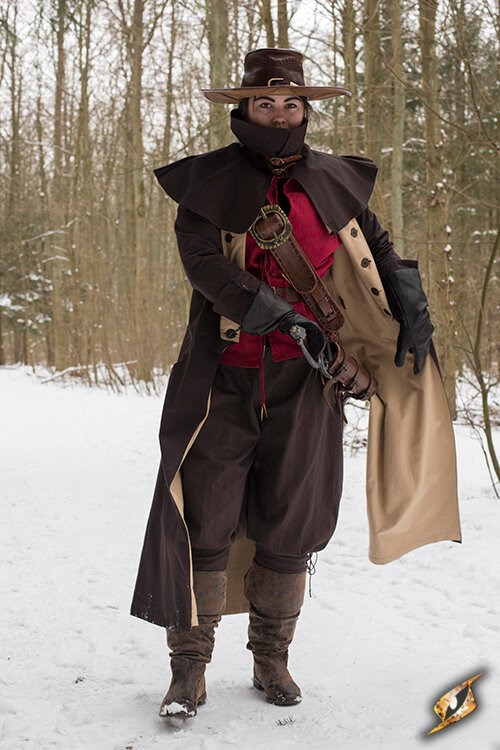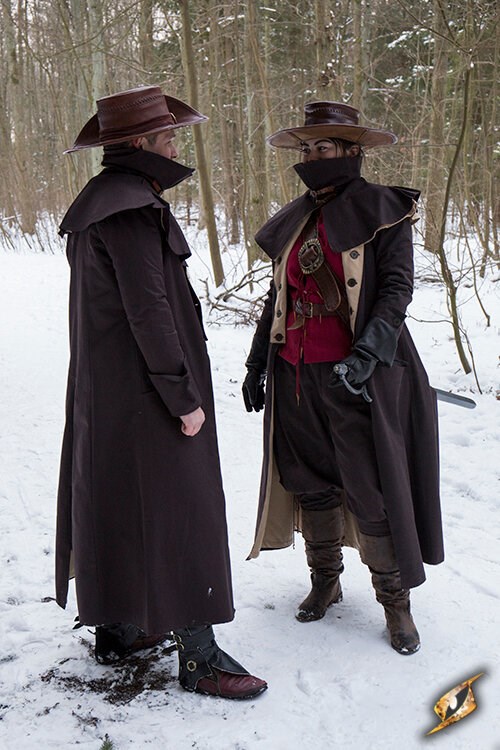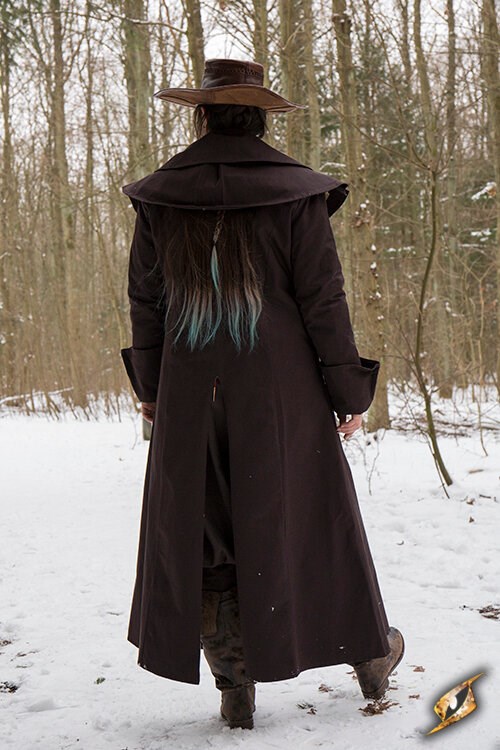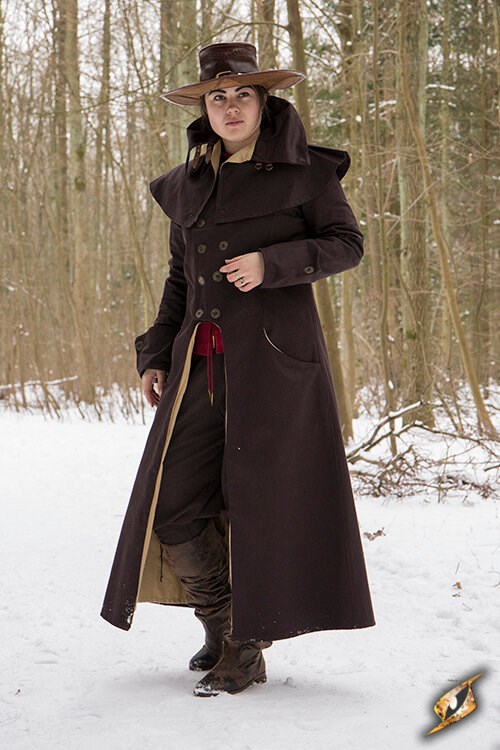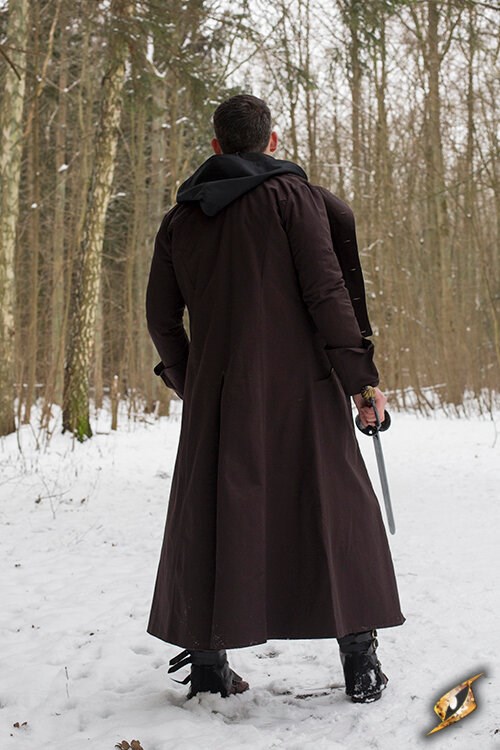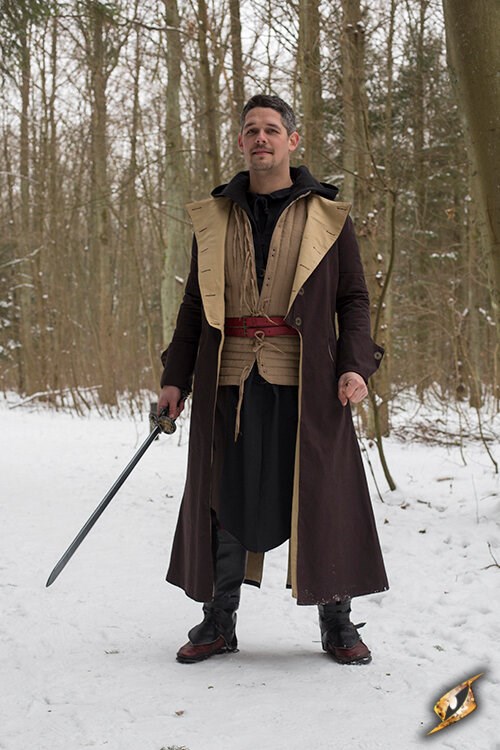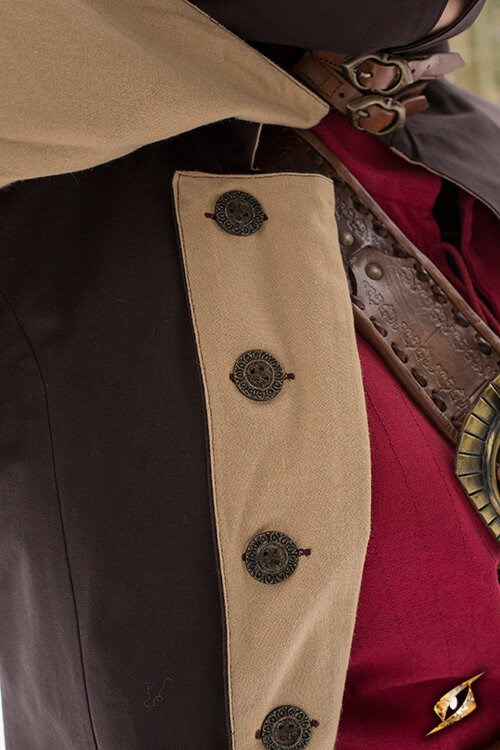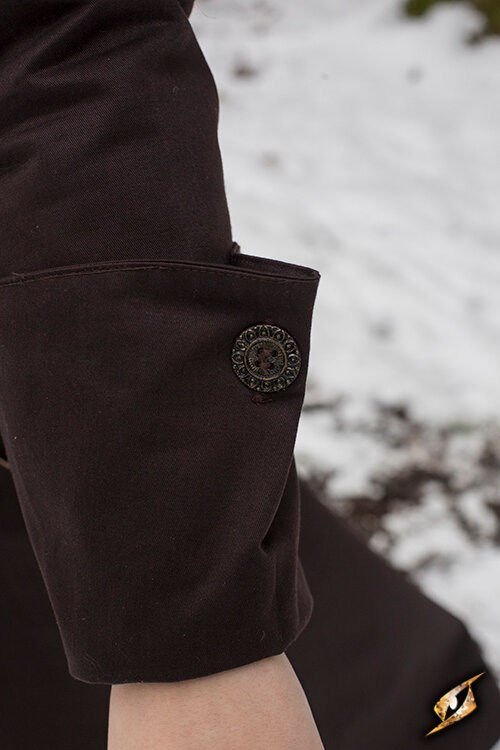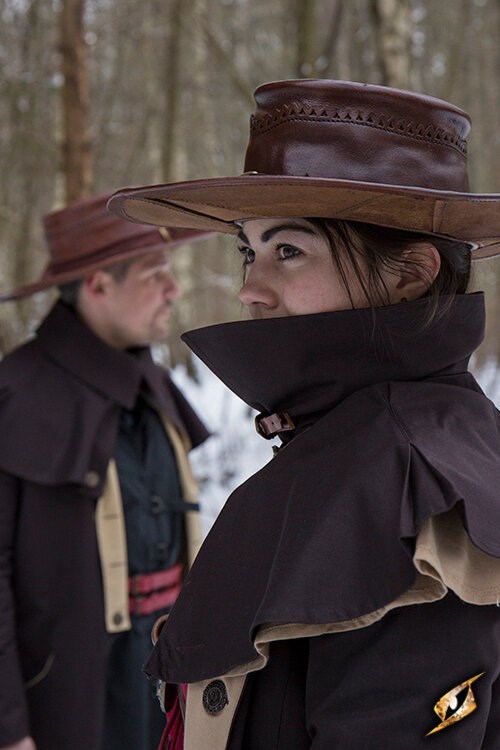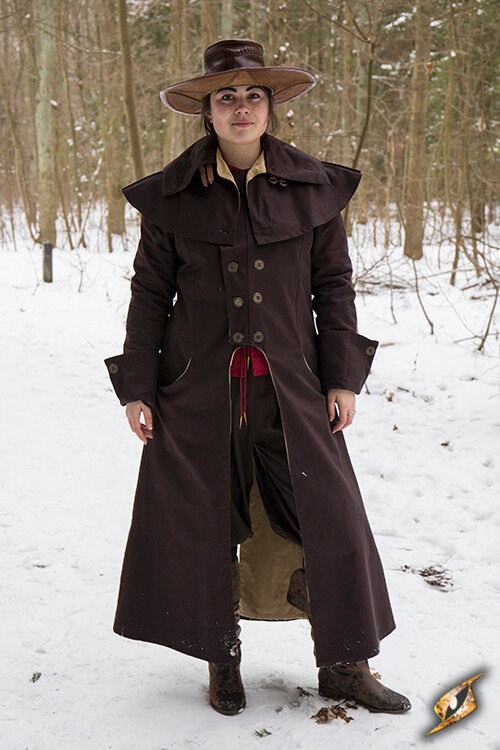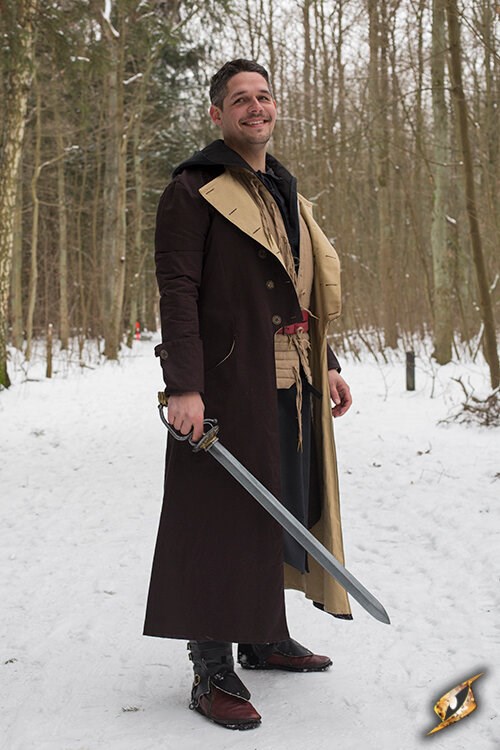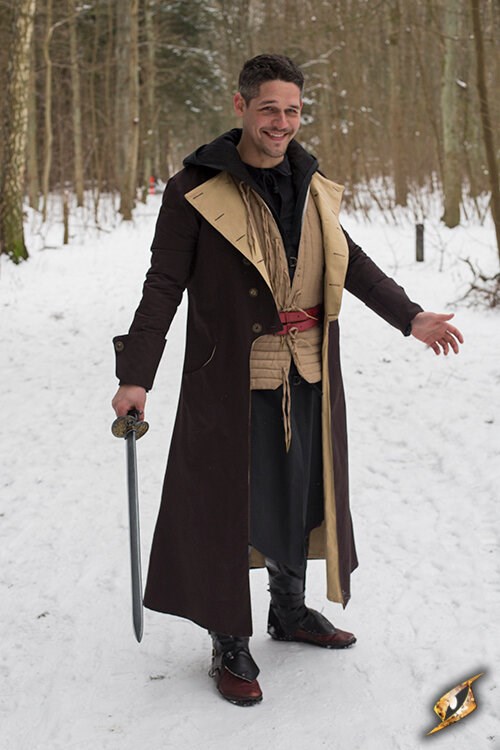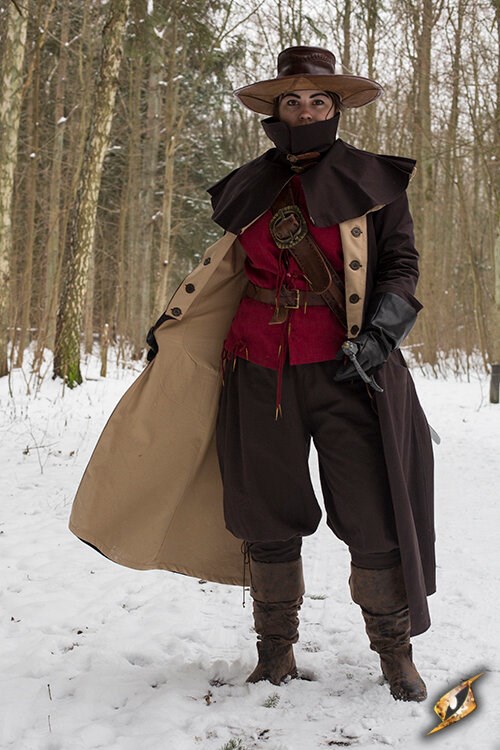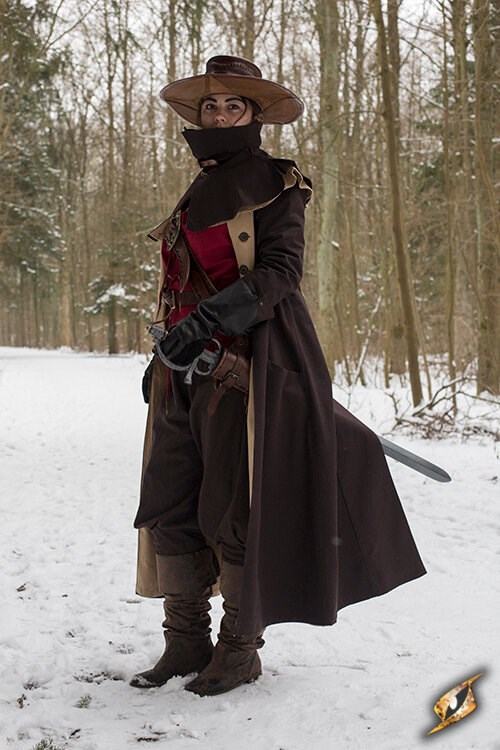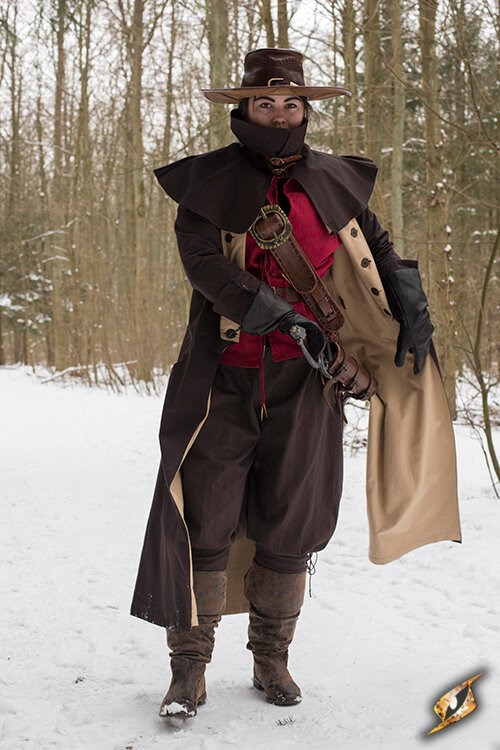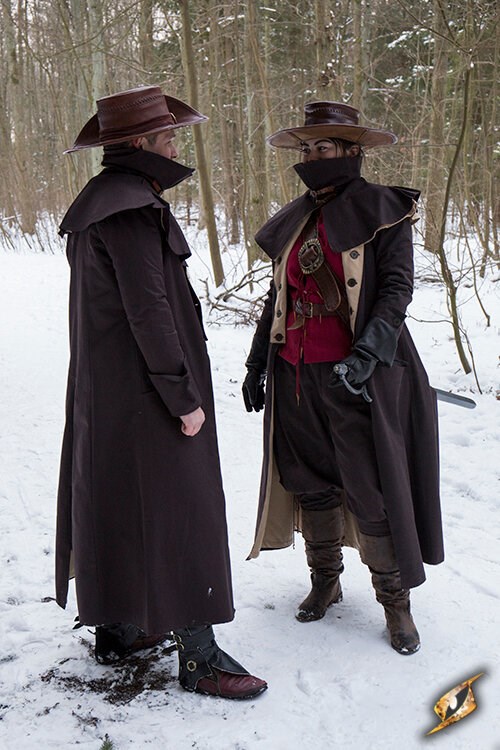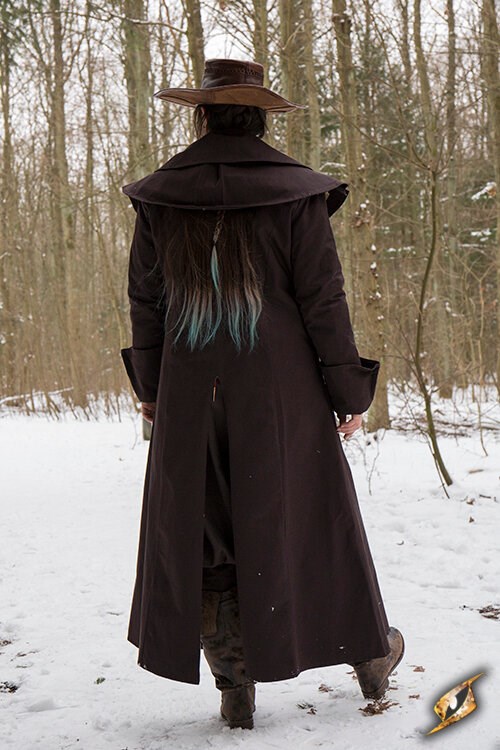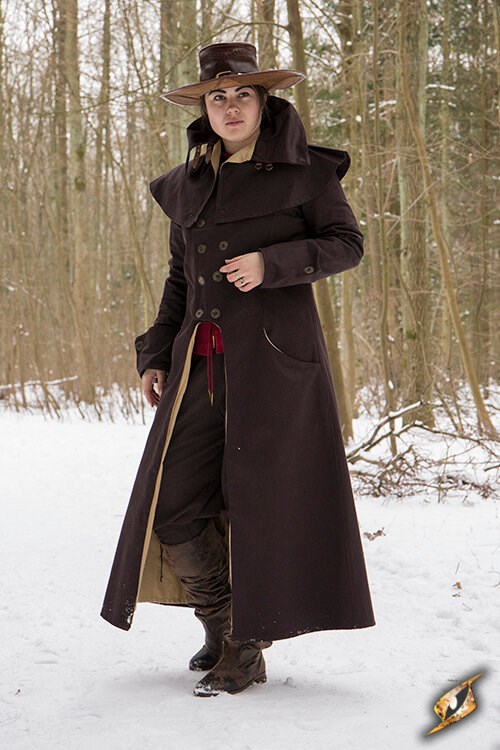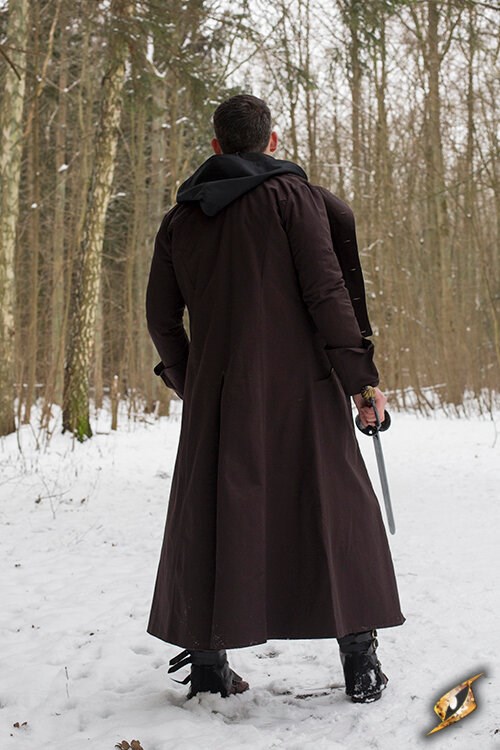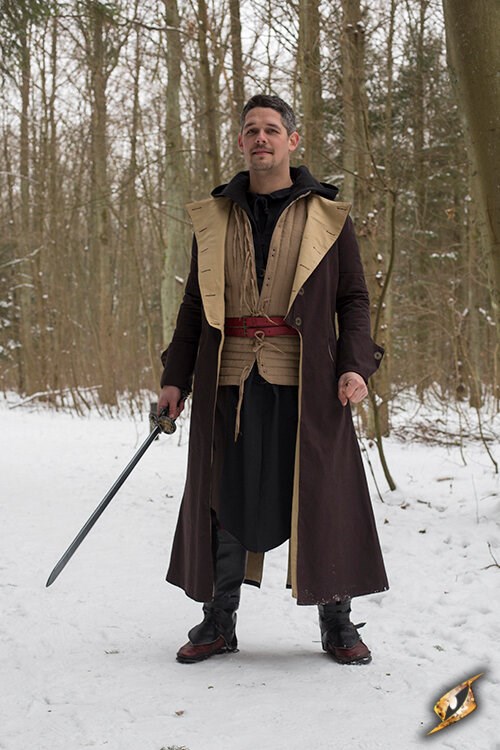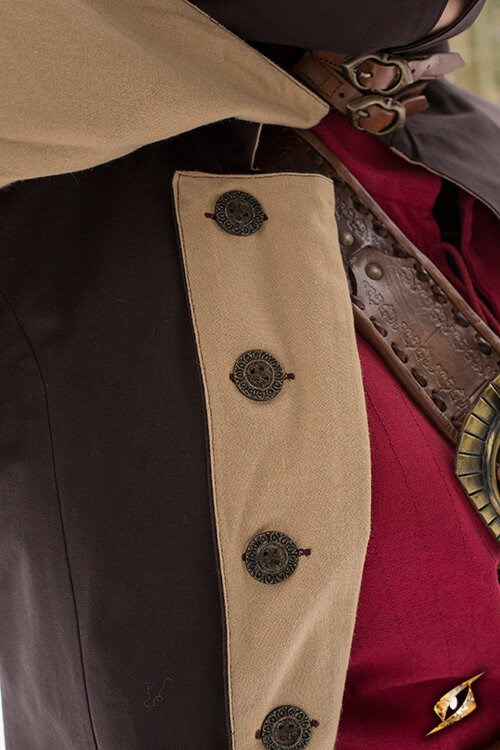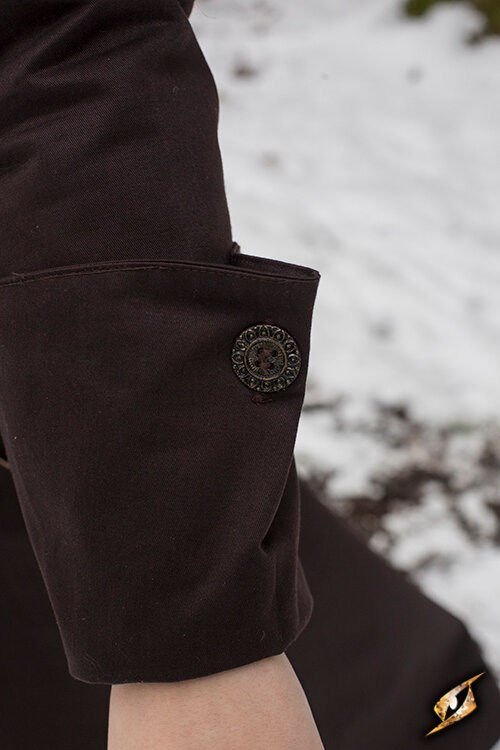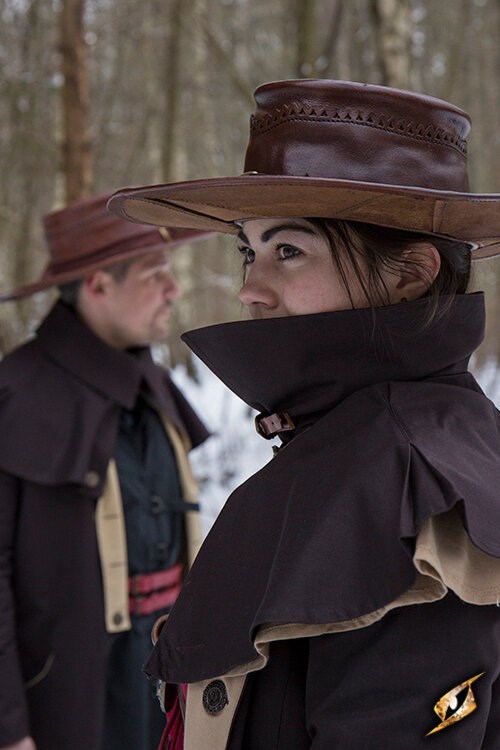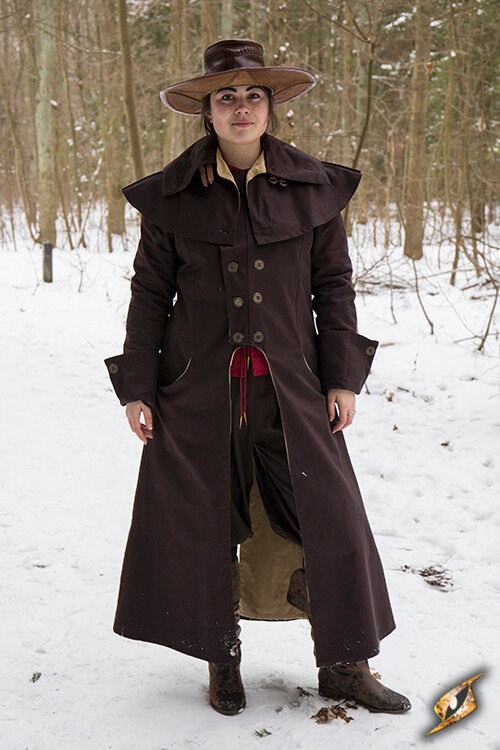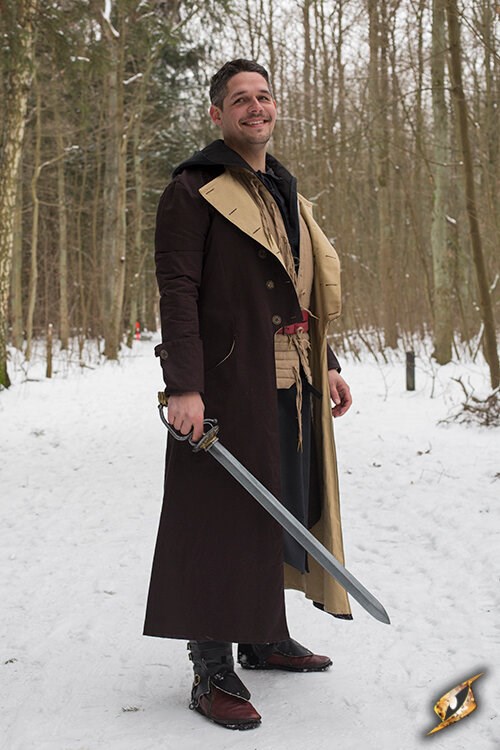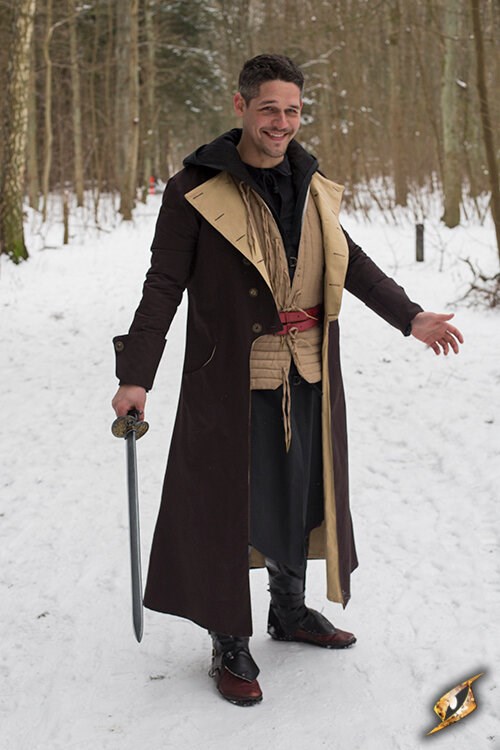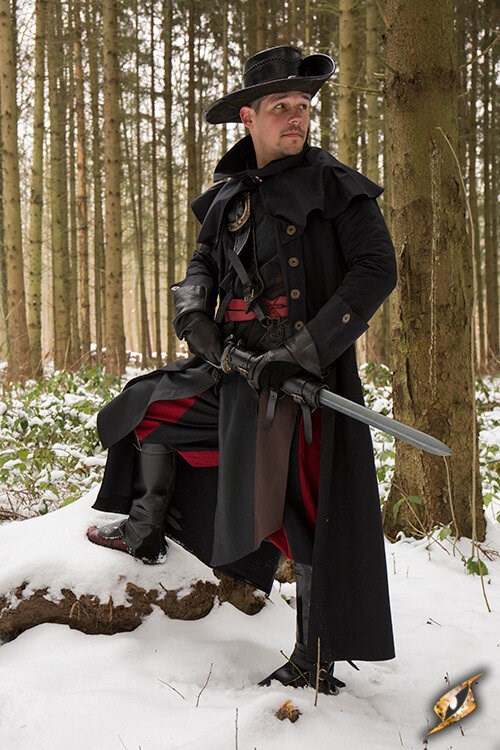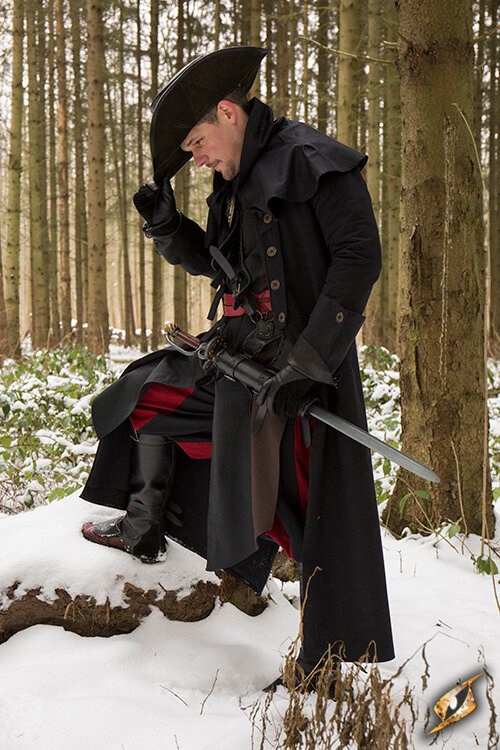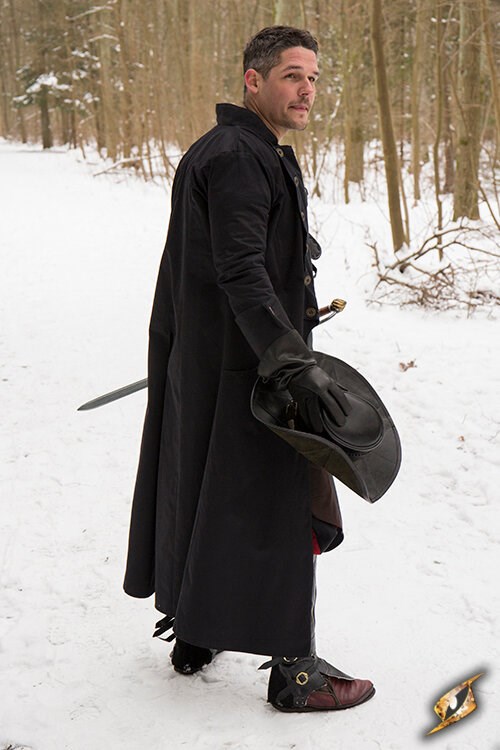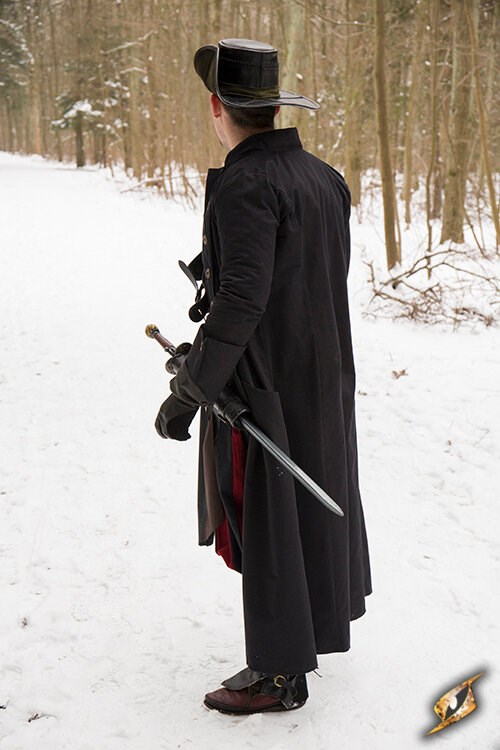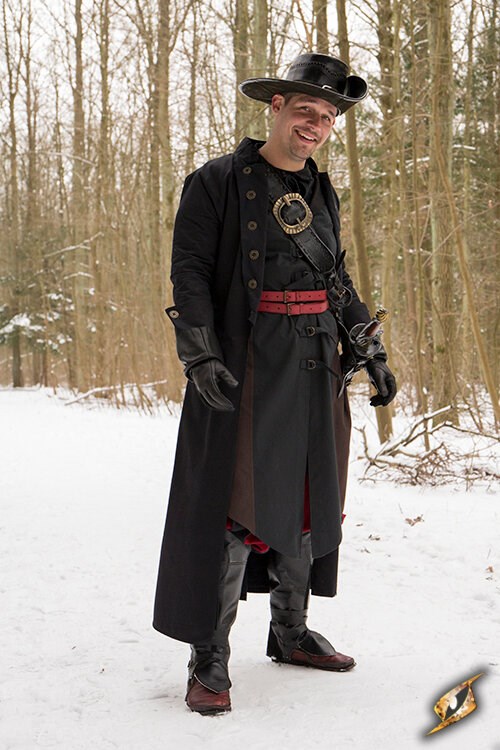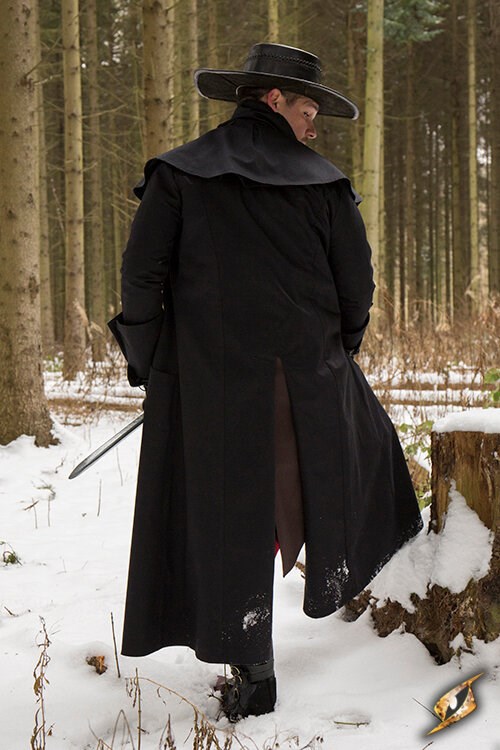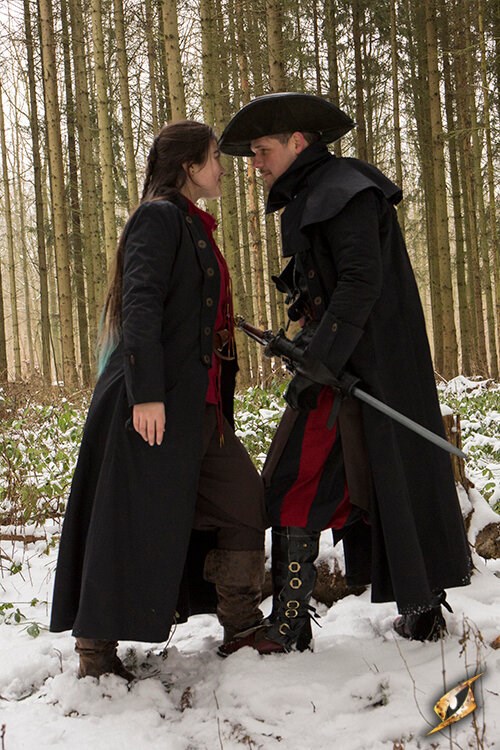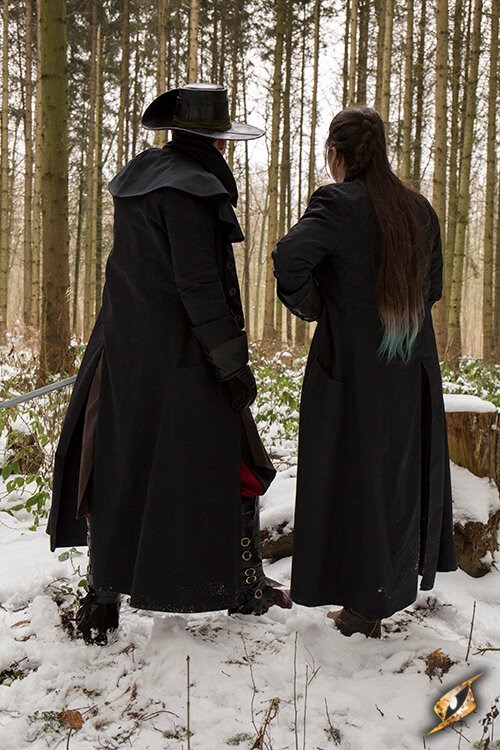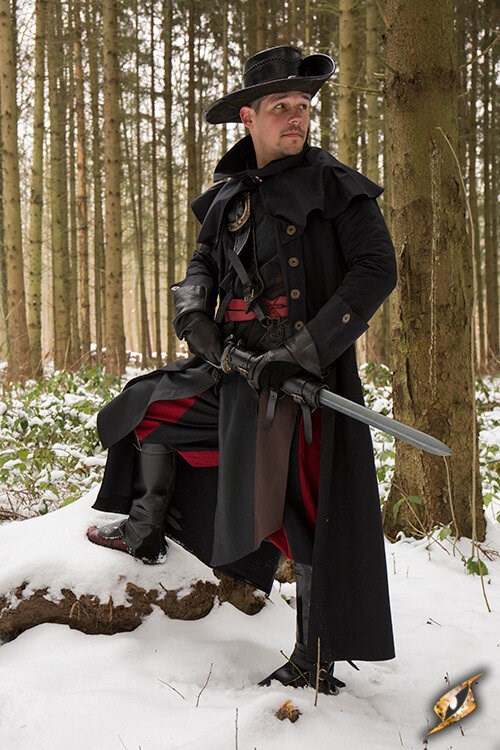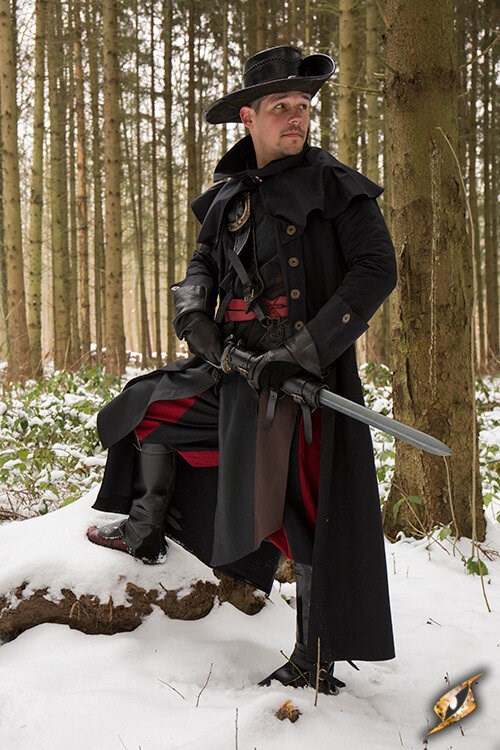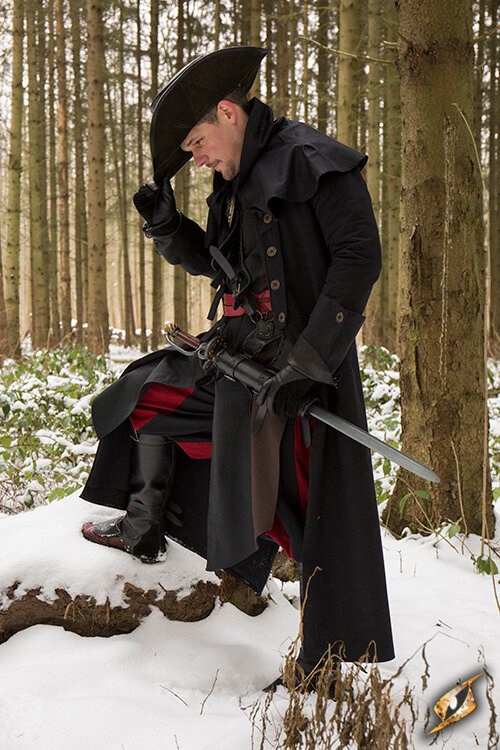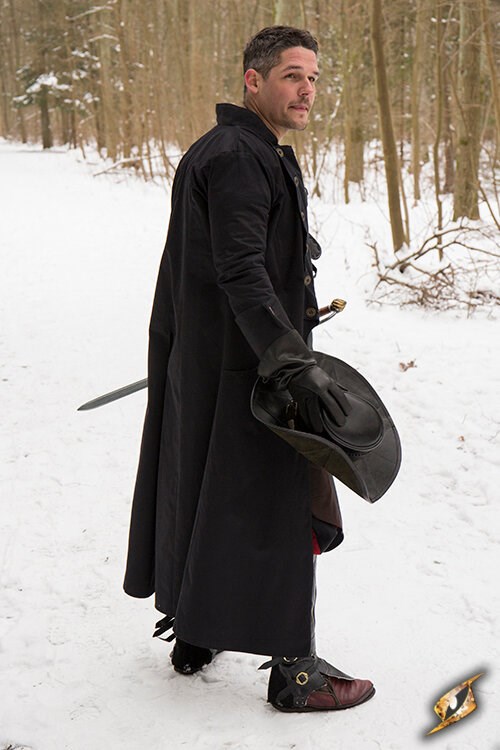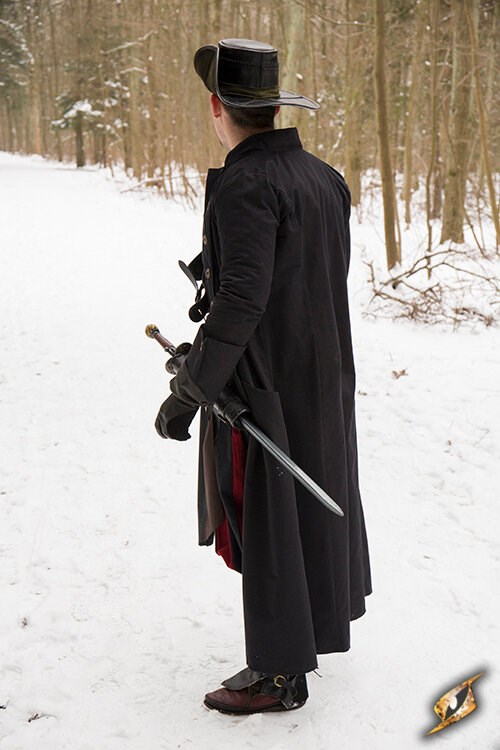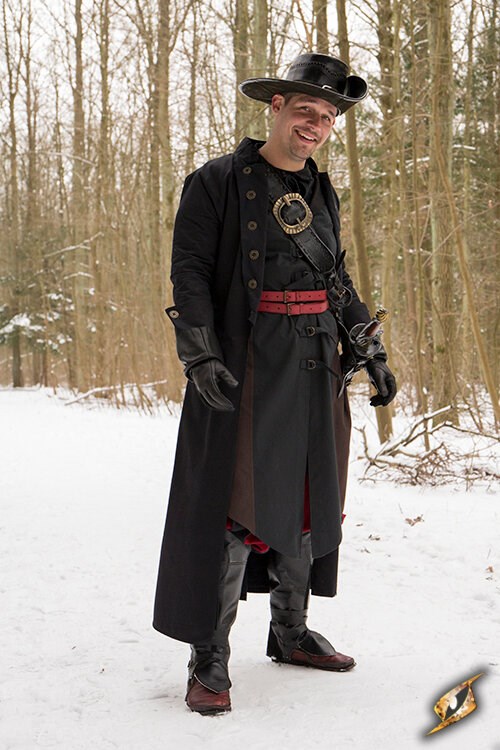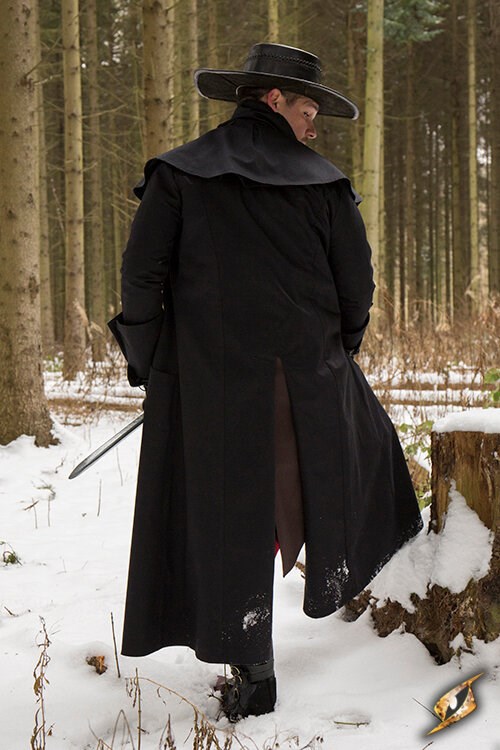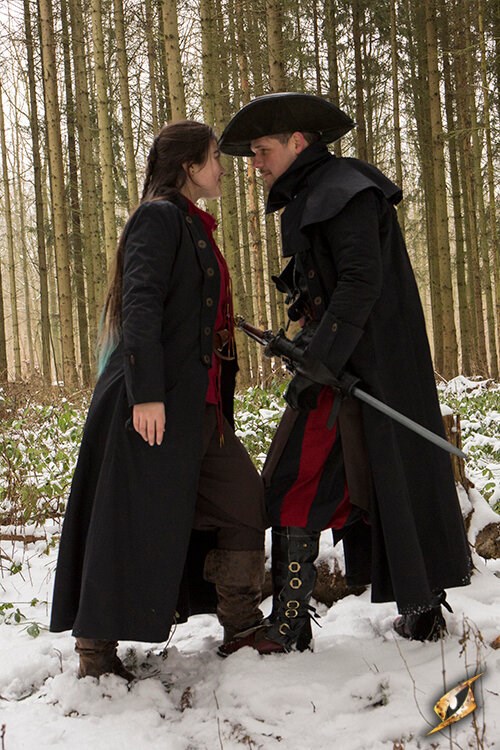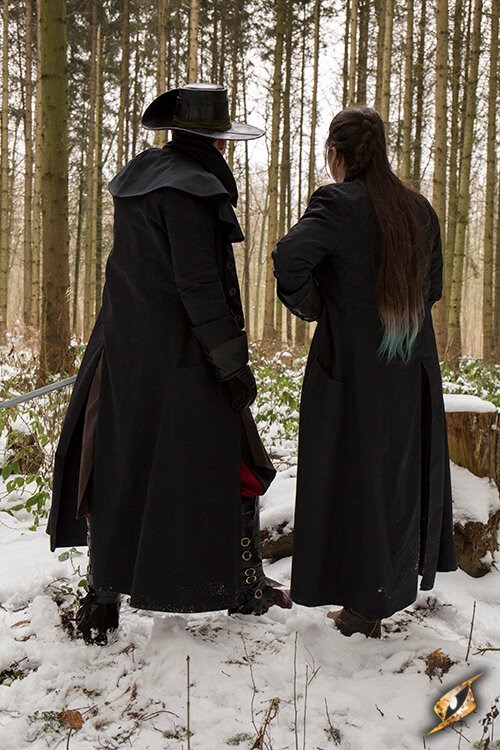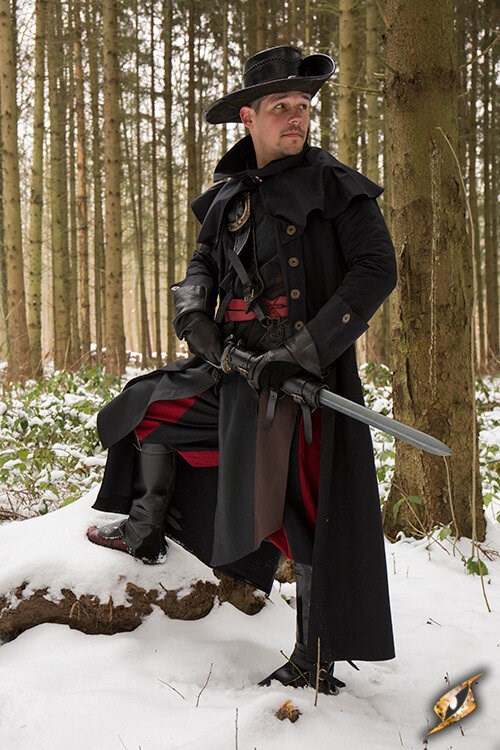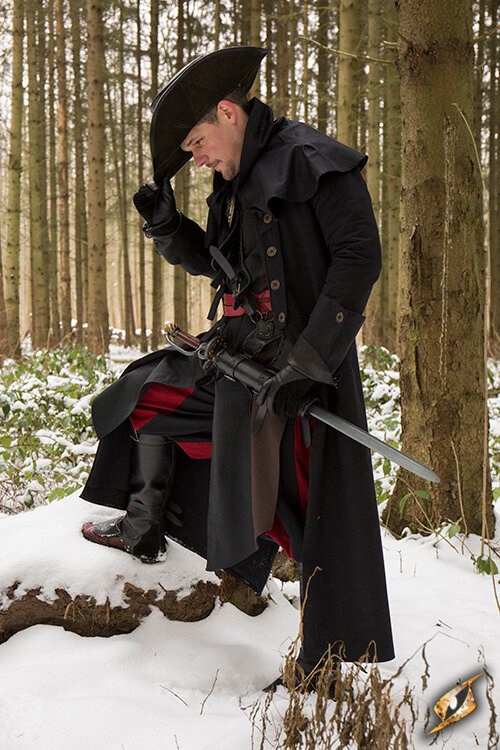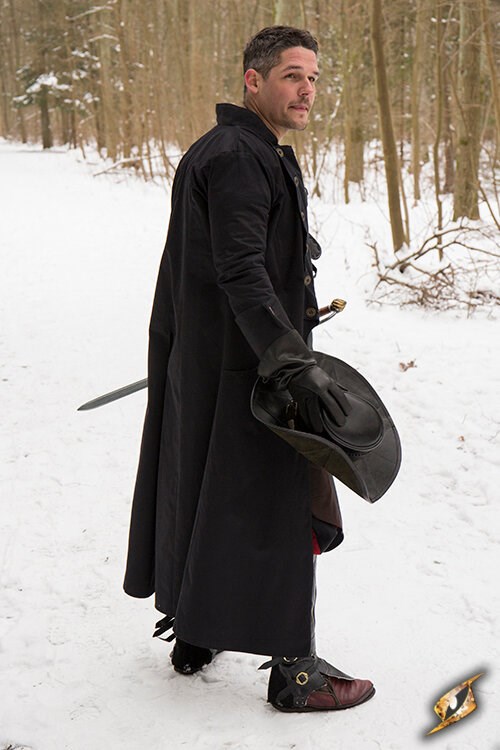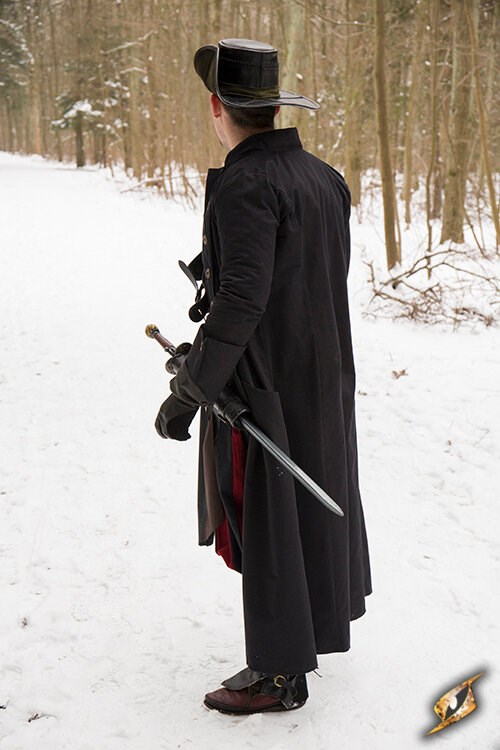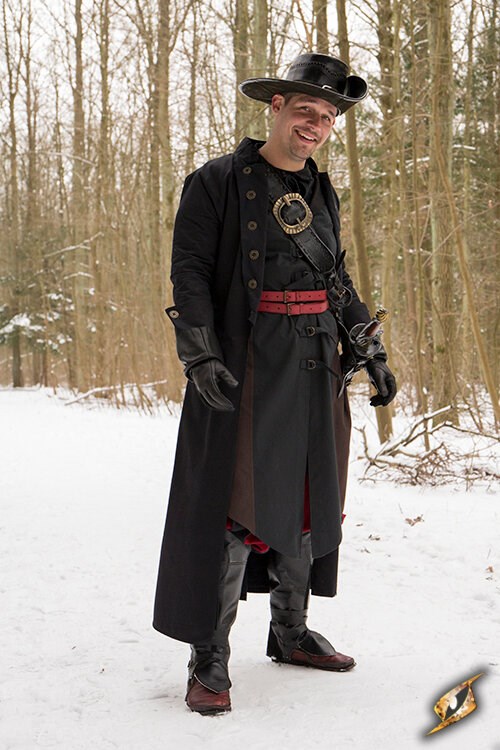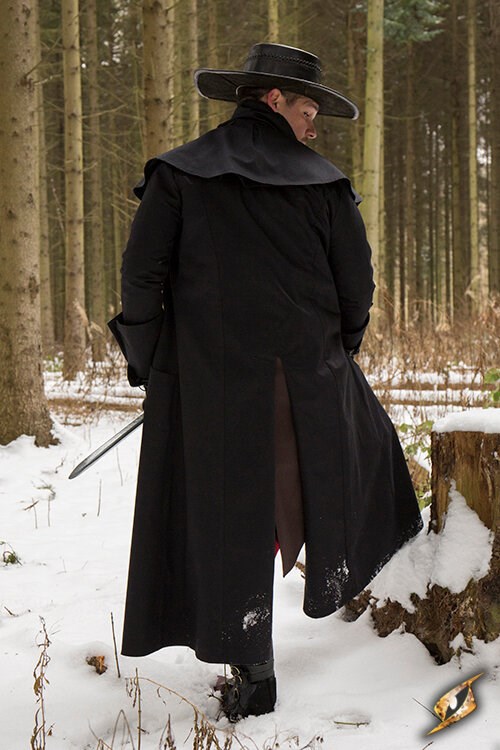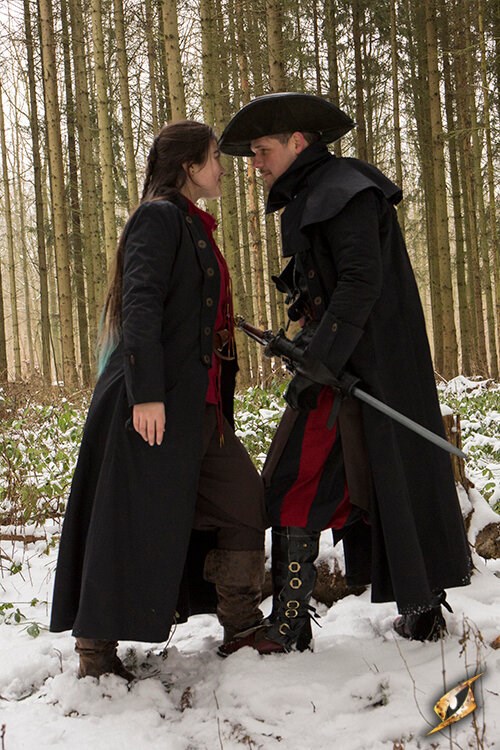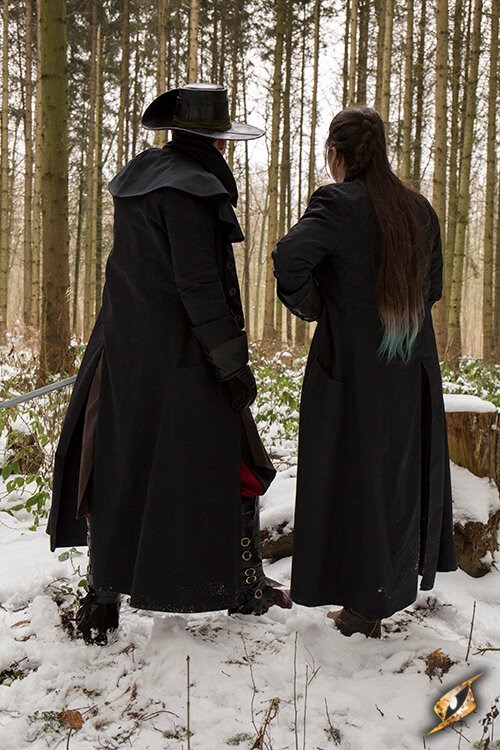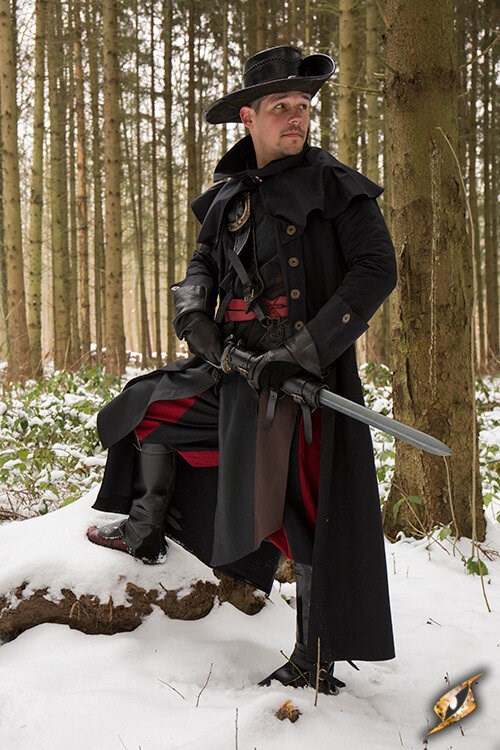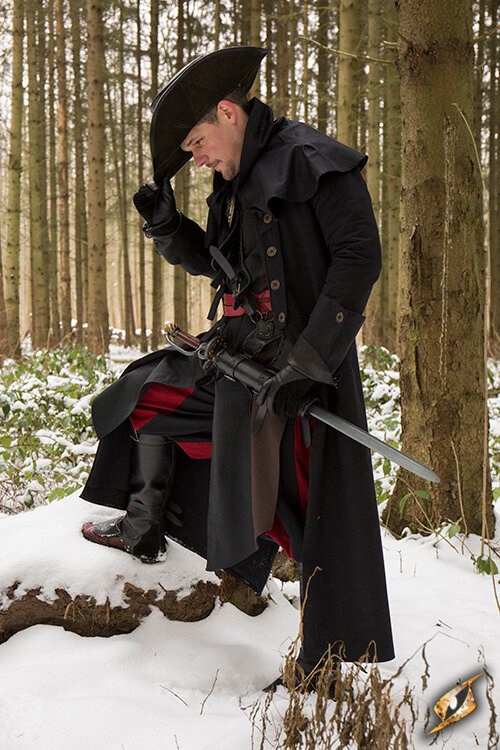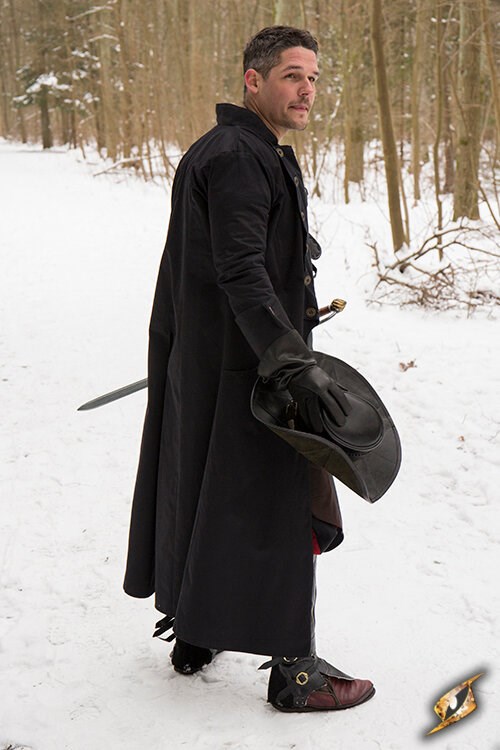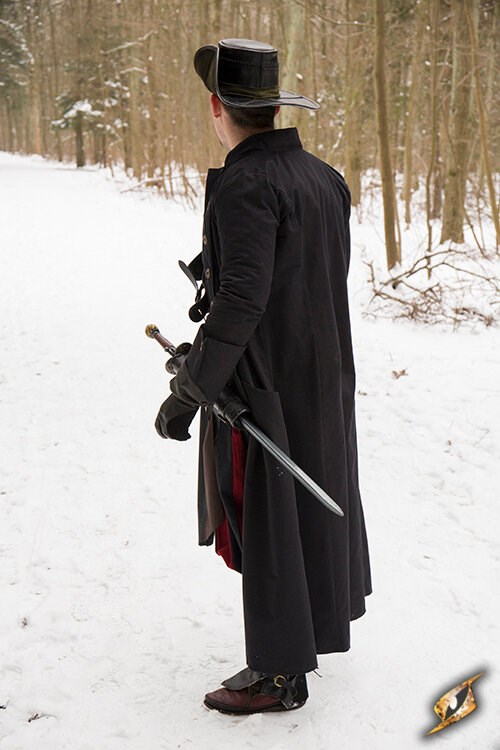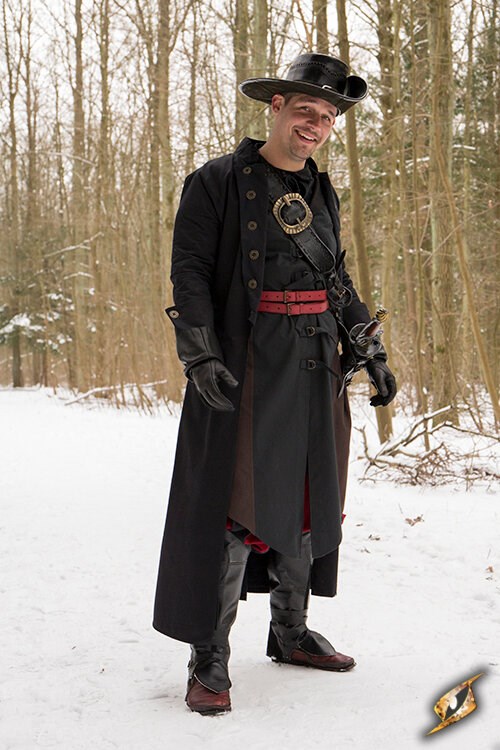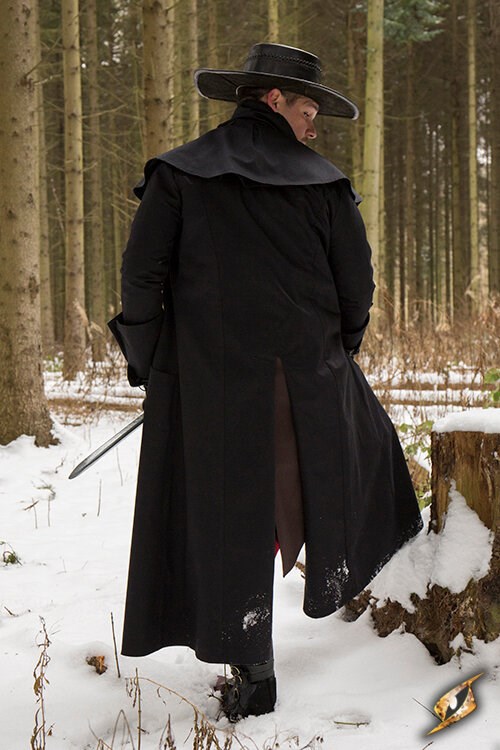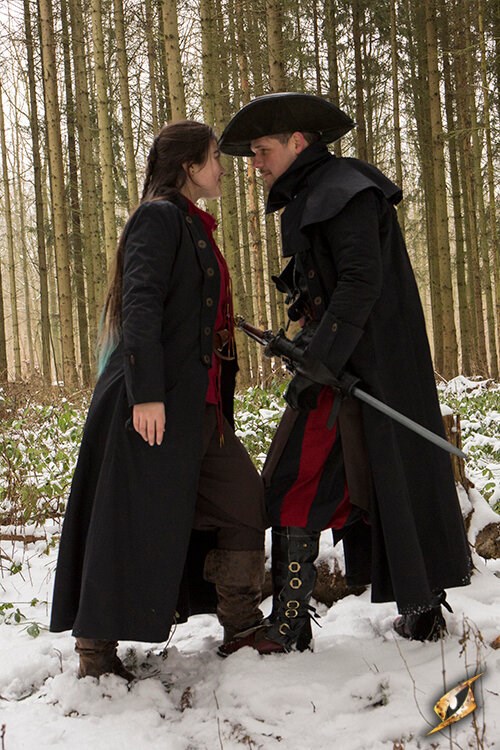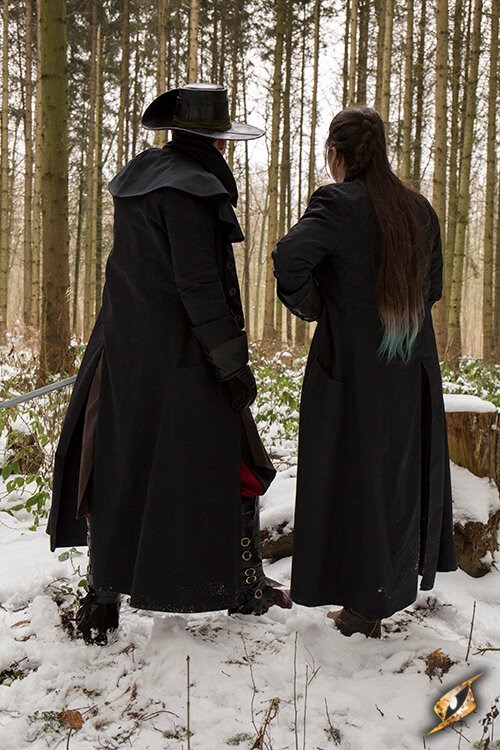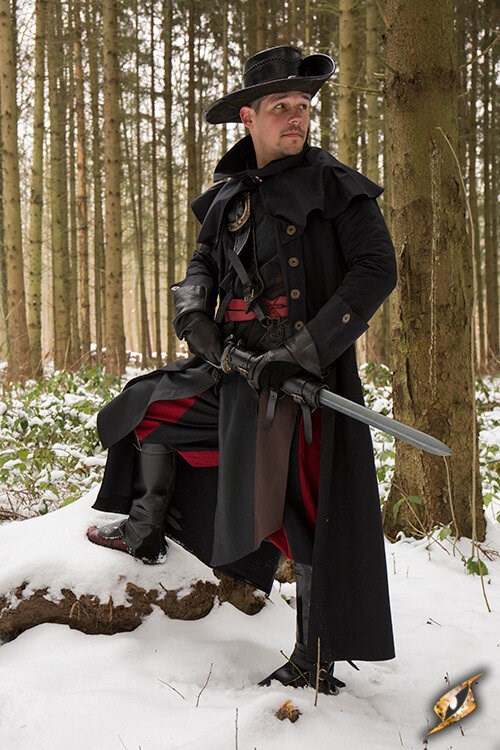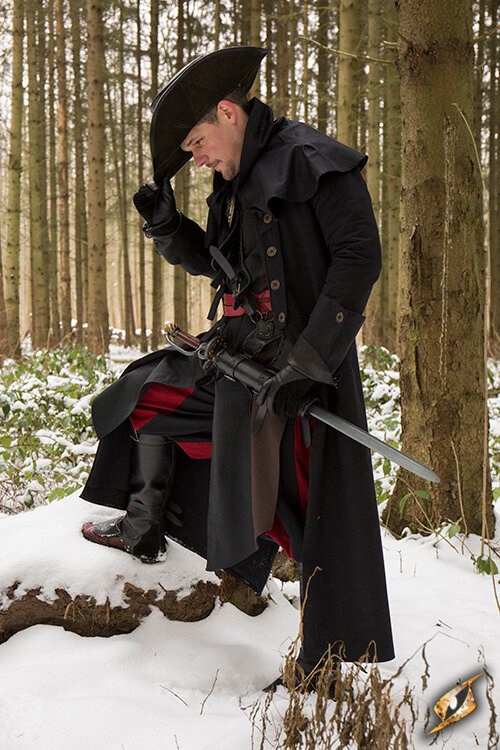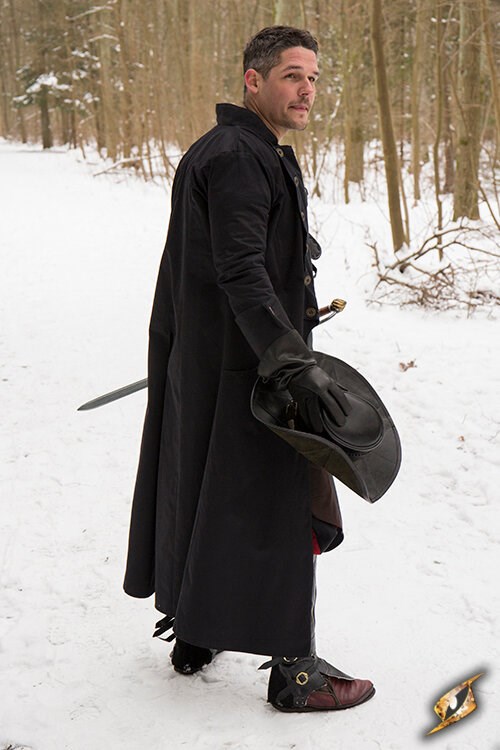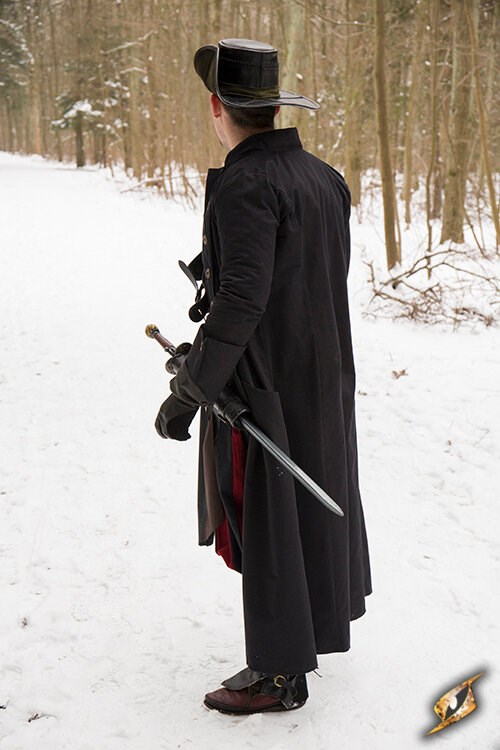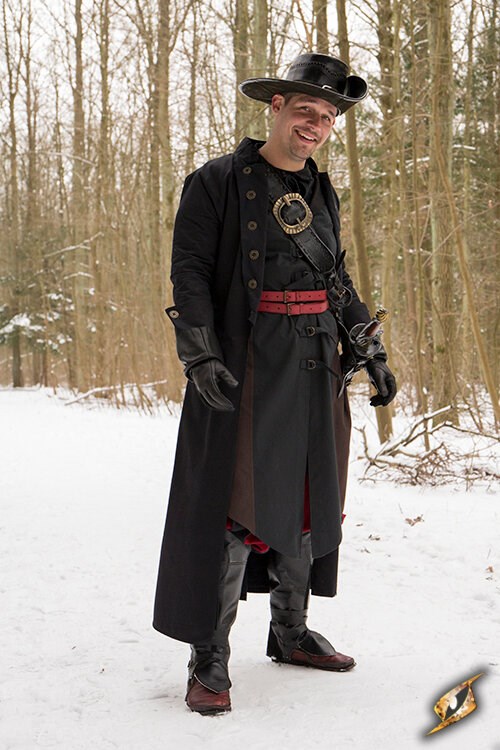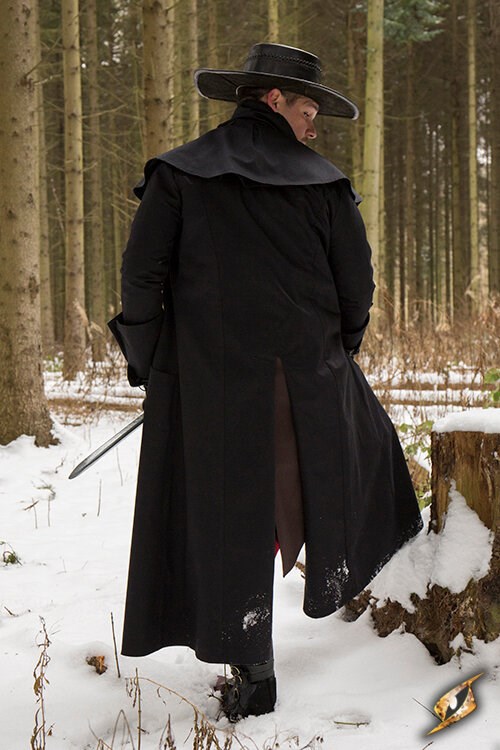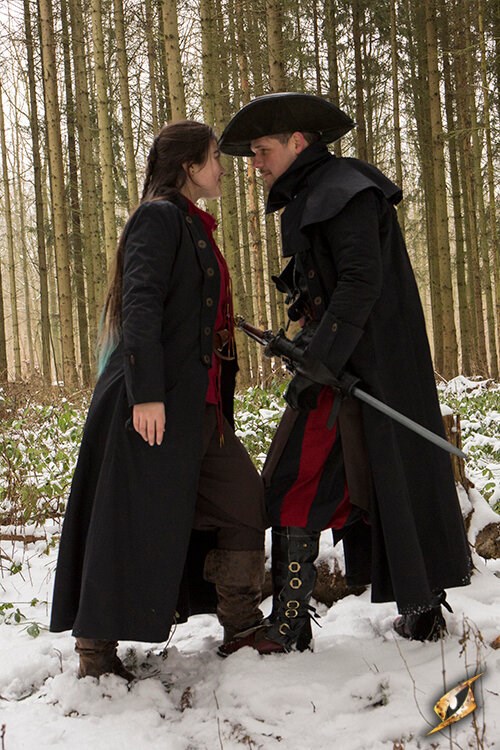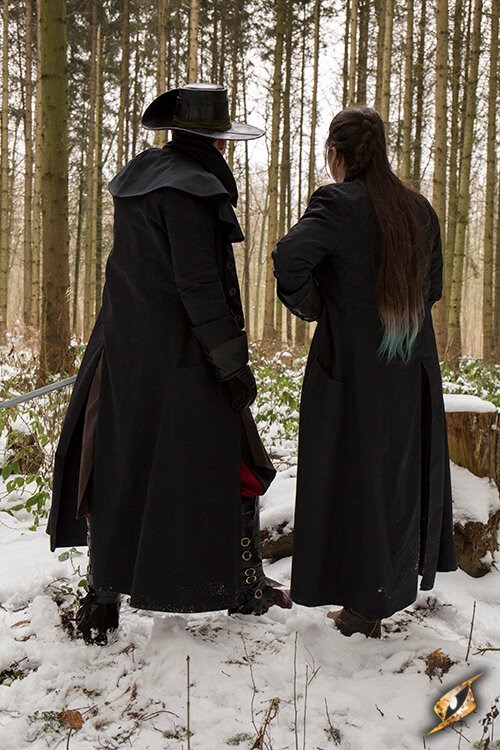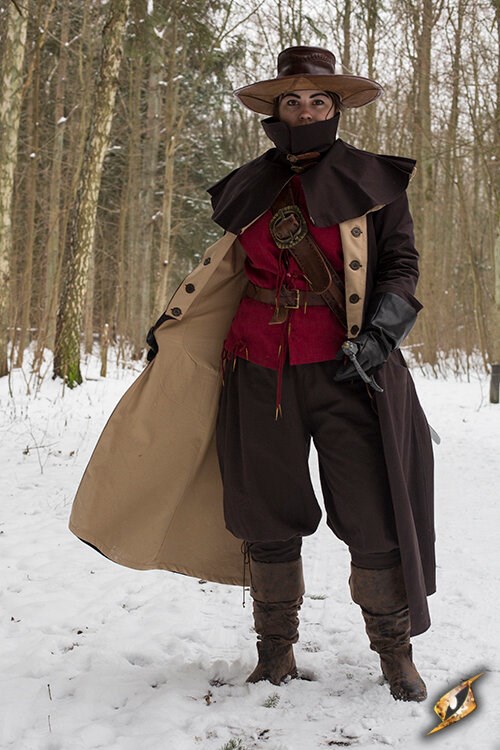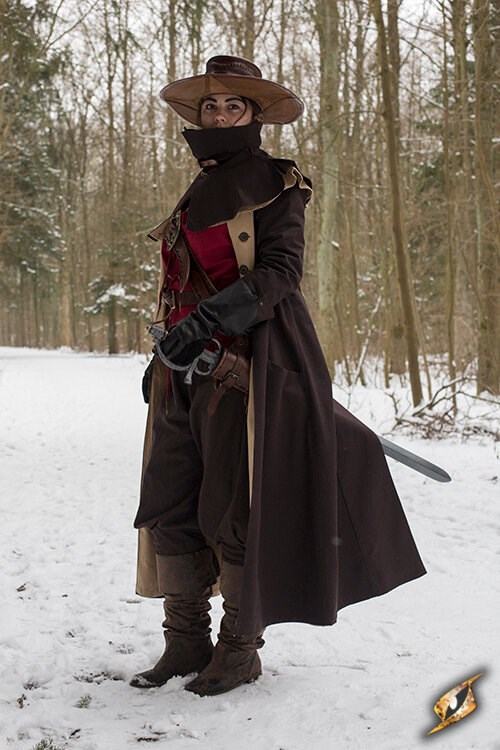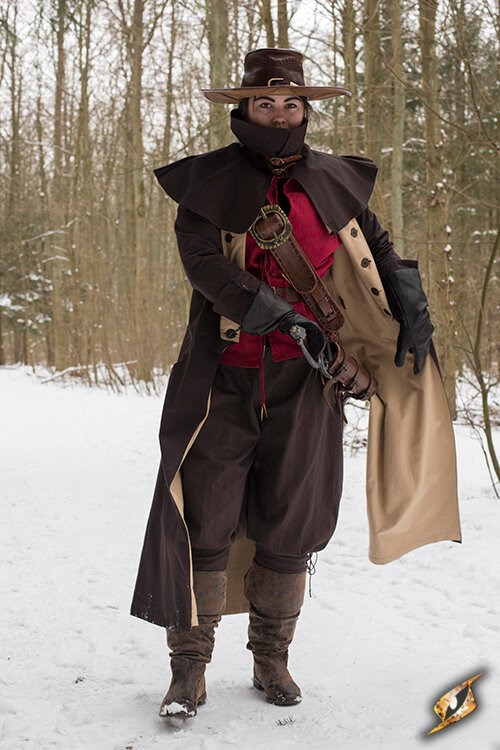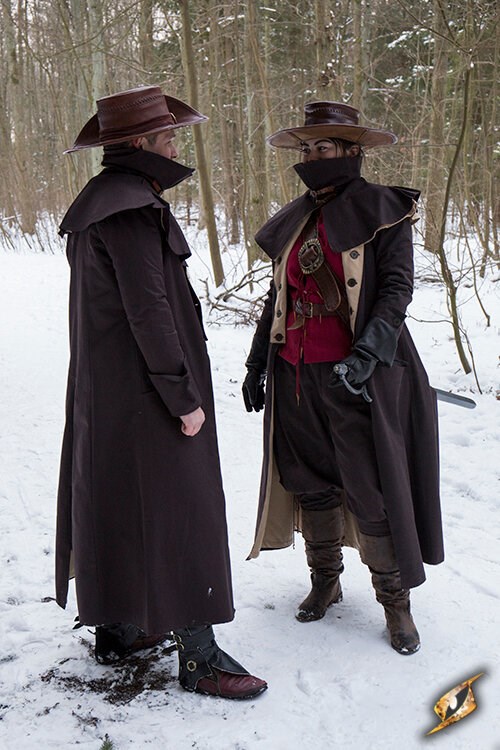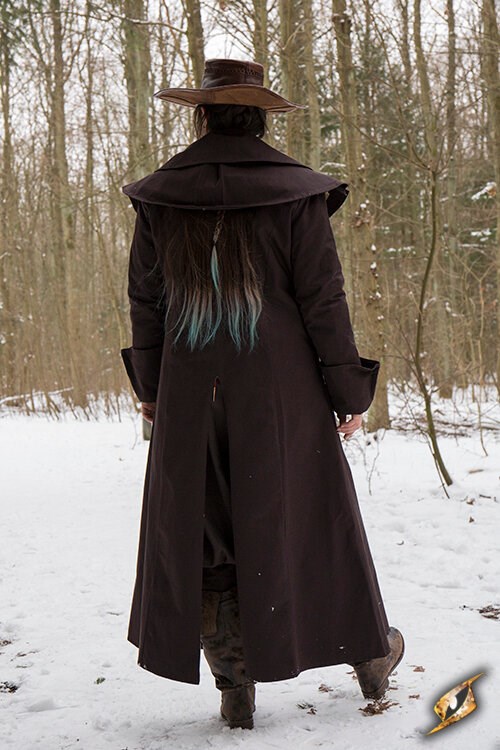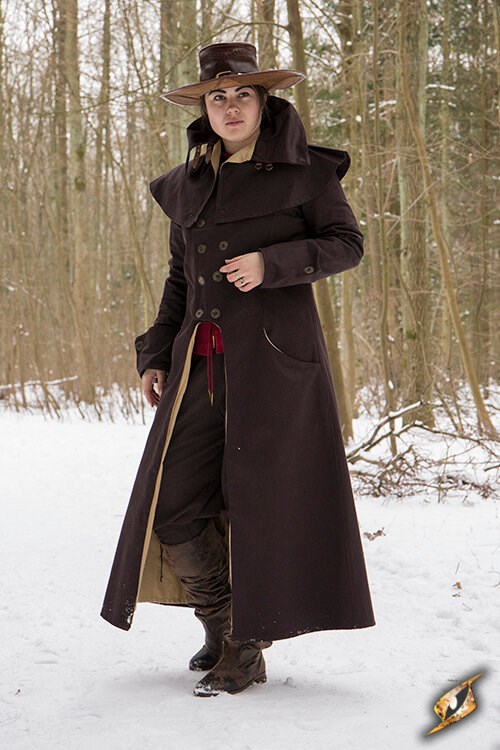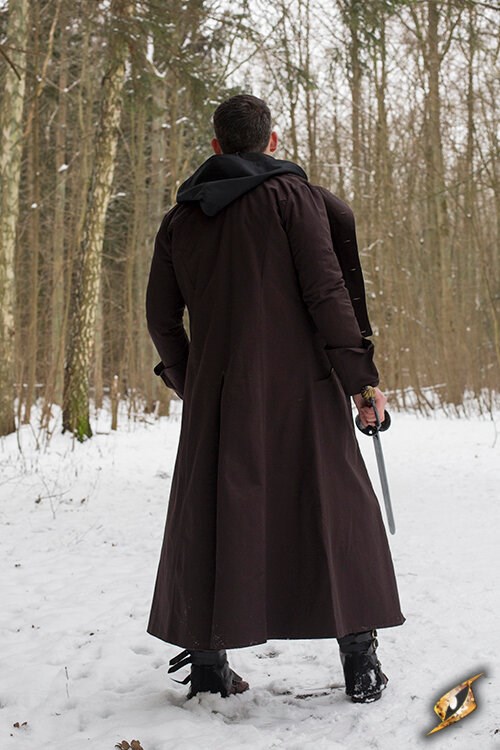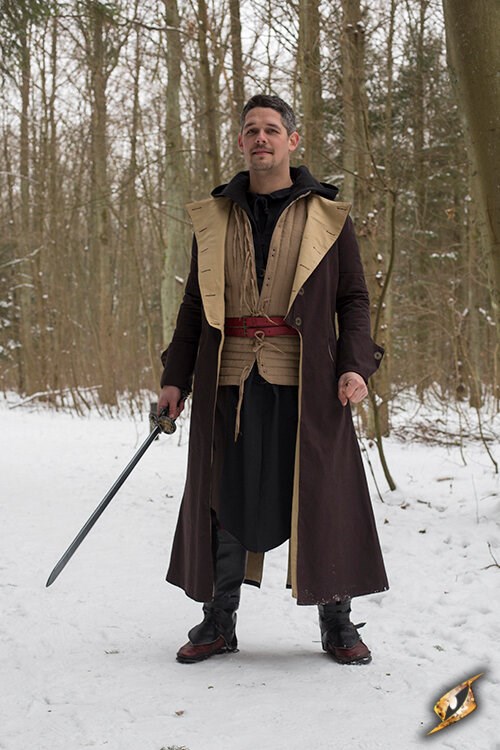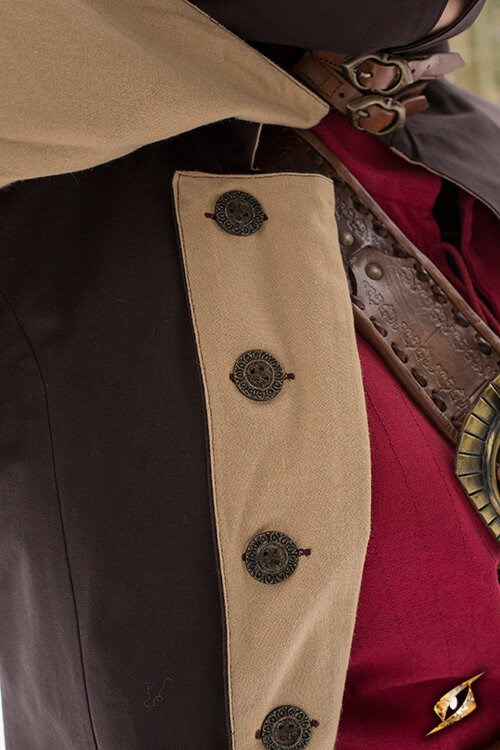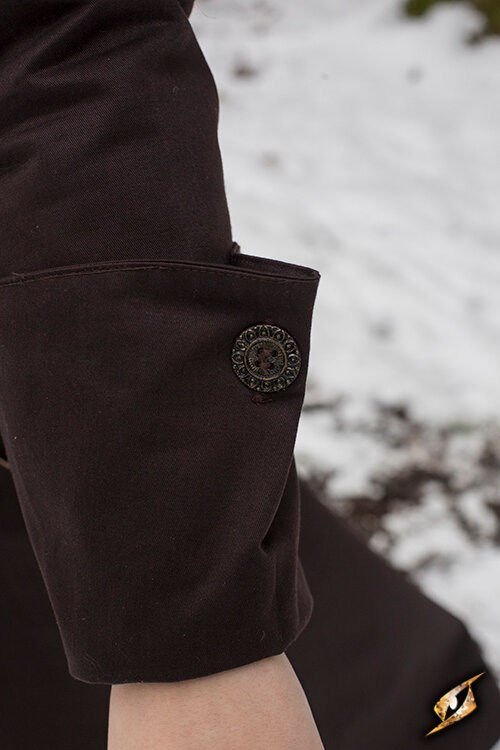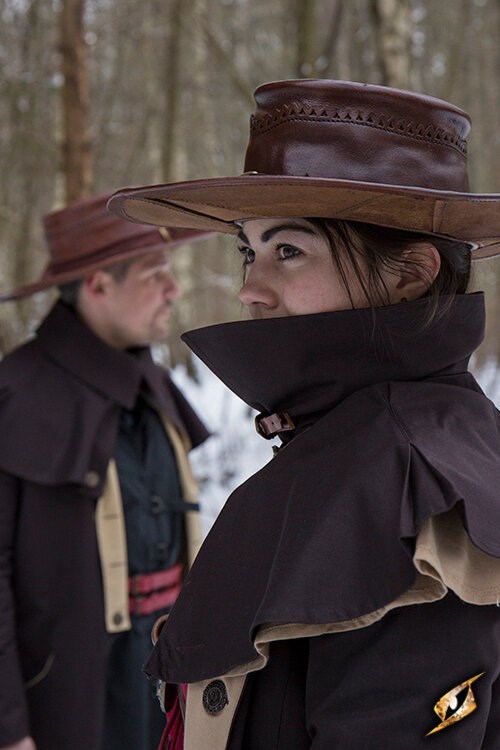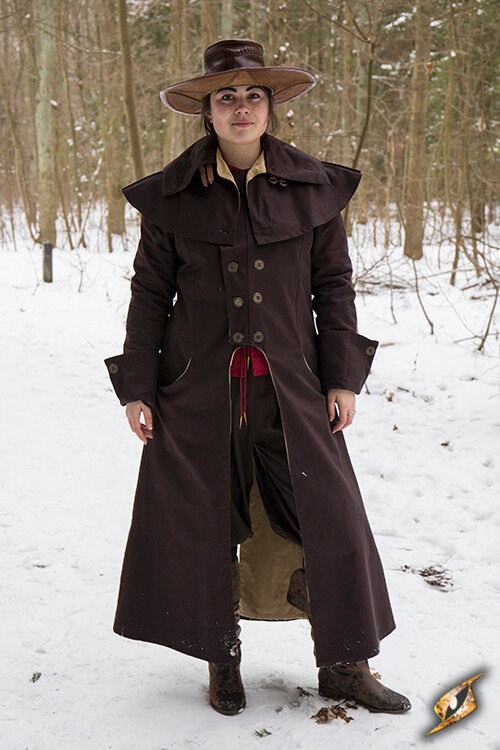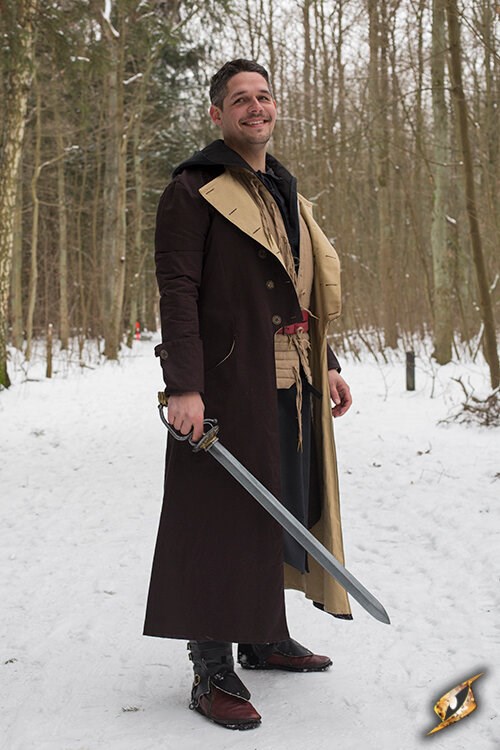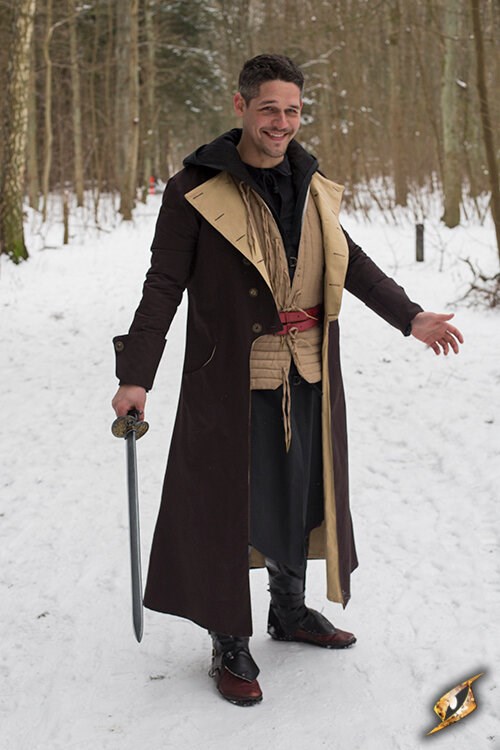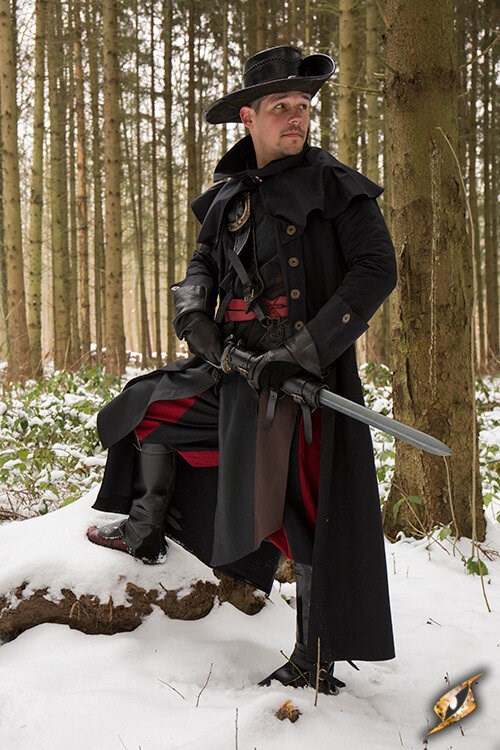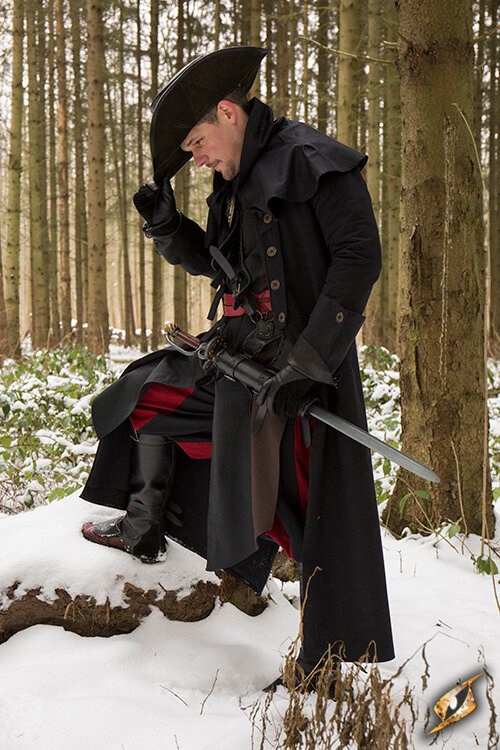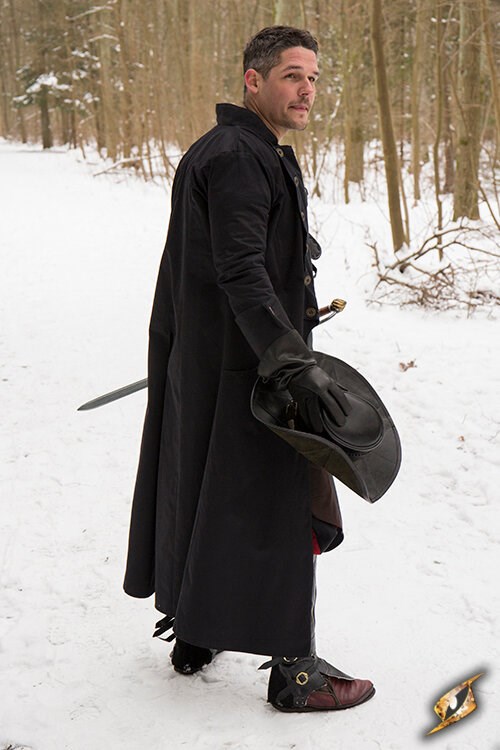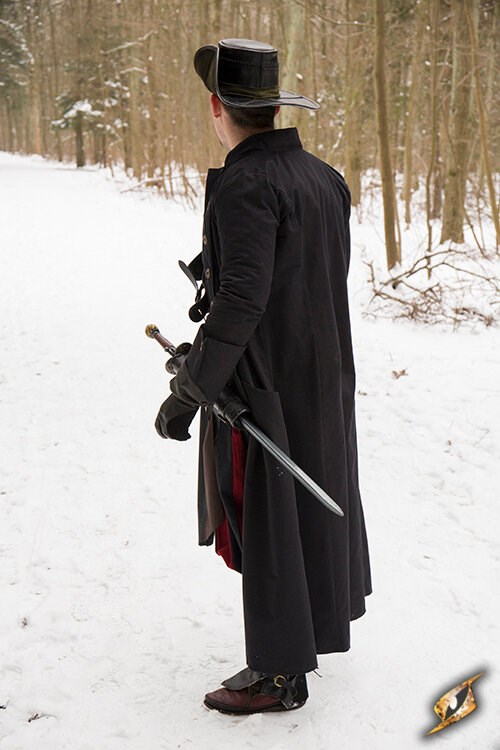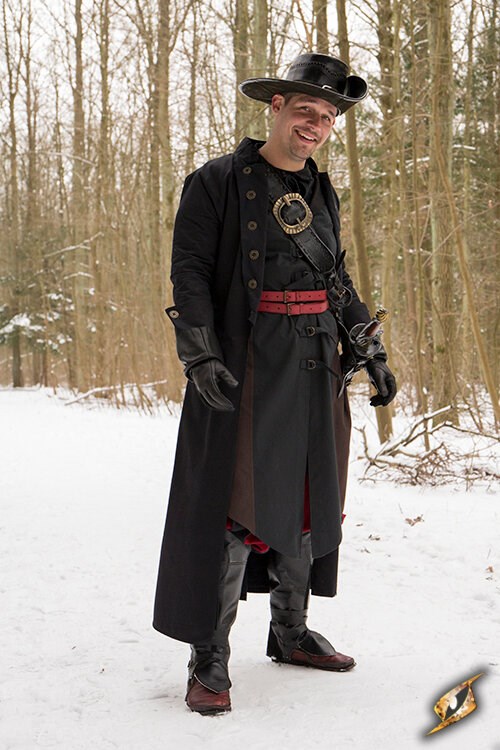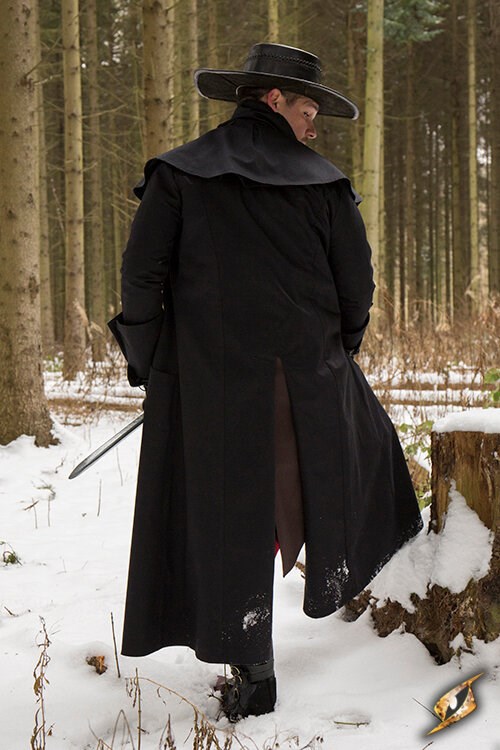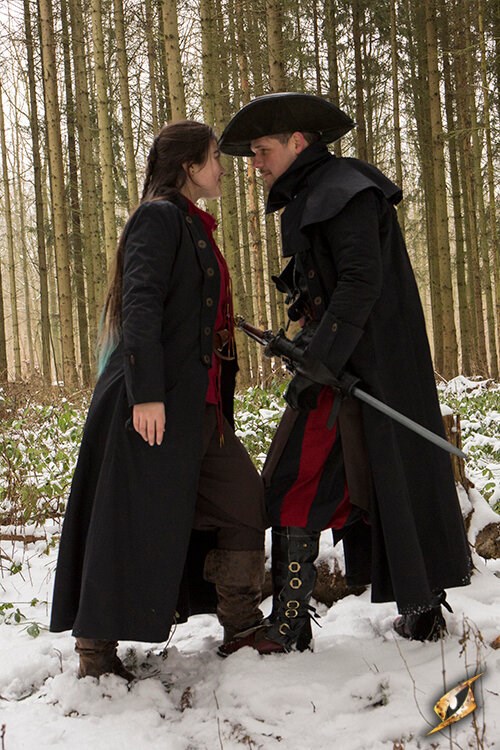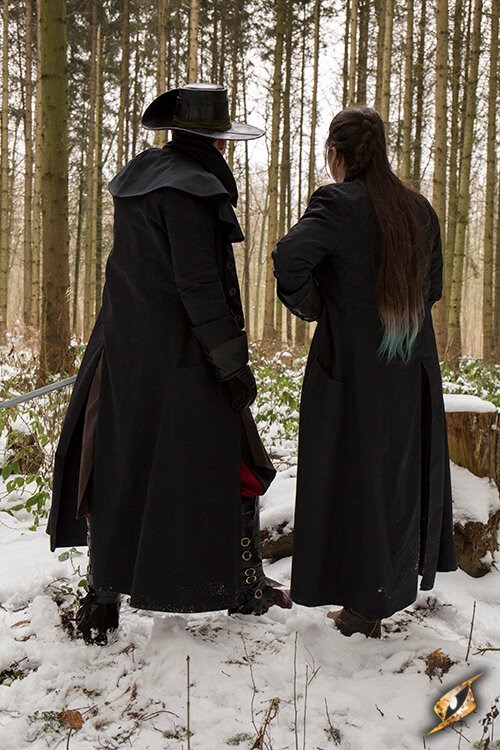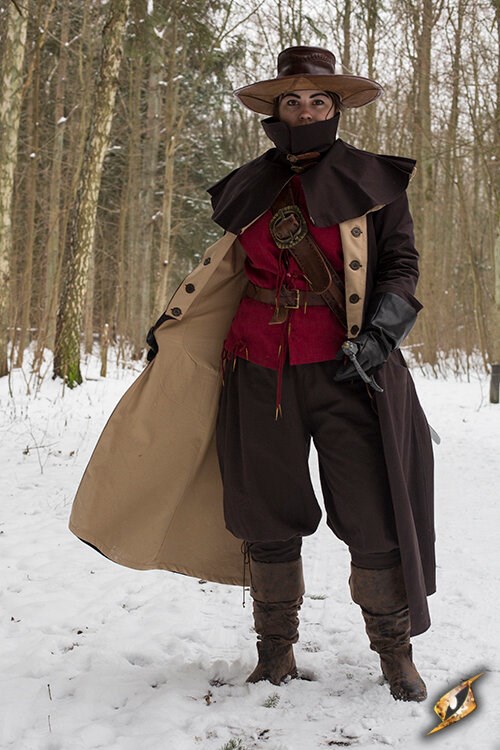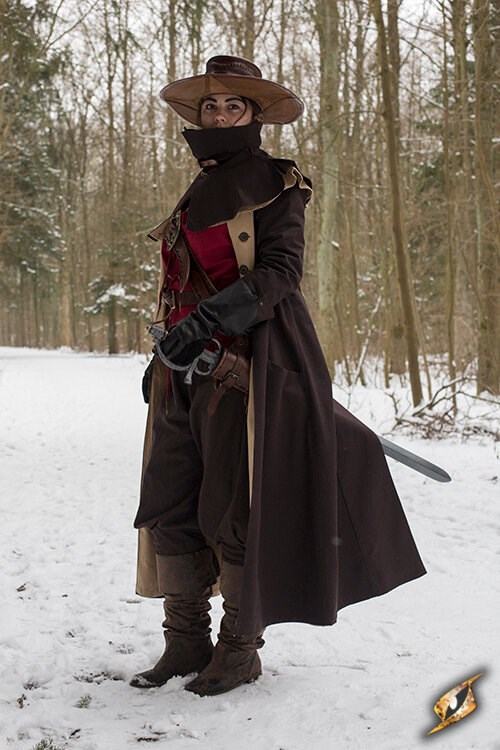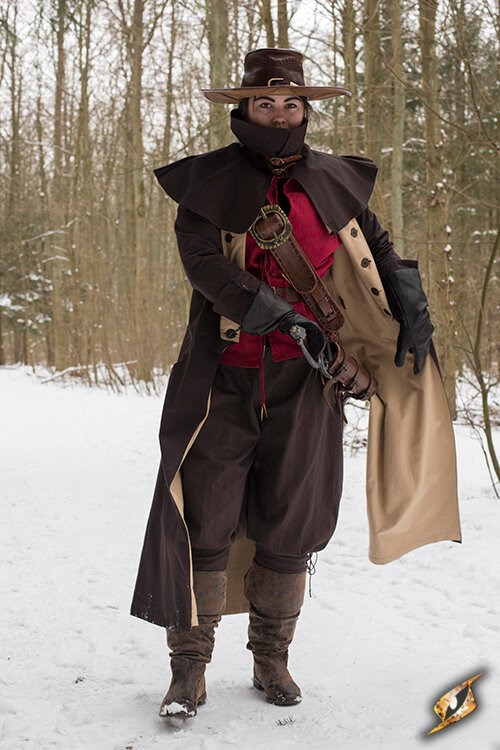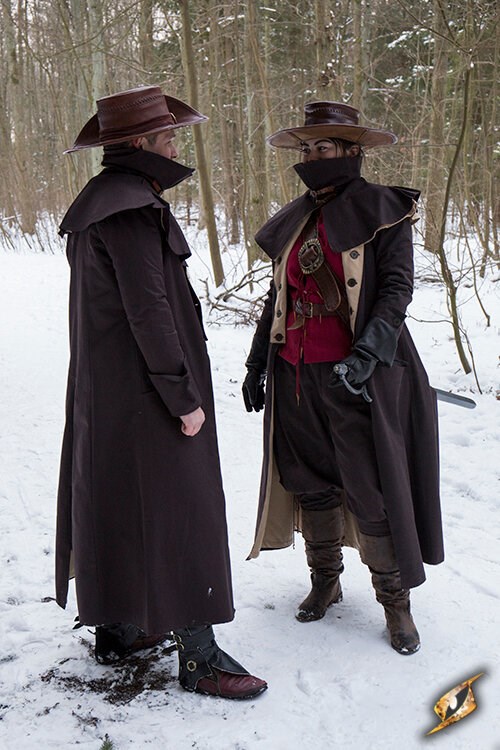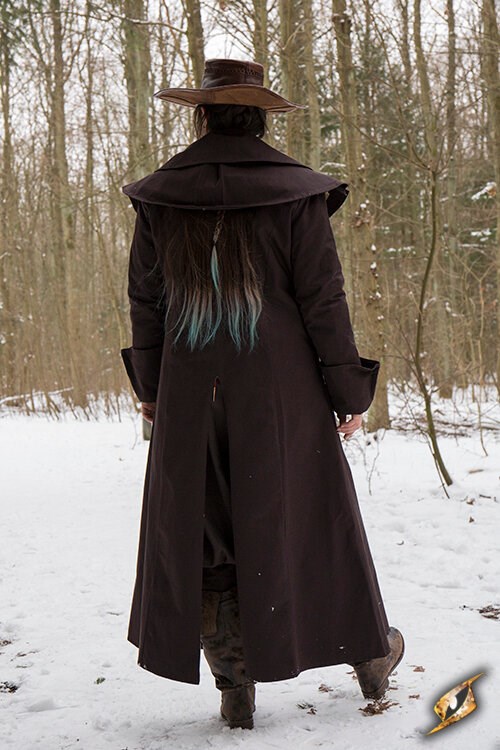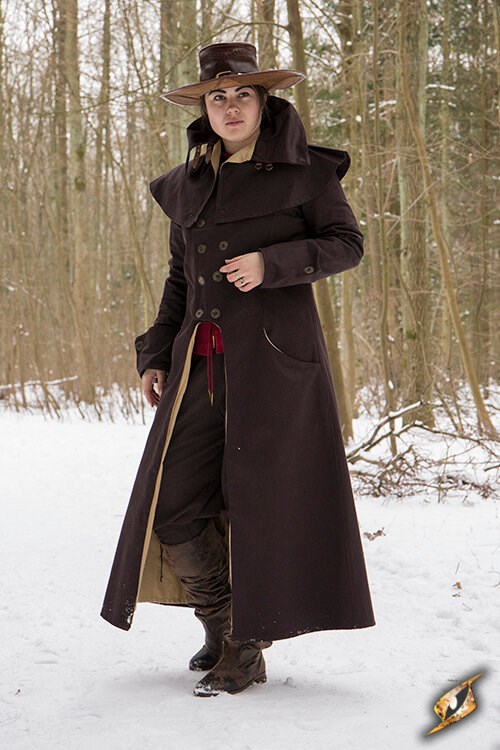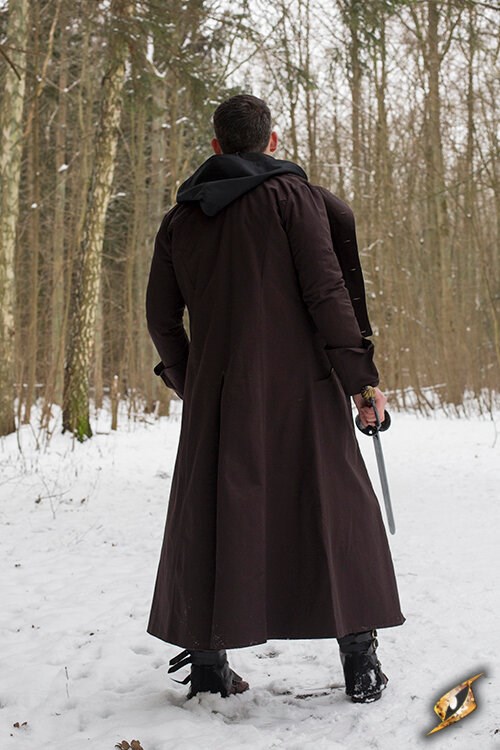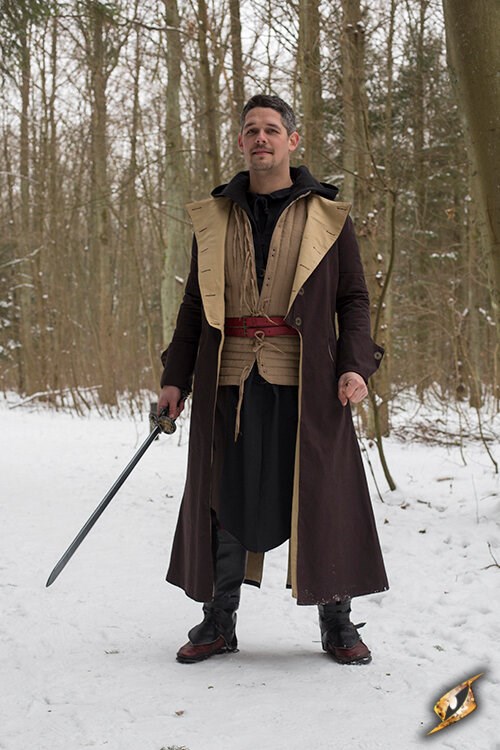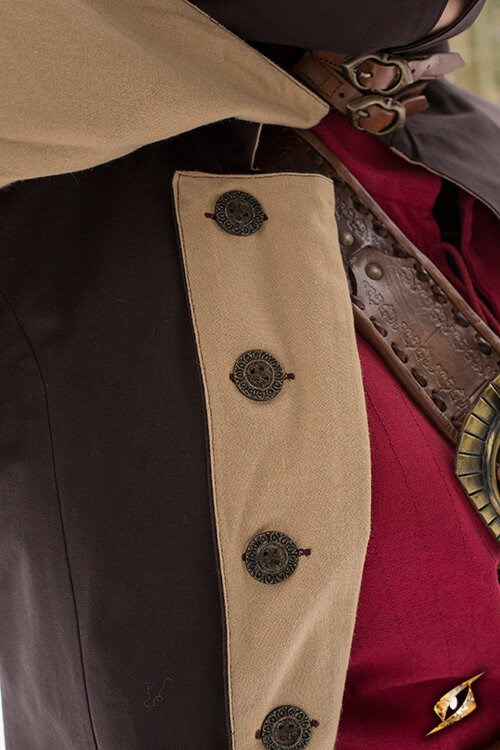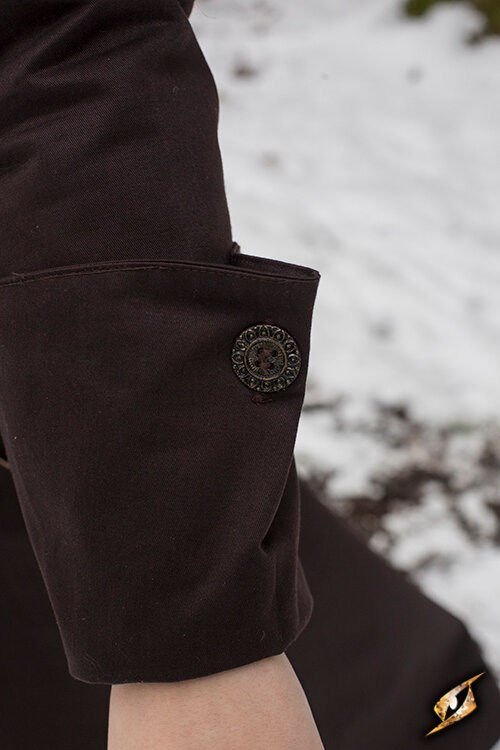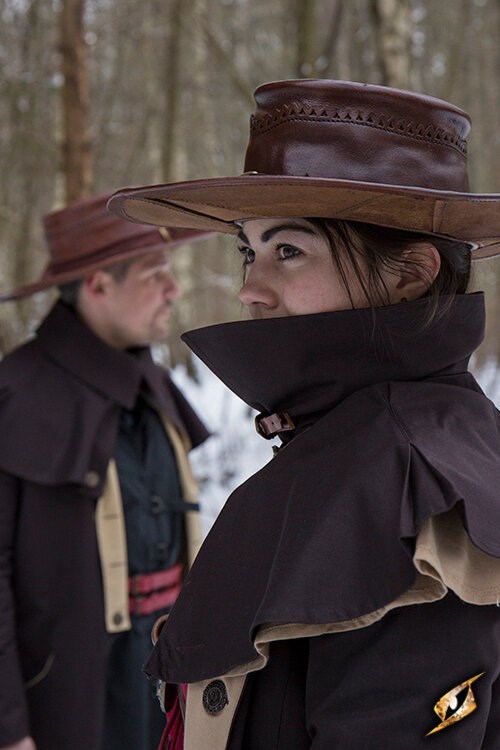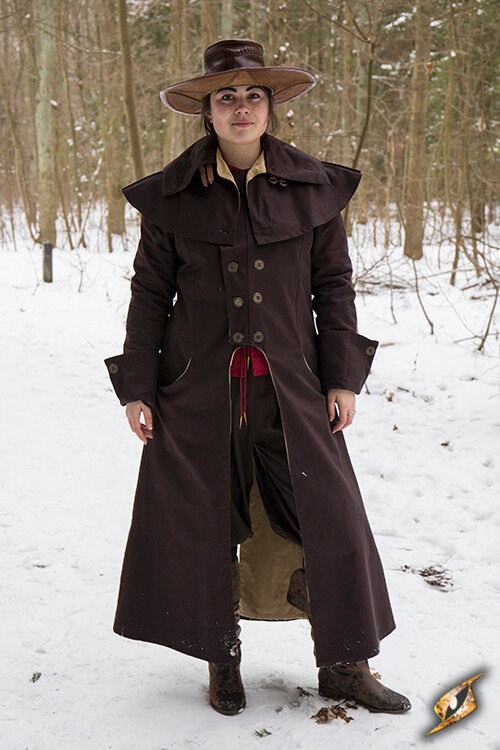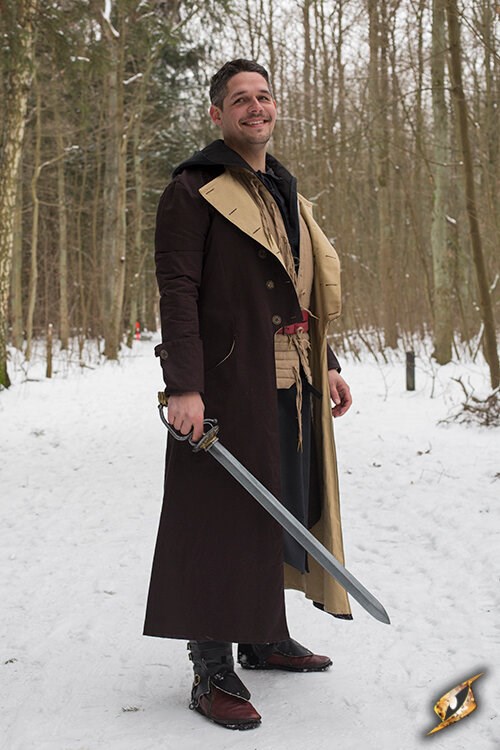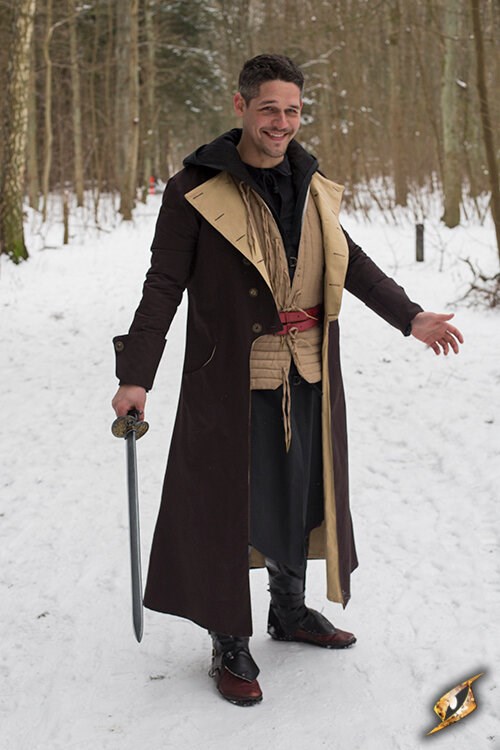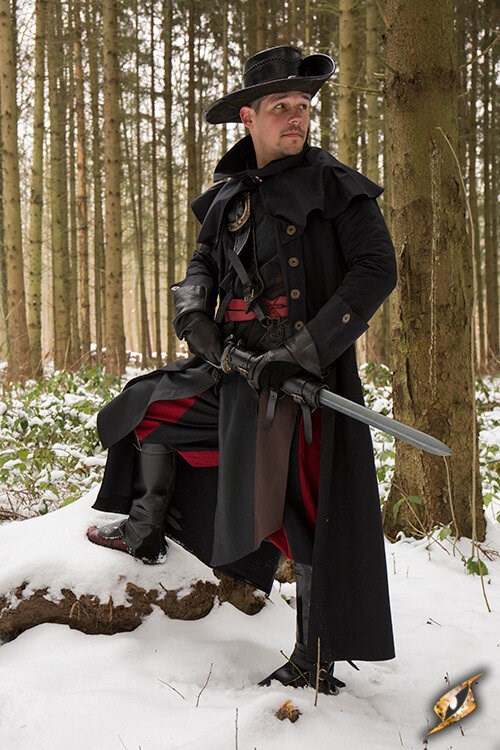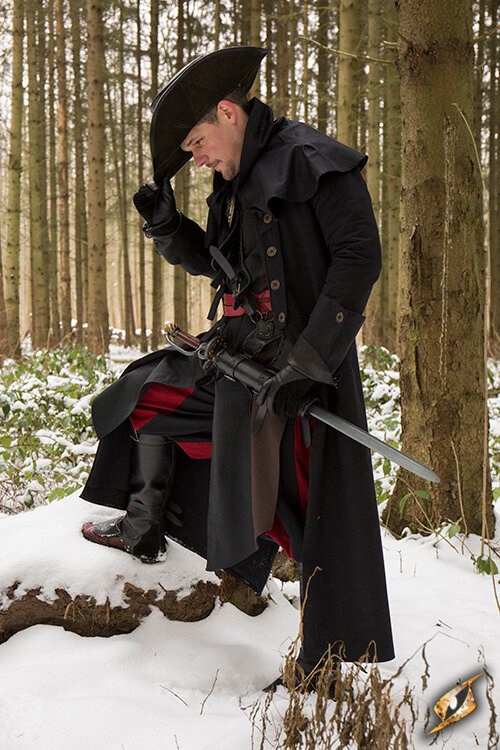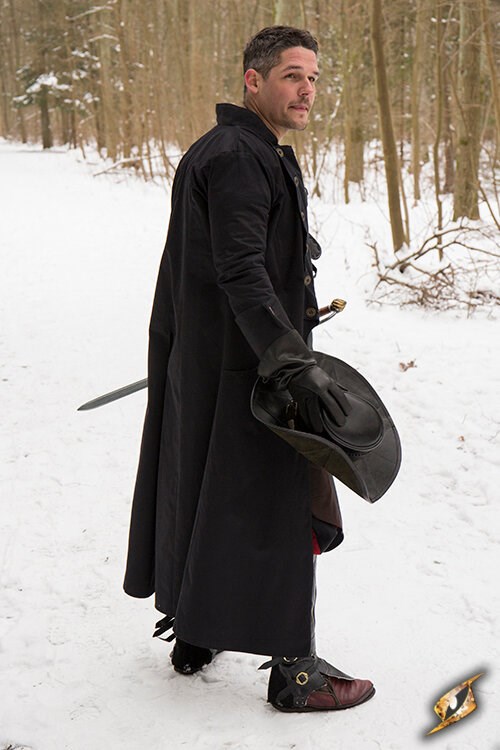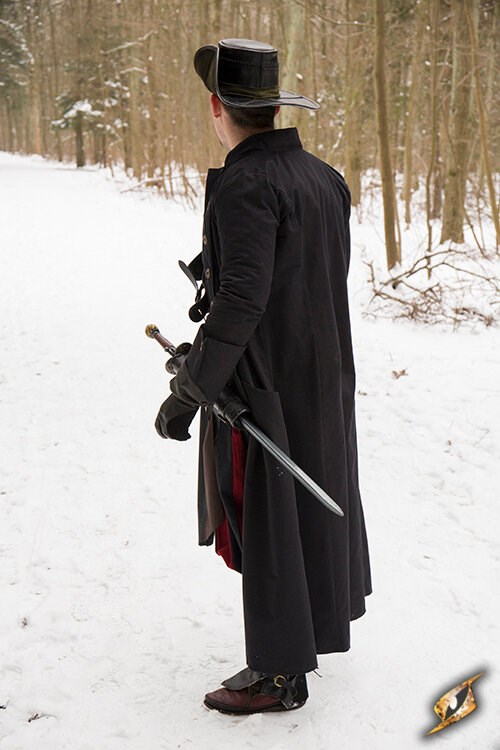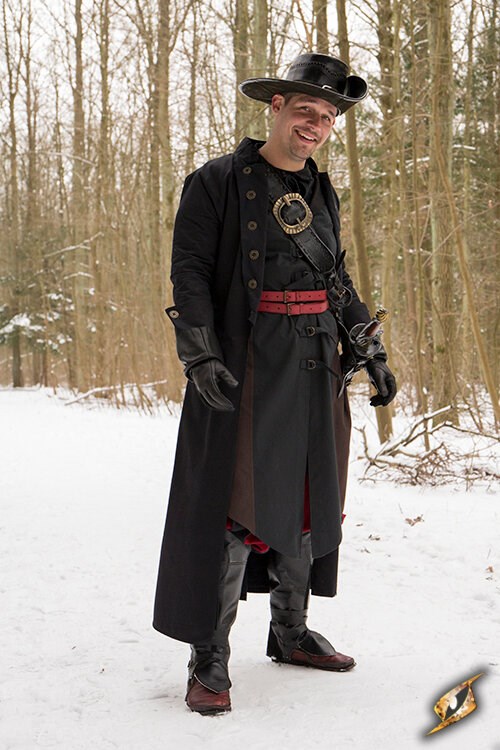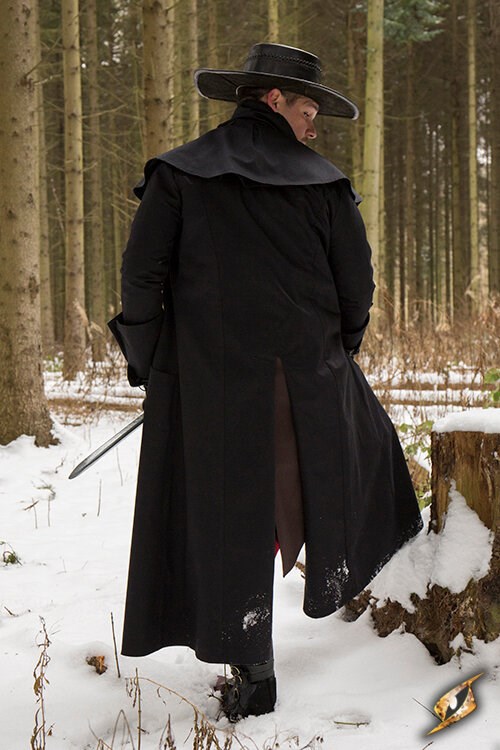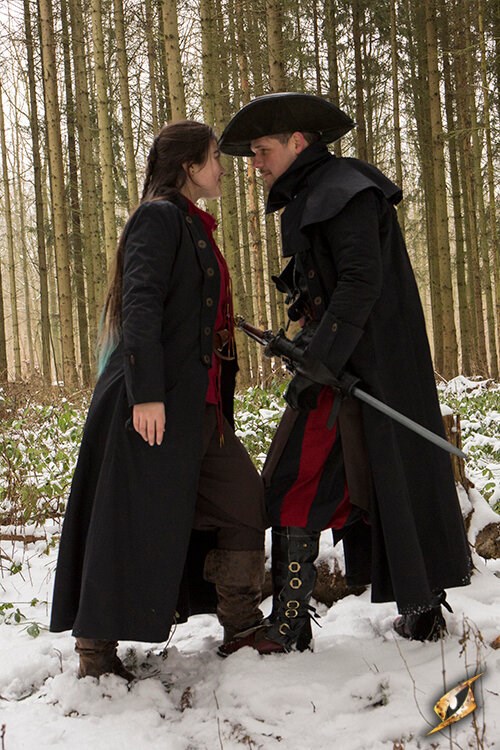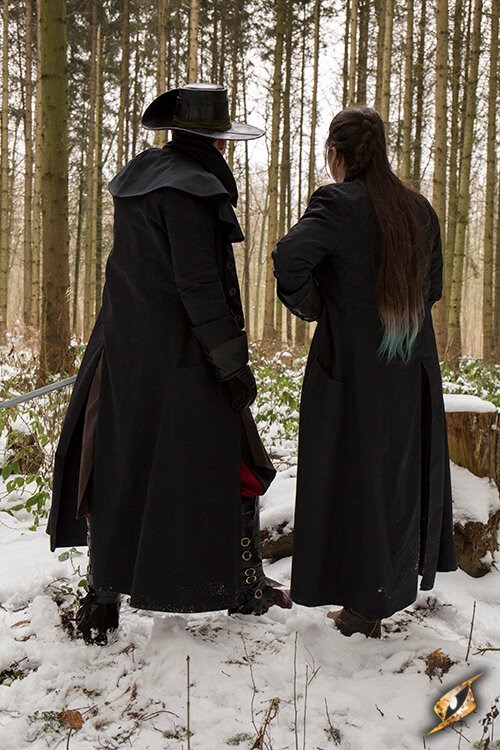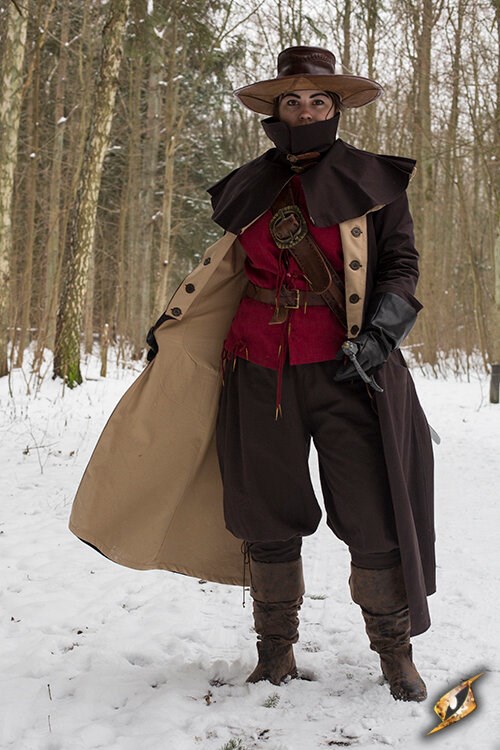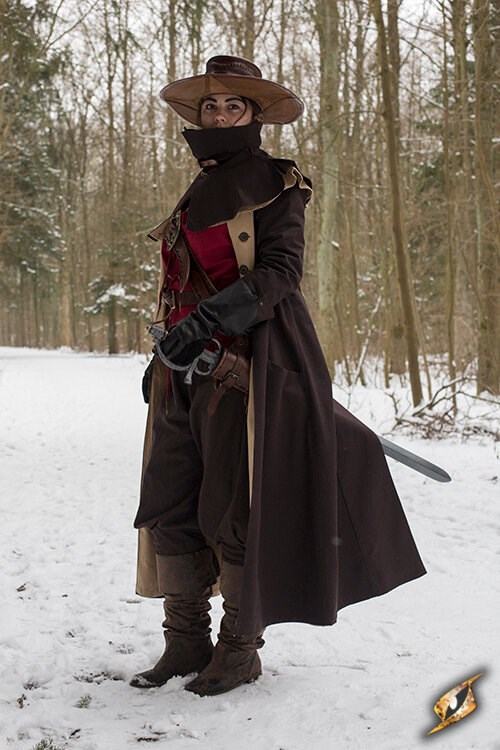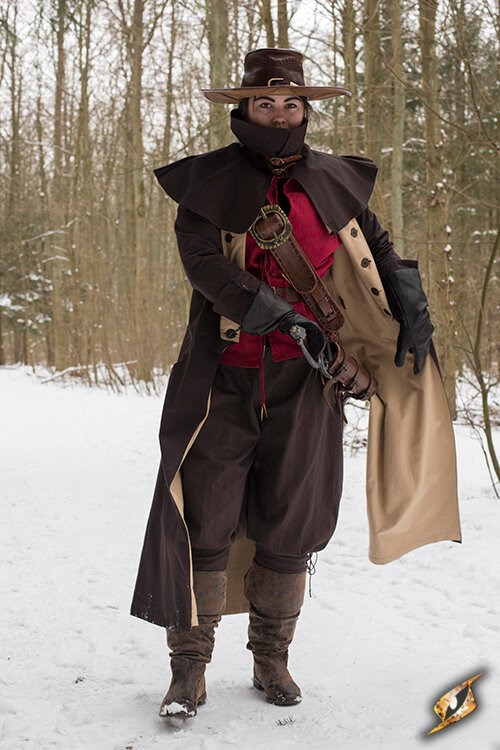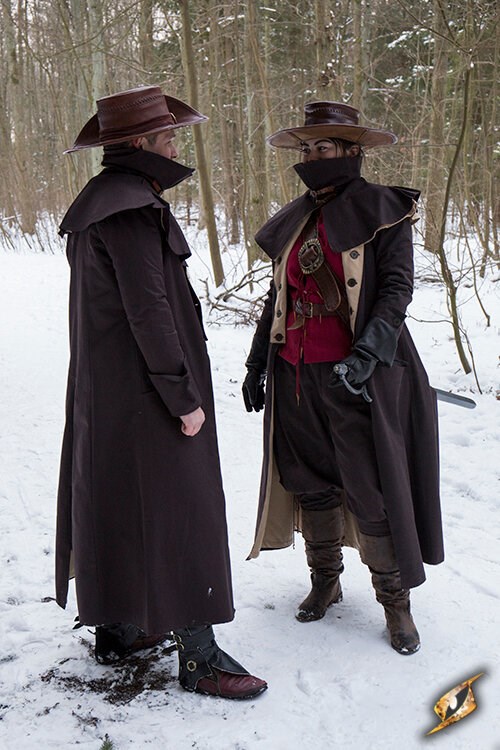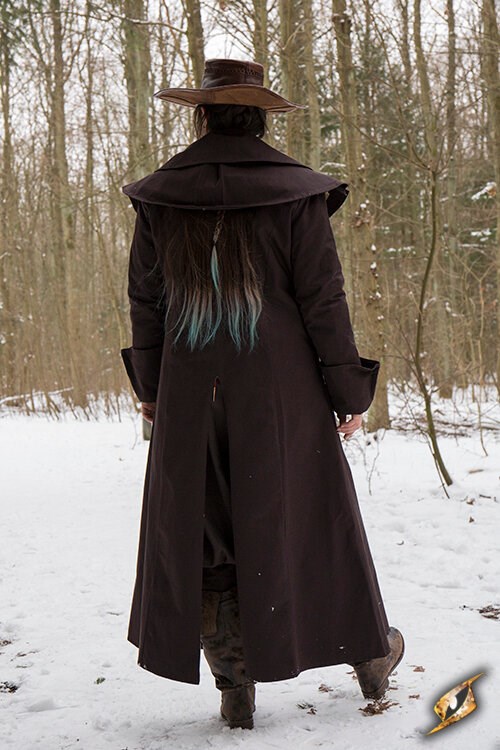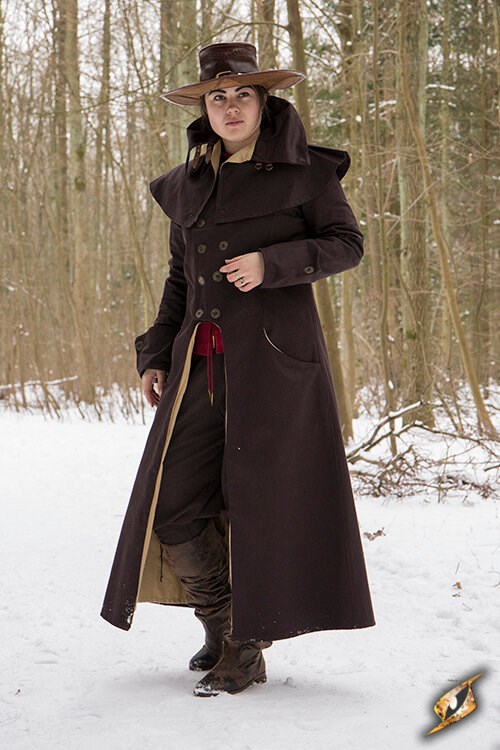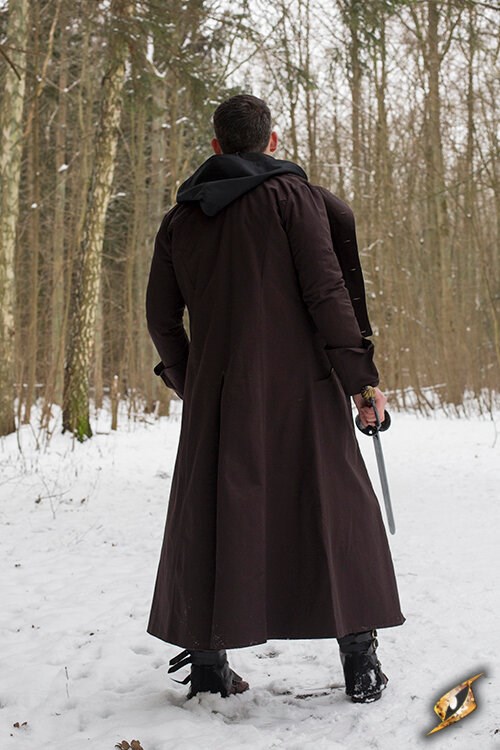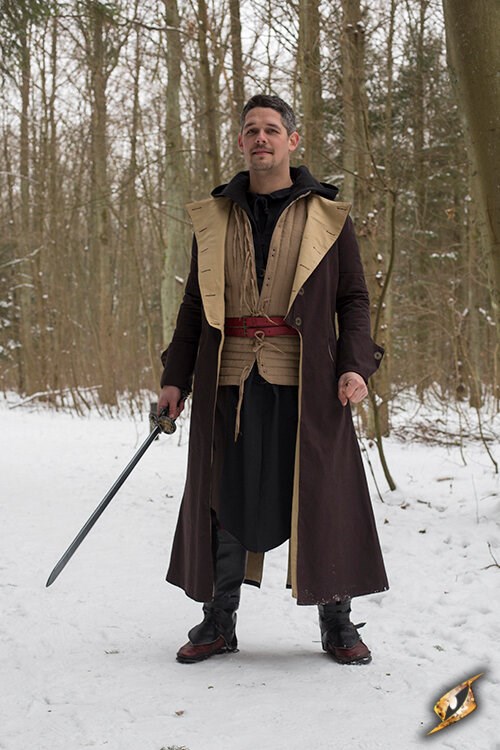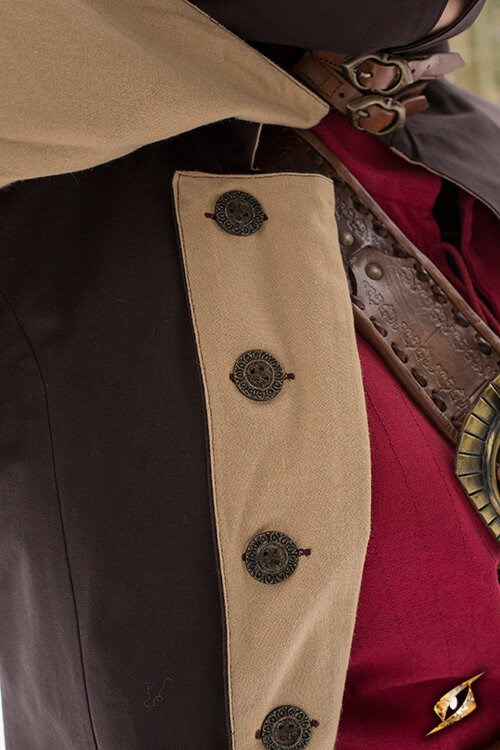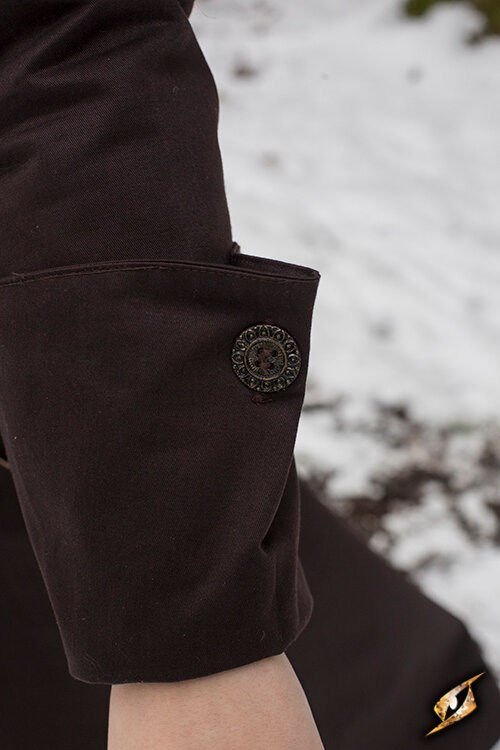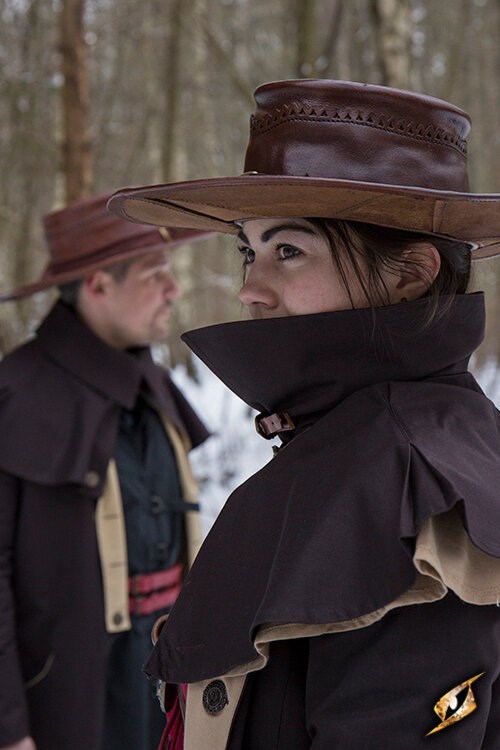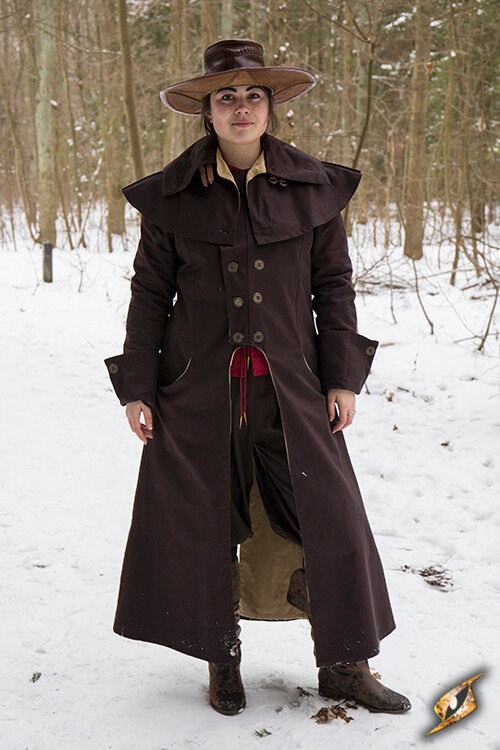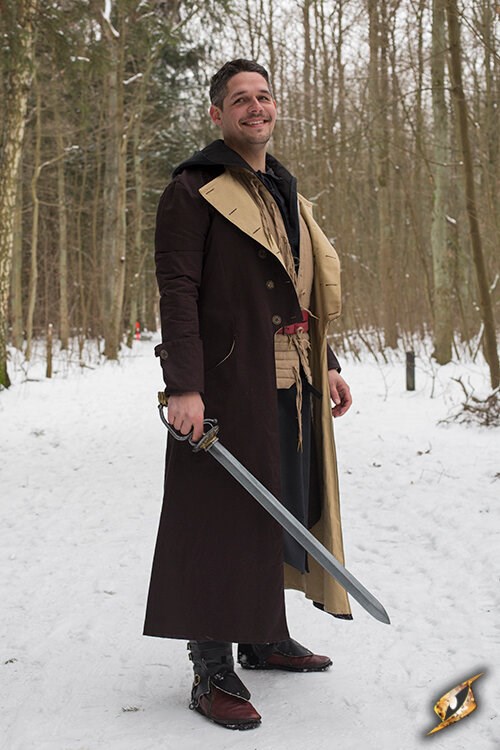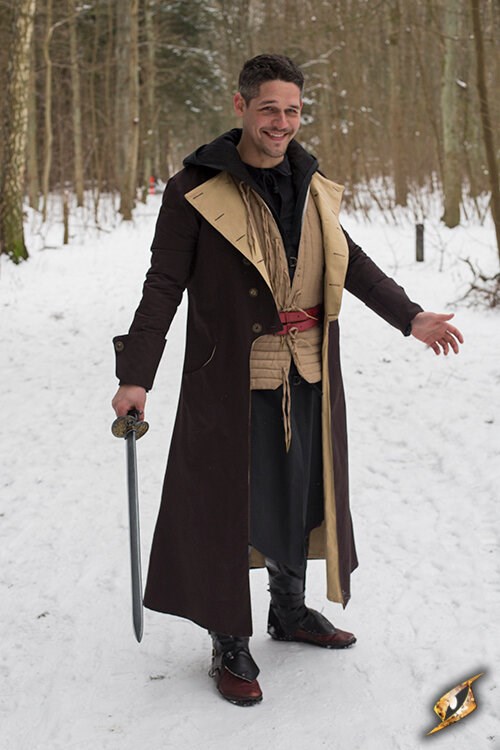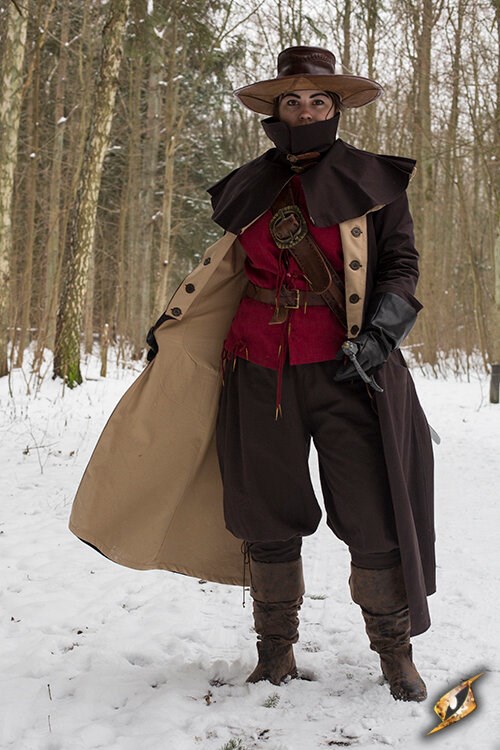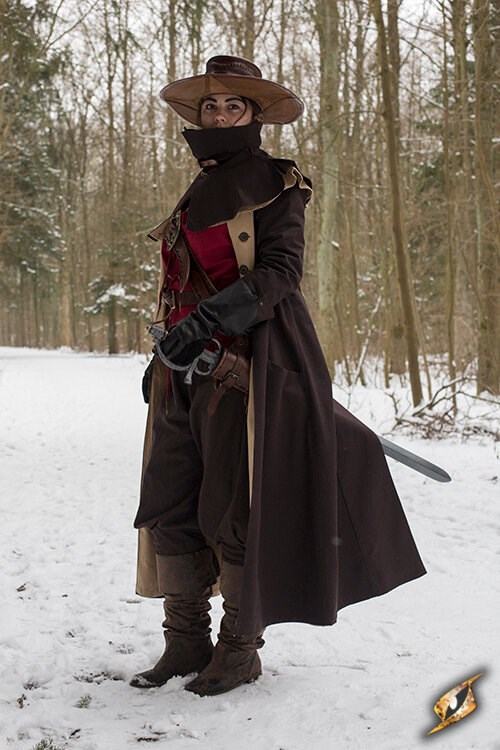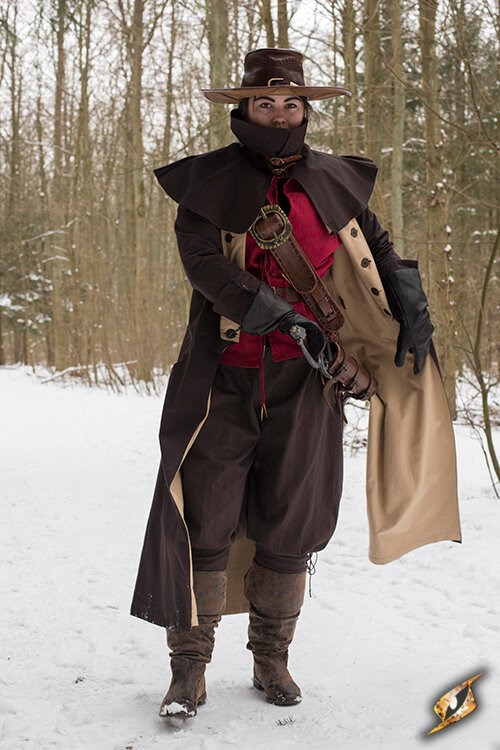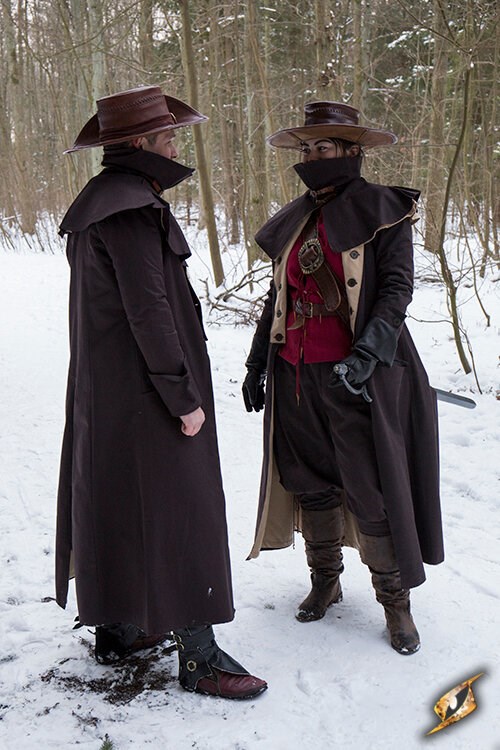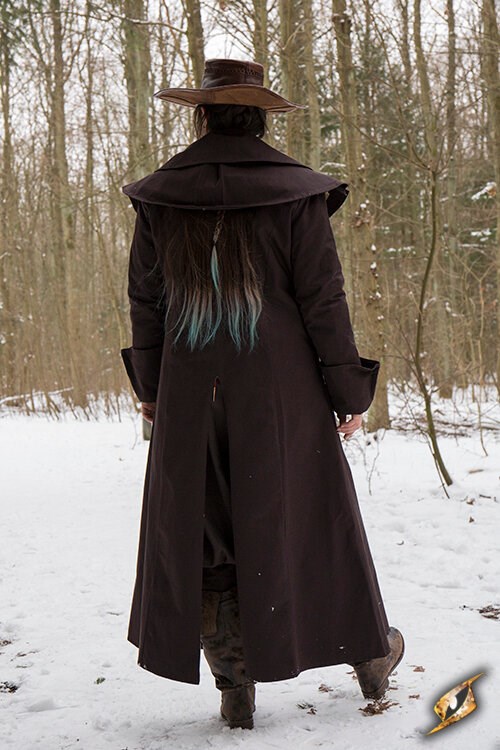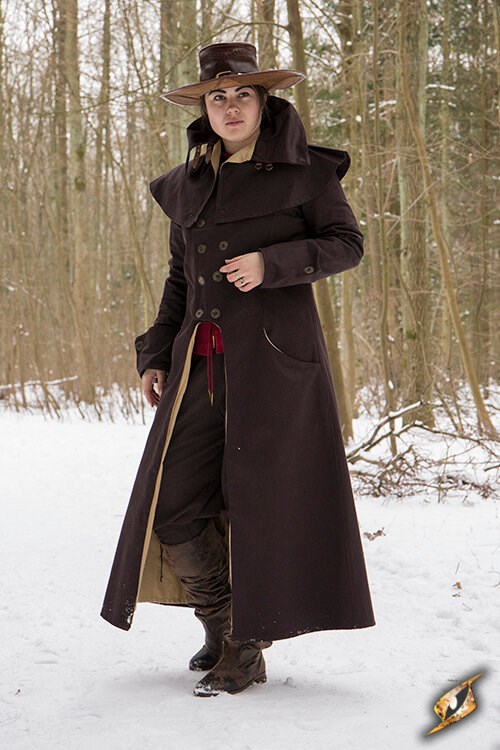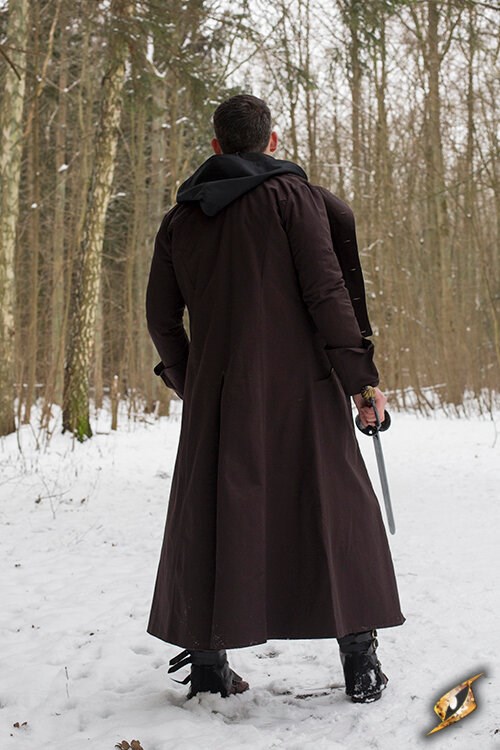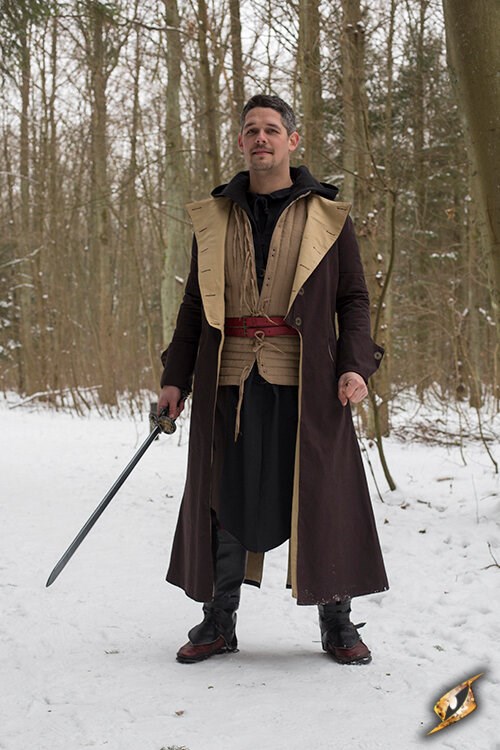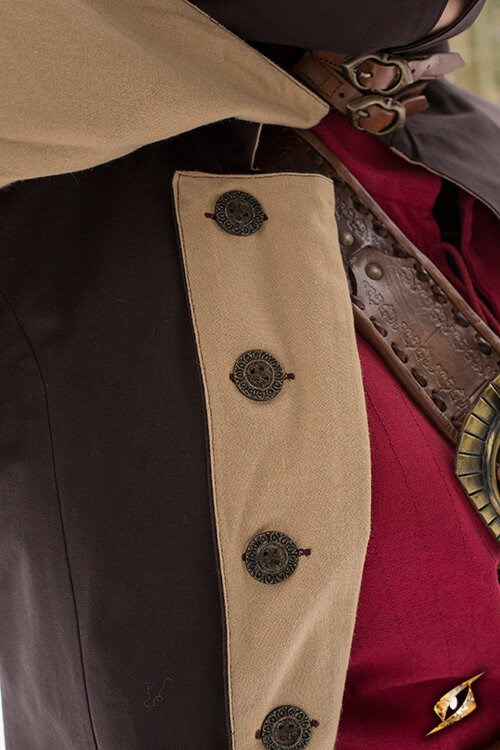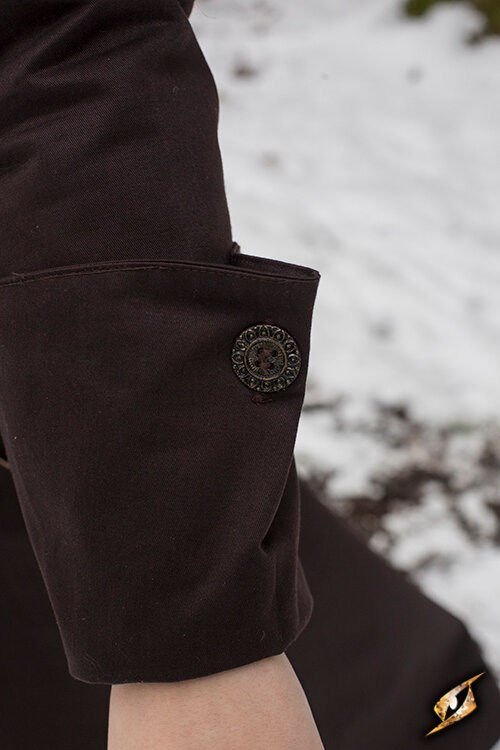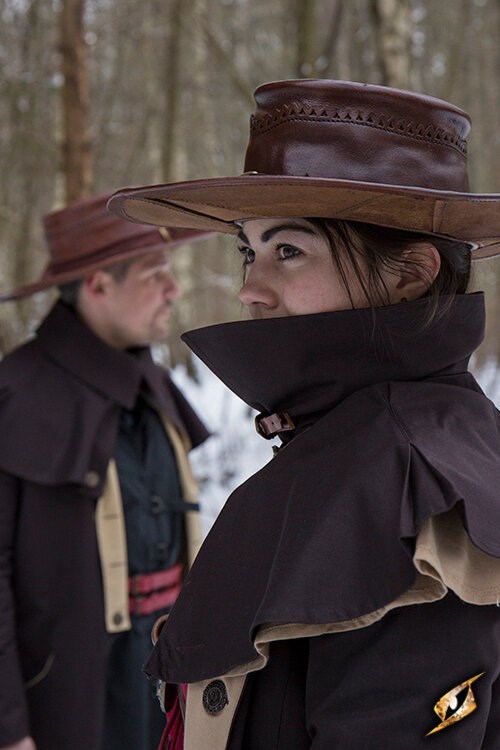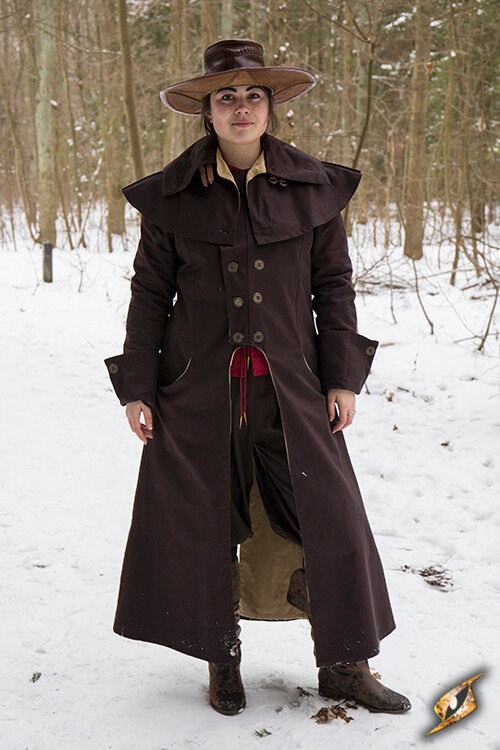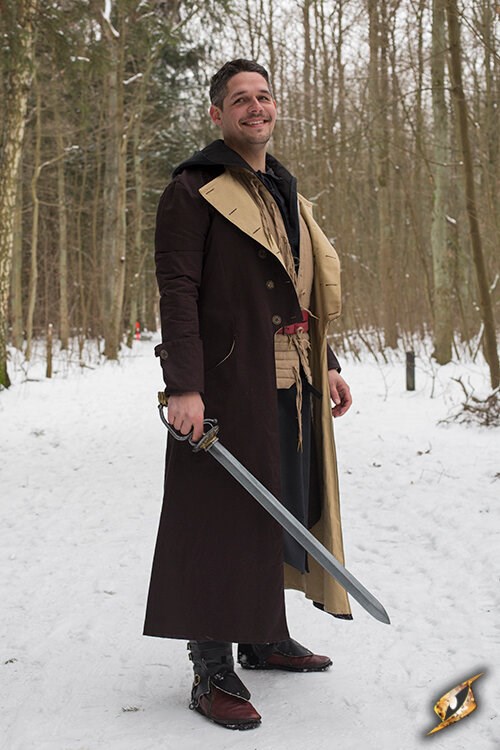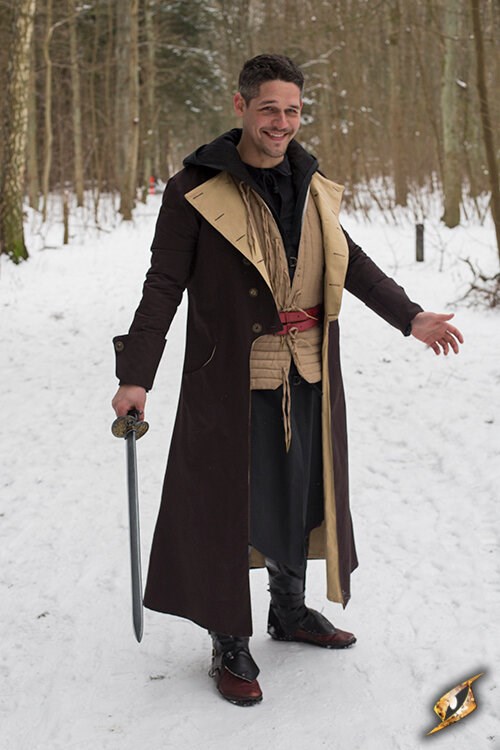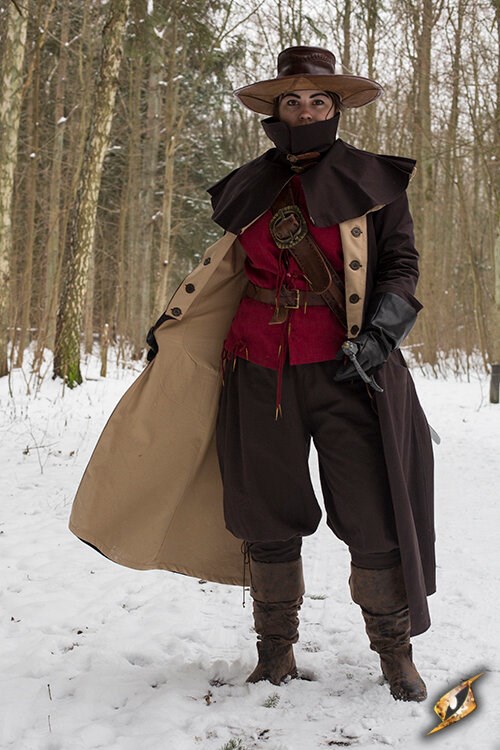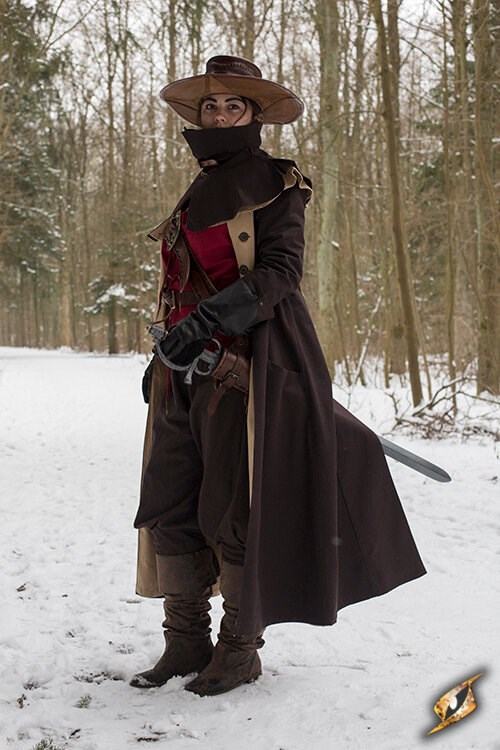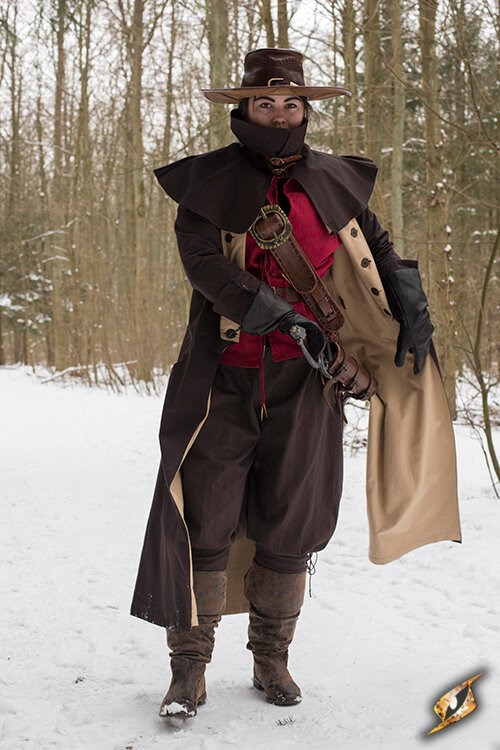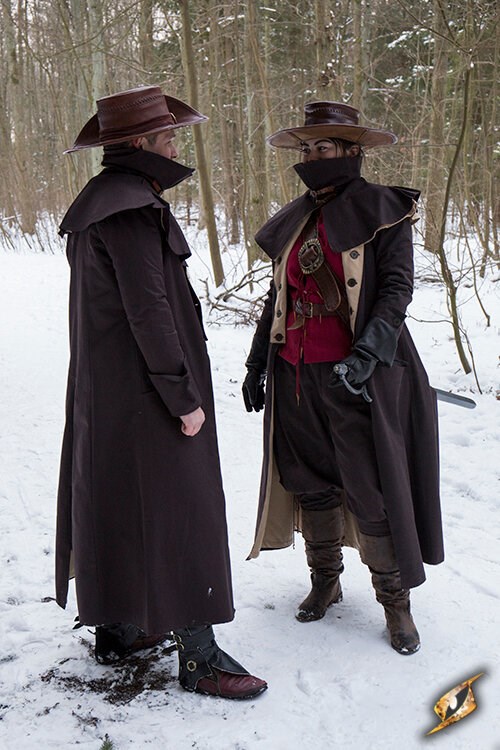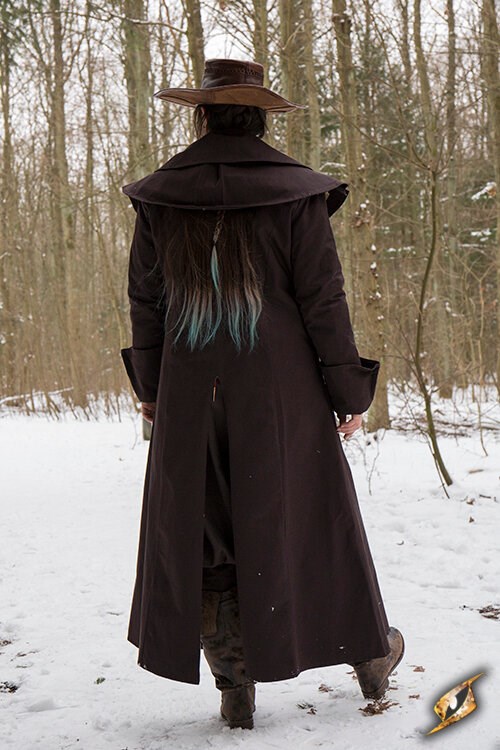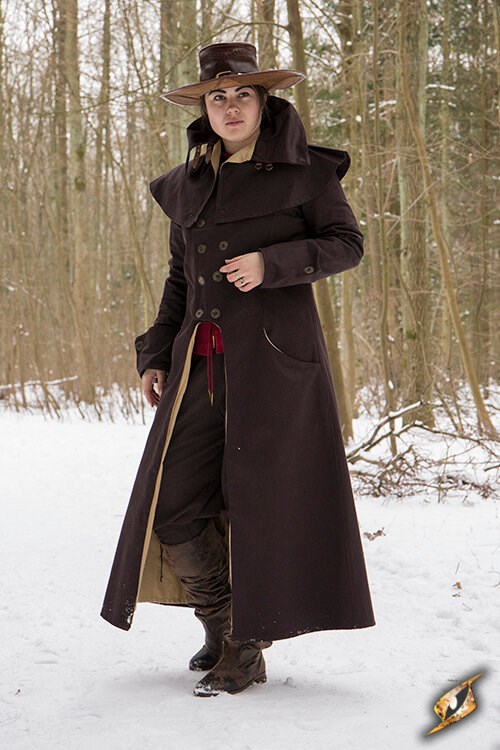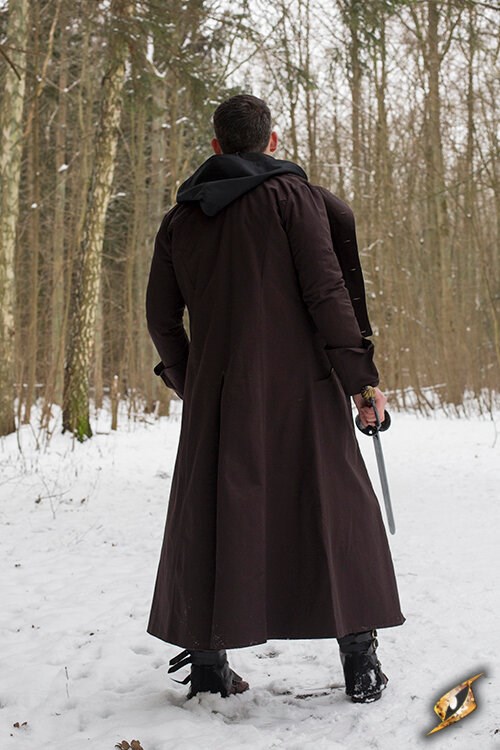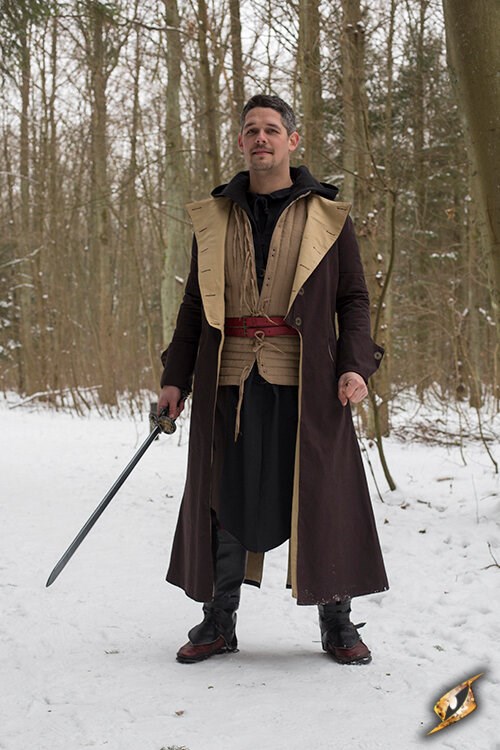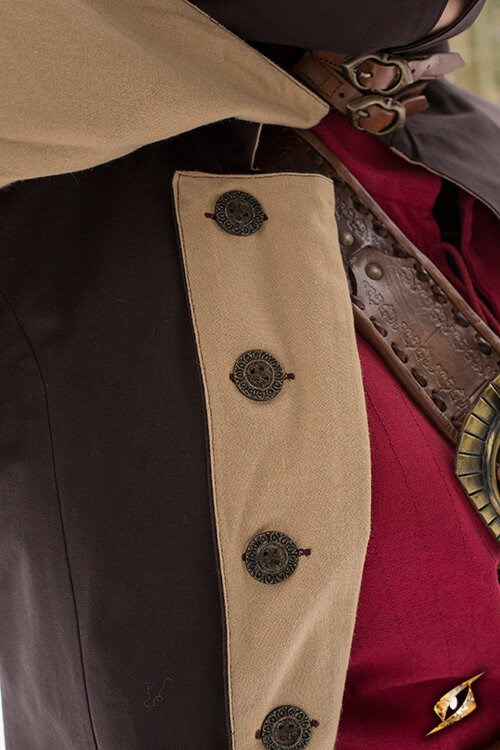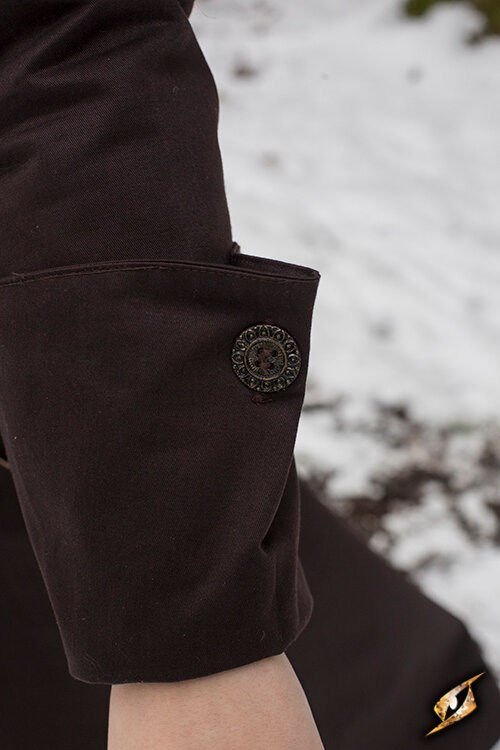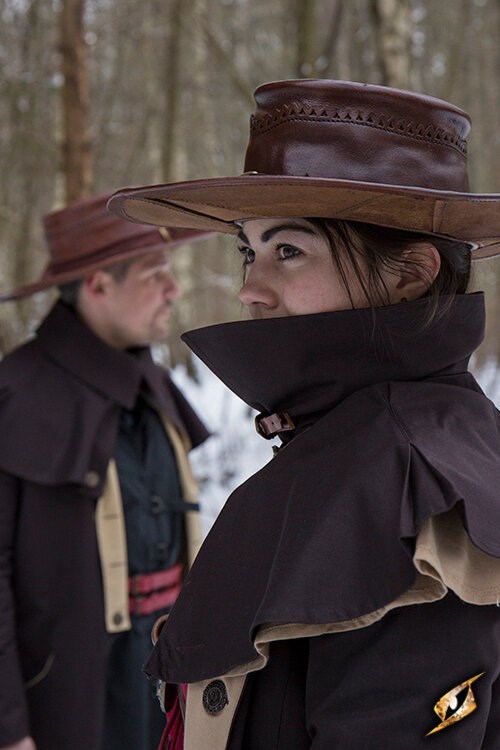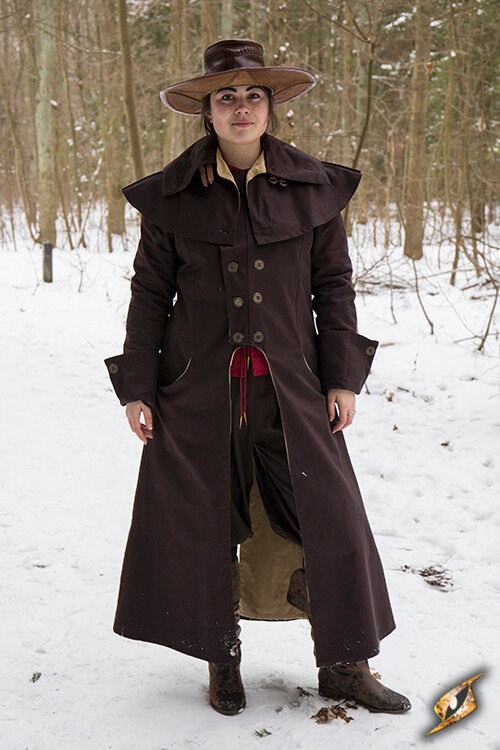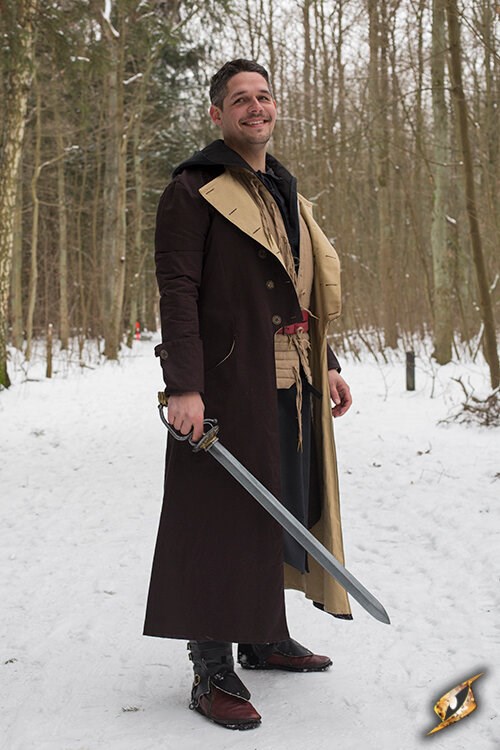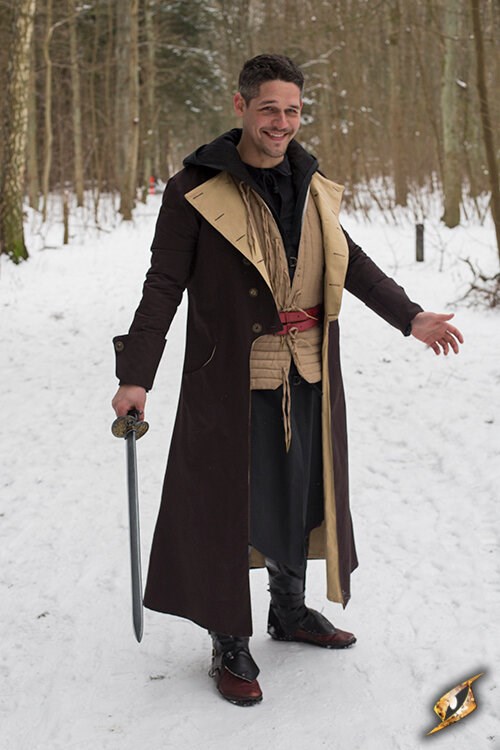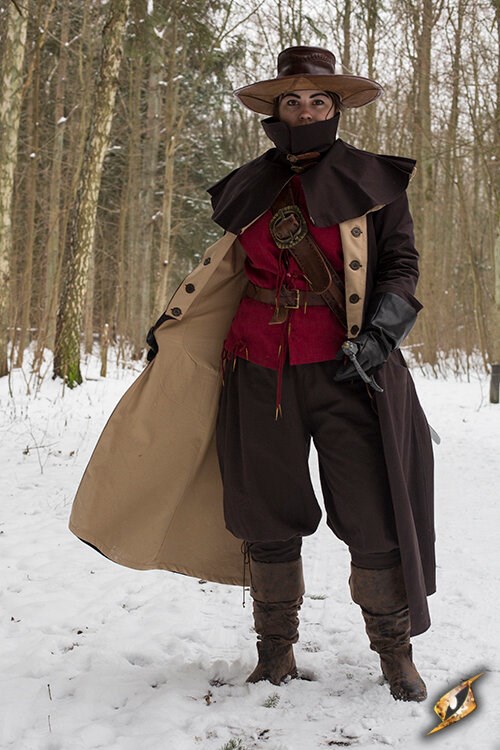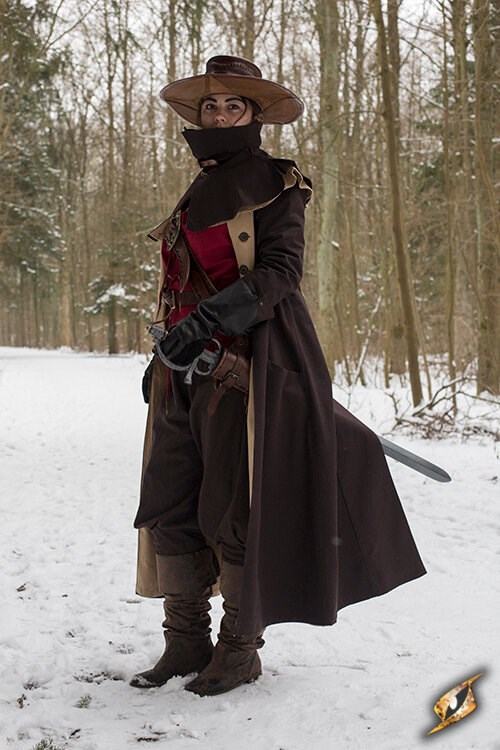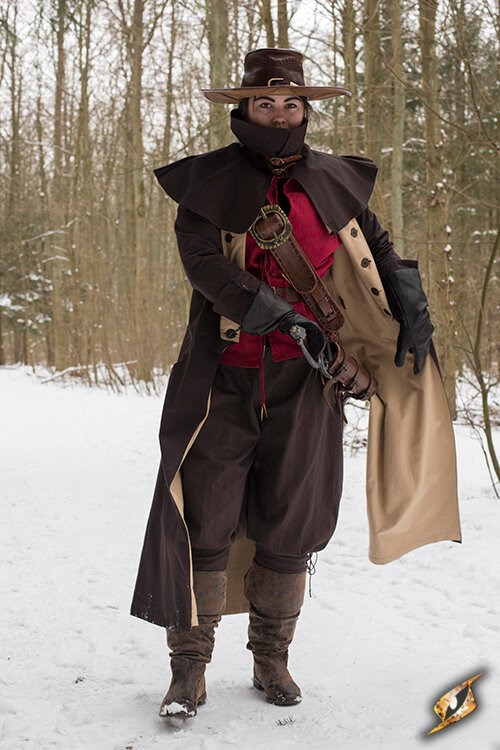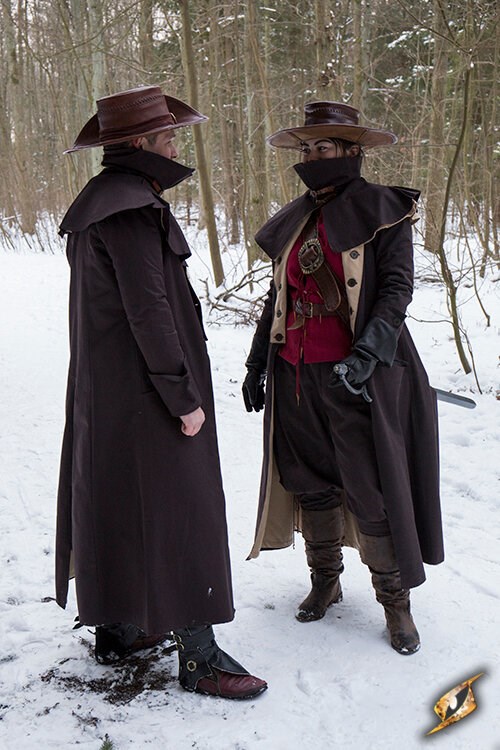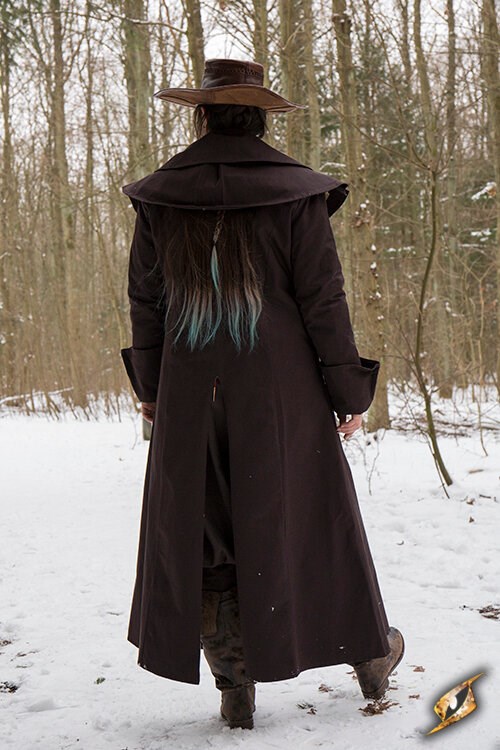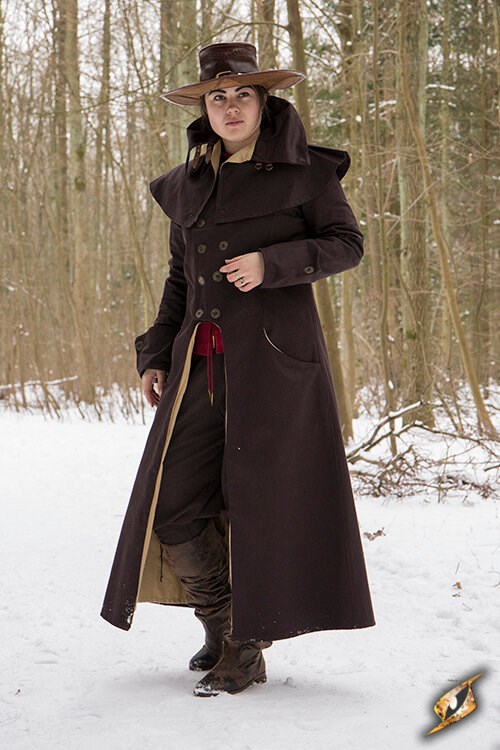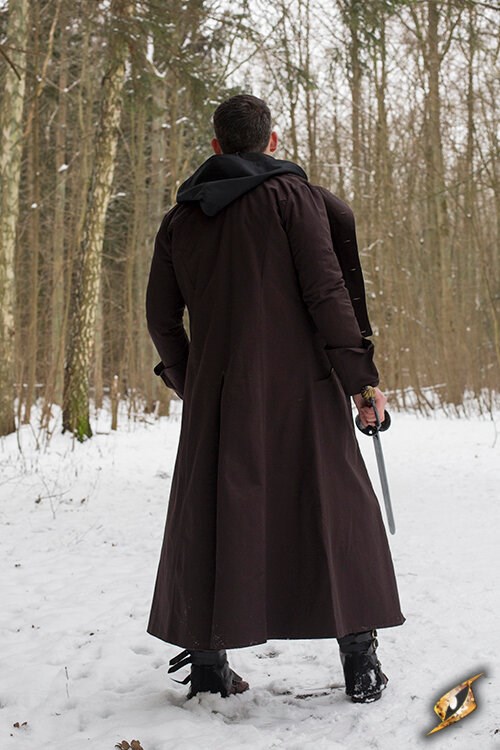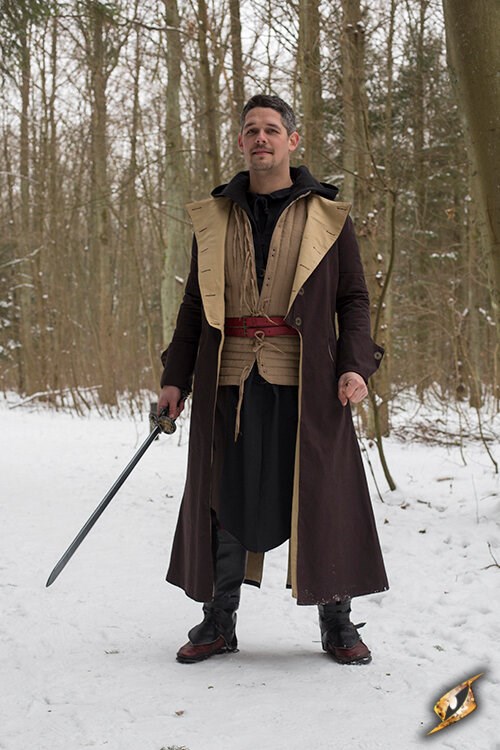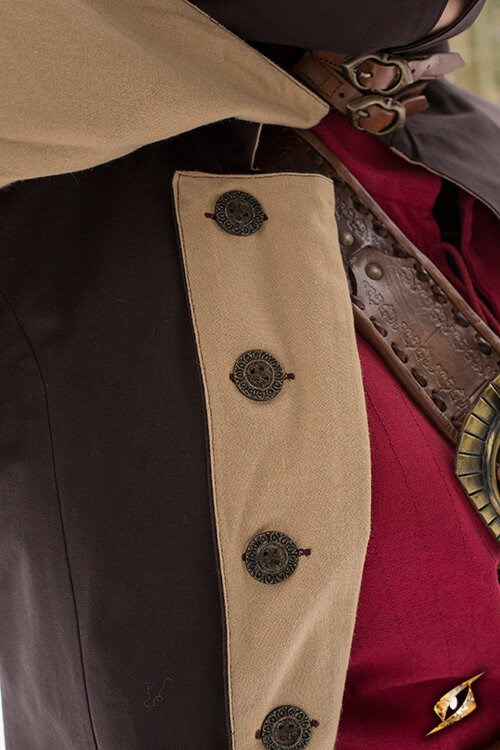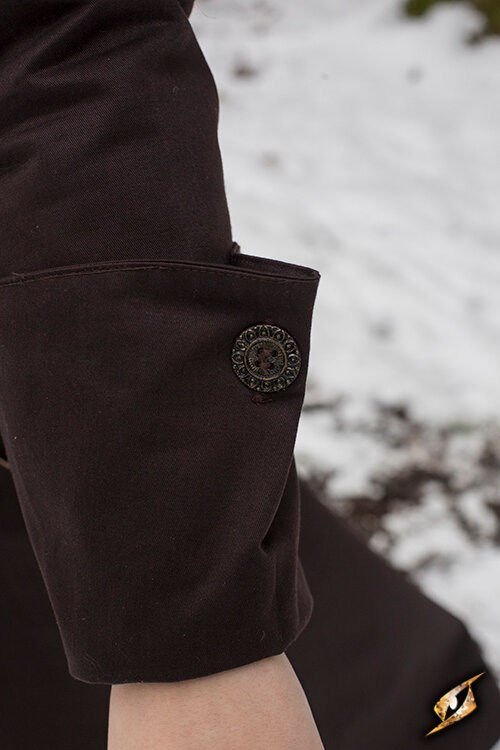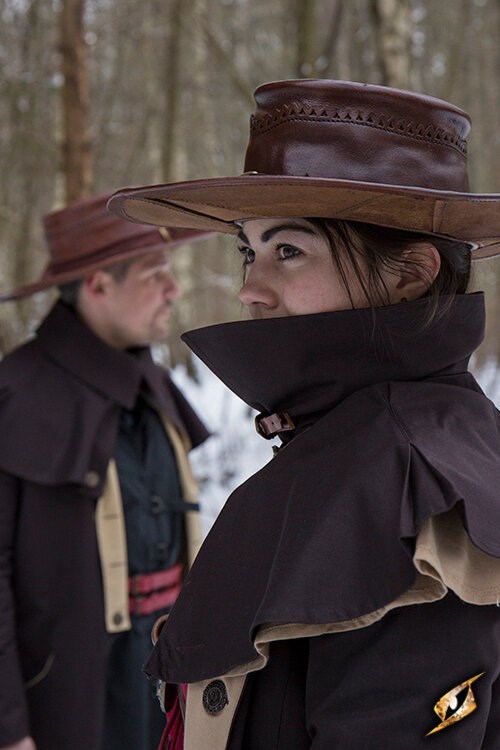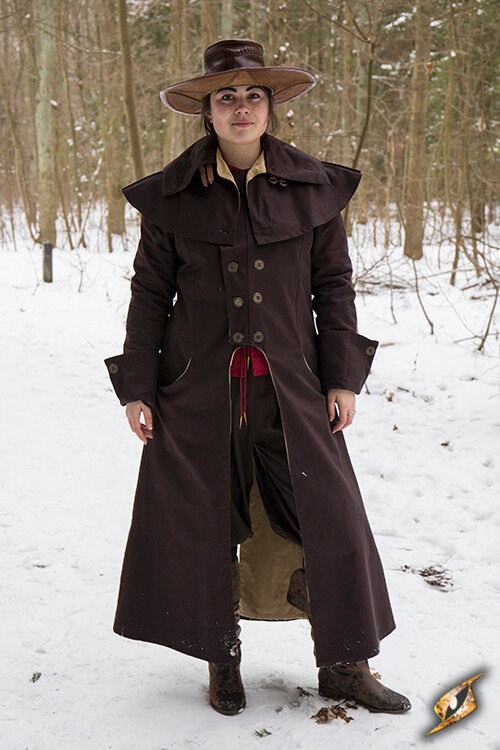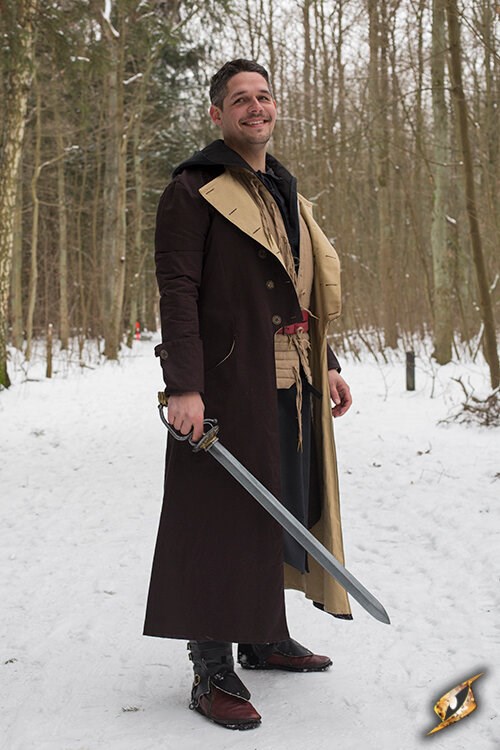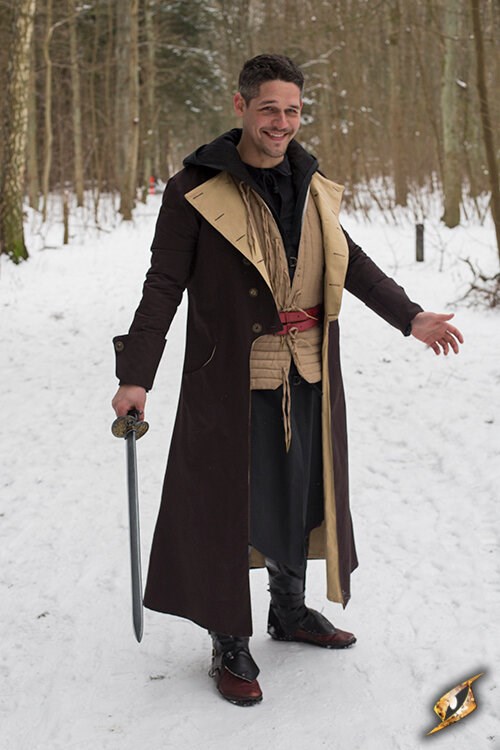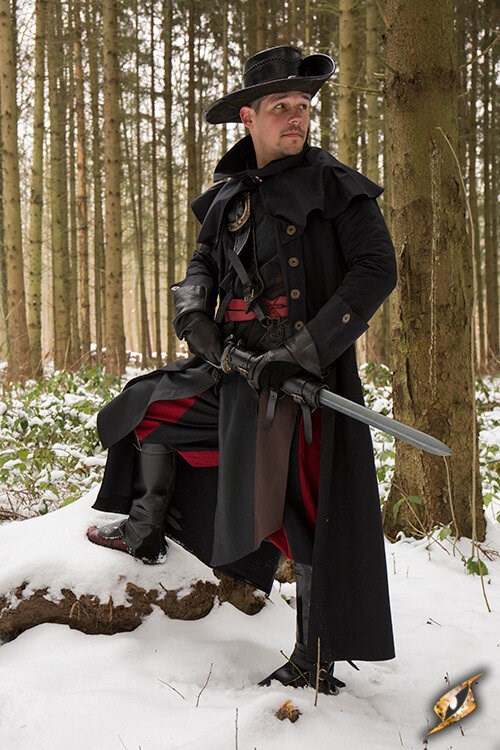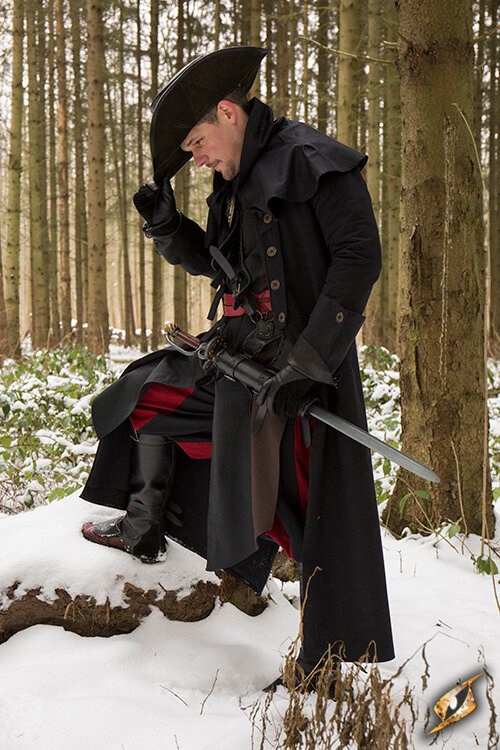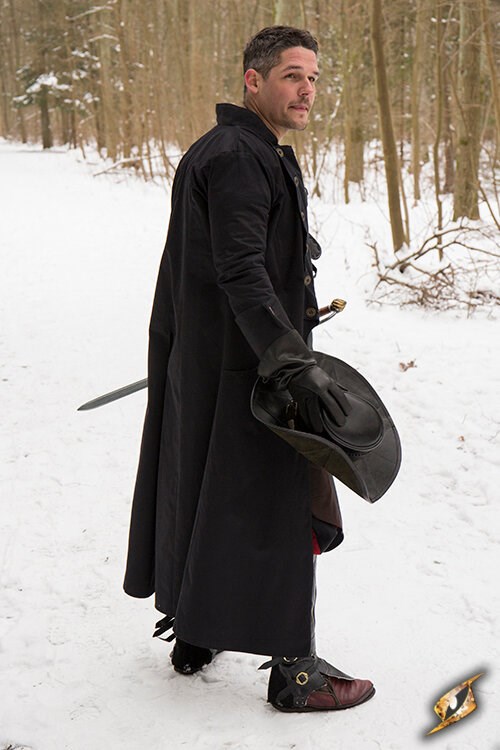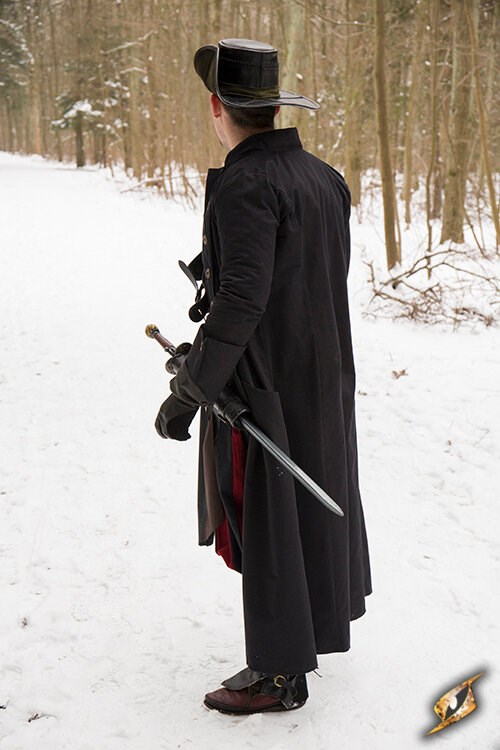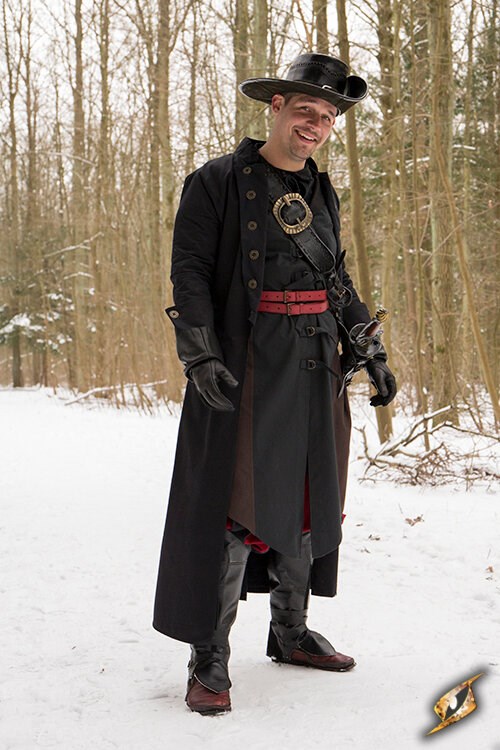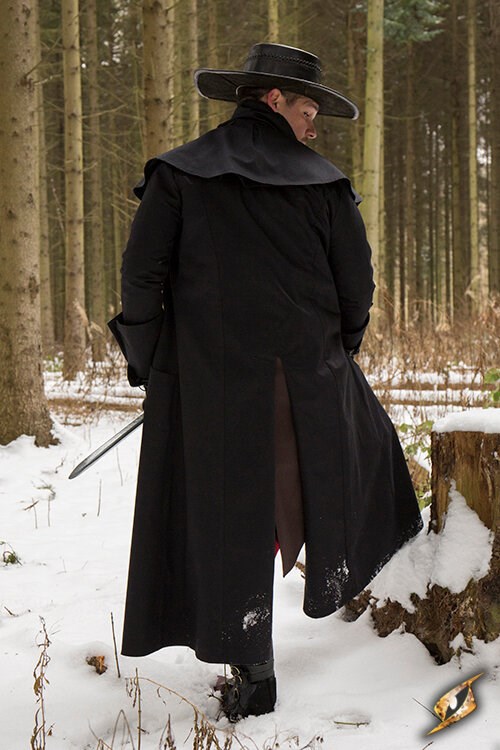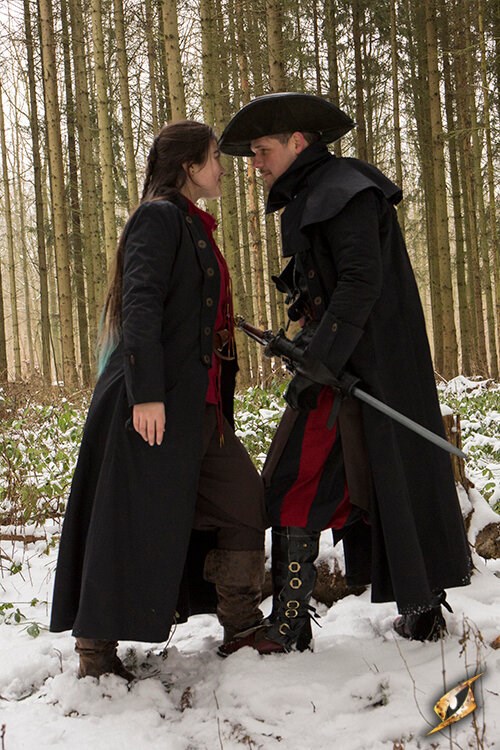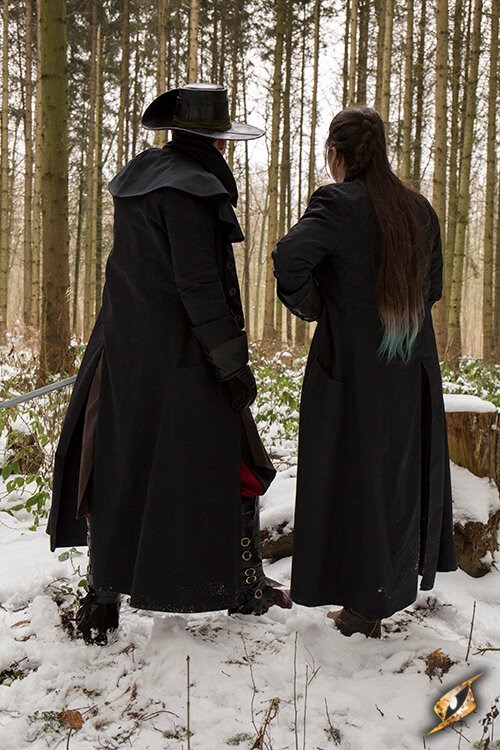 Description

Sizeguide

Fitting

Quality

Technical Details
You let out a chuckle as you load your crossbow with another silver bolt. The ghoul howls from the first bolt embedded in its leg, and it tries to scamper away. As though it has a chance of escaping.
You take aim, pushing up the brim of your hat to get a clear line of sight. With a confident pull of the trigger another of your silver bolts fires and lodges into the creature's heart. Perfect.
DETAILS
Epic Armoury's Epic Black Coat Hellsing is a sleek and long-sleeved duster with an impressive mantle designed for magic hunters. Reaching from the neck to the mid-calf, this coat is designed to protect you from the elements while adding a serious, professional appearance. The coat is made from black canvas and embellished with a contrasting lining. The slit up the back provides better movement, including comfort on horseback
Wear this coat open or closed with the six double-breasted rows of buttons on the front. The mantle is removable, and attaches to the third row of buttons. Coats are great garments for witch hunters or savvy adventurers, and the Coat Hellsing is a detailed outer layer that fits a wide range of characters.
Available in sizes Small, Medium, and Large; and colours Epic Black and Dark Brown. The coat is also available in a leather version
INSPIRATION
Inspired by Van Helsing and Hellsing, stories about vampire and the supernatural hunters
Original dusters were used by horsemen to protect their clothing from dust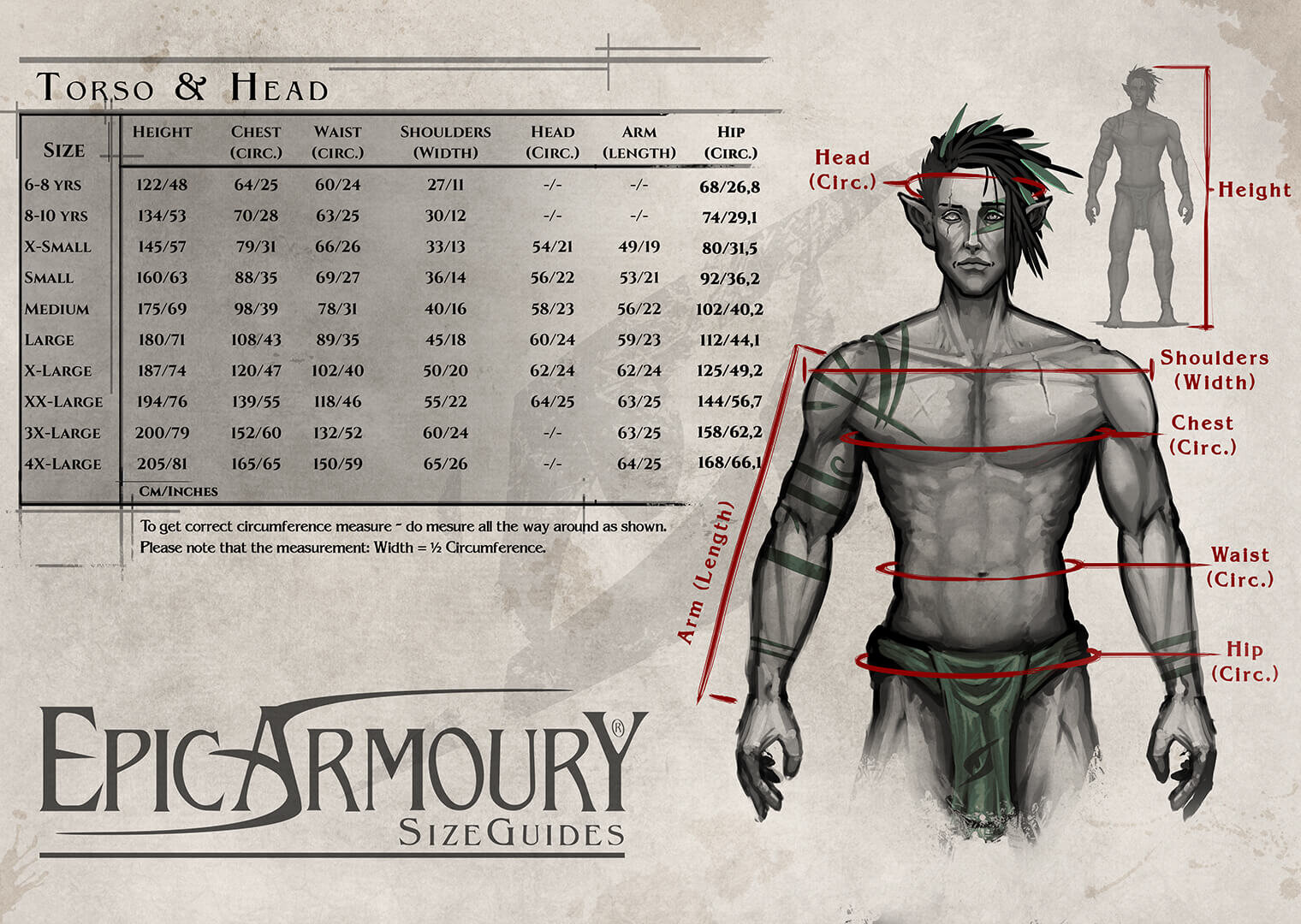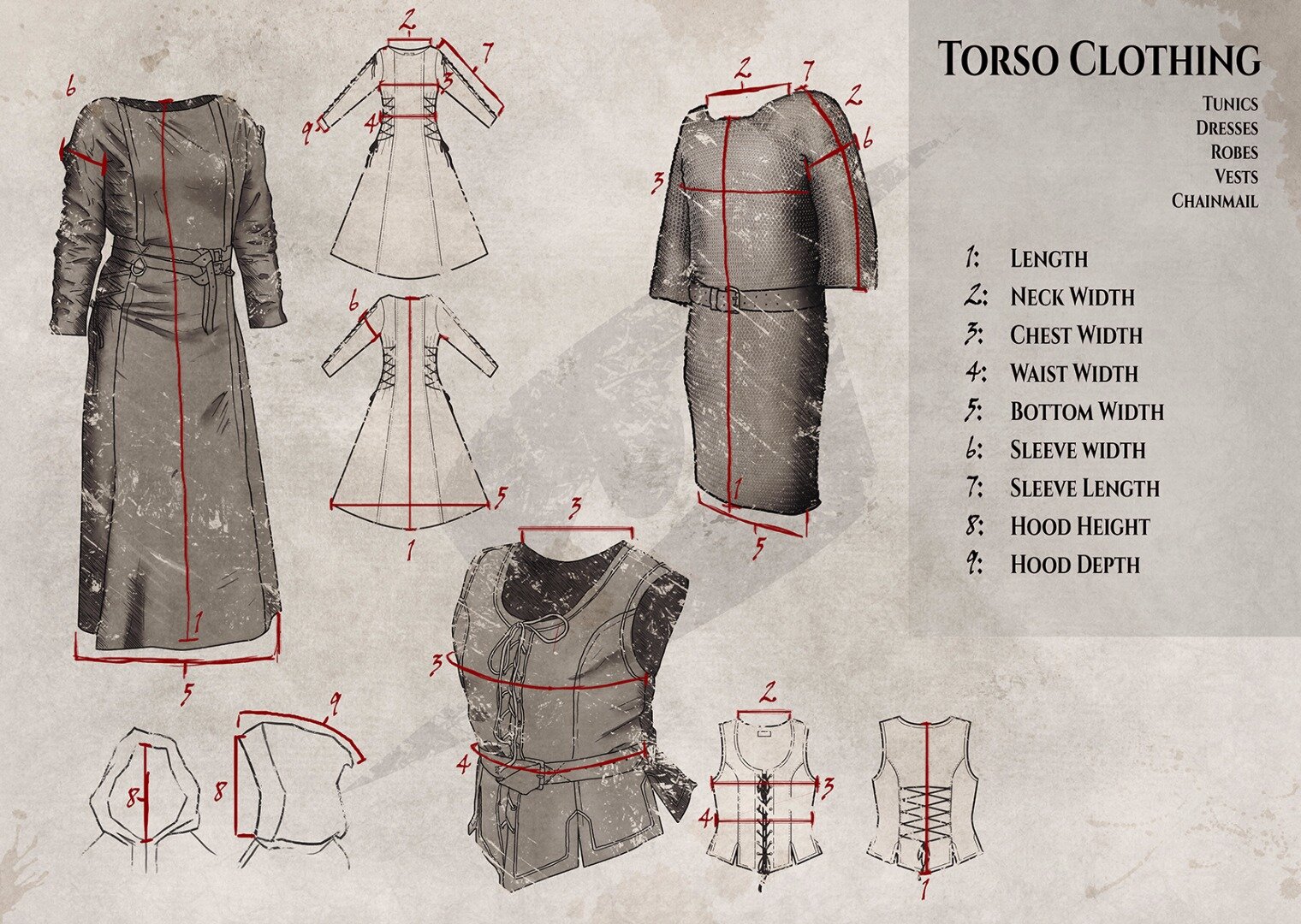 One of our bestsellers!
Competitive price
Handmade by qualified professional. Measurements are approximations and may vary.
This product is handmade and hand-painted and therefore unique. As a result, when compared with similar item numbers, this product can have natural deviations in pattern, colour and shape, which are not considered defects or faults.
We produce our image material in a natural environment, where lighting and surroundings can affect colors and contrast. The displayed images may therefore appear different from the product you receive from us.
Measurements are all in cm if not stated otherwise.
Brand:
Epic Armoury
Universe:
Sovereign
Position:
Torso
Product type:
Outerwear
Release date:
03/08/2017
Maintenance
As a heavy duty fabric, this heavy canvas product is stronger and heavier than simple cotton. This material wrinkles easily, but can be ironed on a higher heat level.
Cleaning
Clean dirt off the bag with a brush, and hand wash cold when necessary.
Machine wash at 40°C / 104°F. Please make sure to wash it once before use in order to make sure that remaining dye will be removed from the product. It is advised to wash with similar coloured clothes to reduce the risk of dye imprint. Tumble Dry on low heat, but be aware that it might shrink up to 5%. For general stains or discoloration to the canvas, treat with a commercial fabric cleaner, or blot with tepid water and a soft cloth.