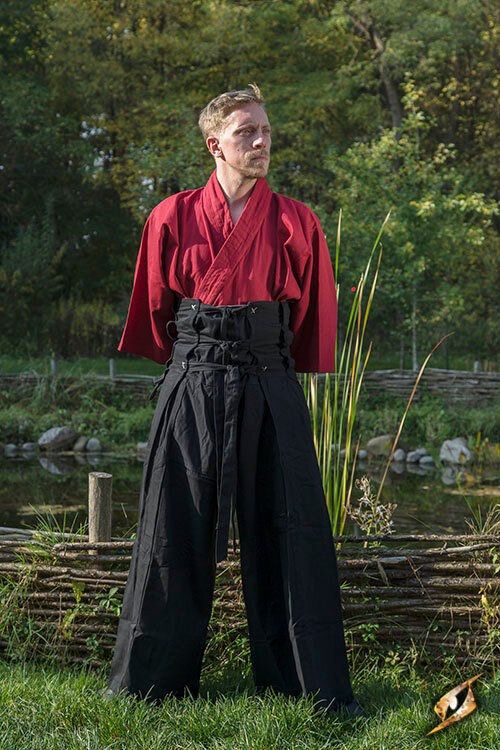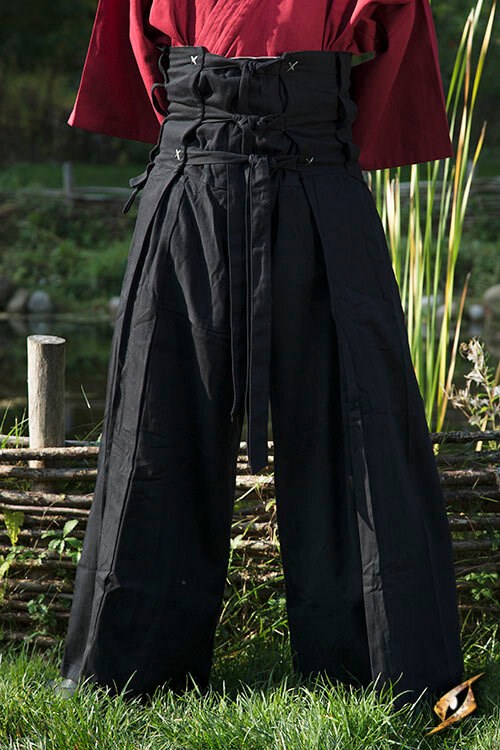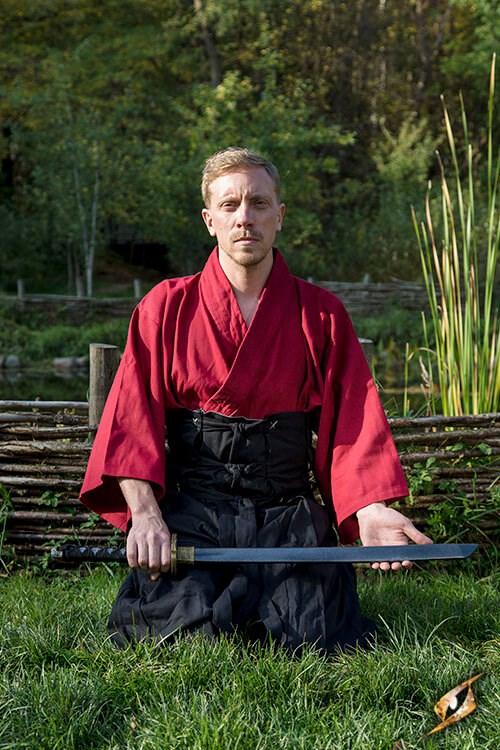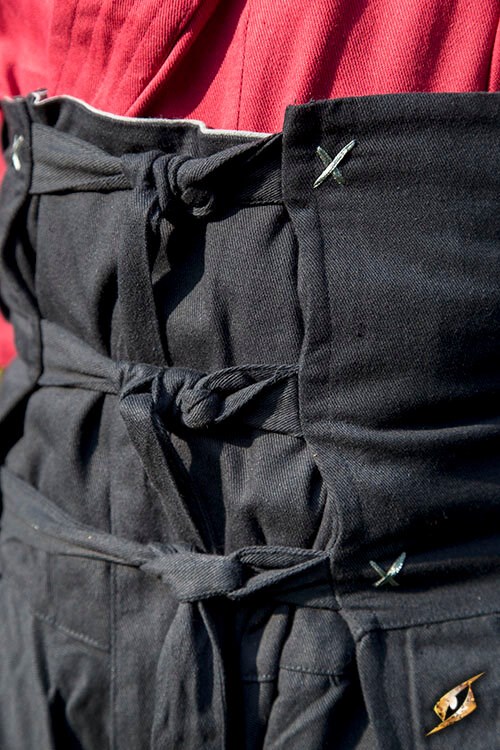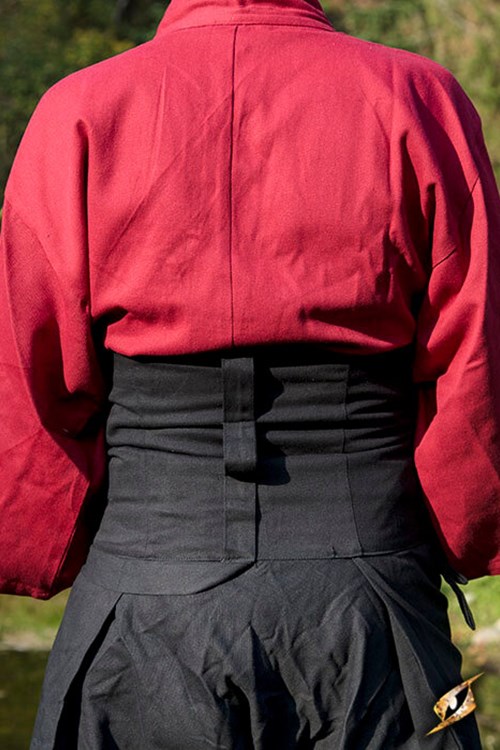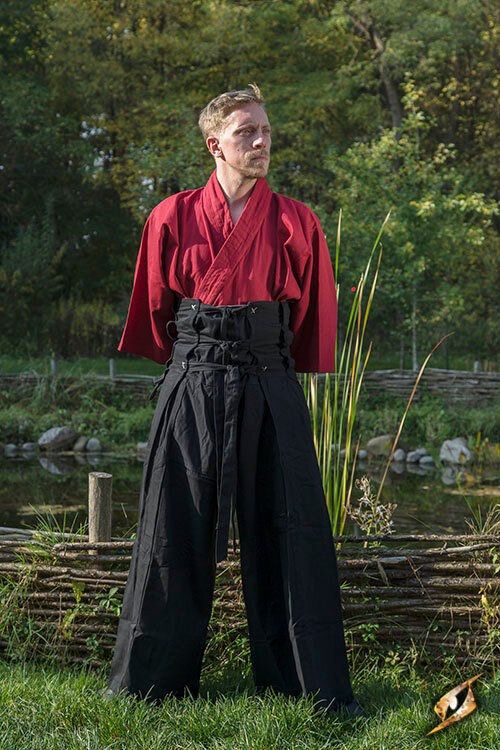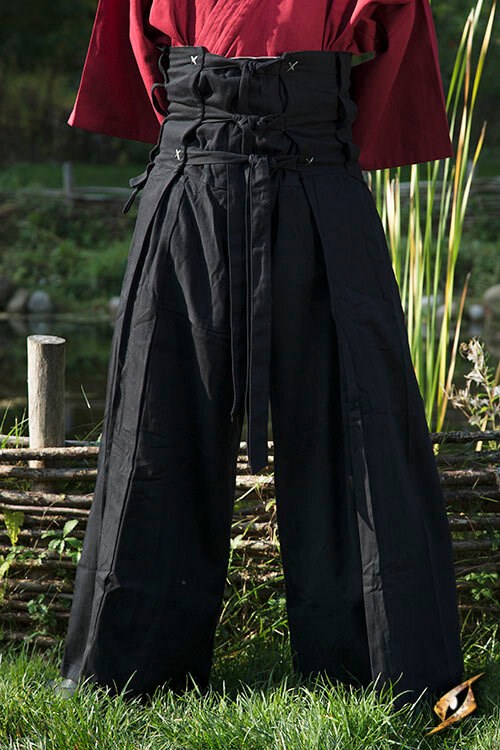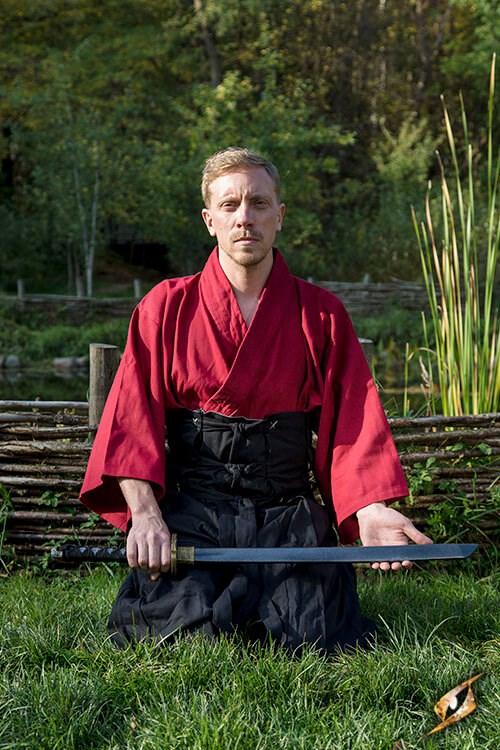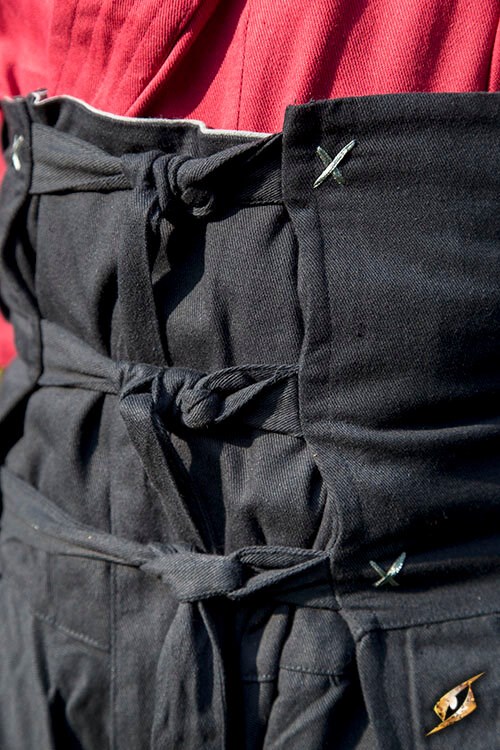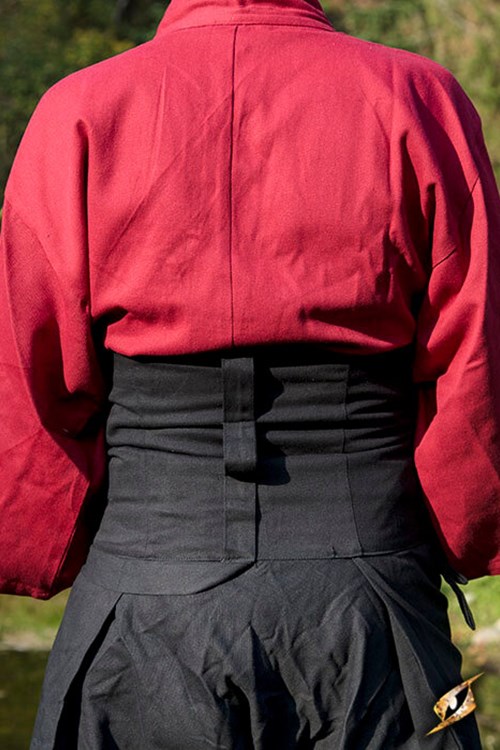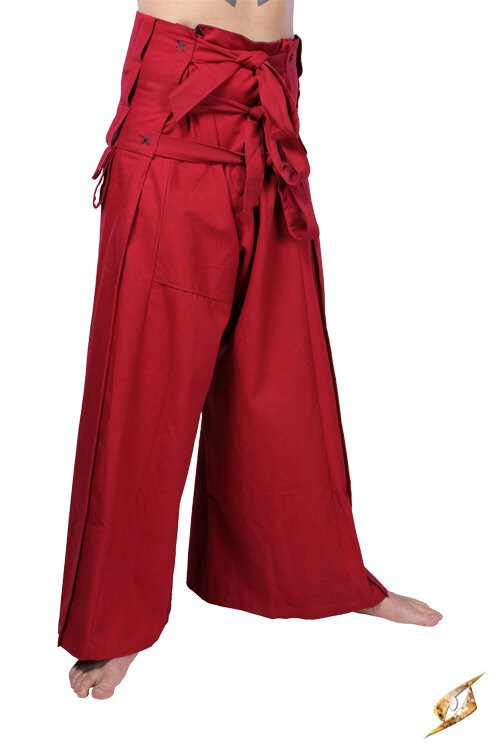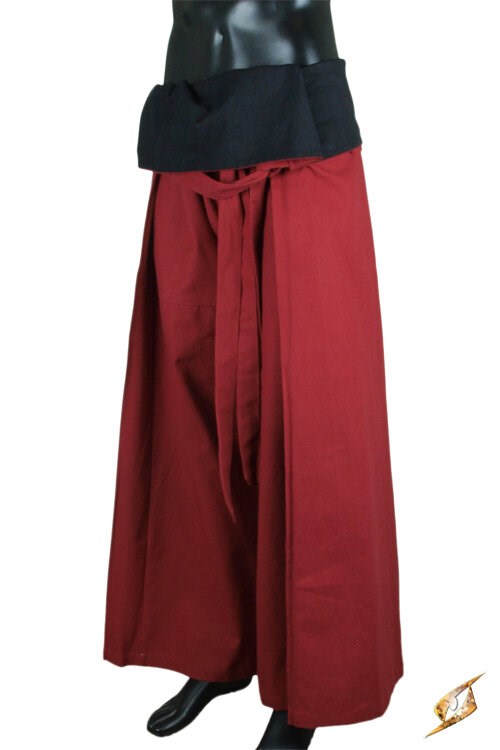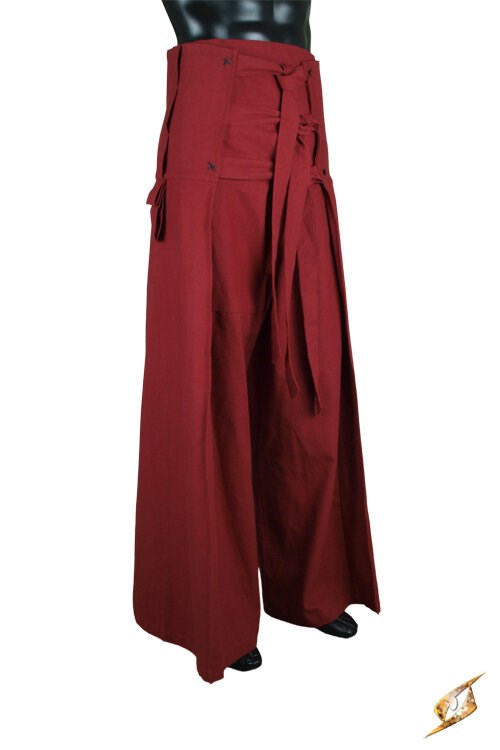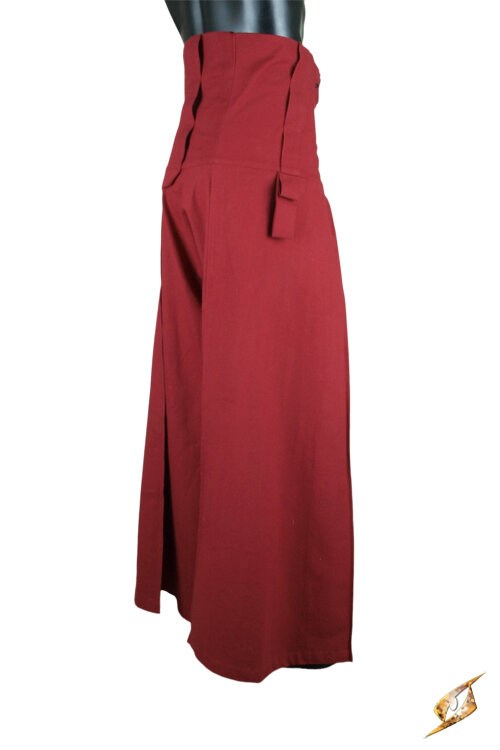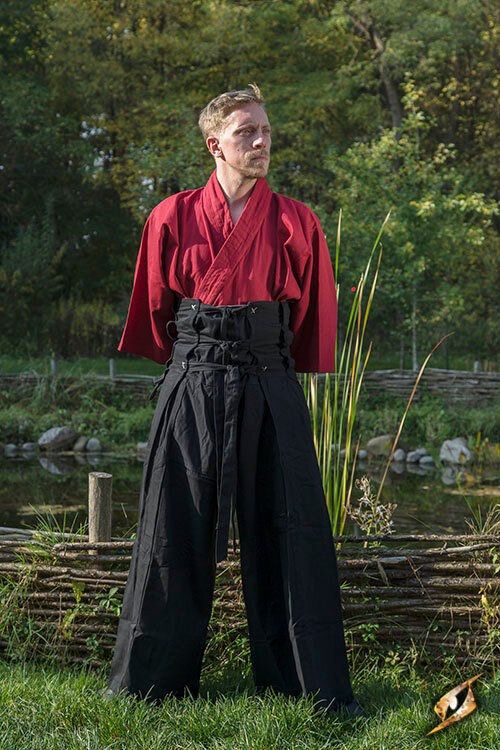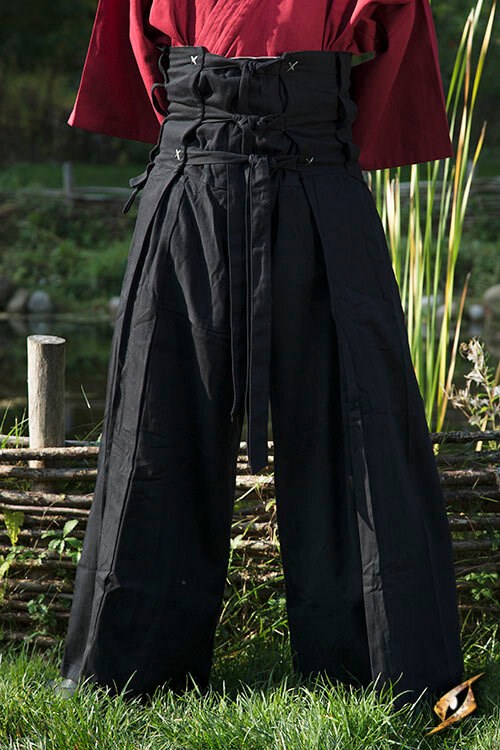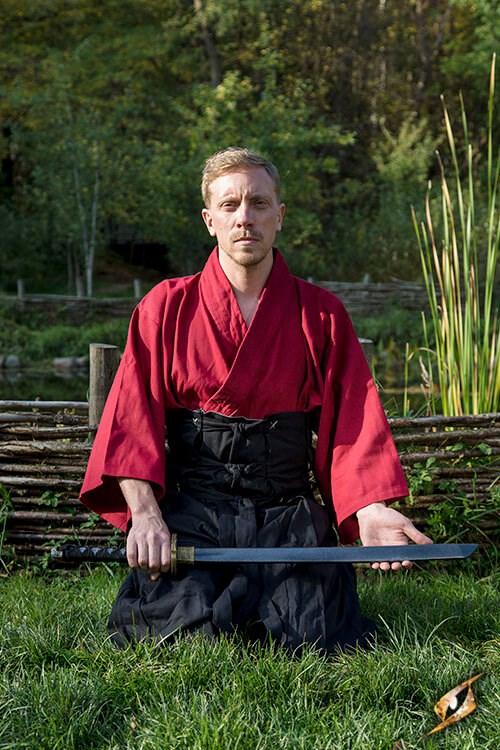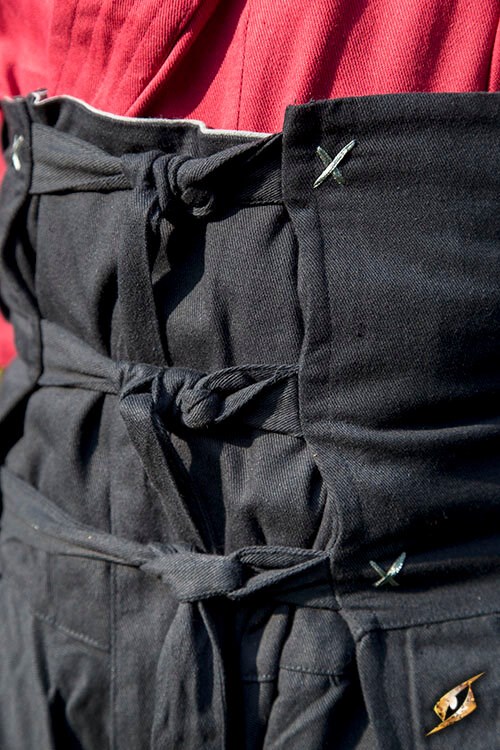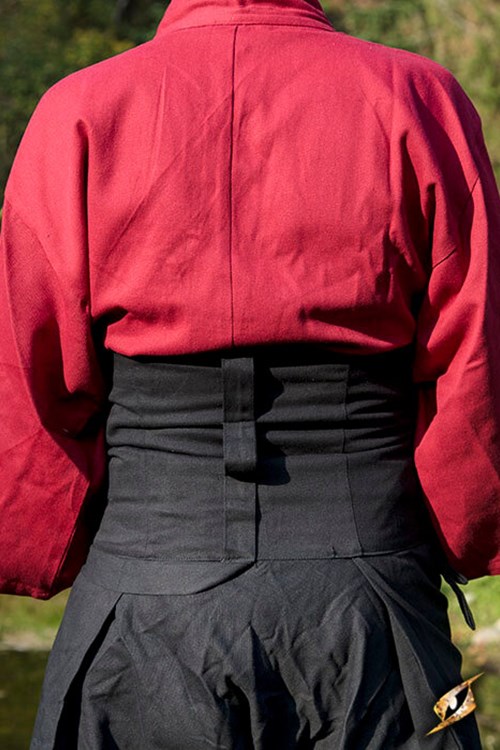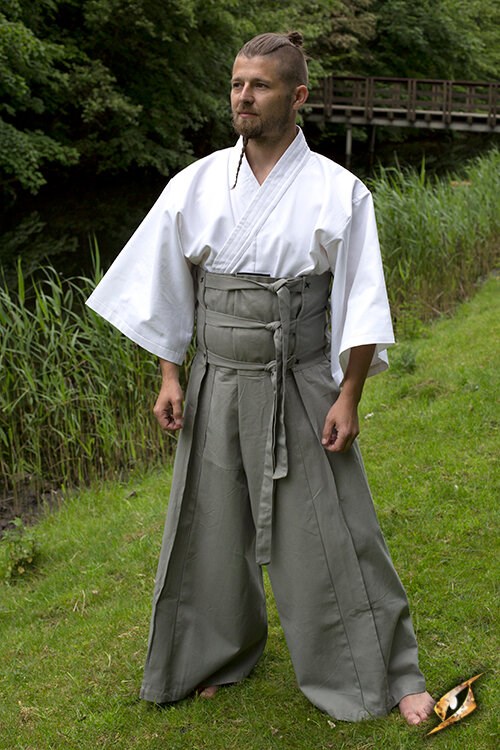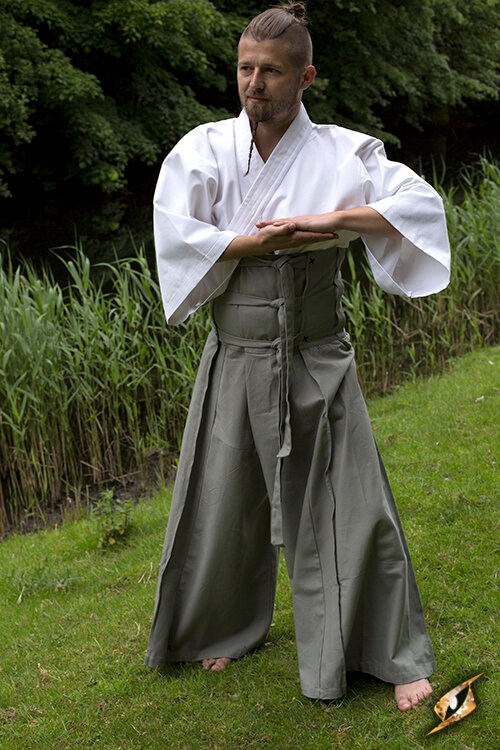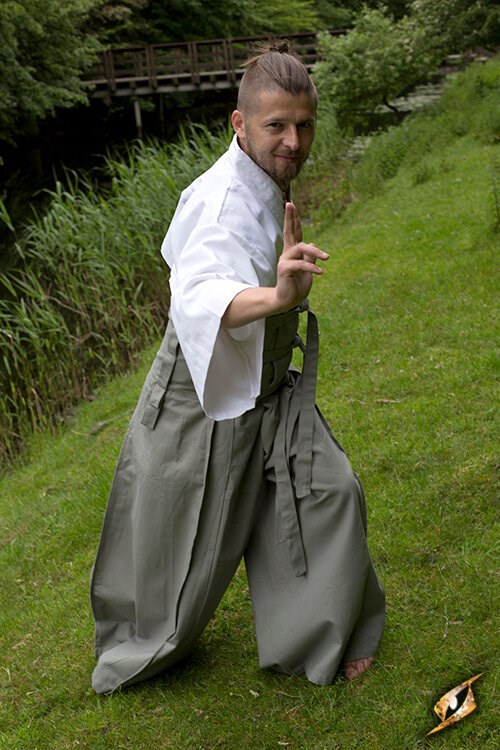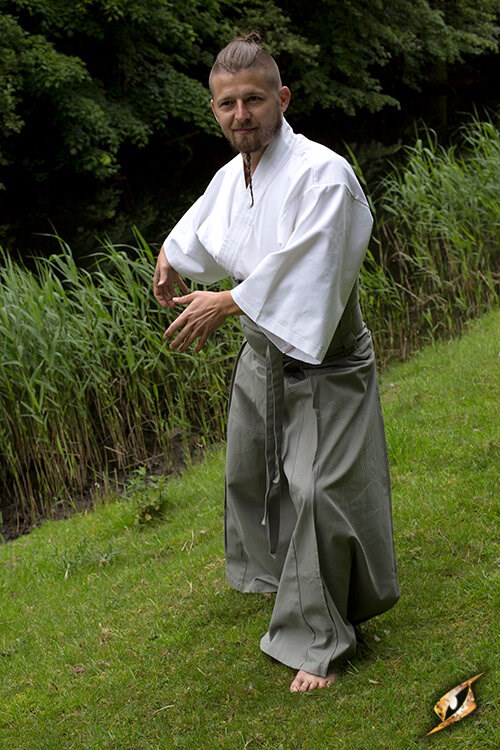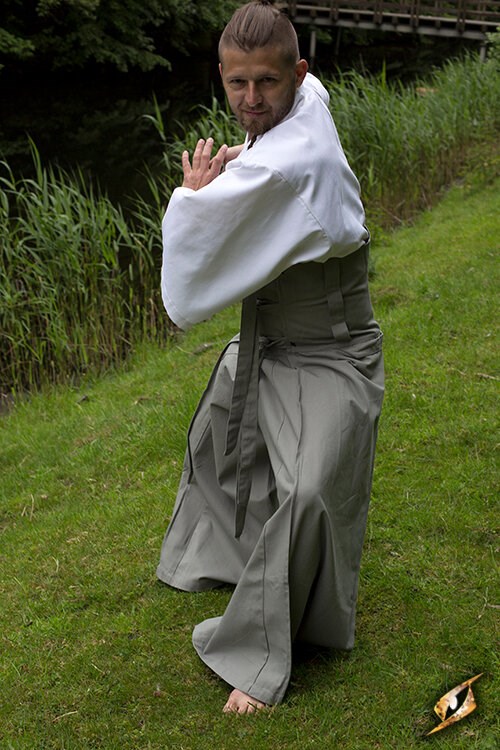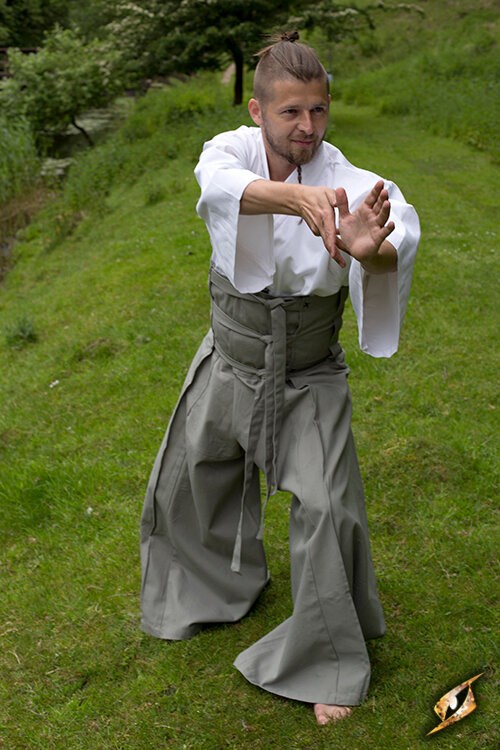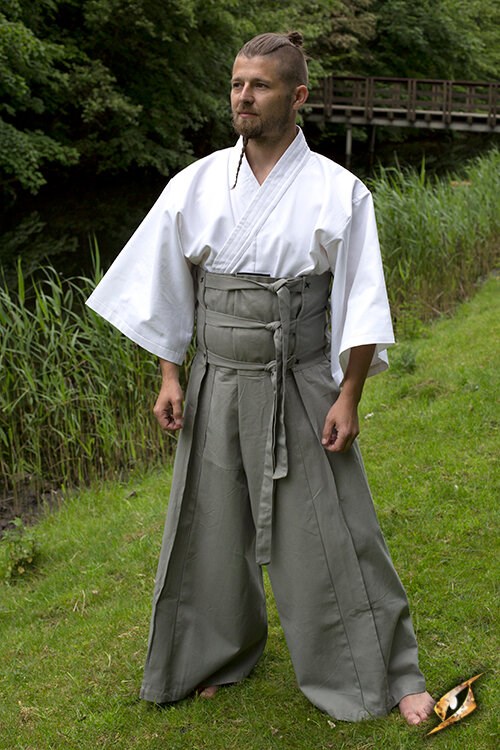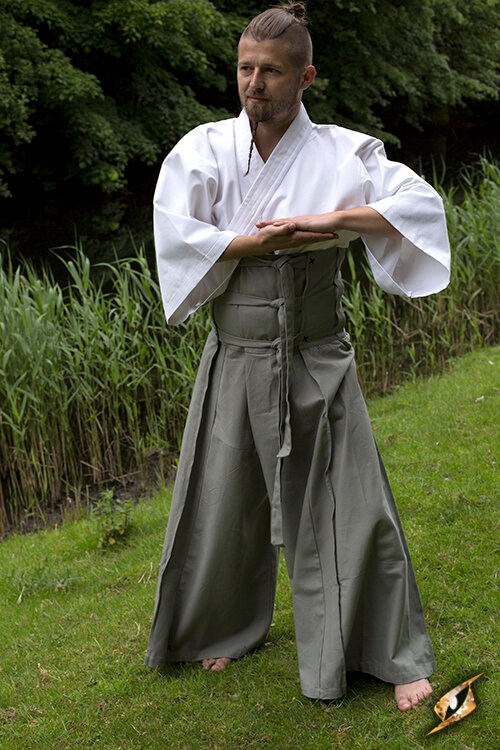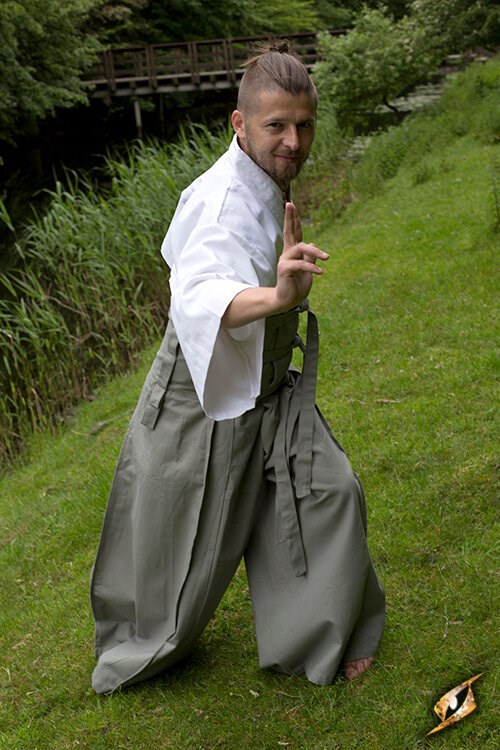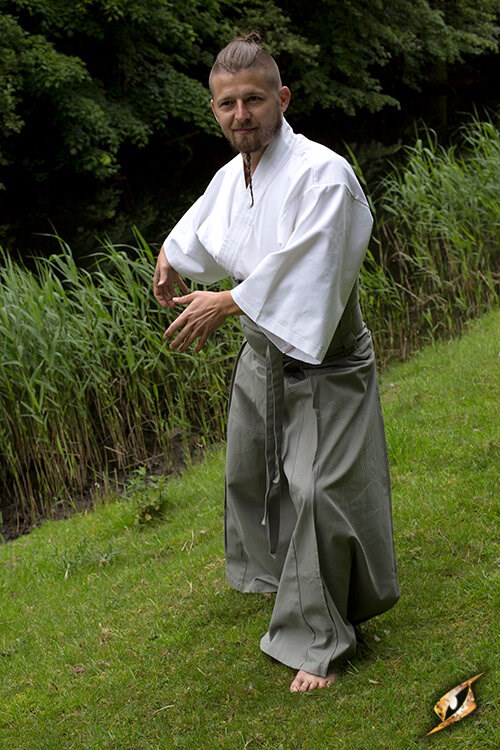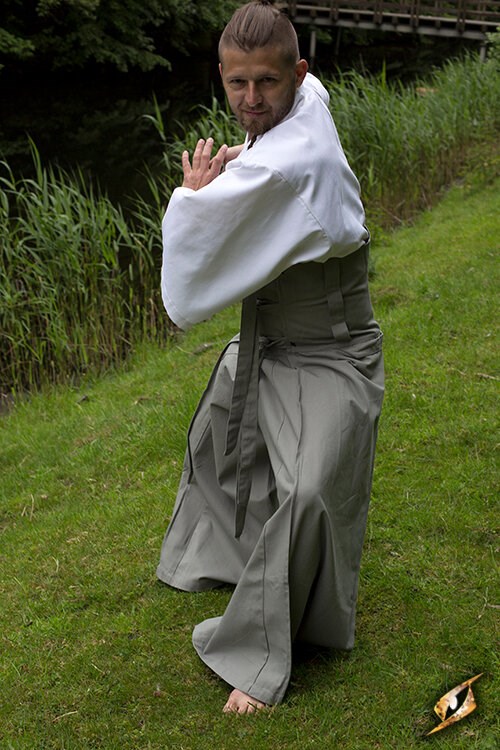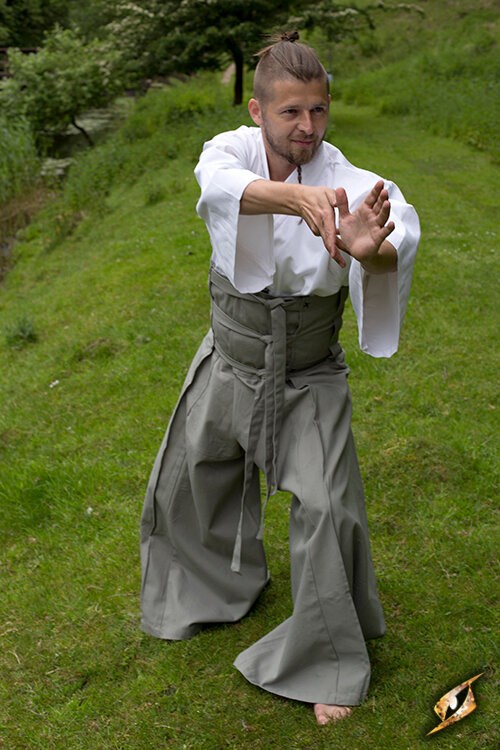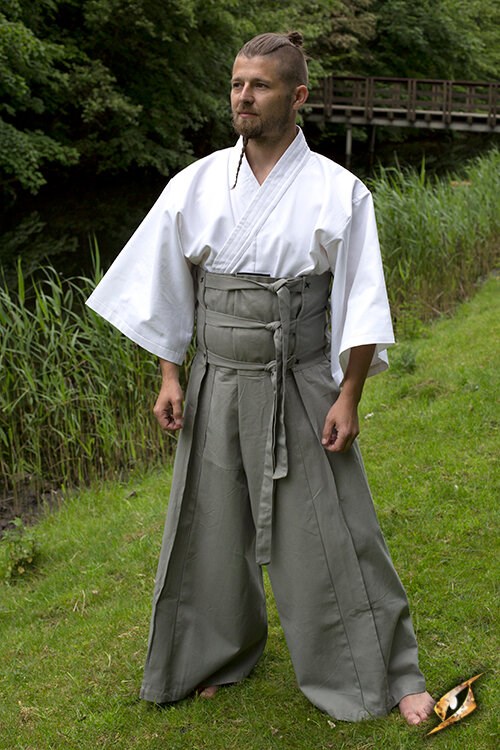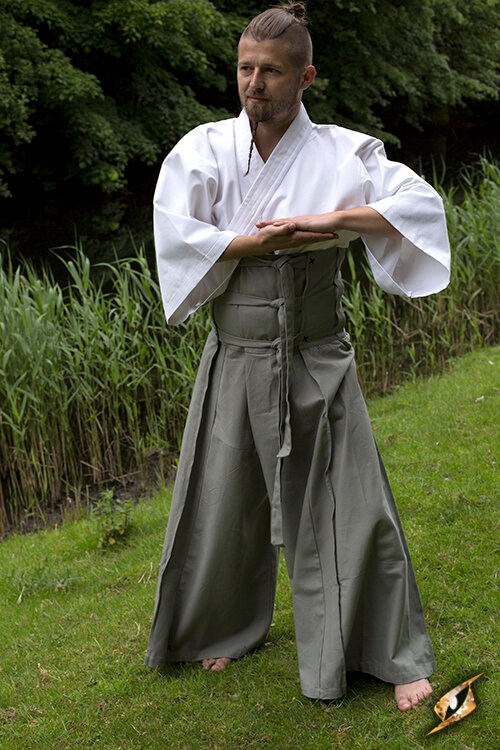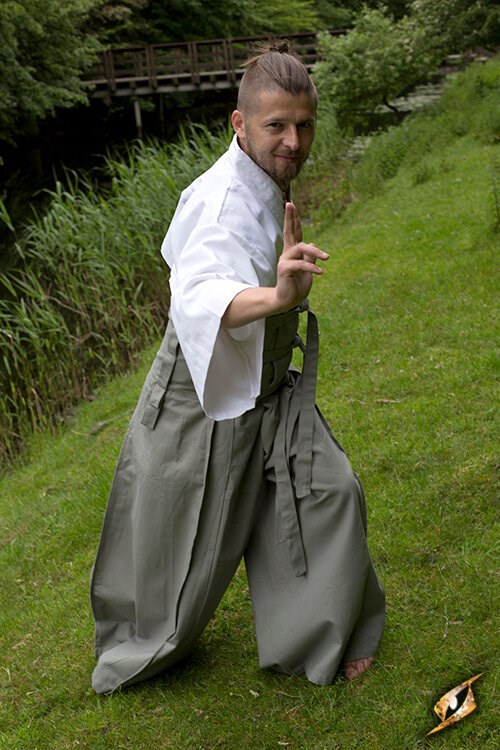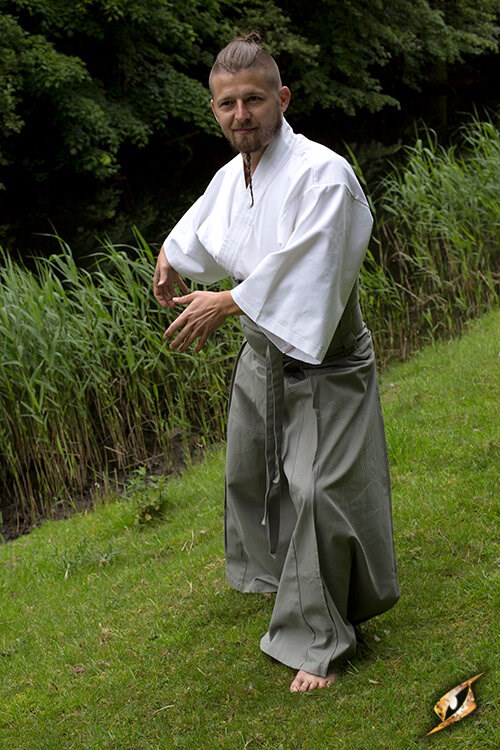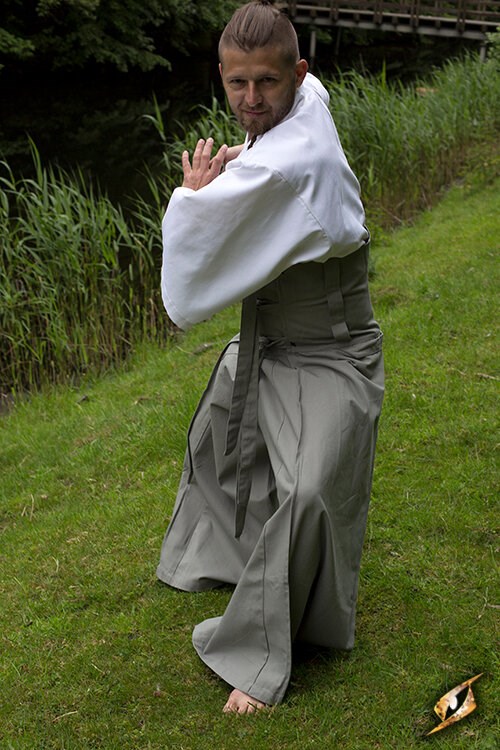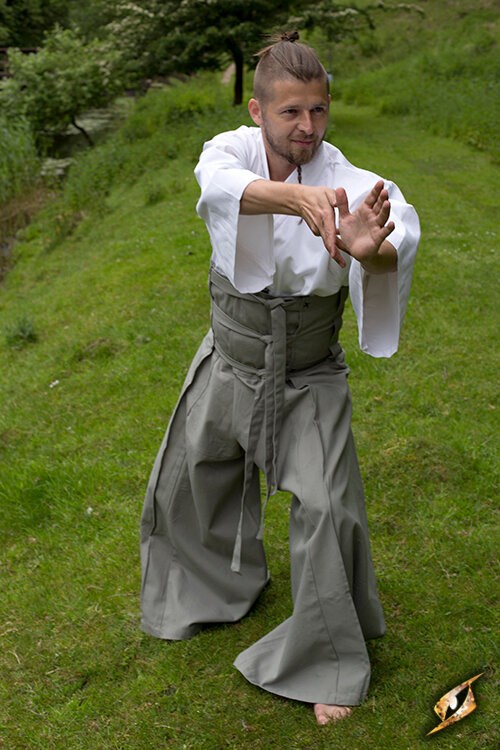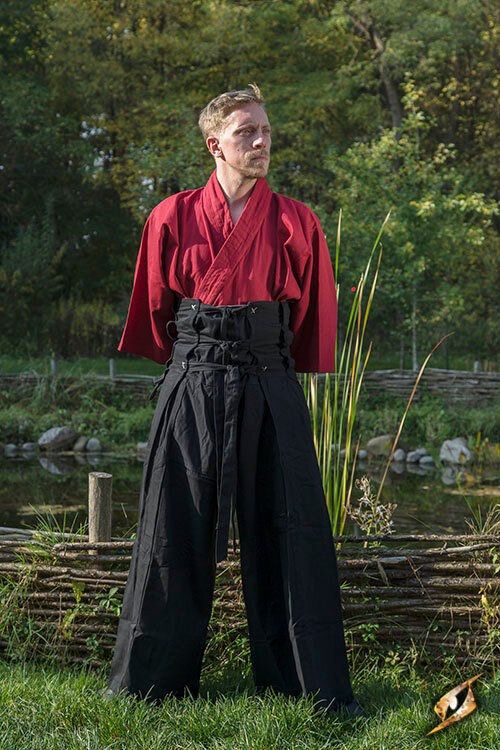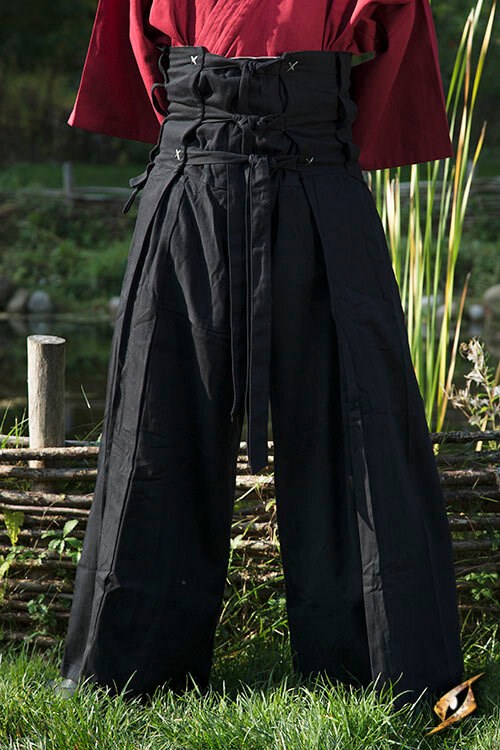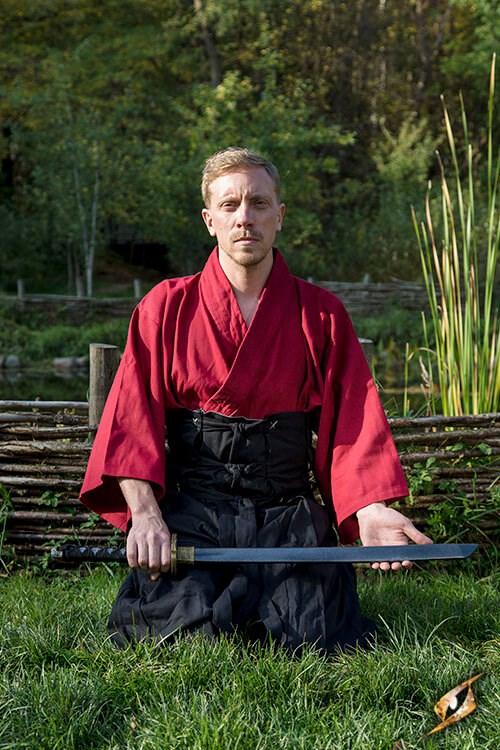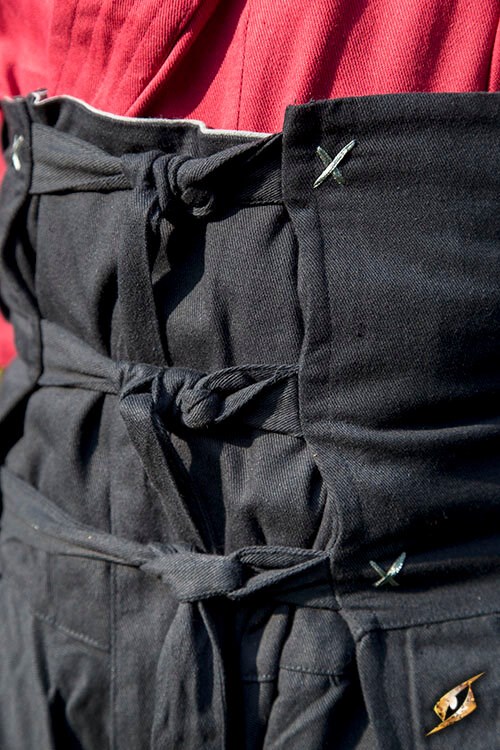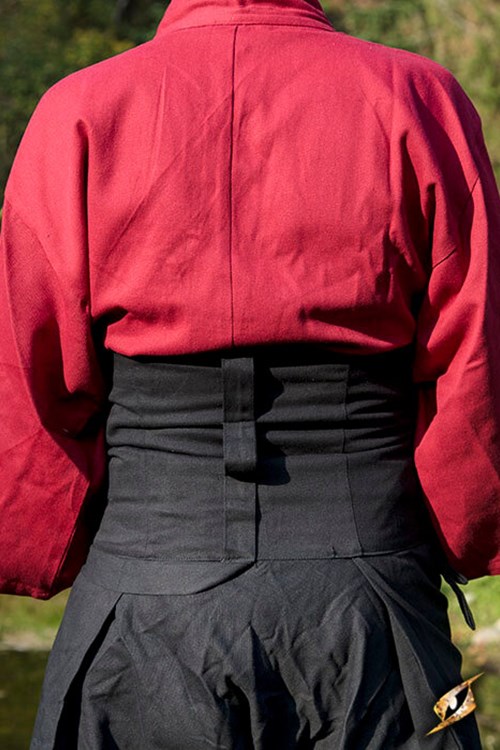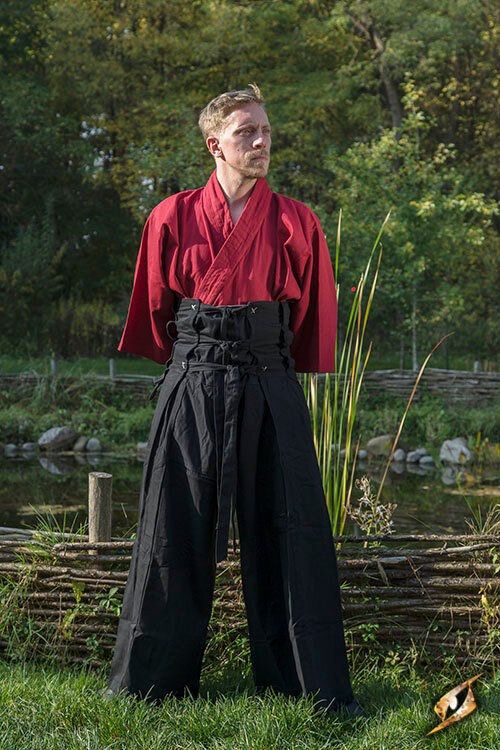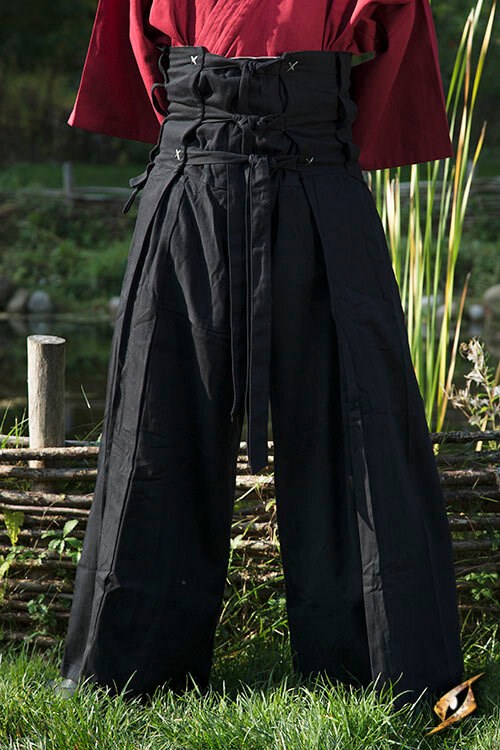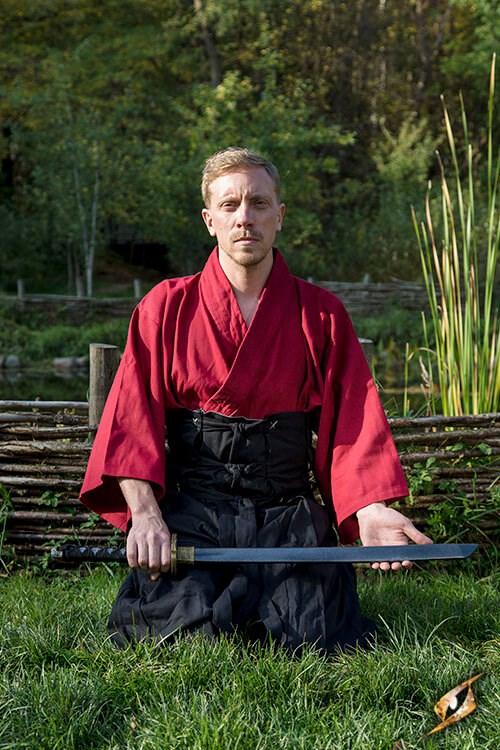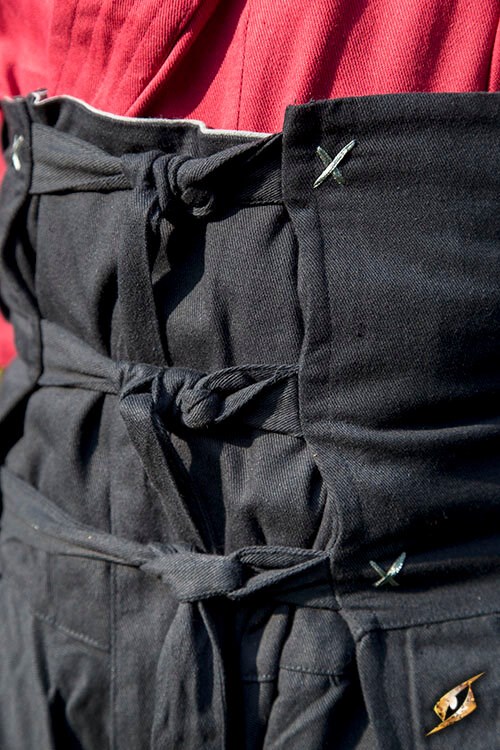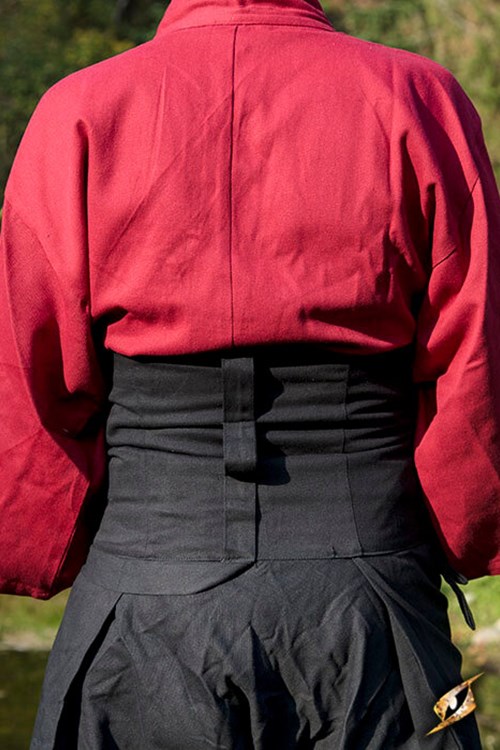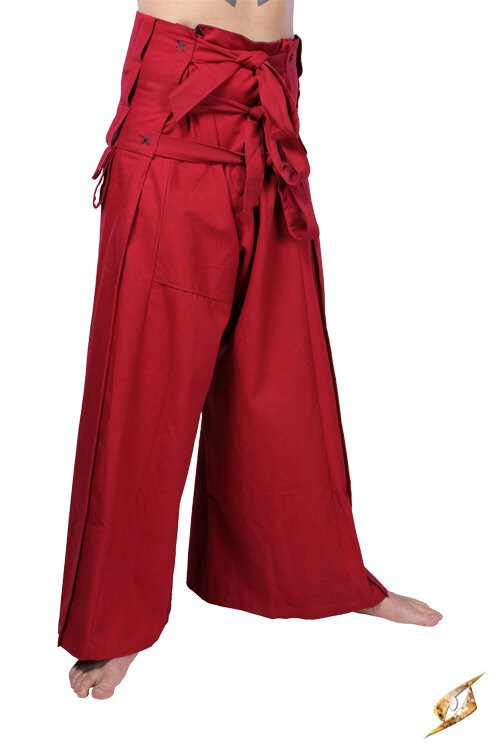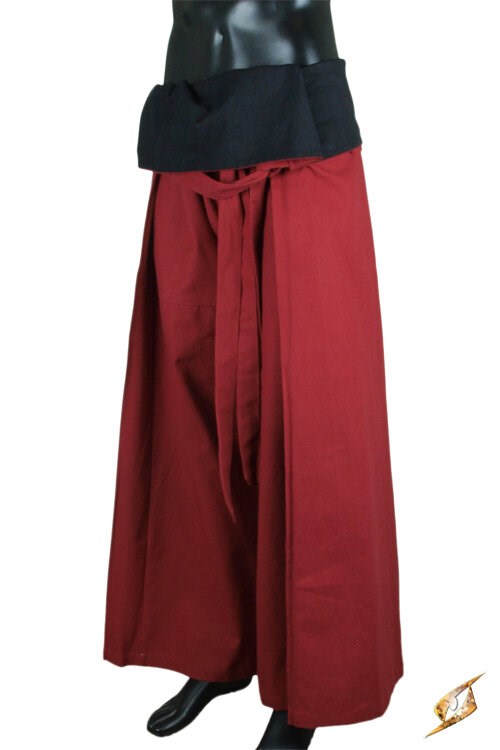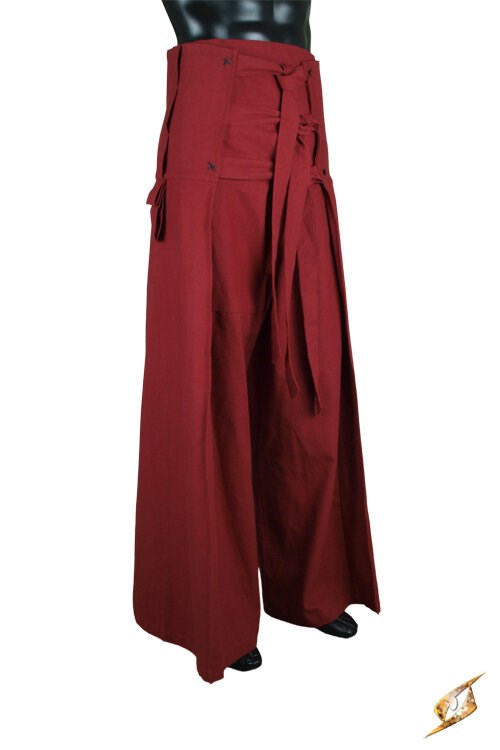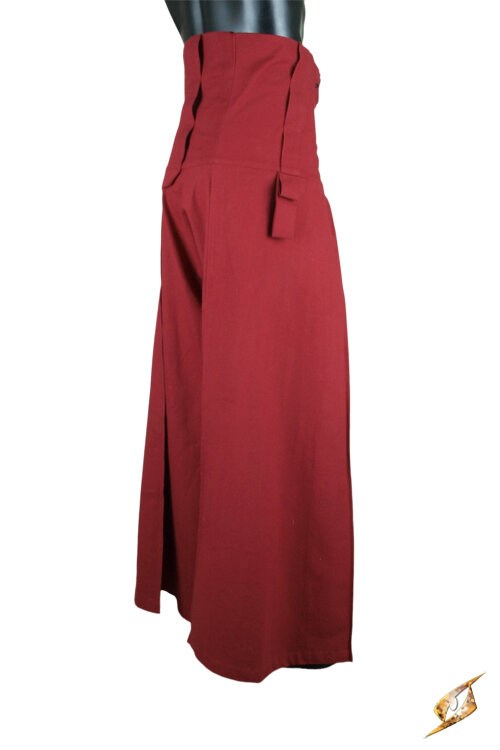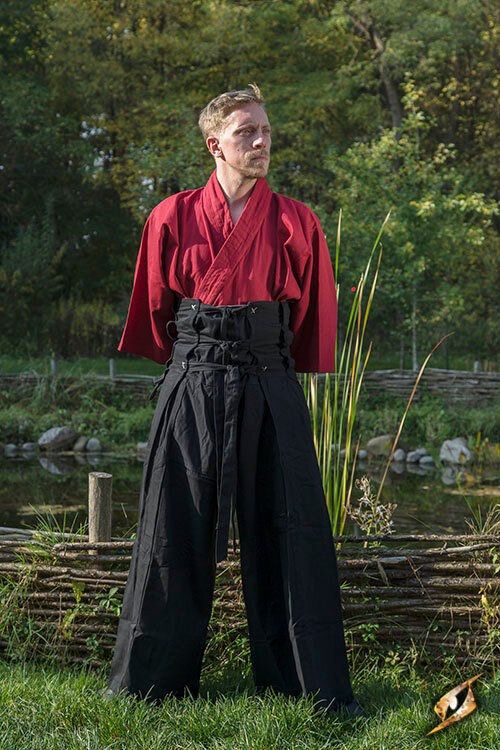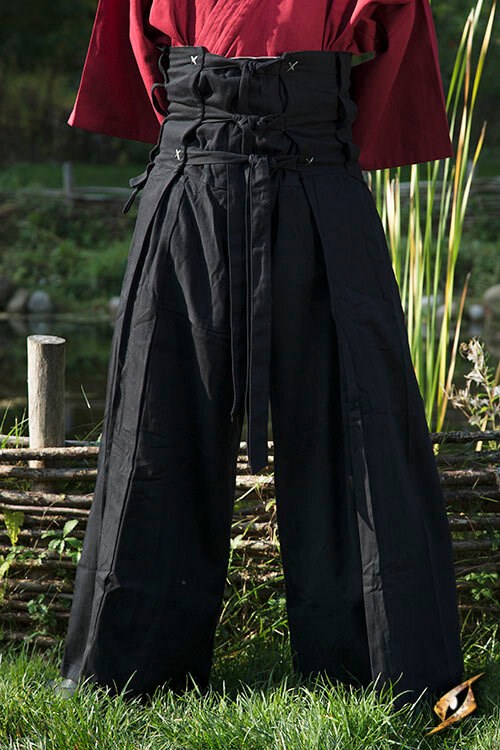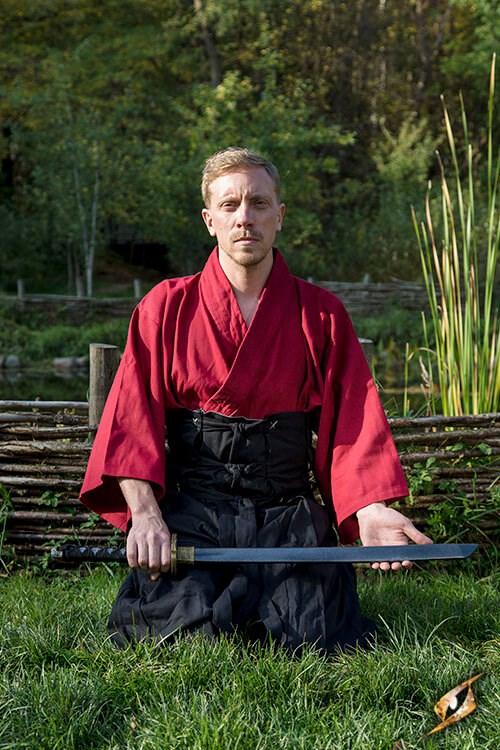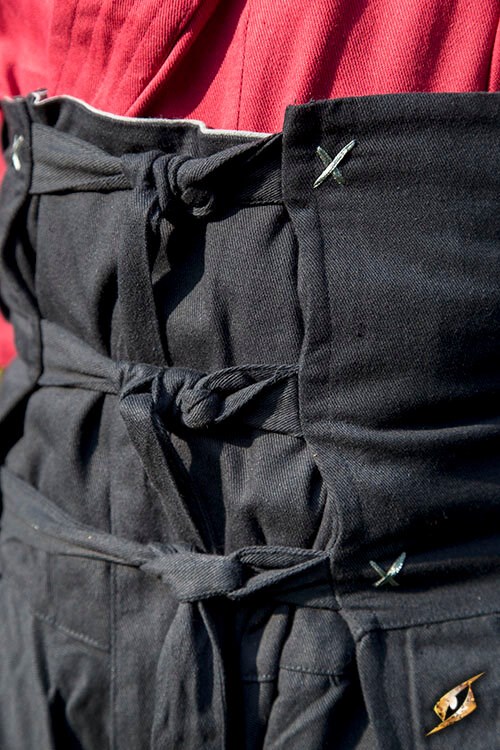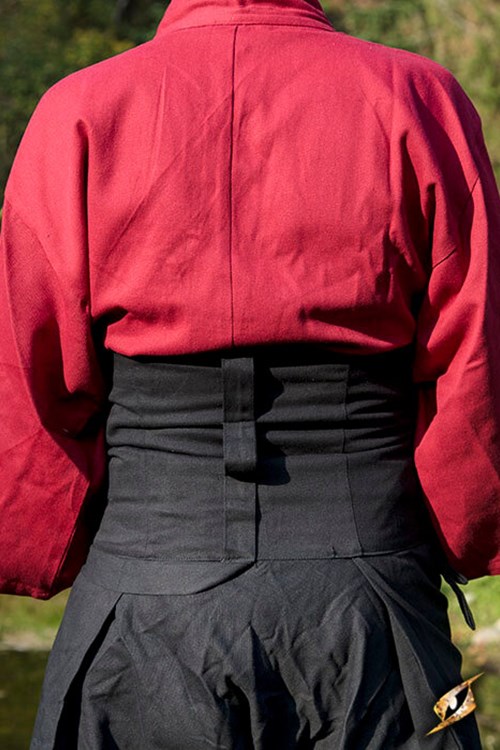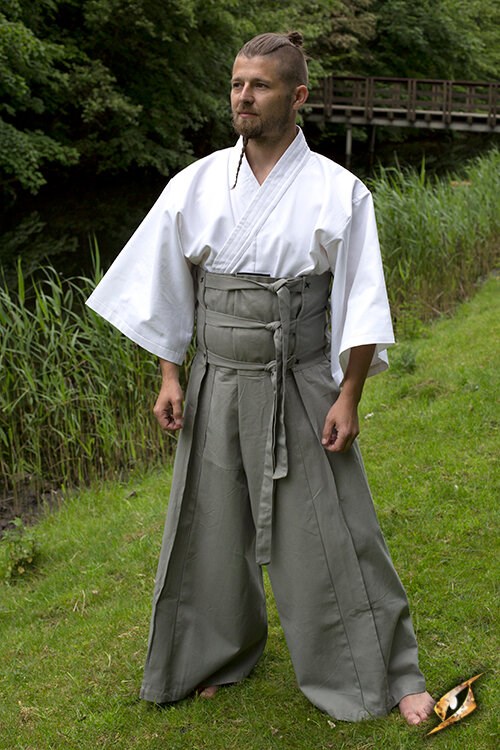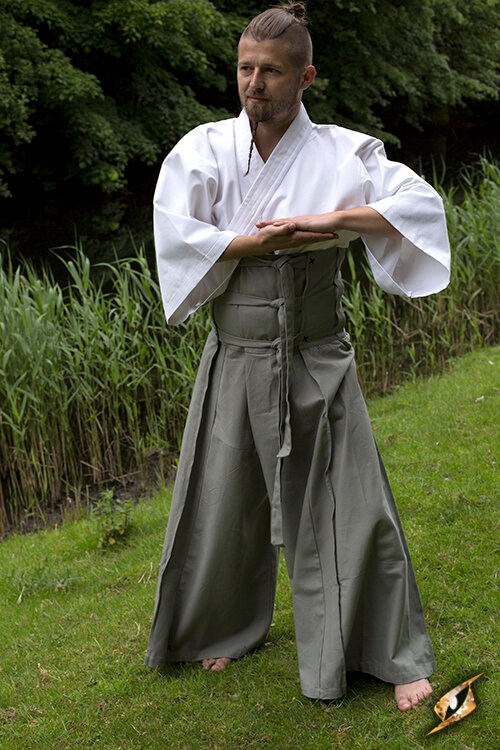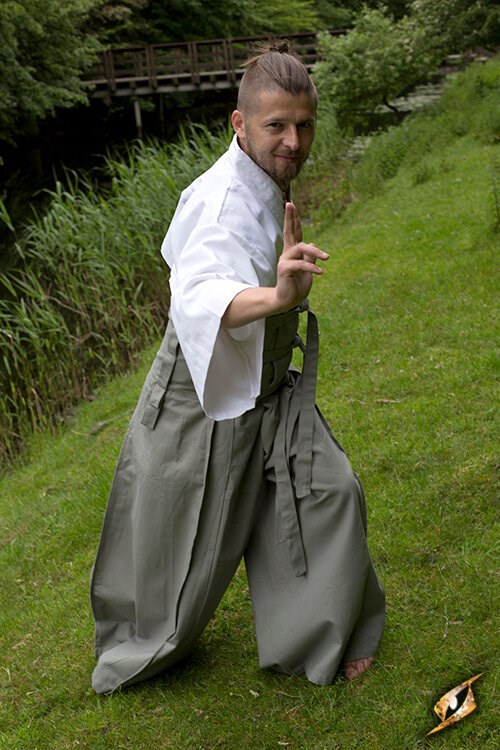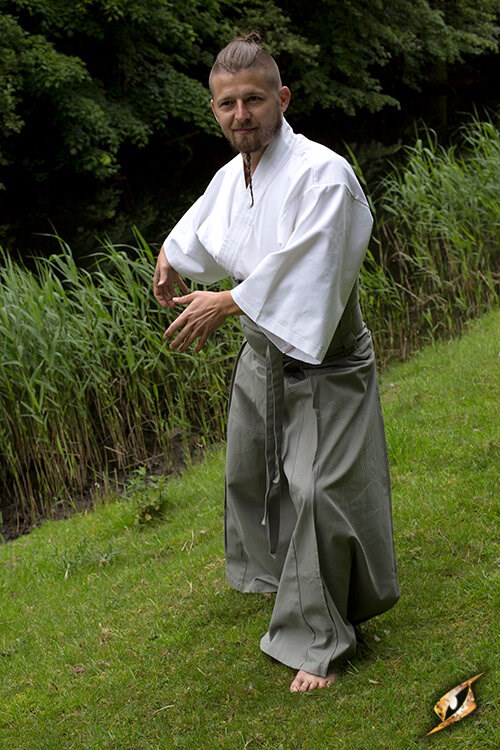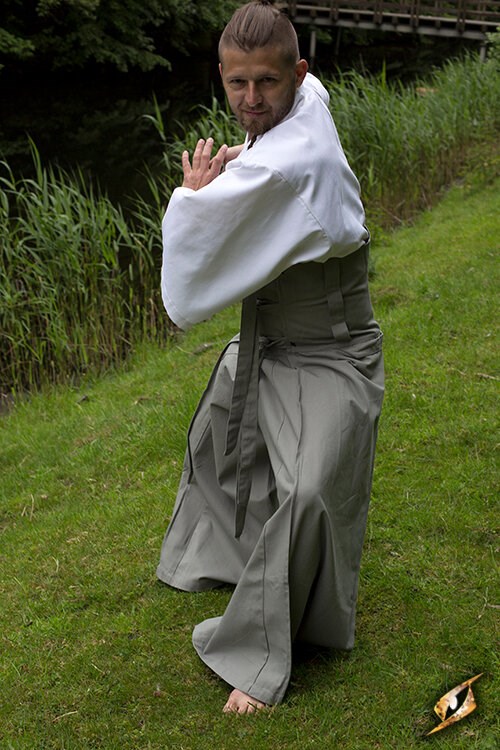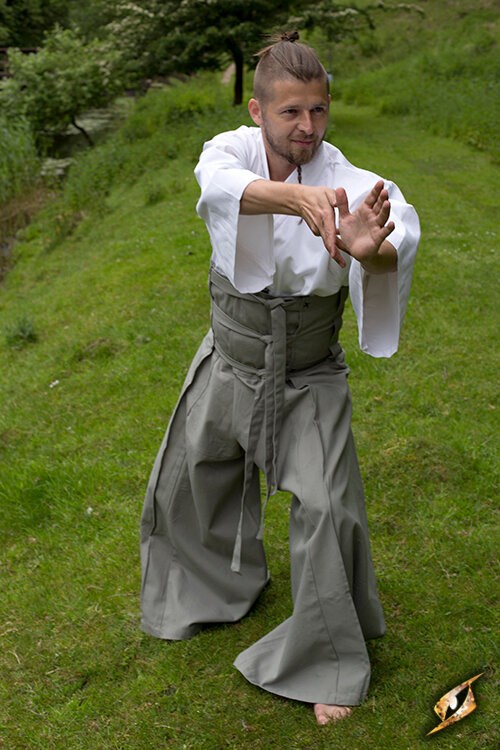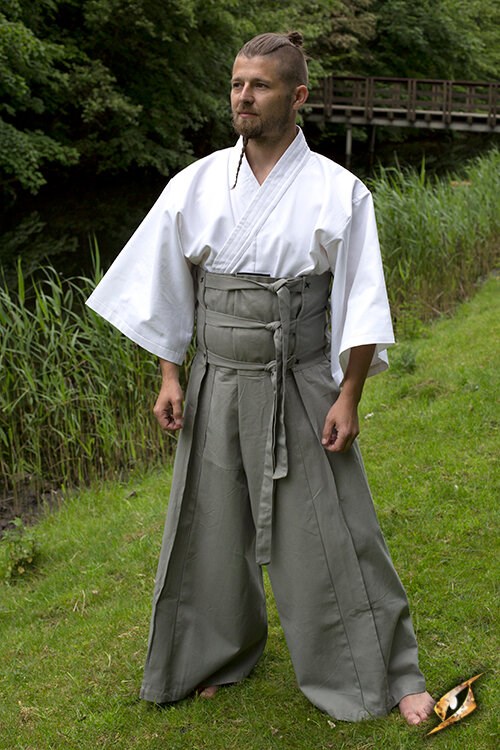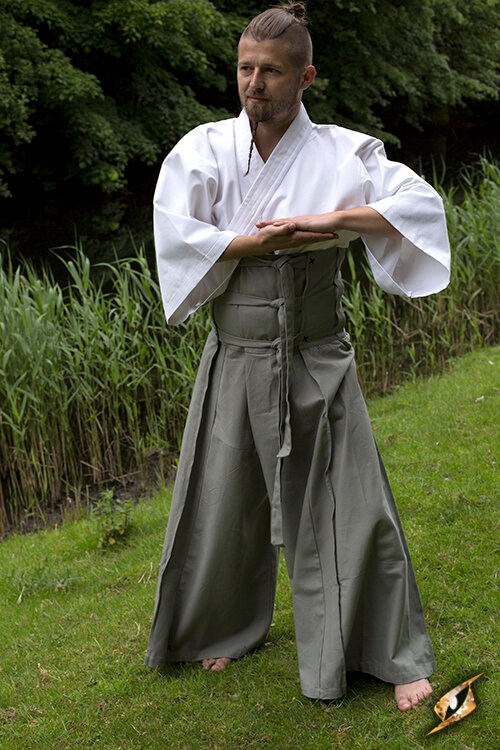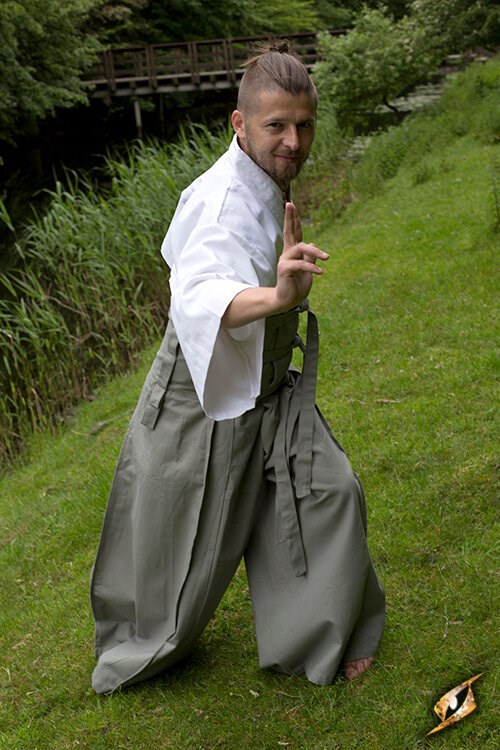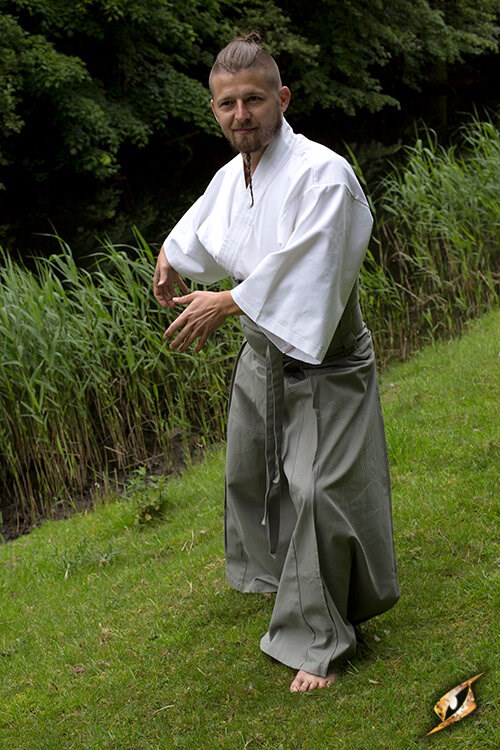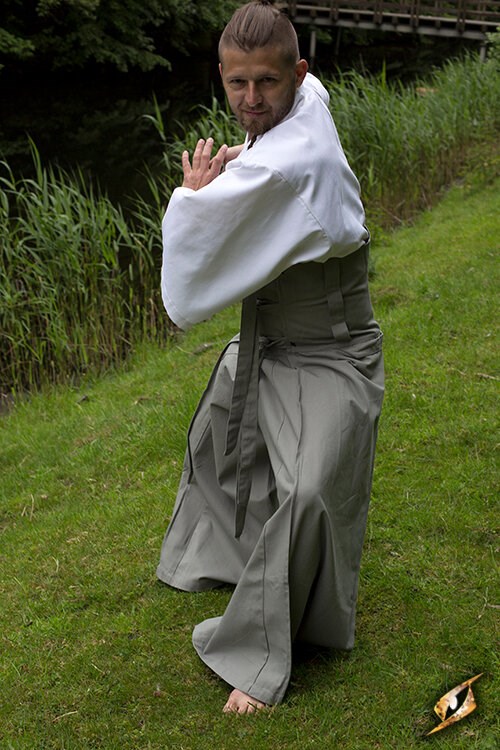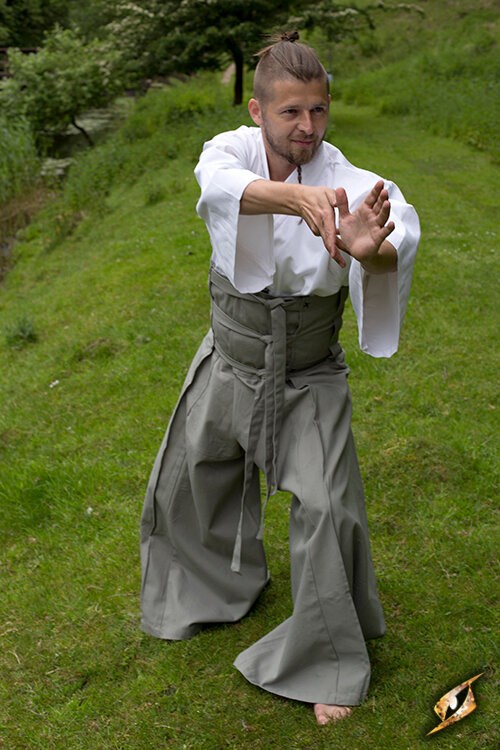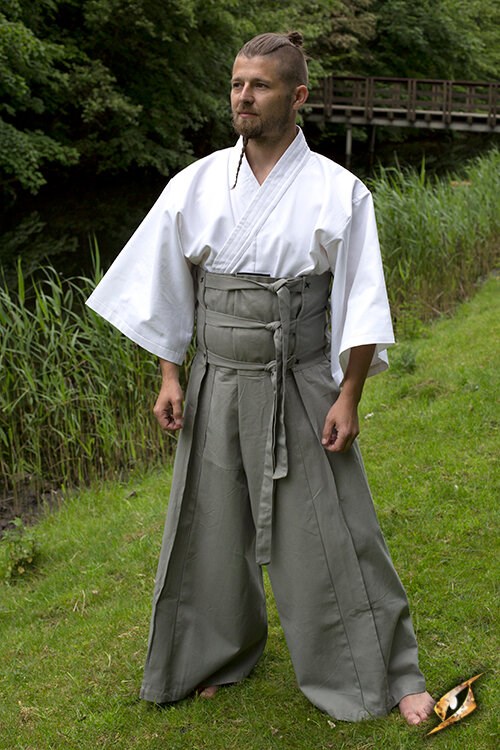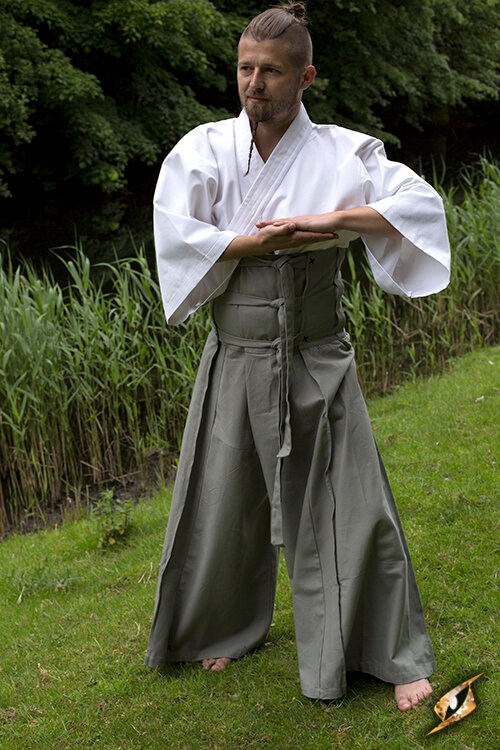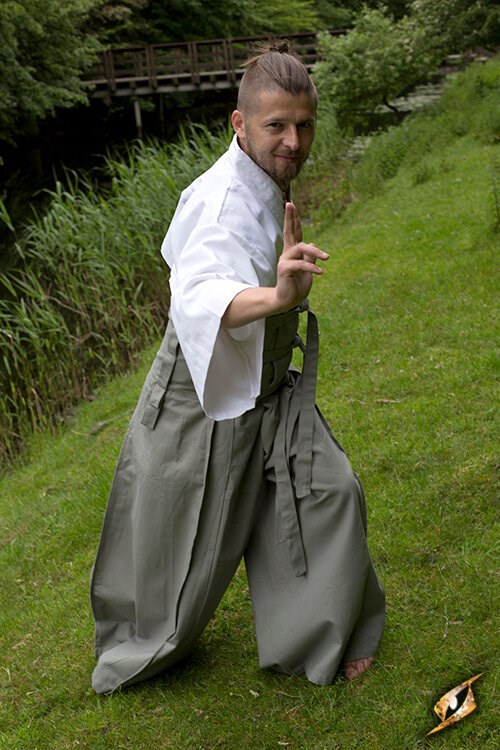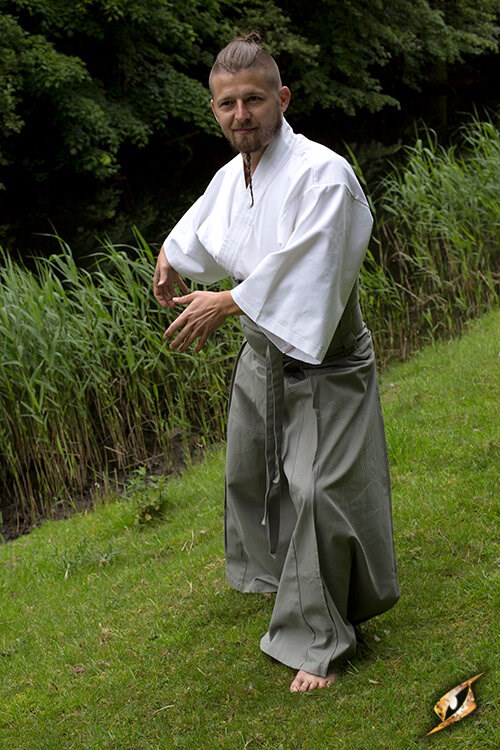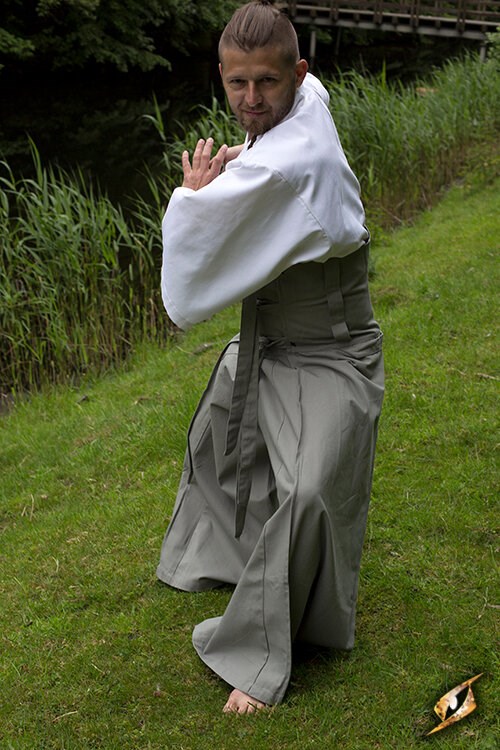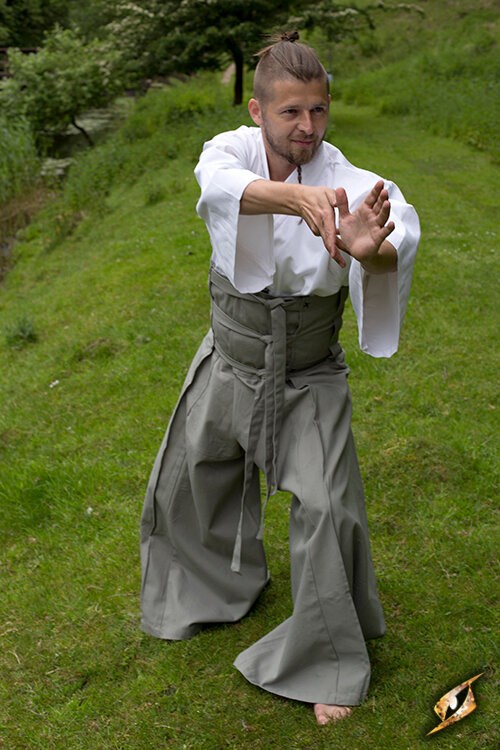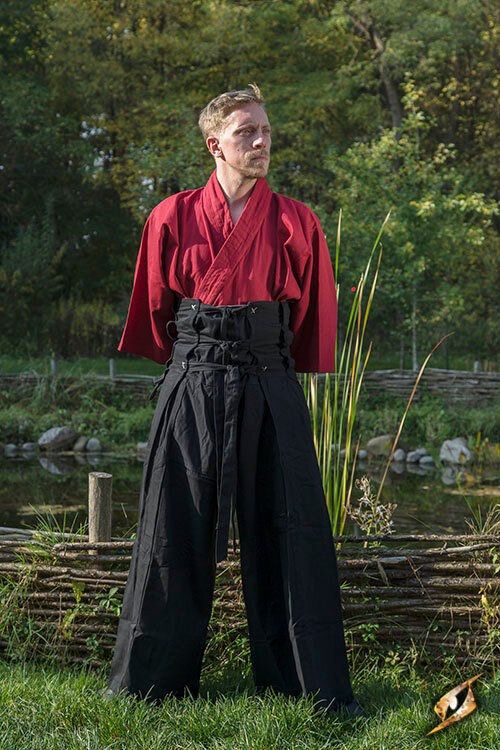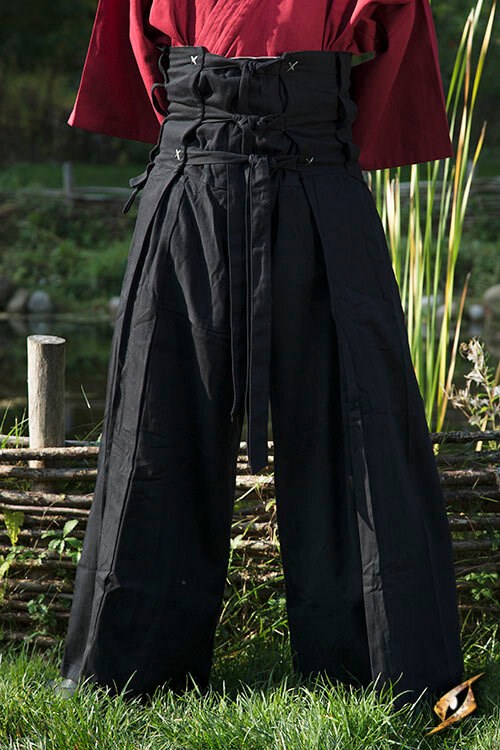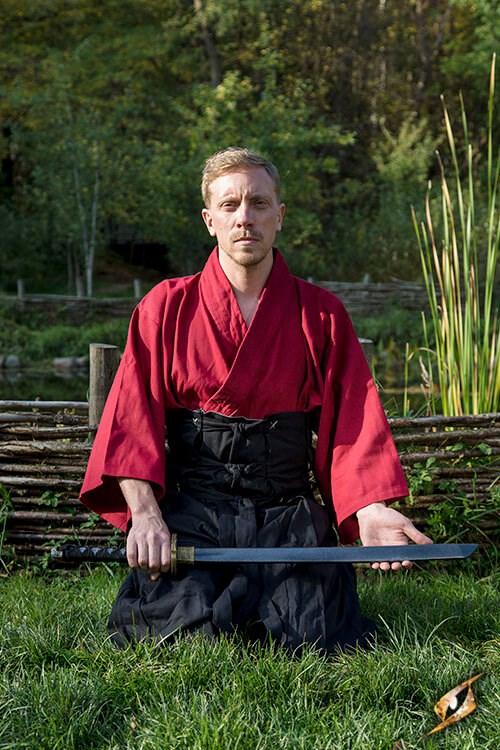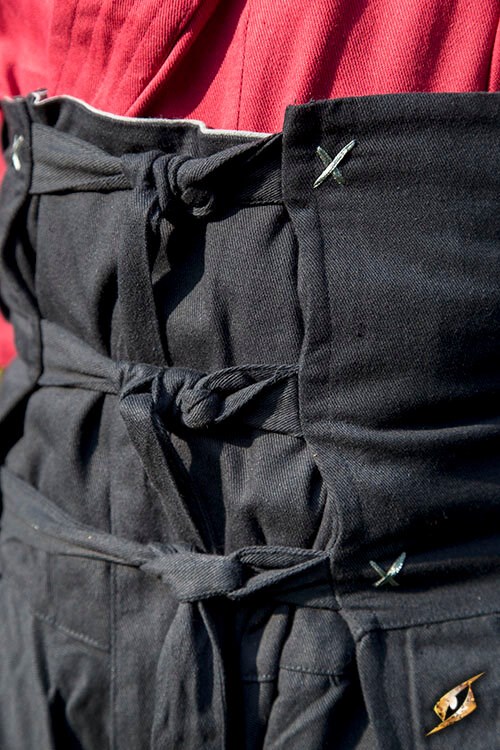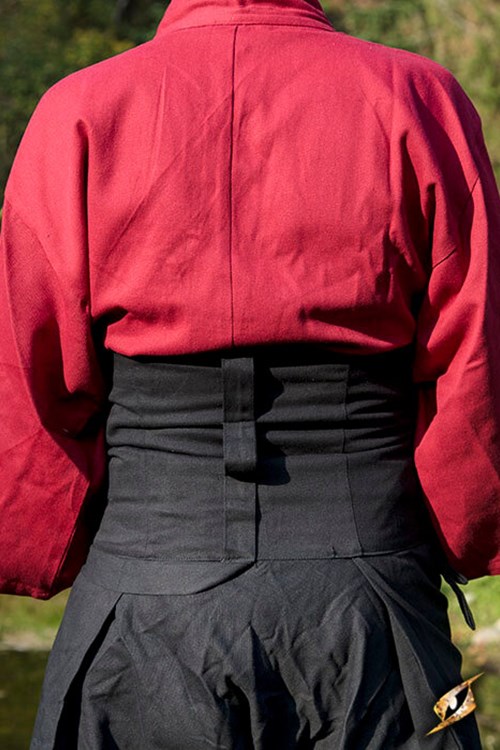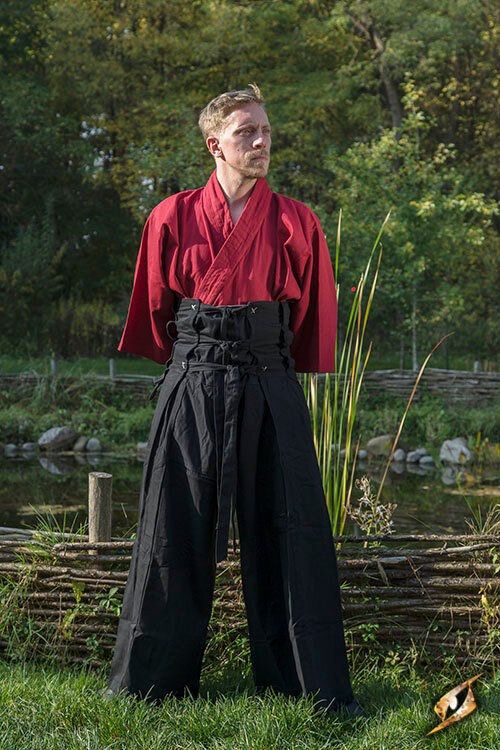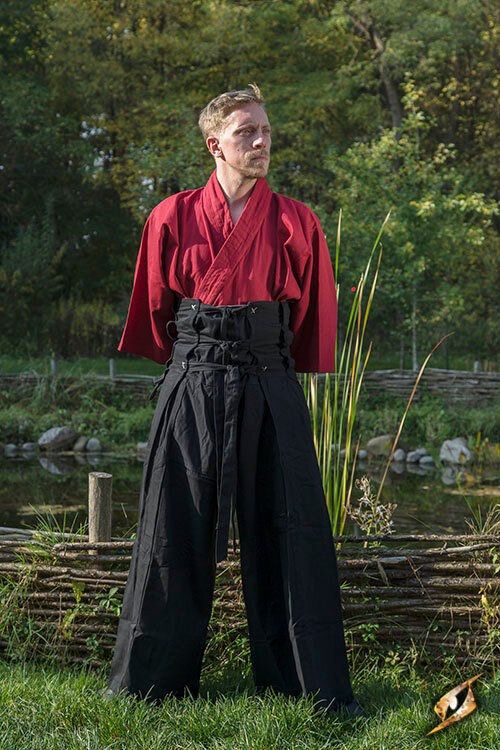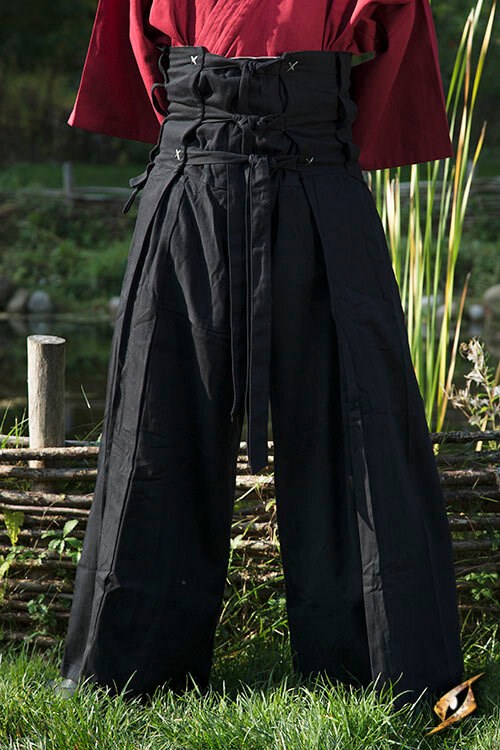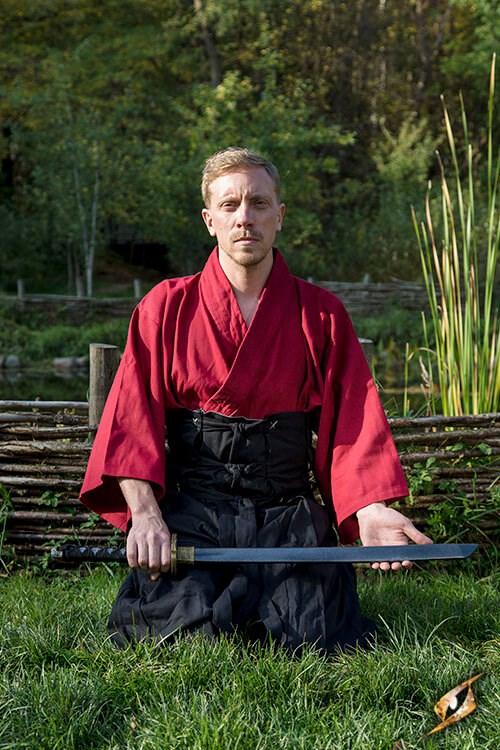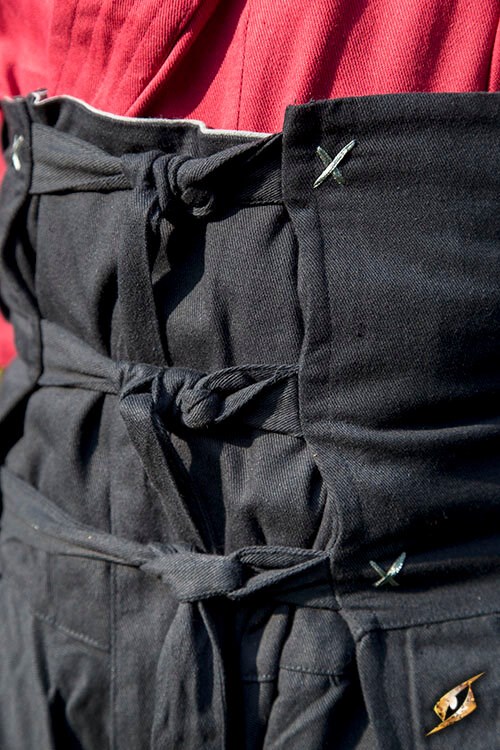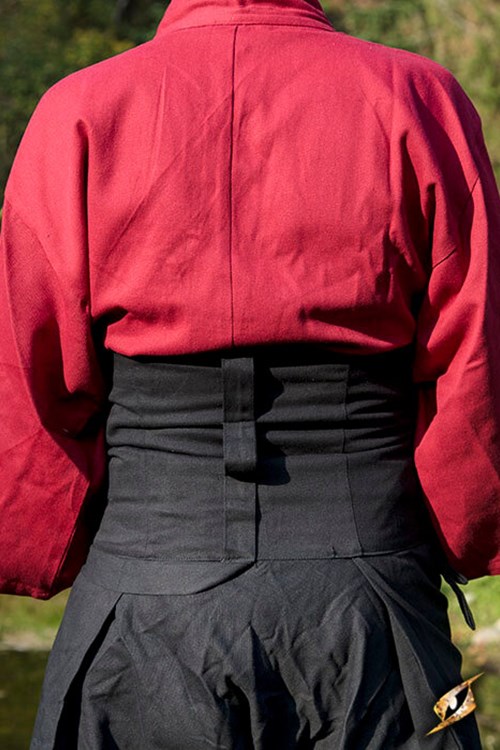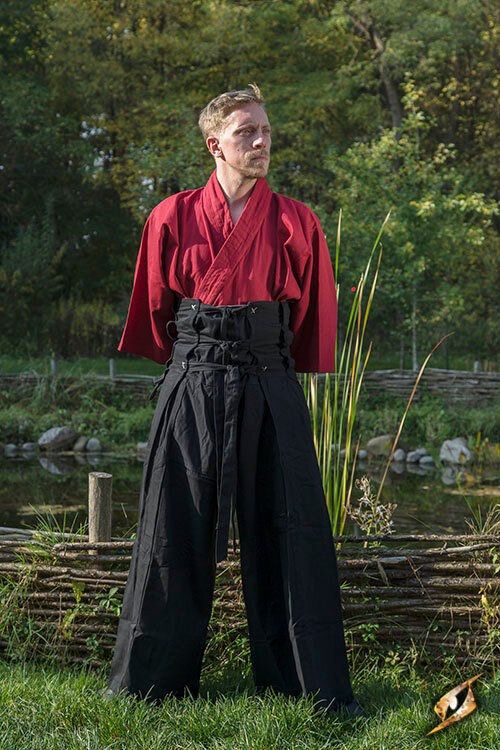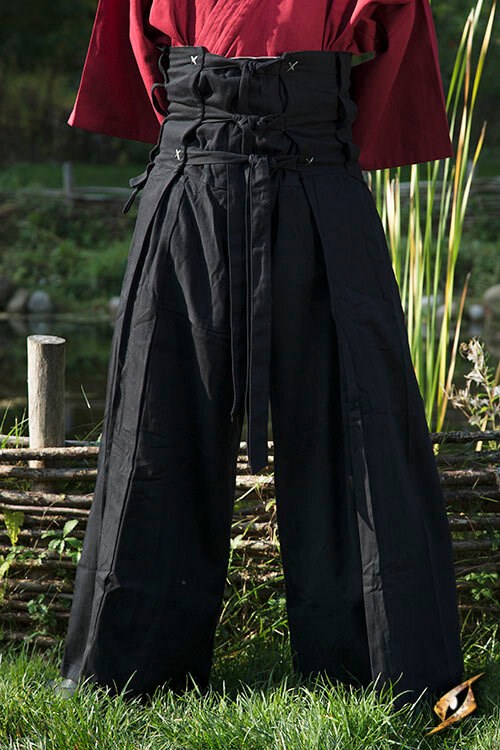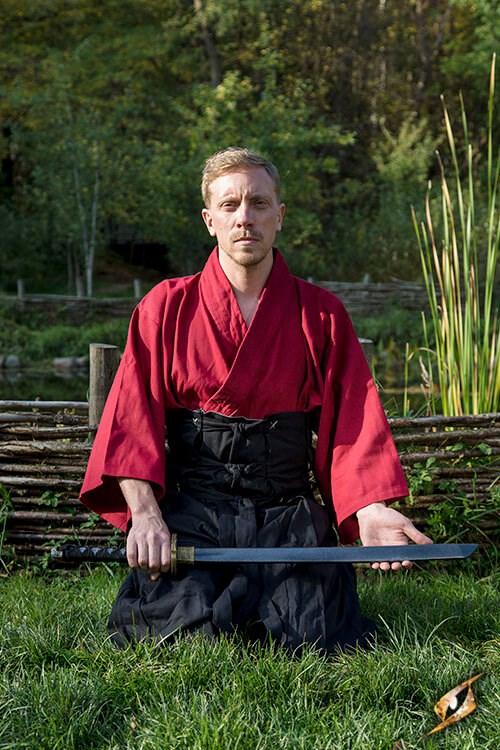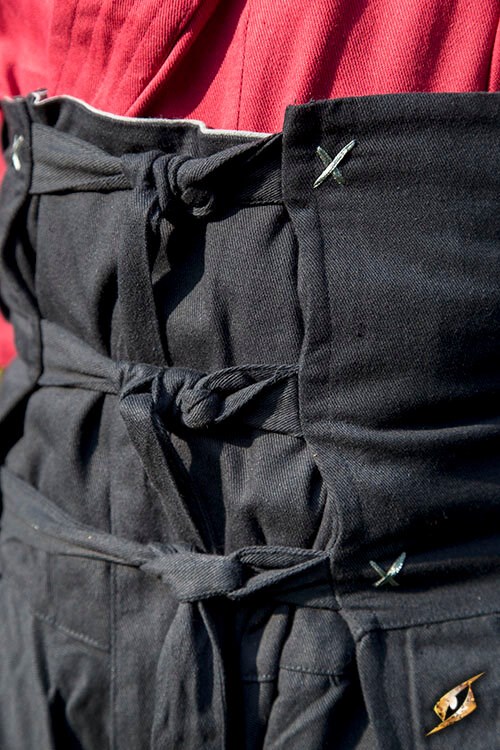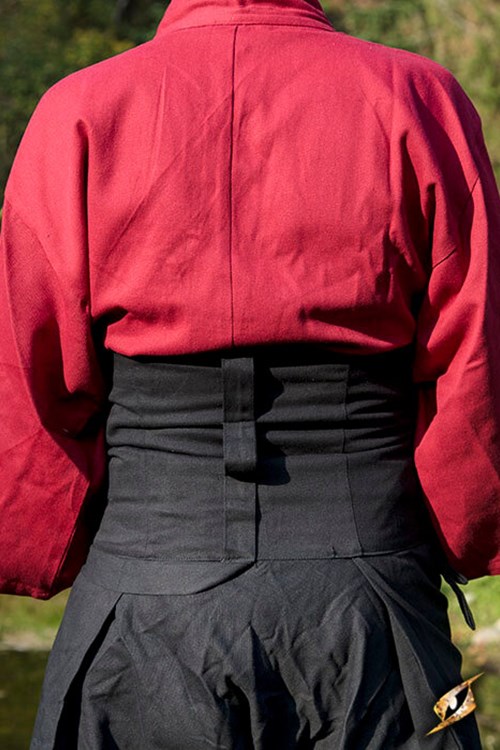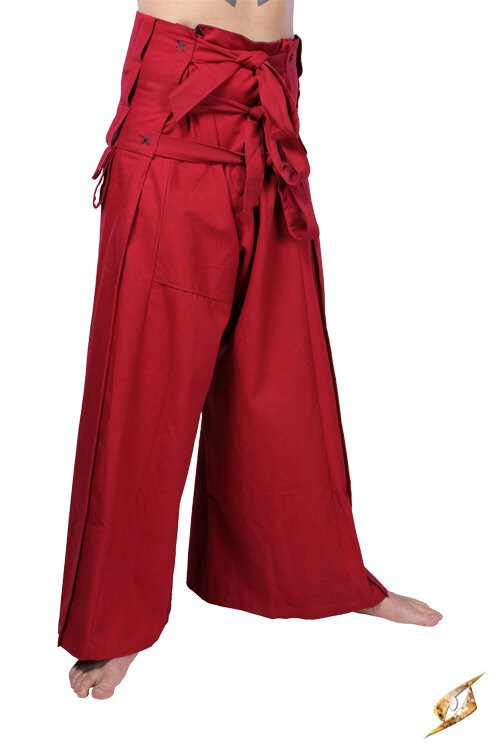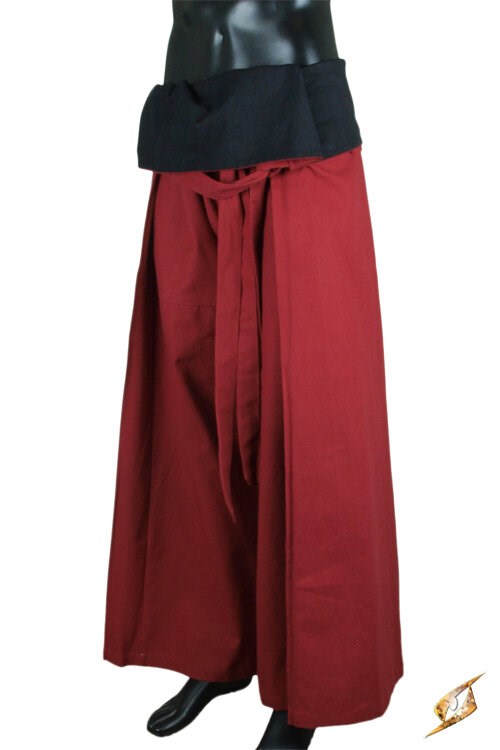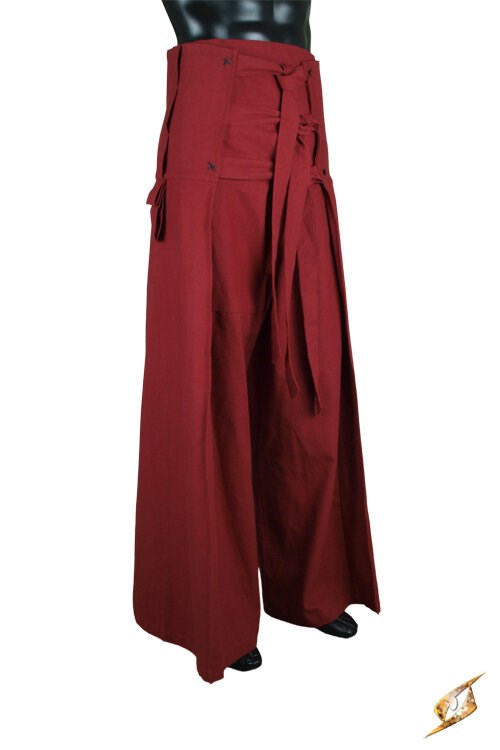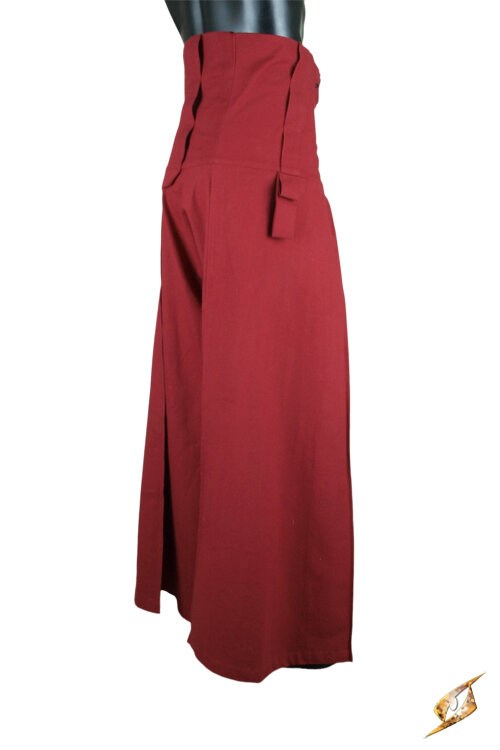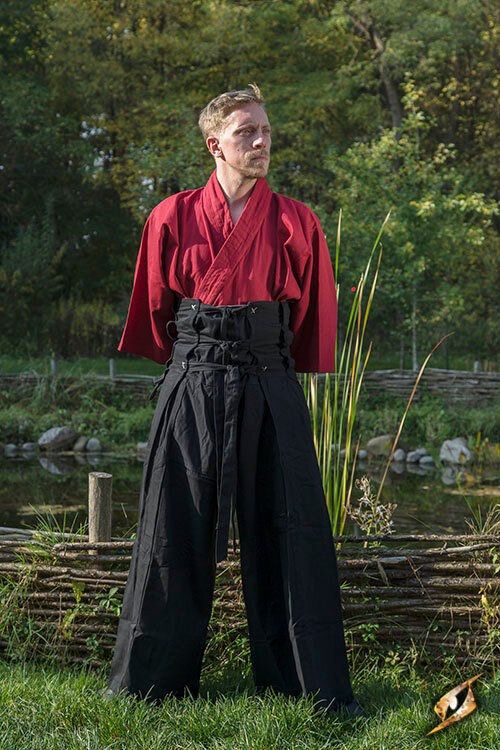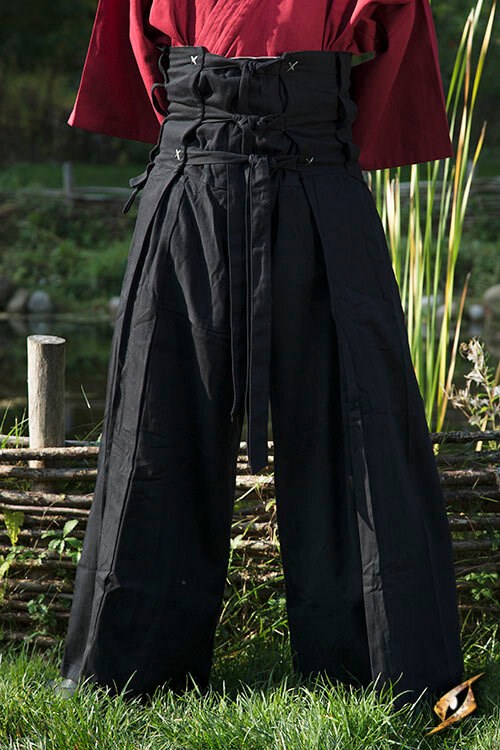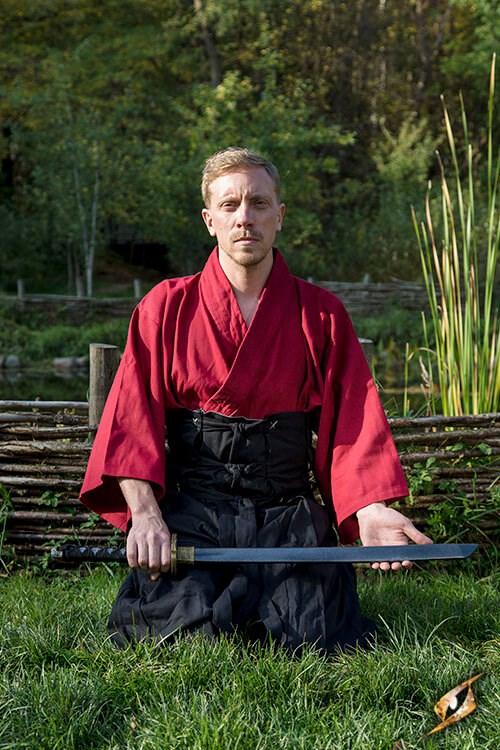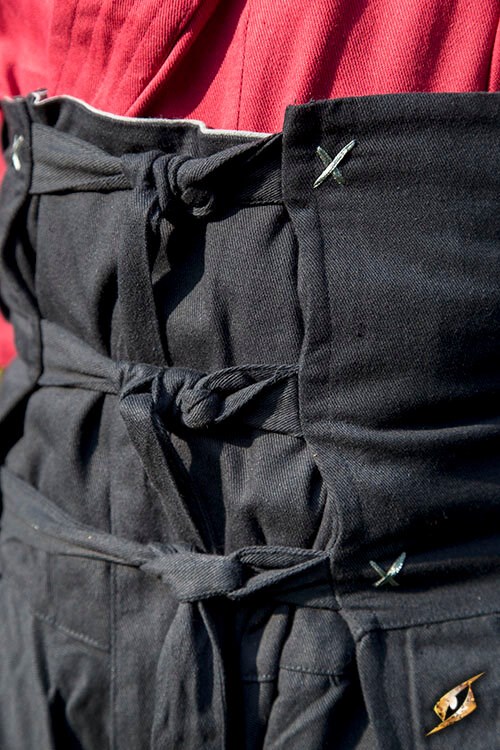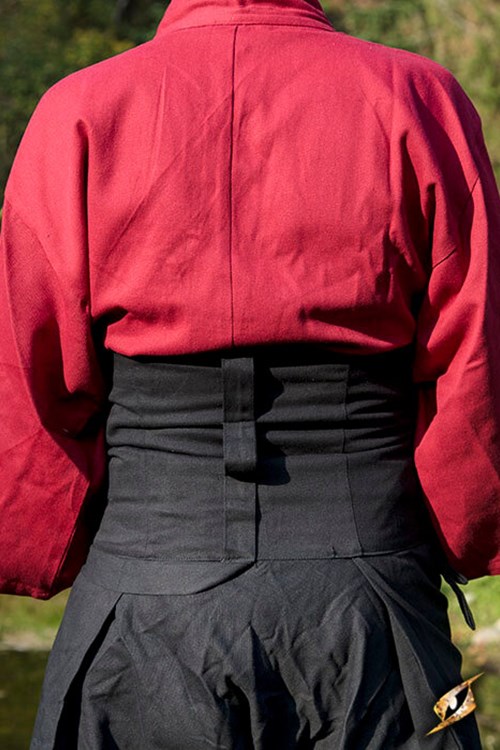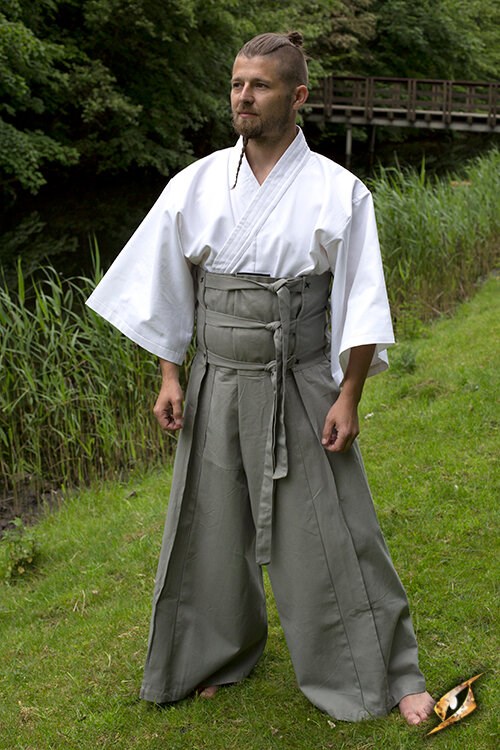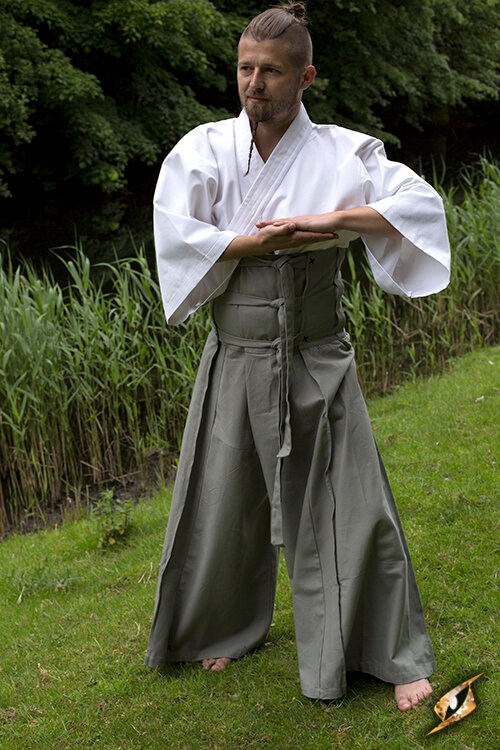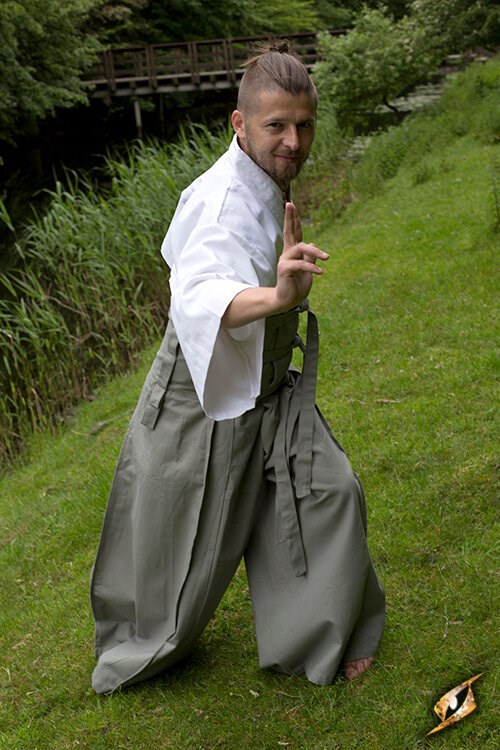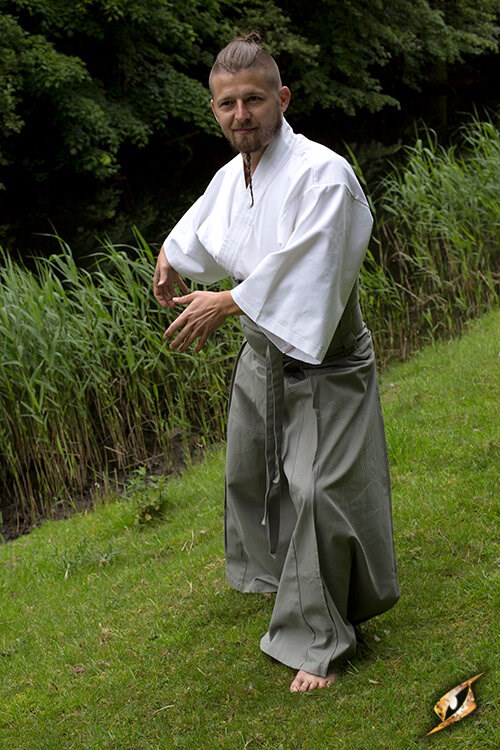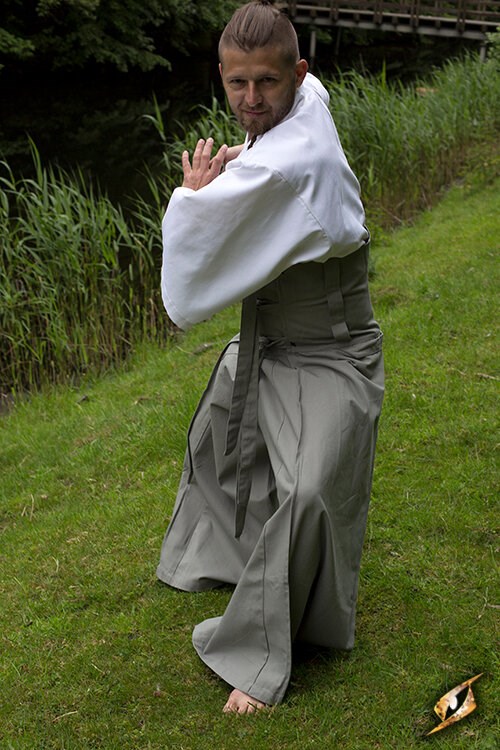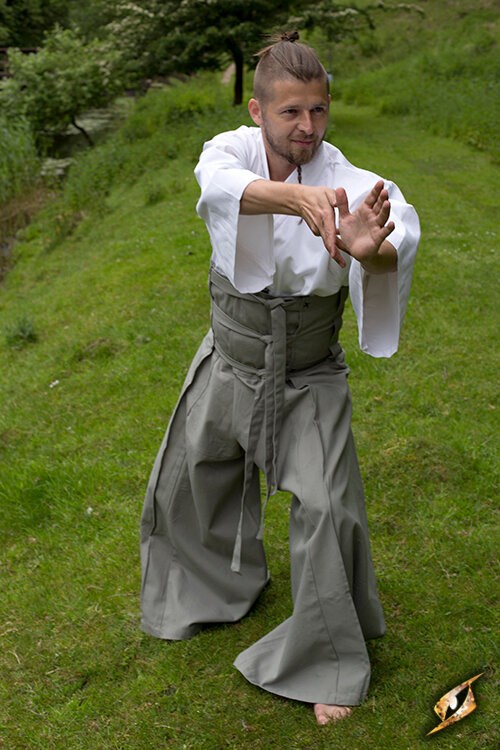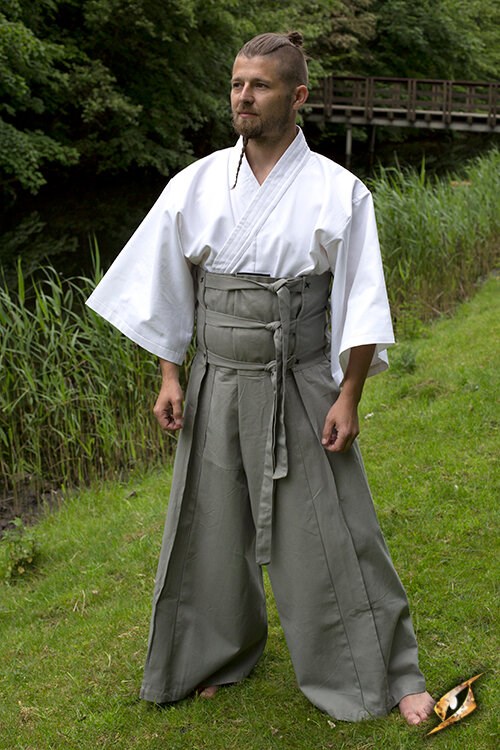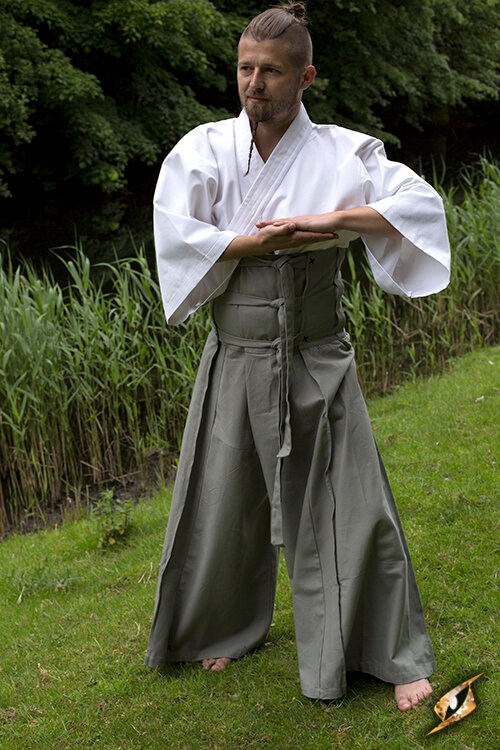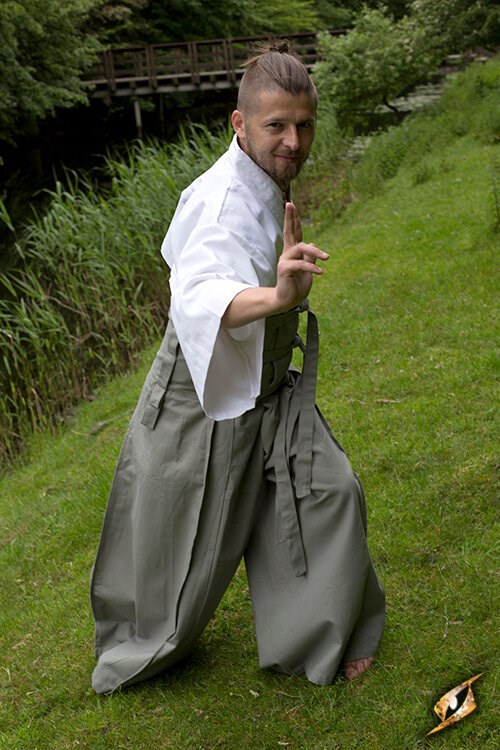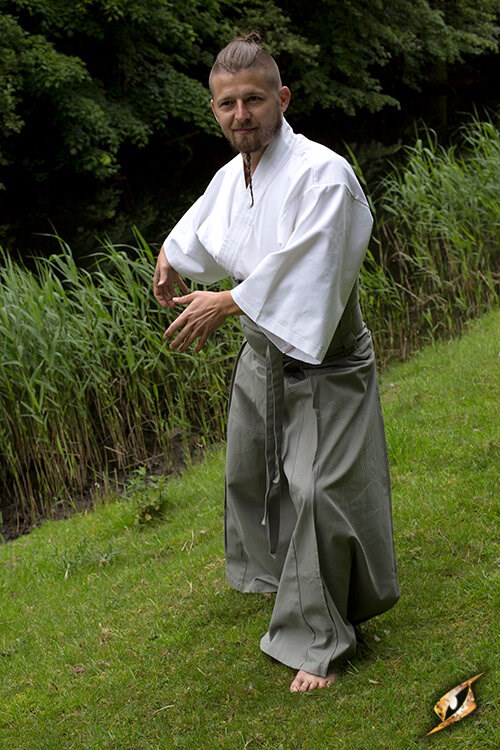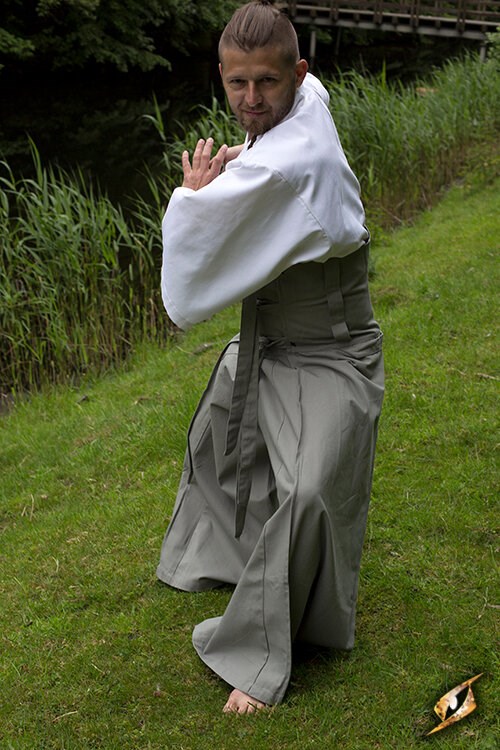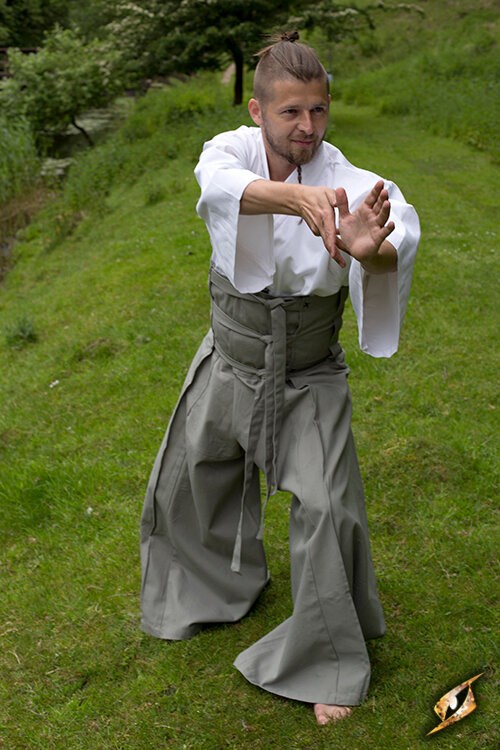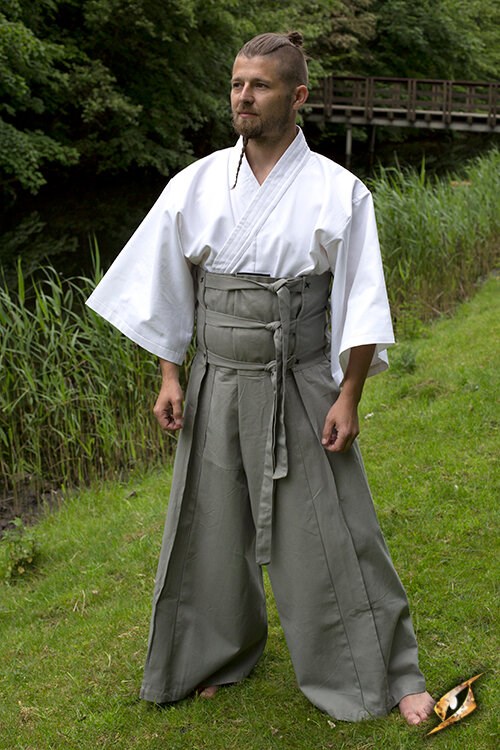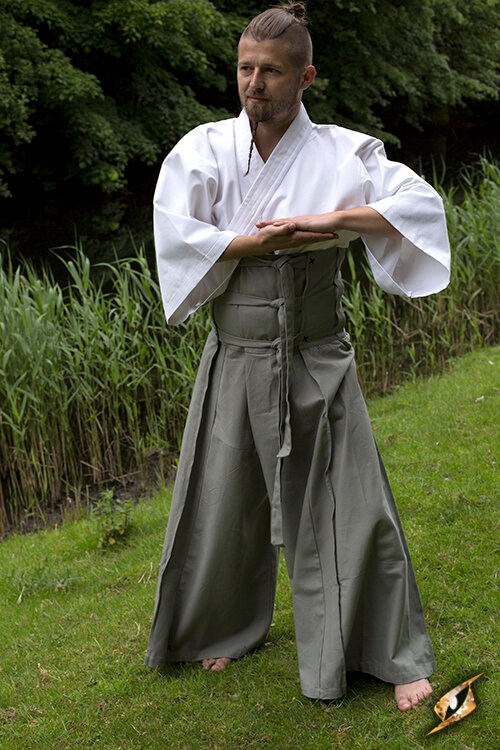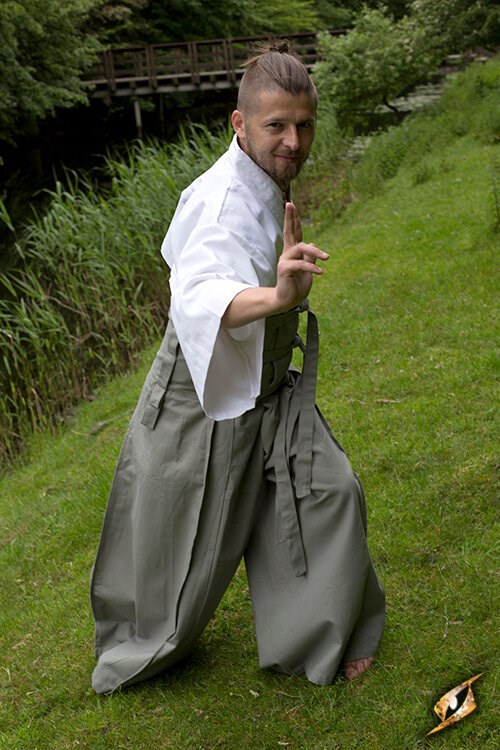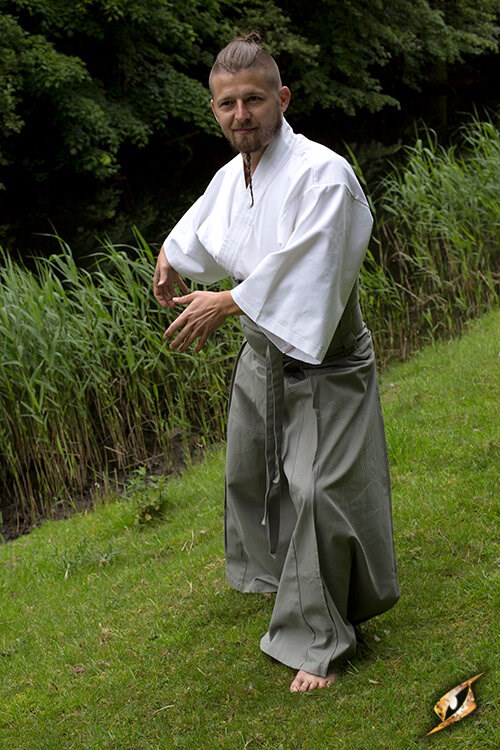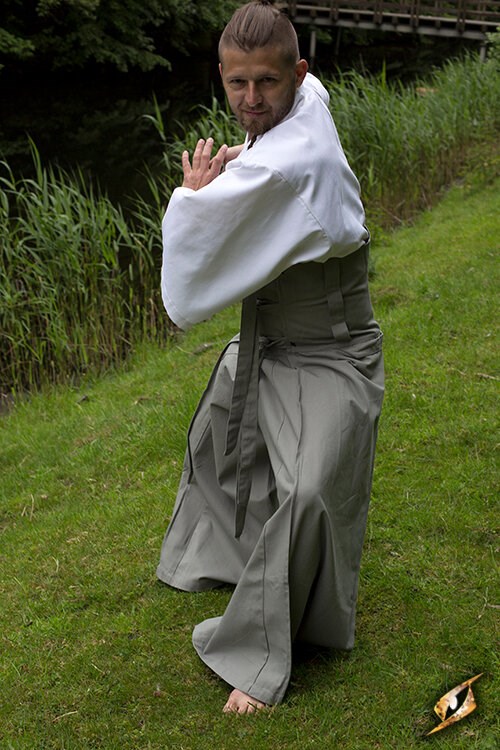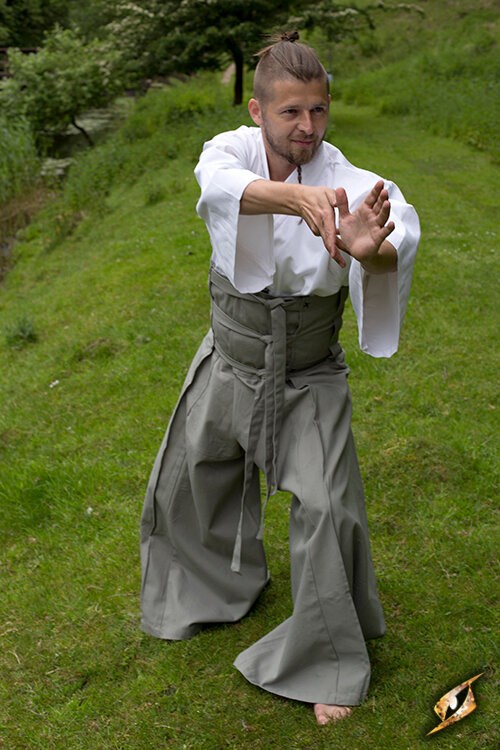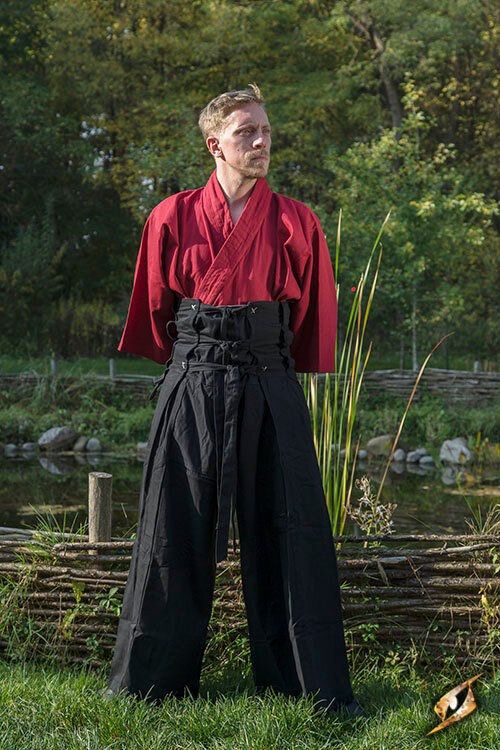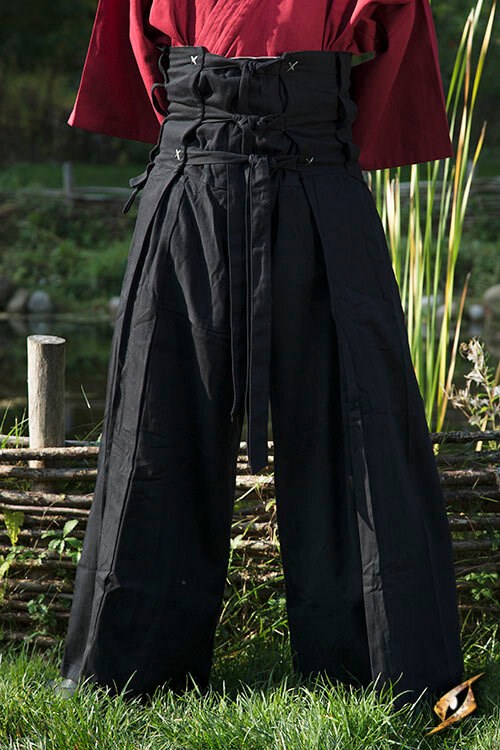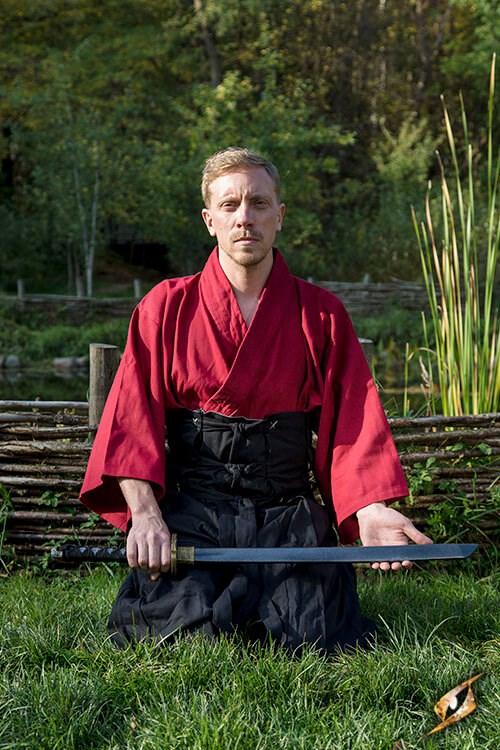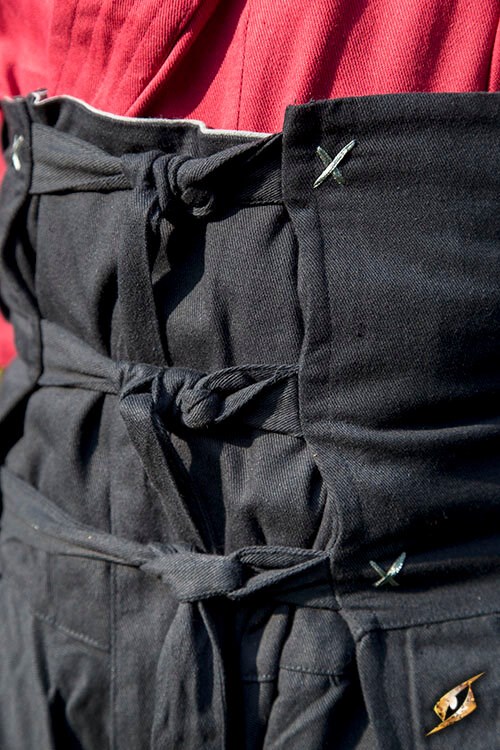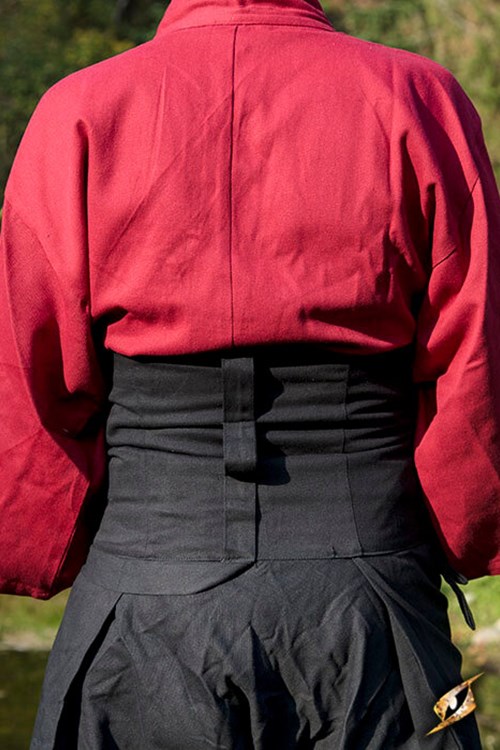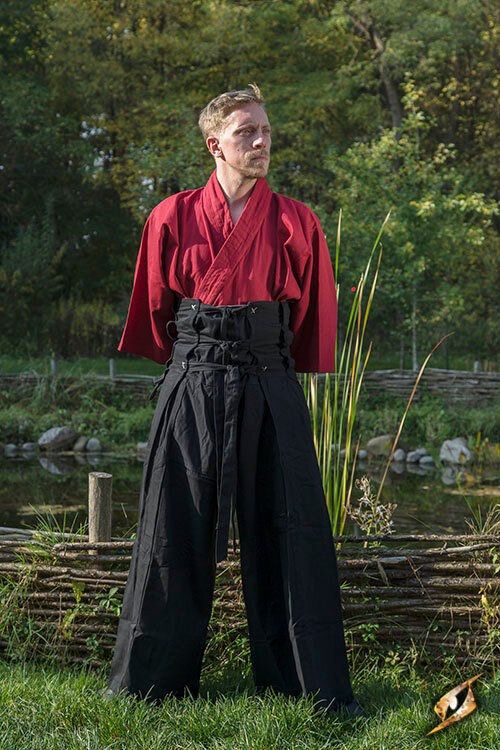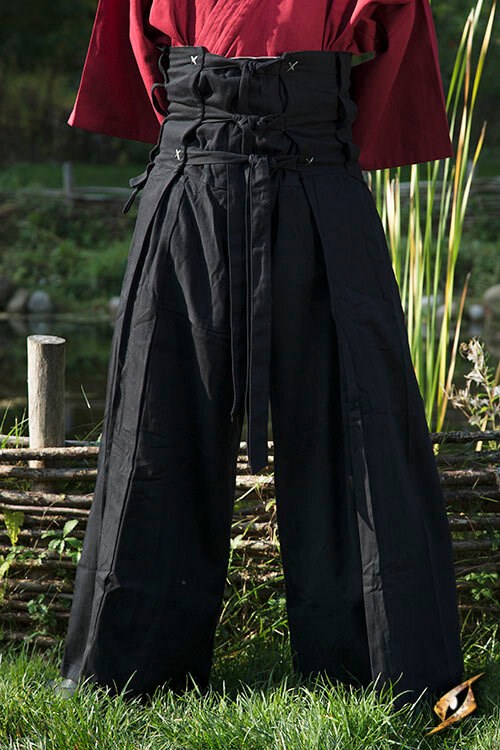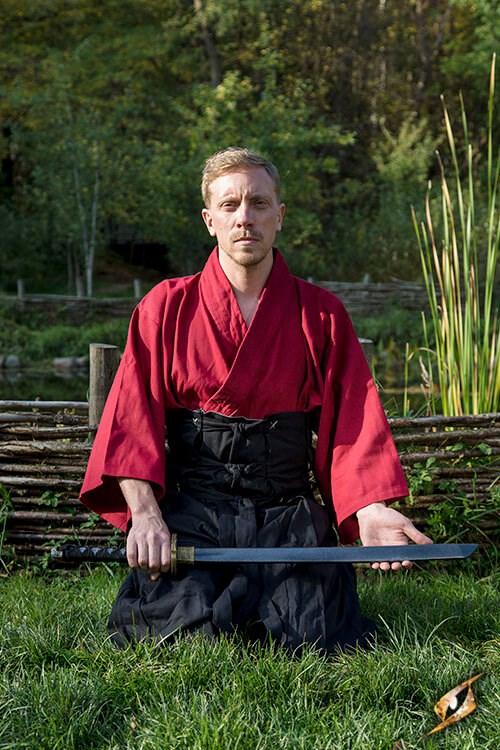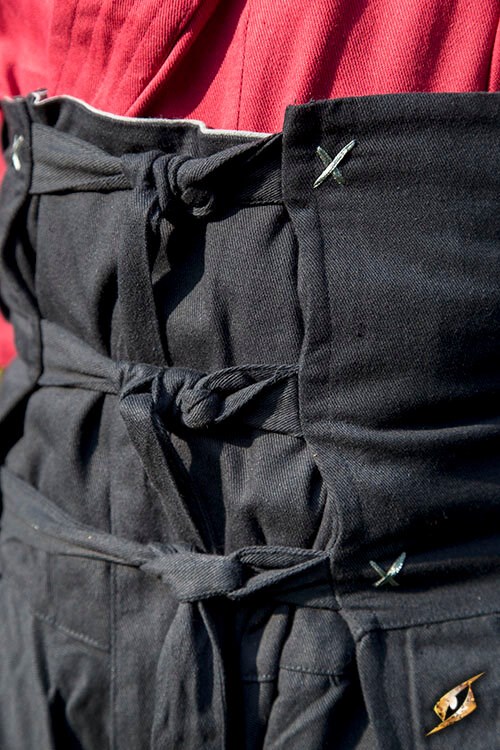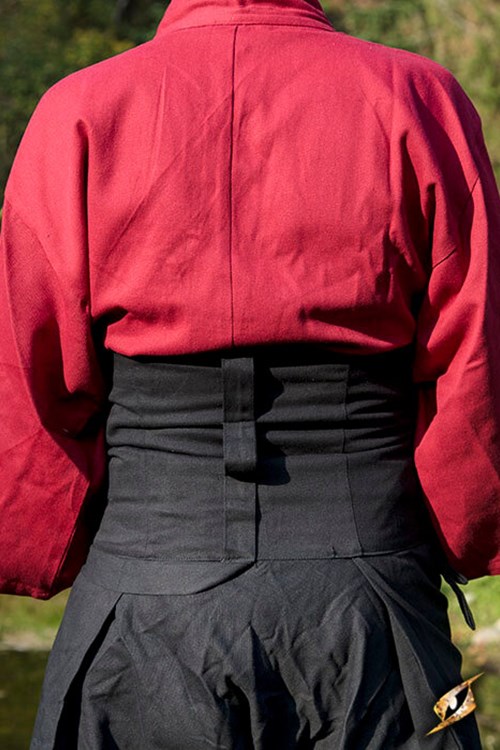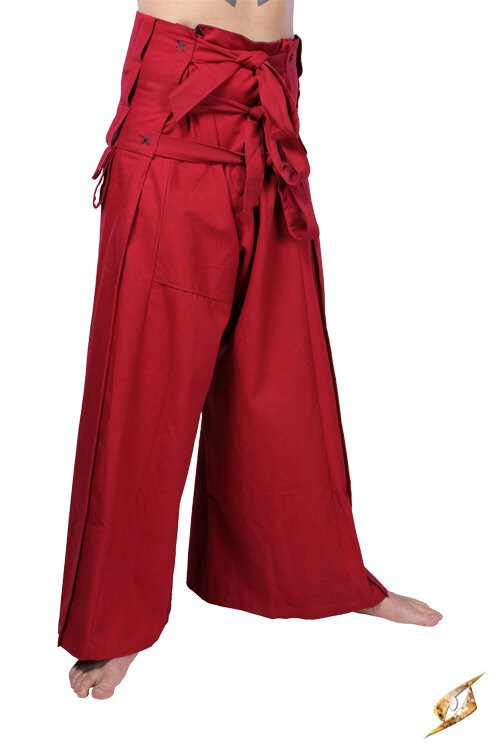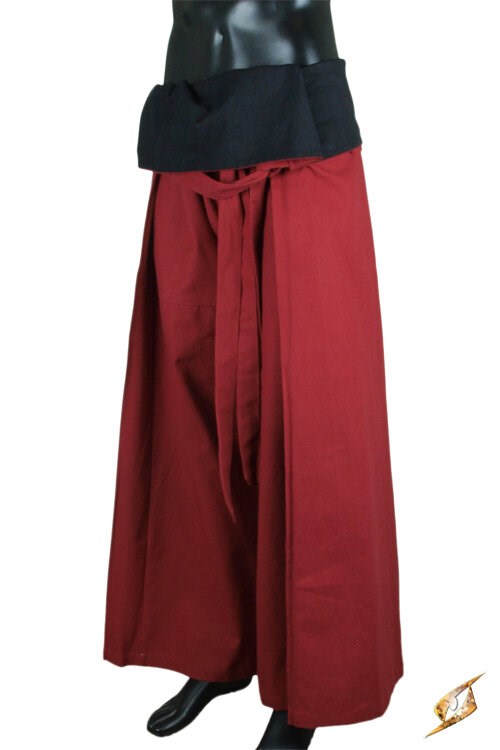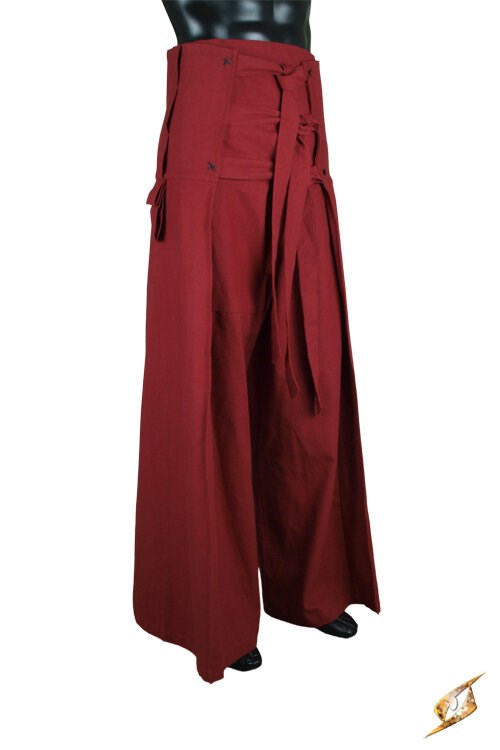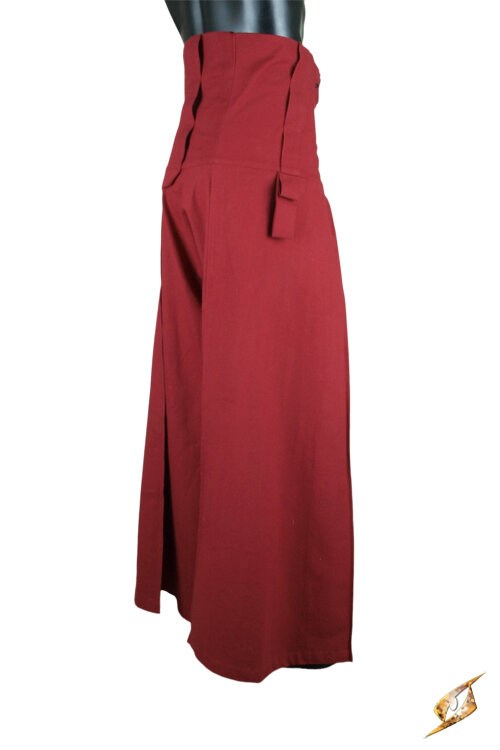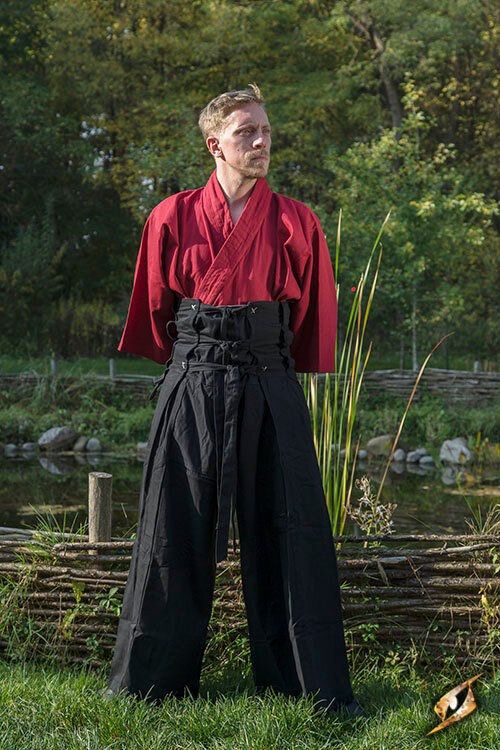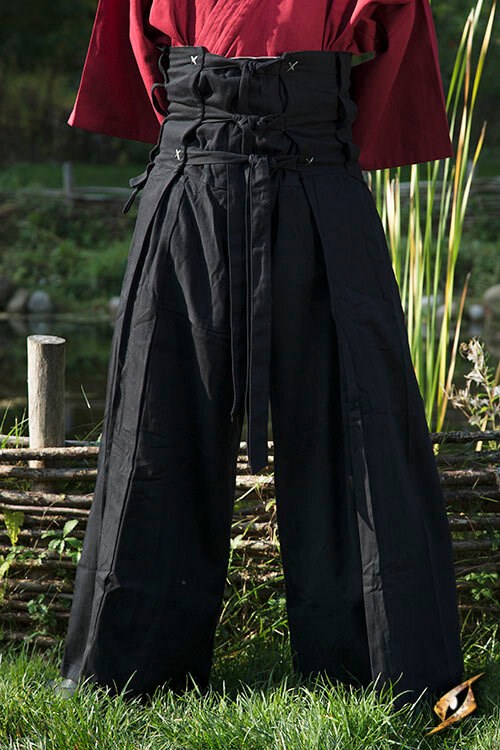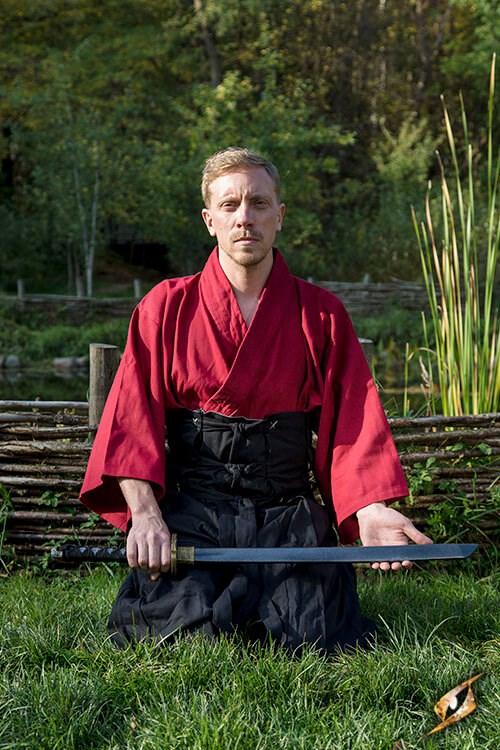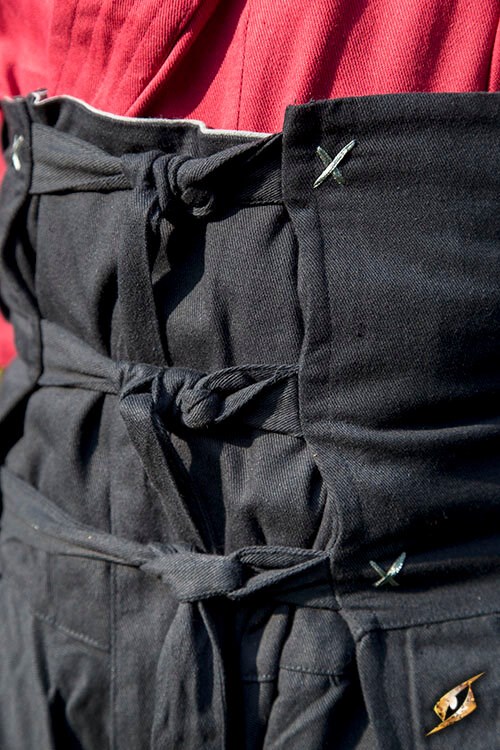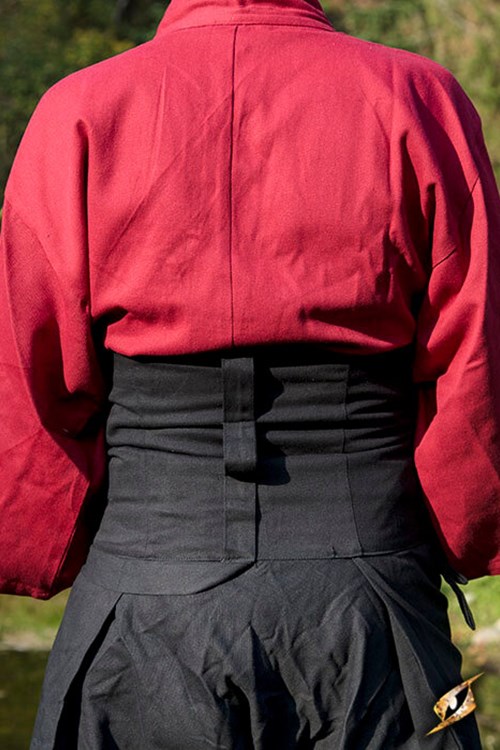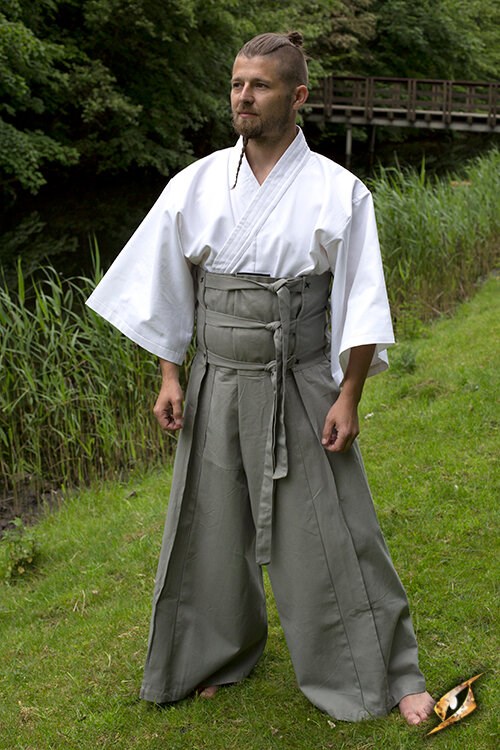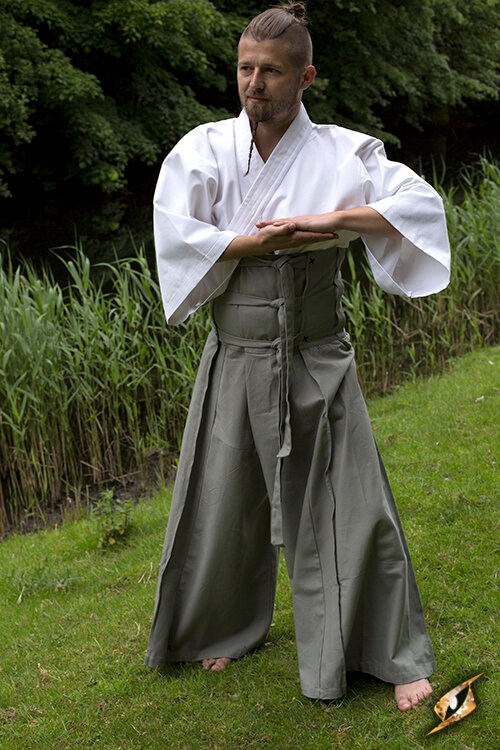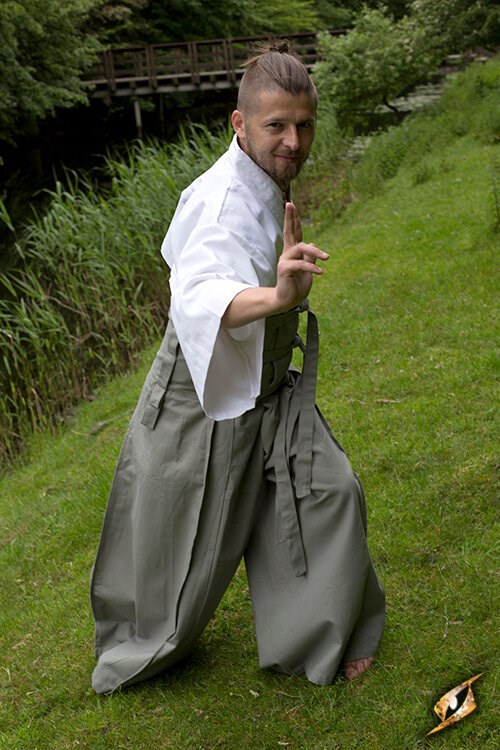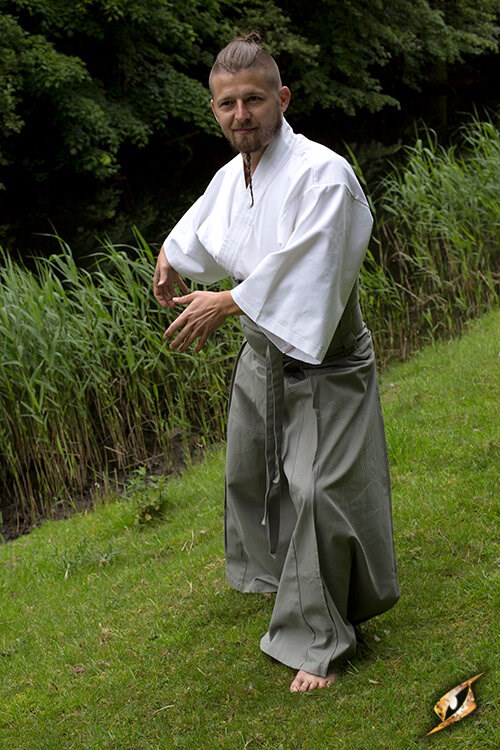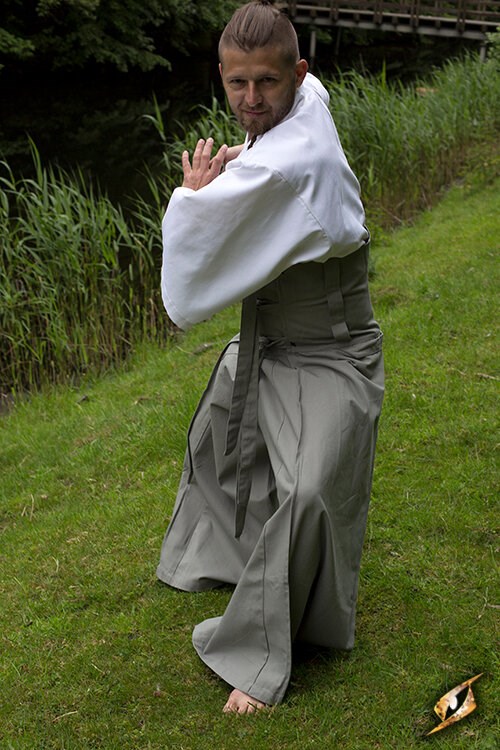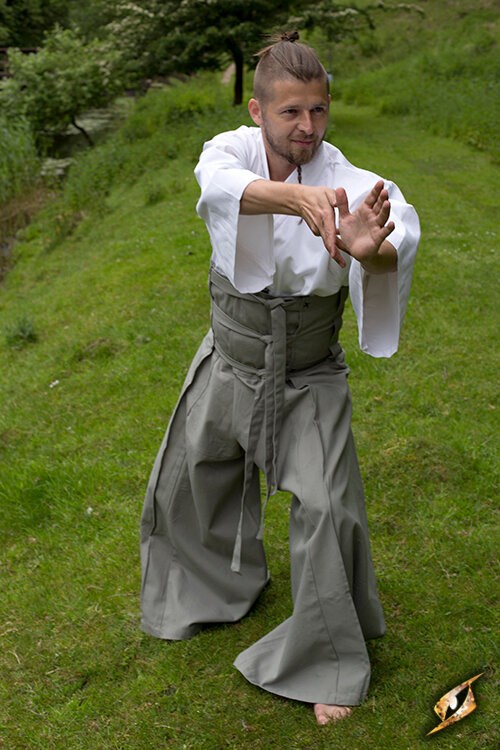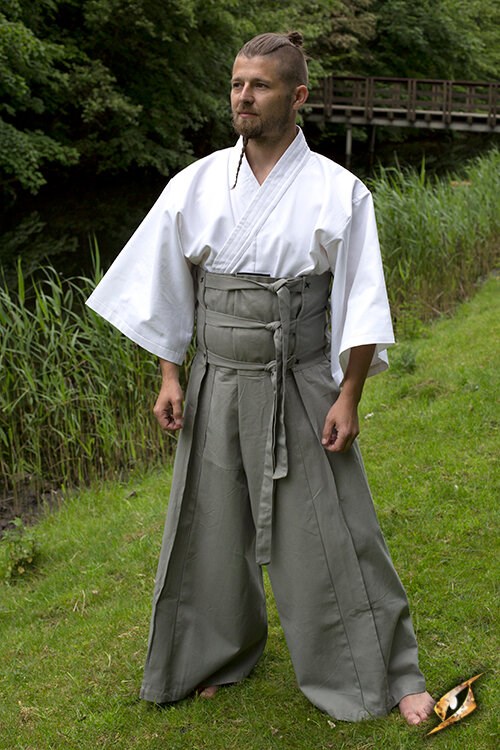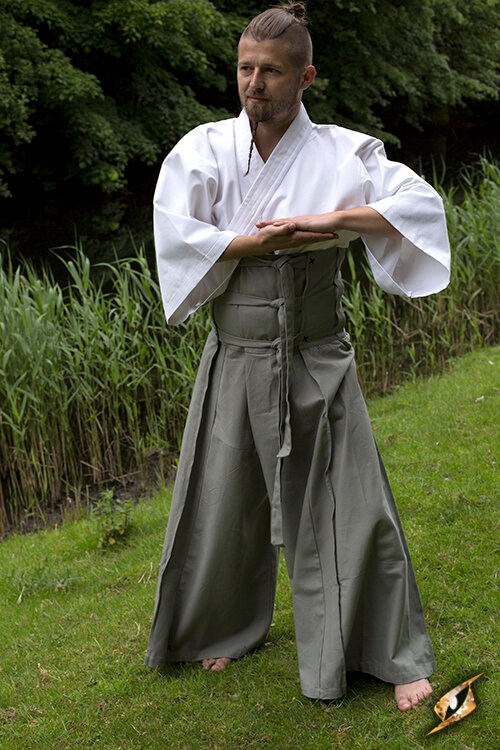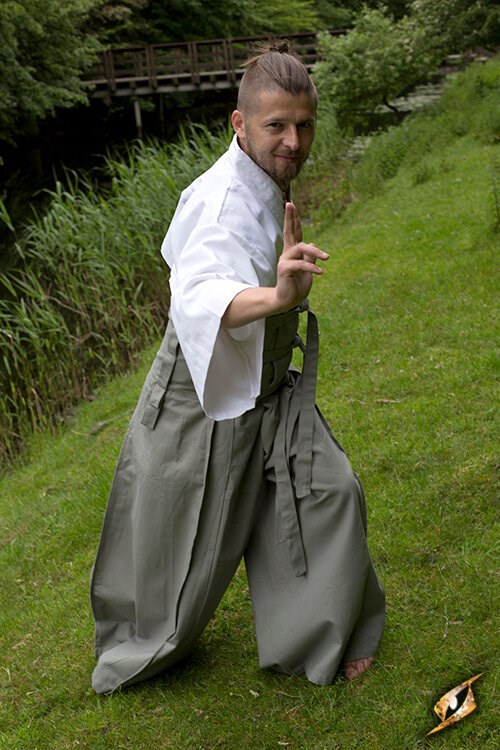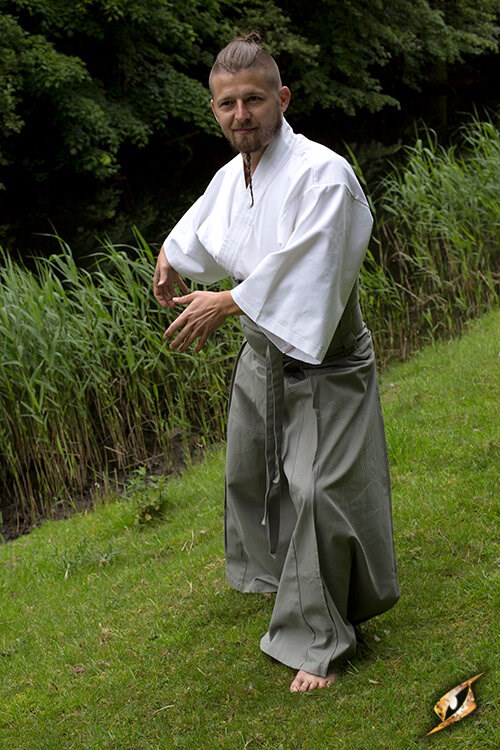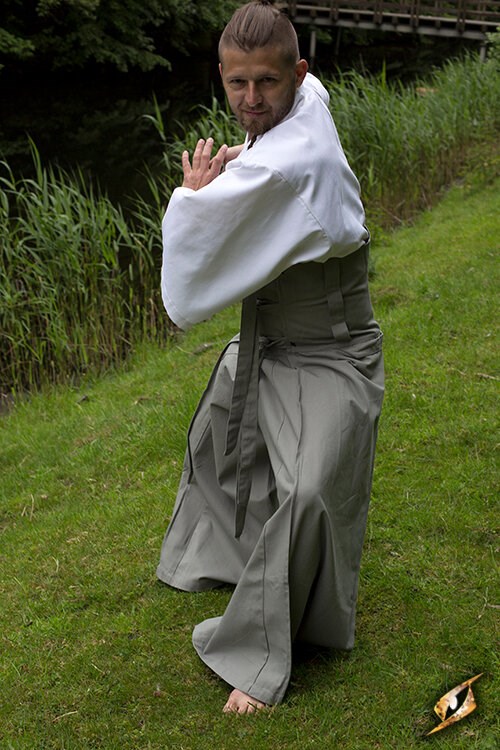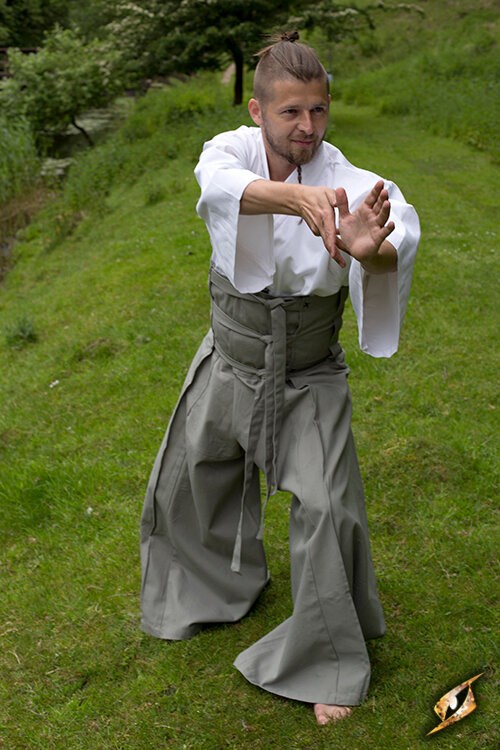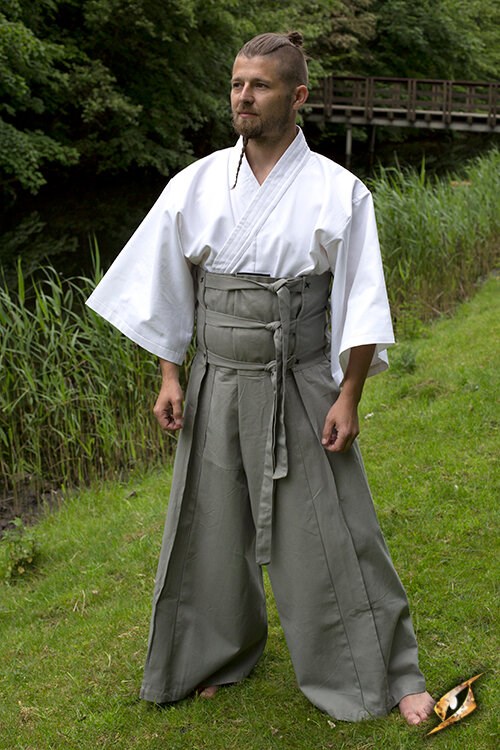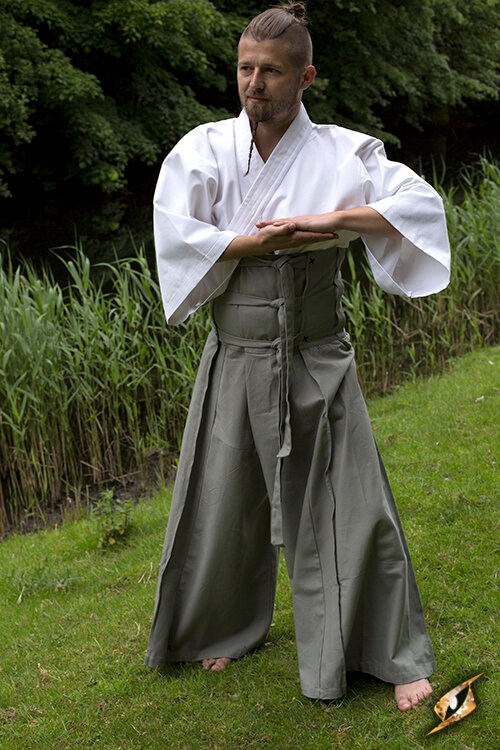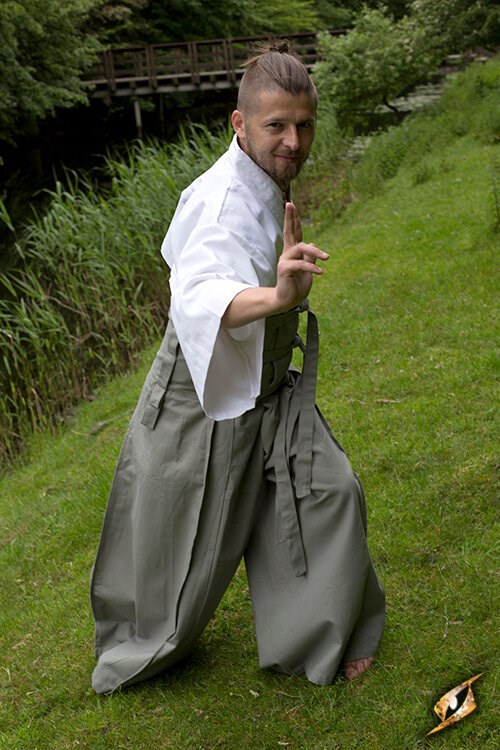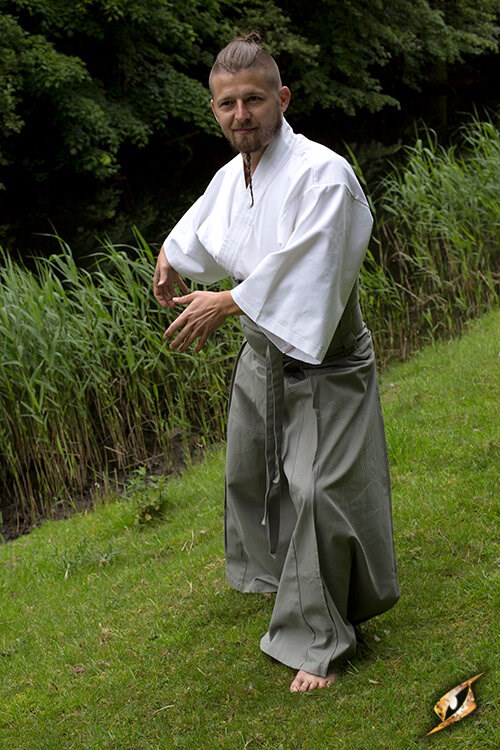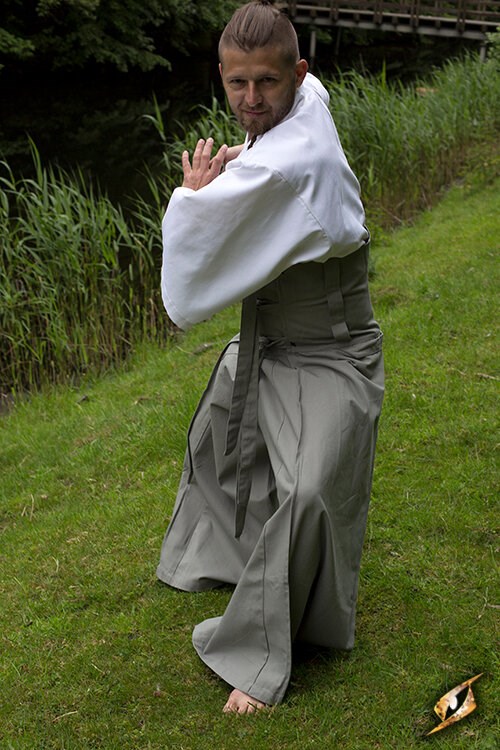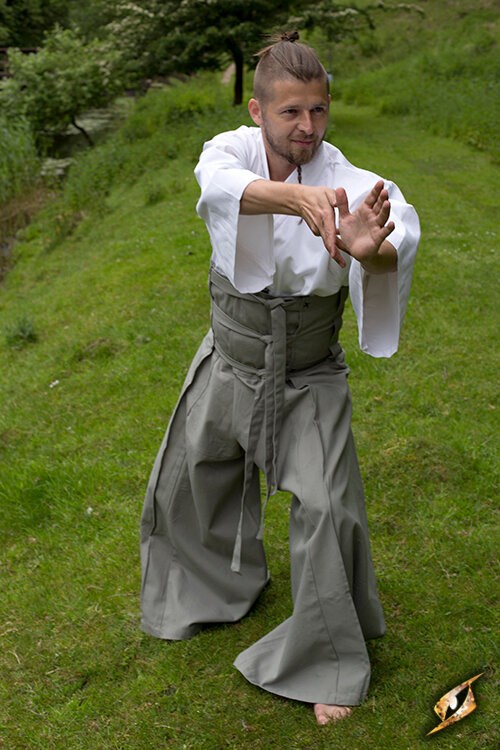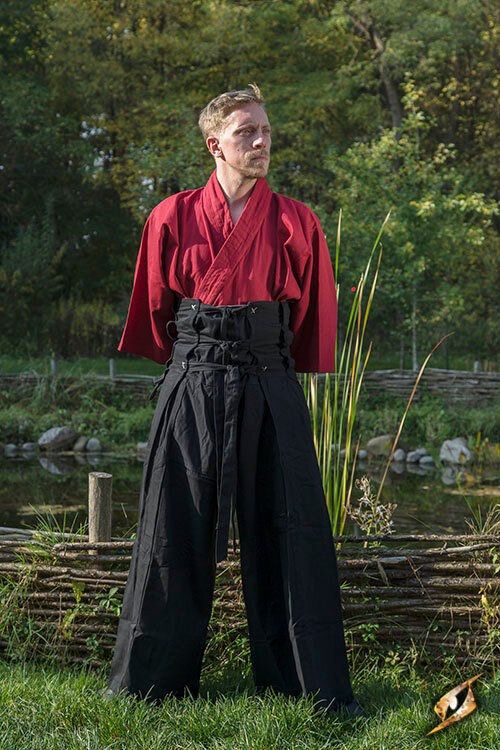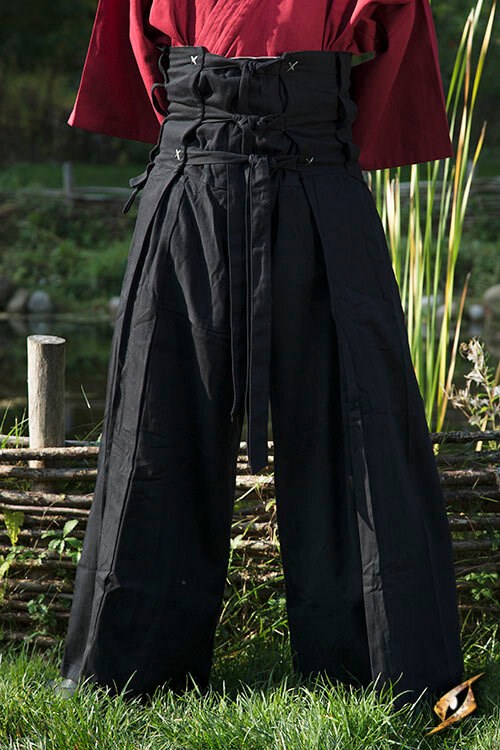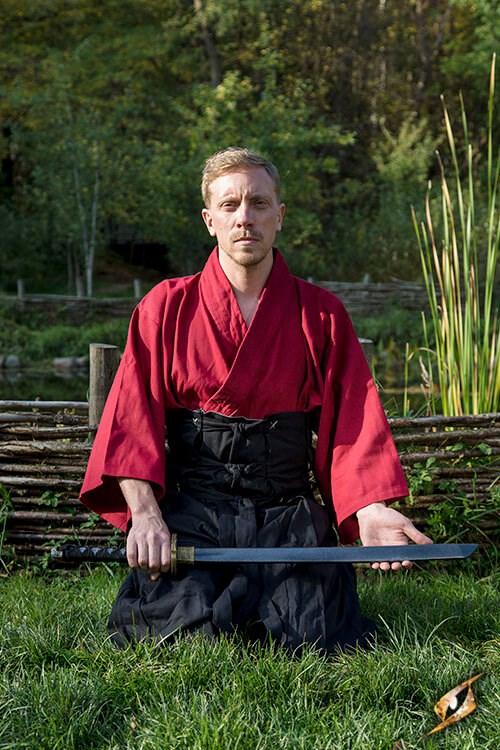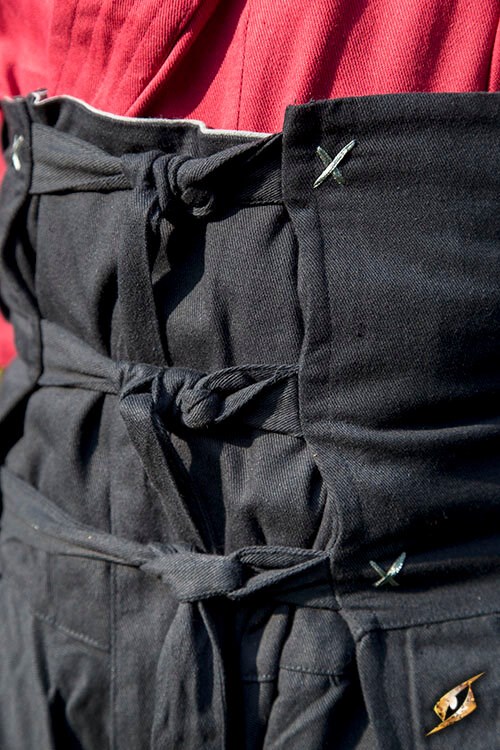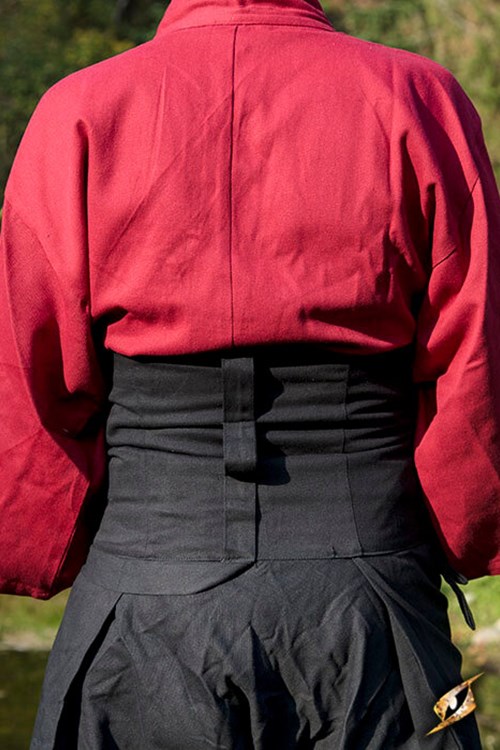 Description

Sizeguide

Fitting

Quality

Technical Details
Donning your kimono, jin baori and Samurai Pants every morning is as much a ritual as a tea ceremony. Carefully inspected and folded the night before, it is of the utmost importance that a samurai of your stature maintain a pristine uniform. To look sloppy implies that your discipline is lacking--and by that logic, your swordsmanship must be, too.
Instead of risking such dishonor to your reputation, you take the care that is necessary. There will not be a thread out of place.
DETAILS
Epic Armoury's Samurai Pants are inspired by the classic Japanese hakama. The legs are wide and permanently pleated in the traditional fashion, making them comfortable and non constricting to movement in combat. Made from light canvas and lined with cotton on the inside, these pants also have reinforced hems to ensure a long lifetime of use.
The high waist rests just under the ribs and is secured by three long, heavy cotton canvas cords that can be tied into decorative knots. Samurai Pants are part of Epic Armoury's Asian range of gear. They are fully compatible with other Epic Armoury clothes and armours, allowing flexibility when designing your own personal look.
Available in colours Epic Black/Gray, Gray/Epic Black, and Red/Epic Black; and in sizes X-Small/Small, Medium/Large, and X-Large.
HISTORY
Inspired by the Japanese hakama, which were adopted into Japanese society in the 6th century
Historically made for armoured samurai to wear
Traditionally both a male and female garment until the Meiji period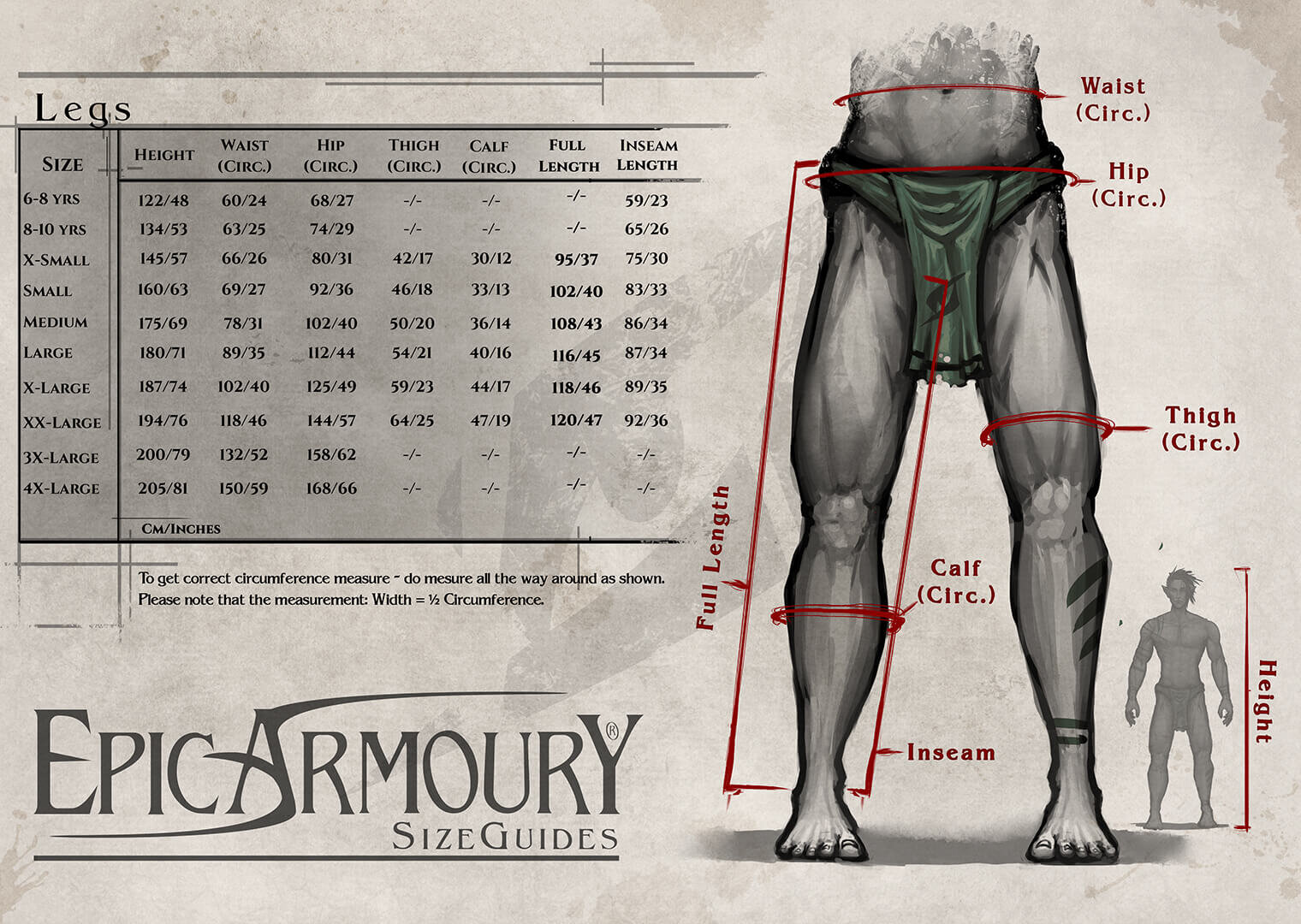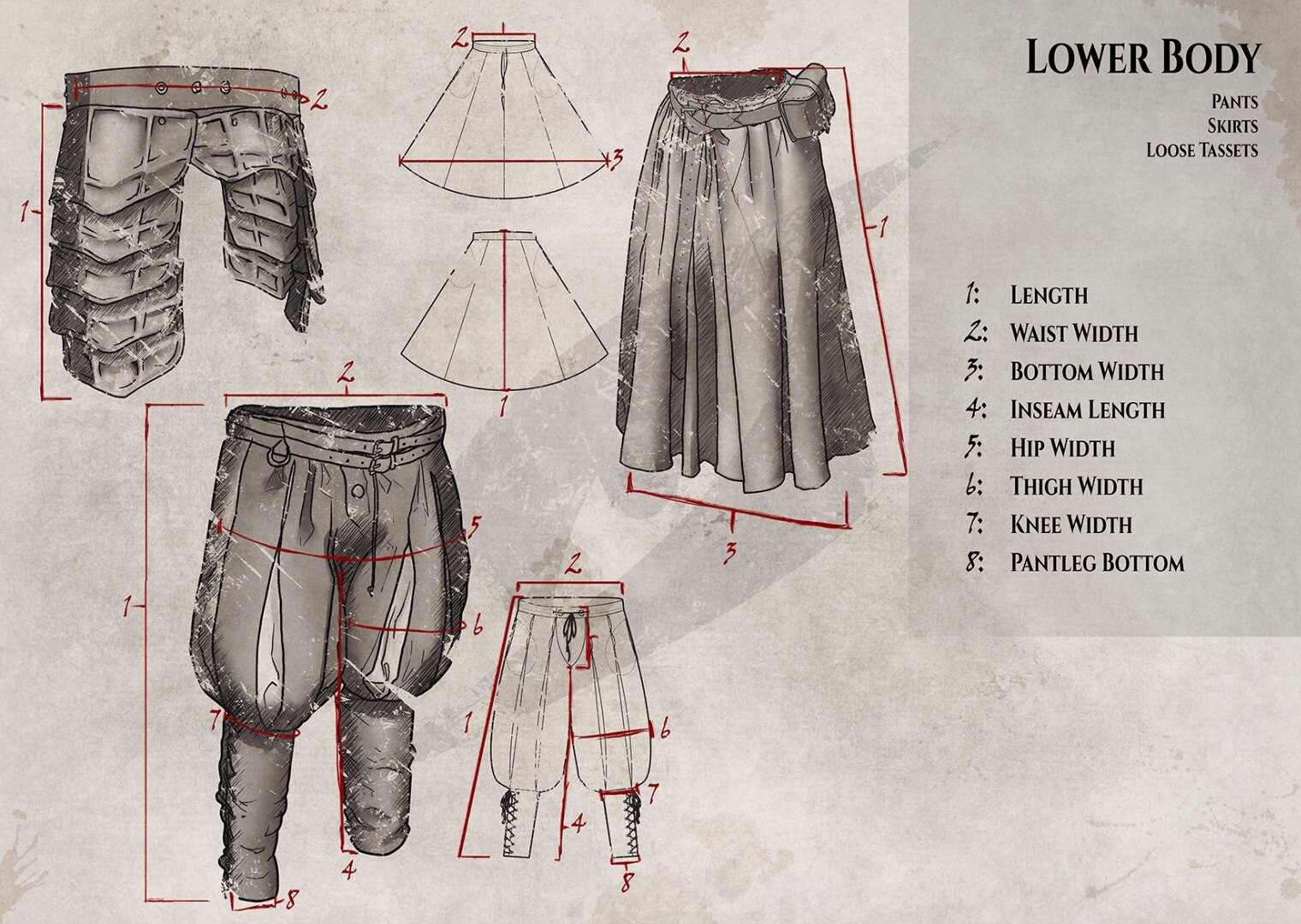 Affordable, personalized costume interchangeable with all other Epic Armoury gear
100% natural materials
Made from fabrics manufactured locally
Handmade by qualified professional. Measurements are approximations and may vary.
This product is handmade and hand-painted and therefore unique. As a result, when compared with similar item numbers, this product can have natural deviations in pattern, colour and shape, which are not considered defects or faults.
We produce our image material in a natural environment, where lighting and surroundings can affect colors and contrast. The displayed images may therefore appear different from the product you receive from us.
Measurements are all in cm if not stated otherwise.
Brand:
Epic Armoury
Universe:
Ancestral
Materials:
Textile
Position:
Legs
Product type:
Pants
Release date:
02/02/2020
Maintenance
As a heavy duty fabric, this light canvas product is stronger and heavier than simple cotton. This material wrinkles easily, but can be ironed on a higher heat level.
Cleaning
Machine wash at 40°C / 104°F. Please make sure to wash it once before use in order to make sure that remaining dye will be removed from the product. It is advised to wash with similar coloured clothes to reduce the risk of dye imprint. Tumble dry on low heat, but be aware that it might shrink up to 5%. For general stains or discoloration to the canvas, treat with a commercial fabric cleaner, or blot with tepid water and a soft cloth.