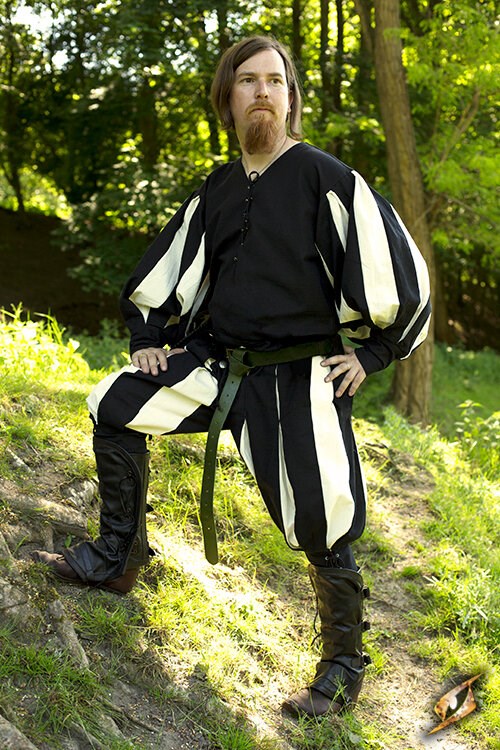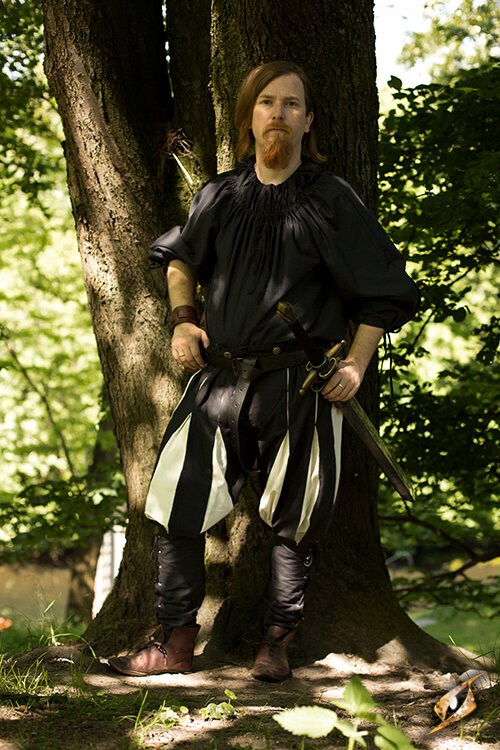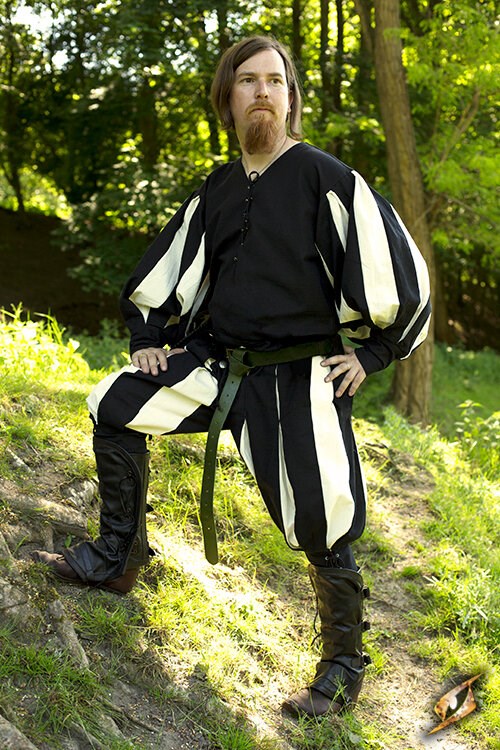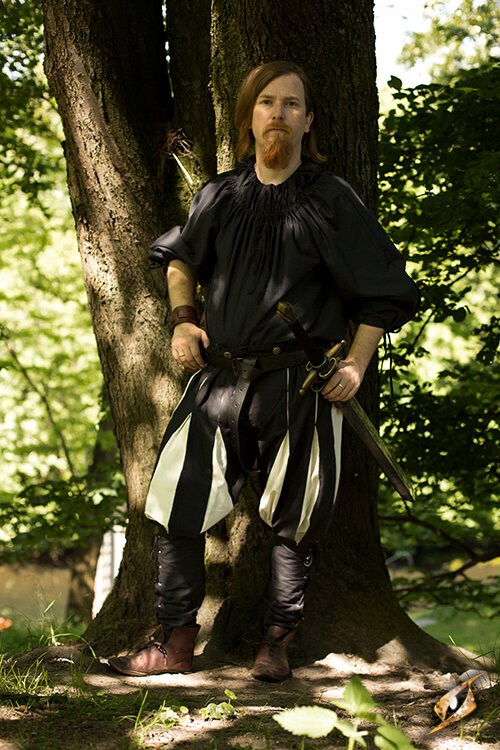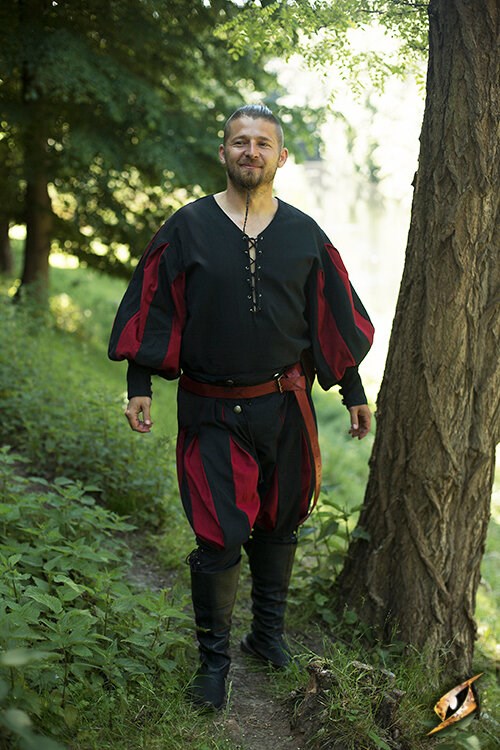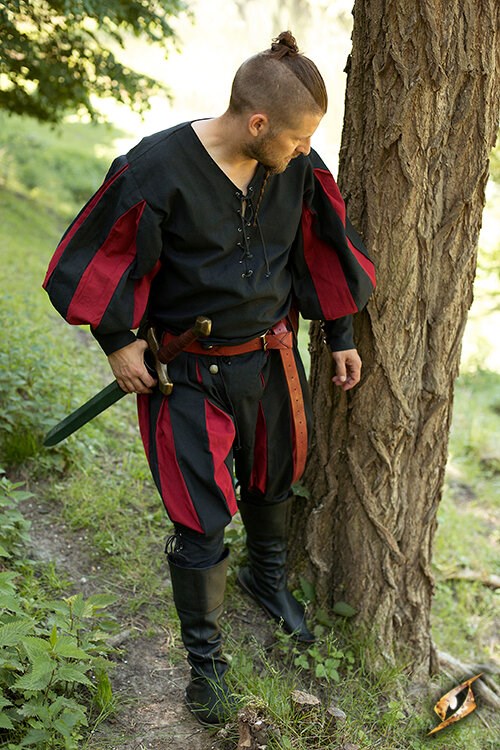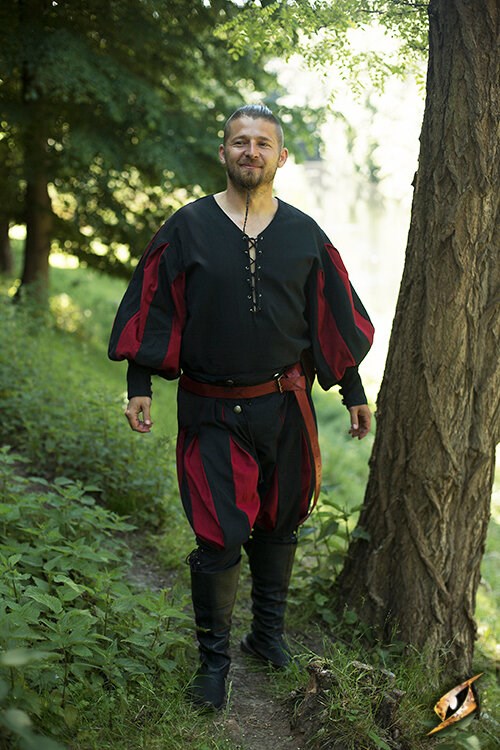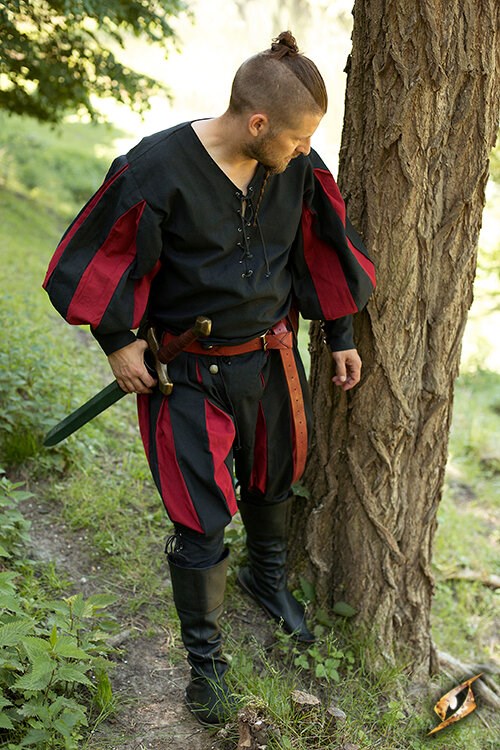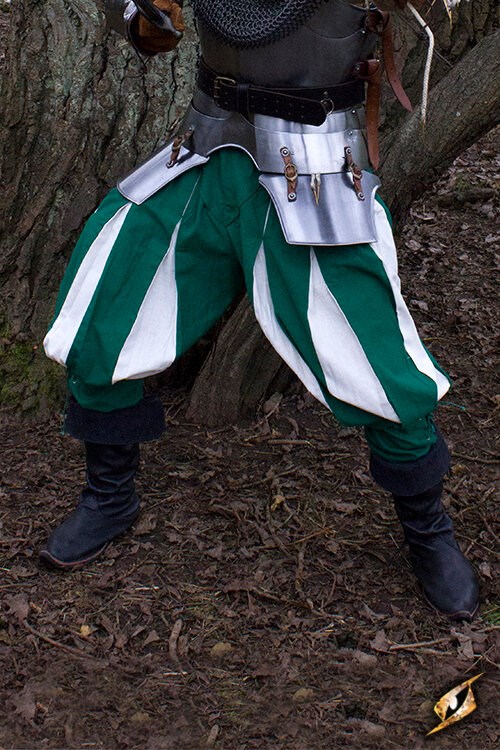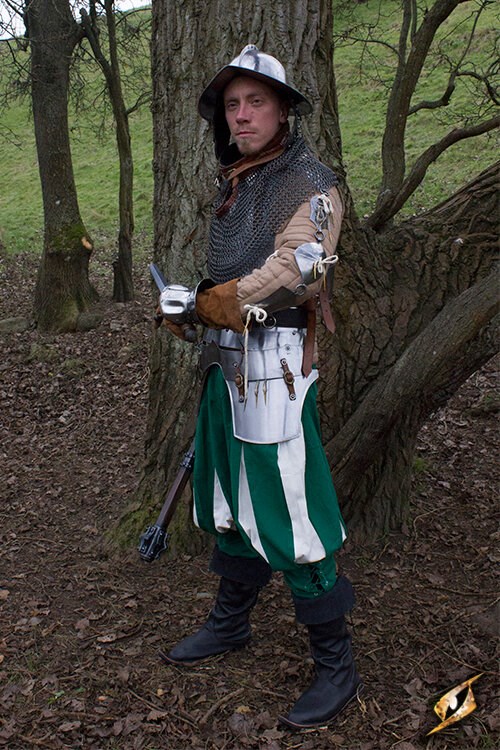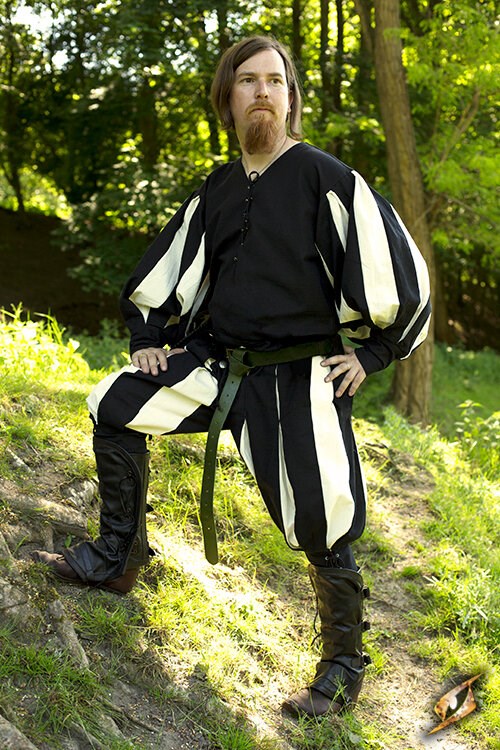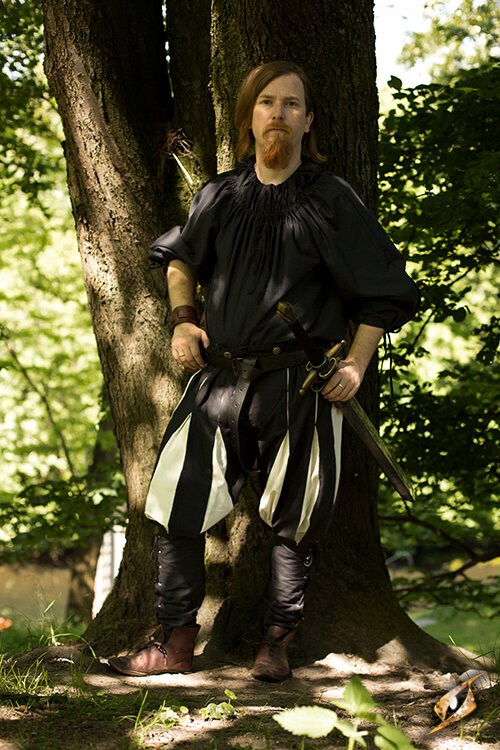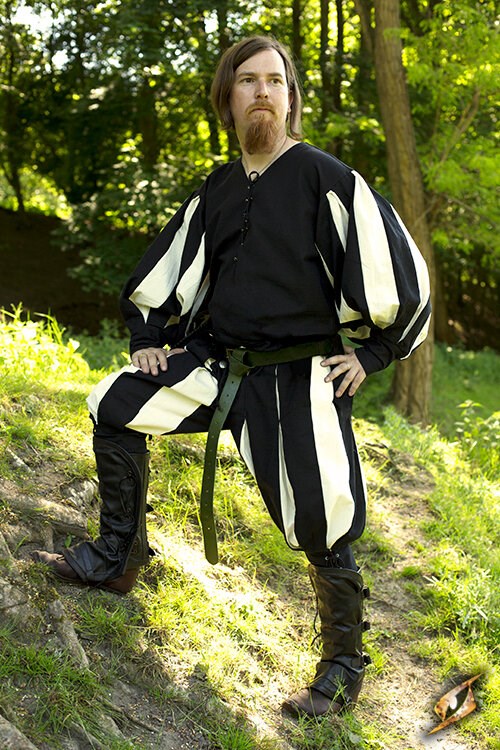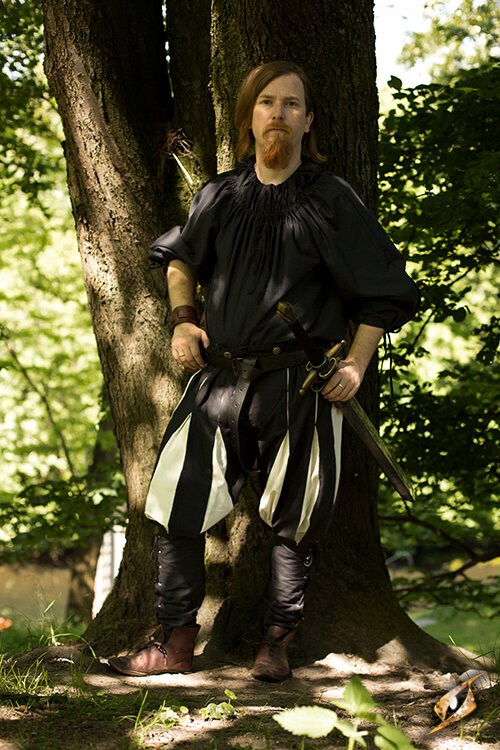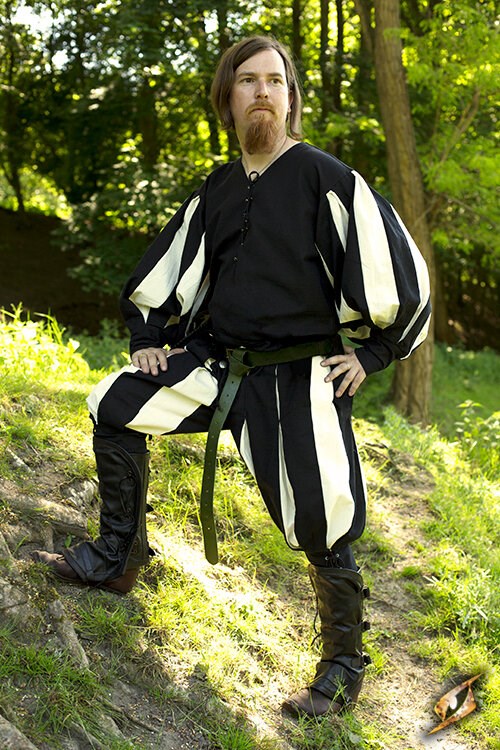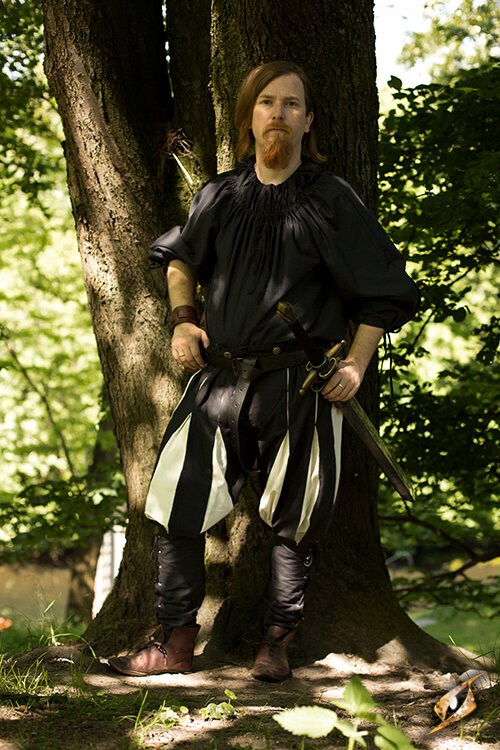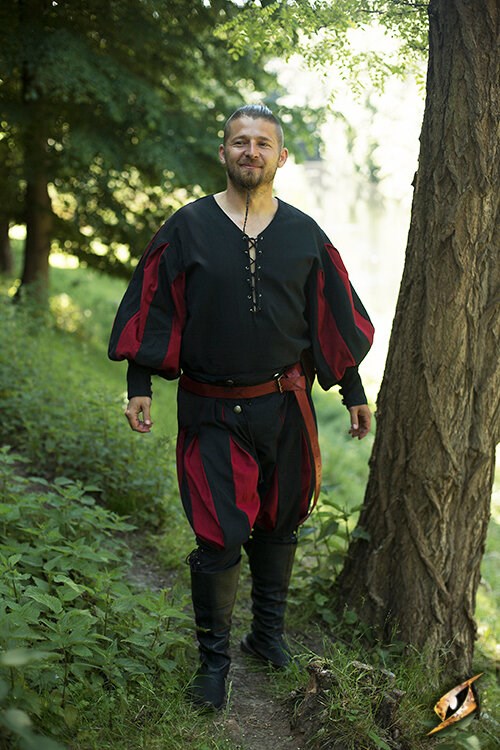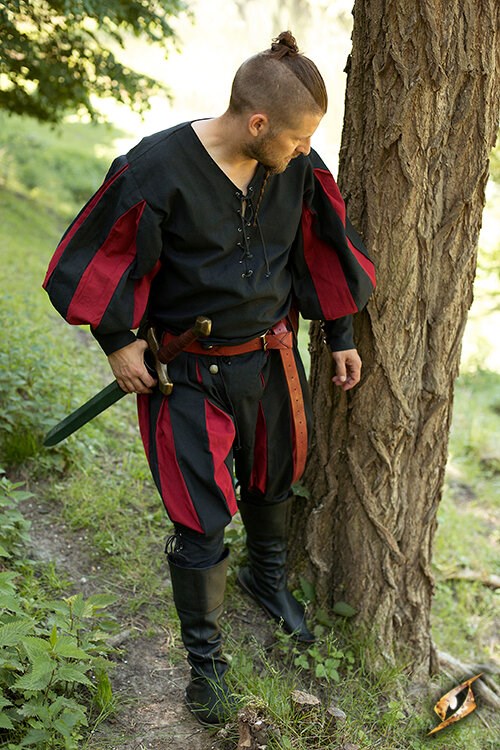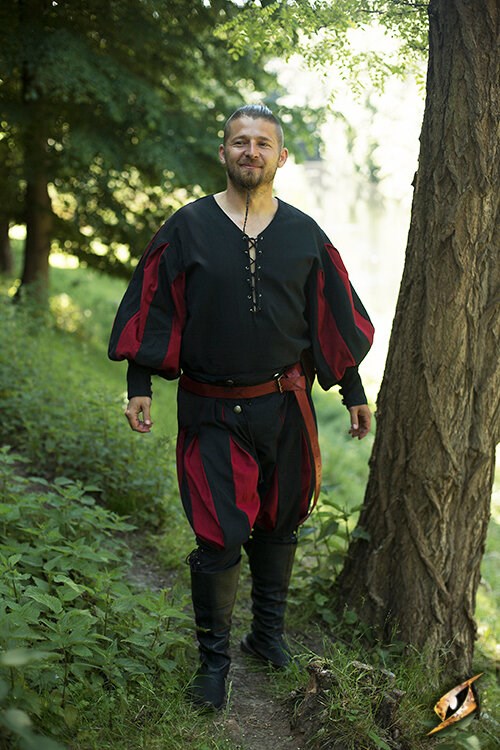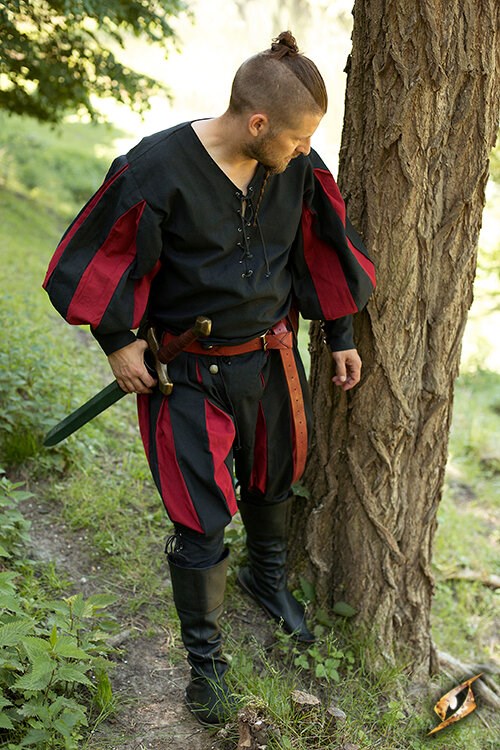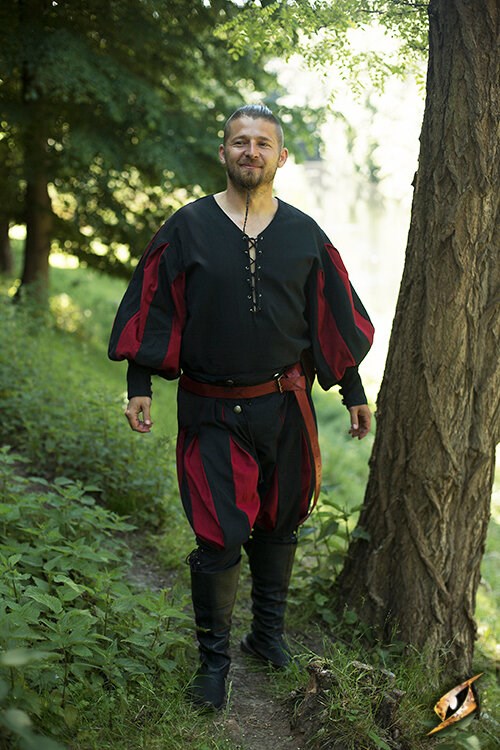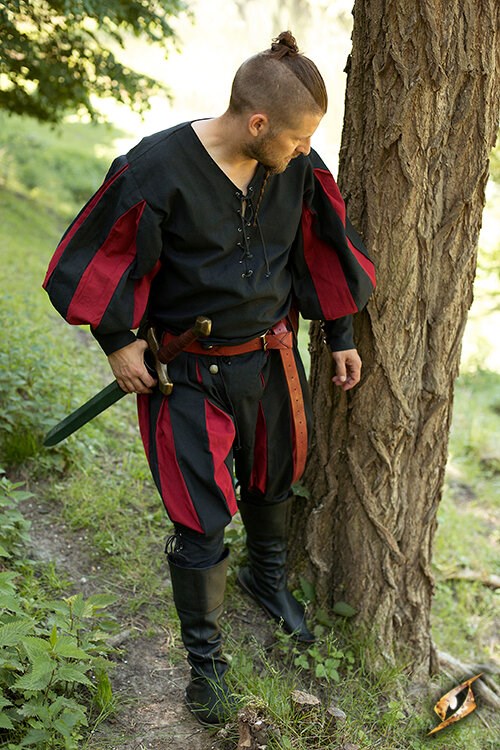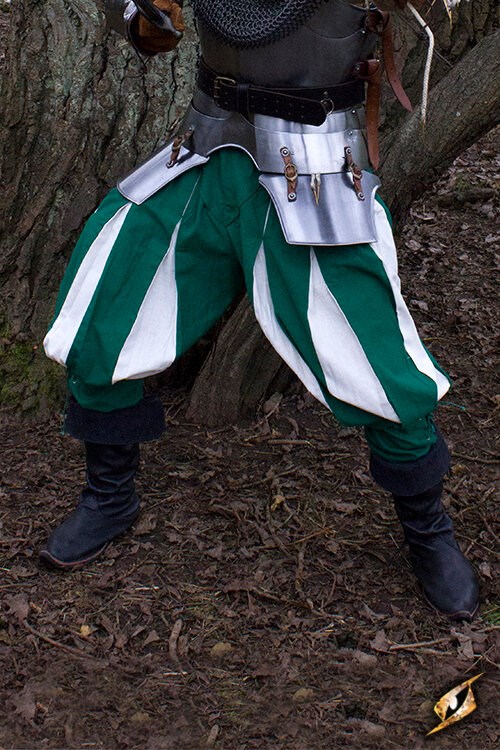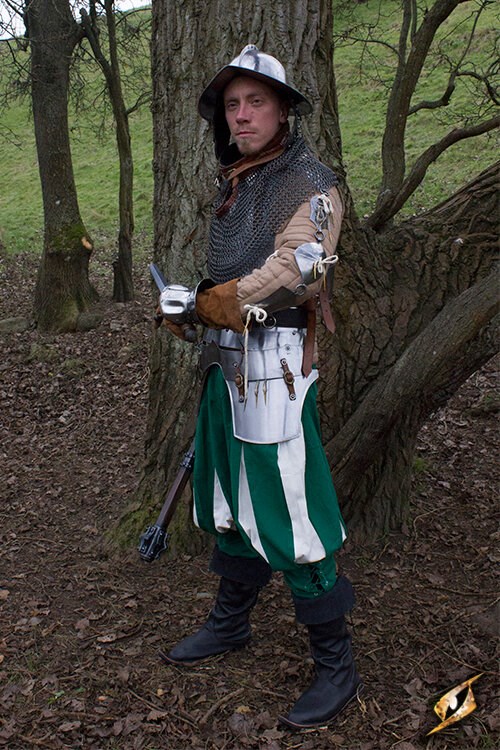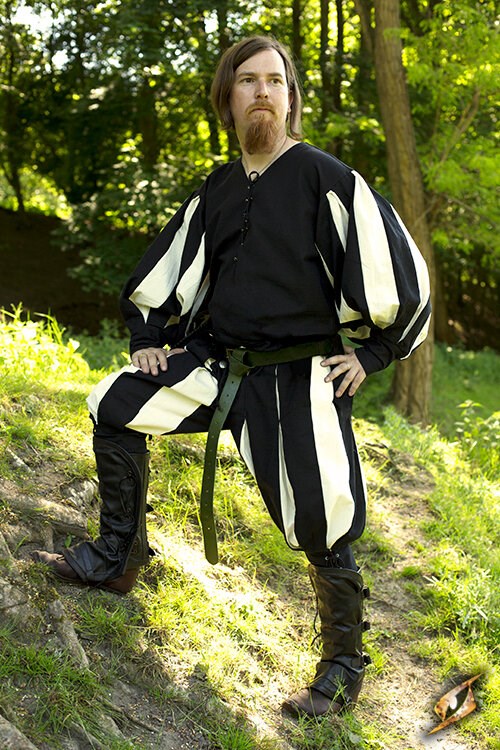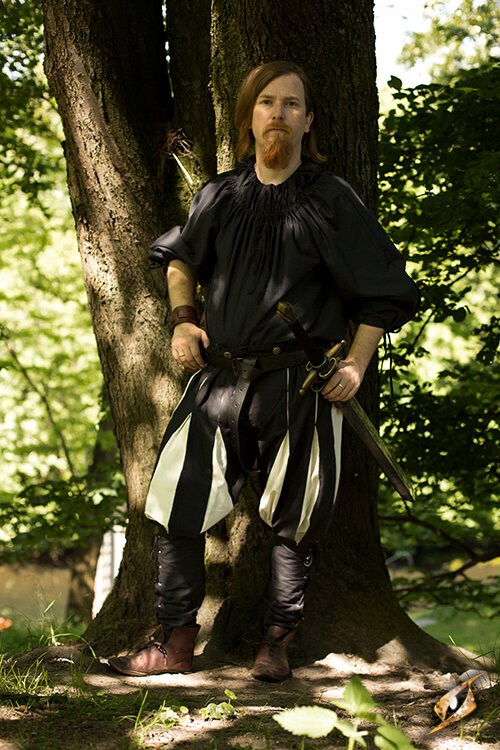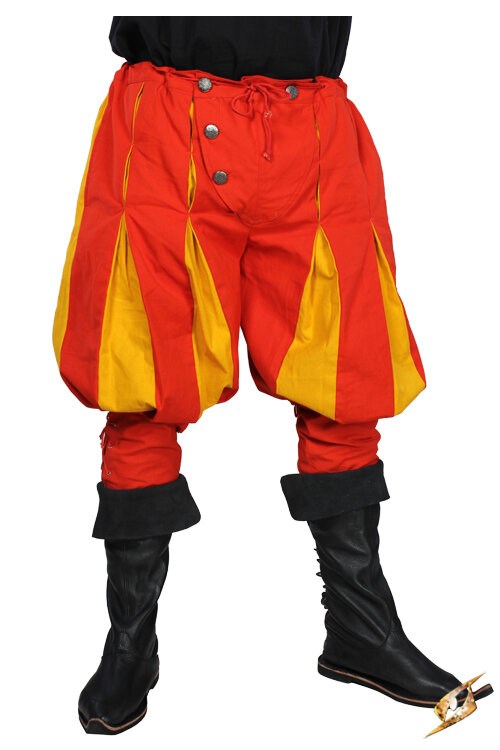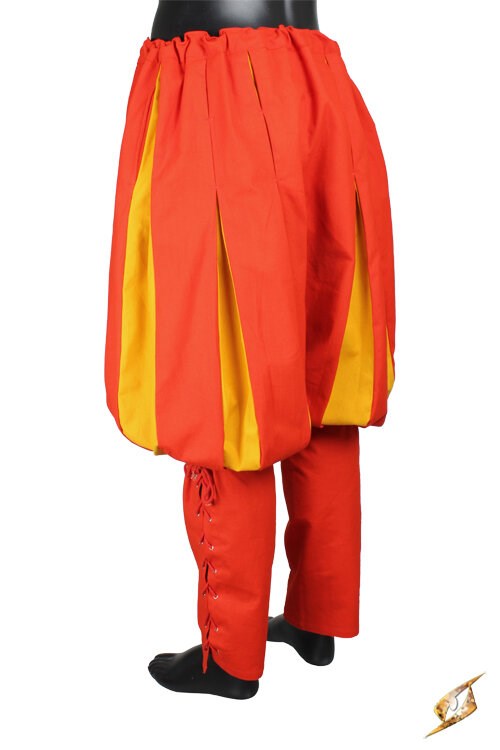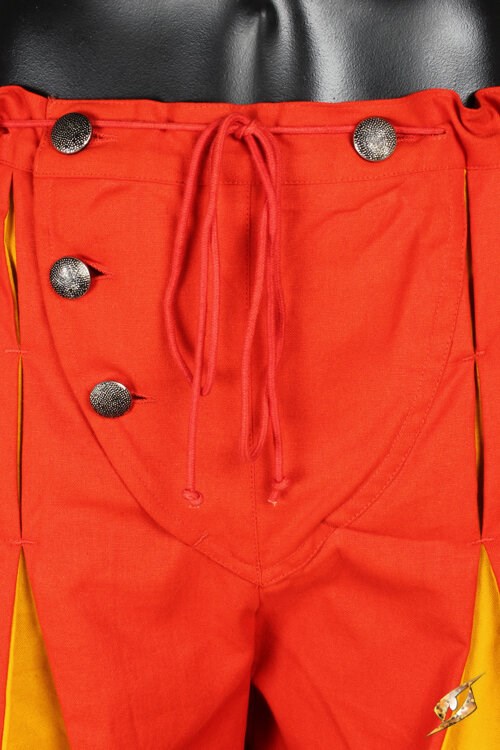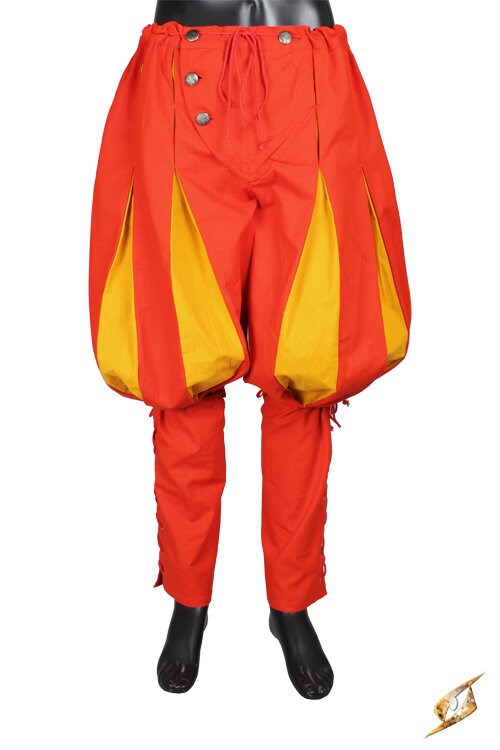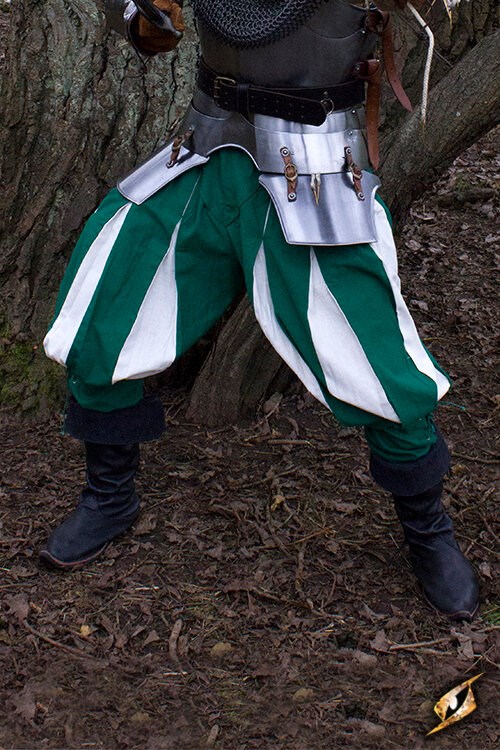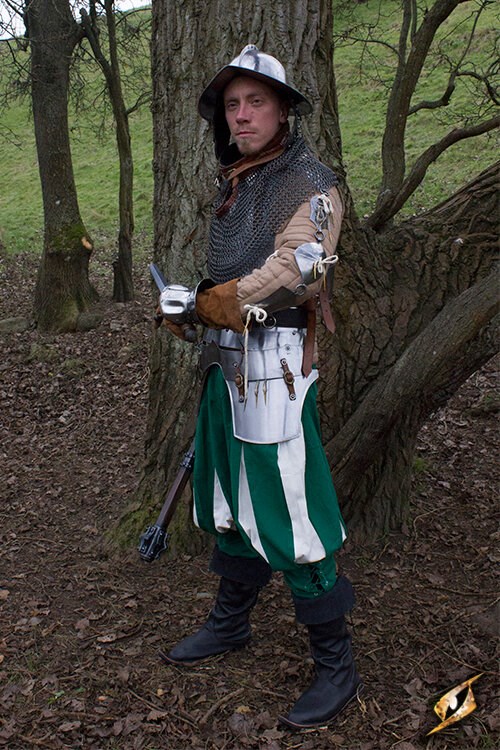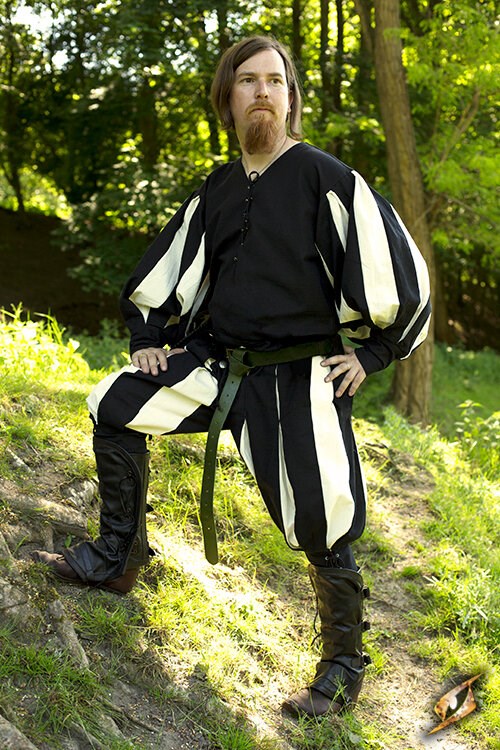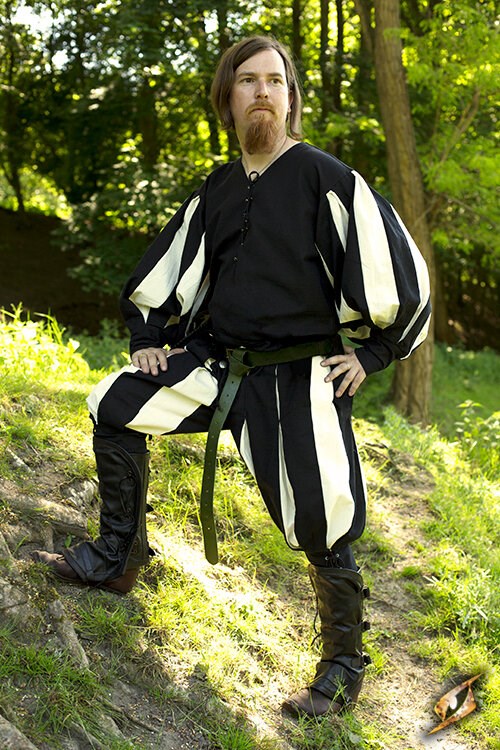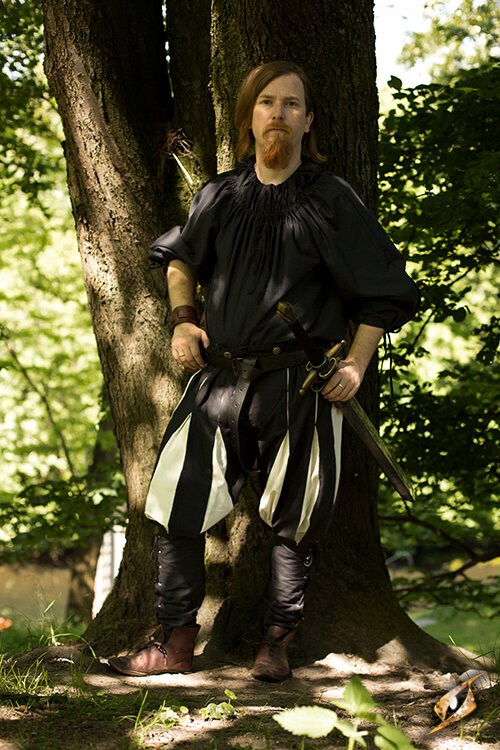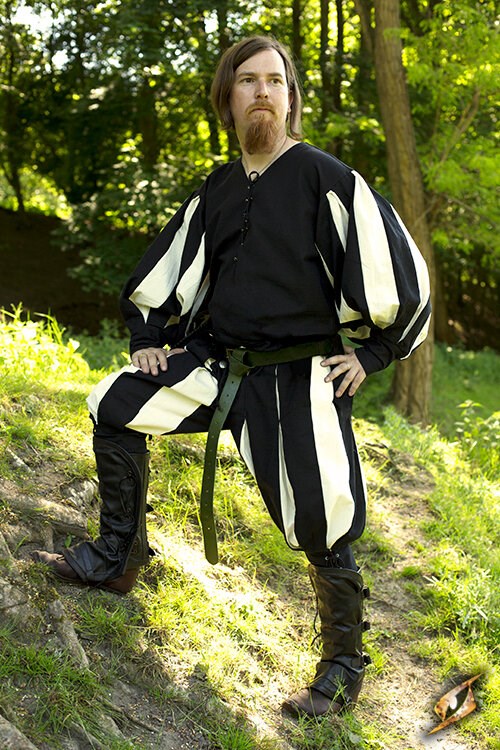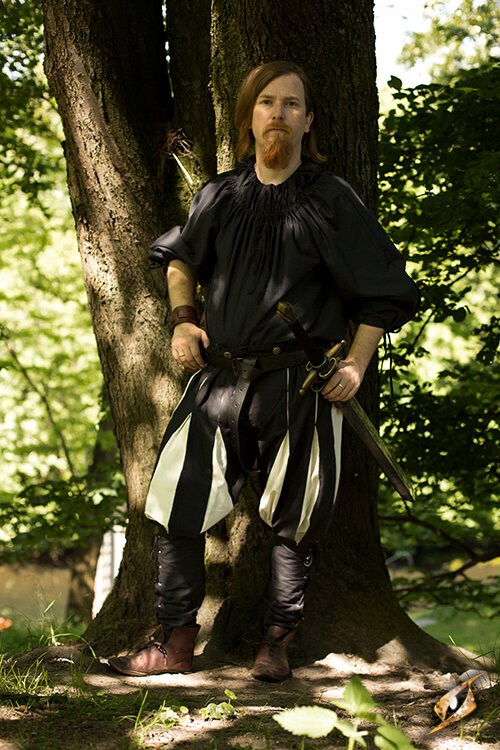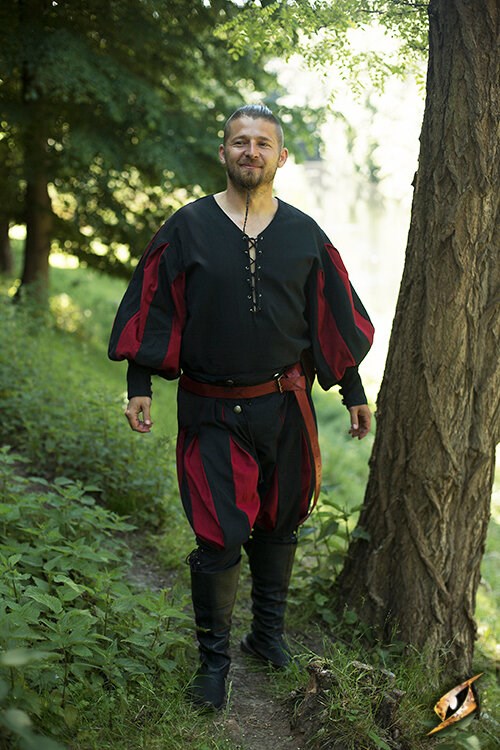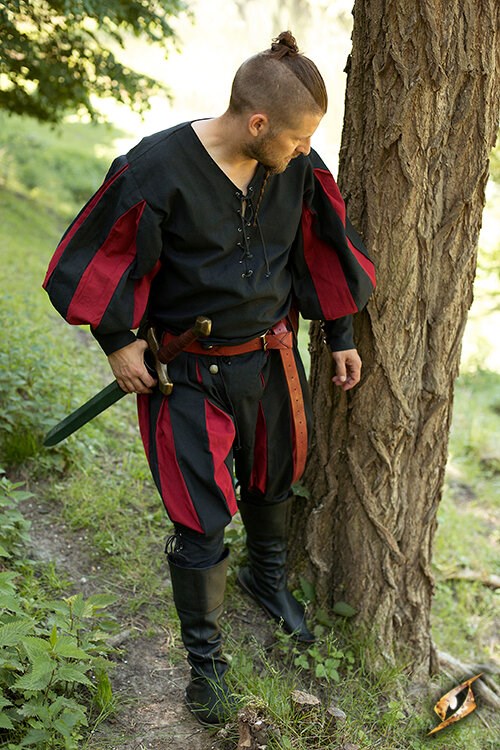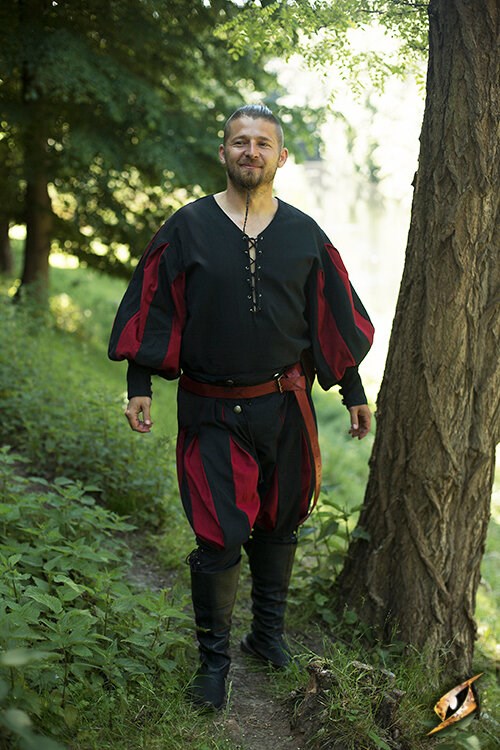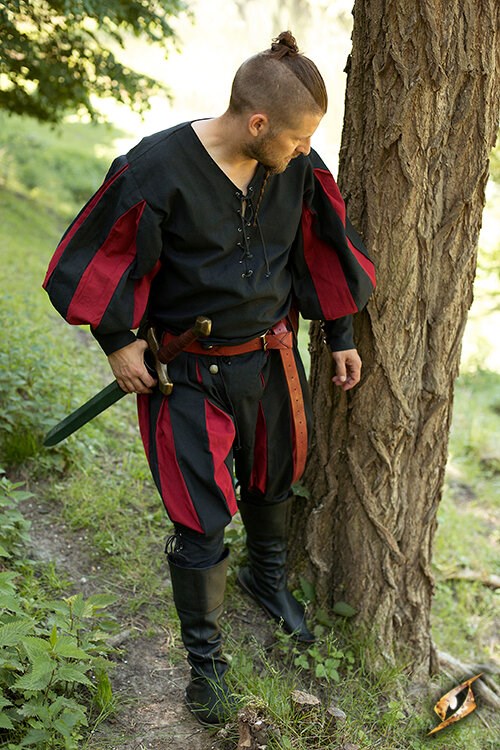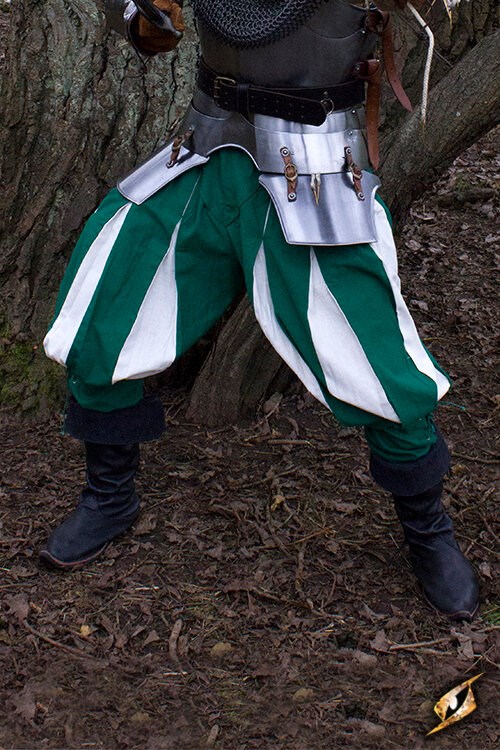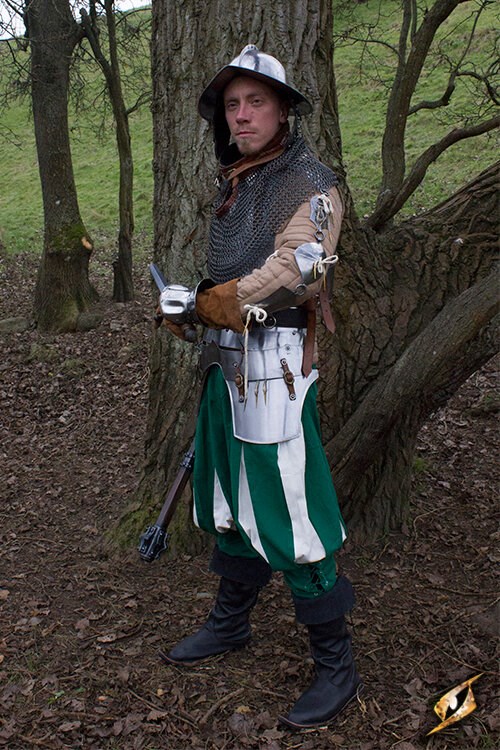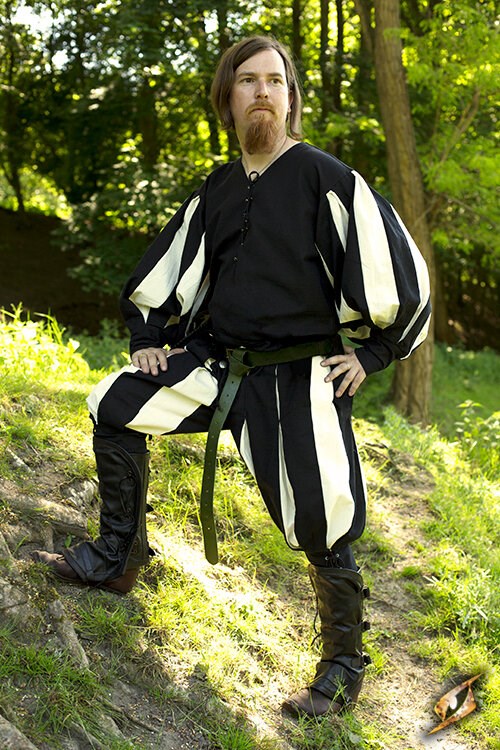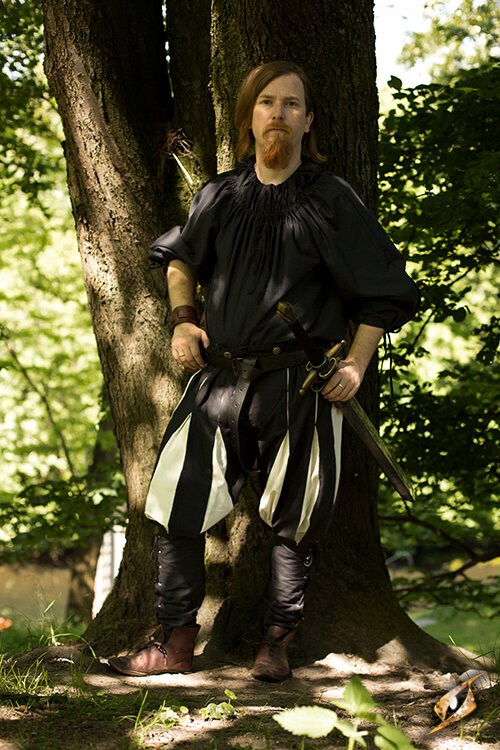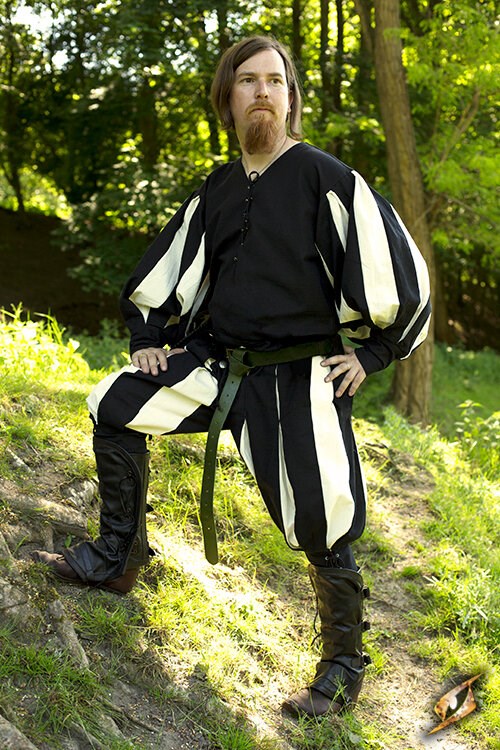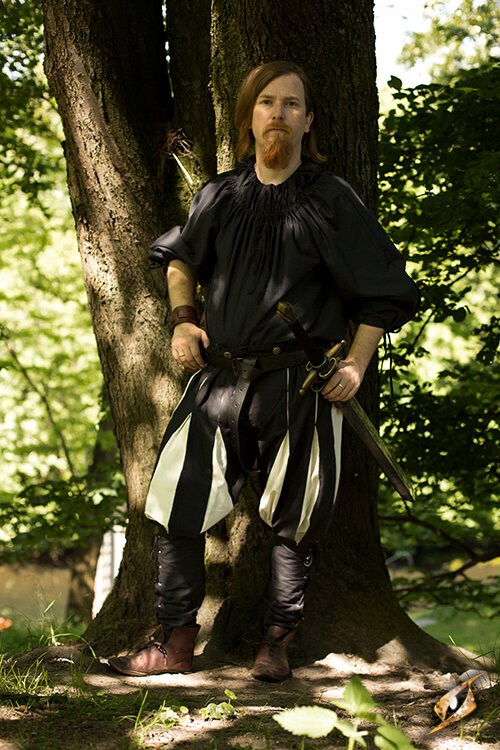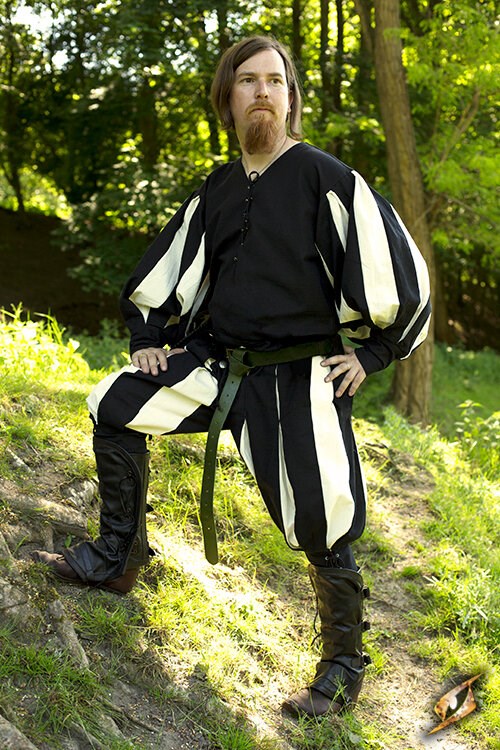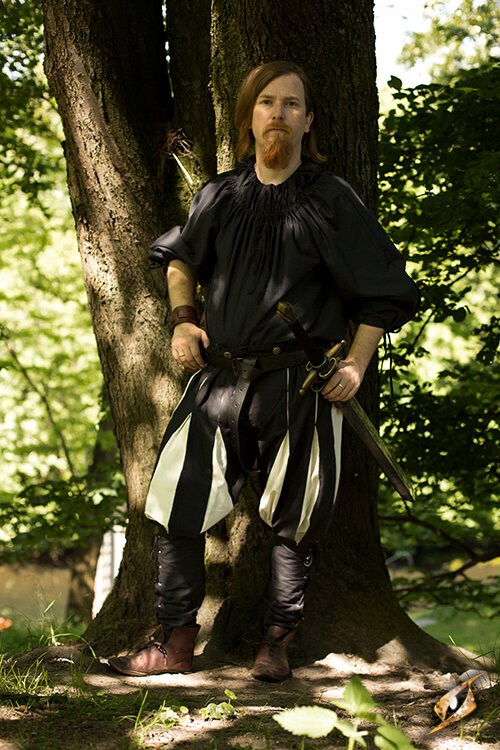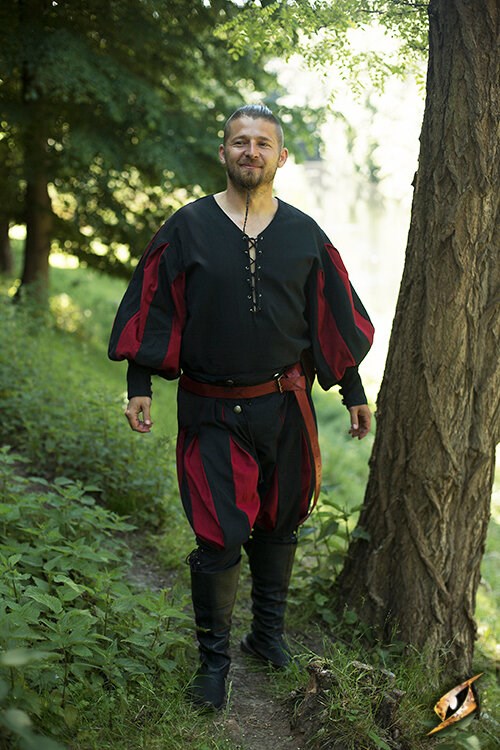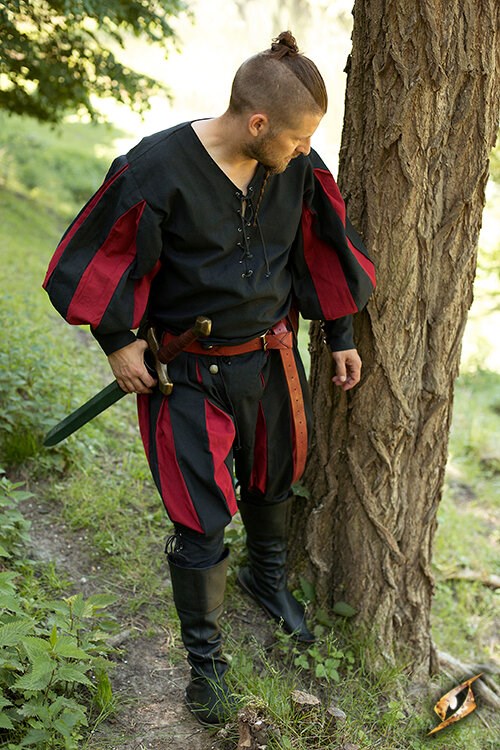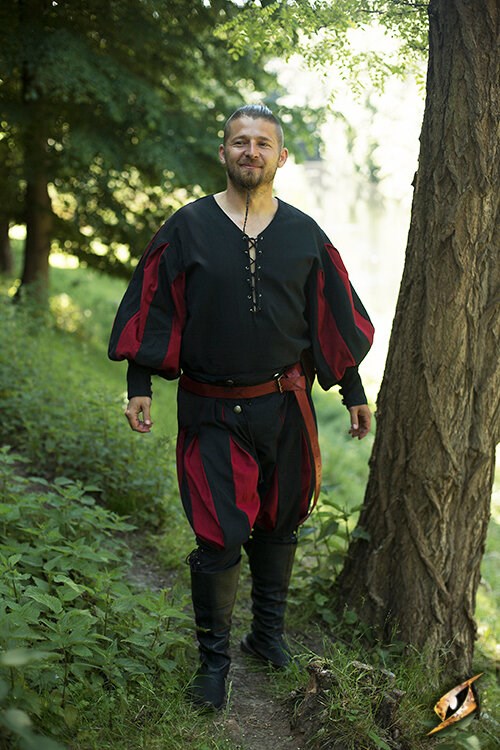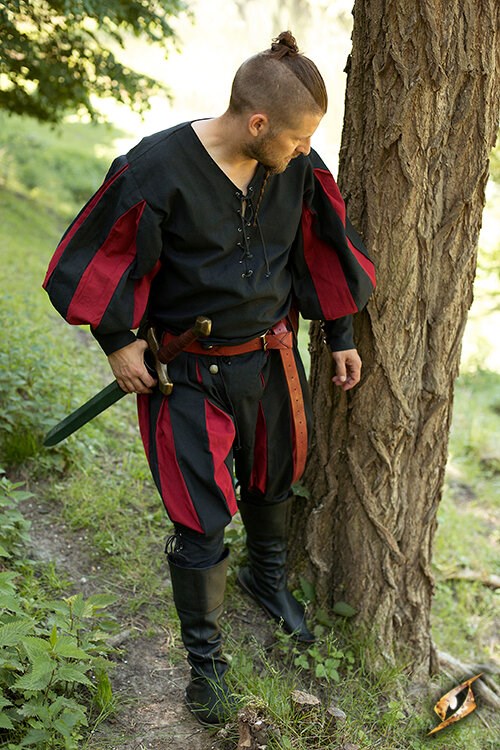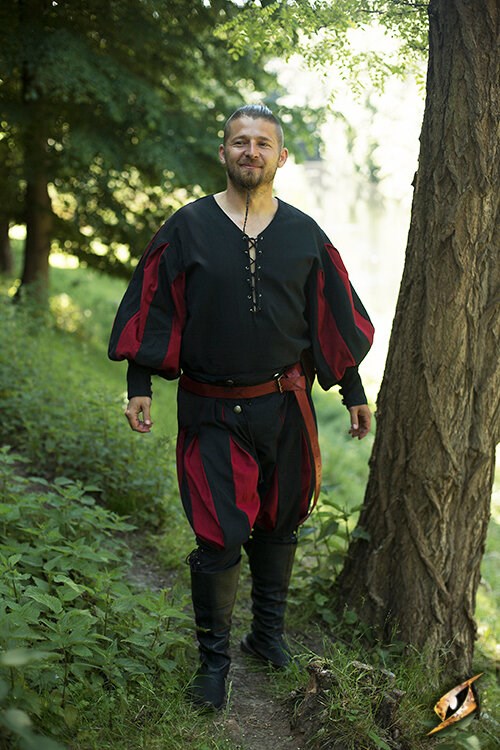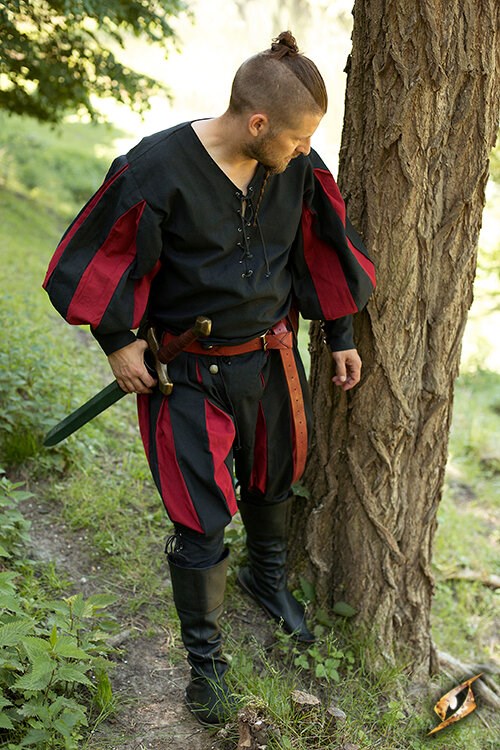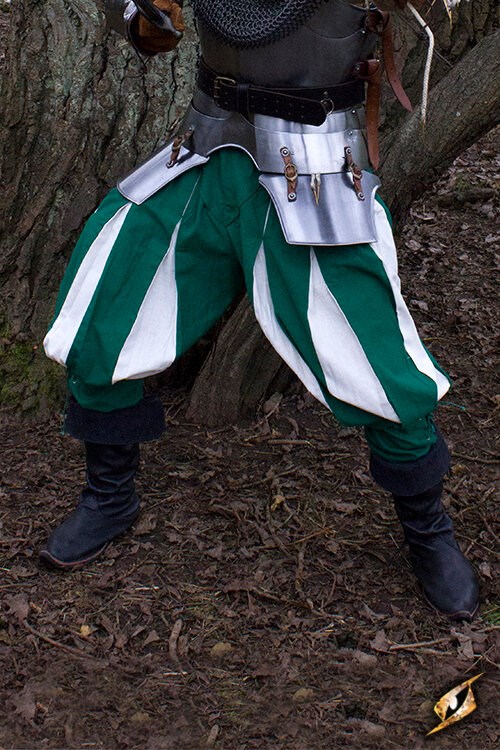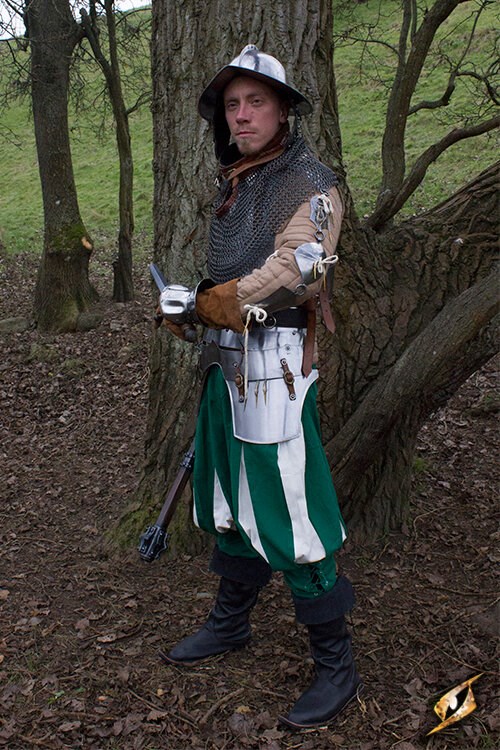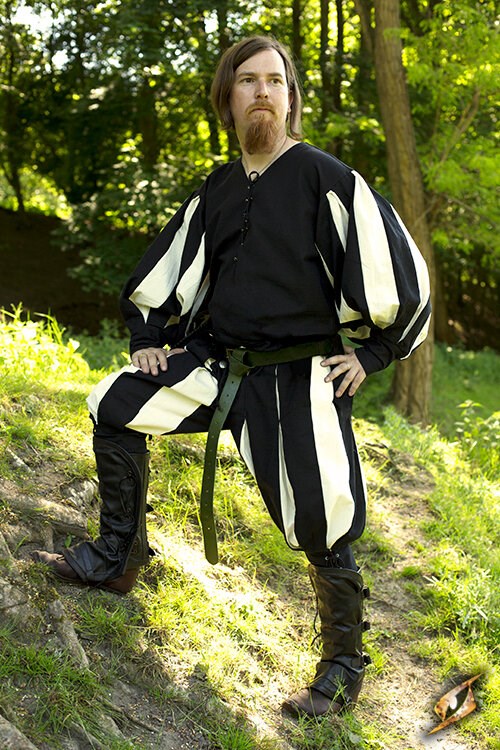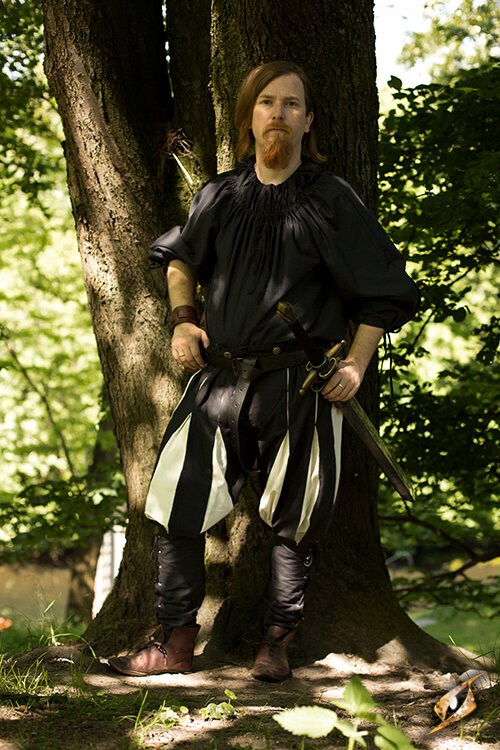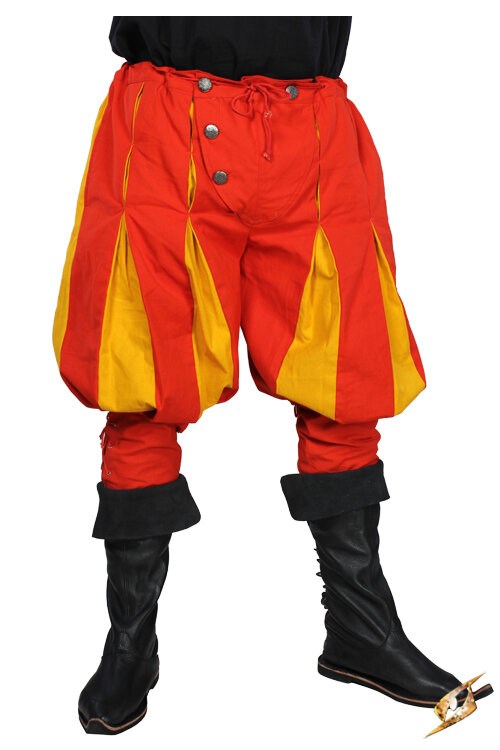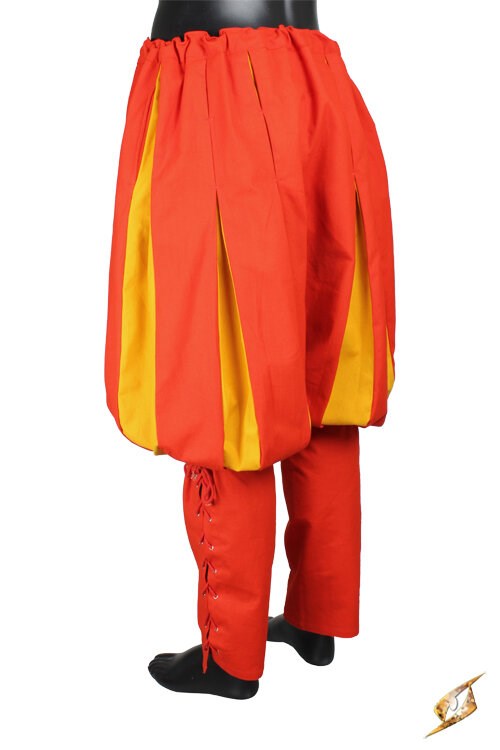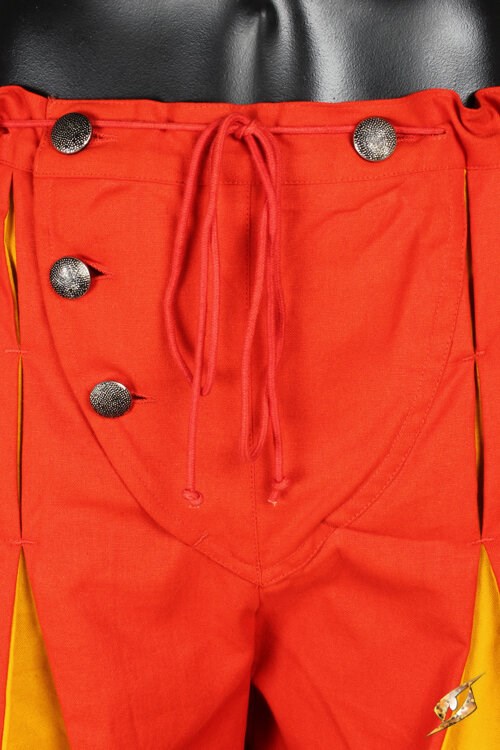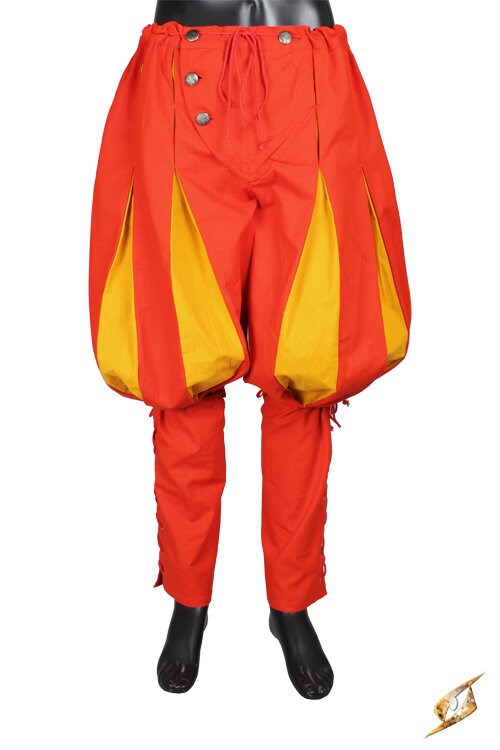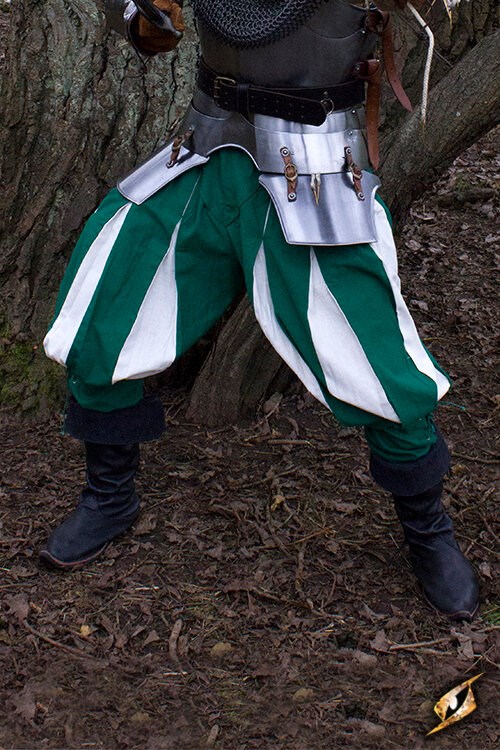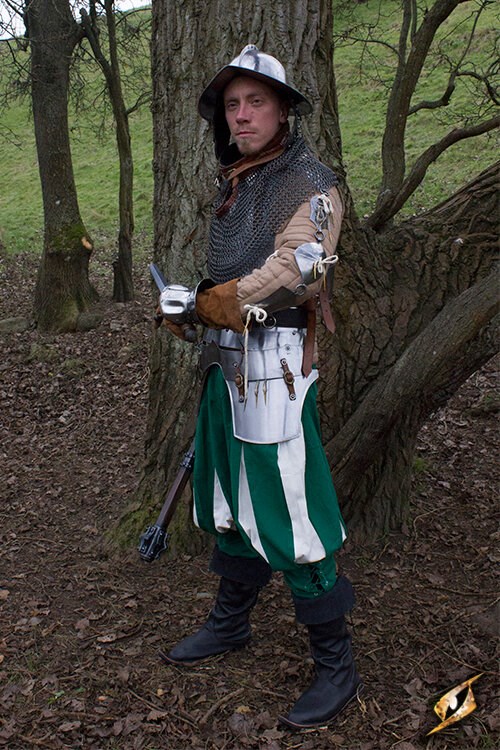 Description

Sizeguide

Fitting

Quality

Technical Details
The sword sits in the baldric hanging down from your shoulder, faithful to its master despite the challenges. It has been a long and dusty road--and your uniform down to your Landsknecht Pants is covered in dirt and grime--but that sword has remained at your side through it all.
As your infantry unit comes to a halt, there is the tension one always feels before the fight. You resist the anxiety, because the moment you step into battle all of that must fade away. It will be you fighting alongside your fellow soldiers, and it will be the sword hanging in your trusted baldric that keeps you alive.
DETAILS
Epic Armoury's Landsknecht Pants are styled leggings with baggy thighs and vertically cut colours, most often associated with the wealthy men and German Landsknecht mercenaries of the Renaissance period. Made from durable light canvas and soft cotton lining, these pants are extra wide above the knees before mimicking leggings, easily fit inside your boots and leg armour. Adjust the fabric around the calves by tightening its reinforced cotton cord to get the best fit.
The pants are fitted with a heavy cotton cord drawstring and metal buttons at the waist to keep the pants in place while leaving sufficient room for a proper belt. The pants also have pockets.
The Landsknecht Pants are fully compatible with Epic Armoury's other clothes and armours, and the style will fit with a broad variety of characters.
Available in Black/Off-white, Black/Dark-Red, Green/Off-white, and Red/Yellow; and in sizes Small, Medium, Large, X-Large and XX-Large.
HISTORY
Worn by the Landsknecht, a colourful and well known mercenary group from Germany during 15th- and 16th-century Europe
A great way to show off wealth with the excess use of fabric
Design is similar to the Pluderhose, a 15th century design that fastened at the knee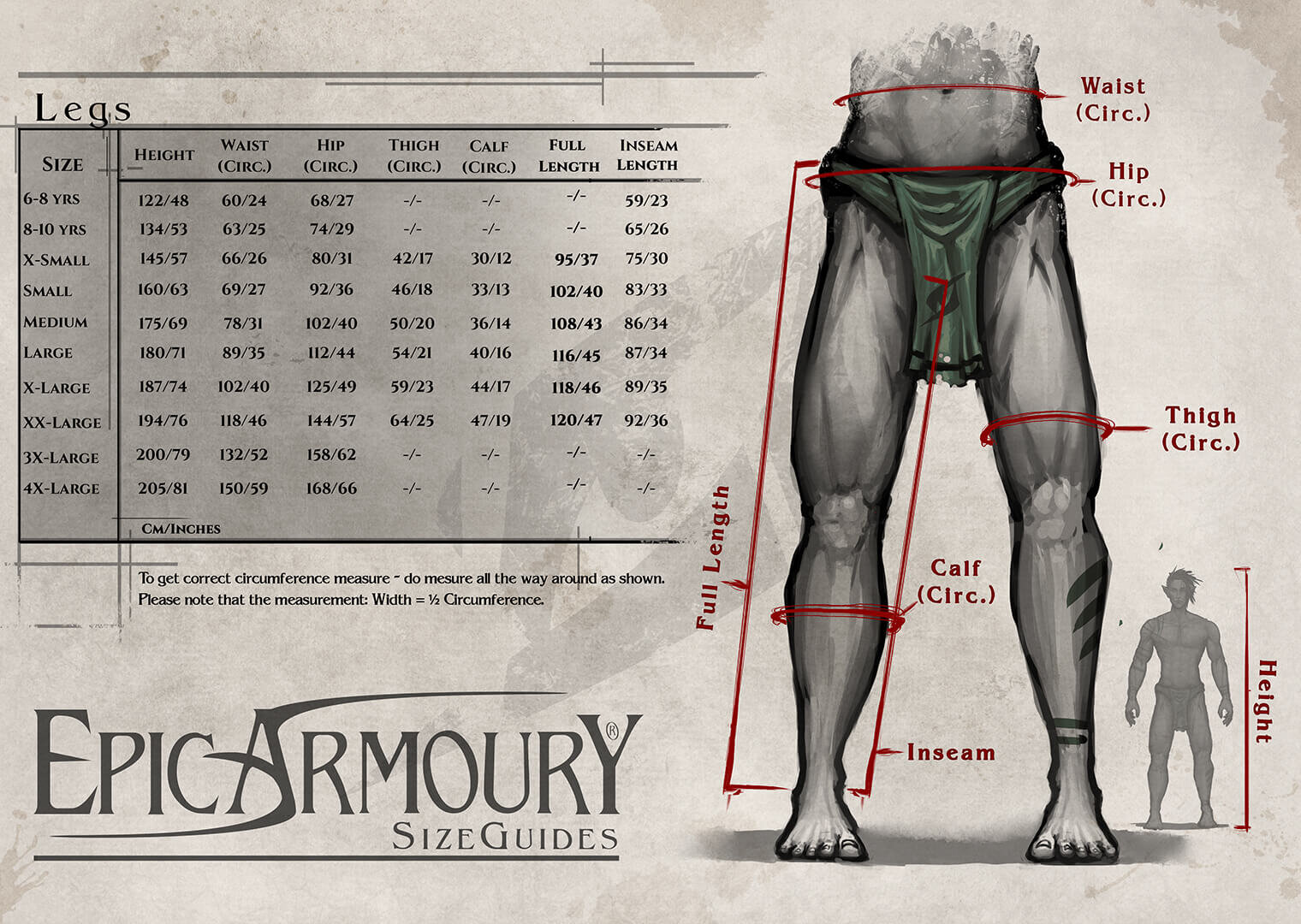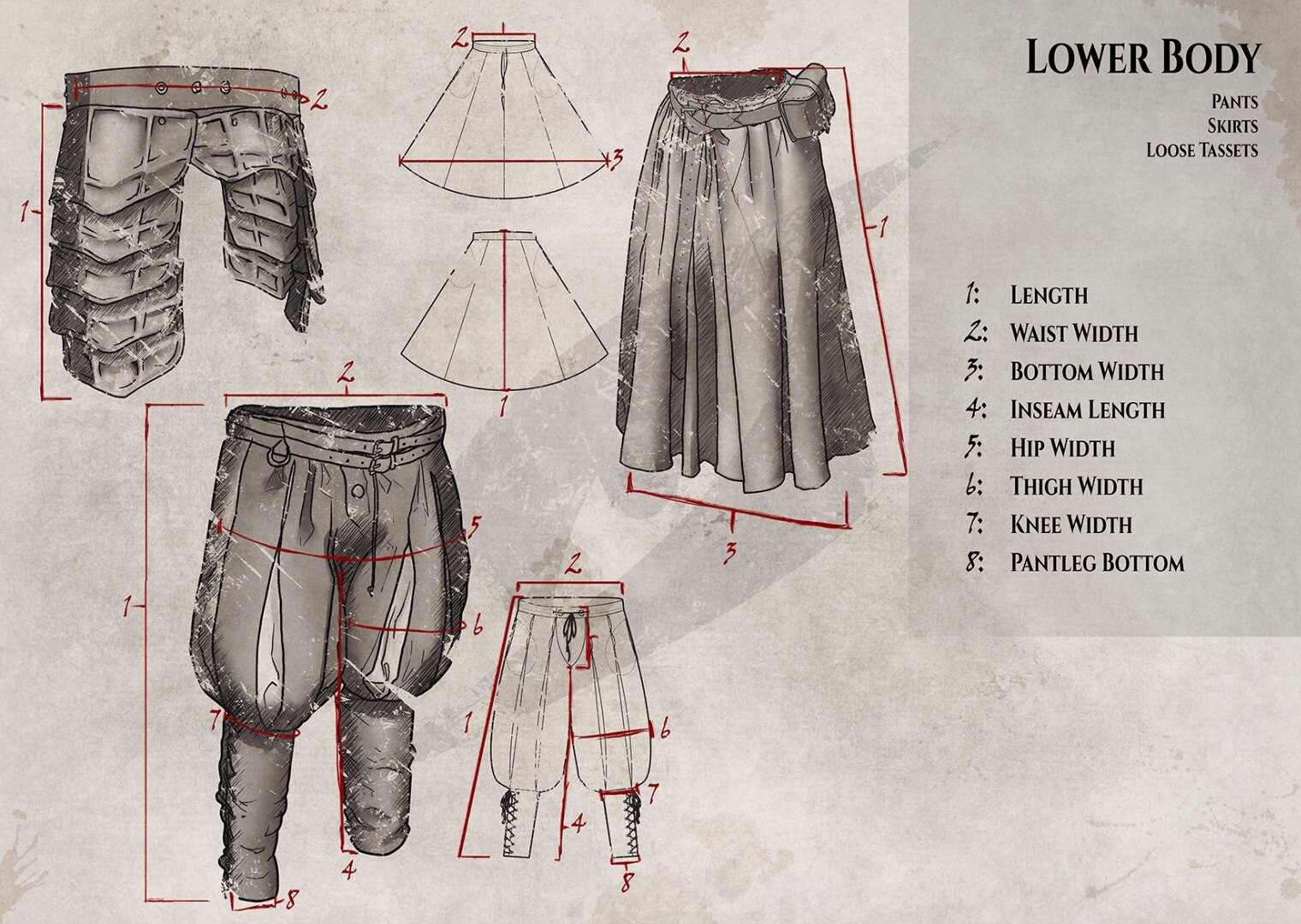 Affordable, personalized costume interchangeable with all other Epic Armoury gear
100% natural materials
Made from fabrics manufactured locally
Handmade by qualified professional. Measurements are approximations and may vary.
This product is handmade and hand-painted and therefore unique. As a result, when compared with similar item numbers, this product can have natural deviations in pattern, colour and shape, which are not considered defects or faults.
We produce our image material in a natural environment, where lighting and surroundings can affect colors and contrast. The displayed images may therefore appear different from the product you receive from us.
Measurements are all in cm if not stated otherwise.
Brand:
Epic Armoury
Universe:
Sovereign
Materials:
Textile
Position:
Legs
Product type:
Pants
Release date:
02/02/2020
Maintenance
As a heavy duty fabric, this light canvas product is stronger and heavier than simple cotton. This material wrinkles easily, but can be ironed on a higher heat level.
Cleaning
Machine wash at 40°C / 104°F. Please make sure to wash it once before use in order to make sure that remaining dye will be removed from the product. It is advised to wash with similar coloured clothes to reduce the risk of dye imprint. Tumble Dry on low heat, but be aware that it might shrink up to 5%. For general stains or discoloration to the canvas, treat with a commercial fabric cleaner, or blot with tepid water and a soft cloth.