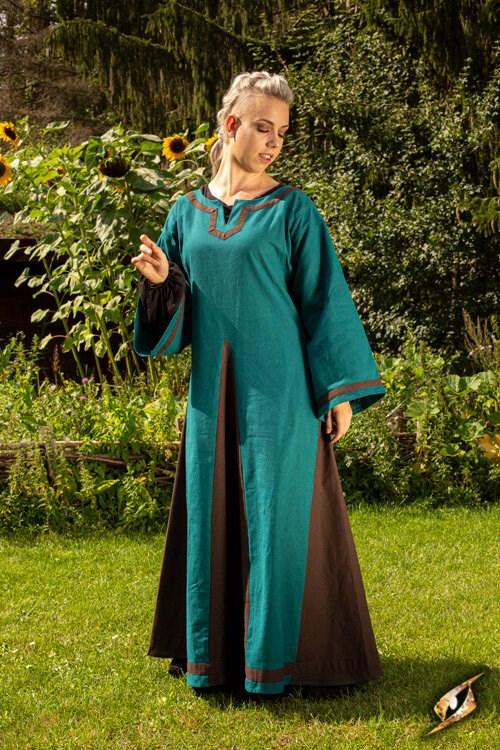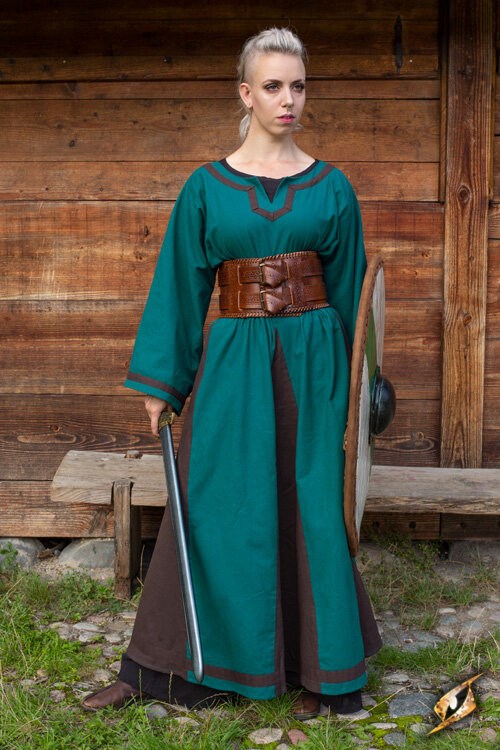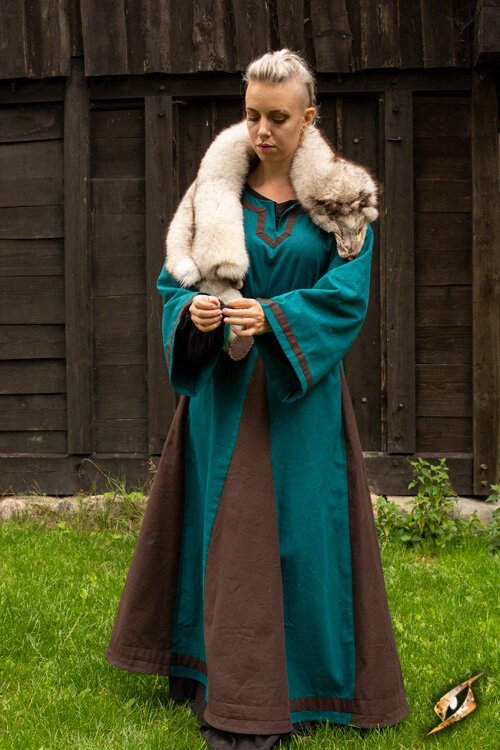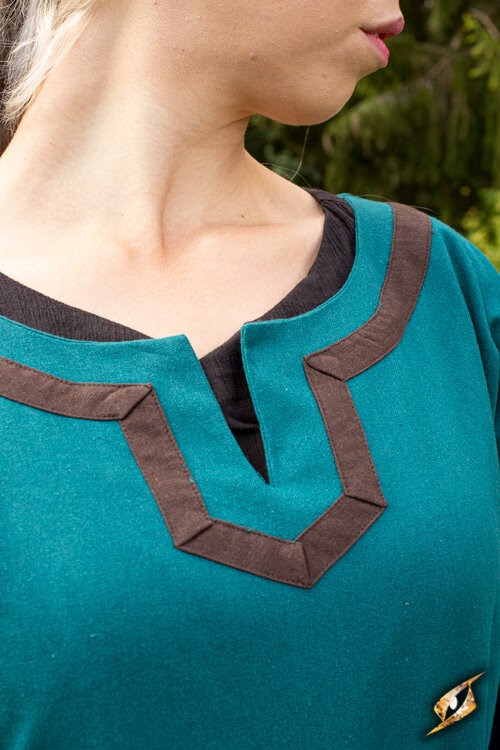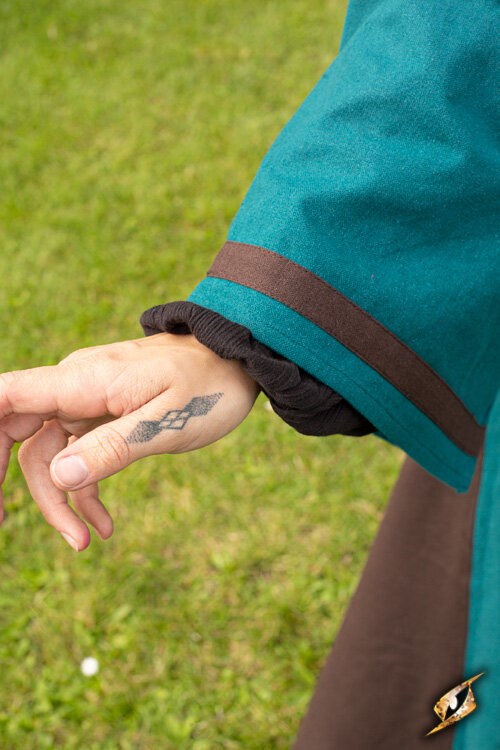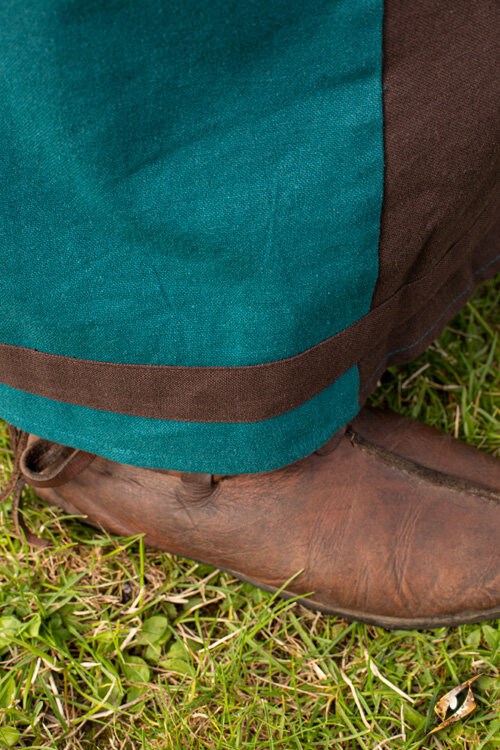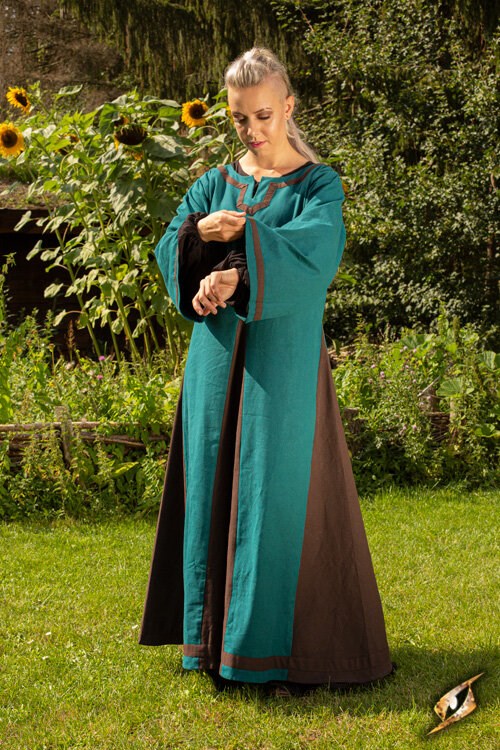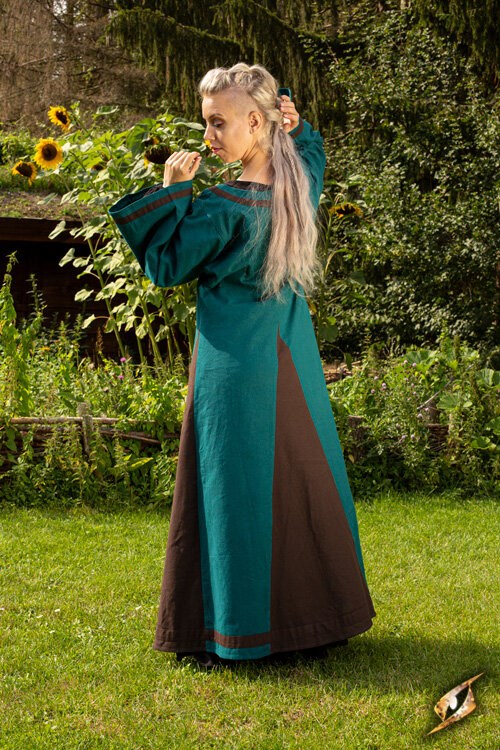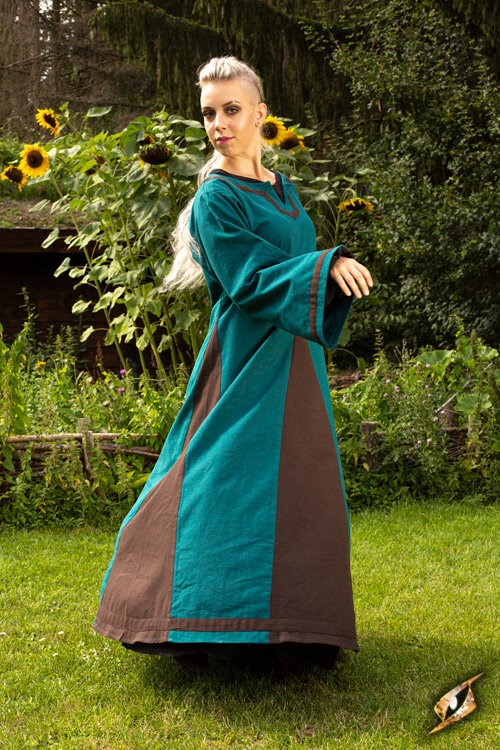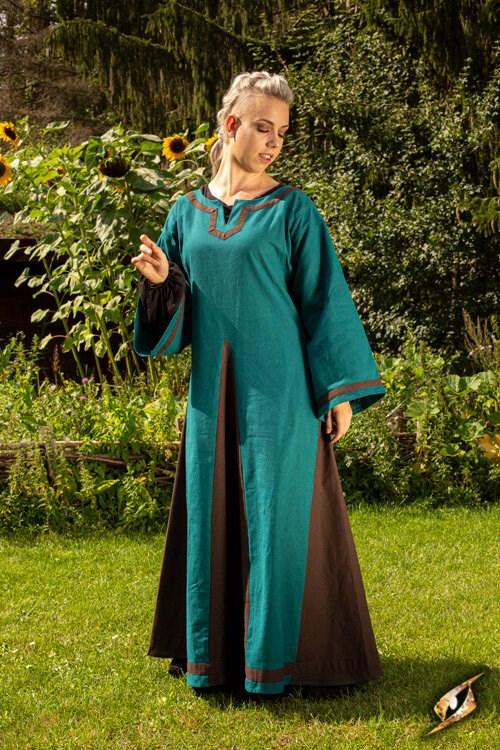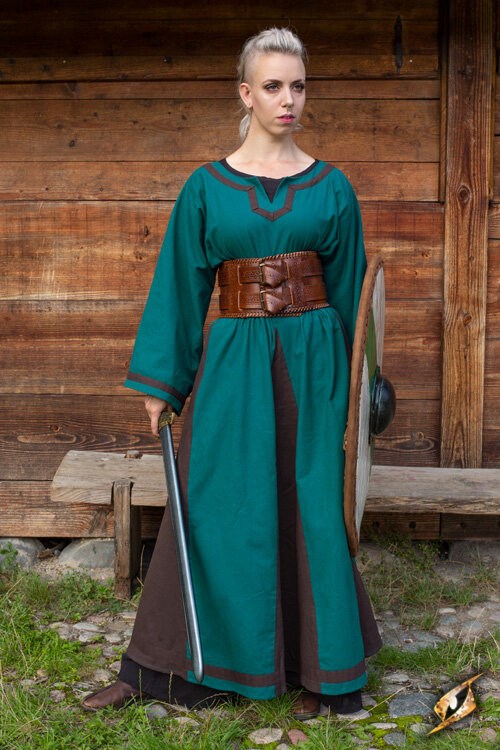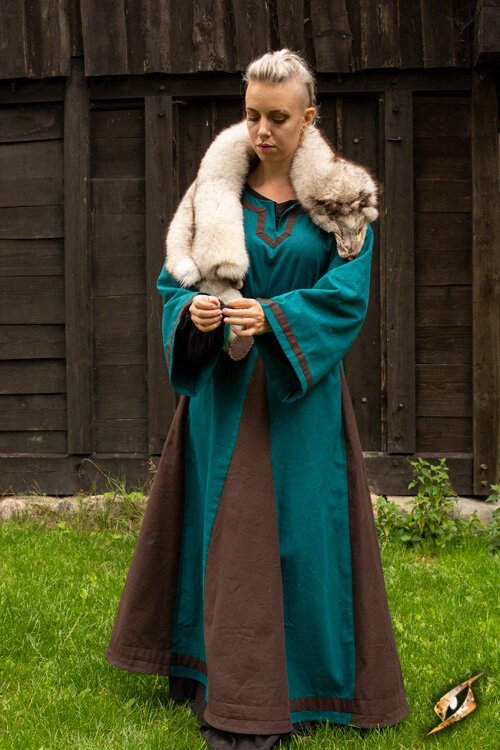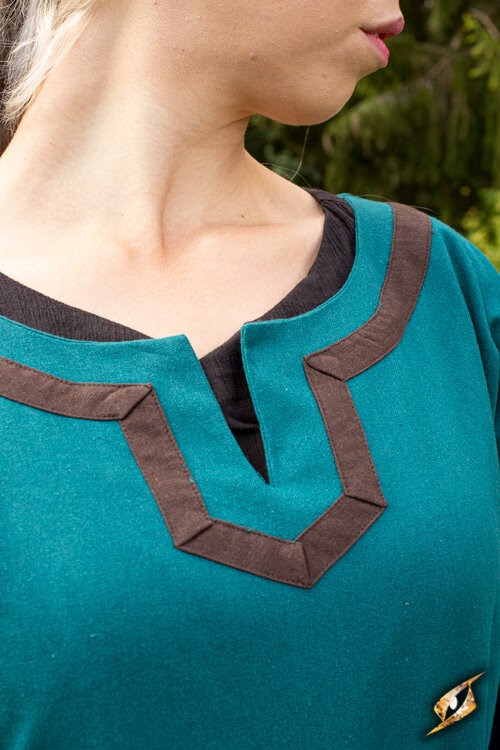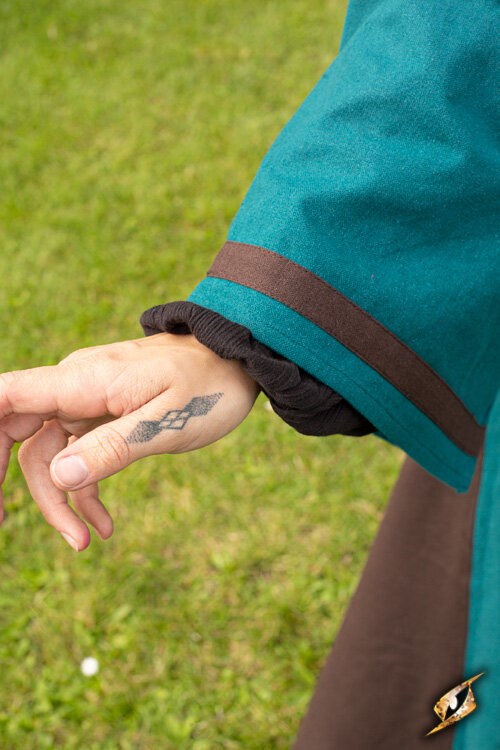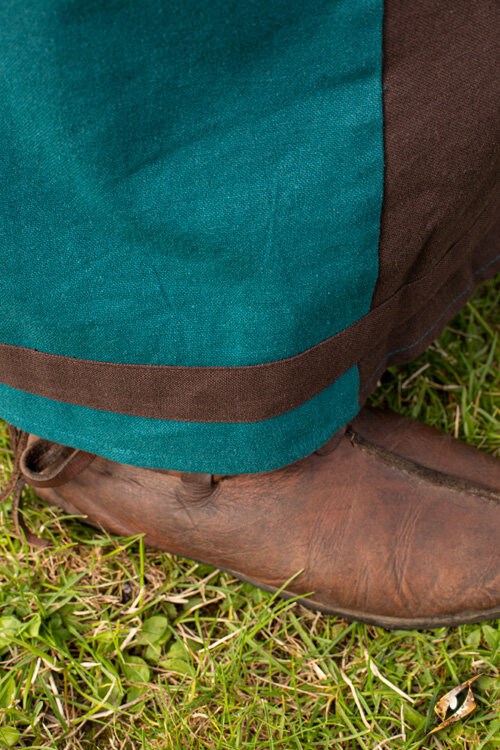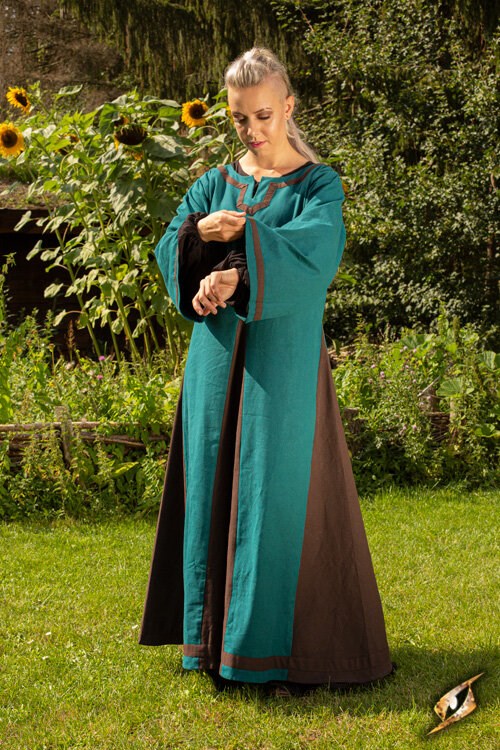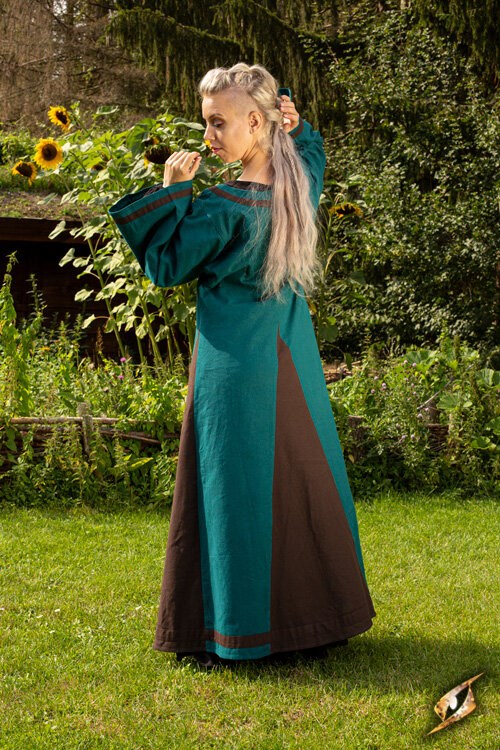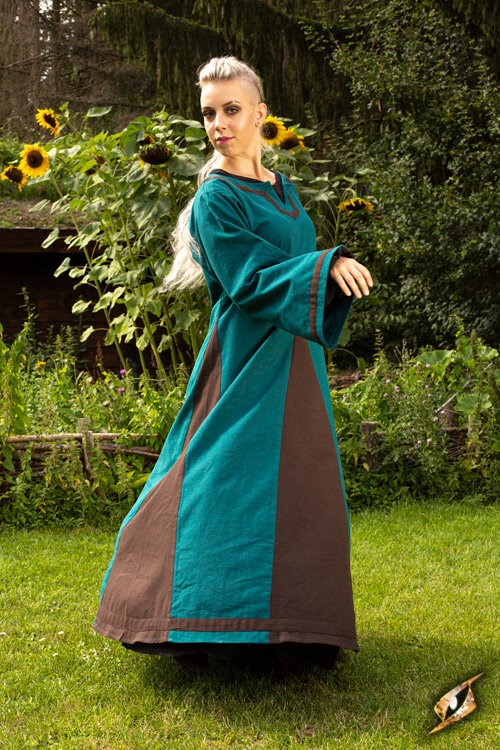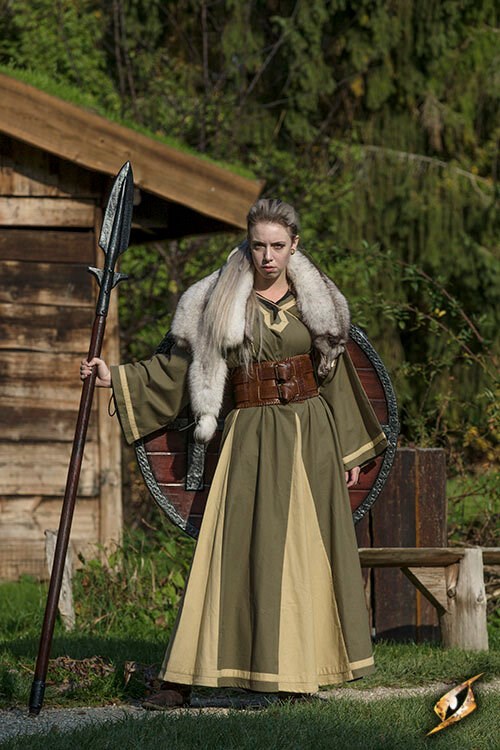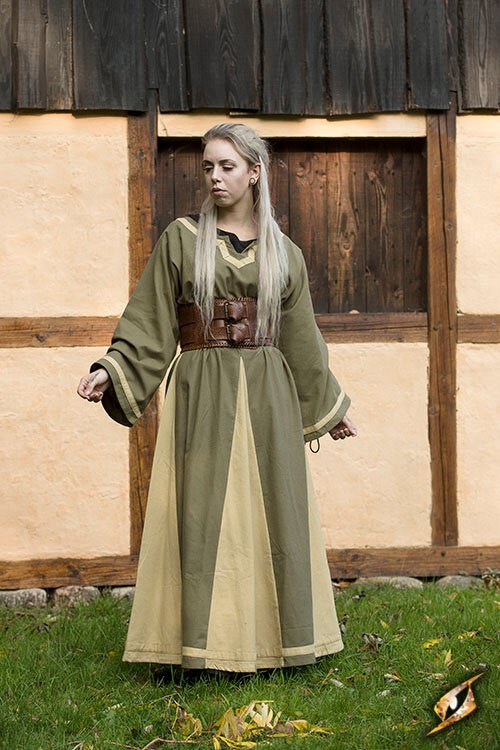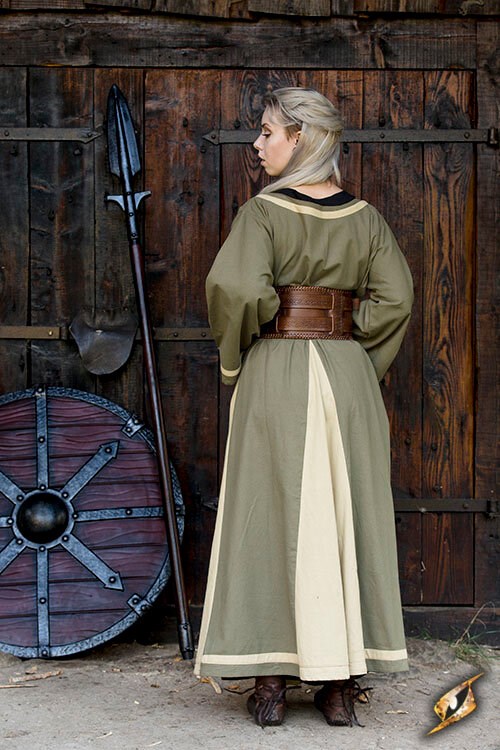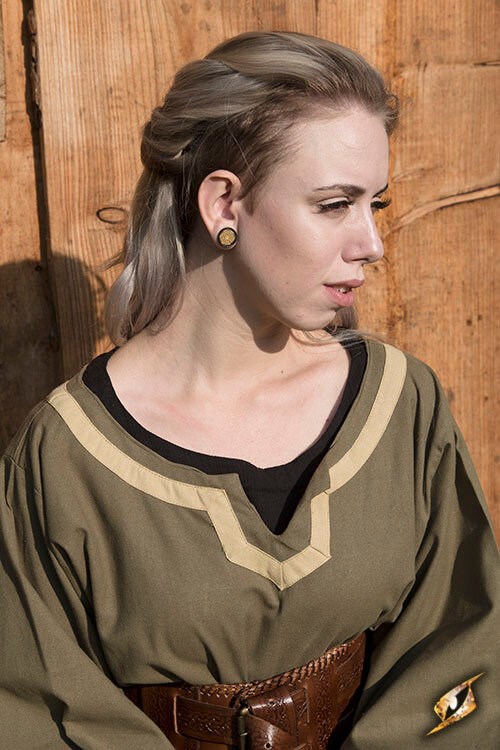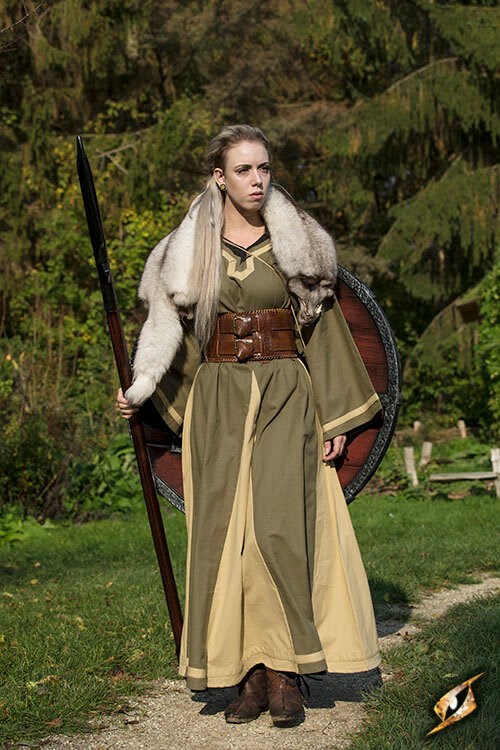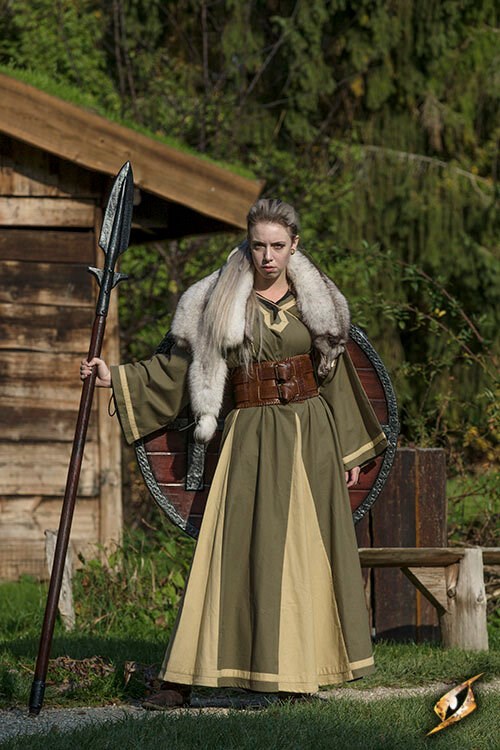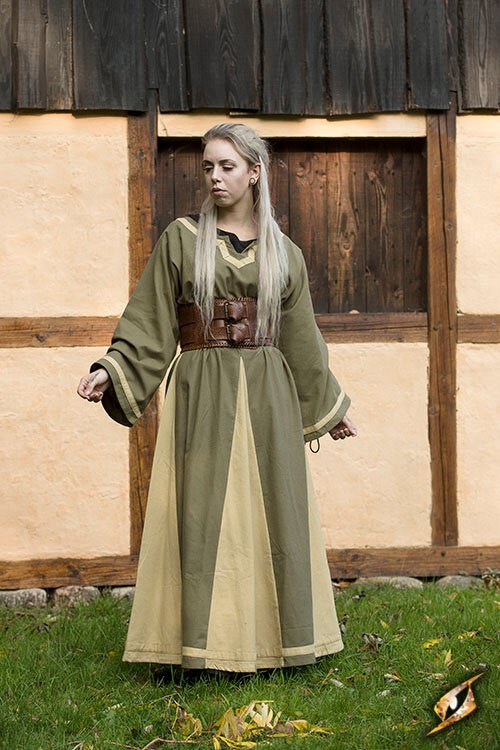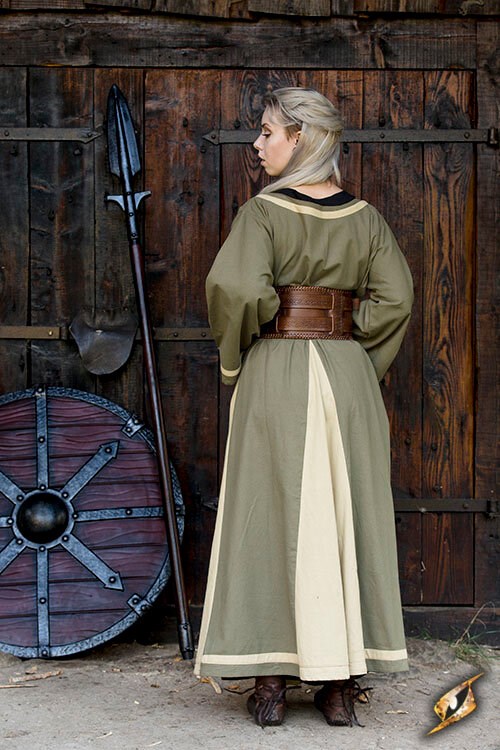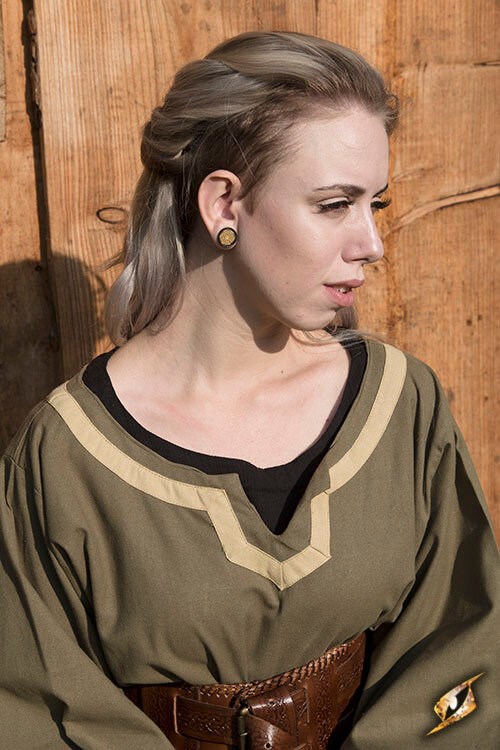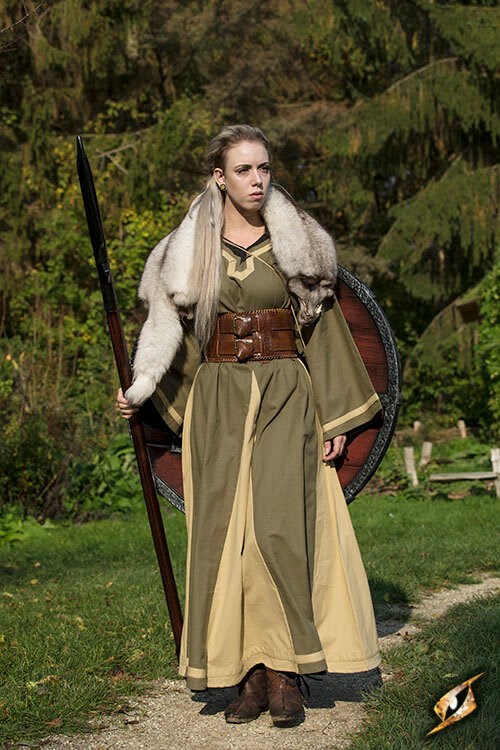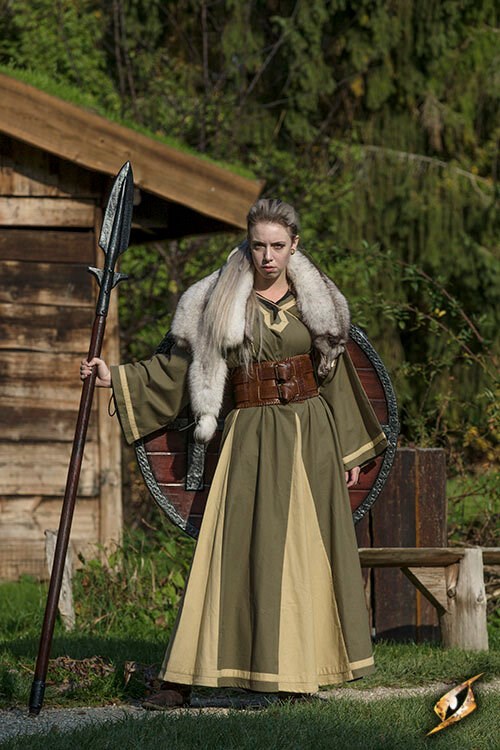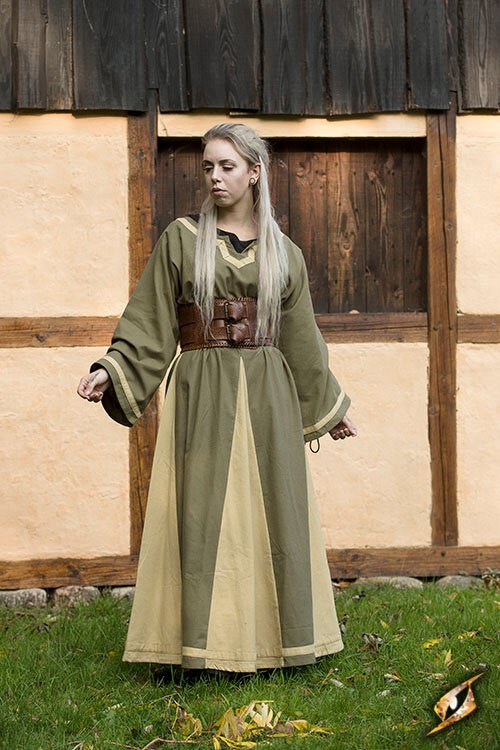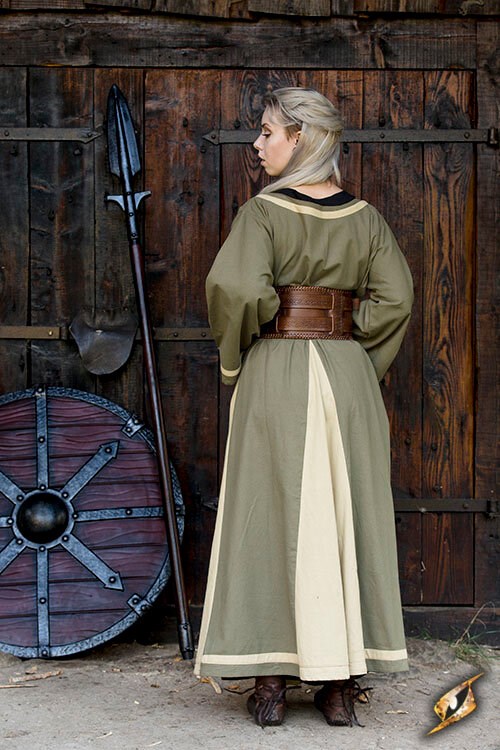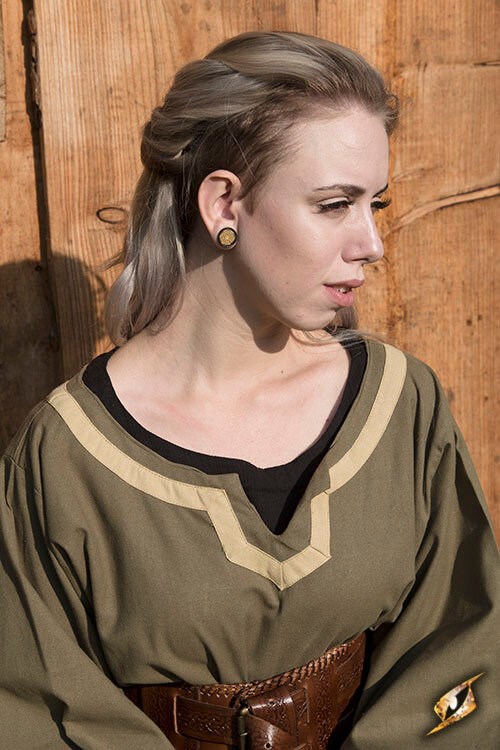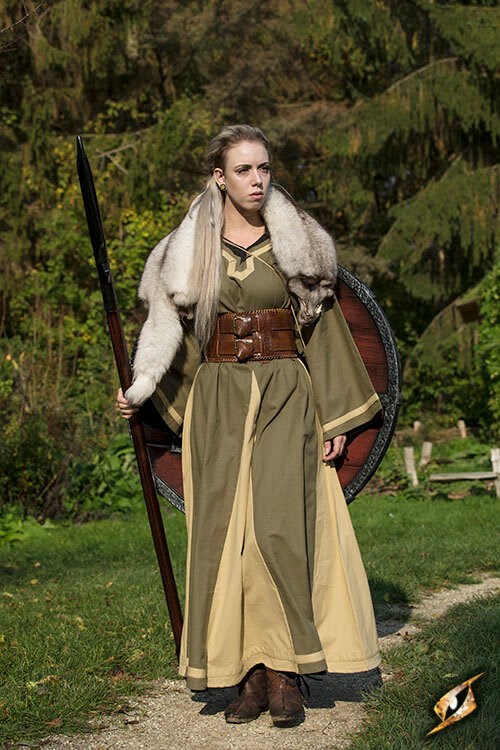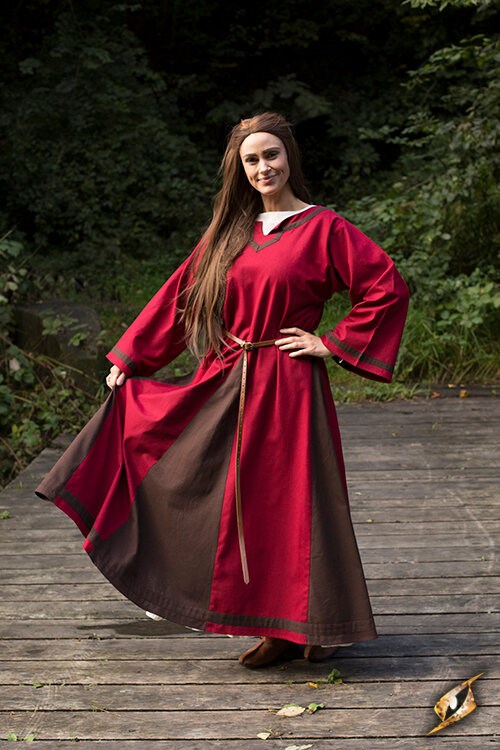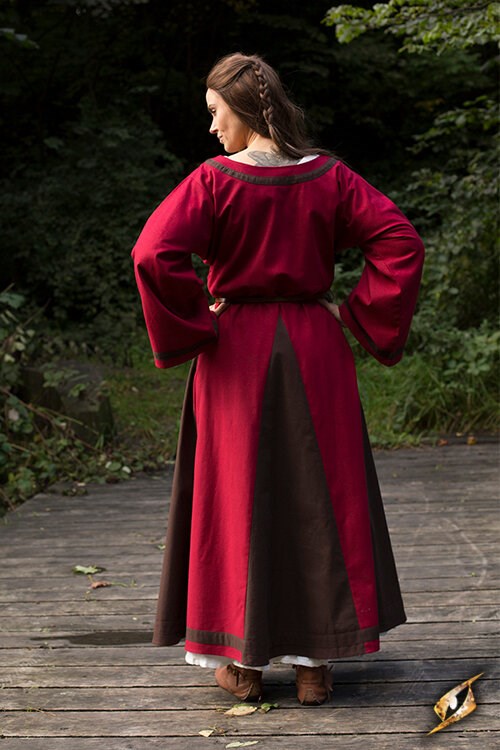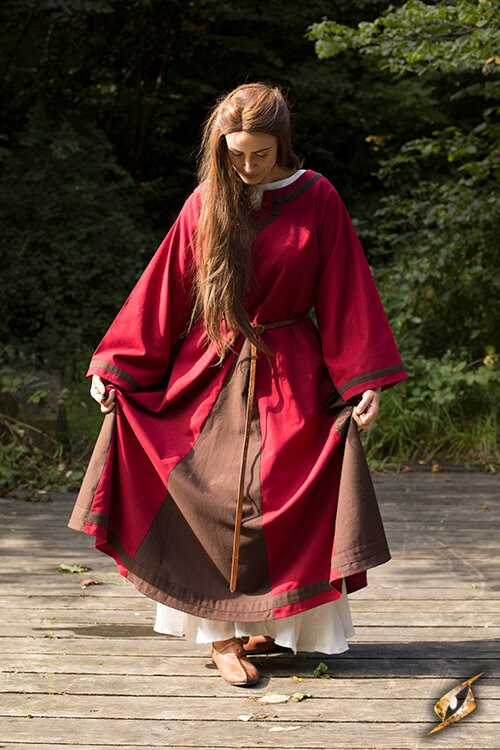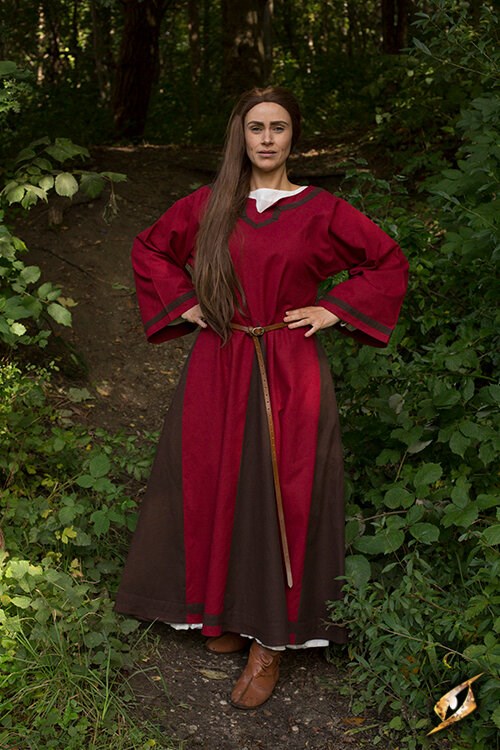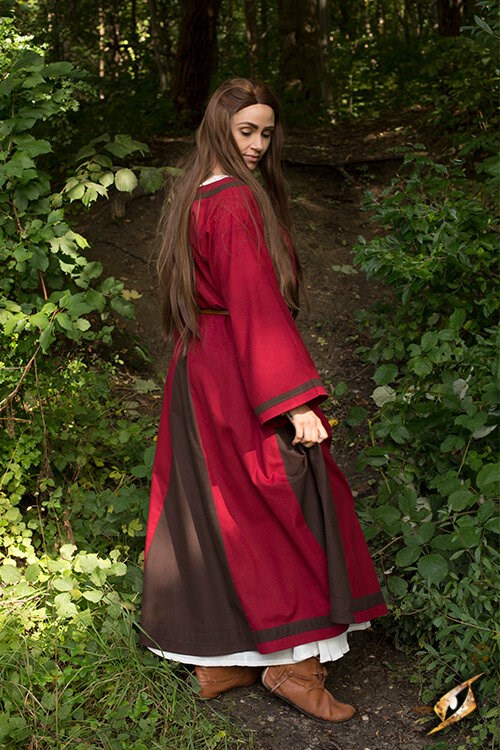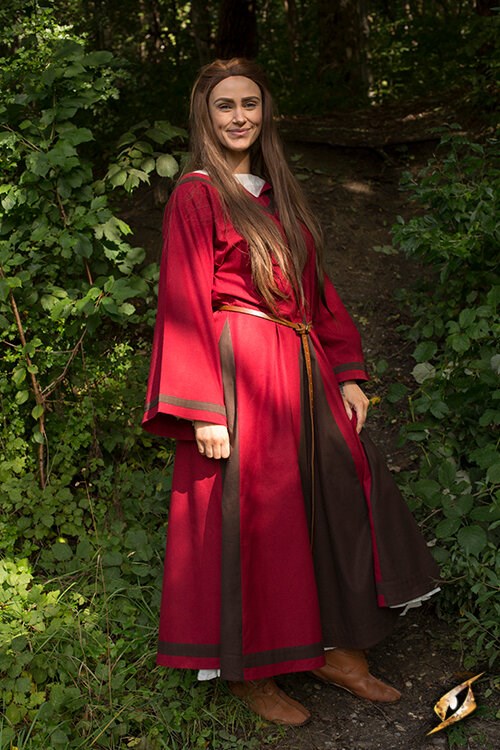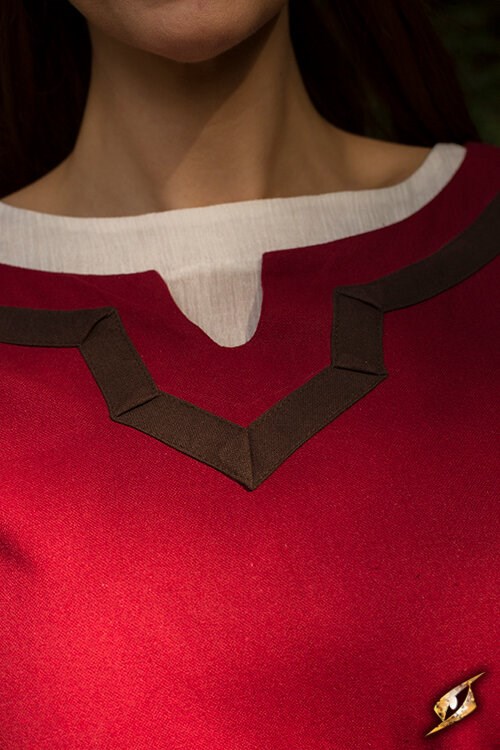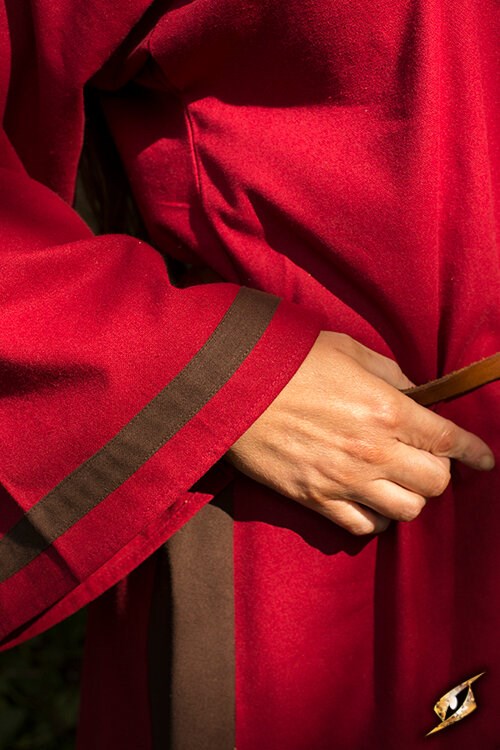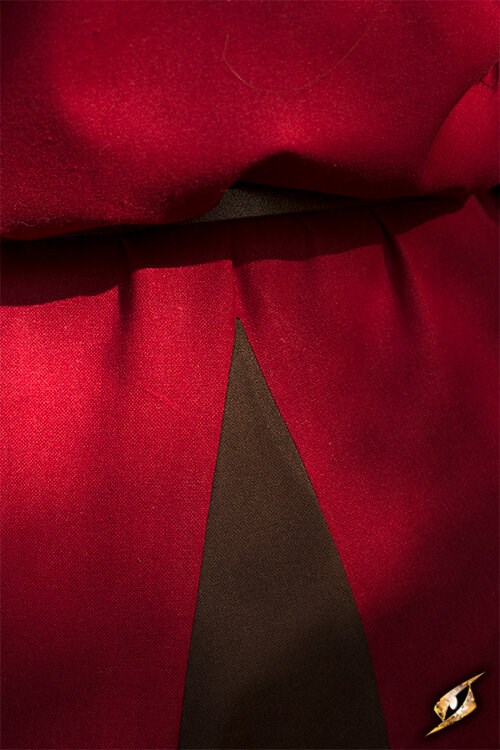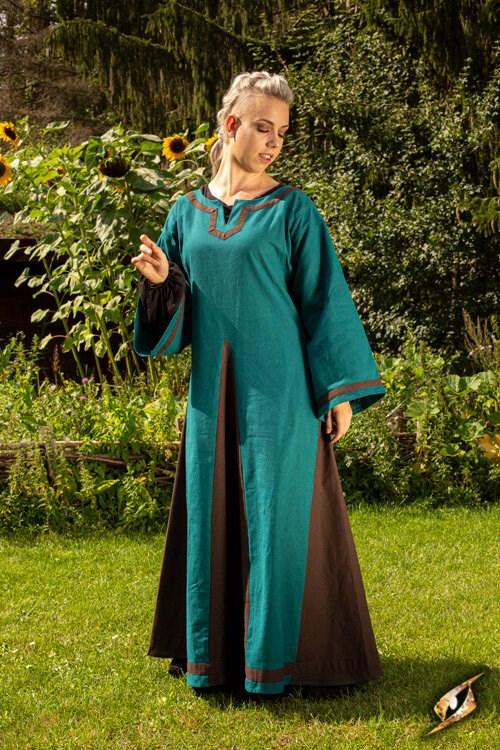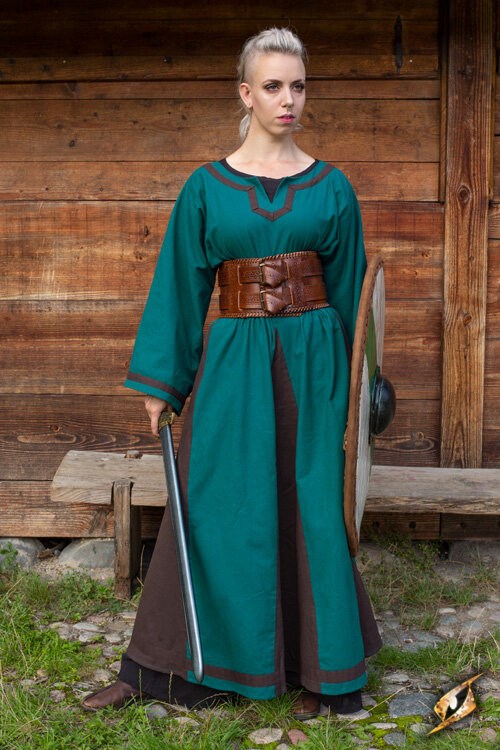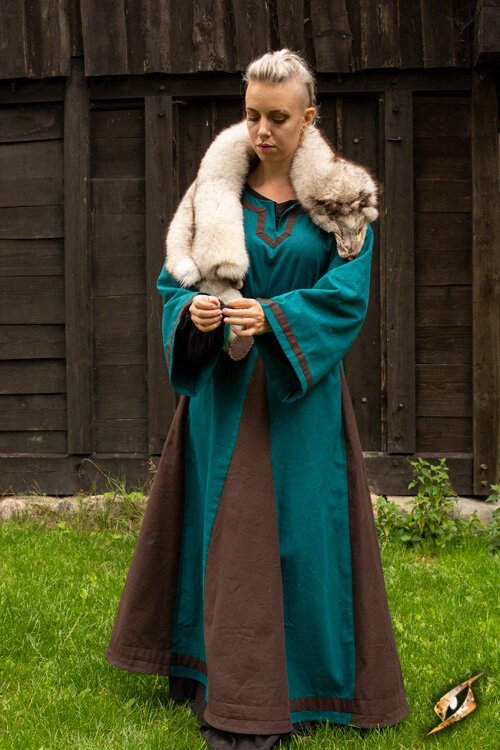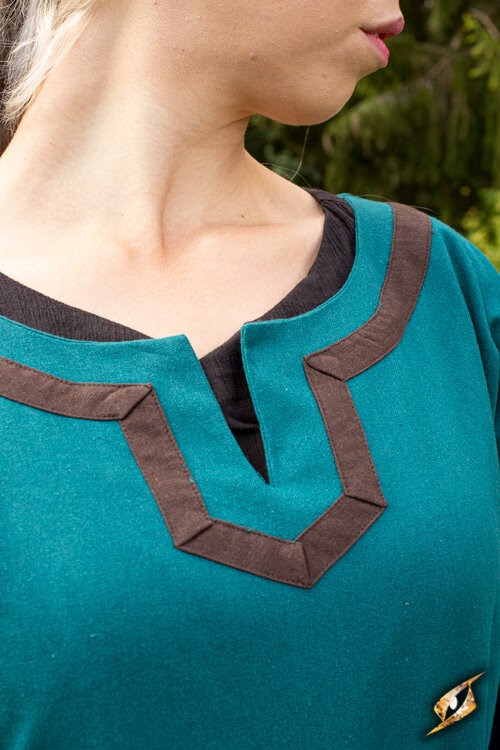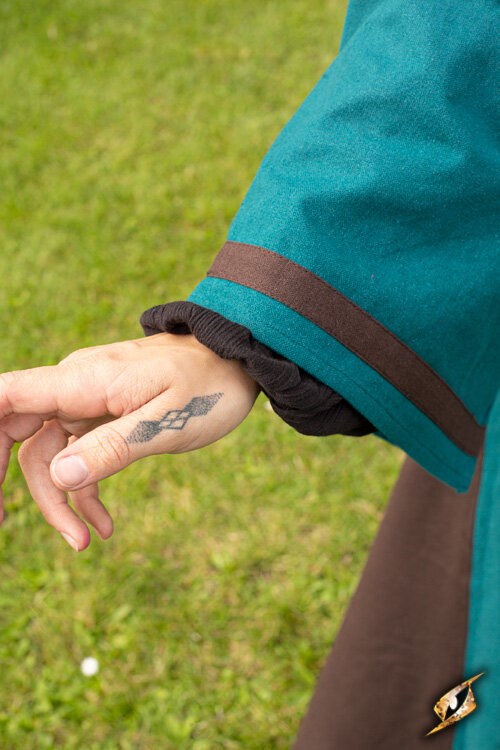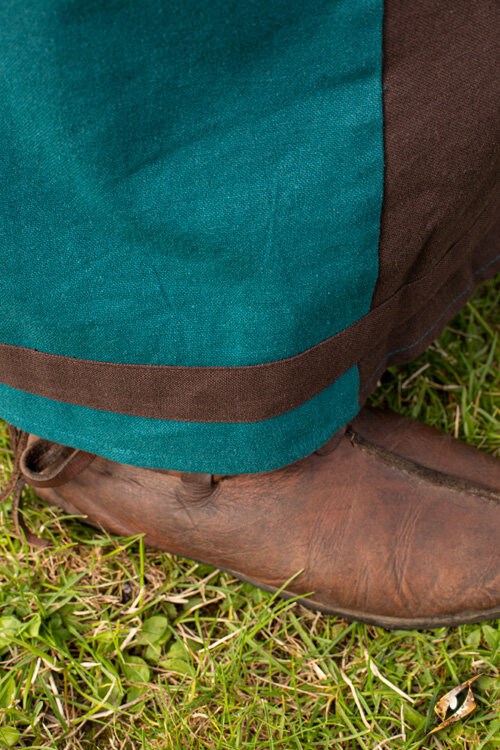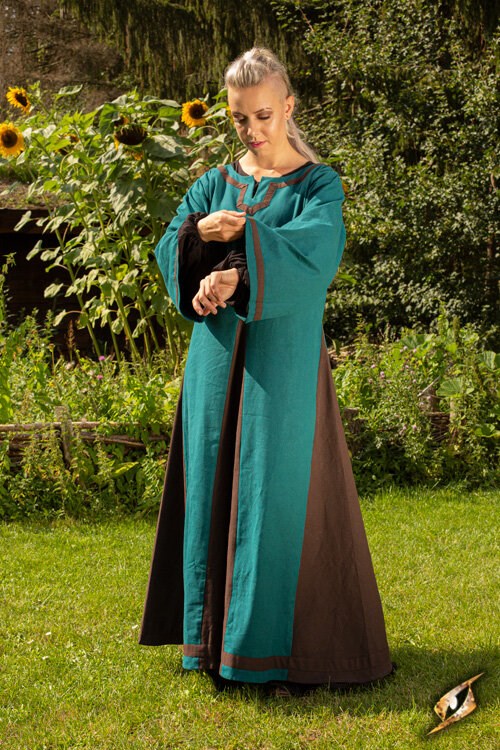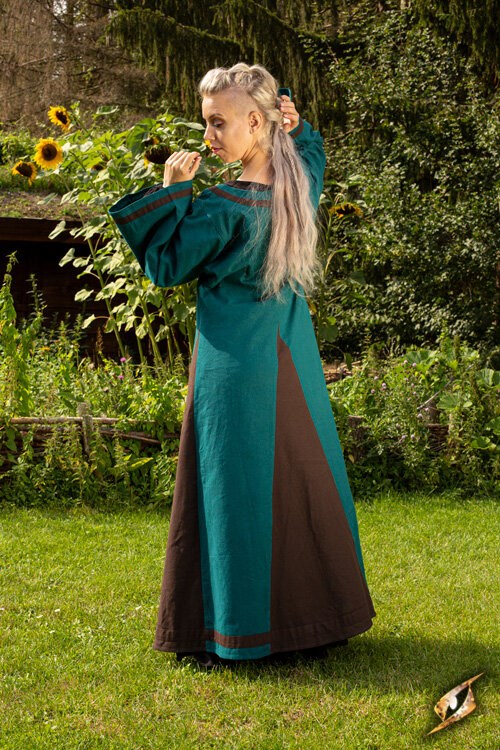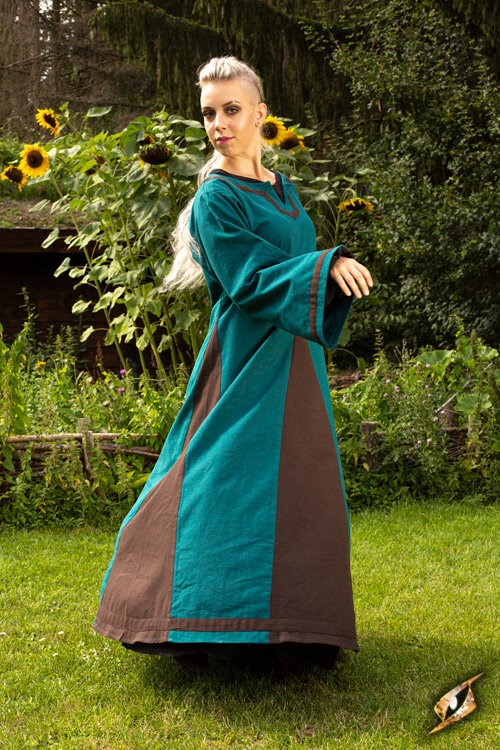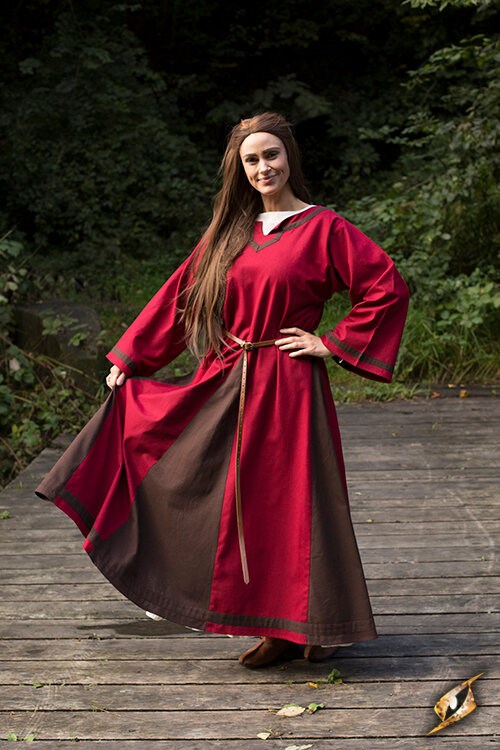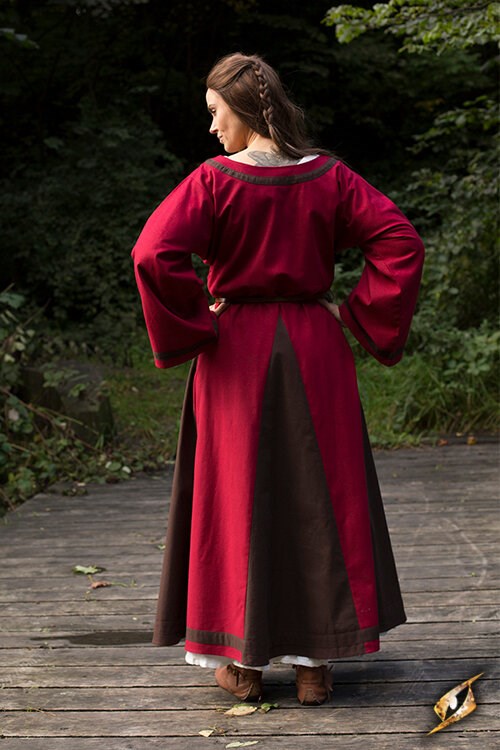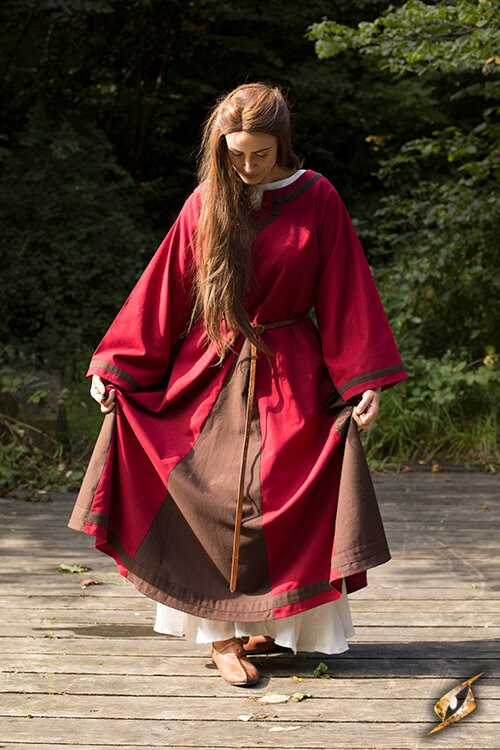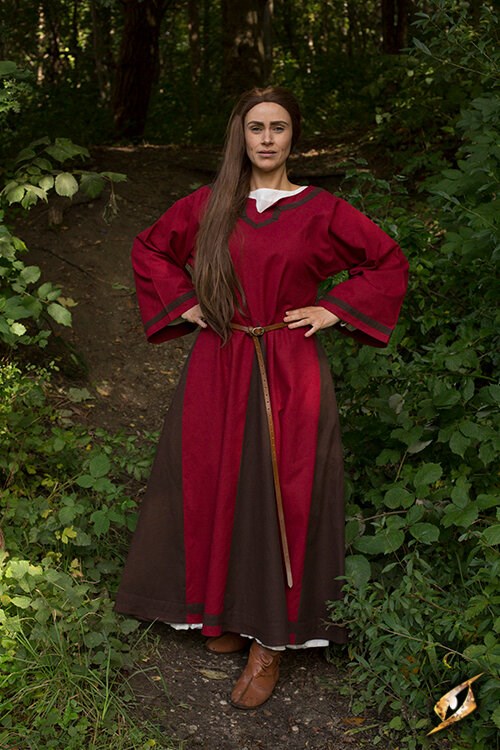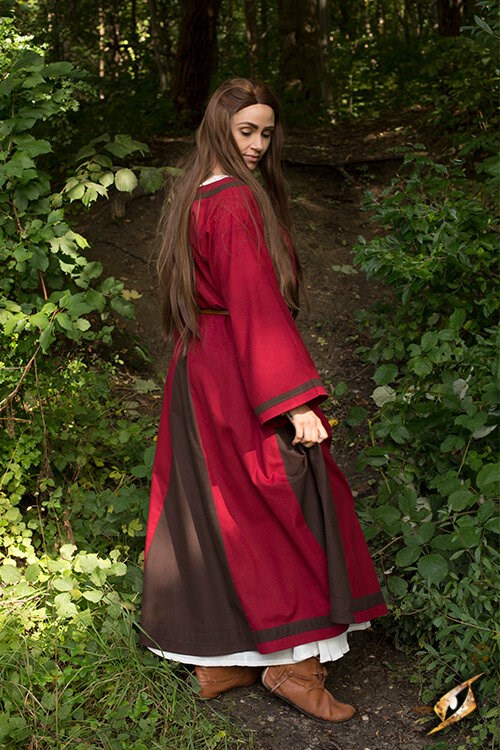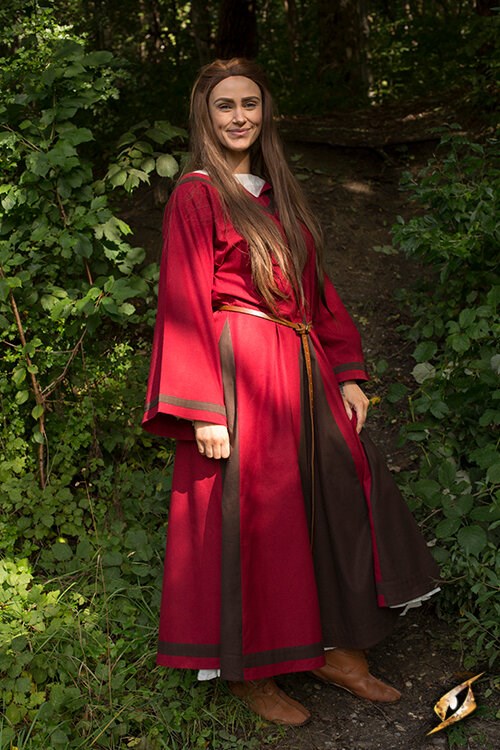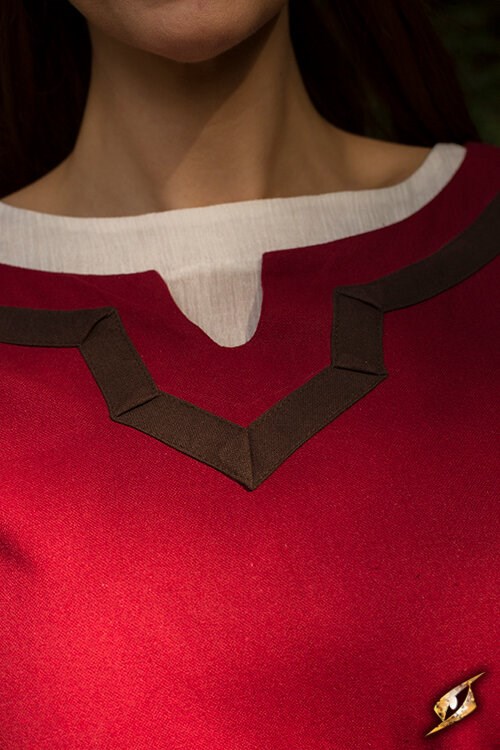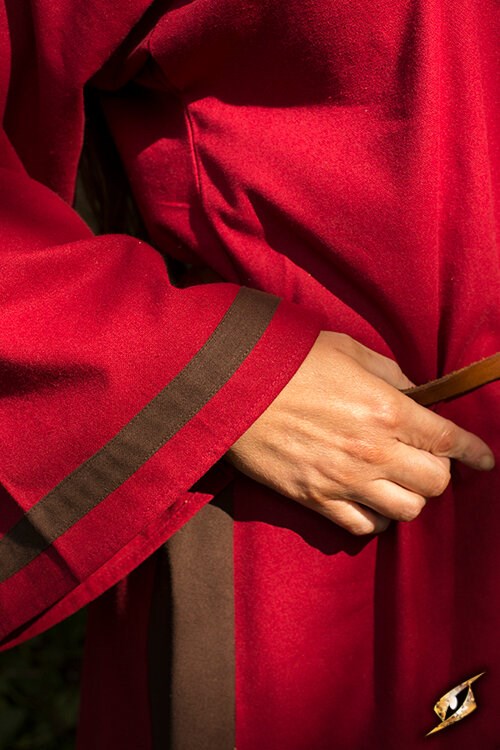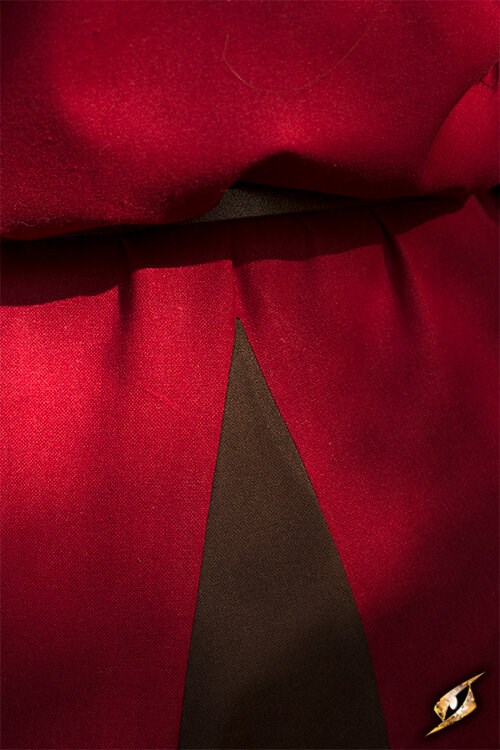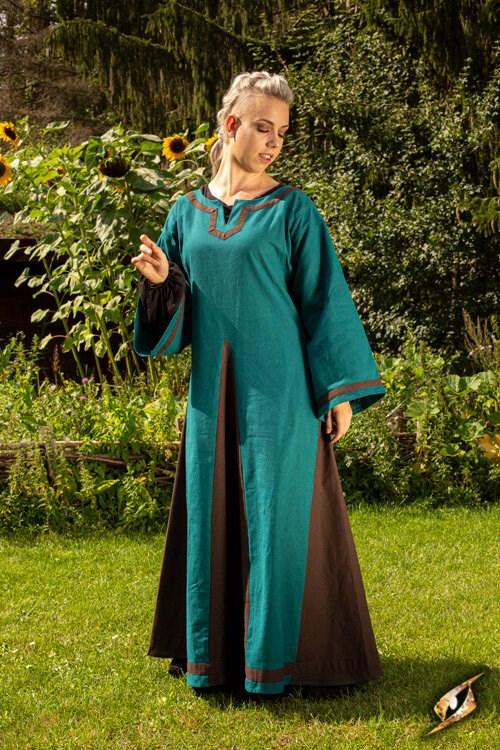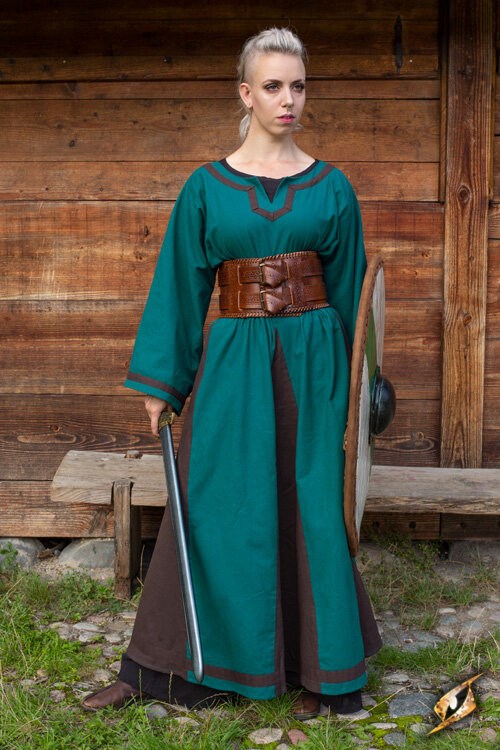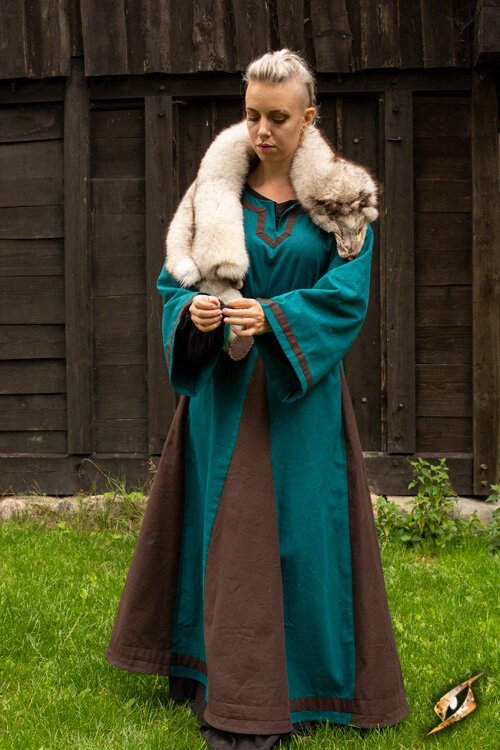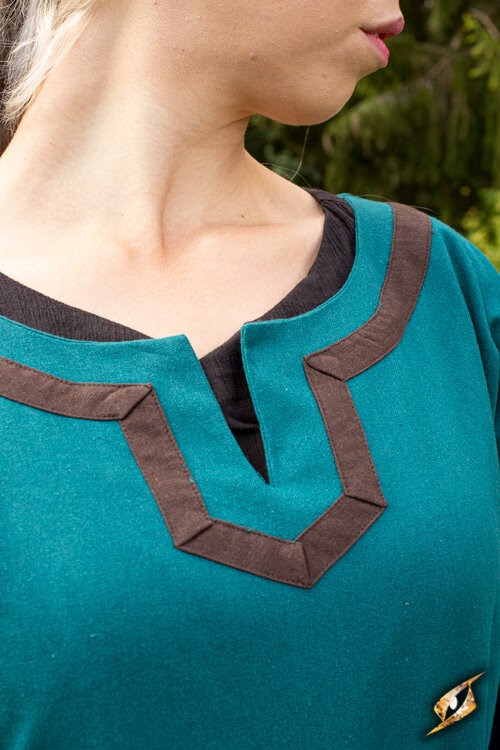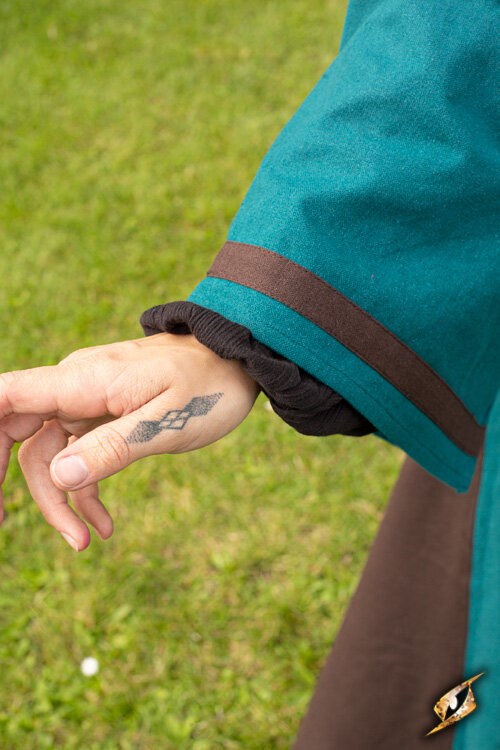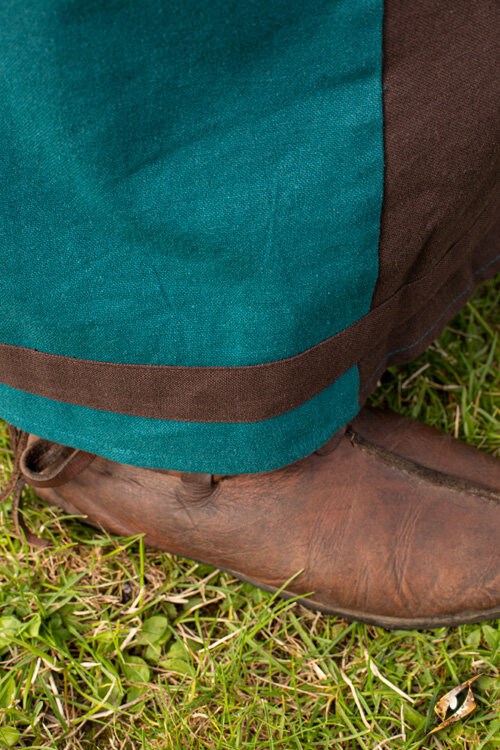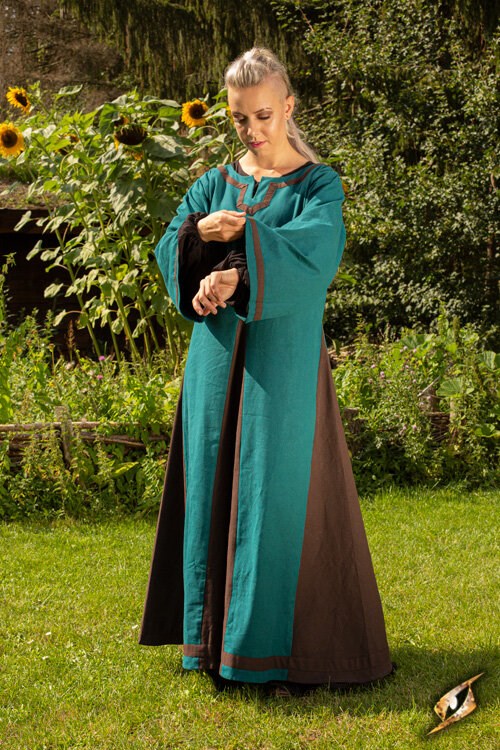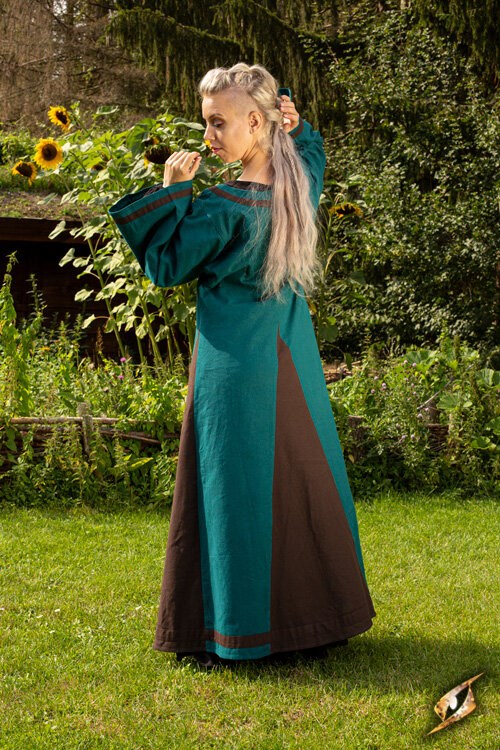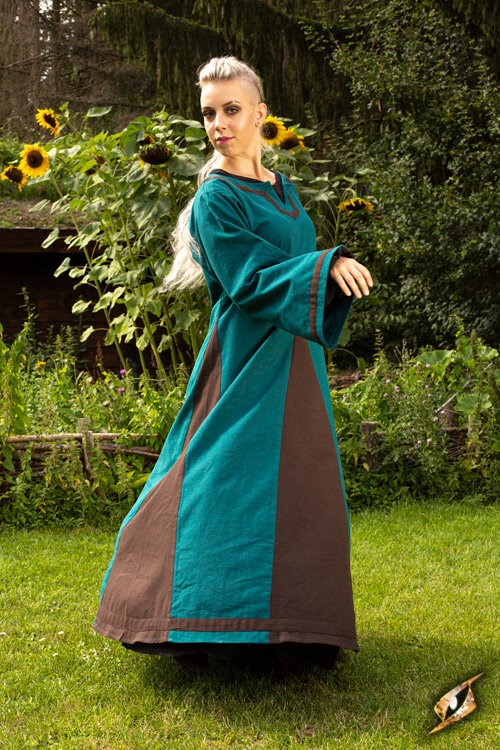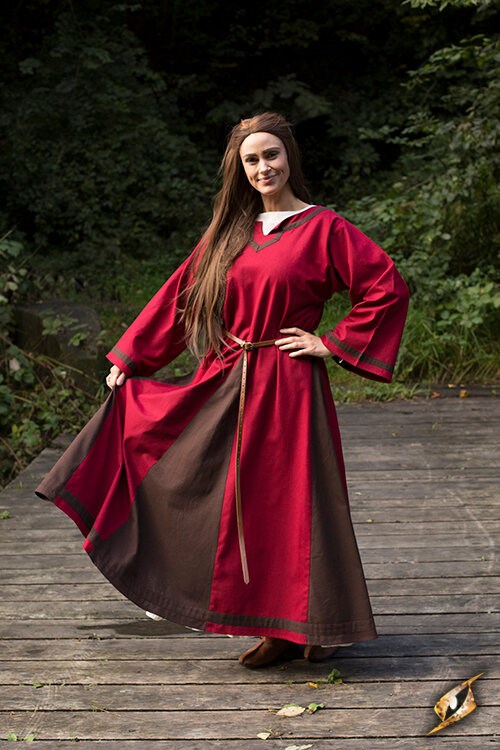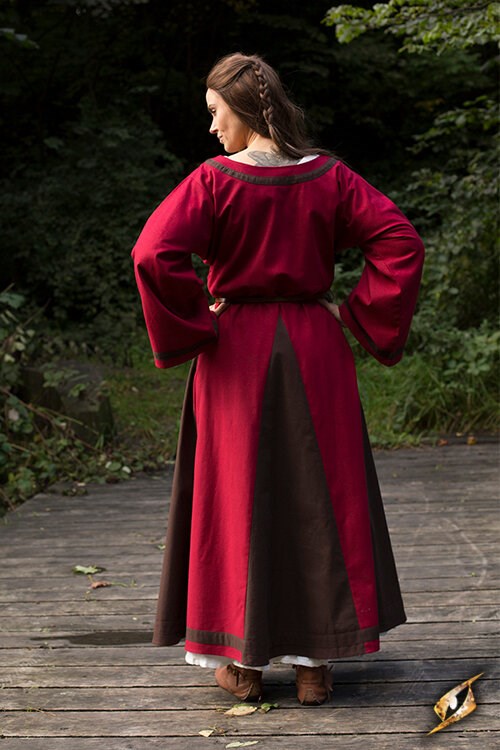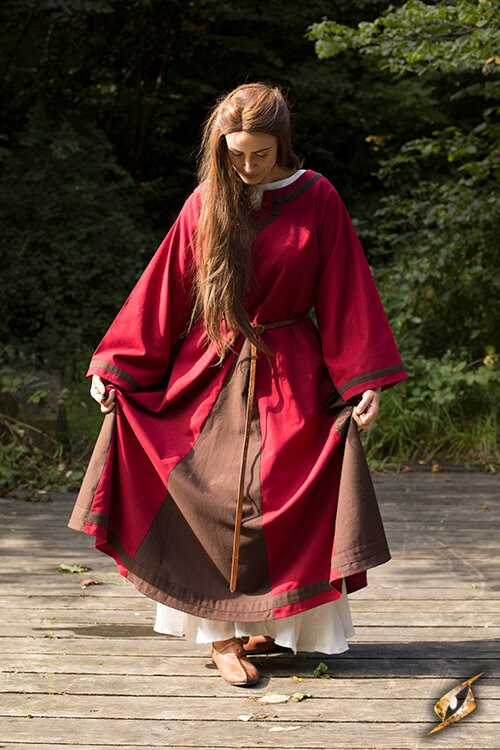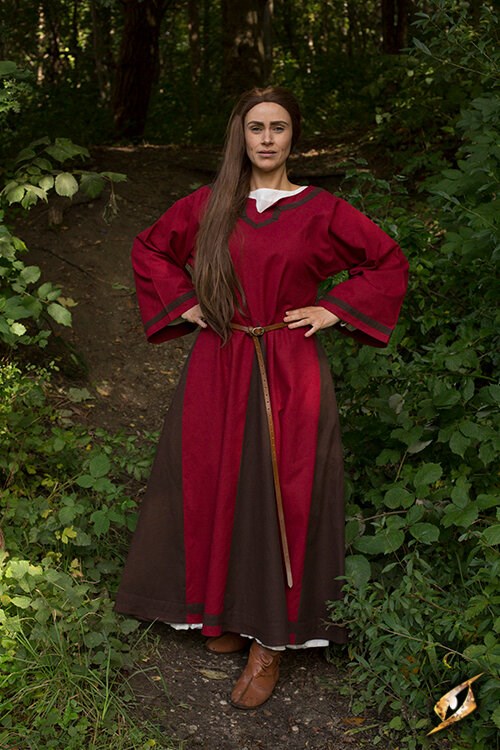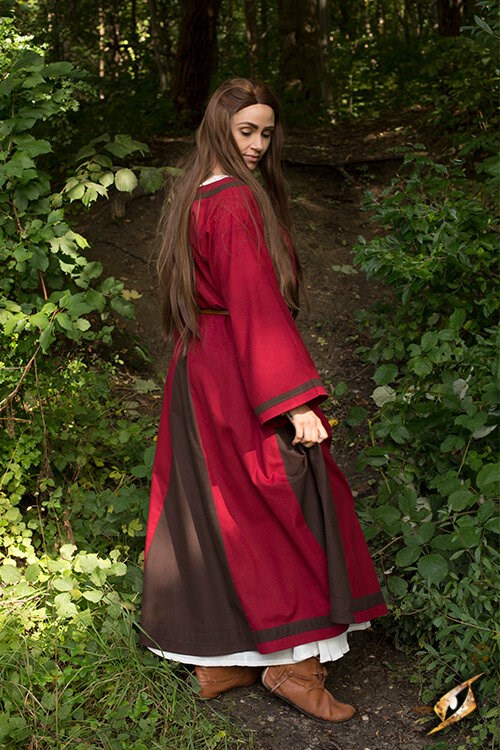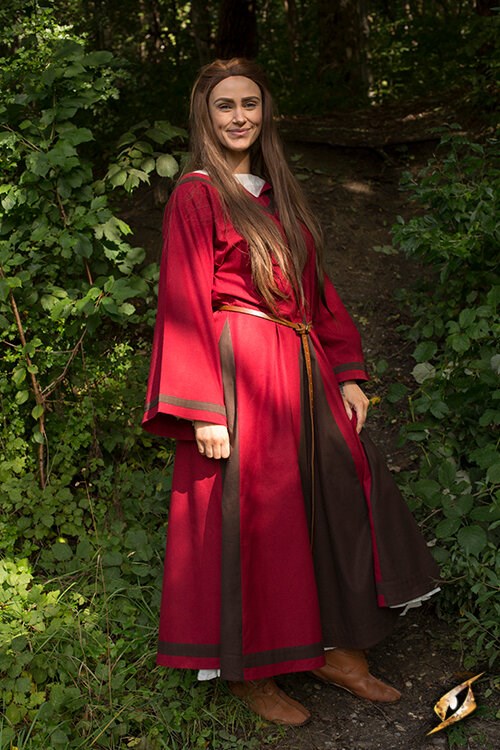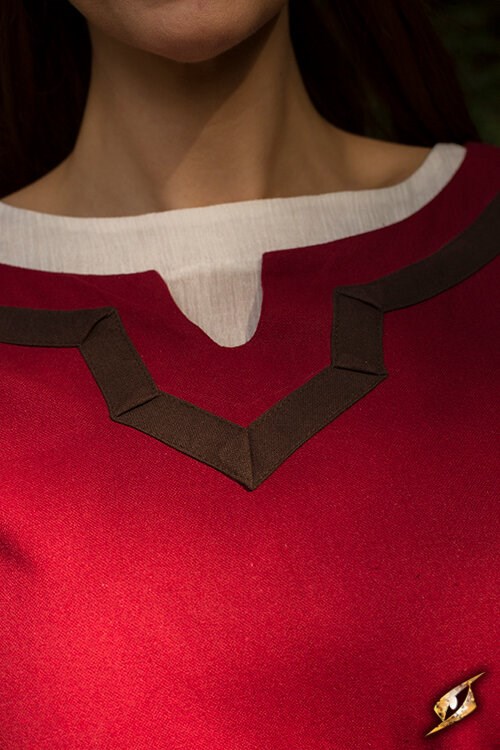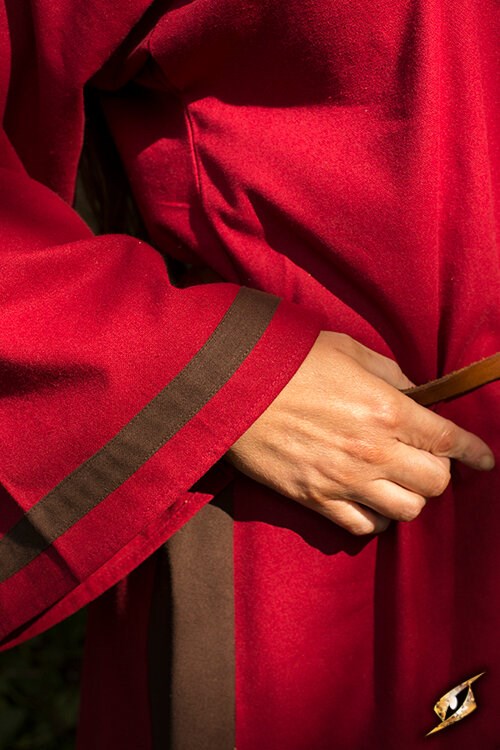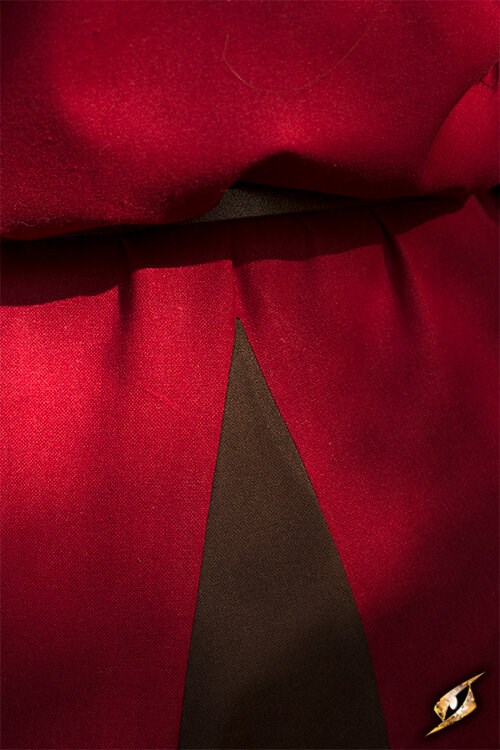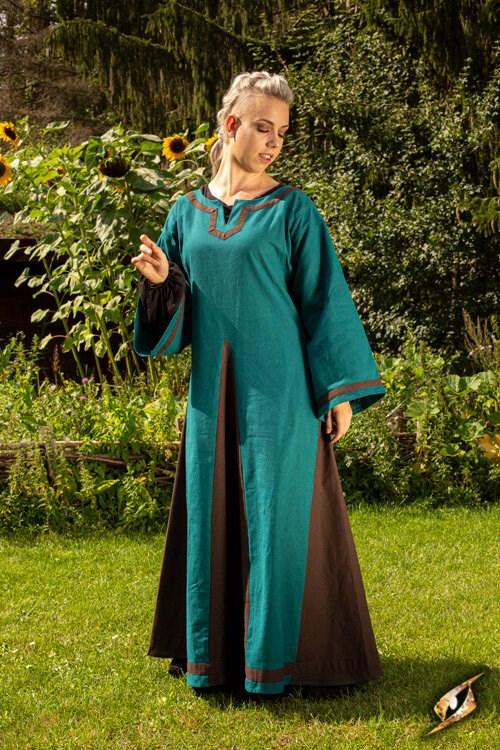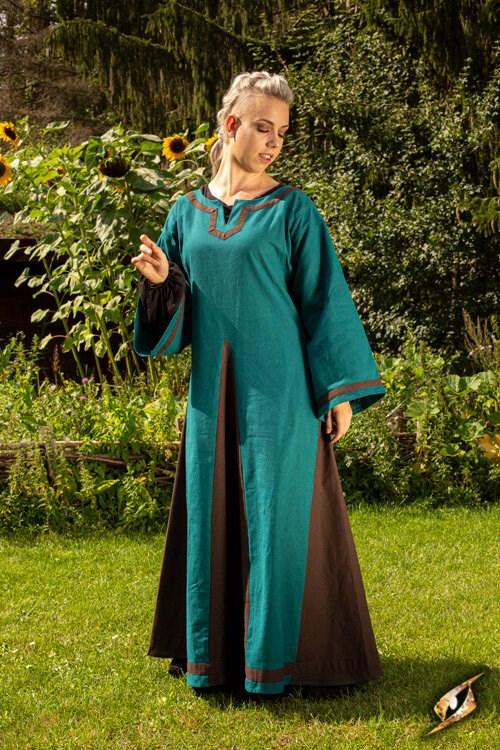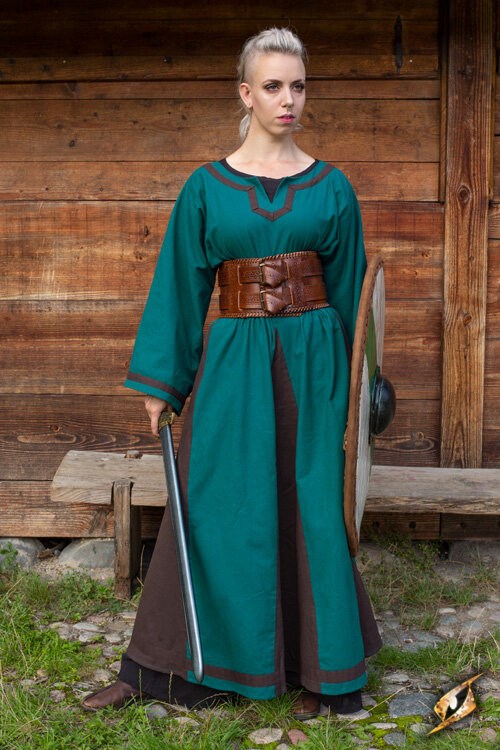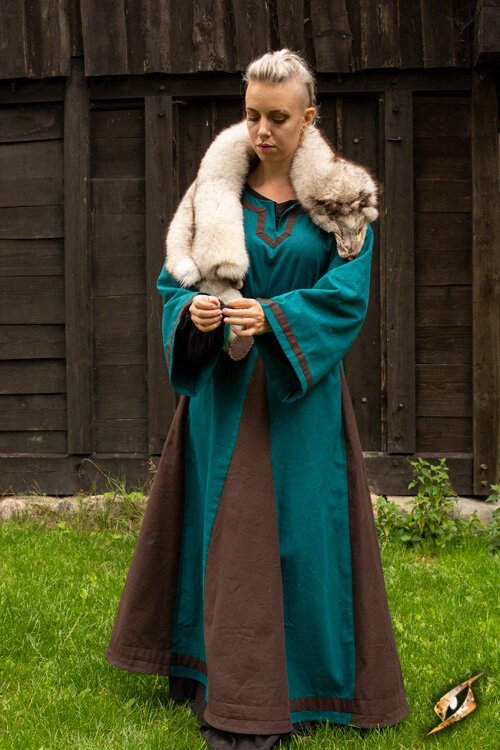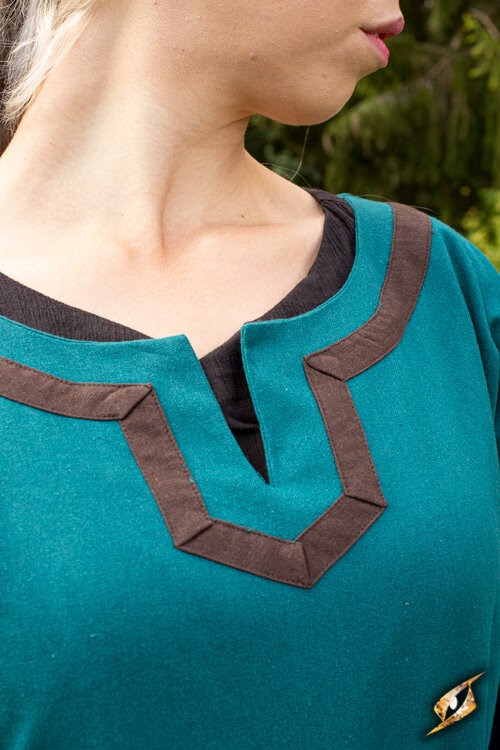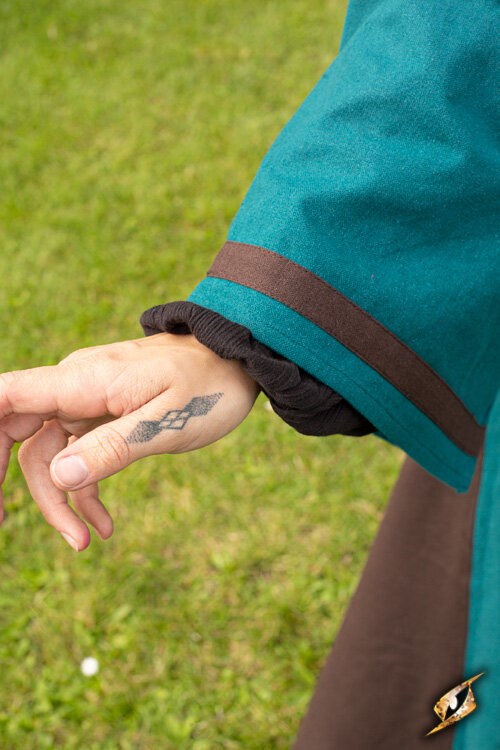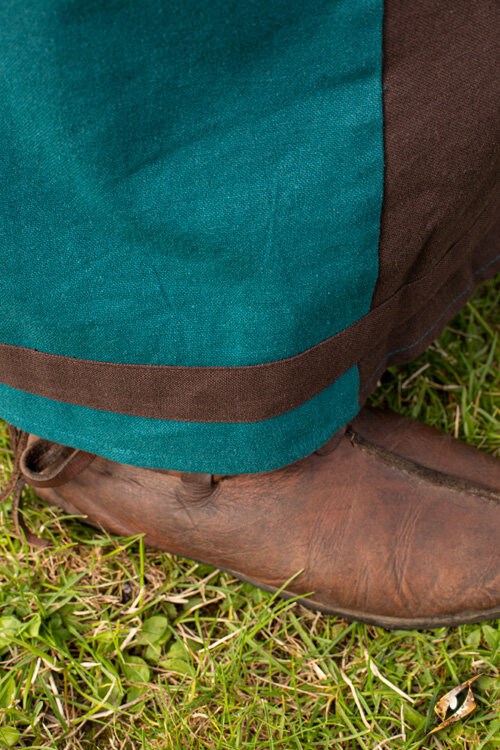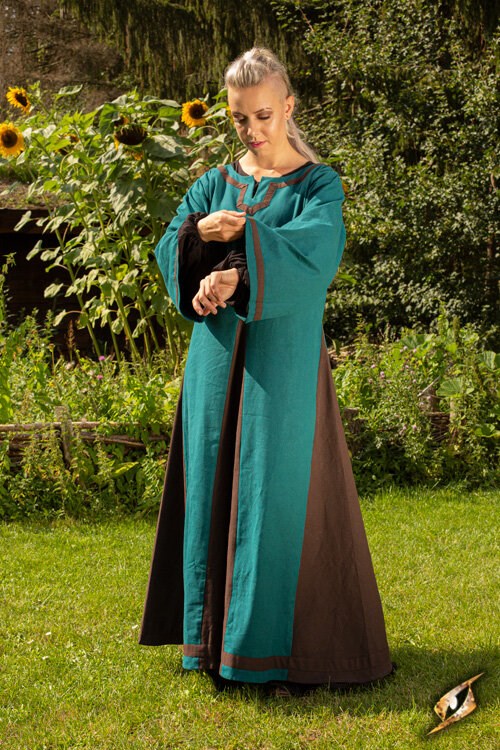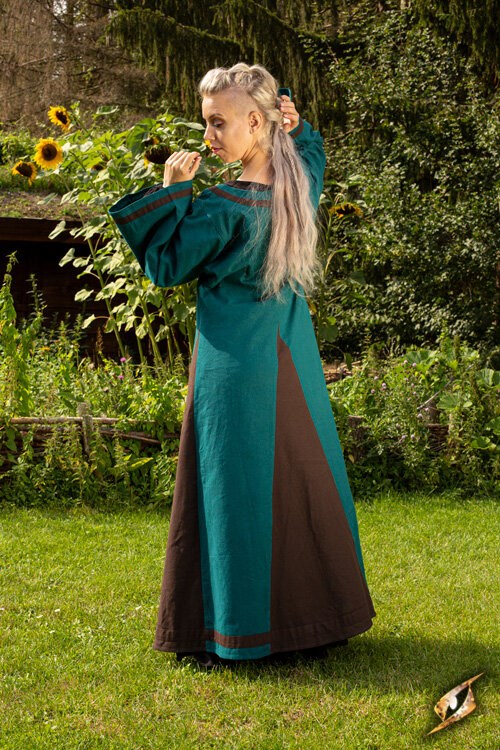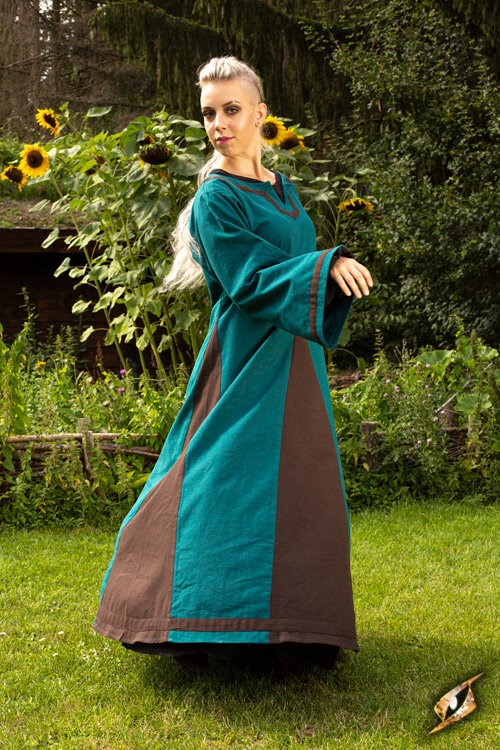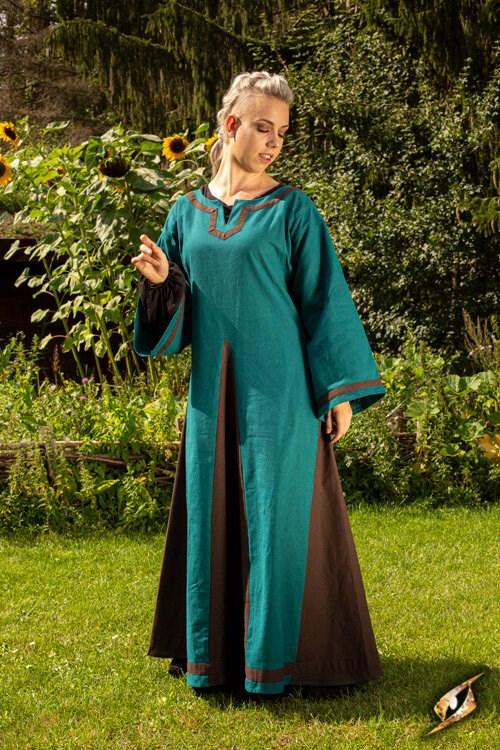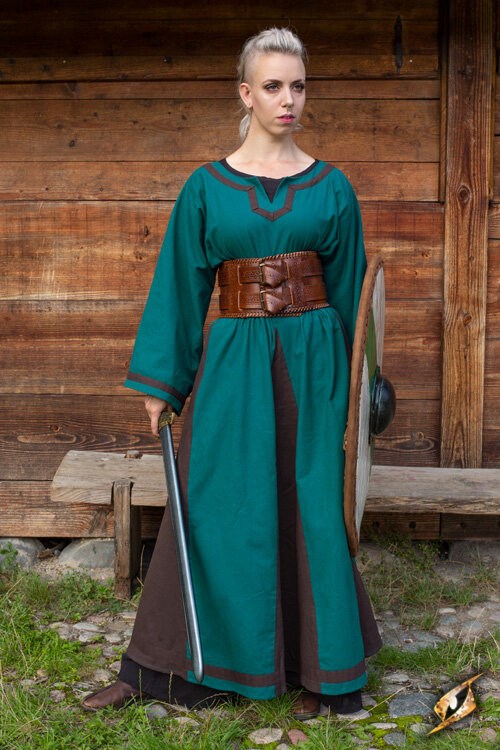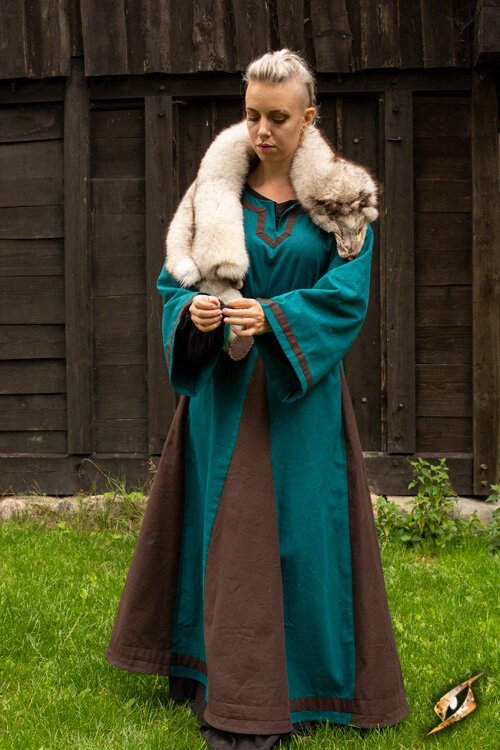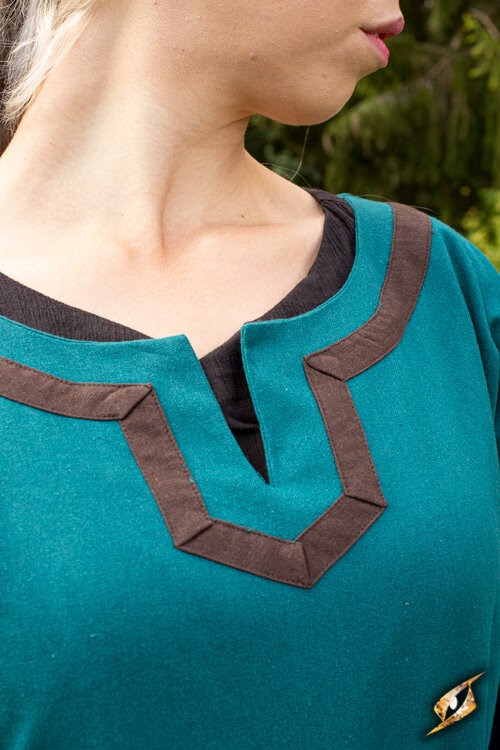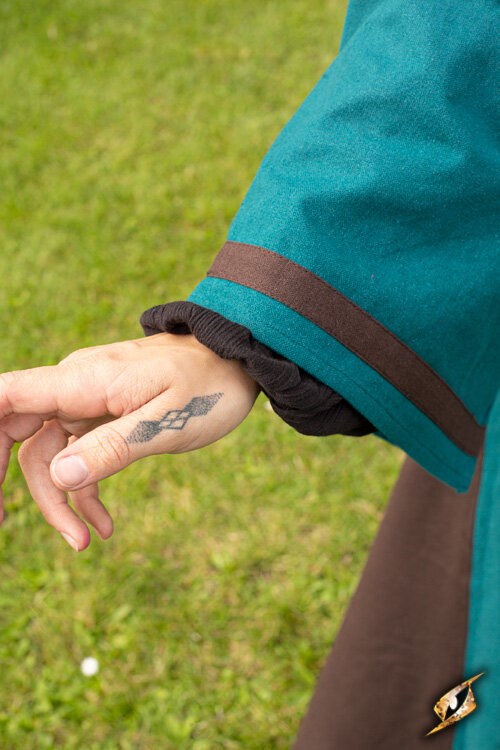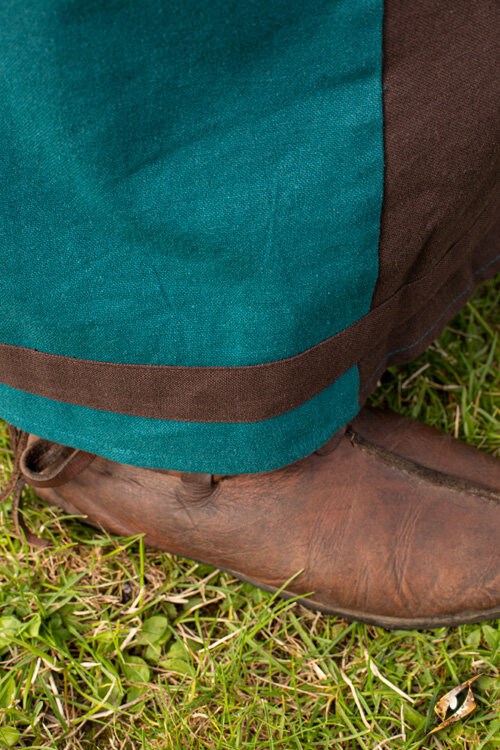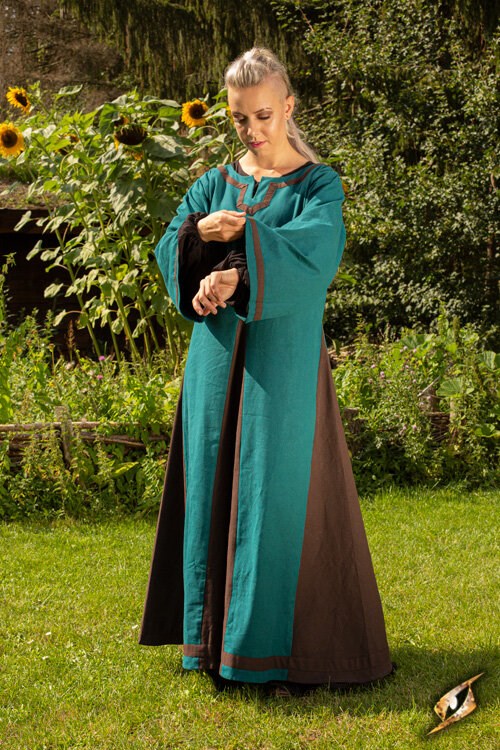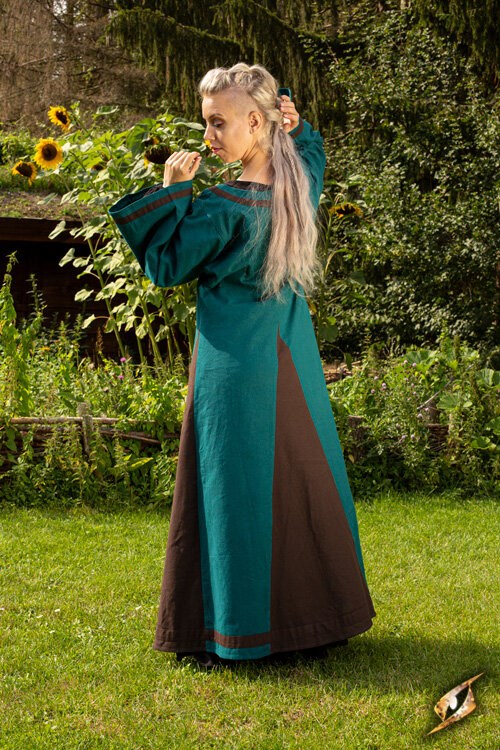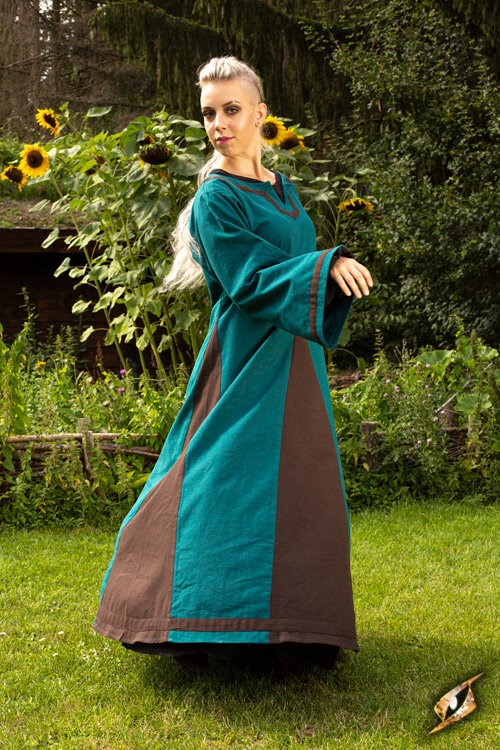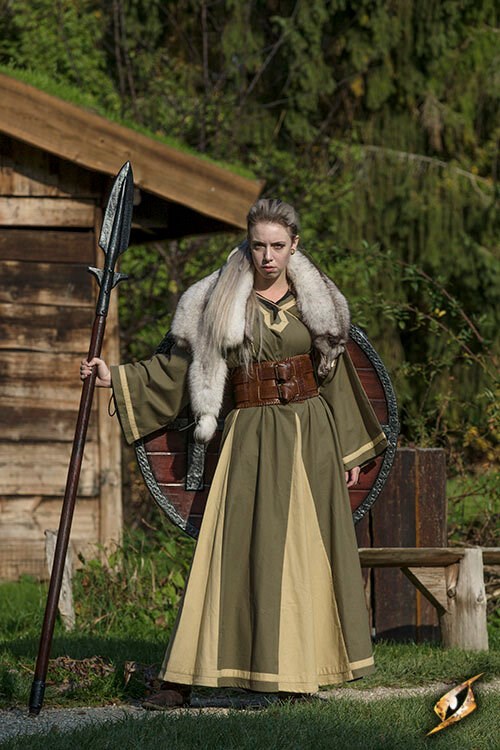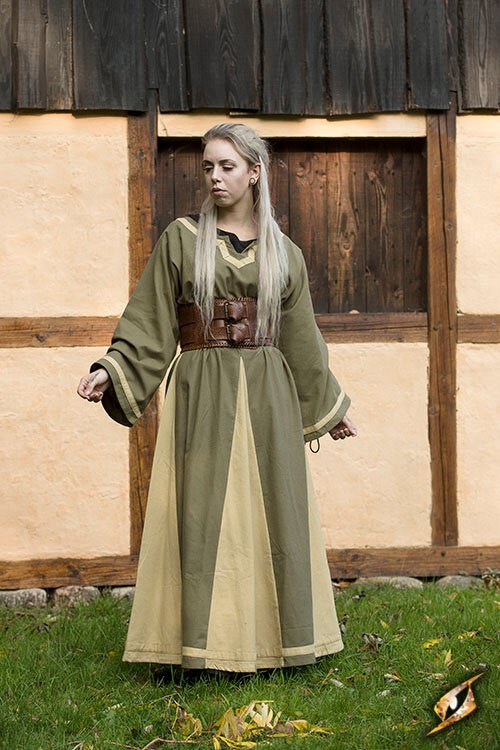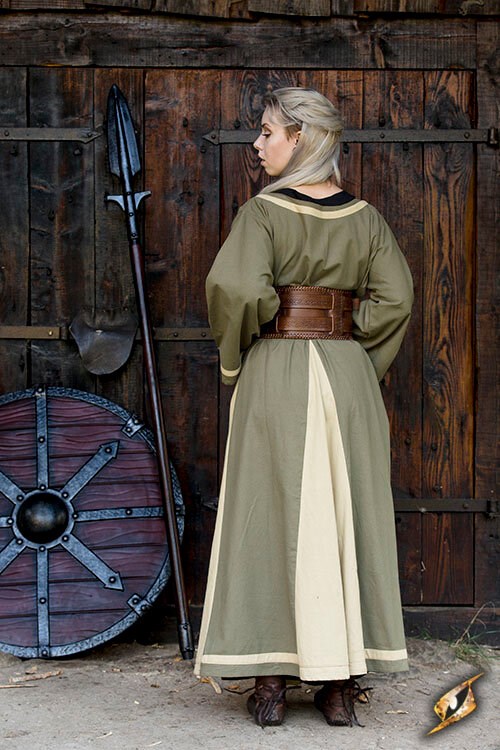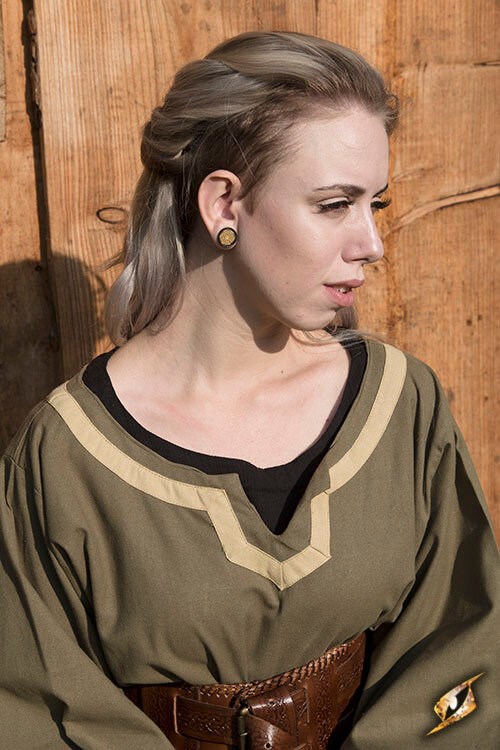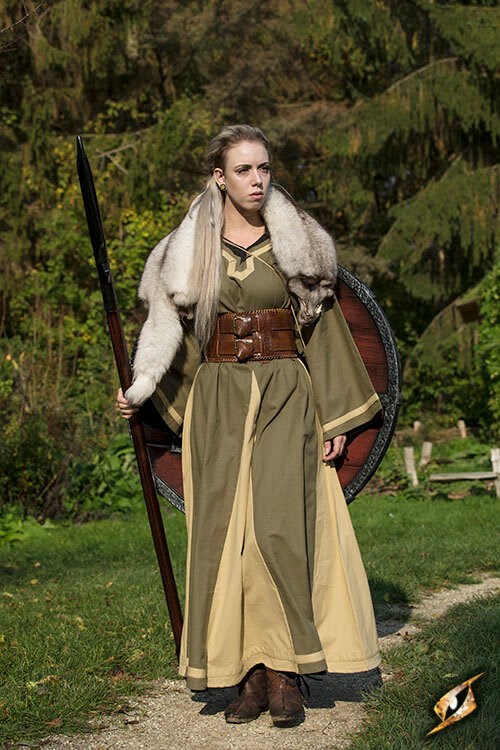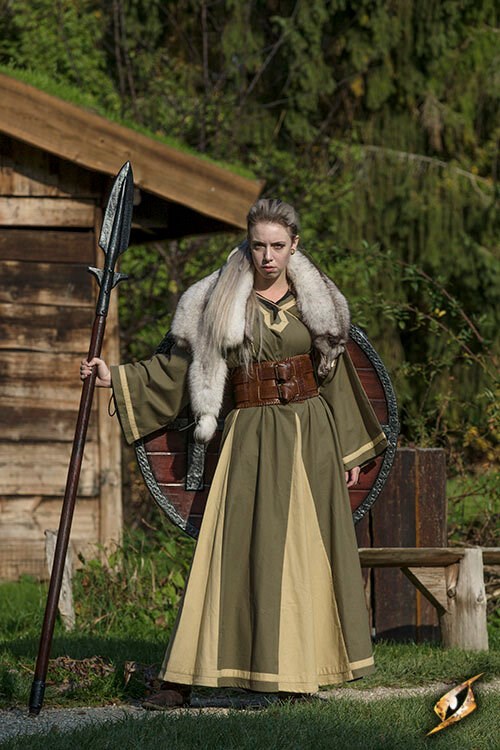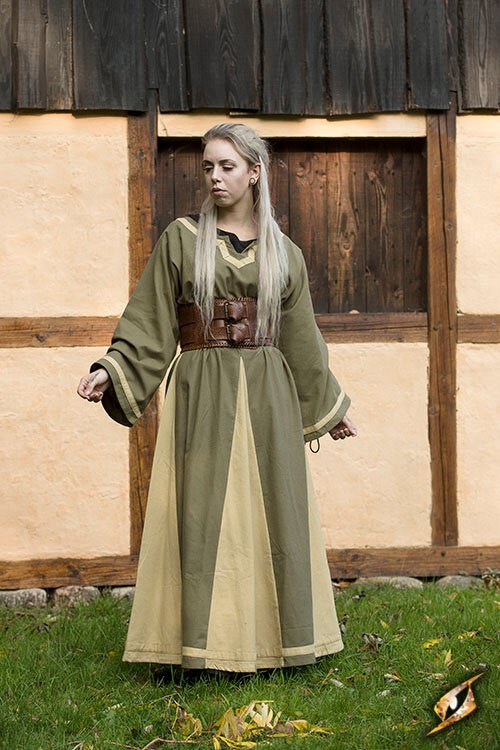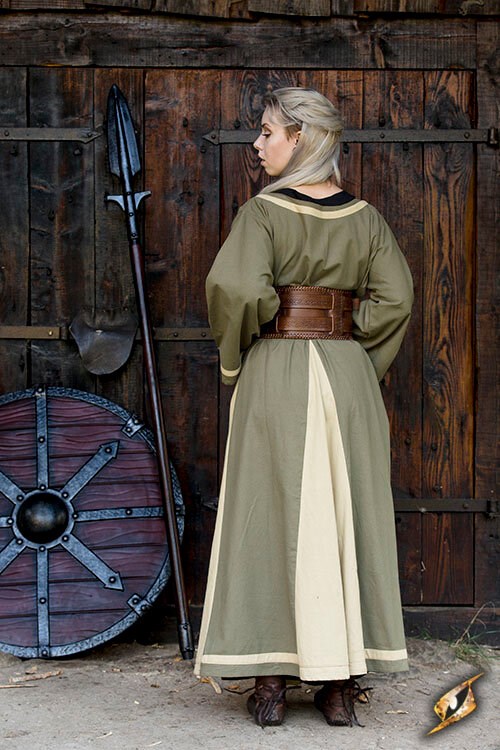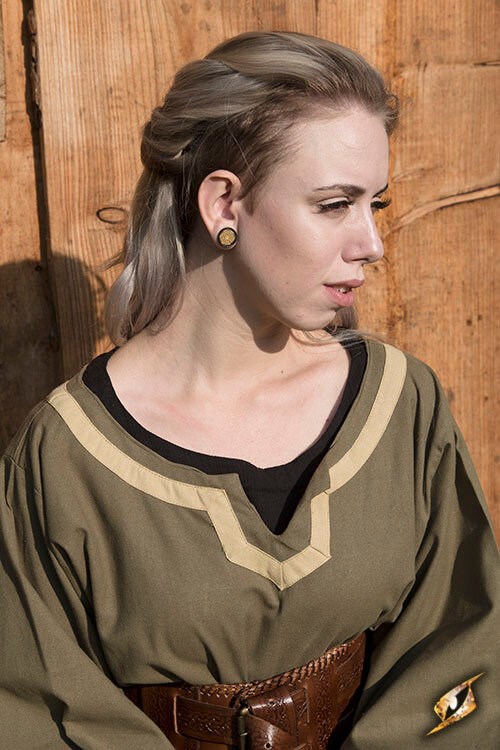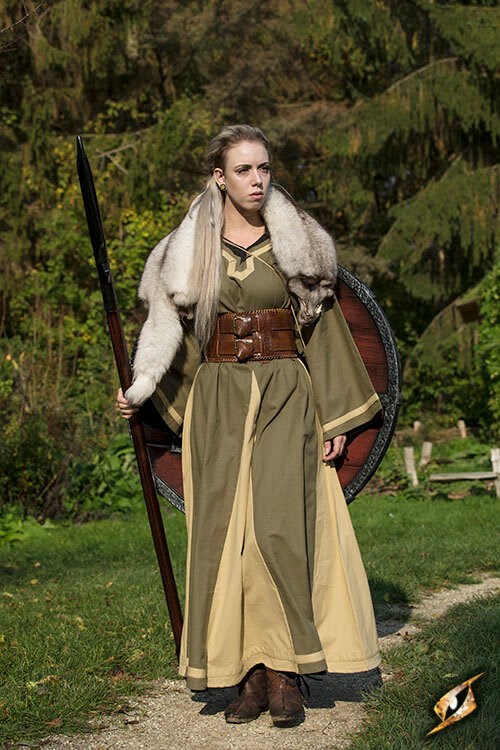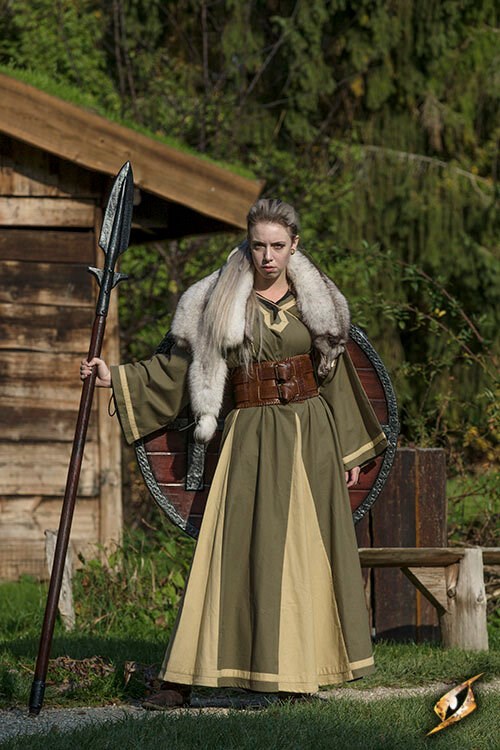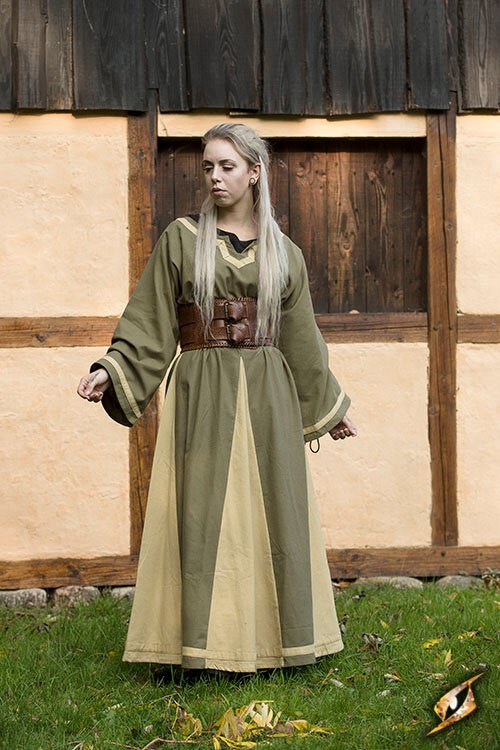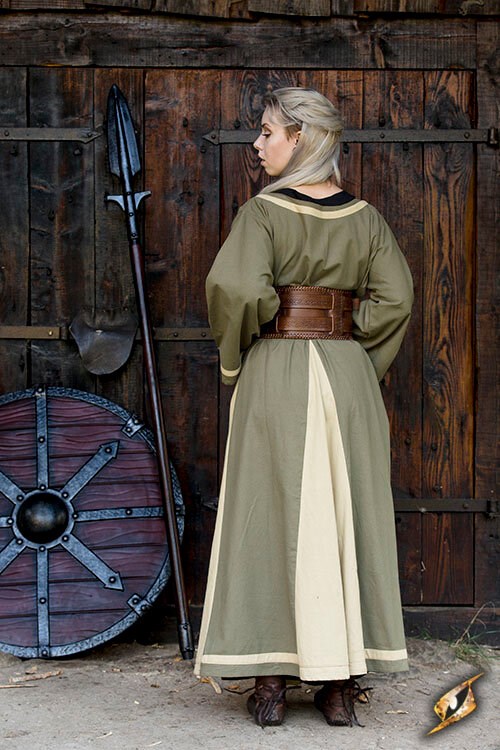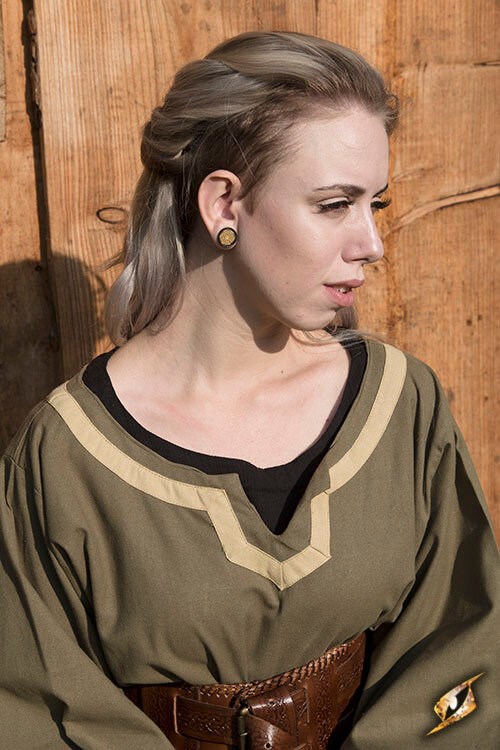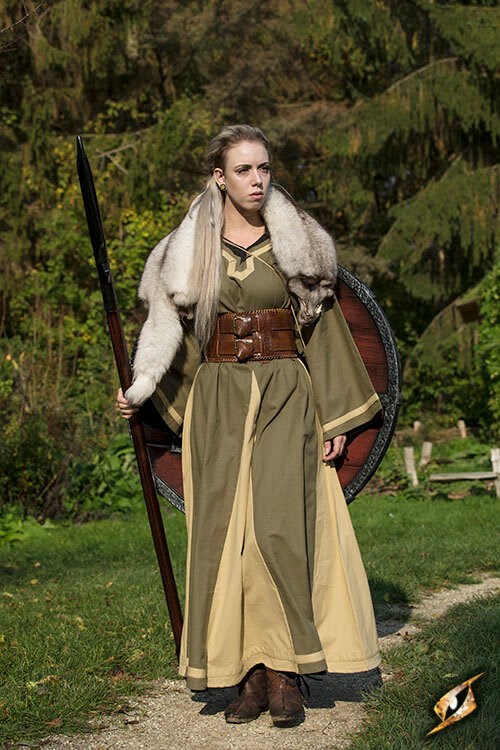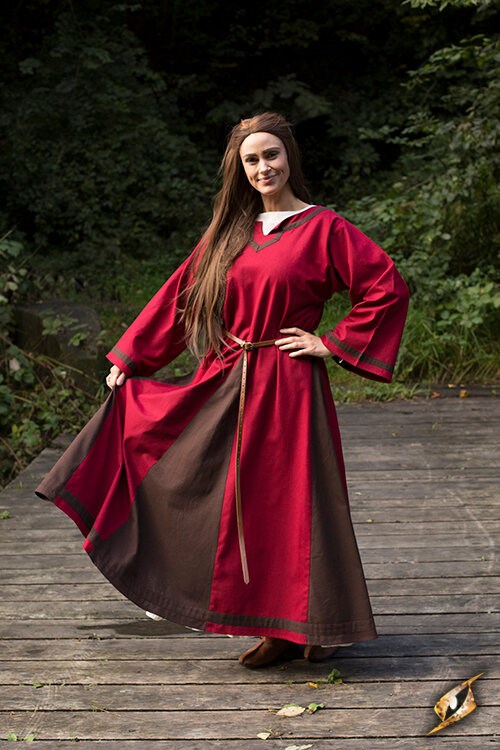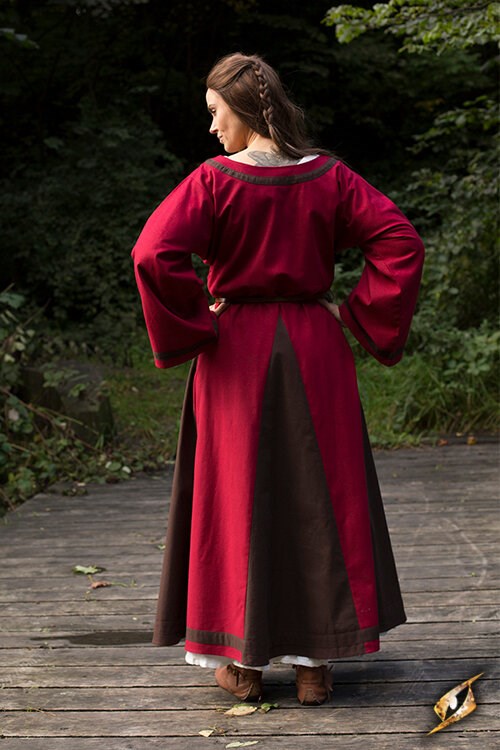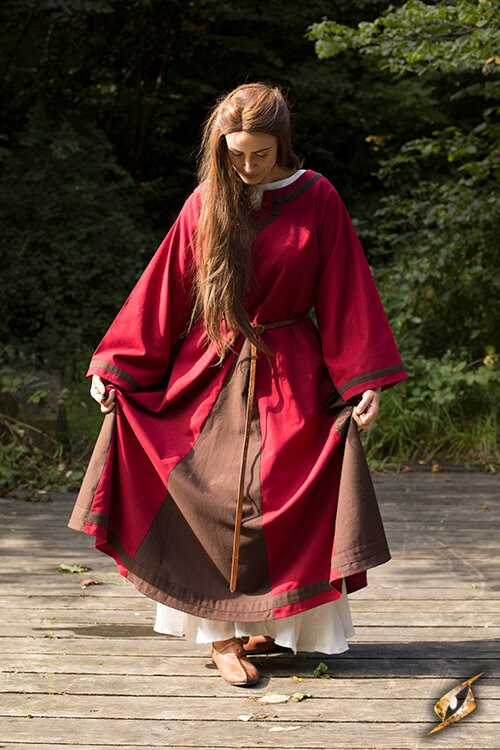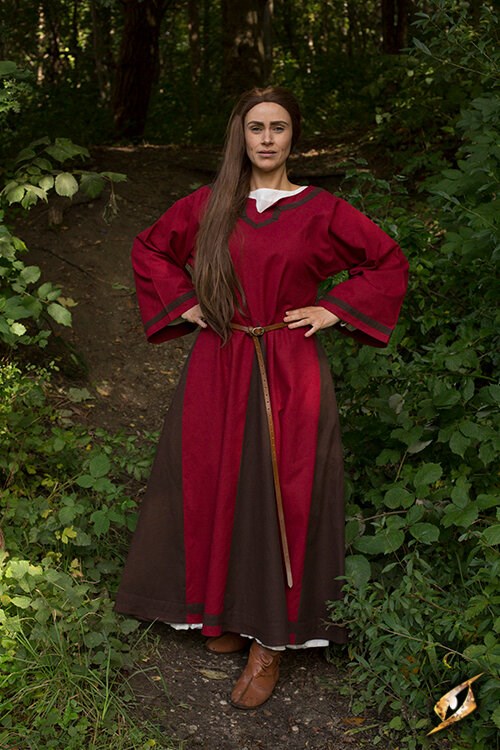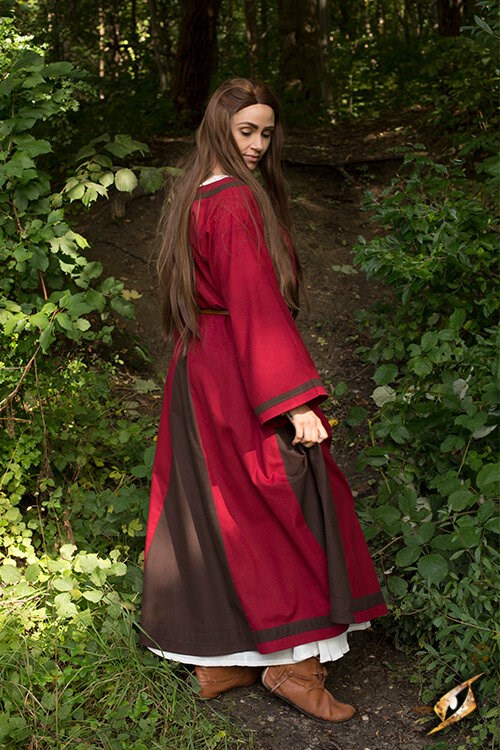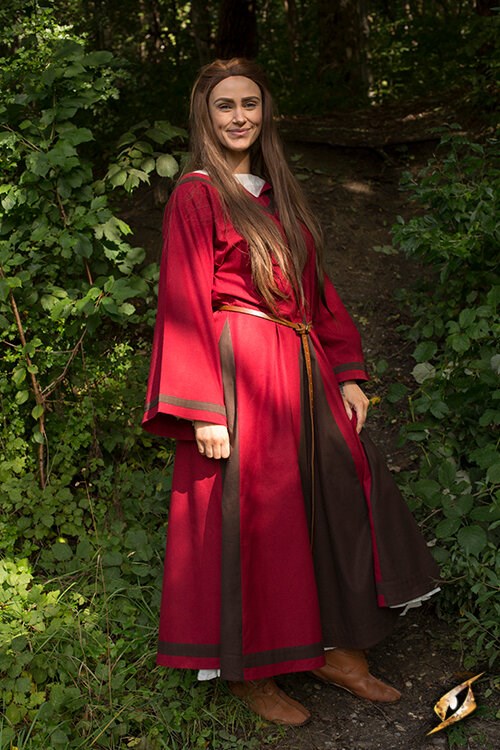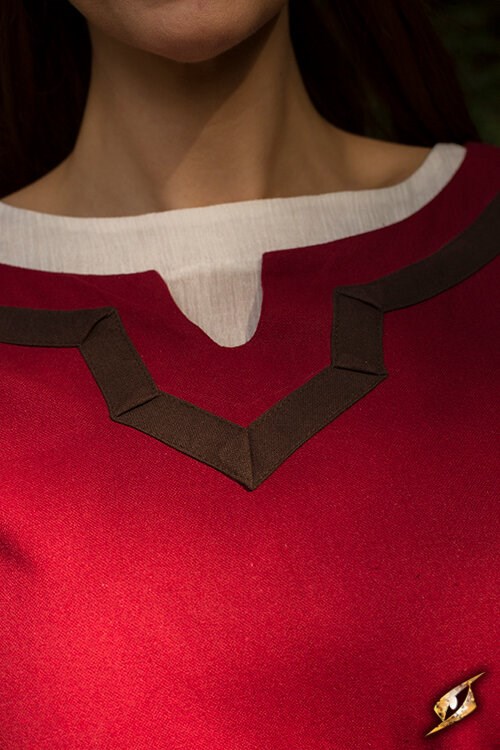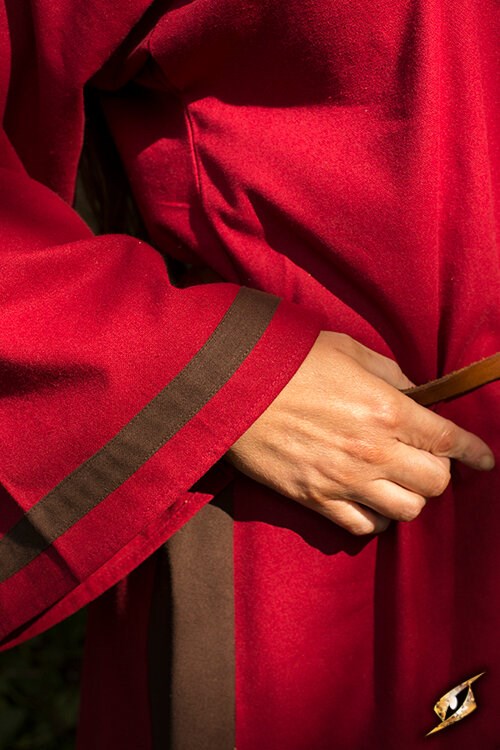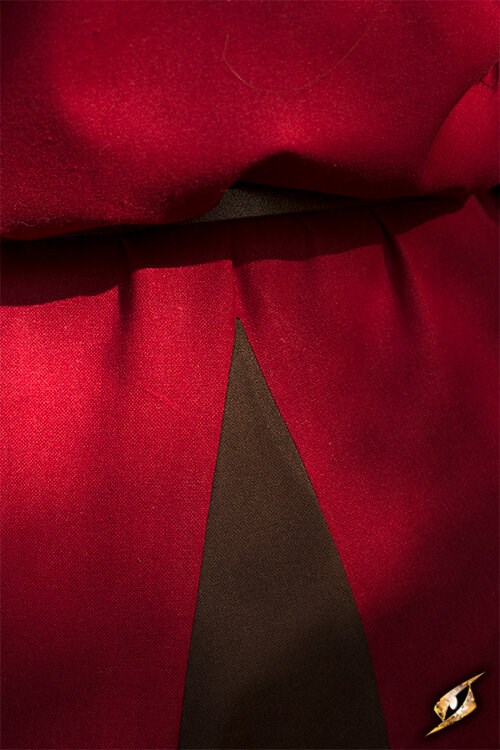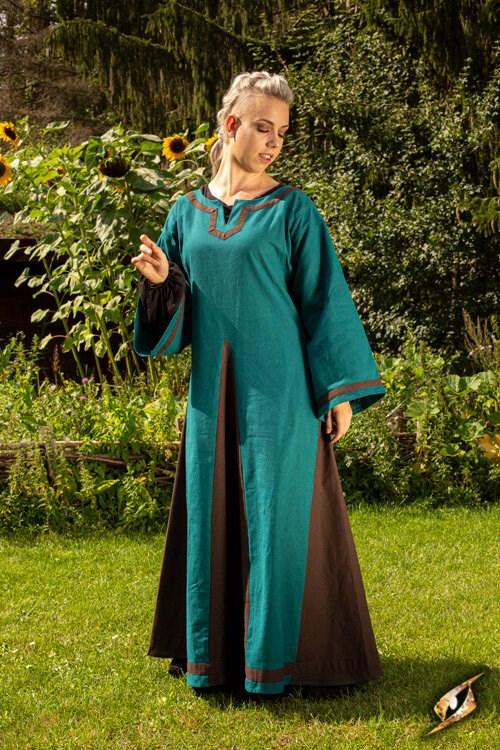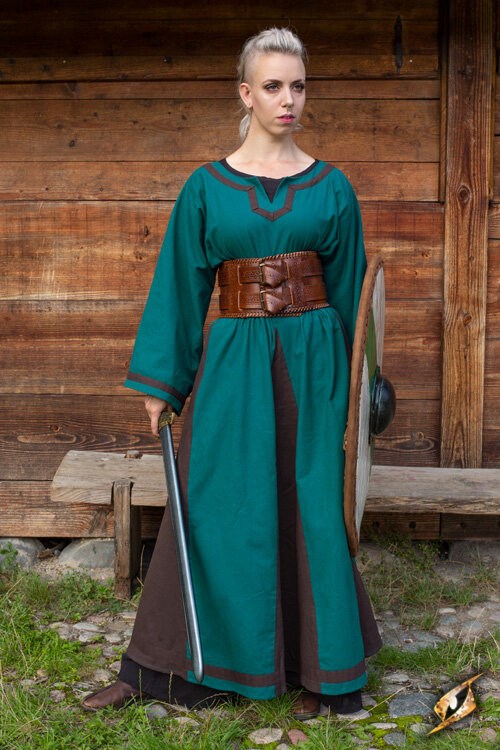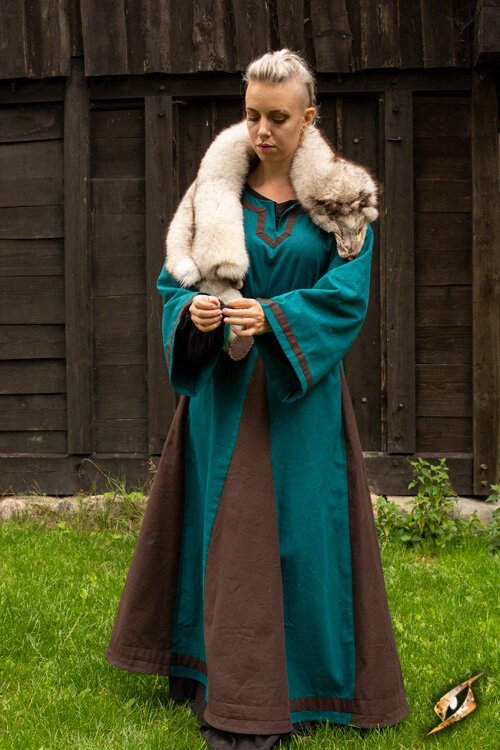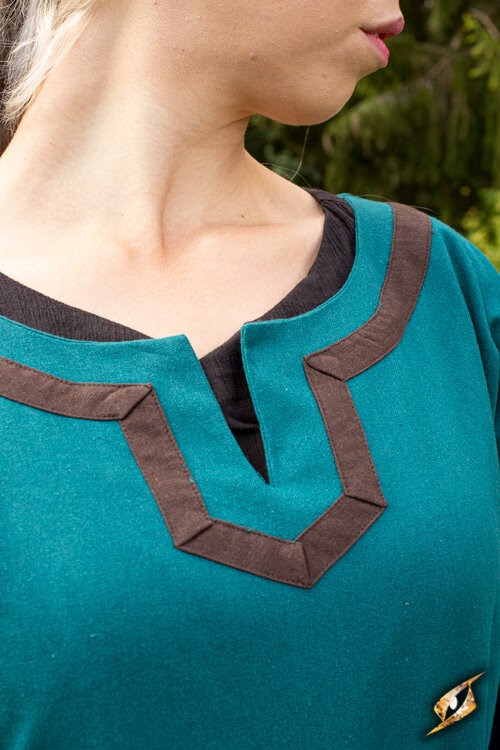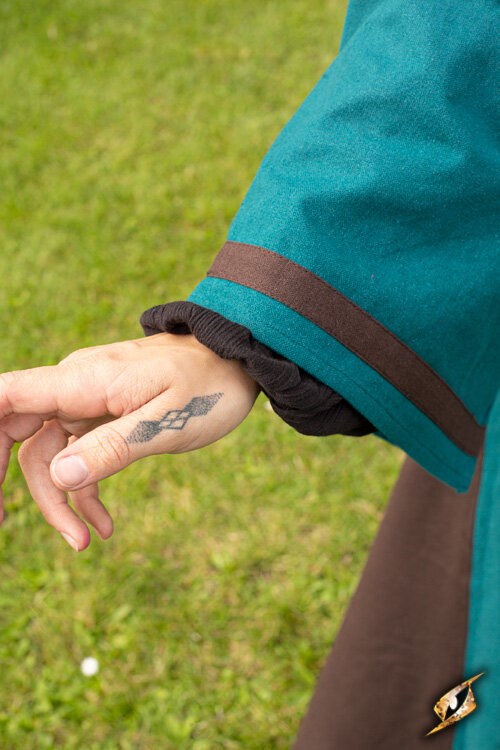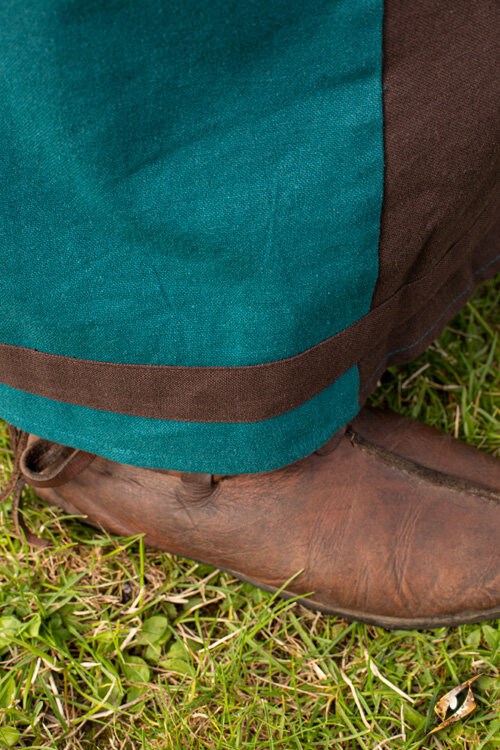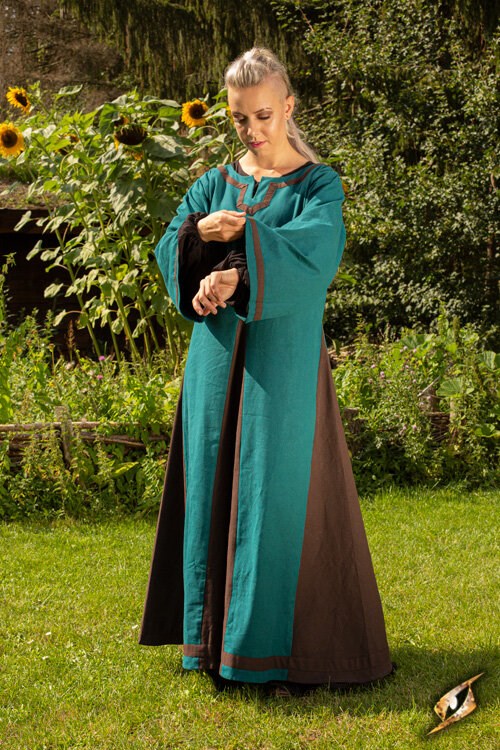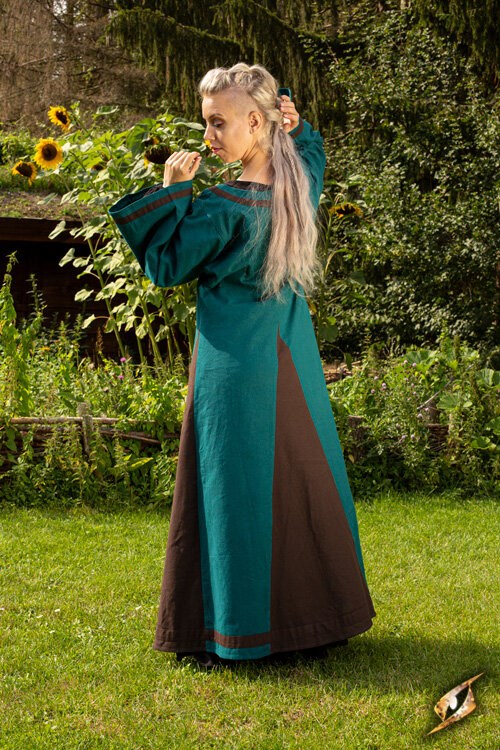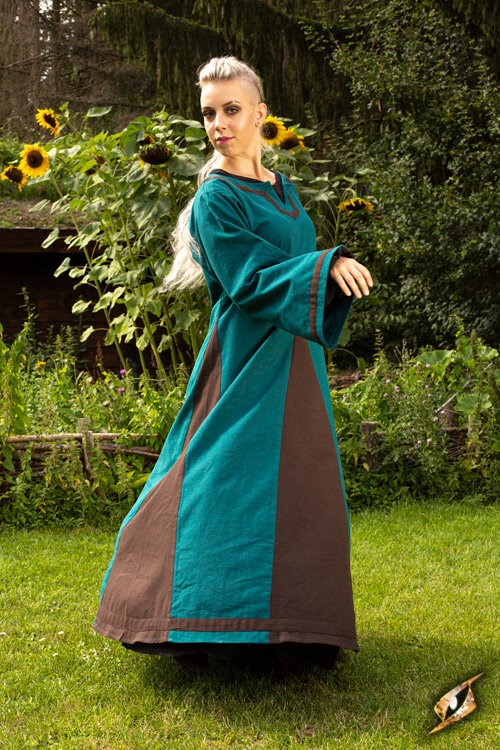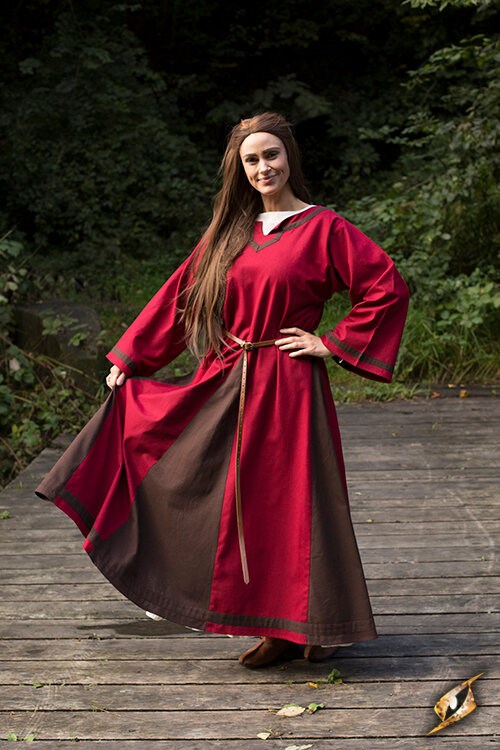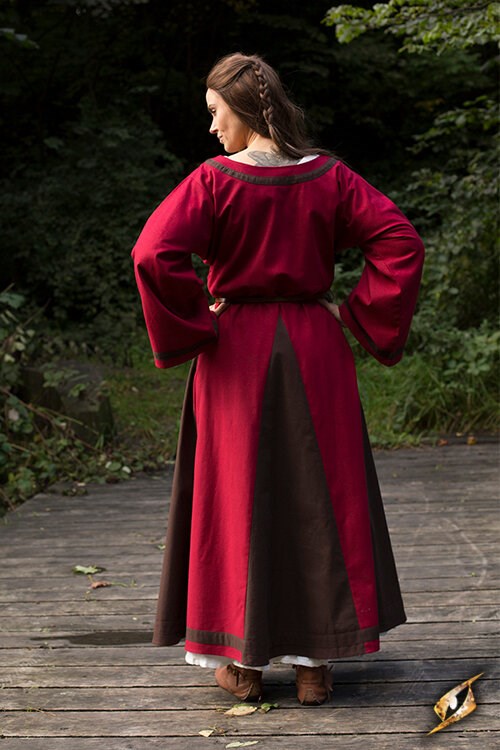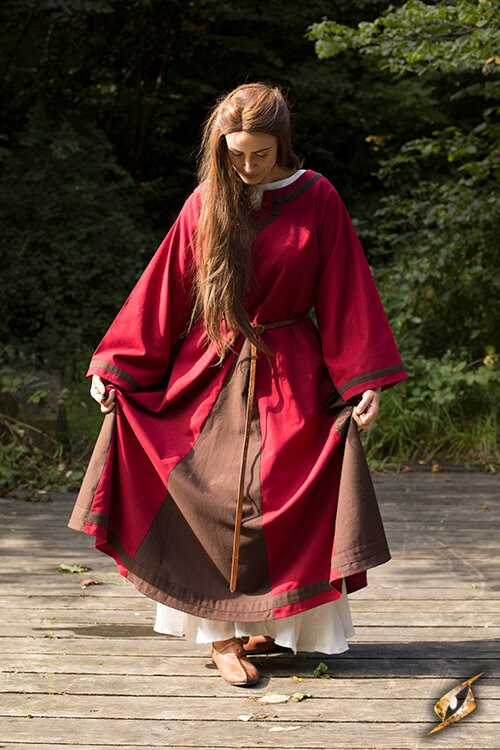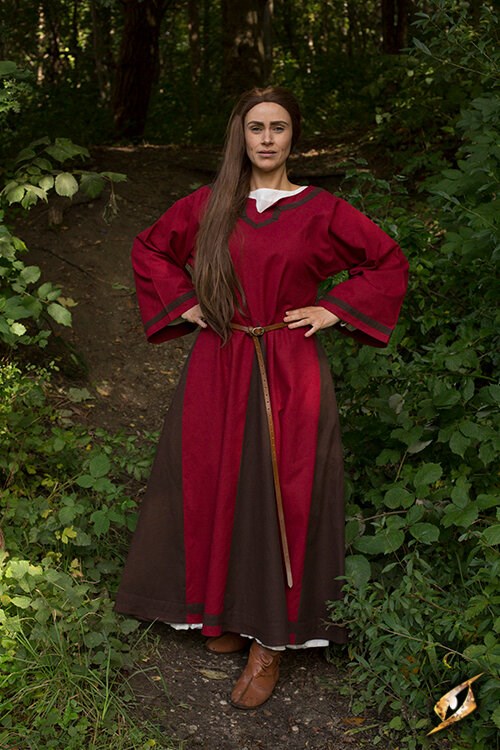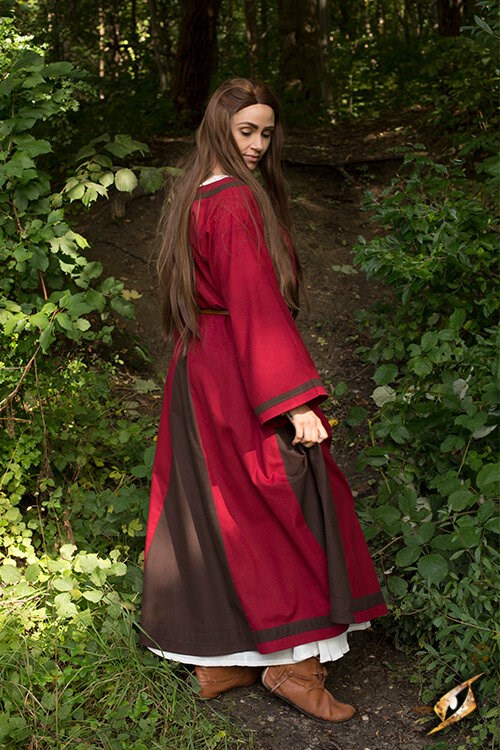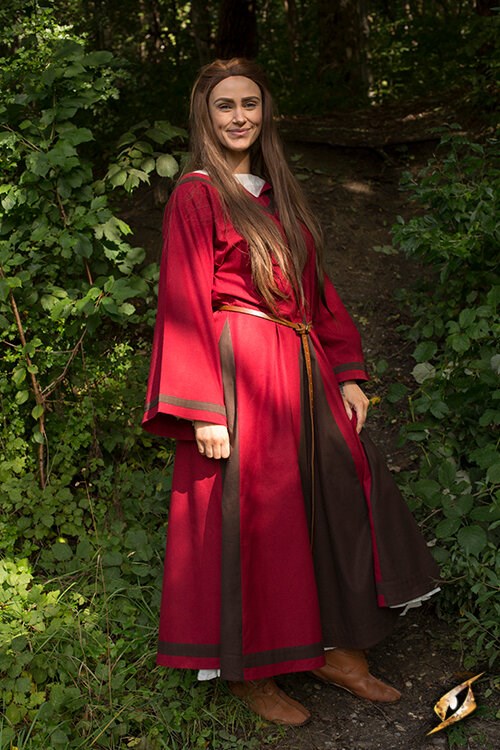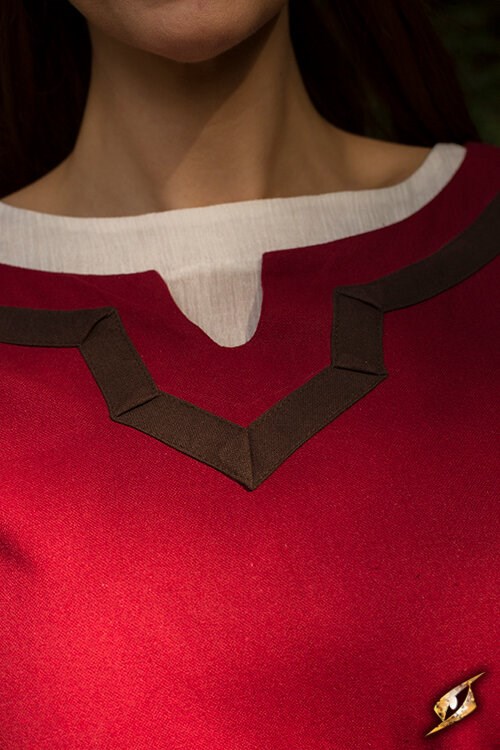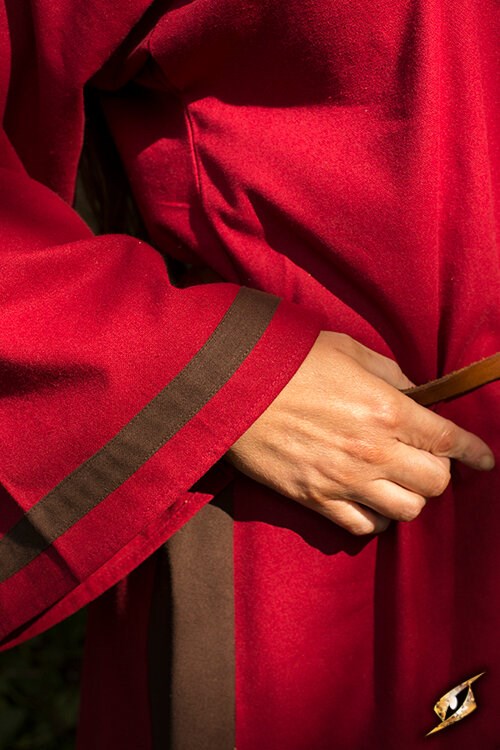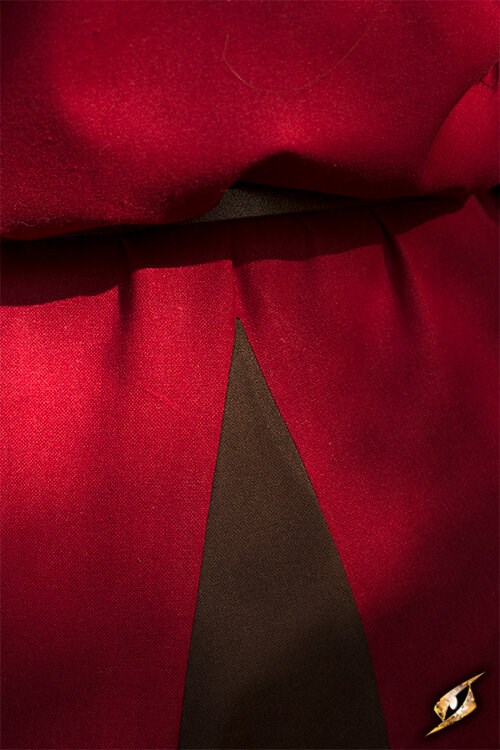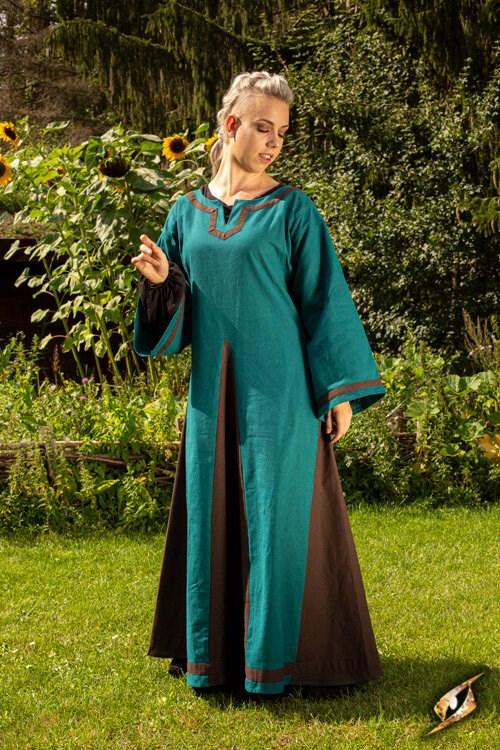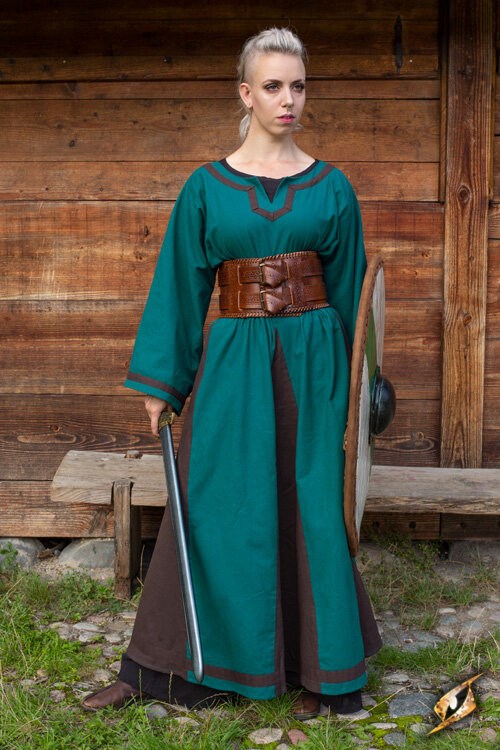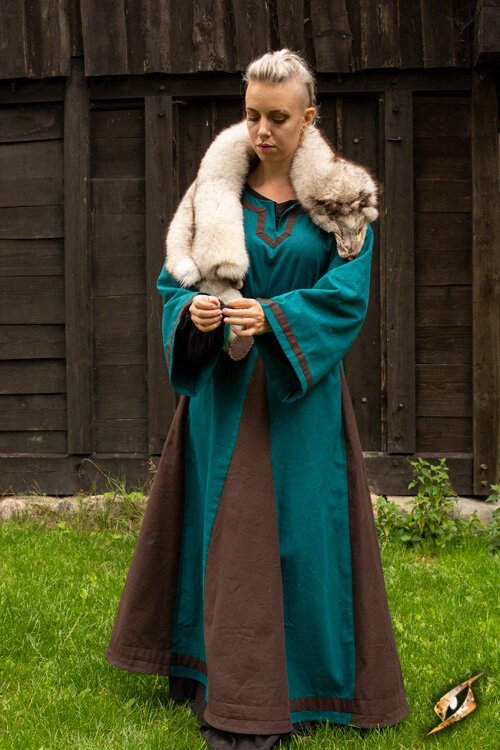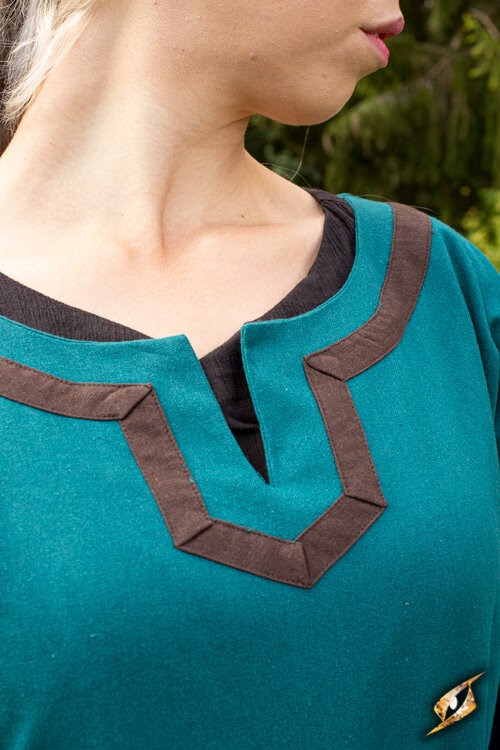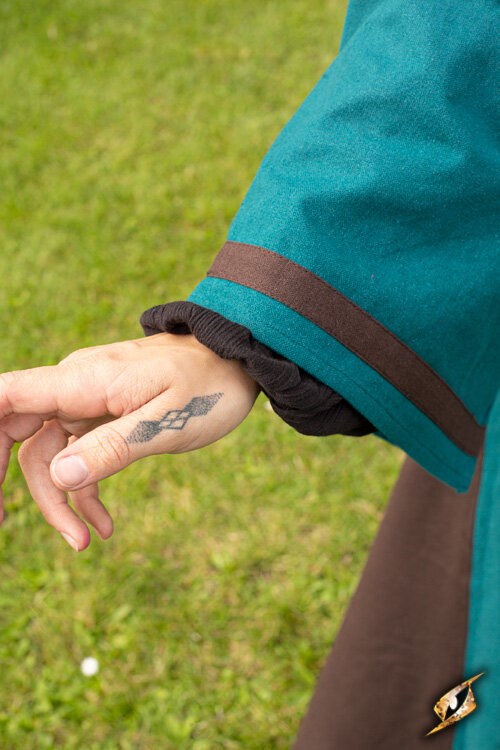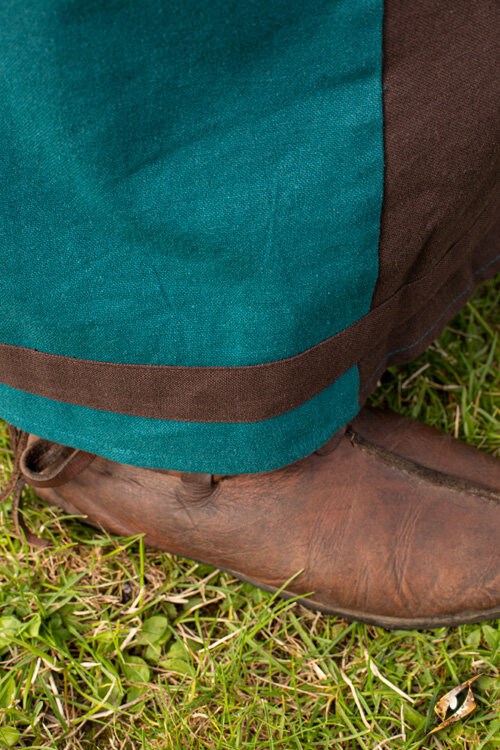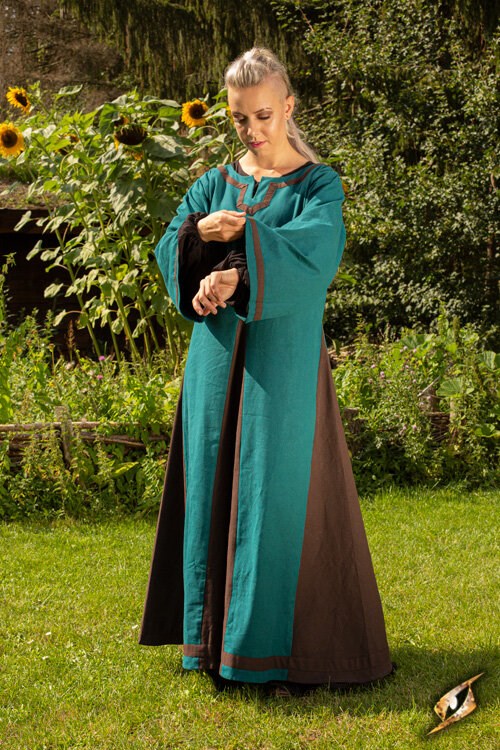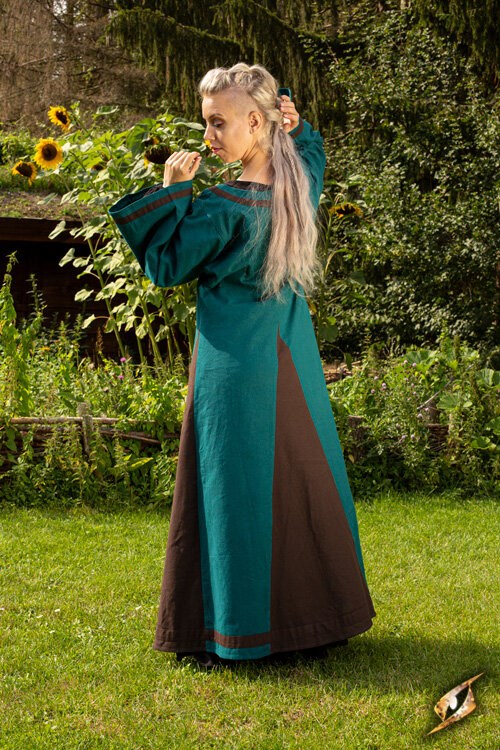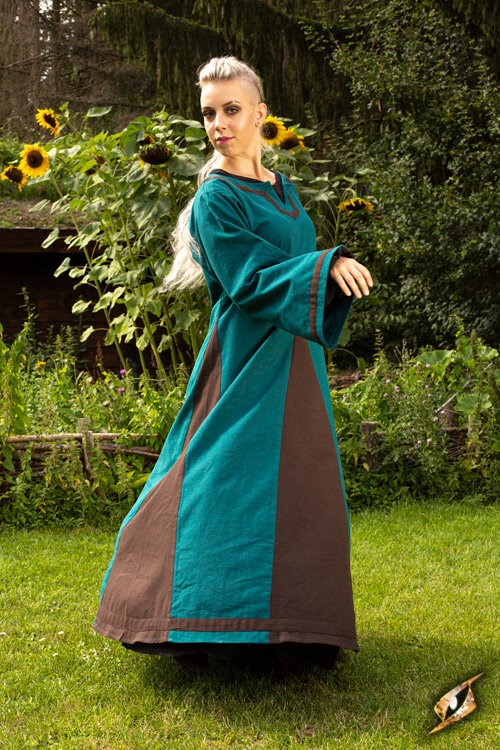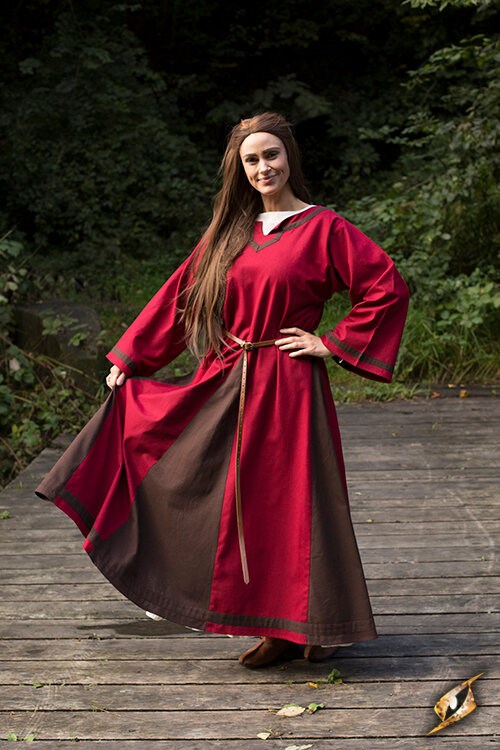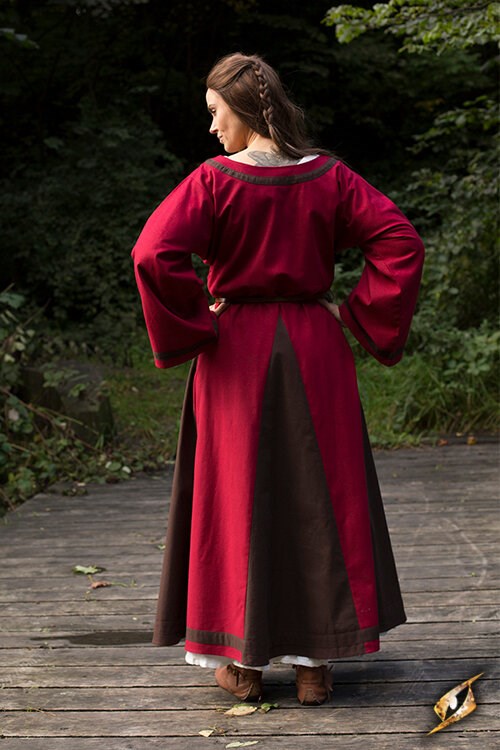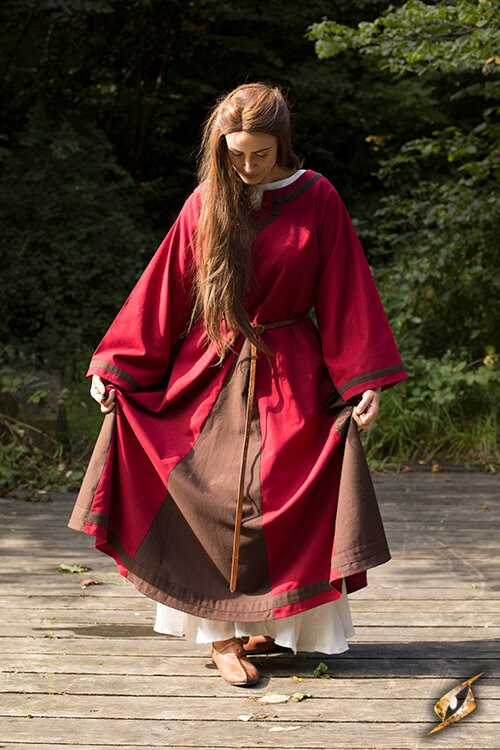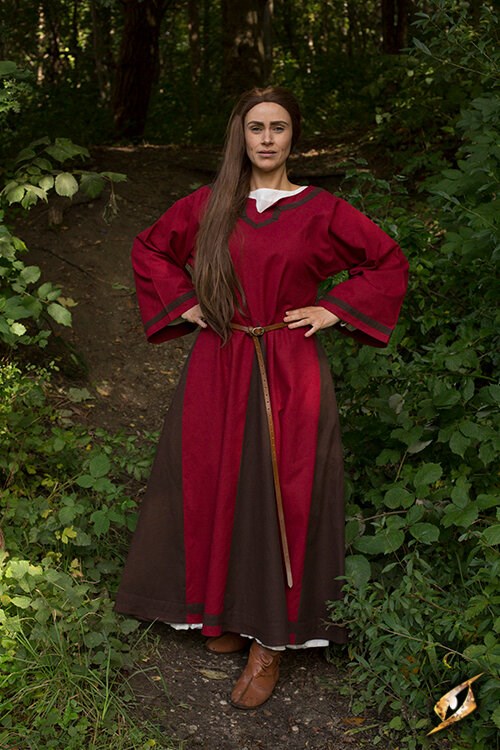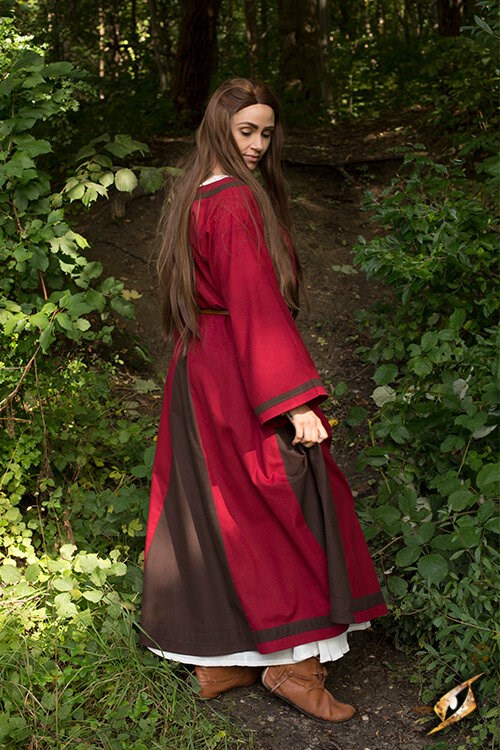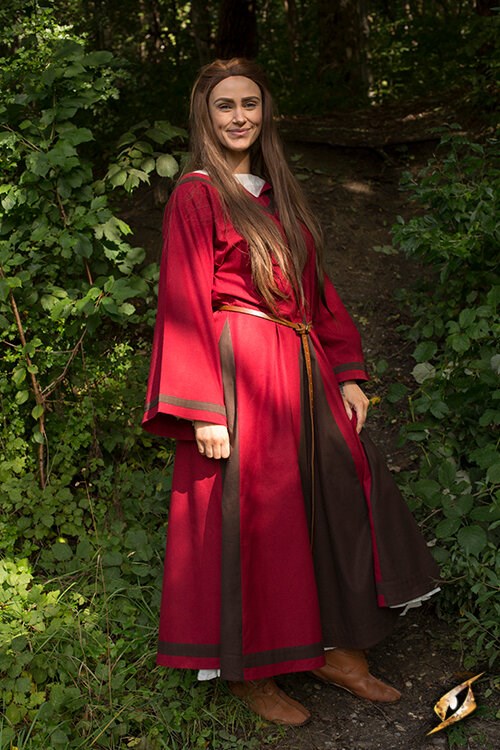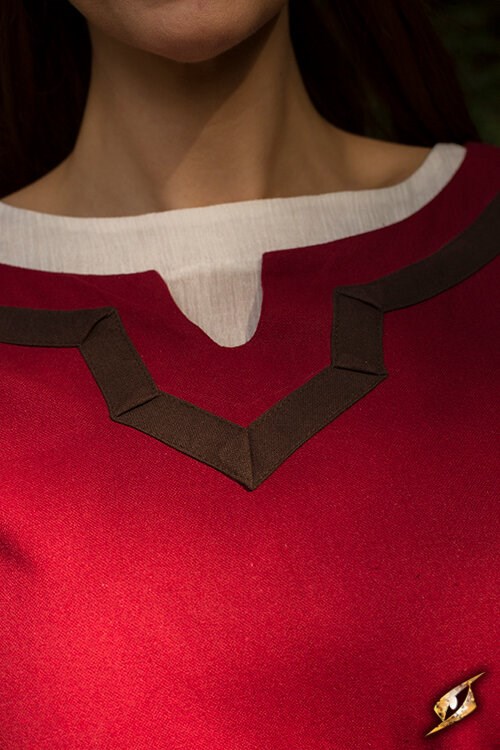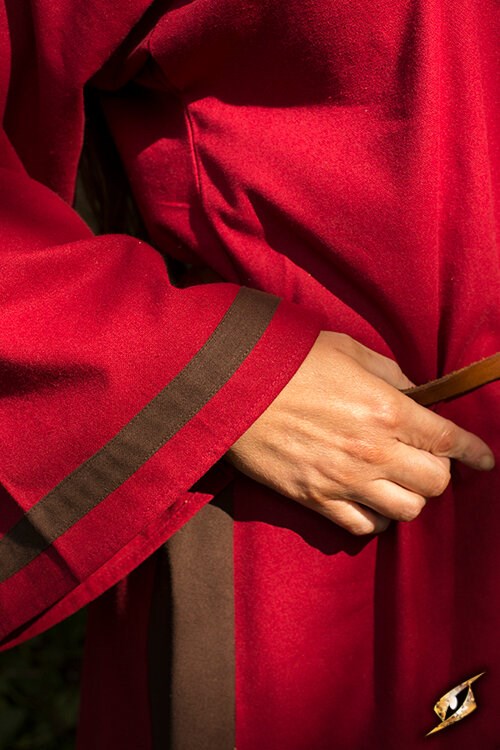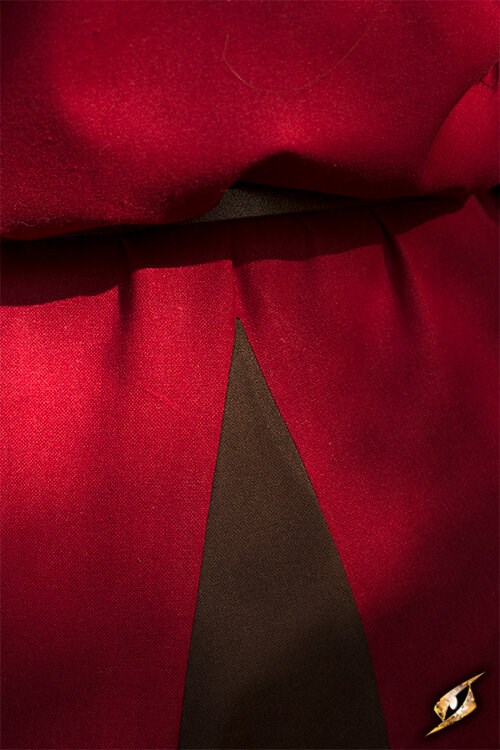 Description

Sizeguide

Fitting

Quality

Technical Details
You've been told that it's not what's on the outside that counts, but the inside. A beautiful lady in all her elegant skirts and jewelry is only as lovely as her personality. Despite her beauty, she could truly be a rotten core, putrid and a blemish on society.
As you consider yourself and your Azure/Brown Astrid Dress in the mirror, you know it is not the most beautiful garment or the most impressive--but it's sturdy, it's colorful, and it's yours. And most important of all, it's only the outside coverings for a warrior at heart.
DETAILS
Epic Armoury's Azure/Brown Dress Astrid is a scandinavian inspired slip-on dress with long bell sleeves. The V-cut neckline, wrists, and skirt are trimmed with a contrasting brown ribbon. Made from durable, medium canvas cotton, this dress reaches from the shoulders to the ankles and has a comfortably wide blue and brown gusseted skirt to allow for easy movement.
The Dress Astrid is a great start to a special Stalwart costume. Pair it with the Shift Astrid and a belt for a complete period look, equally perfect for a shieldmaiden or merchant.
Available in sizes Small/Medium, Large/X-Large, and 2XL/3XL; and in colours Red/Brown, Dryad/Beige, and Azure/Brown.
HISTORY
Most peasants of the Middle Ages only owned two sets of clothing, which would be patched and mended for years
Also referred to as a "kirtle," which is a garment worn over a chemise or smock
Popular garment worn by middle class women in the 1400-1600s
Gussets--the triangular piece of fabric added to the skirt--were traditionally used at the hems of chemises to shape the garment to the body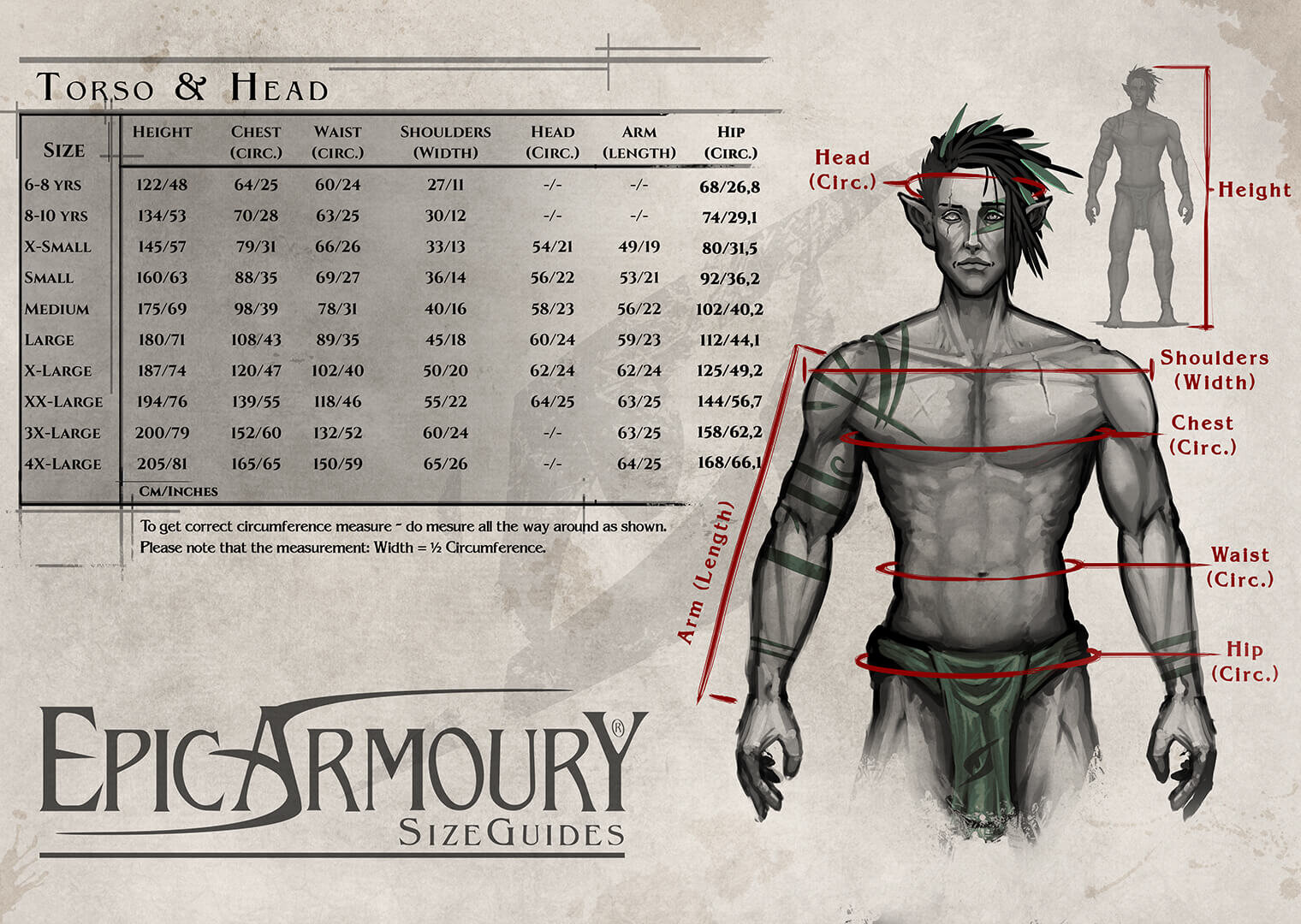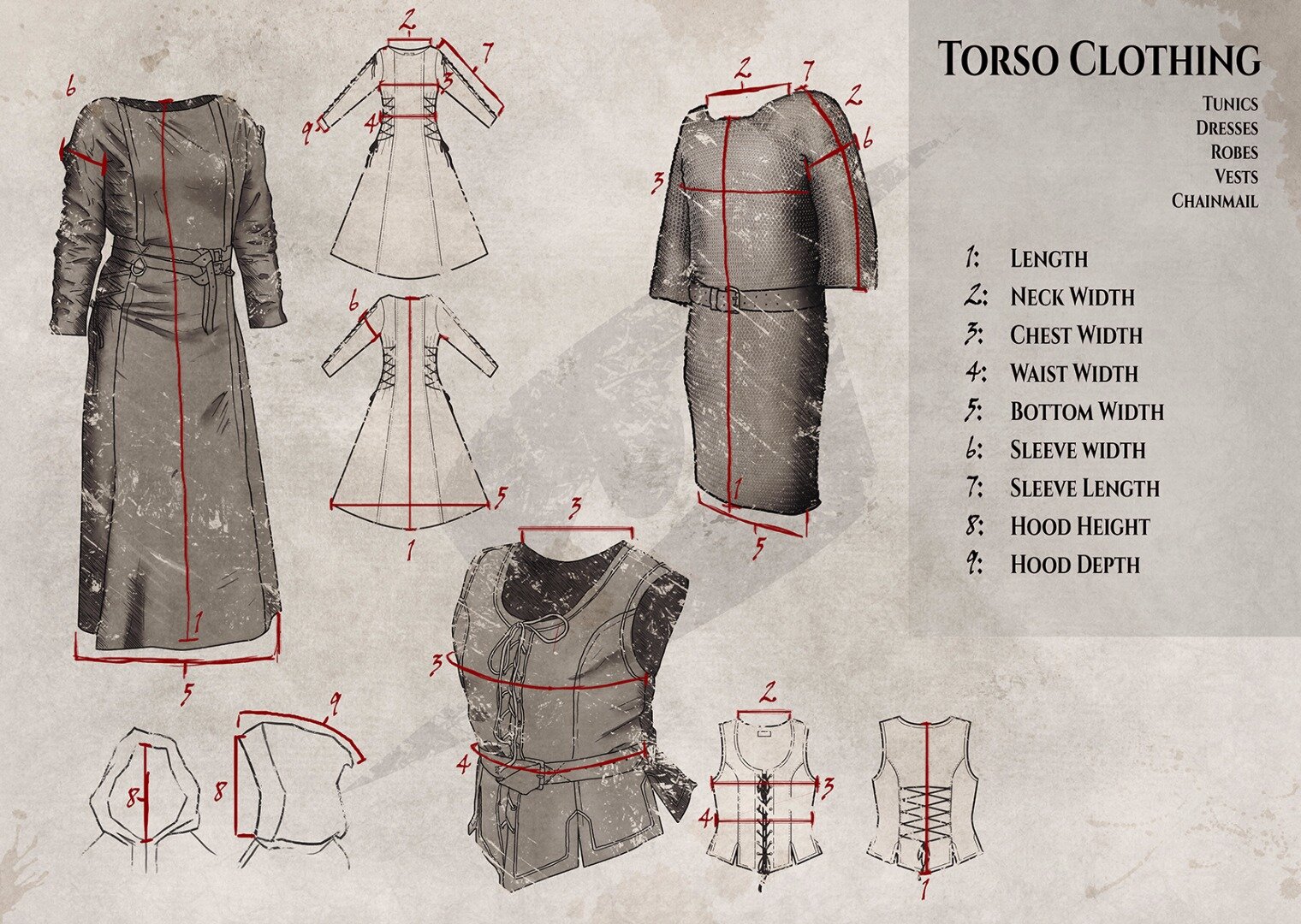 Affordable, personalized costume interchangeable with all other Epic Armoury gear
100% natural materials
Made from fabrics manufactured locally
Handmade by qualified professional. Measurements are approximations and may vary.
This product is handmade and hand-painted and therefore unique. As a result, when compared with similar item numbers, this product can have natural deviations in pattern, colour and shape, which are not considered defects or faults.
We produce our image material in a natural environment, where lighting and surroundings can affect colors and contrast. The displayed images may therefore appear different from the product you receive from us.
Measurements are all in cm if not stated otherwise.
Brand:
Epic Armoury
Universe:
Stalwart
Position:
Torso
Product type:
Dress
Release date:
09/10/2019
Maintenance
As a heavy duty fabric, this medium canvas product is stronger and heavier than simple cotton. This material wrinkles easily, but can be ironed on a higher heat level.
Cleaning
Machine wash at 40°C / 104°F. Please make sure to wash it once before use in order to make sure that remaining dye will be removed from the product. It is advised to wash with similar coloured clothes to reduce the risk of dye imprint. Tumble dry on low heat, but be aware that it might shrink up to 5%. For general stains or discoloration to the canvas, treat with a commercial fabric cleaner, or blot with tepid water and a soft cloth.