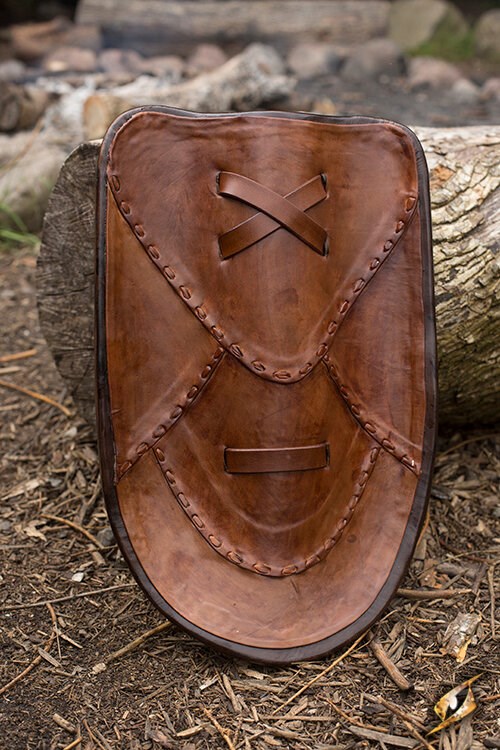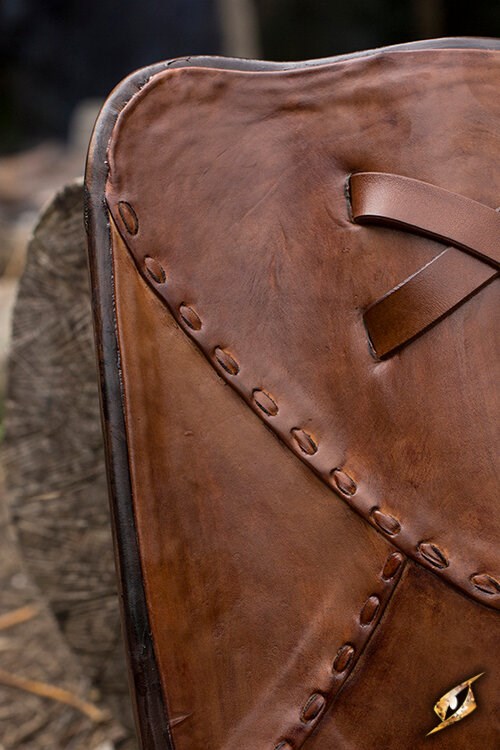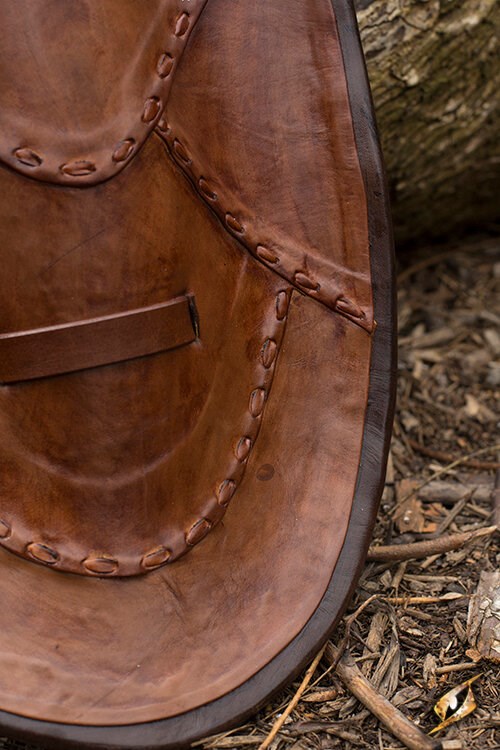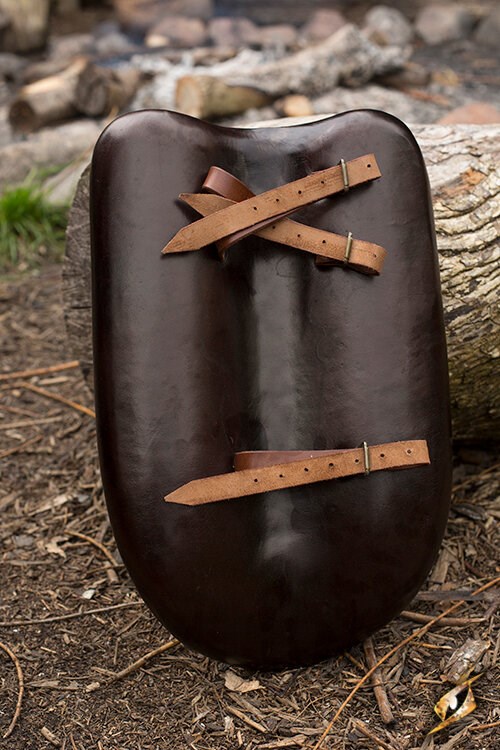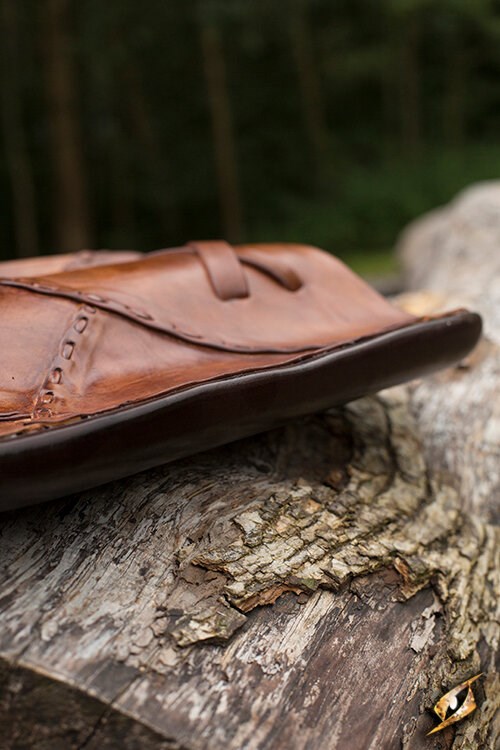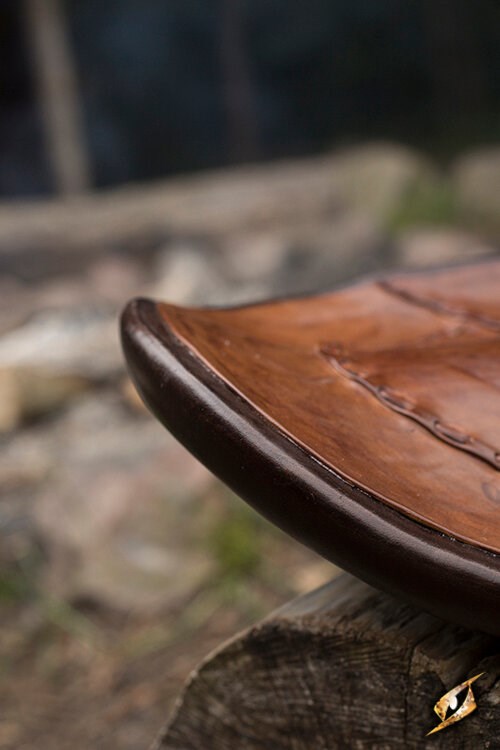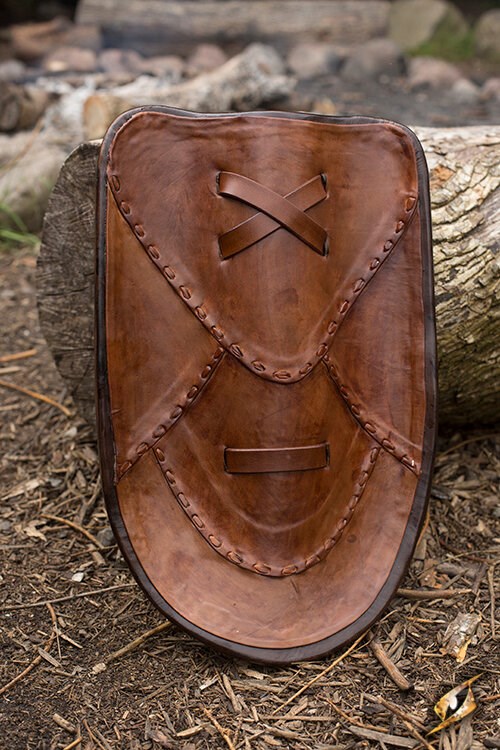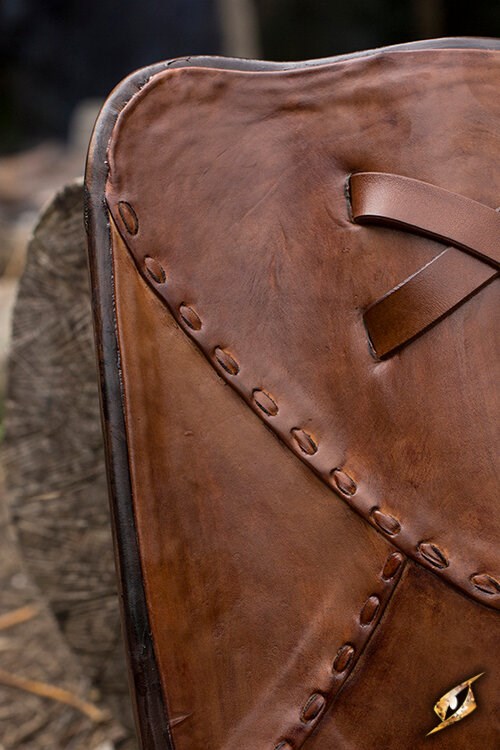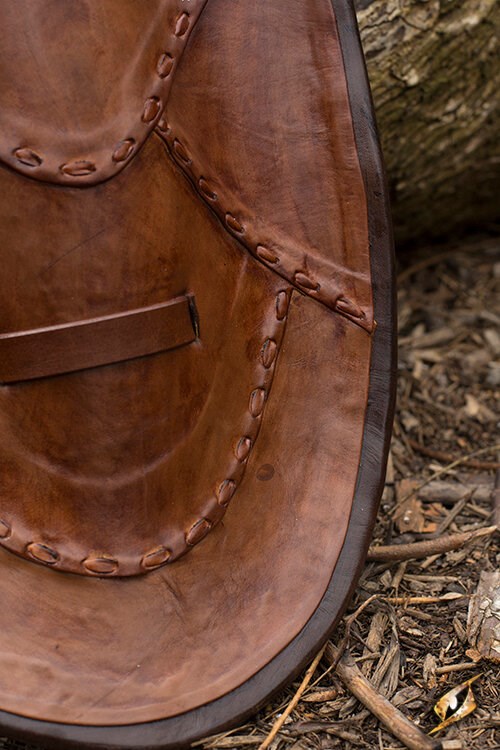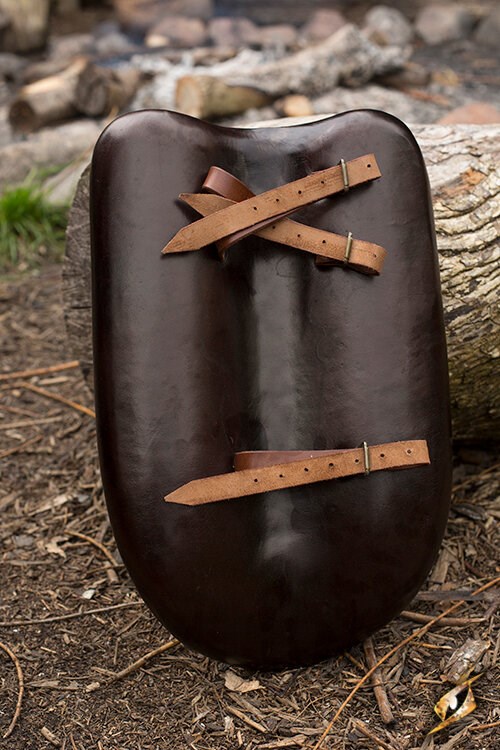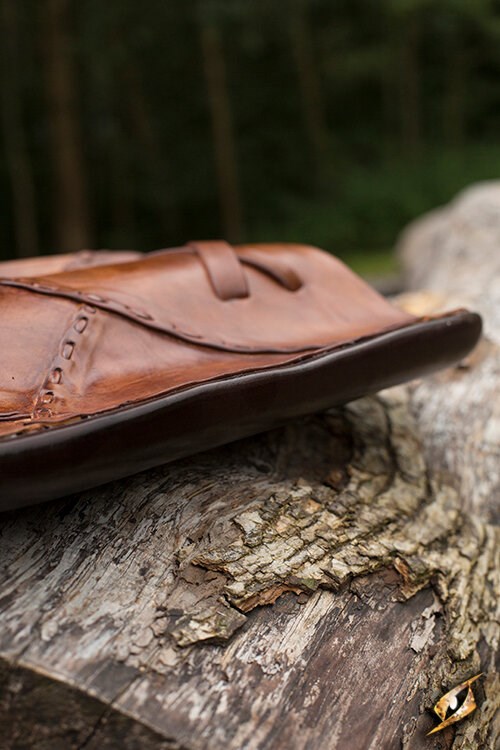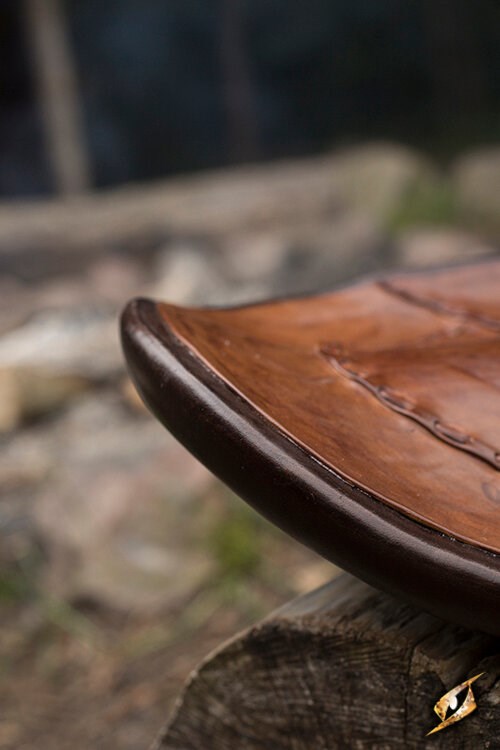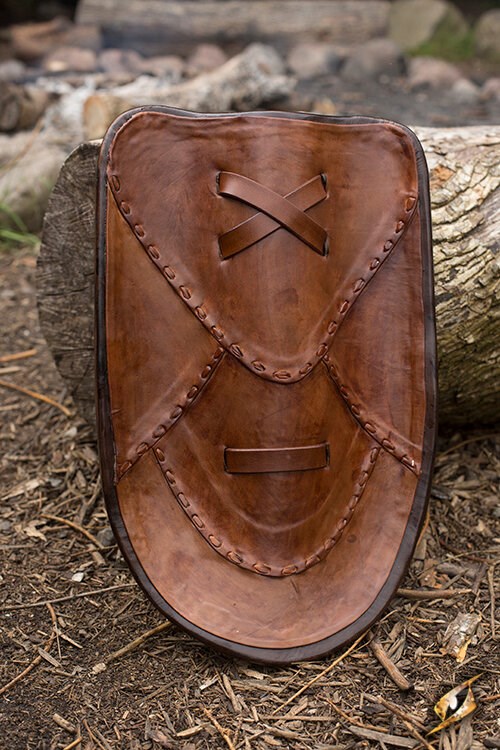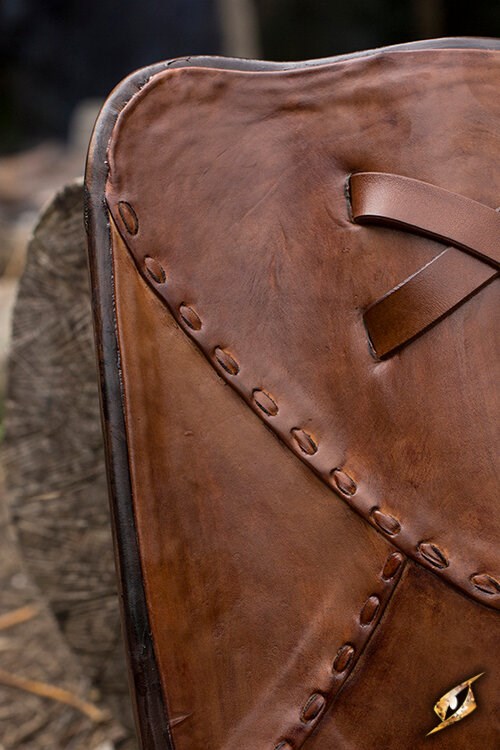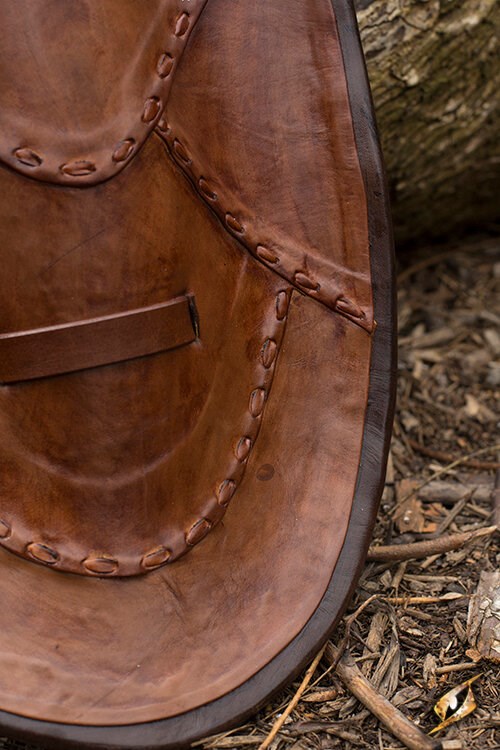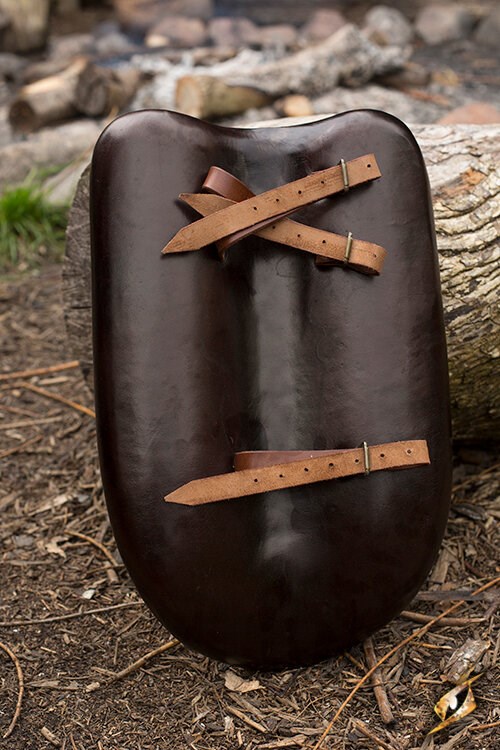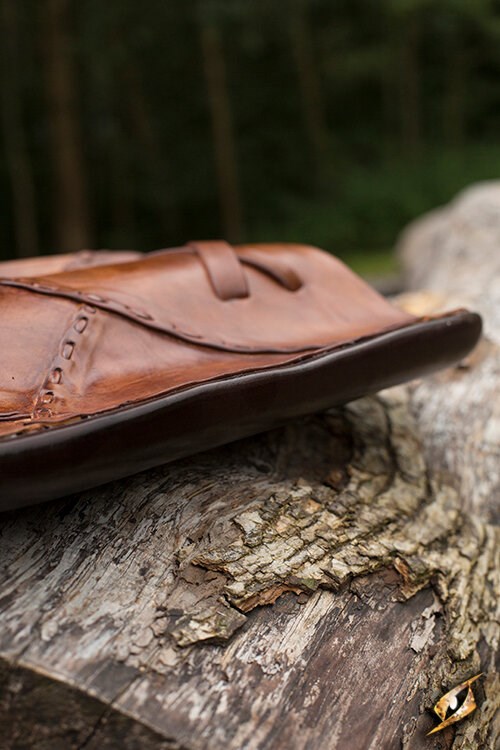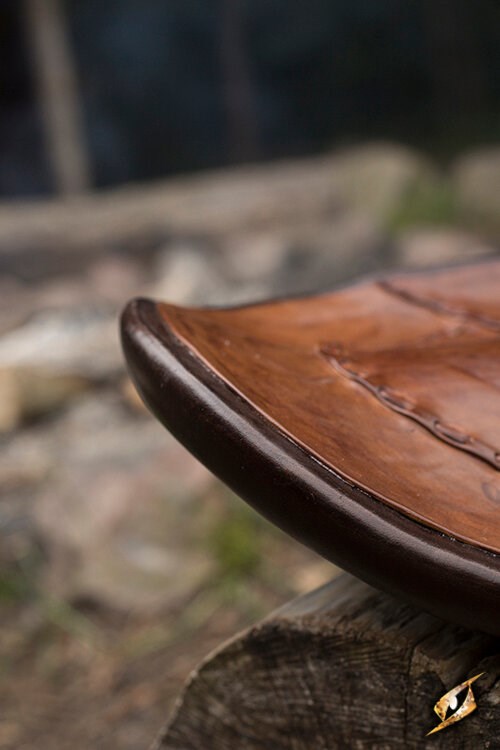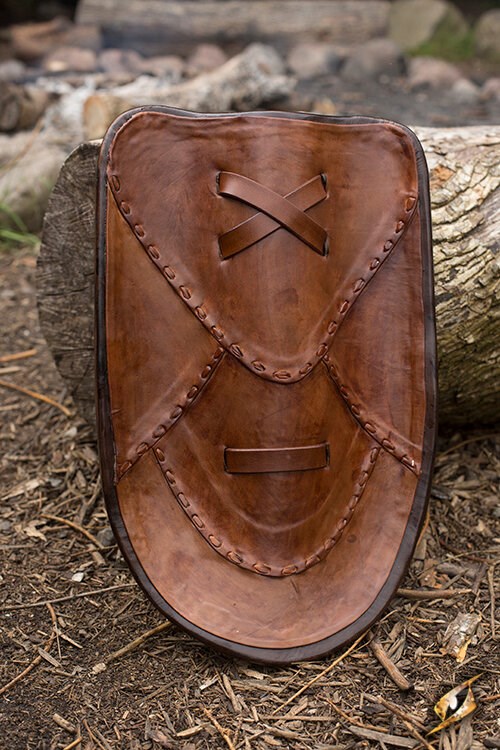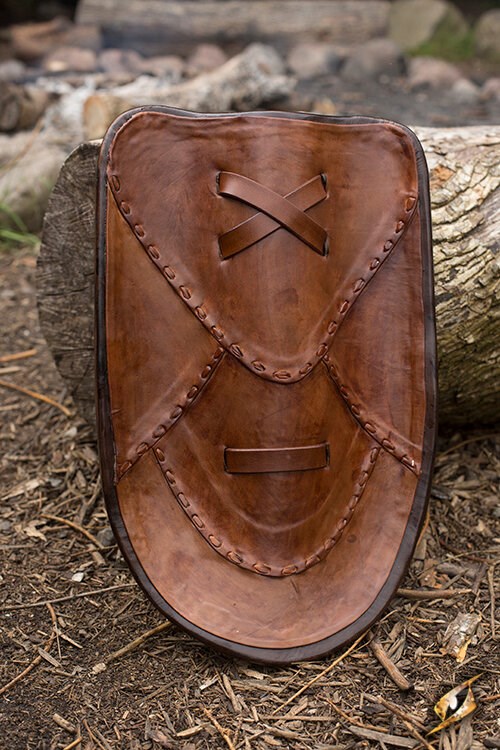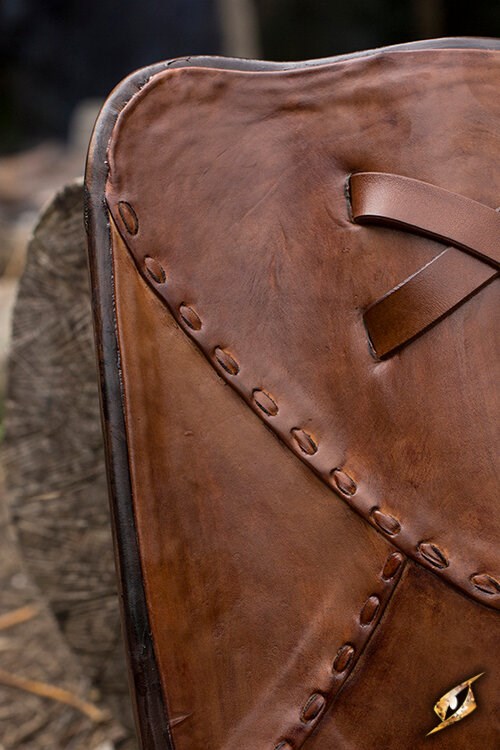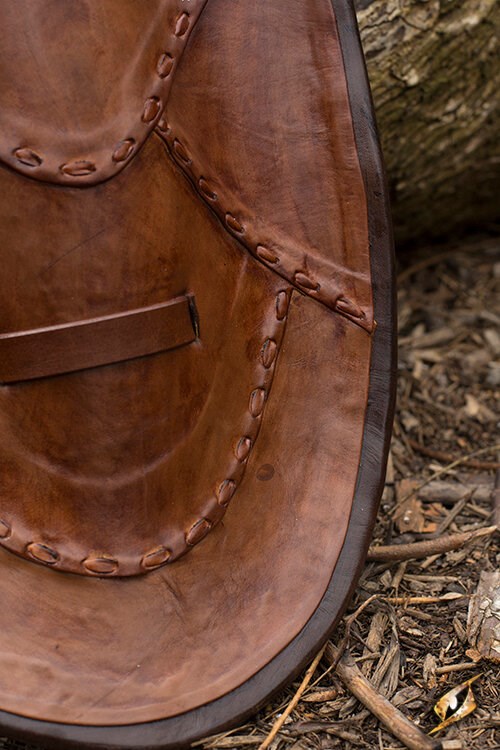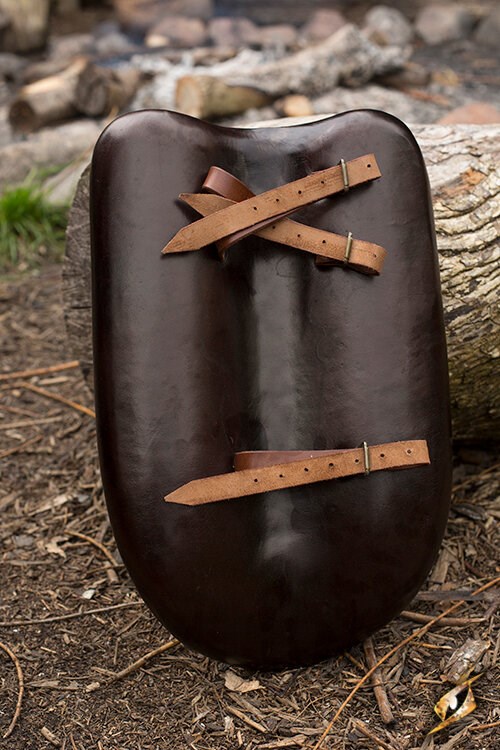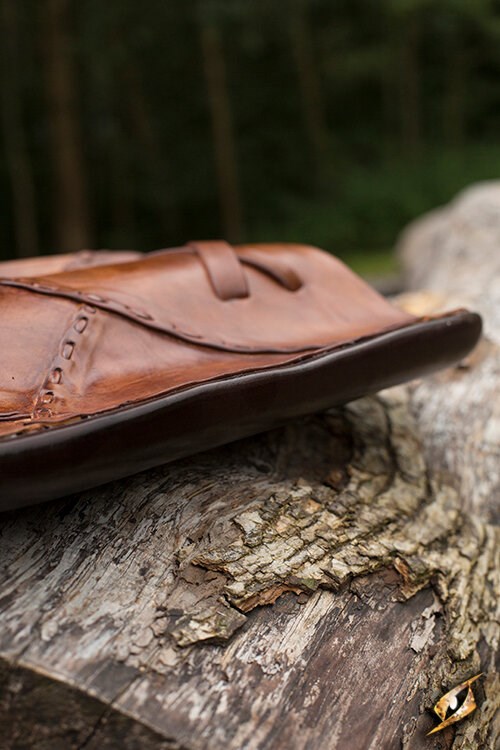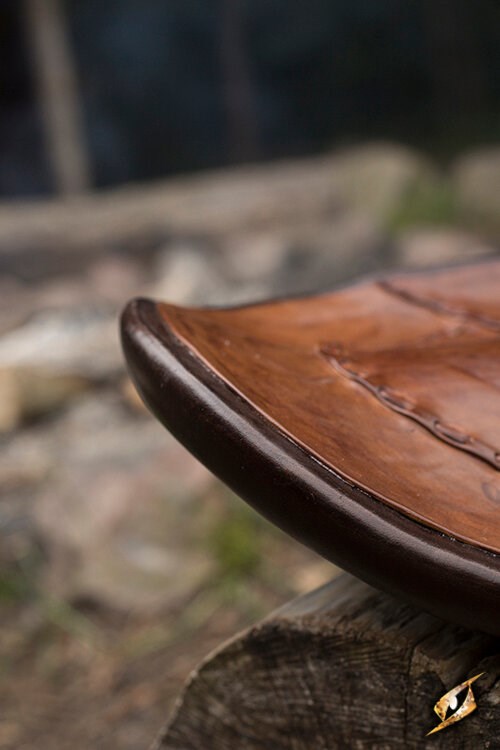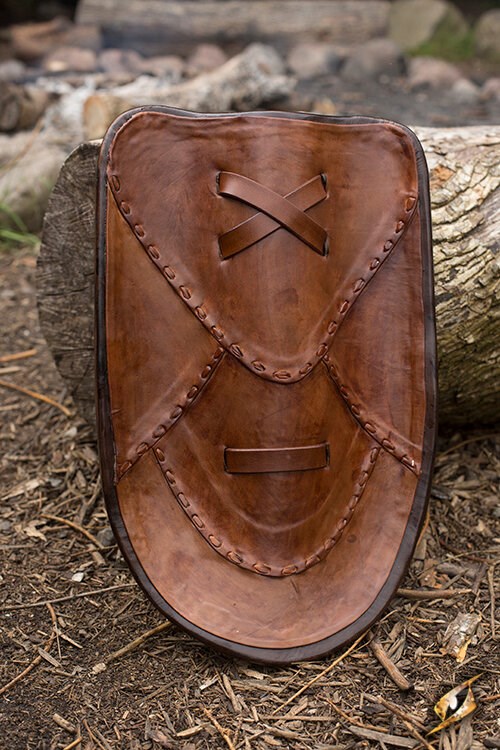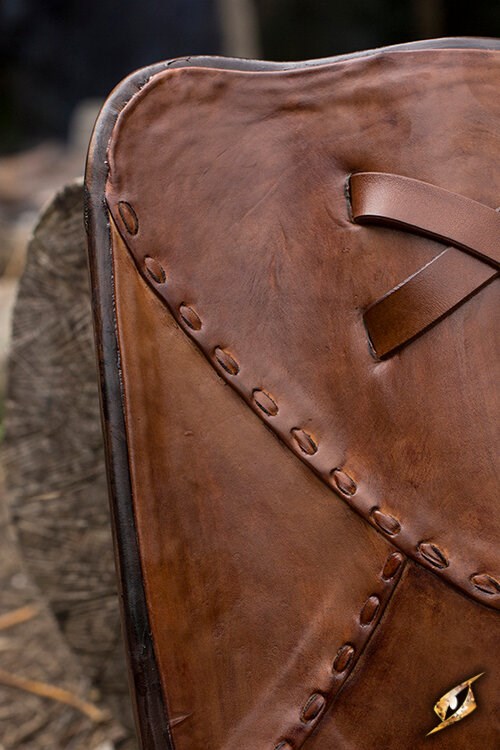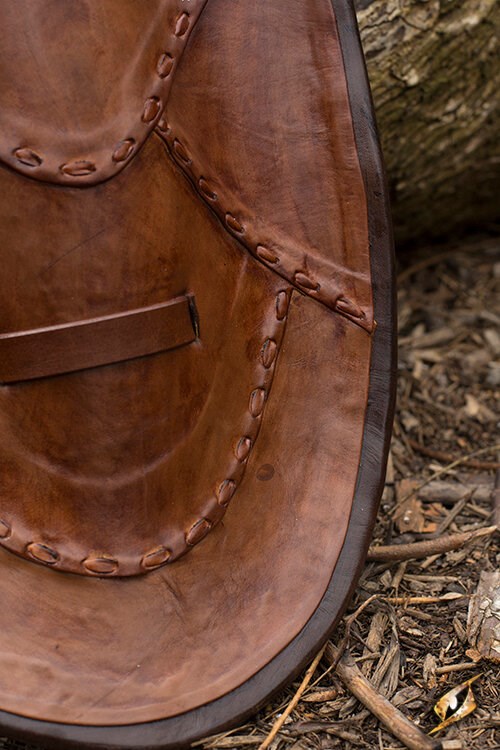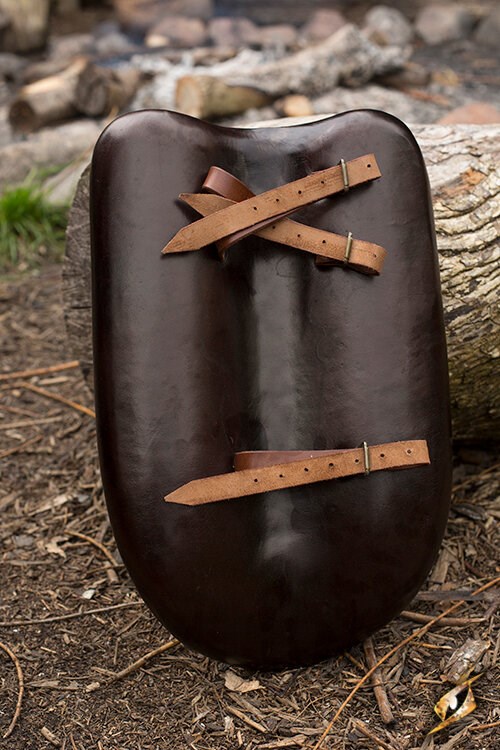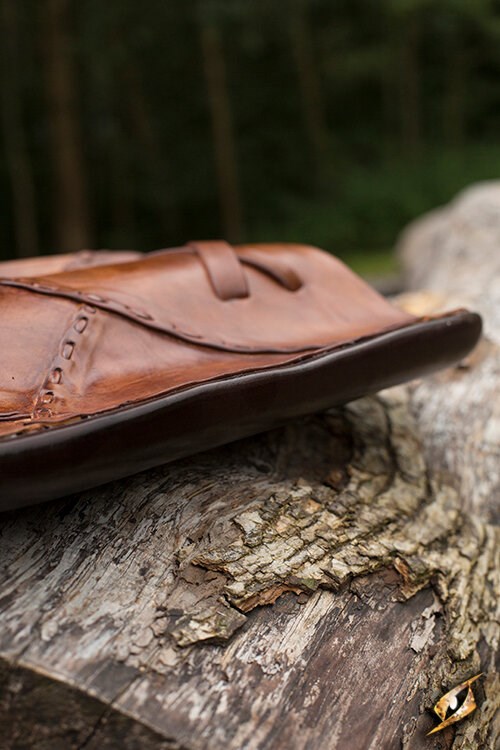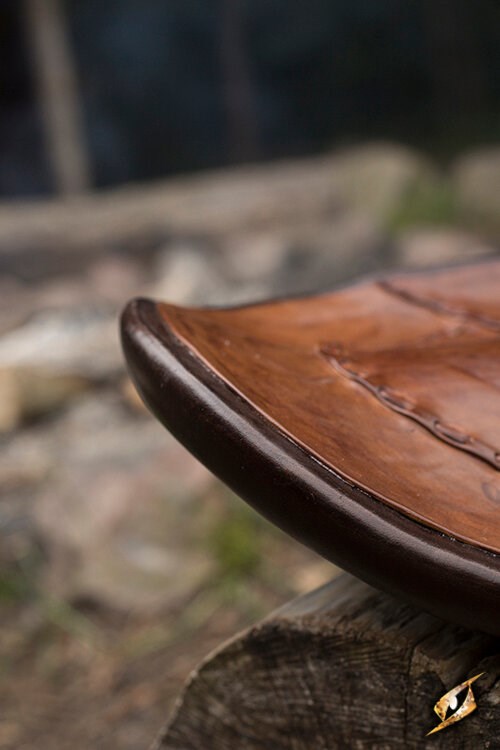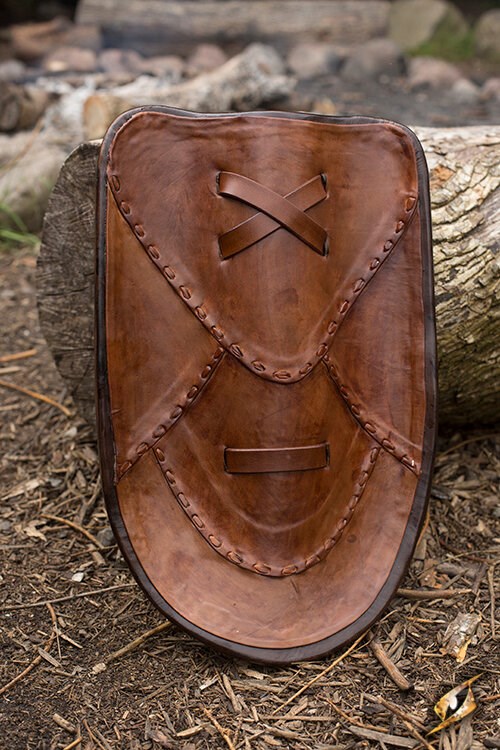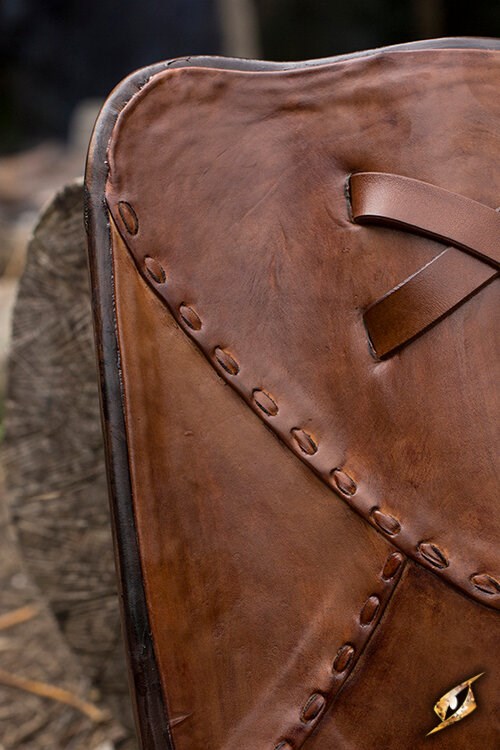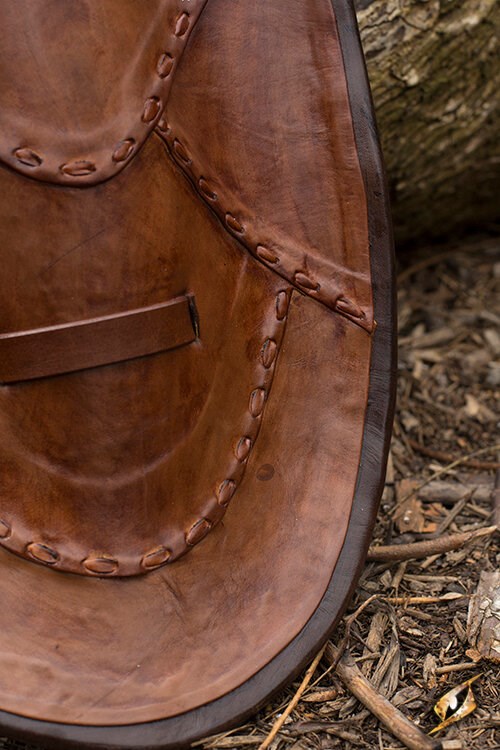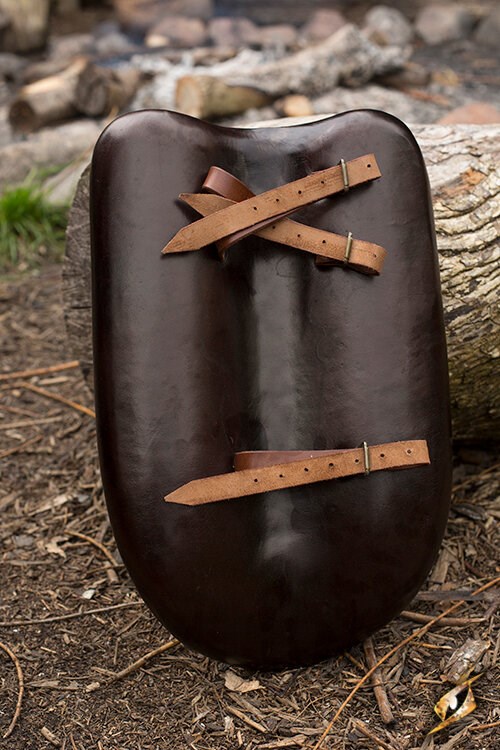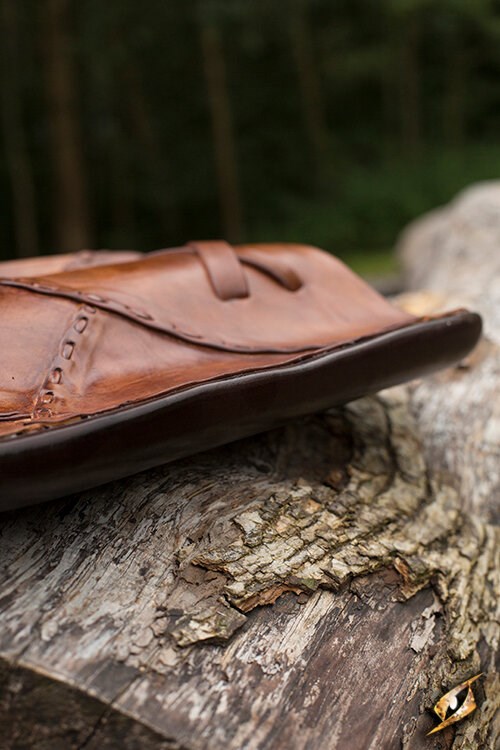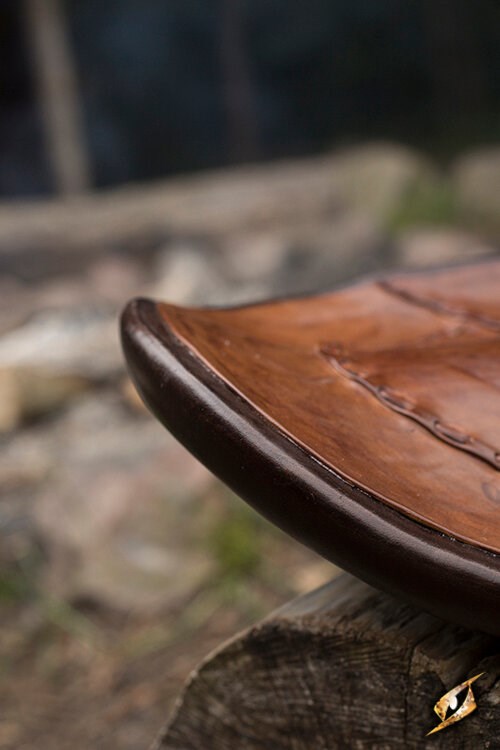 Description

Fitting

Quality

Technical Details
Your elven ears hear the rustle of footsteps behind you. A smile crosses your delicate lips as you realize a stranger is attempting to sneak up on someone as lithe and alert as you. You are the kindred of the immortals, having honed your skills for hundreds of years. No normal mortal being can surprise you.
"Come out of hiding," you call over your shoulder. "I know you are there."
As you hear the 'thwap!' of an archer's bow, you spin and catch the incoming arrow with your Elven Buckler in one fluid motion. The fight has begun.
DETAILS
This bestselling Epic Armoury Elven Buckler is a small leather covered shield worn around the wearer's arm, inspired by a naturalistic elven society. The buckler is elongated with rounded corners, covered with overlapping vegetable-tanned leather. Featuring a sturdy leather brace to strap your arm securely against the underside, feel confident that this hard EVA foam and leather shield will withstand the continued abuse of a LARP with regular leather maintenance.
The buckler goes well with Epic Armoury's Elven range of products, especially the Elven Blade - 110 cm. However, its naturalistic design can be used by a wide range of characters. With its unique detailing and natural look, make this Elven Buckler a central piece when crafting your character's kit.
INSPIRATION
Originally a creation of Germanic mythology and folklore
Has been considered to be a magical creature with supernatural beauty, but this definition has varied throughout history
J.R.R. Tolkien's 20th century writings on the "Middle Earth Elf" has influenced how elves are seen today in the high-fantasy genre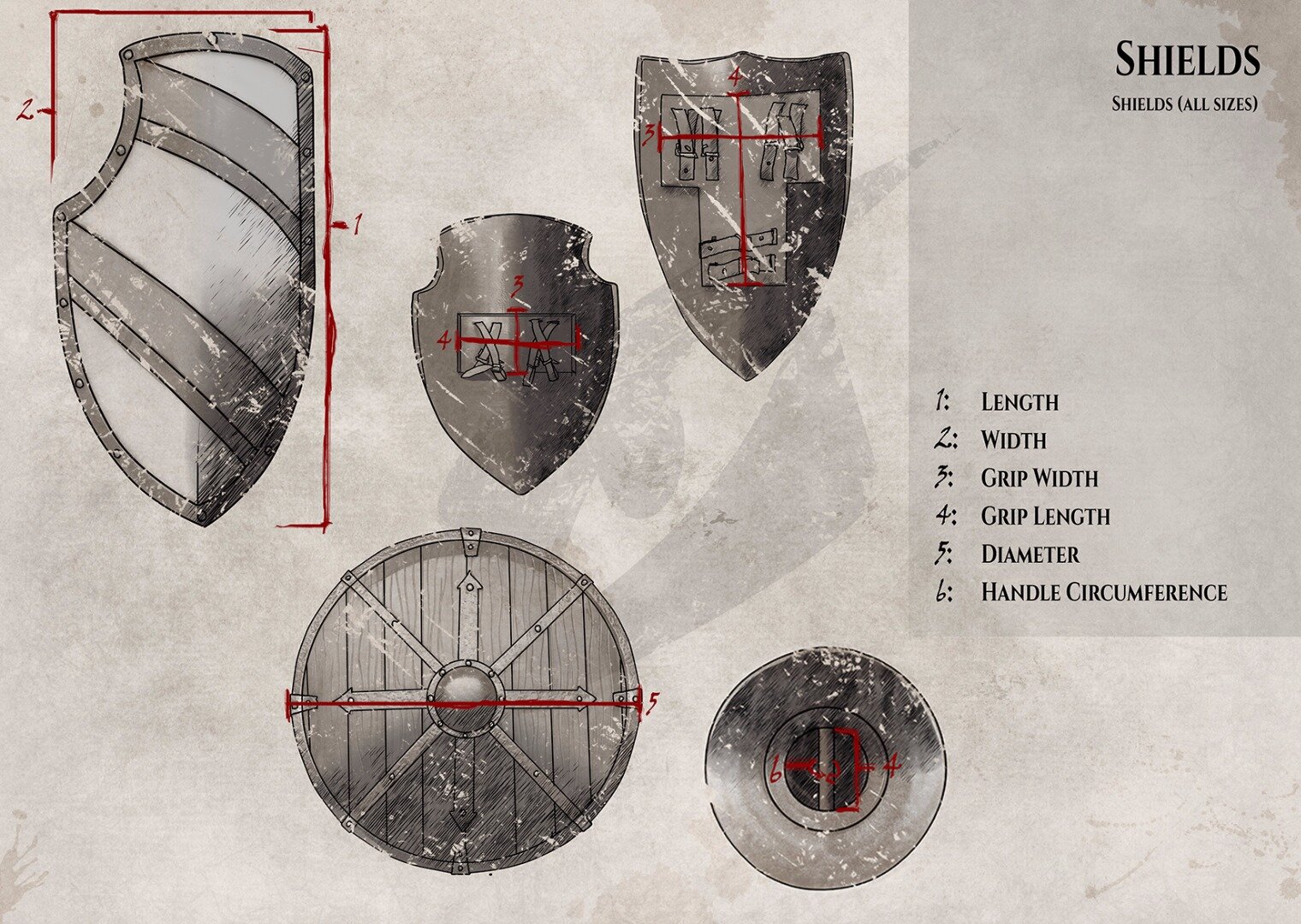 Strong leather coating on hard EVA foam, which does not flex in combat
Made from durable closed cell foam that does not shred
Brace is made of sturdy leather straps
High safety, approved by the top organizations
This product is handmade and hand-painted and therefore unique. As a result, when compared with similar item numbers, this product can have natural deviations in pattern, colour and shape, which are not considered defects or faults.
We produce our image material in a natural environment, where lighting and surroundings can affect colors and contrast. The displayed images may therefore appear different from the product you receive from us.
Measurements are all in cm if not stated otherwise.
Brand:
Epic Armoury
Universe:
Ethereal
Product type:
Buckler, Shield
Release date:
05/01/2014
Maintenance
Natural leather products are very durable, but require regular maintenance with leather care products to stay flexible and to increase life-time. Make sure your leather products are kept dry when stored. Let wet leather dry naturally before treating. If frequently wet and dry, increase frequency of maintenance.
Cleaning
Clean by removing dirt with a hard brush, then gently rub on leather soap with a clean, damp cloth until the leather appears clean. Remove soap with a separate damp cloth to wipe away any soap residue and then use a dry cloth to wipe away any remaining water from the leather.
Conditioning
You should always condition leather after cleaning, since the soap will have removed some of its natural oils. Treat the leather with mink oil, olive oil, or beeswax polish with a clean cloth, gently rubbing a small amount of oil or polish in circles into the leather. Allow the leather to soak in the oil before wiping the leather with a final clean cloth to remove any excess residue.