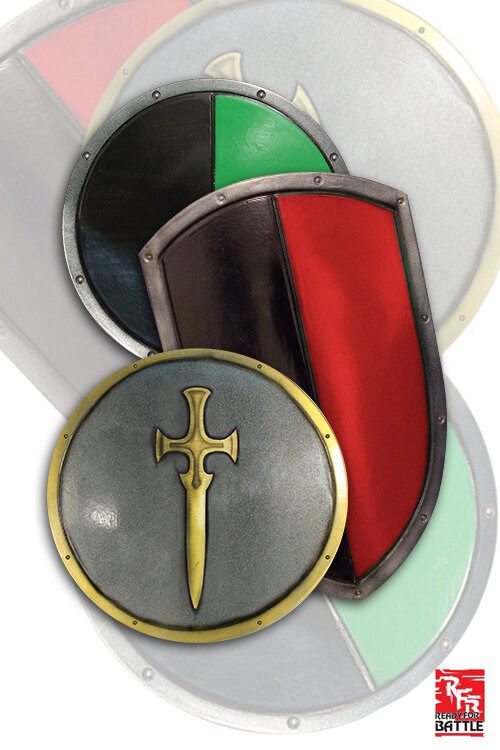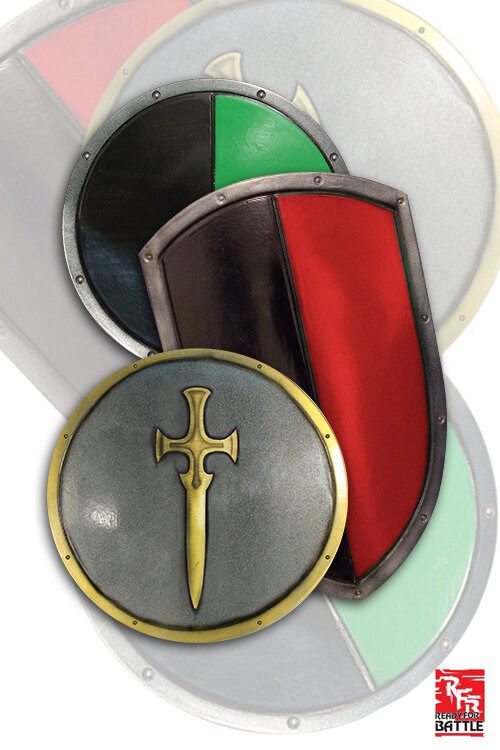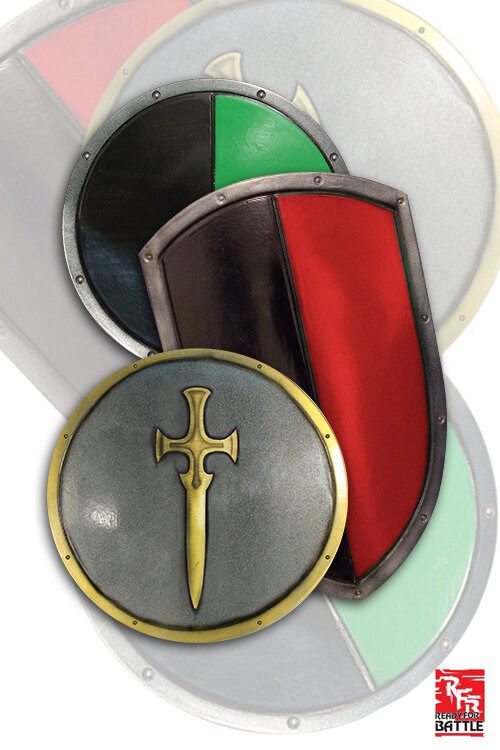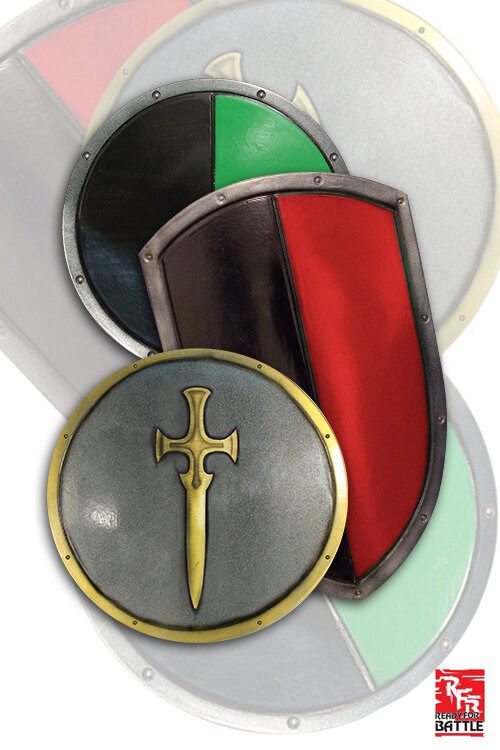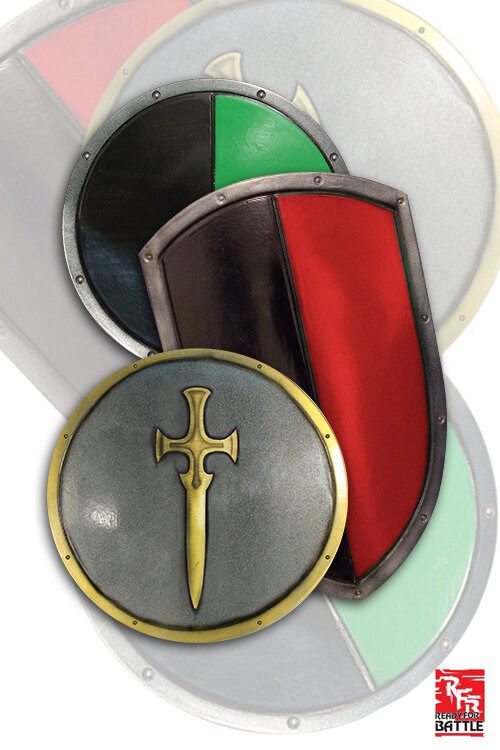 Description

Fitting

Quality

Technical Details
All of our products are handmade and hand painted in order to create the quality LARP weapons, costumes and props that is the Epic Armoury standard. However, because of their handmade nature, these items can be produced with cosmetic faults. On the occasion where one of our RFB medium shields arrive with the wrong coloured paint or an imperfect shape, we offer them at a discounted price instead of throwing them away. We don't like to waste material--and you get a great deal!
About our RFB Large Shields
Epic Armoury's LARP Ready-for-Battle Shield Medium collection includes a range of many bestselling historical shields, featuring both kite and round varieties. These shields are great for folks just getting into LARP, and are especially great for children! They are made from hard EVA foam and finished with a strong latex coating, and are secured to your arm using two or three straps made from canvas or leather.
Ordering a 2nd Quality Weapon
When you order a 2nd Quality RFB Shield Medium, you will receive a random RFB medium-sized shield with an aesthetic imperfection. You may not choose the specific style, as we cannot guarantee which will be available. We DO guarantee that--whatever the design--the product is safe to use, despite its cosmetic faults.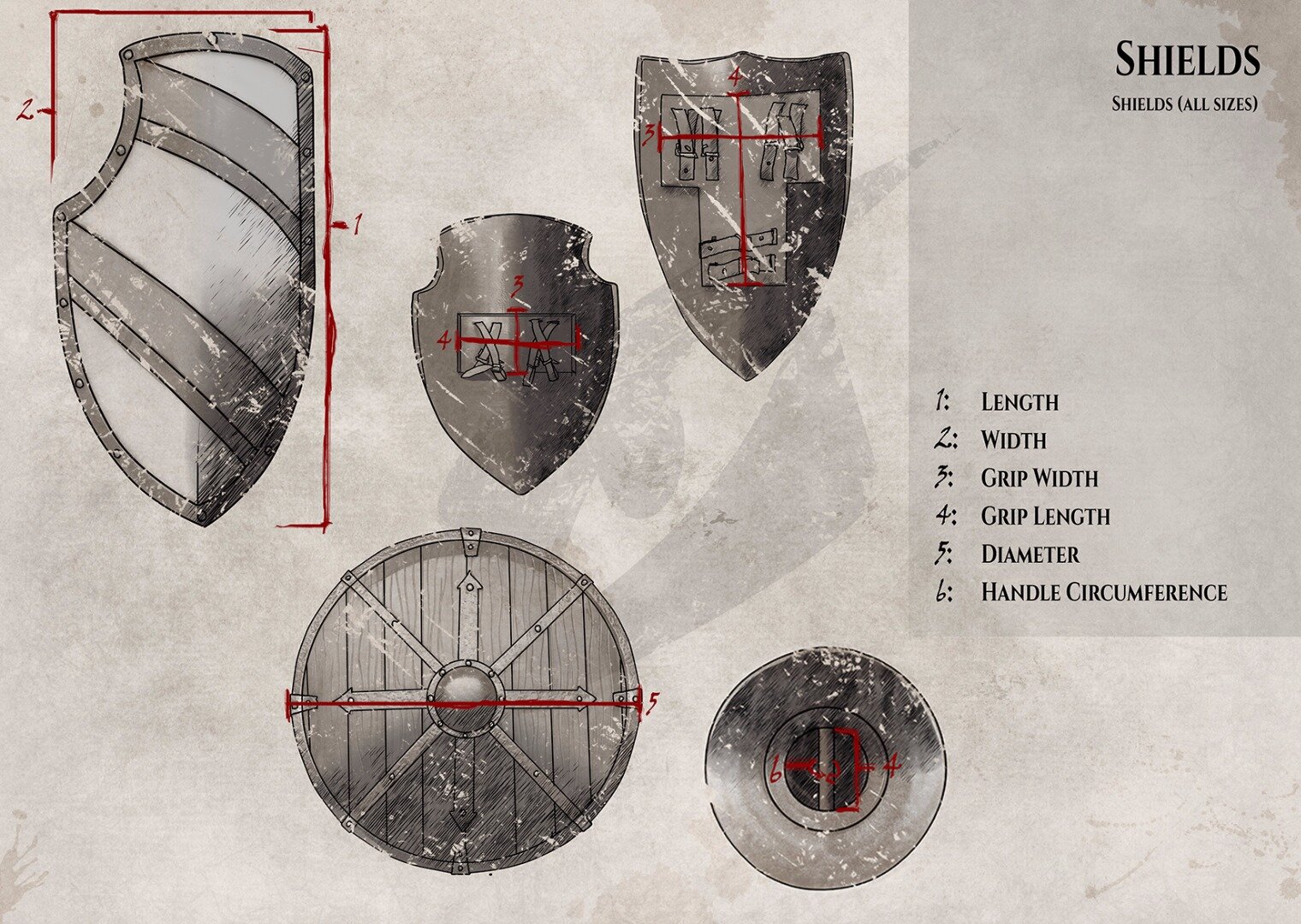 Strong latex coating on hard EVA foam, which does not flex in combat
Made from durable closed cell foam that does not shred
Handle is made of adjustable straps anchored to hard EVA foam for a firm grip
High safety, approved by the top organizations
Has an aesthetic fault--be it discolouration or incorrect shape--that does not compromise the product's safety
This product is handmade and hand-painted and therefore unique. As a result, when compared with similar item numbers, this product can have natural deviations in pattern, colour and shape, which are not considered defects or faults.
We produce our image material in a natural environment, where lighting and surroundings can affect colors and contrast. The displayed images may therefore appear different from the product you receive from us.
Measurements are all in cm if not stated otherwise.
Brand:
Ready For Battle
Materials:
Hard EVA foam
Product type:
Shield
Release date:
12/01/2010
Maintenance
All latex-coated weapons need a certain degree of maintenance. For this we recommend using maintenance silicone, which can be purchased separately in the LARP Accessories section. Epic Armoury Maintenance Silicone is an easy, spray-on application, 100% pure and acid-free making it safe to apply. We recommend using Maintenance Silicone on a regular basis. It maintains the latex-coat's flexibility and prevents it from drying out, keeping the product wear and tear resistant.
Store your latex weapons flat or on its pommel--NEVER on its tip. Use a simple sheet or towel lining to prevent it from touching a plastic or rubber surface to prevent your weapon from adhering to other products. Keep your weapons in a cool, dry environment.