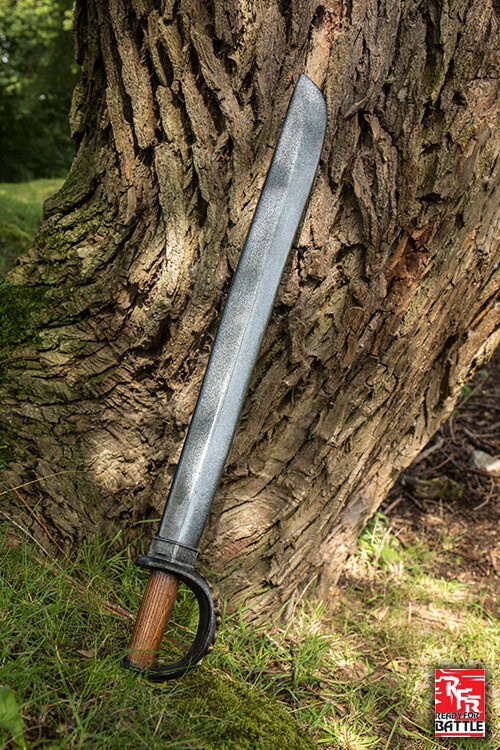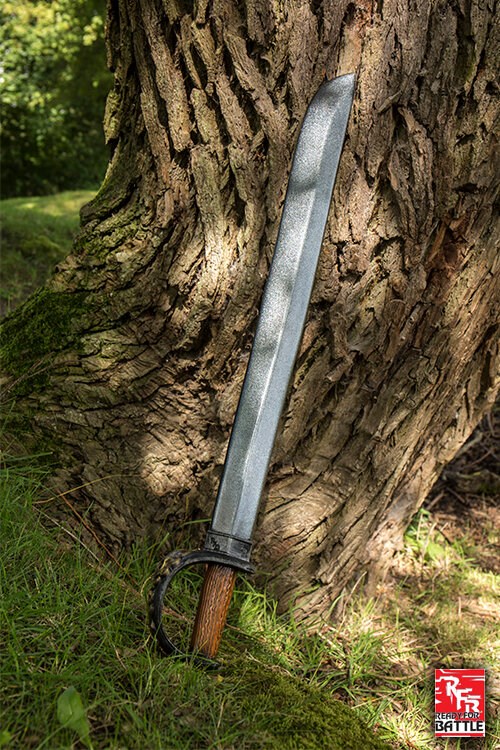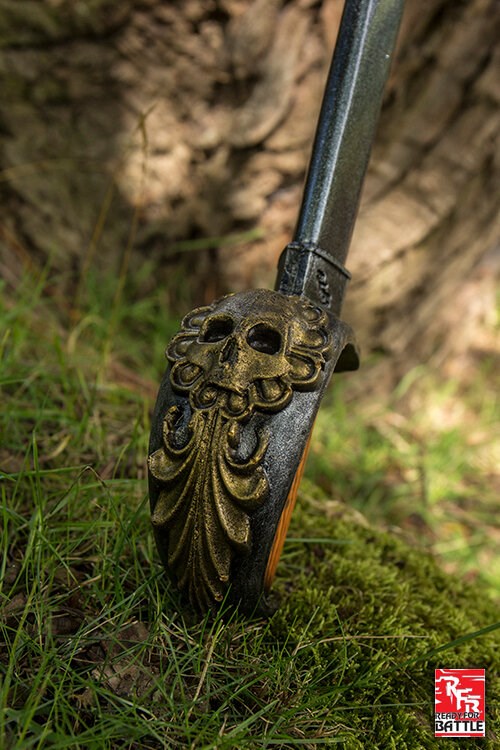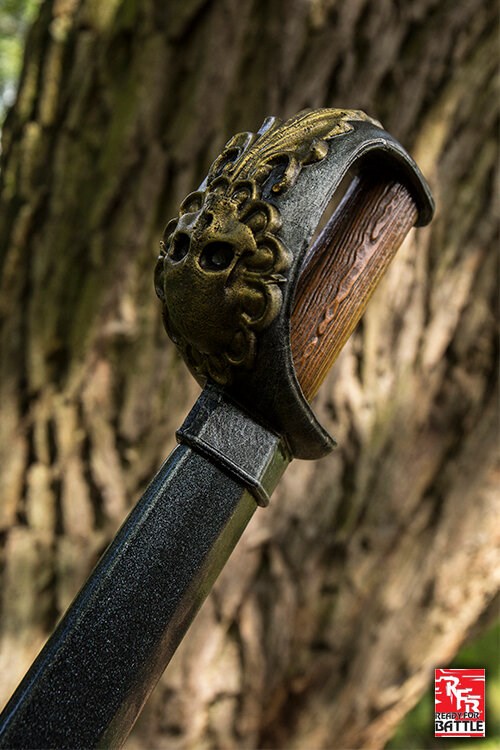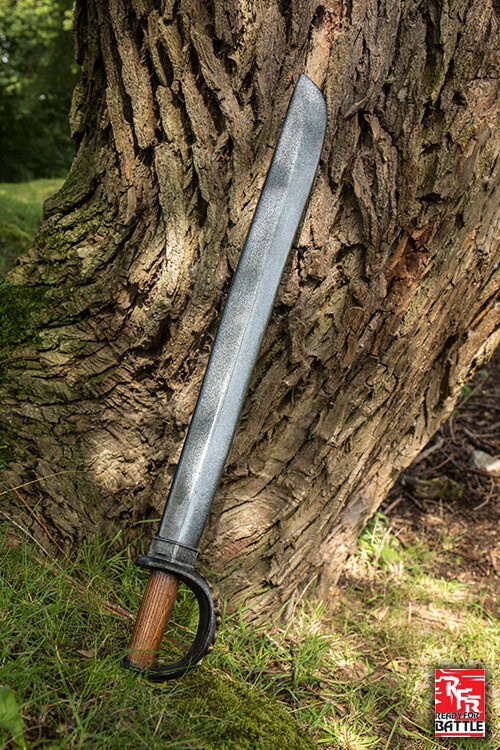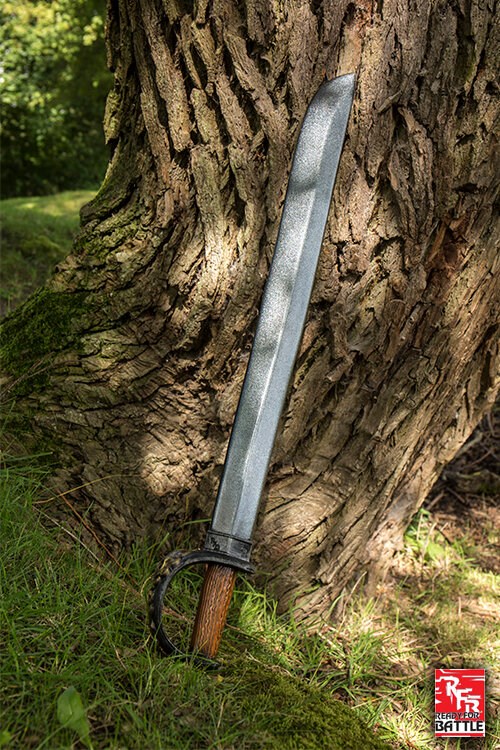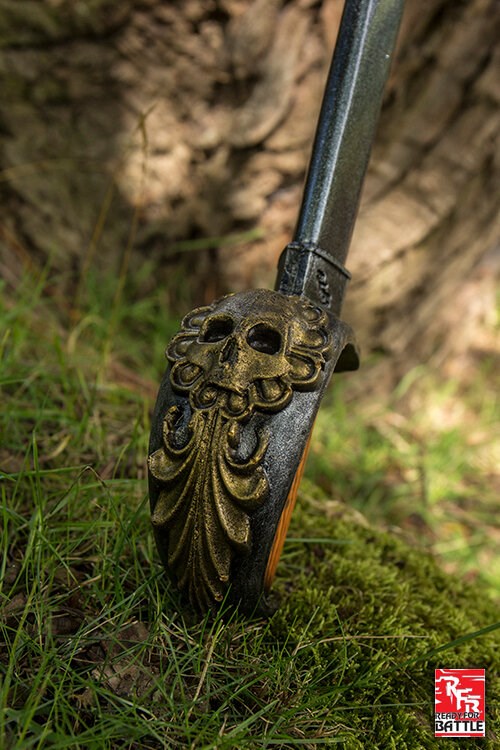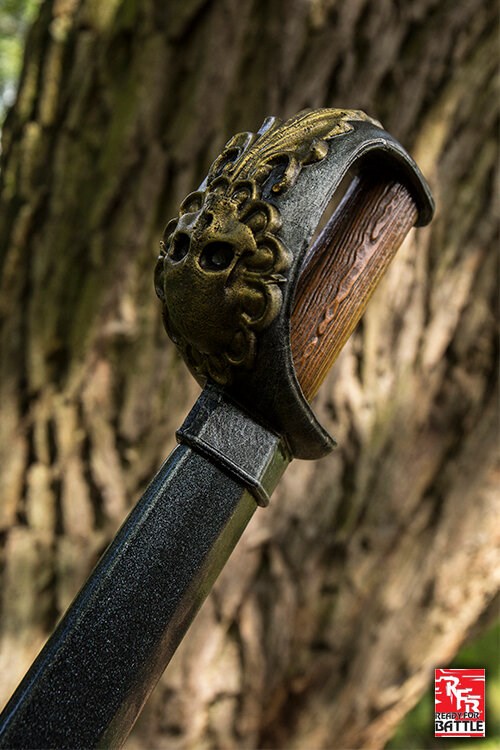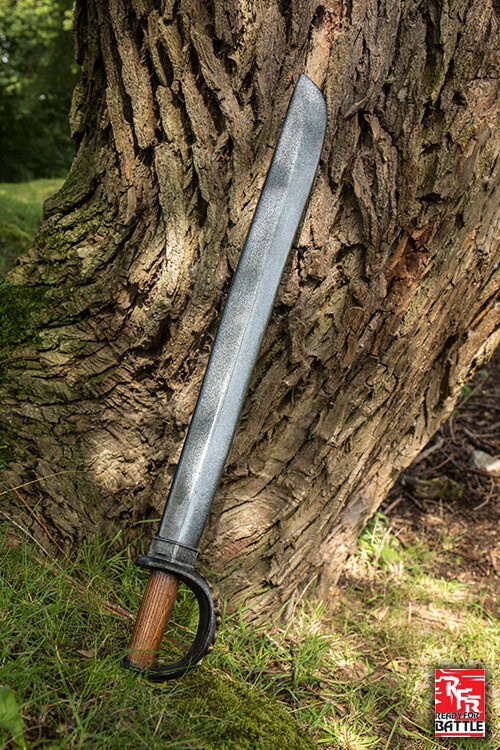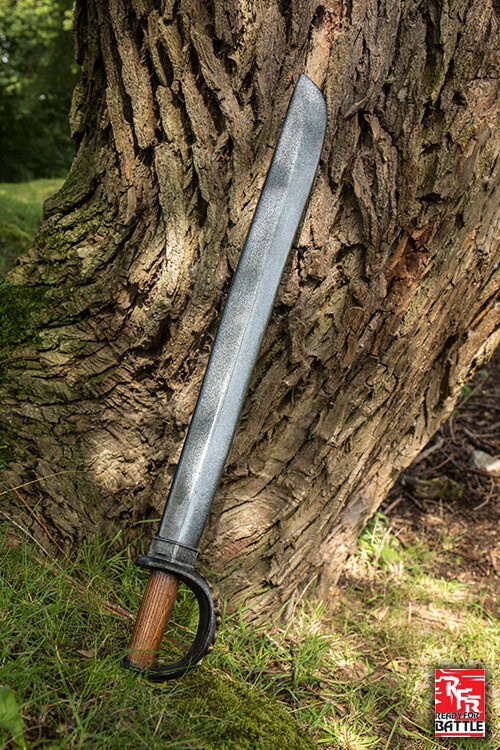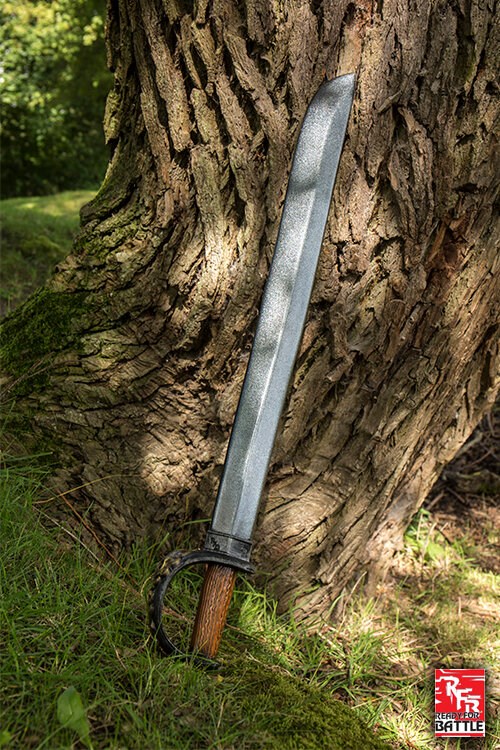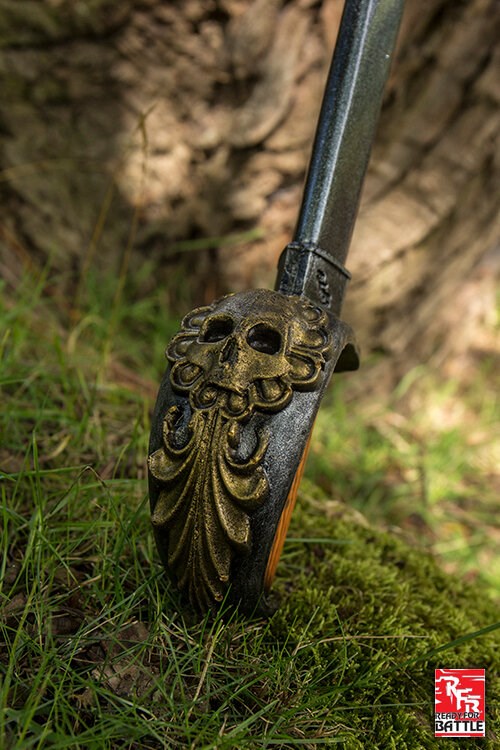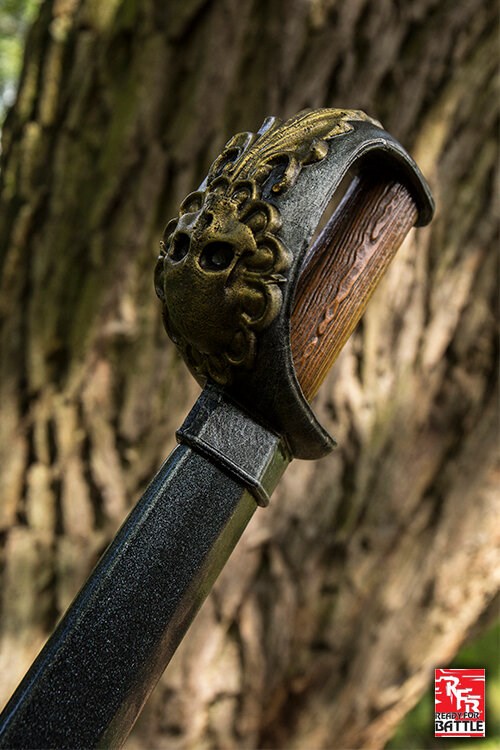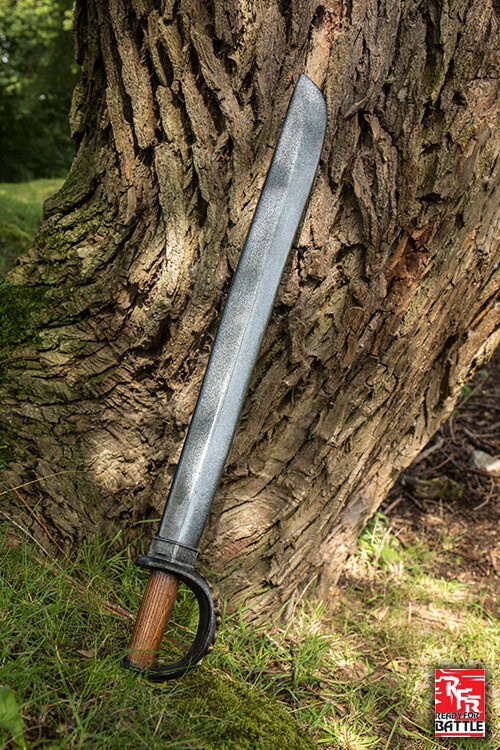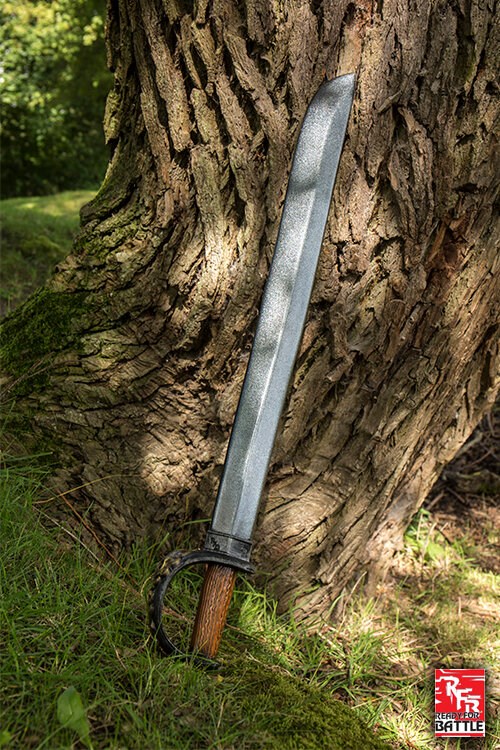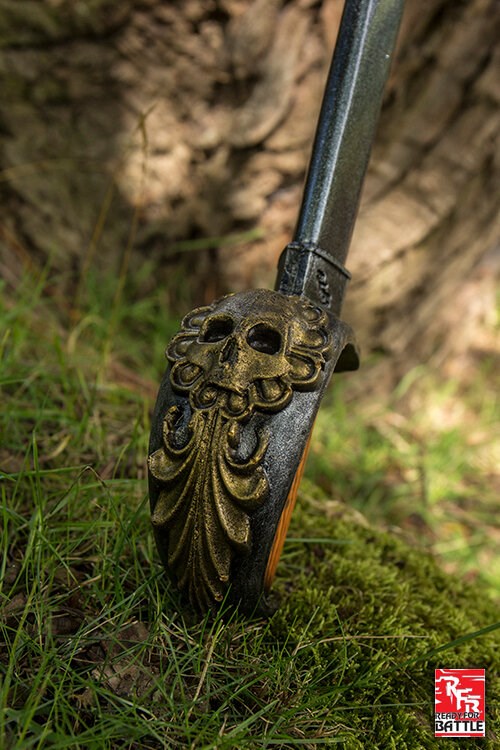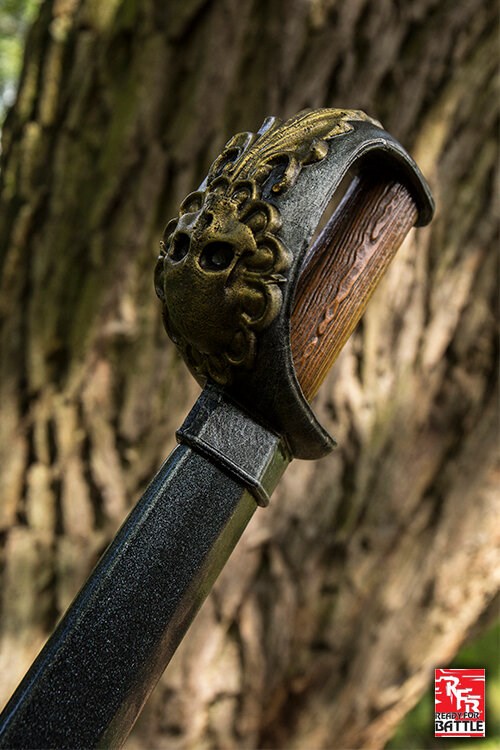 Description

Fitting

Quality

Technical Details
Your father was a great pirate who roamed the seas. He eventually became a legend amongst sailors for his incredible fighting skills with his cutlass.
You've inherited his RFB Skull Cutlass, and you dream of adventures on the high sea that will rival the tales of your father before you. You simply need to practice...and find a ship with a crew.
DETAILS
Epic Armoury's RFB Skull Cutlass is a latex-hybrid single-edged sword with a basket hilt. The sword is 75 cm long and has a curved blade with a thicker tip designed to give it the chopping power necessary to dominate a bloody deck. The crossguard curves around the hand, and is decorated with a golden skull set against the silver metal. This guard protects the detailed grip cast and painted to look like real wood.
This Ready for Battle Skull Cutlass is a simplified version of our regular Cutlass, perfect for children or first time LARPers. While it is meant as a beginner's weapon, this Cutlass is still constructed using our highest quality materials and is both durable and detailed. The blade is made from closed cell foam around a fibreglass core and finished with a strong latex coating, while the handle is a polyurethane foam cast that allows for greater detail and no maintenance. This hybrid model sword will make you confident in the safety and appeal of your weapon on the battlefield.
HISTORY
Traditionally used with a trident dagger, pistol or a belaying pin
Commonly used as a naval weapon, it was designed to effectively slash enemies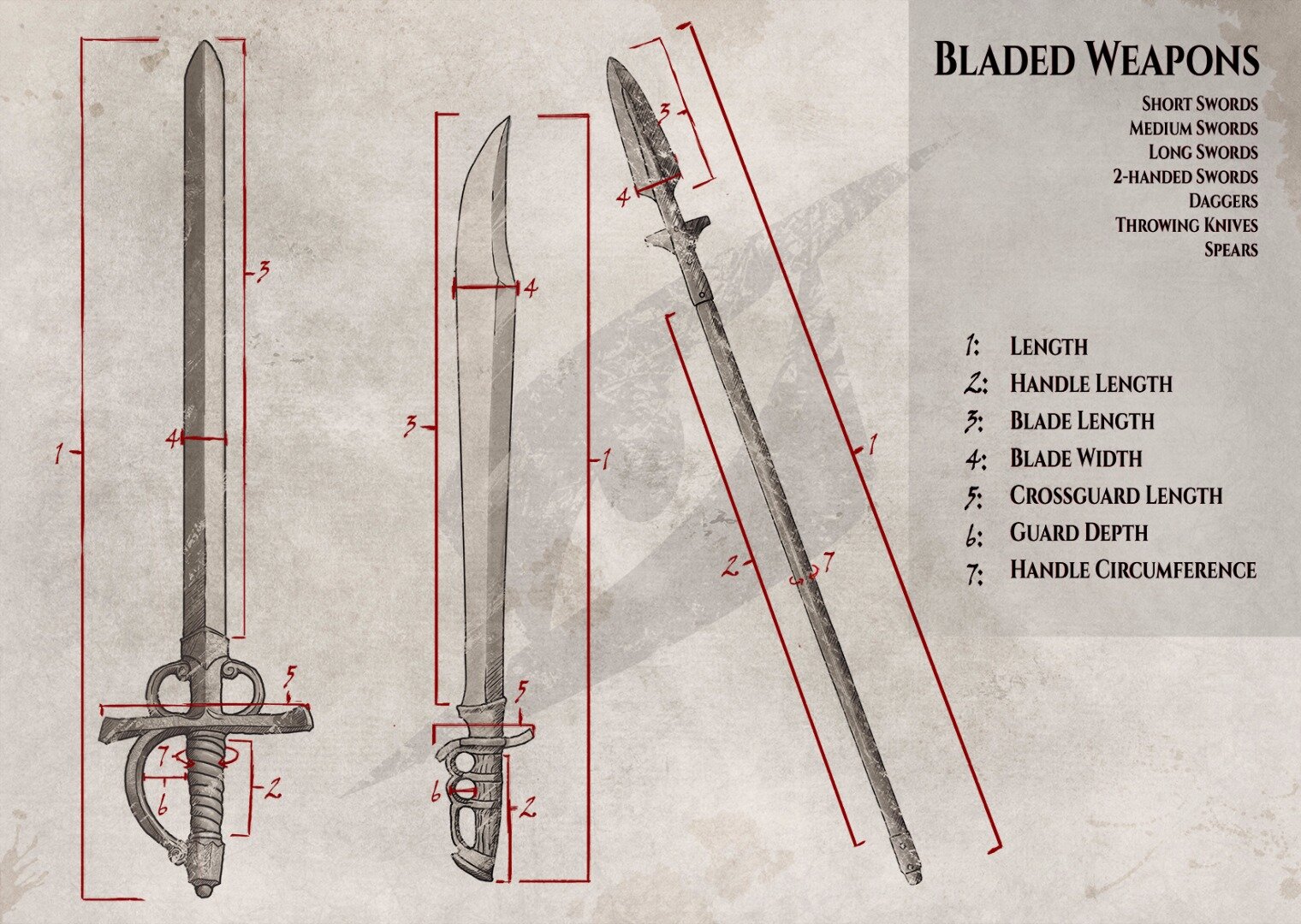 Blade has a strong latex coating with a round fibreglass core
Strong Kevlar core tip protection
Blade is made from durable closed cell foam that does not shred
Handle is a polyurethane foam cast, giving it more detail with no maintenance!
Handle is very durable, will last longer than a latex version, and is less slippery than a silicone treated alternative
High safety, approved by the top organizations
This product is handmade and hand-painted and therefore unique. As a result, when compared with similar item numbers, this product can have natural deviations in pattern, colour and shape, which are not considered defects or faults.
We produce our image material in a natural environment, where lighting and surroundings can affect colors and contrast. The displayed images may therefore appear different from the product you receive from us.
Measurements are all in cm if not stated otherwise.
Brand:
Ready For Battle
Universe:
Sovereign
Product type:
Sword
Product type:
Hybrid, 07 mm Solid Fibreglass Rod
Release date:
01/02/2018
Maintenance
This hybrid weapon's handle does not require any special maintenance, while the blade has a latex coating which needs a certain degree of maintenance. For this we recommend using maintenance silicone, which can be purchased separately in the LARP Accessories section. Epic Armoury Maintenance Silicone is an easy, spray-on application, 100% pure and acid-free making it safe to apply. We recommend using Maintenance Silicone on a regular basis, taking care not to apply the spray to the handle by first wrapping it in plastic-wrap. It maintains the latex-coat's flexibility and prevents it from drying out, keeping the product wear and tear resistant.
Store your weapon flat or on its pommel--NEVER on its tip. Use a simple sheet or towel lining to prevent it from touching a plastic or rubber surface to prevent your weapon from adhering to other products. Keep your weapon in a cool, dry environment.