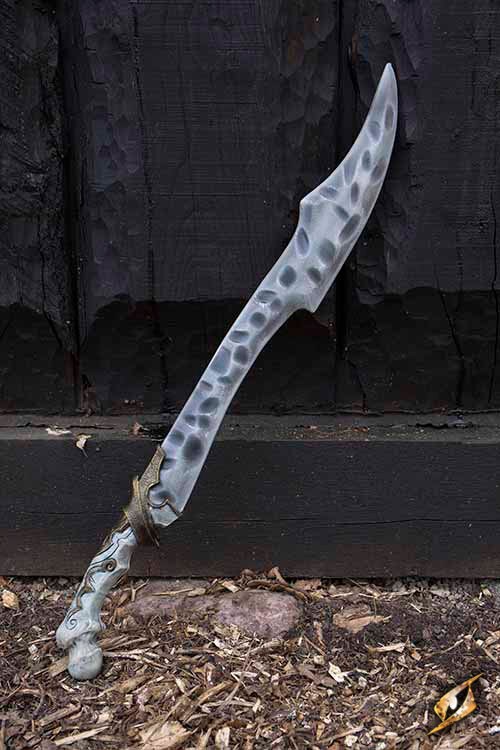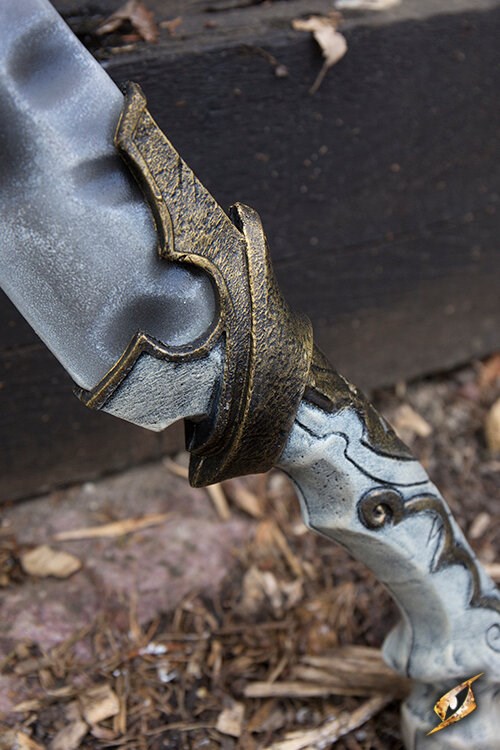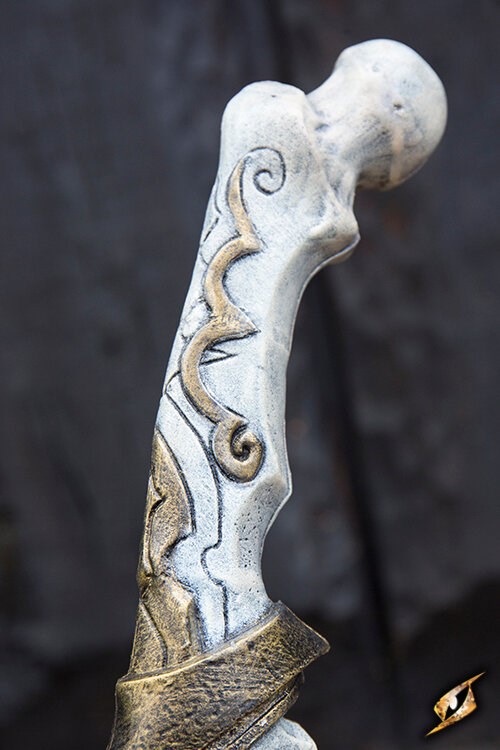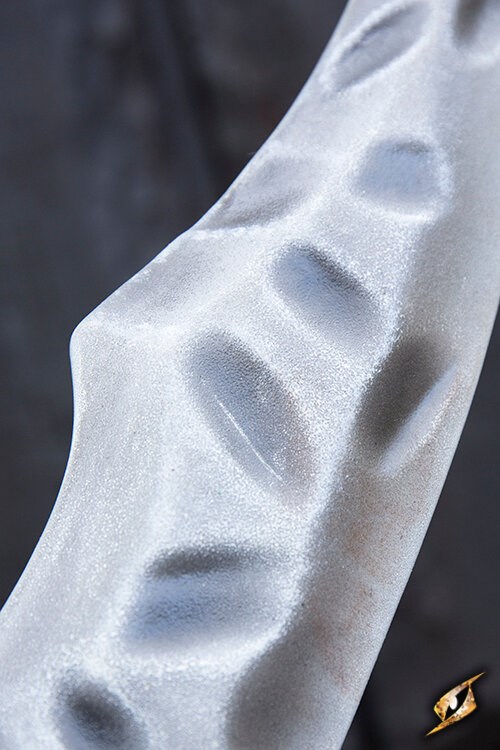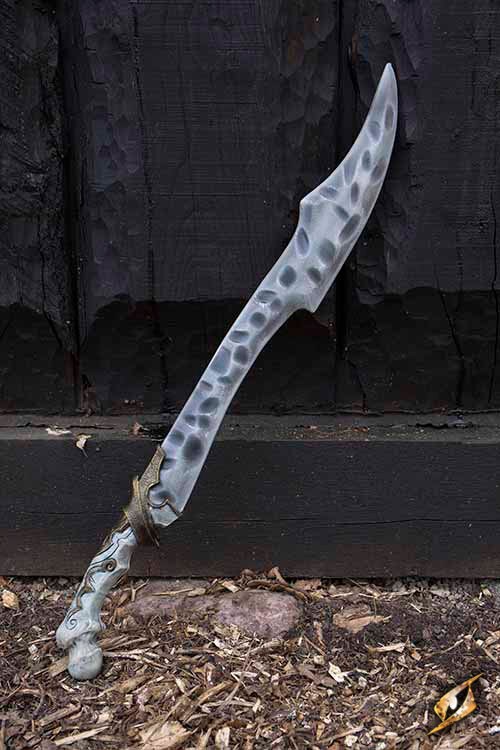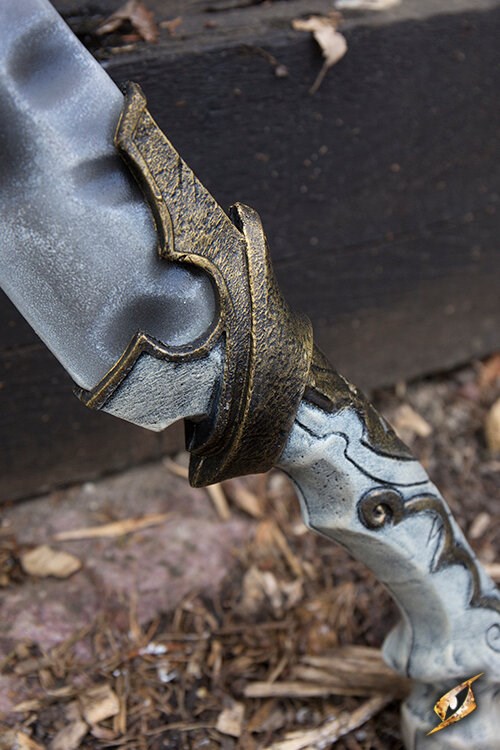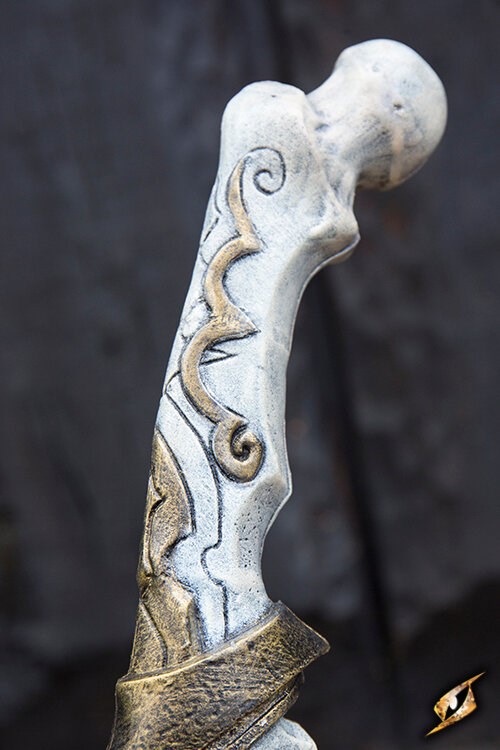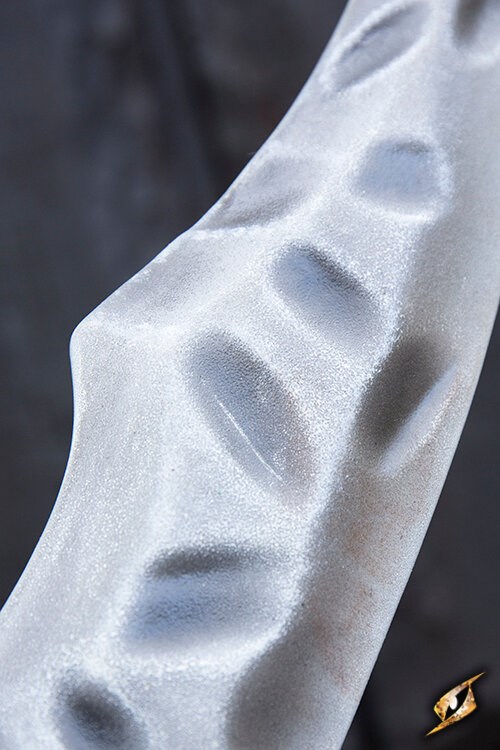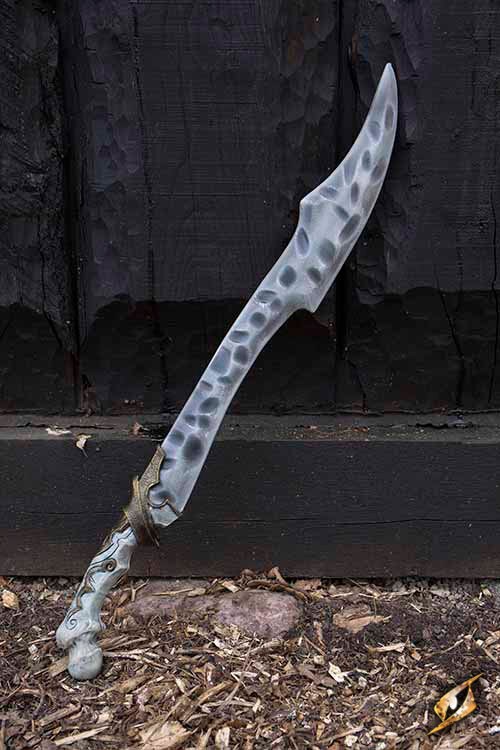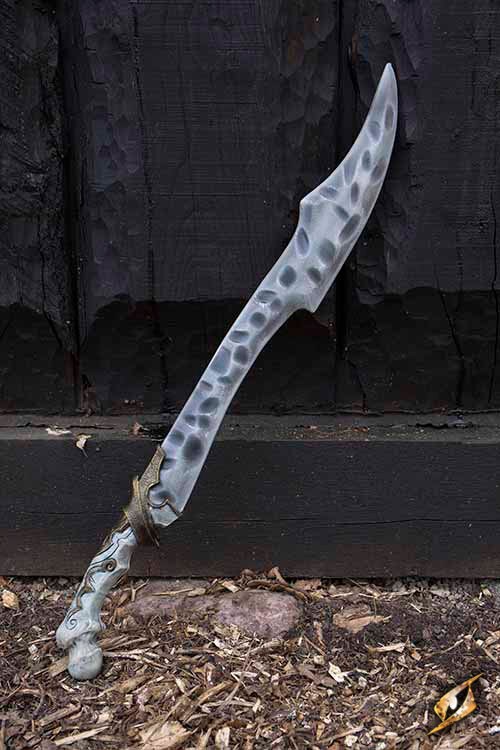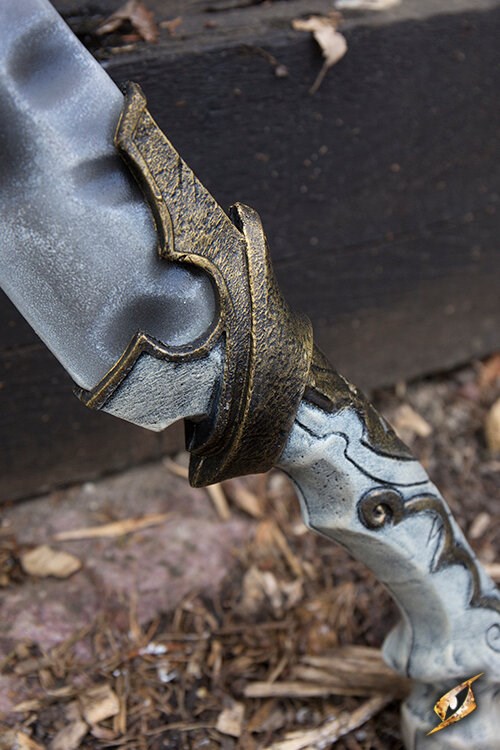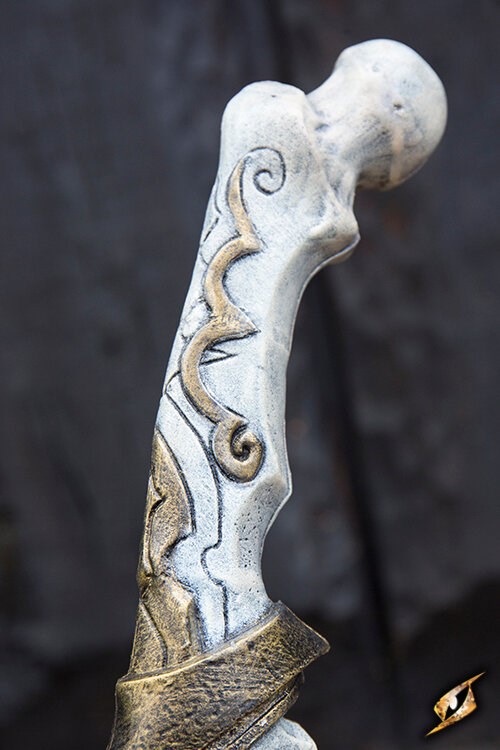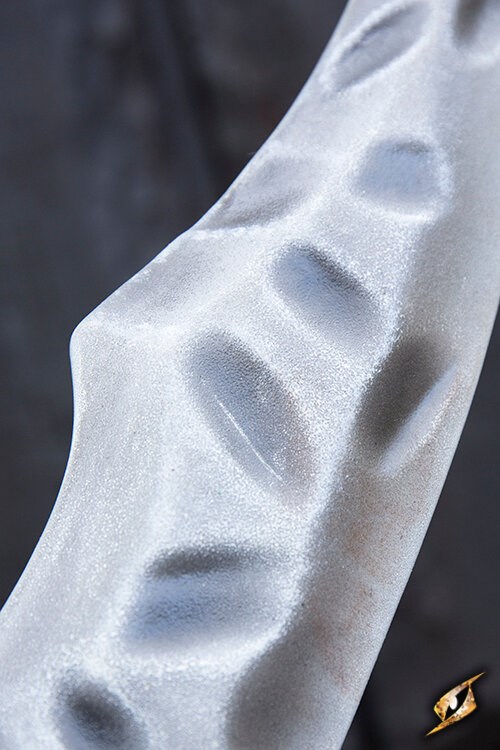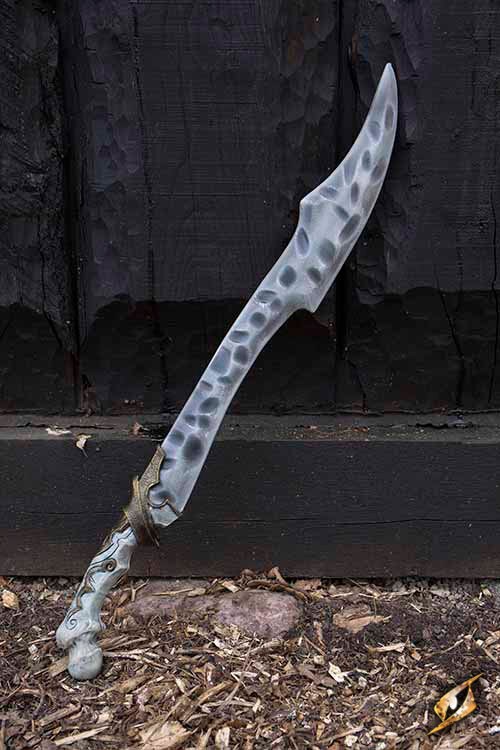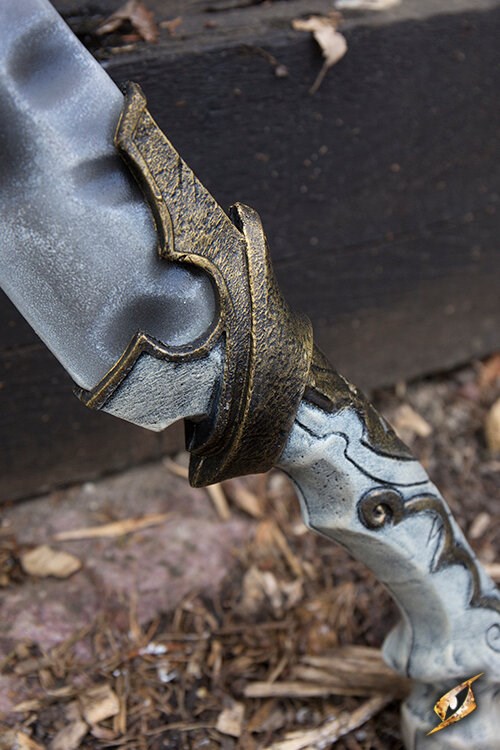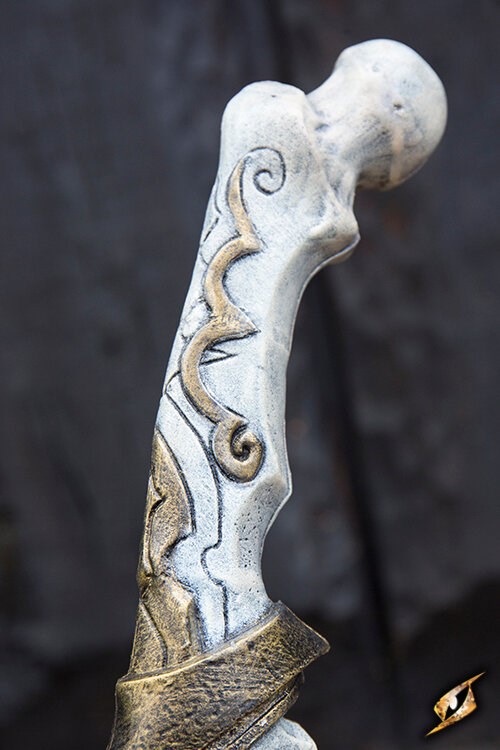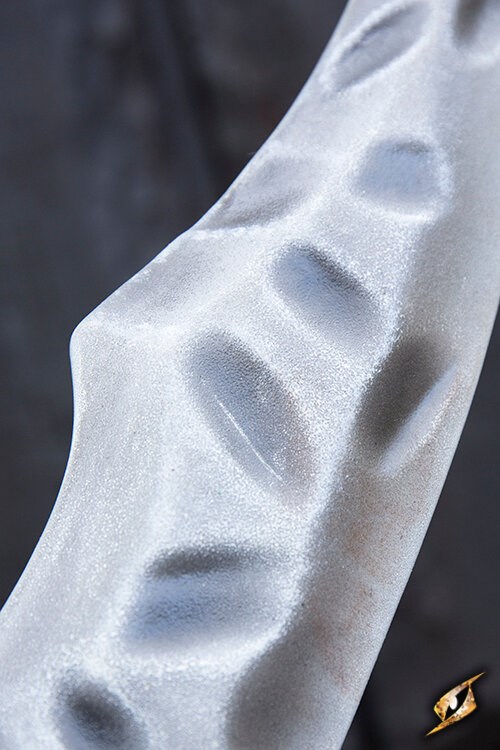 Description

Fitting

Quality

Technical Details
Ah, the satisfying sound of your dying enemy. The glory is not simply in the kill--an easy task, thanks to your Bone Scimitar--but in the revenge you find when you animate the dead and send them back at their own people.
Such terror have you wrought upon the land that no one forgets your name. You are the Bone Master.
DETAILS
Epic Armoury's Bone Scimitar is a latex-hybrid medium sword for the cruel necromancer or dark villain. The sword is 85 cm long from tip to pommel, with a curved single-edged blade. The detailed crossguard features gold accents and a sculpted grip, allowing optimal maneuverability and comfort for the hand. The handle is cast to look like a bleached bone, and it and the deadly blade are both painted to look like bleached bone.
With a dark, dangerous appearance, this Bone Scimitar is our highest quality gear due to its impressive durability and detail. The blade is made from closed cell foam around a fibreglass core and finished with a strong latex coating, while the handle is a polyurethane foam cast that allows for greater detail and no maintenance. This hybrid model sword will make you confident in the safety and appeal of your weapon on the battlefield.
INSPIRATION
Inspired by the Shamshir or Scimitar weapons of the middle east
Dark elves were first mentioned in Norse mythology as the "Dökkálfar" or "Svartálfar" written in the Prose Edda in the 13th century
Have also been referred to as "Drow" in the Dungeons & Dragons universe, made famous by R.A. Salvatore's The Dark Elf Trilogy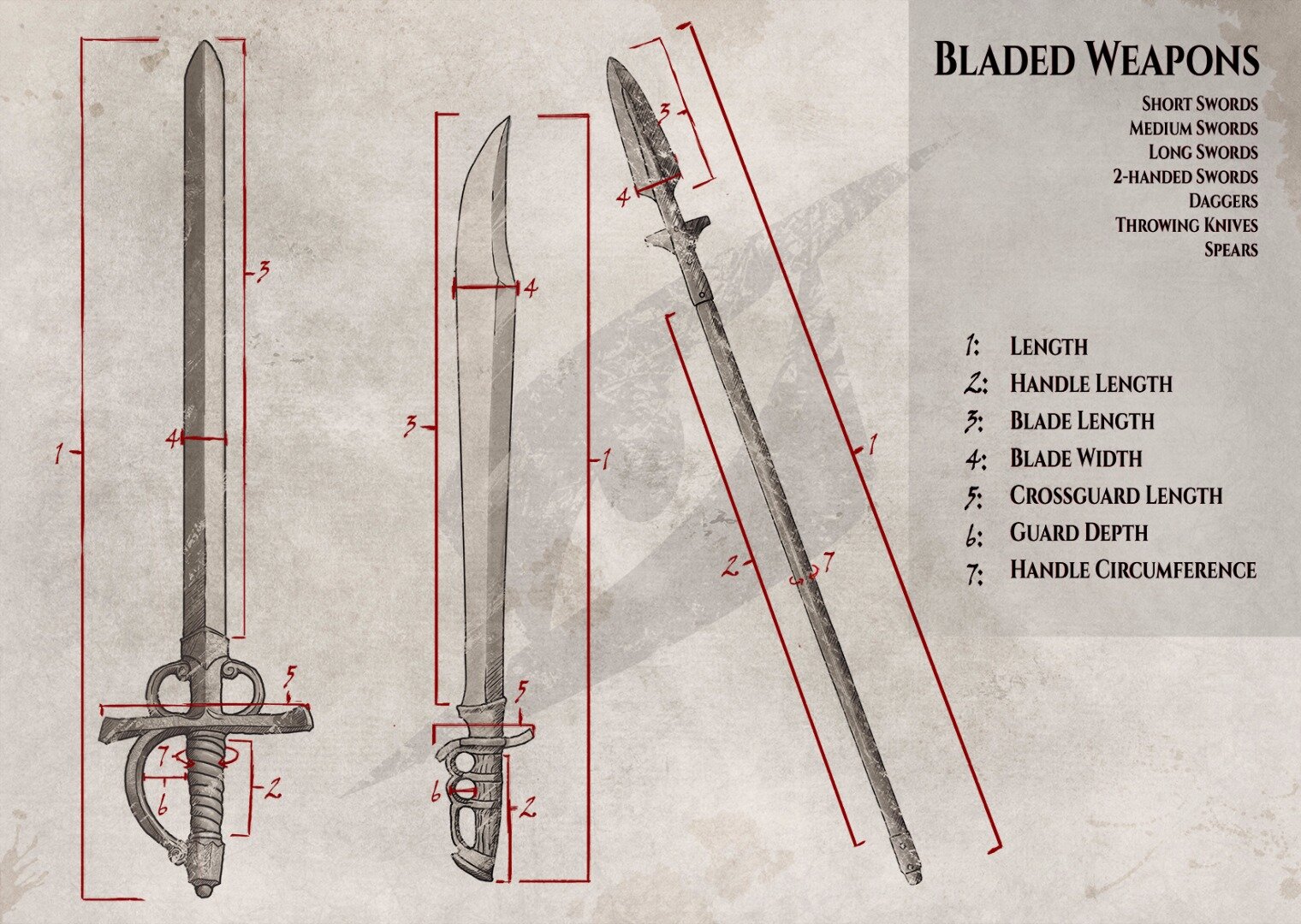 Blade has a strong latex coating with a round fibreglass core
Strong Kevlar core tip protection
Blade is made from durable closed cell foam that does not shred
Handle is a polyurethane foam cast, giving it more detail with no maintenance!
Handle is very durable, will last longer than a latex version, and is less slippery than a silicone treated alternative
High safety, approved by the top organizations
This product is handmade and hand-painted and therefore unique. As a result, when compared with similar item numbers, this product can have natural deviations in pattern, colour and shape, which are not considered defects or faults.
We produce our image material in a natural environment, where lighting and surroundings can affect colors and contrast. The displayed images may therefore appear different from the product you receive from us.
Measurements are all in cm if not stated otherwise.
Brand:
Epic Armoury
Universe:
Stygian
Product type:
Sword
Product type:
Hybrid, 08 mm Solid Fibreglass Rod
Release date:
03/26/2018
Maintenance
This hybrid weapon's handle does not require any special maintenance, while the blade has a latex coating which needs a certain degree of maintenance. For this we recommend using maintenance silicone, which can be purchased separately in the LARP Accessories section. Epic Armoury Maintenance Silicone is an easy, spray-on application, 100% pure and acid-free making it safe to apply. We recommend using Maintenance Silicone on a regular basis, taking care not to apply the spray to the handle by first wrapping it in plastic-wrap. It maintains the latex-coat's flexibility and prevents it from drying out, keeping the product wear and tear resistant.
Store your weapon flat or on its pommel--NEVER on its tip. Use a simple sheet or towel lining to prevent it from touching a plastic or rubber surface to prevent your weapon from adhering to other products. Keep your weapon in a cool, dry environment.