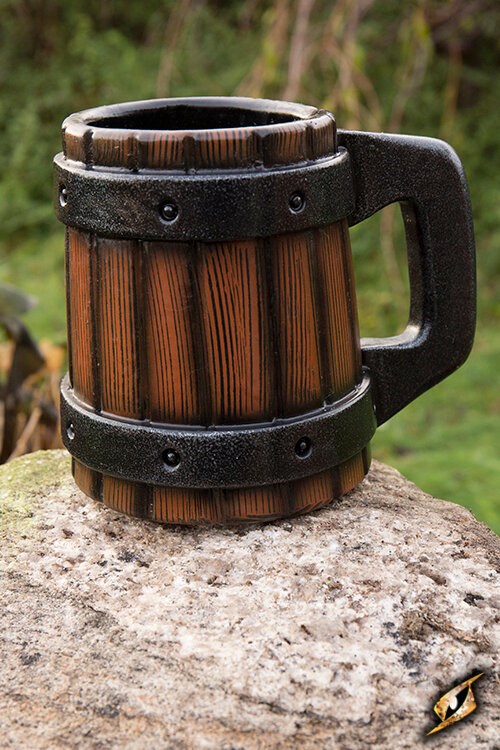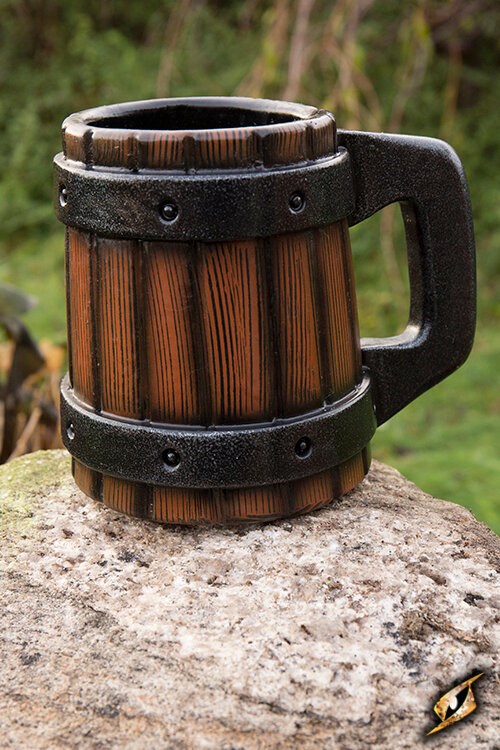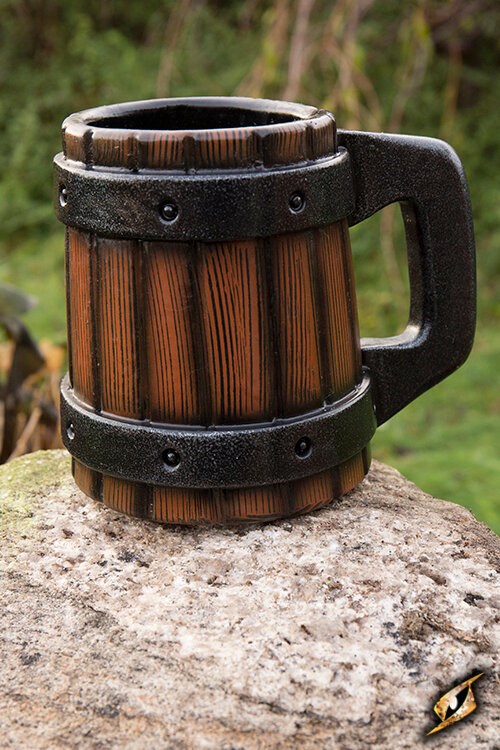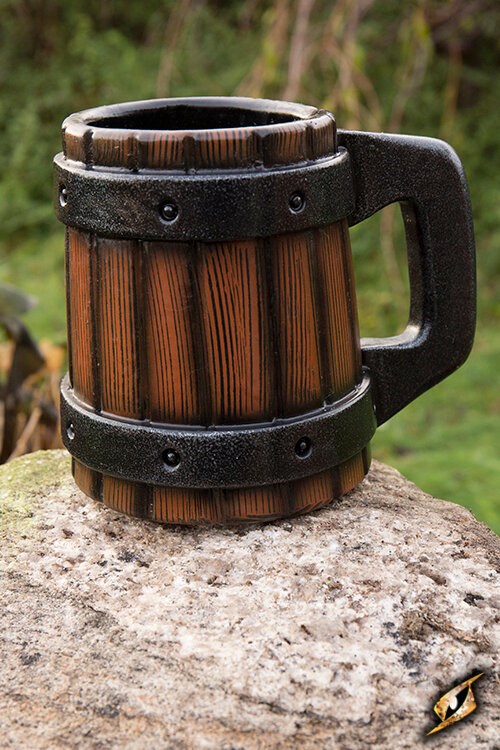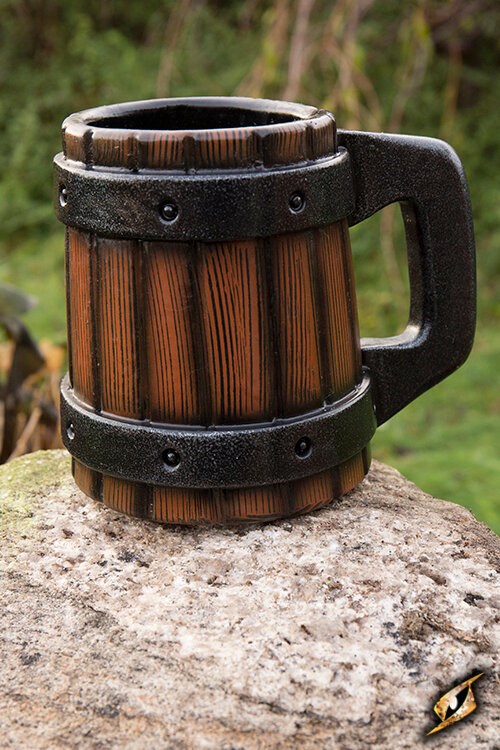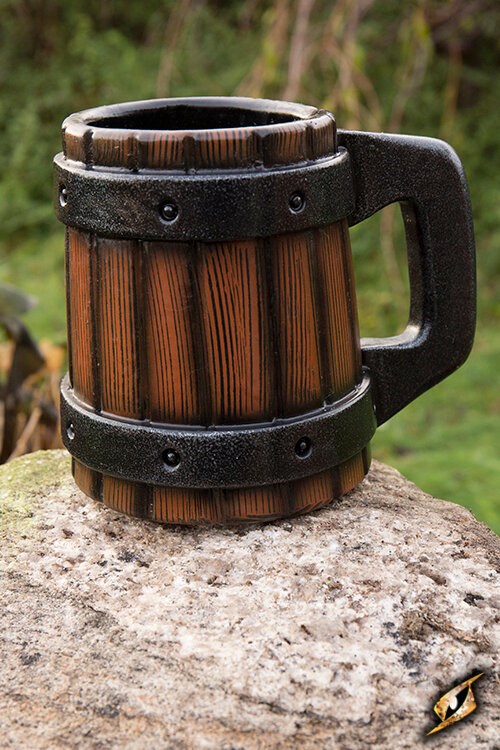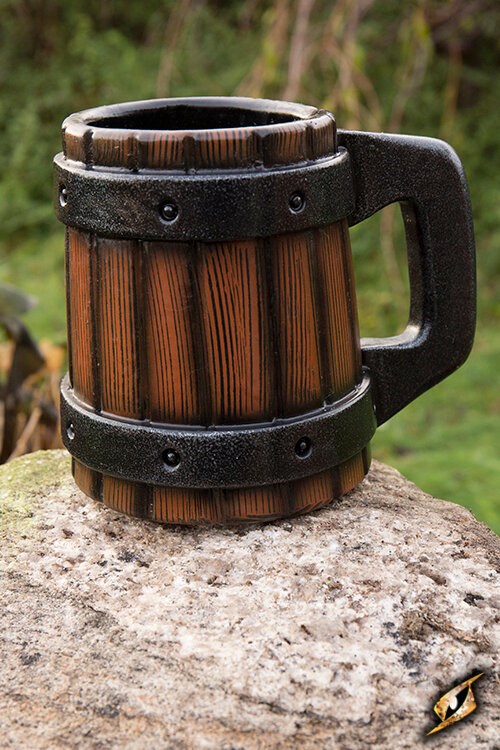 Beermug with metal bands
Epic Armoury, Stalwart
In Stock
Available
(choose variant)
Prices from {{ variantsPriceFrom }}
Description

Quality

Technical Details
Never go into battle before first tasting your favorite ale. That is the advice you would give any of your fellow Dwarves, for you never know when this may be your last fight.
You slam your Beer Mug onto the table as you await the finest dark ale you know. The tavern was quiet before you walked inside, tense with the anticipation of a coming war, but you are loud and bring life back to its walls. You raise a toast to the barkeep and to any nearby, granting them glory on the battlefield before drinking deeply from your mug.
It would be a true shame to leave this world while thirsty.
DETAILS
Epic Armoury's Beer Mug with Metal Bands is a throwing weapon handy for impromptu fights against other midnight boozers. The beer mug is cylindrical, standing 20 cm tall with a 18 cm diameter. The mug is carved with a wood texture and coloured brown to resemble the staves of a cask, rimmed with riveted metal-hoops. The hoops connect to the metal-coloured handle which is 8 cm deep, leaving plenty of room for grip. The inside is coloured black, mimicking a dark wax typically found on the inside of wooden mugs.
Made from coreless durable closed cell foam and finished with a strong latex coating, you can feel confident that this Beermug will provide the safety and appeal you want when crafting your kit.
HISTORY
Also called a "tankard," which originally referred to any wooden drinking vessel
Similar to the earliest form of a tankard, which did not have a lid and resembled a barrel
Earliest form has been found from as far back as 2000 years ago
Strong latex coating
Made from durable closed cell foam that does not shred
High safety, approved by the top organizations
This product is handmade and hand-painted and therefore unique. As a result, when compared with similar item numbers, this product can have natural deviations in pattern, colour and shape, which are not considered defects or faults.
We produce our image material in a natural environment, where lighting and surroundings can affect colors and contrast. The displayed images may therefore appear different from the product you receive from us.
Measurements are all in cm if not stated otherwise.
Brand:
Epic Armoury
Universe:
Stalwart
Materials:
Soft EVA Foam, Latex
Product type:
Throwing Weapon
Release date:
07/01/2008
Maintenance
All latex-coated weapons need a certain degree of maintenance. For this we recommend using maintenance silicone which can be purchased separately in the LARP Accessories section. Epic Armoury Maintenance Silicone is an easy, spray-on application, 100% pure and acid-free making it safe to apply. We recommend using Maintenance Silicone on a regular basis. It maintains the latex-coat's flexibility and prevents it from drying out, keeping the product wear and tear resistant.
Use a simple sheet or towel lining to prevent your latex weapons from touching a plastic or rubber surface to prevent it from adhering to other products. Keep your weapons in a cool, dry environment.