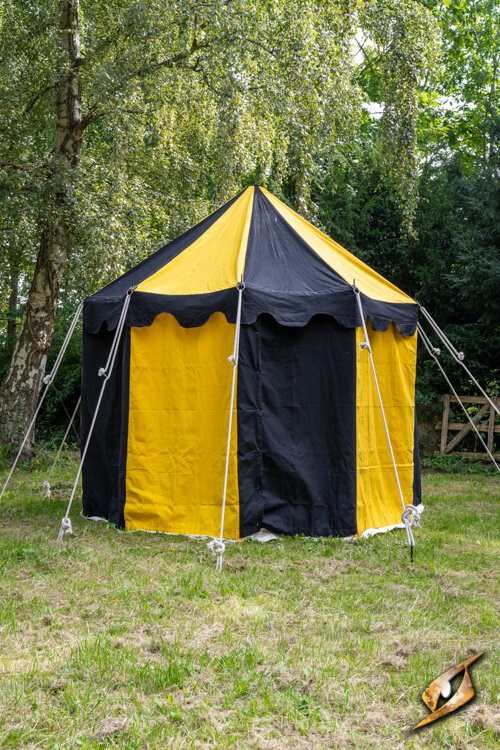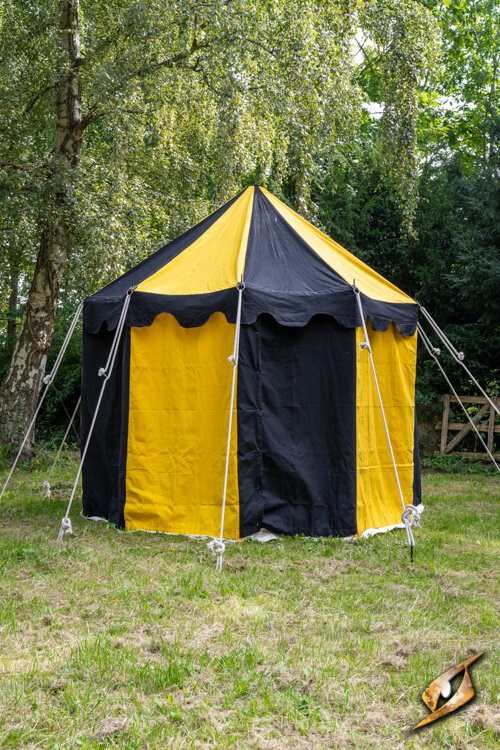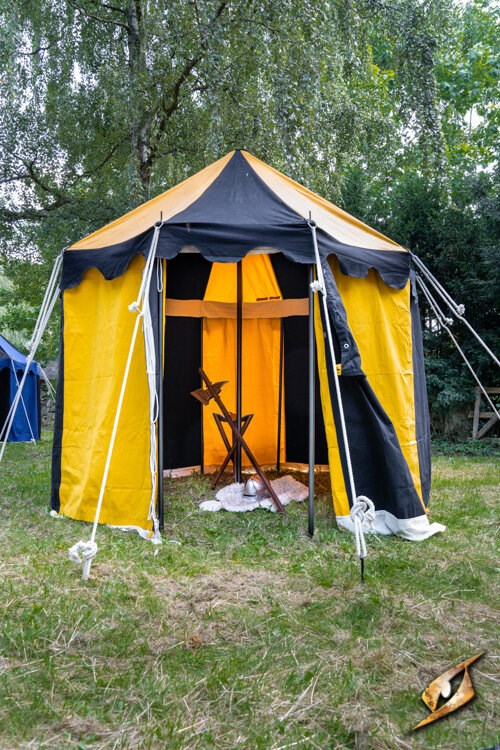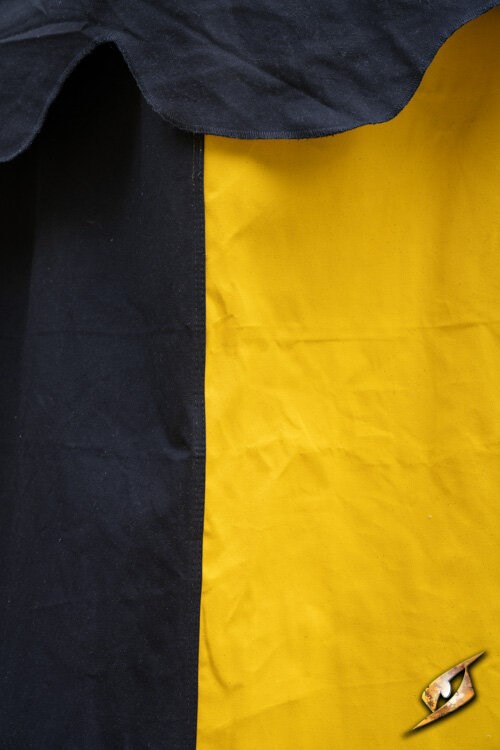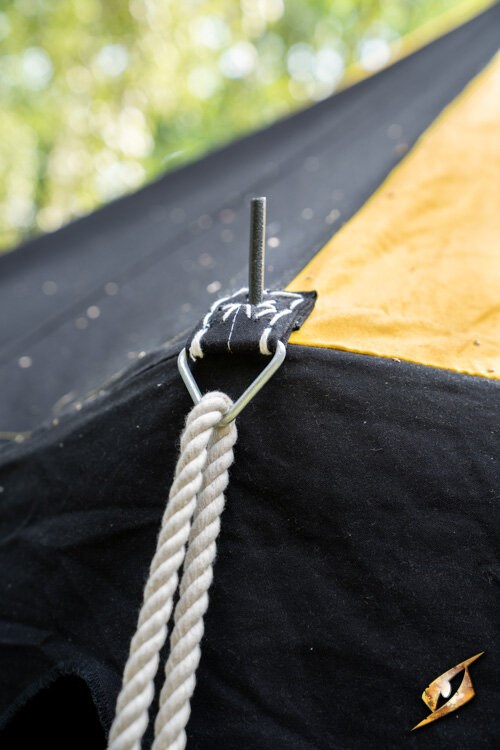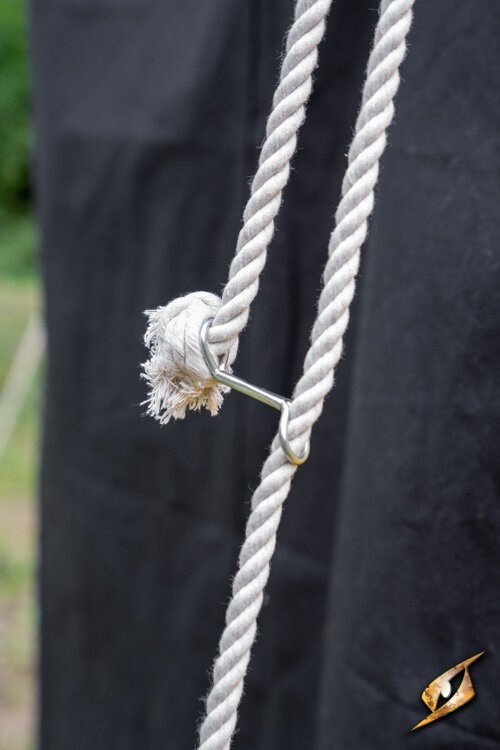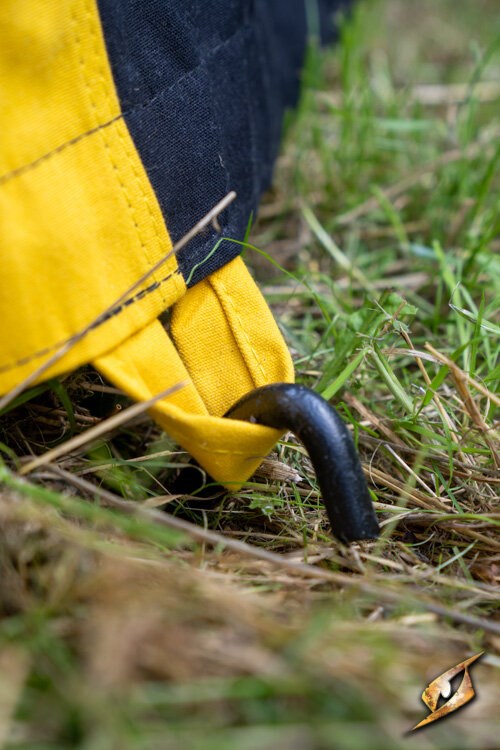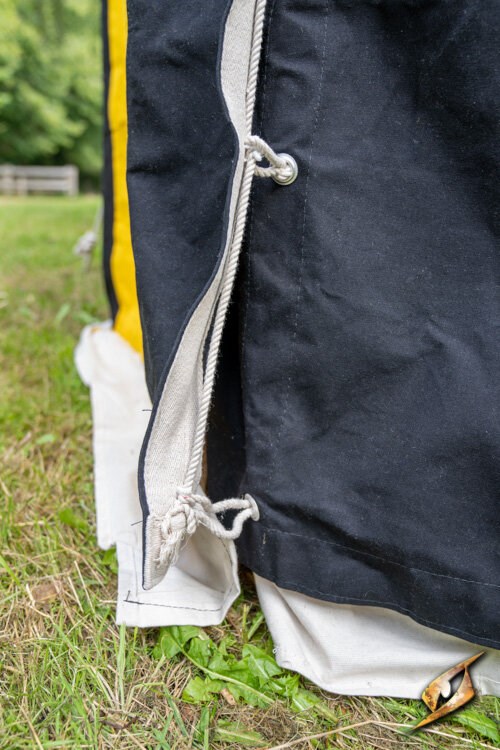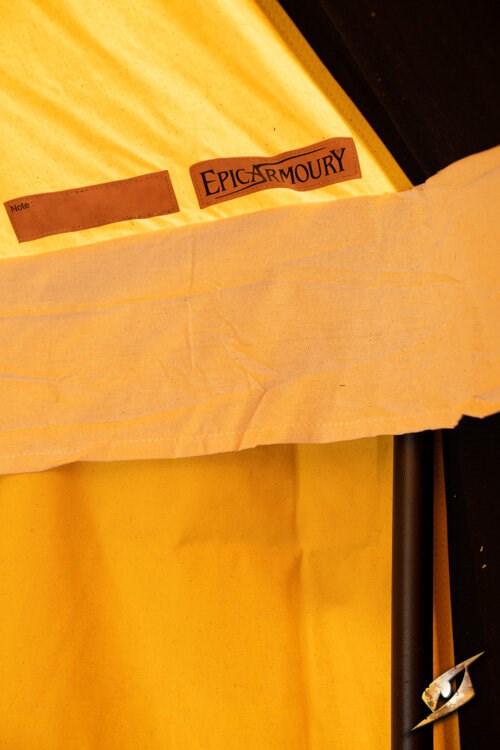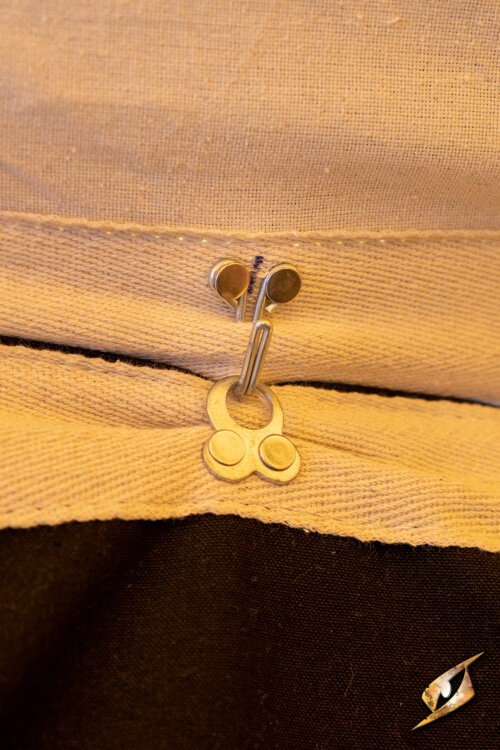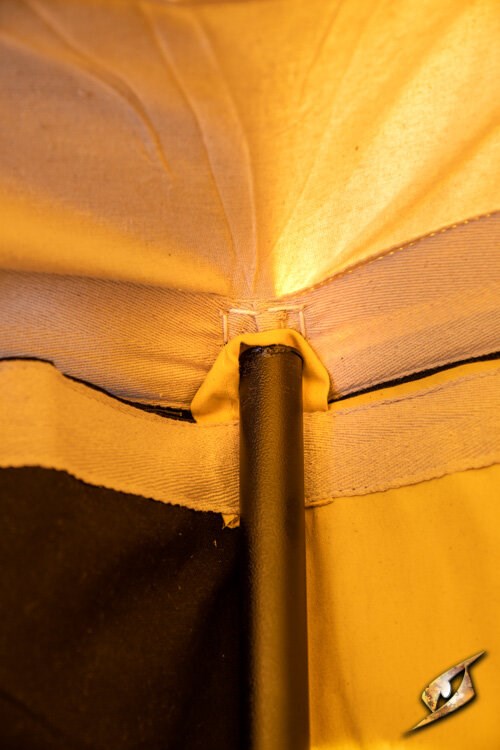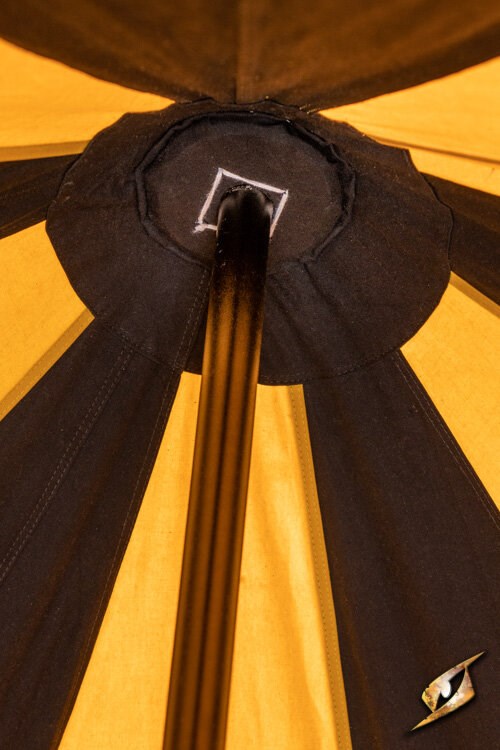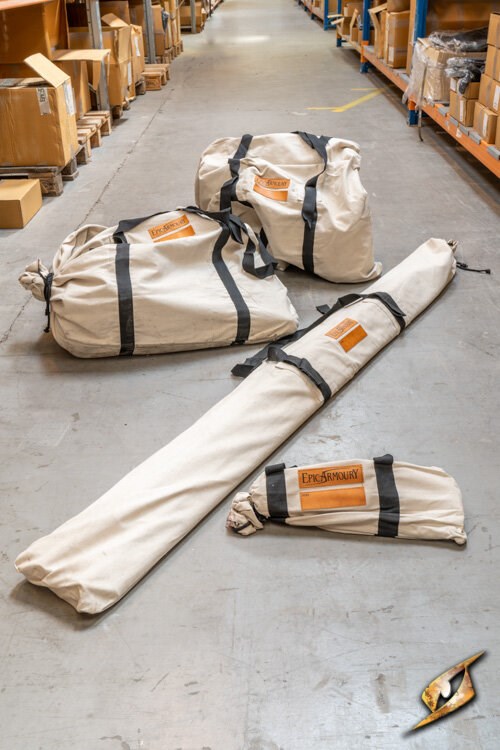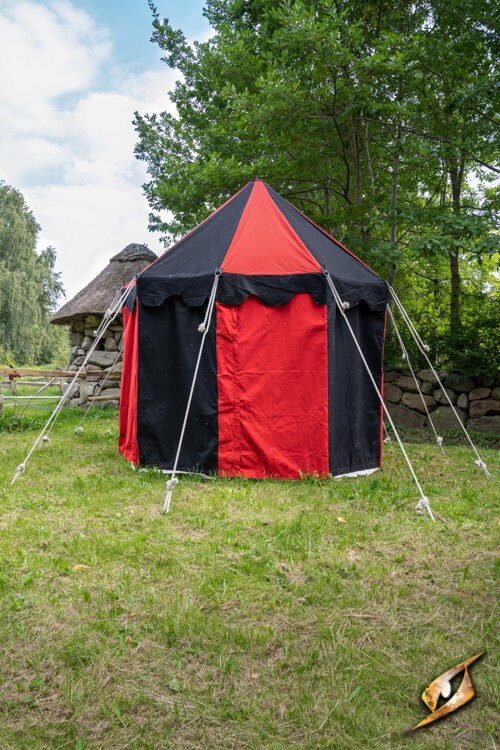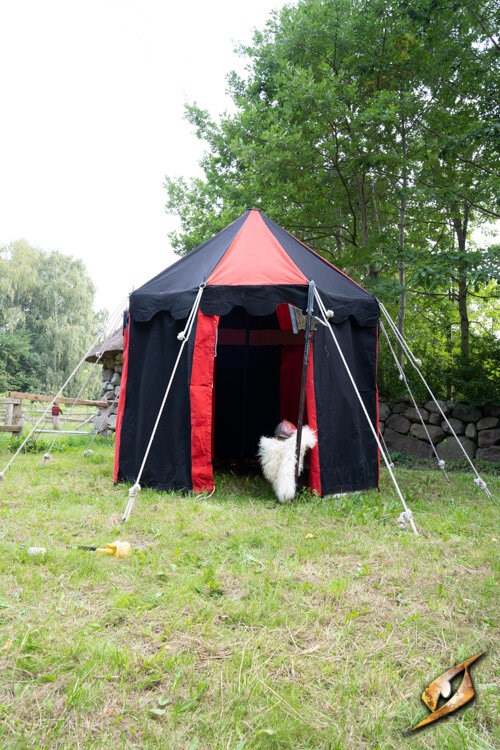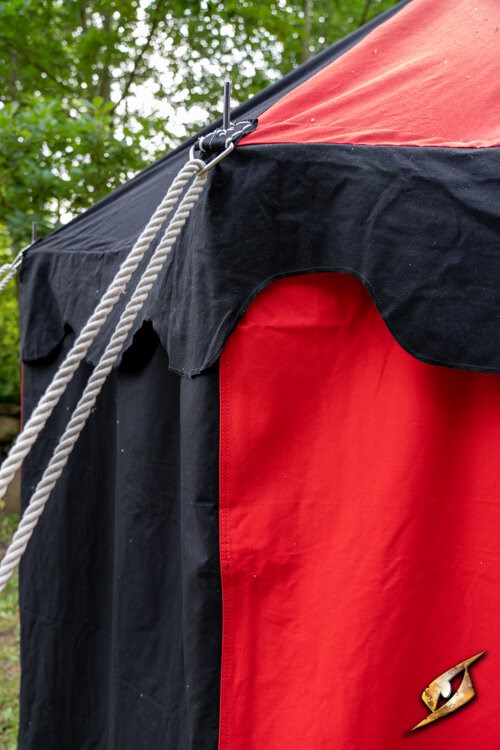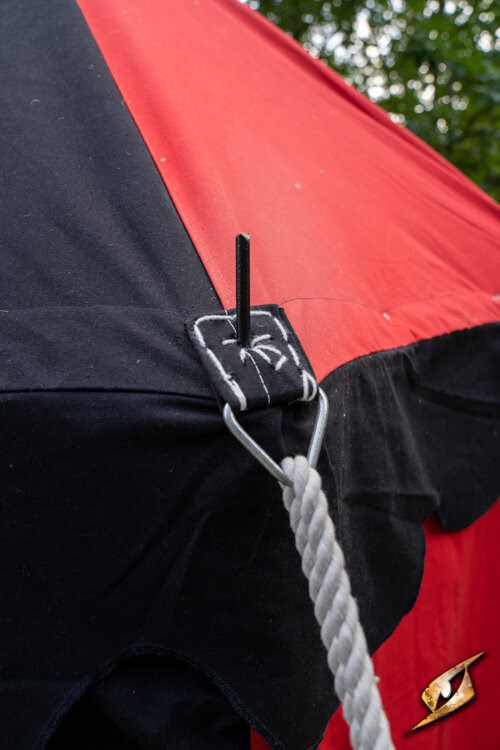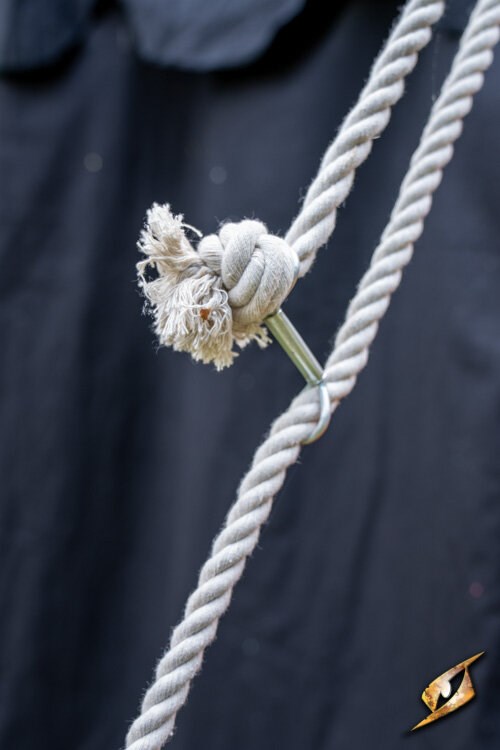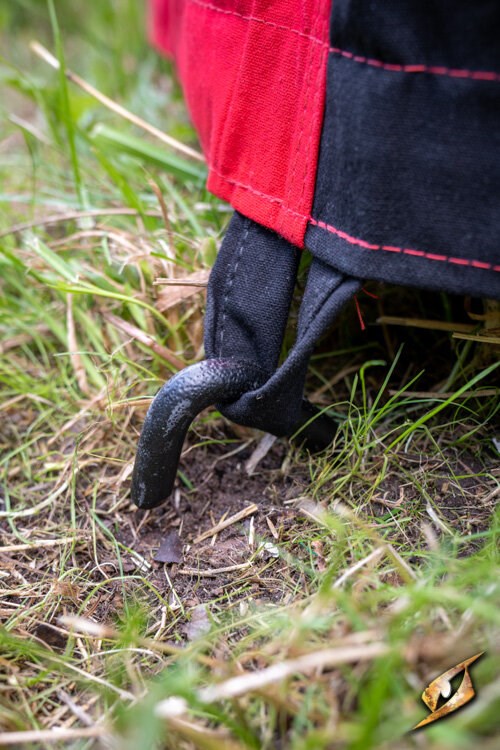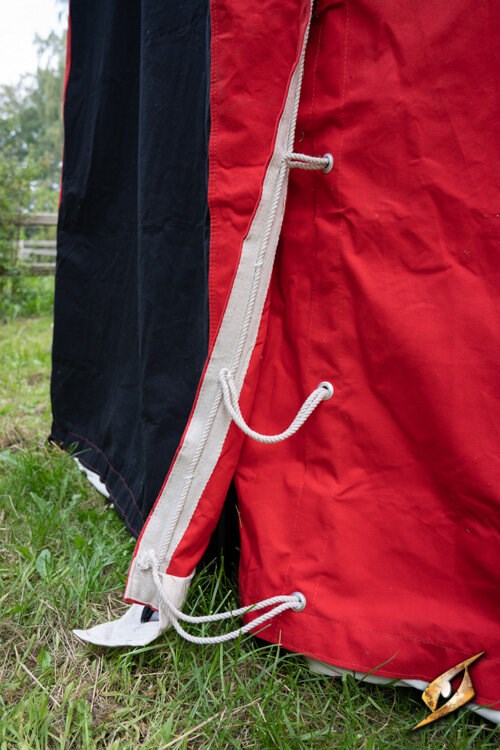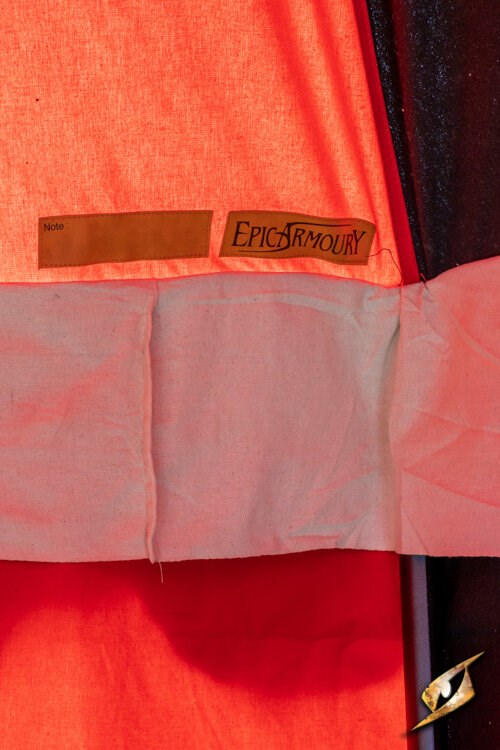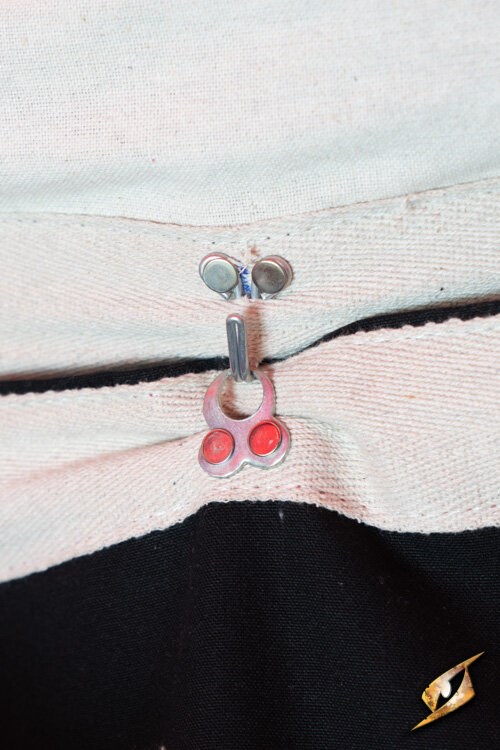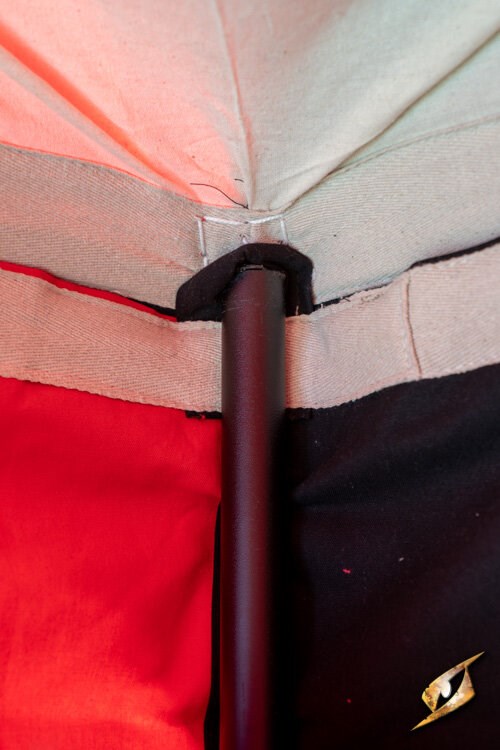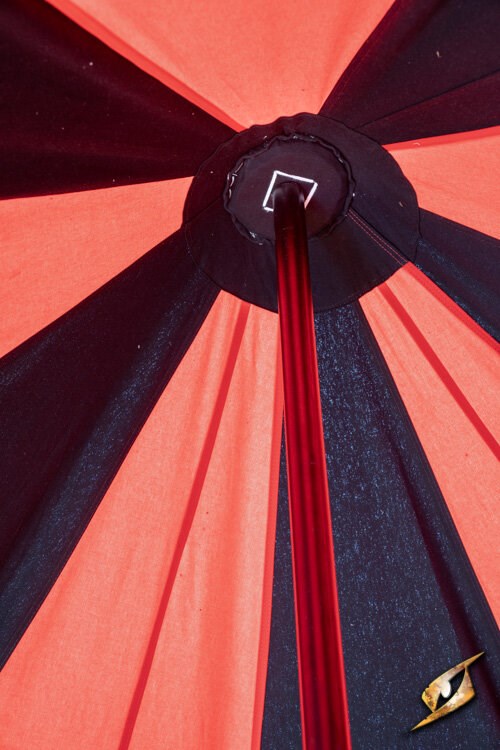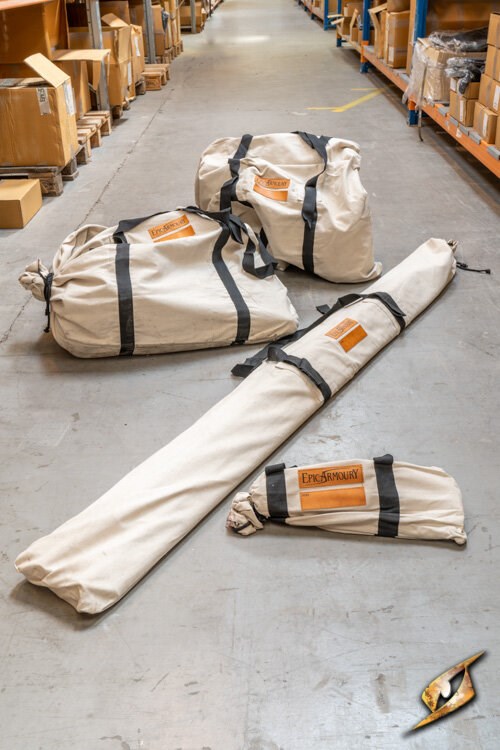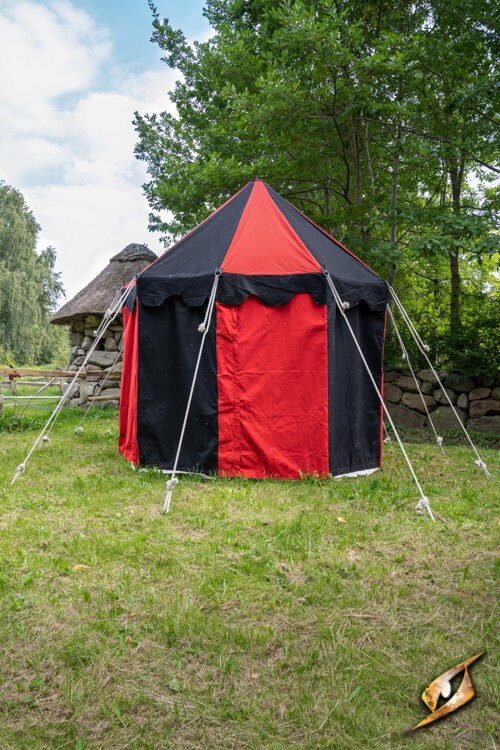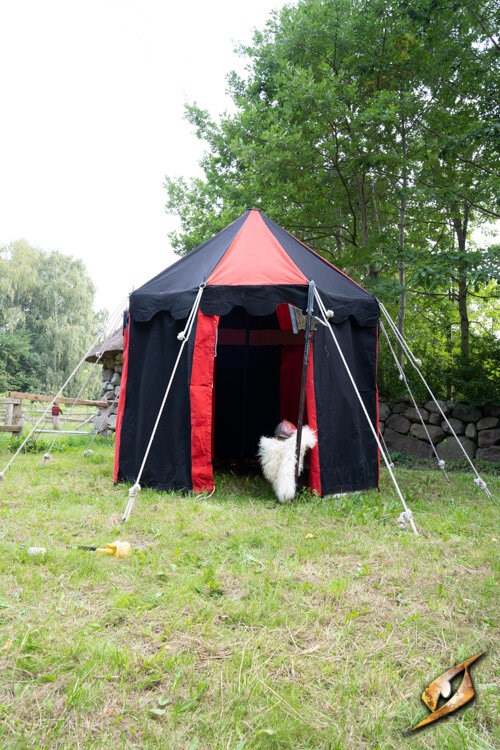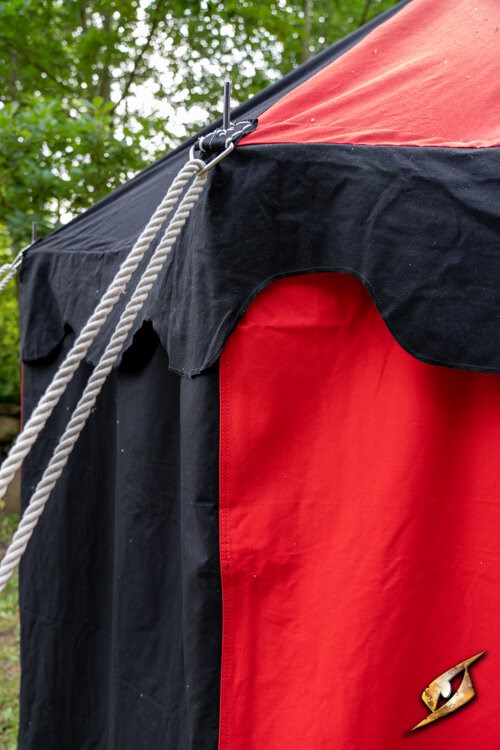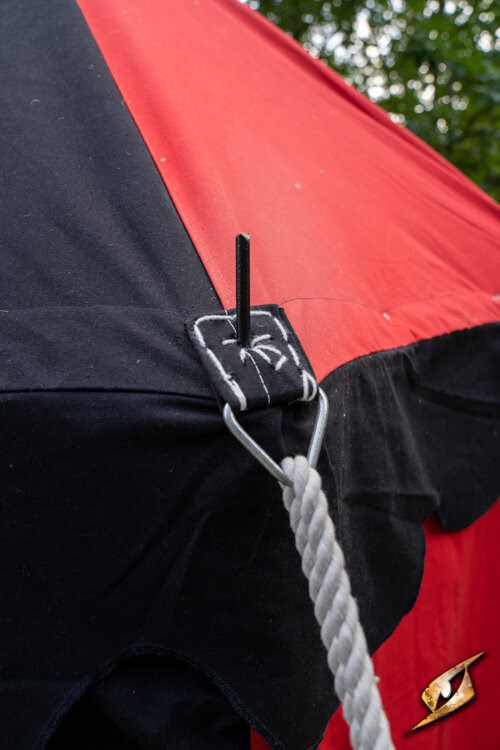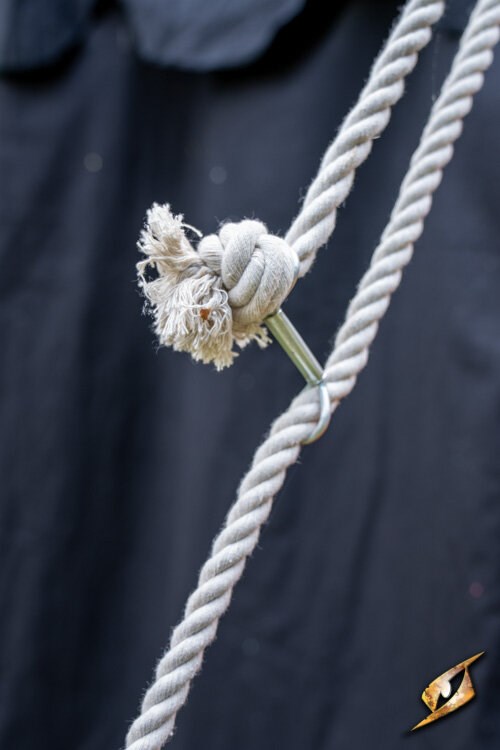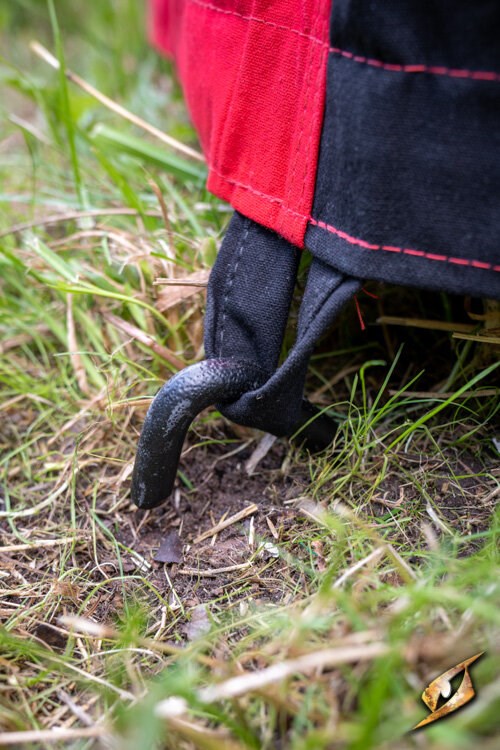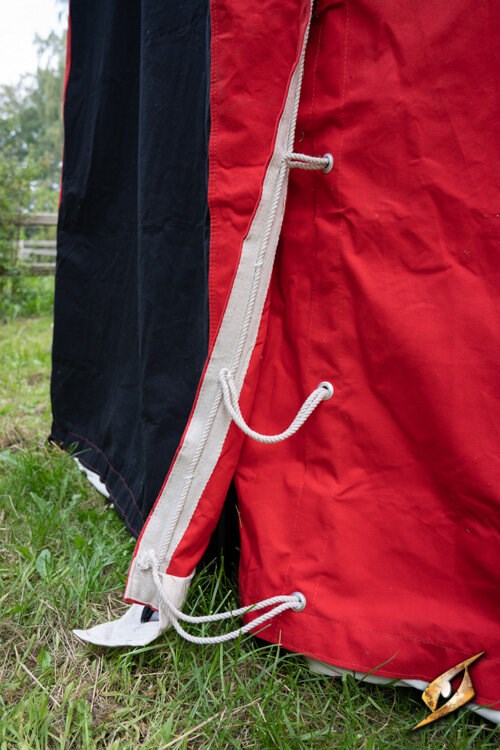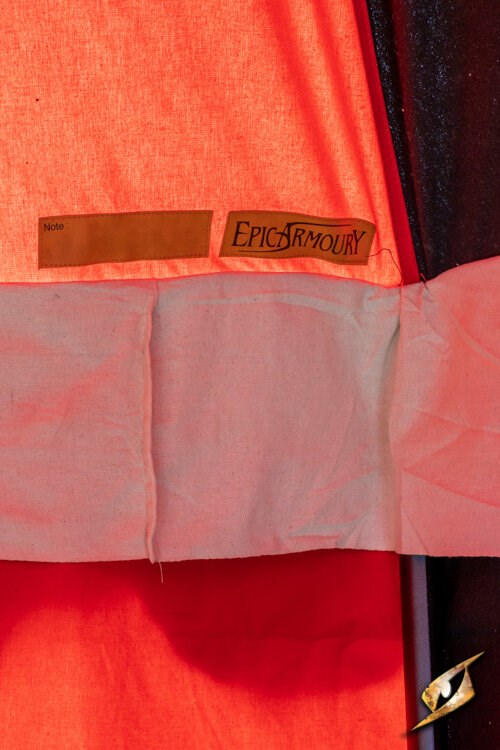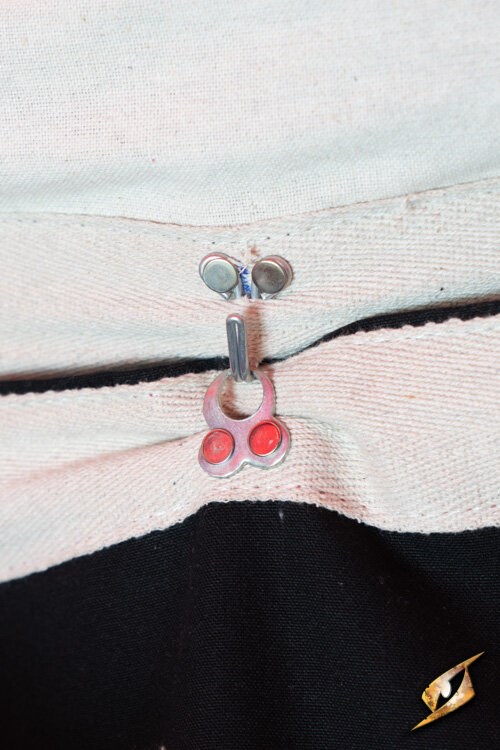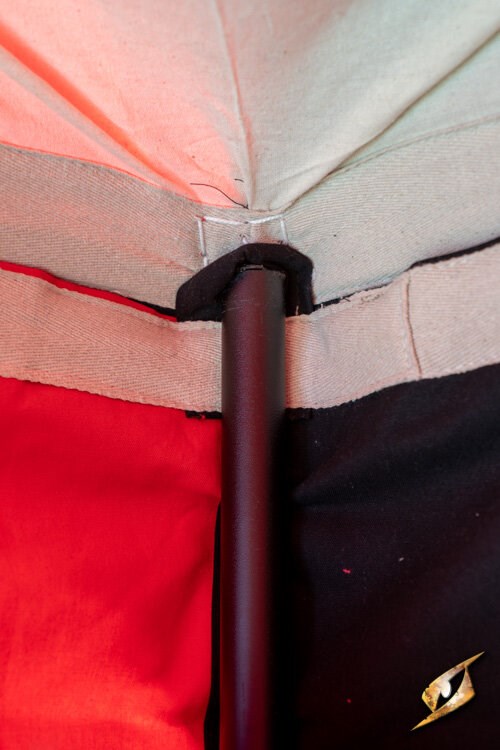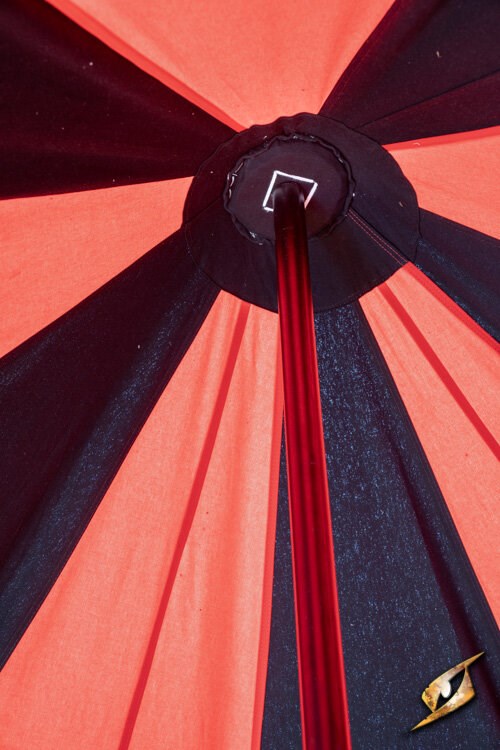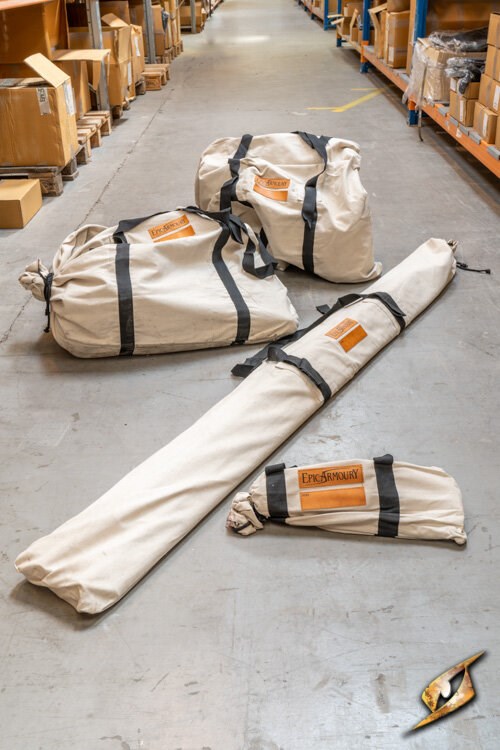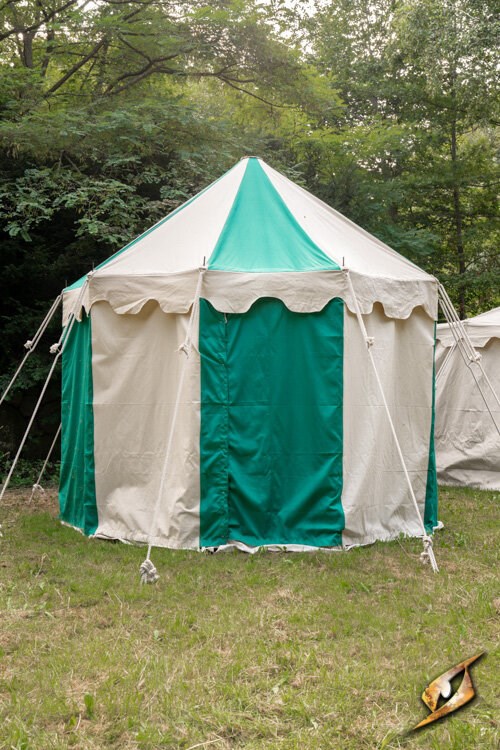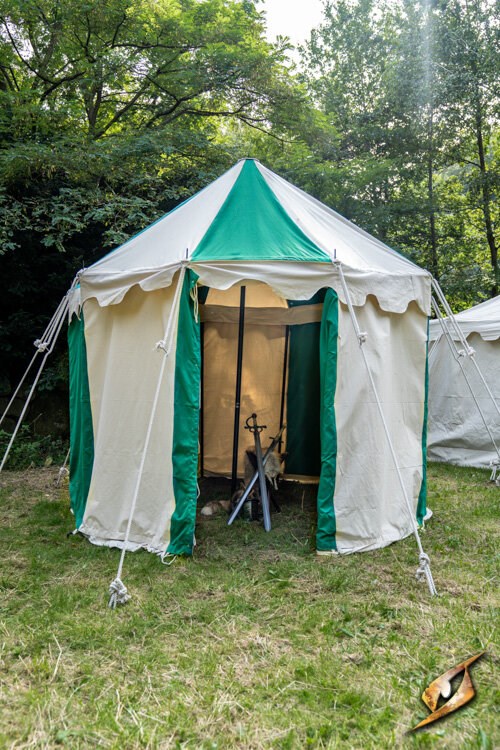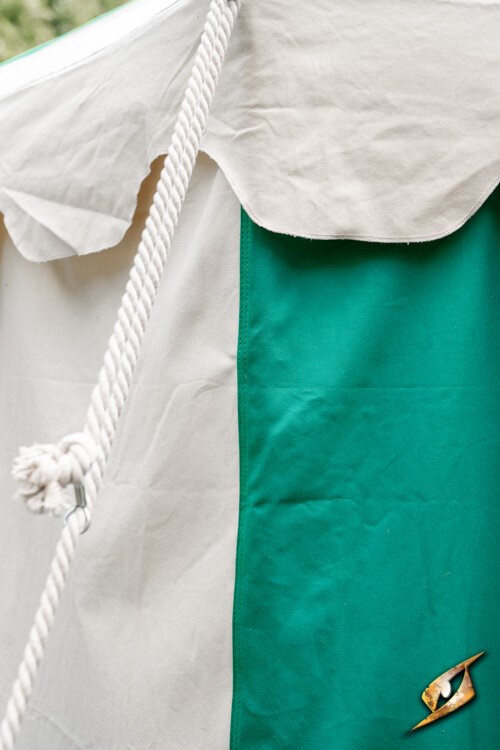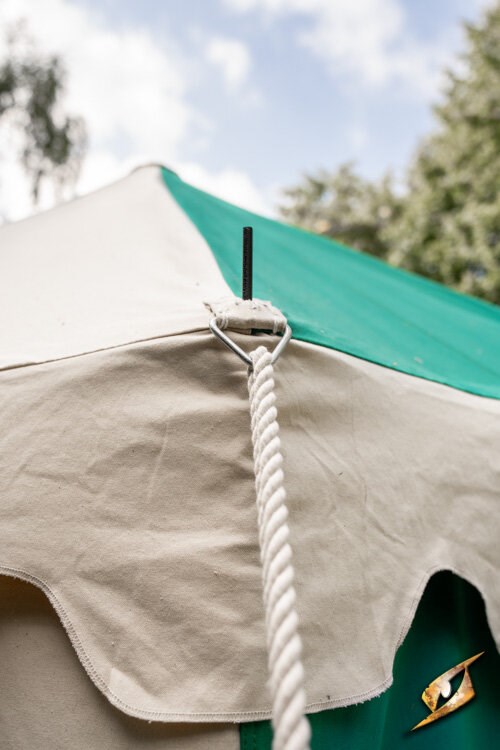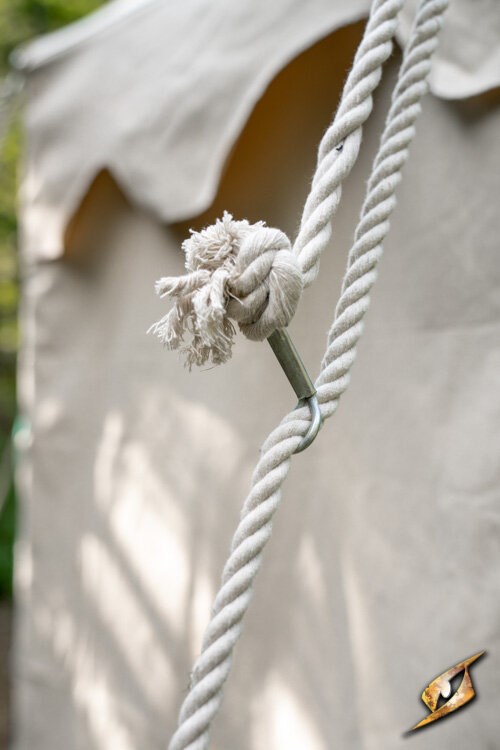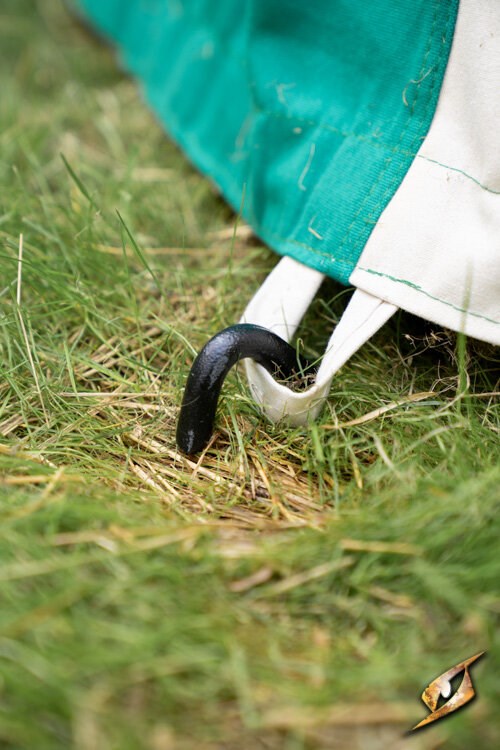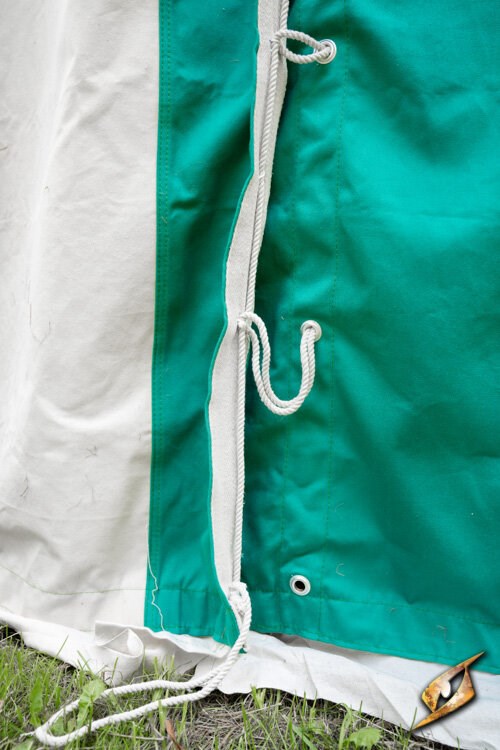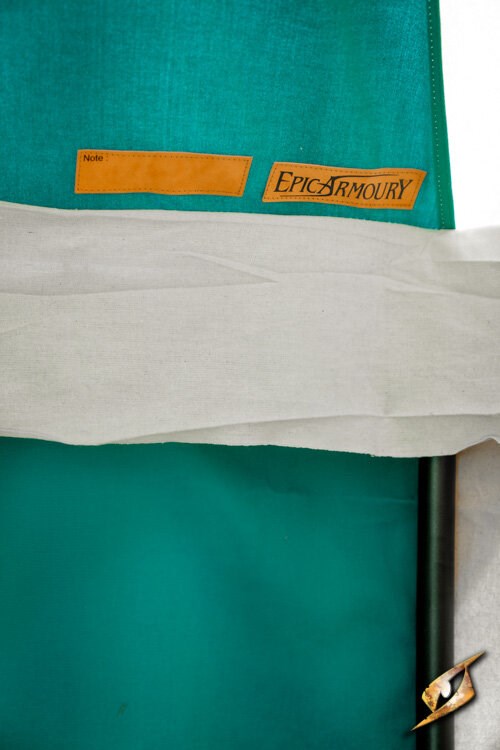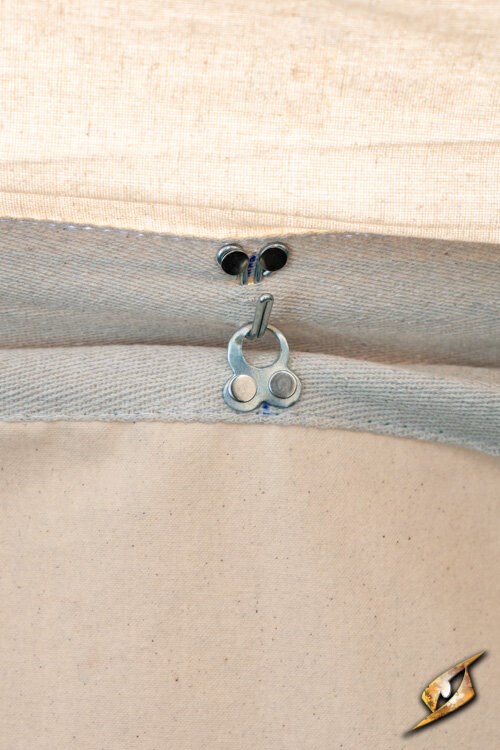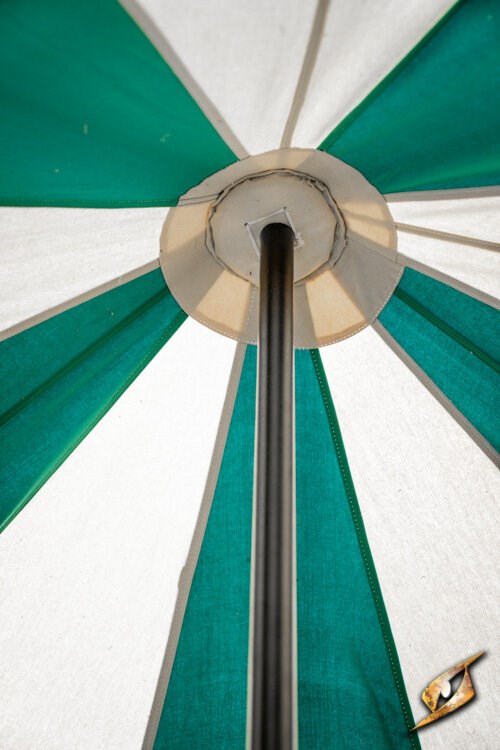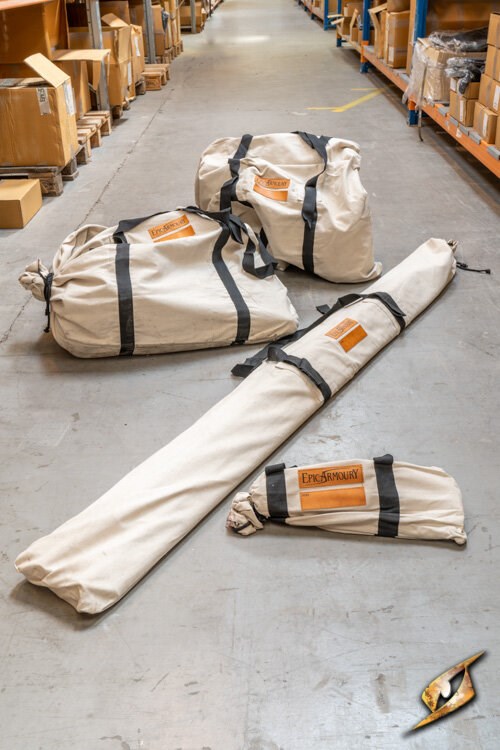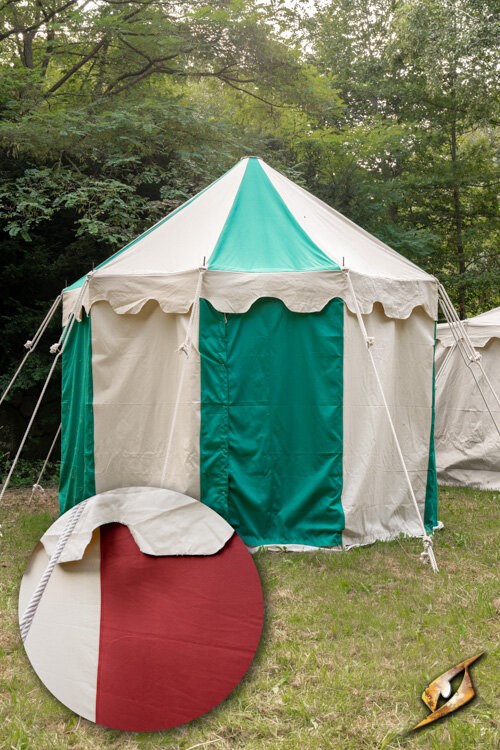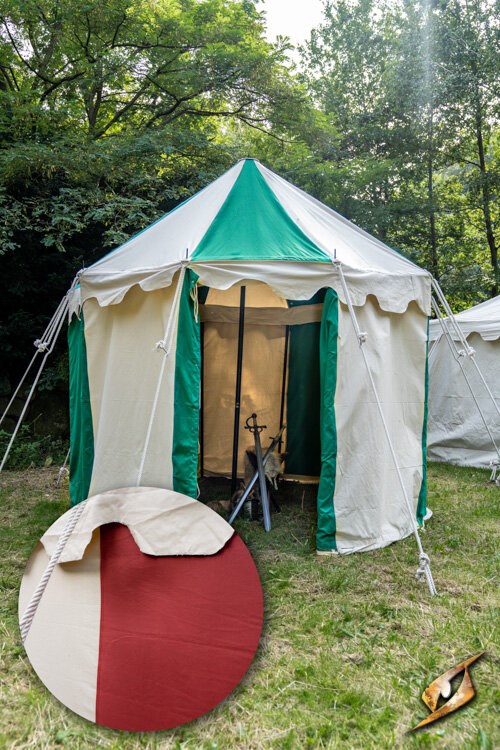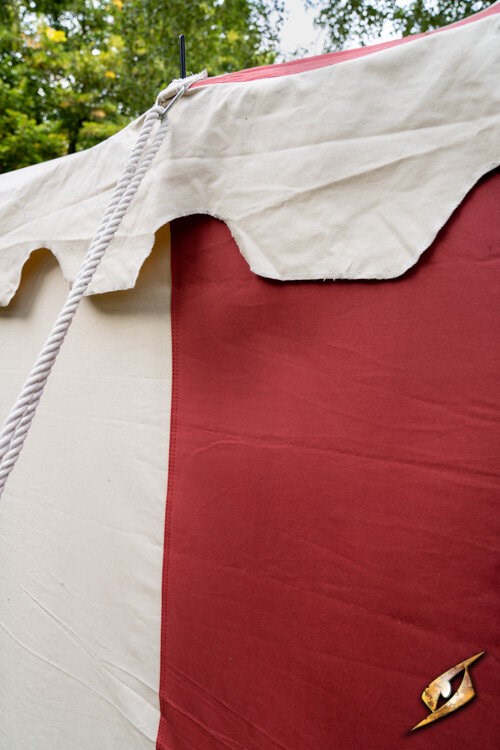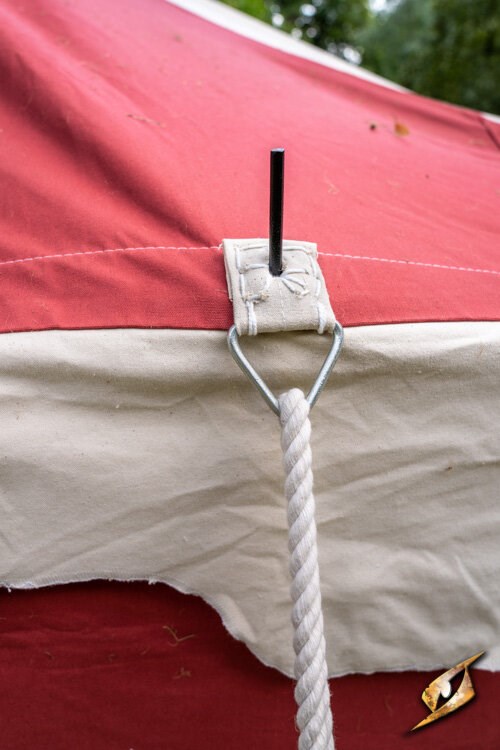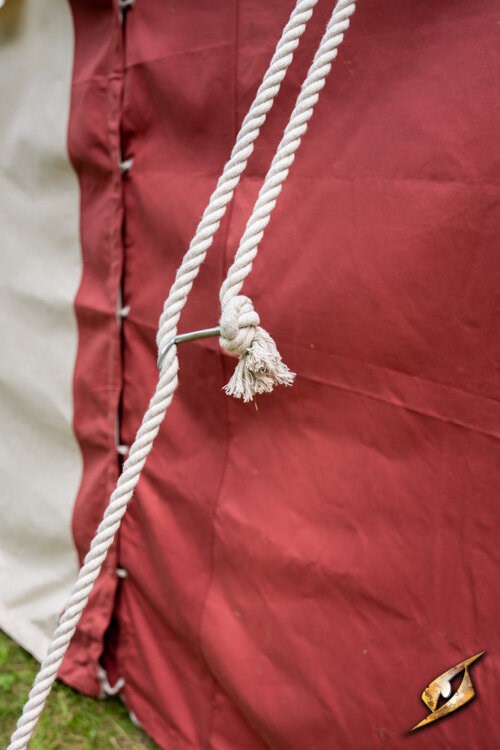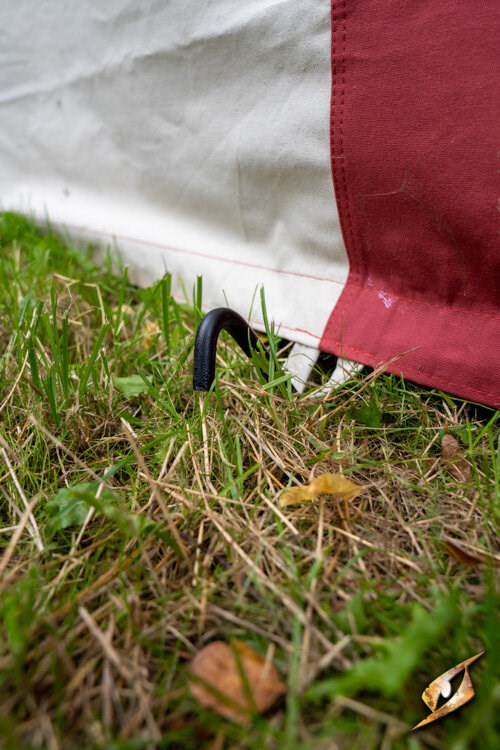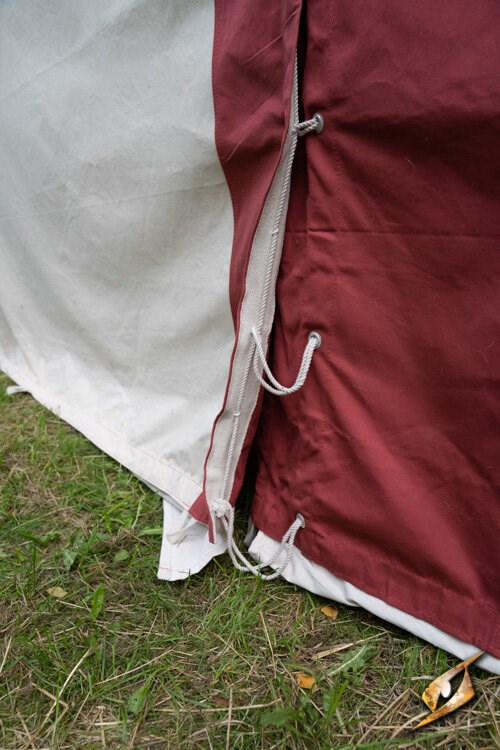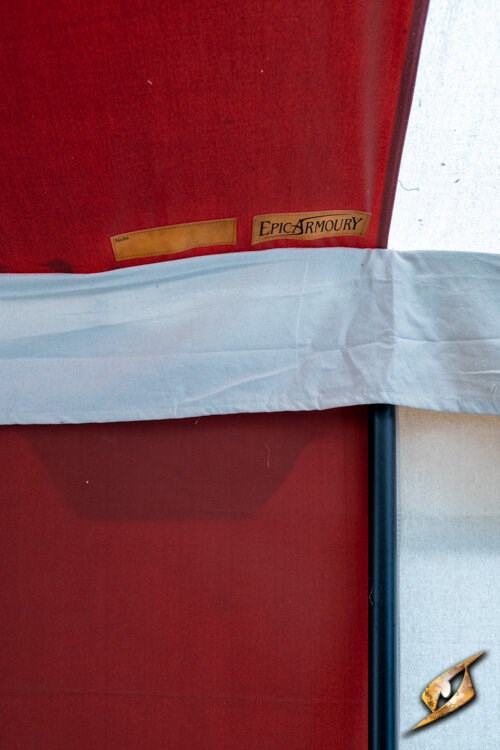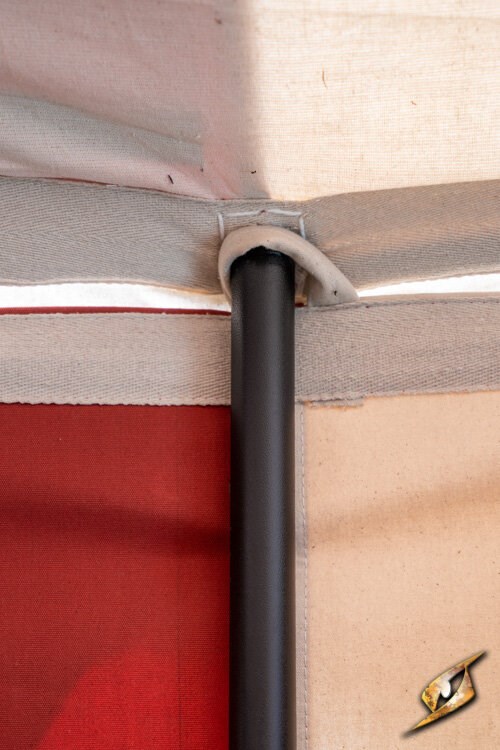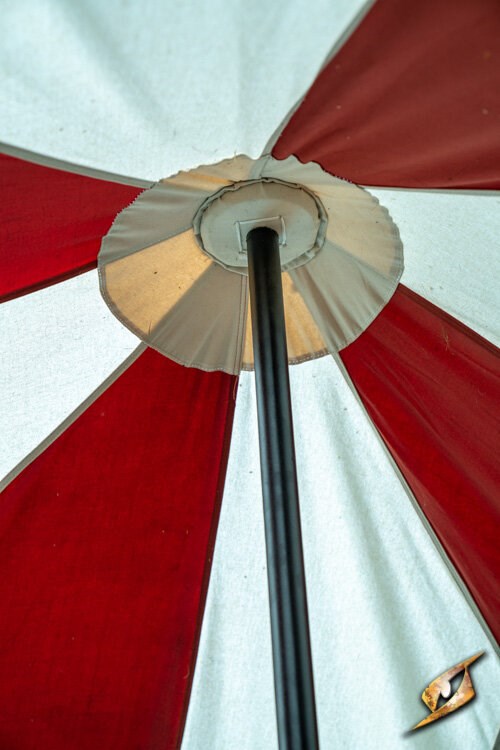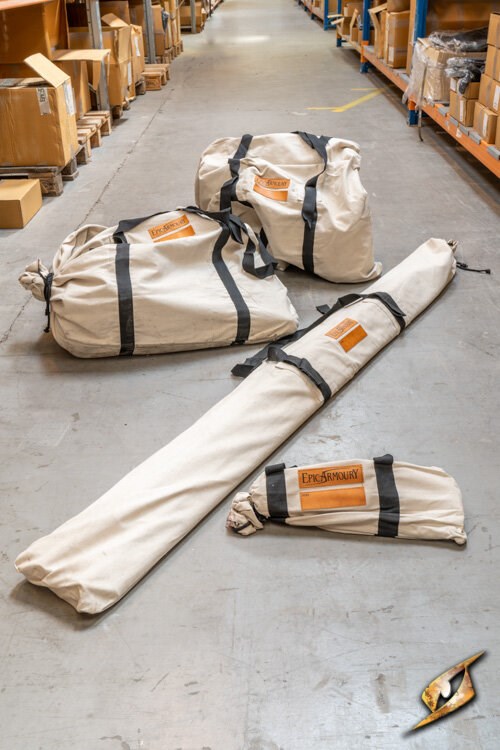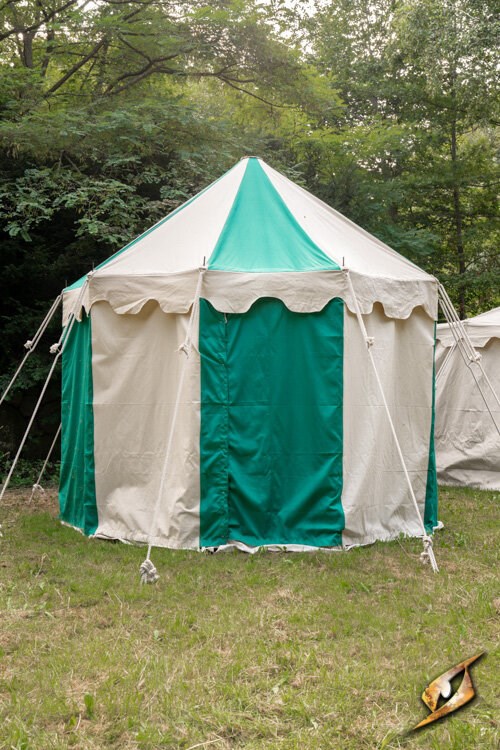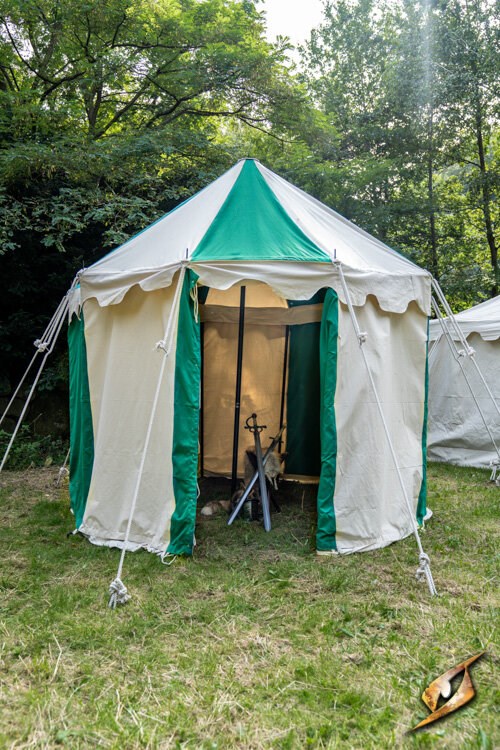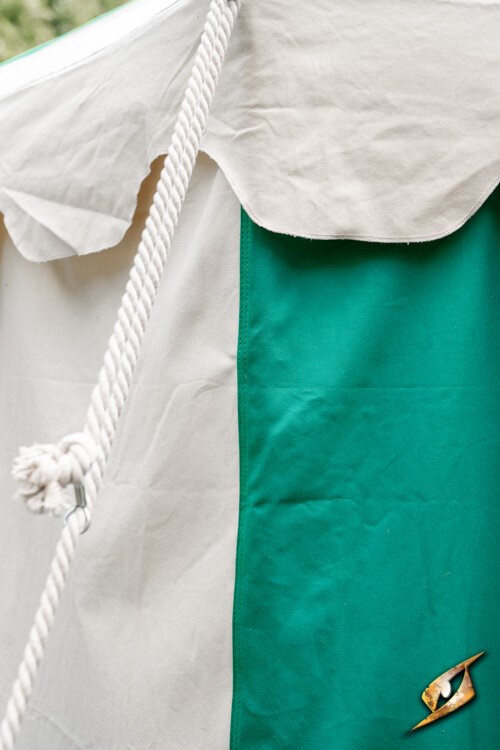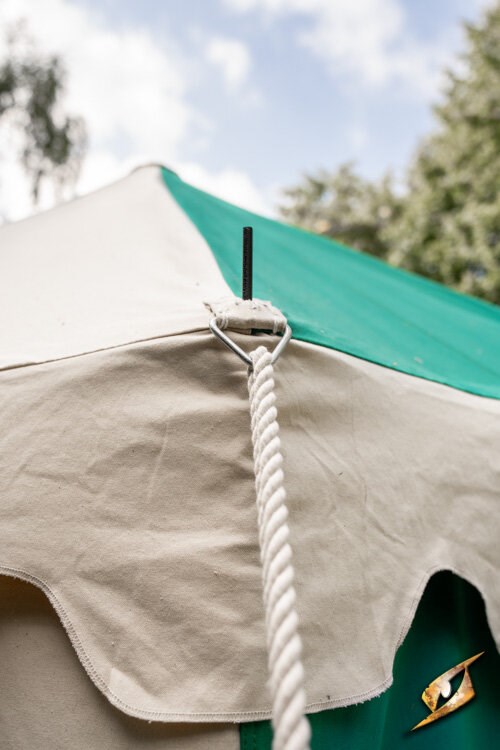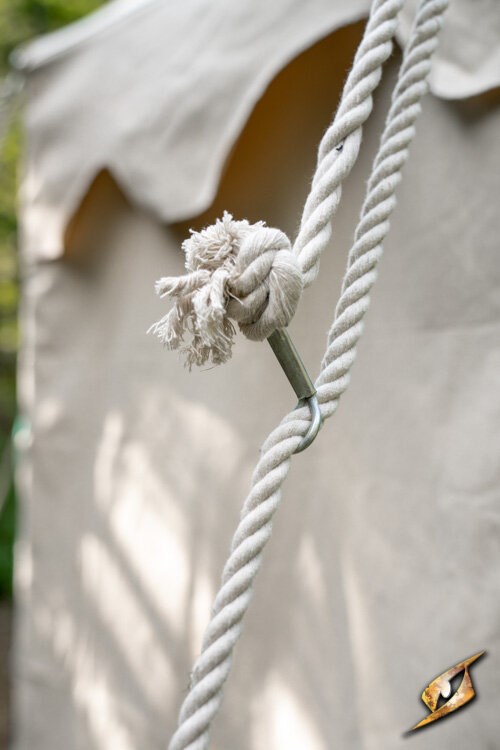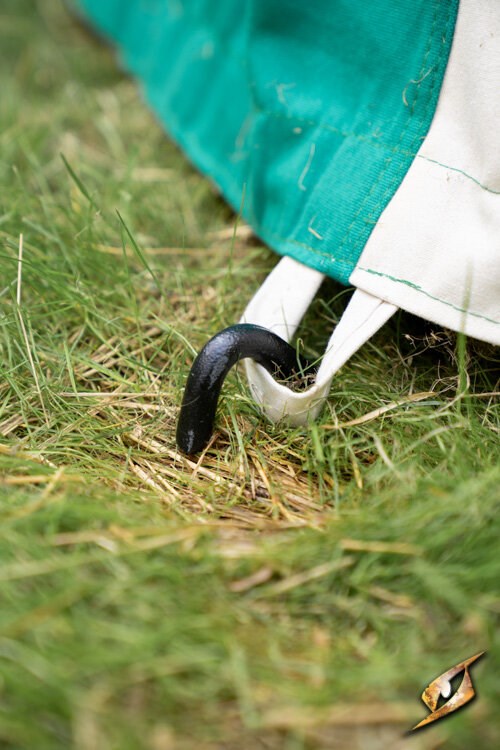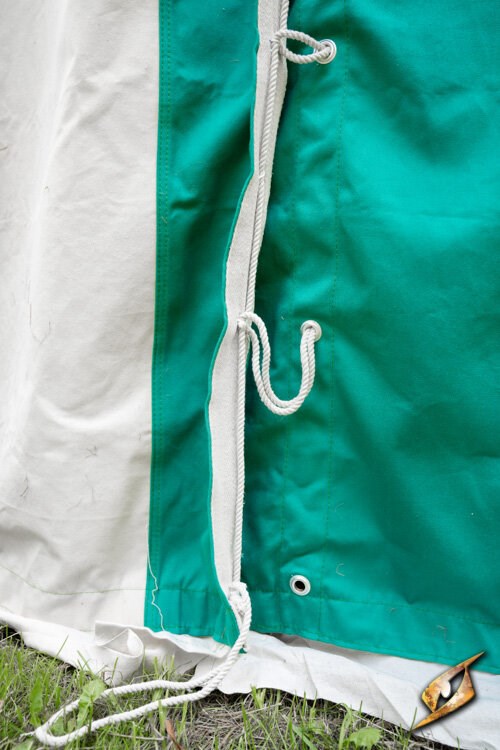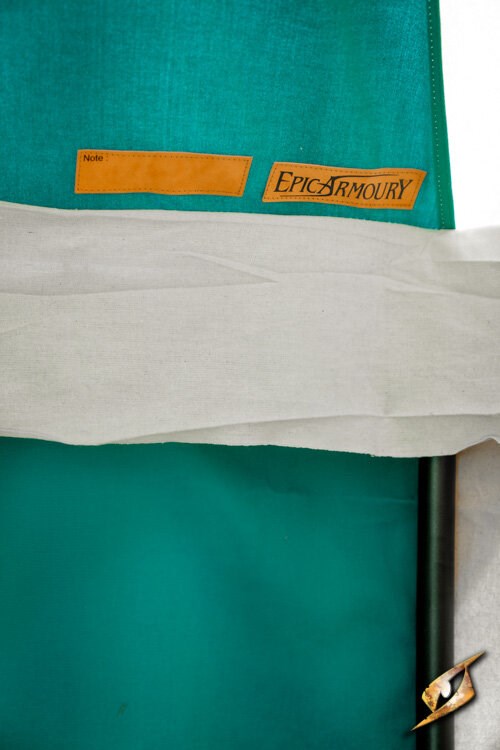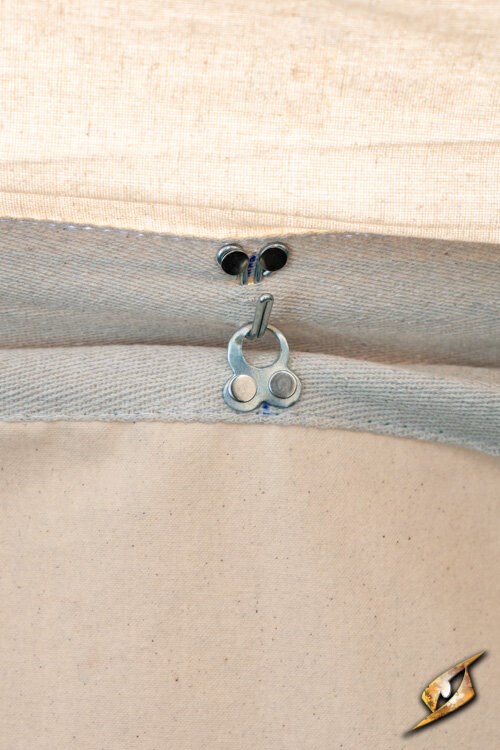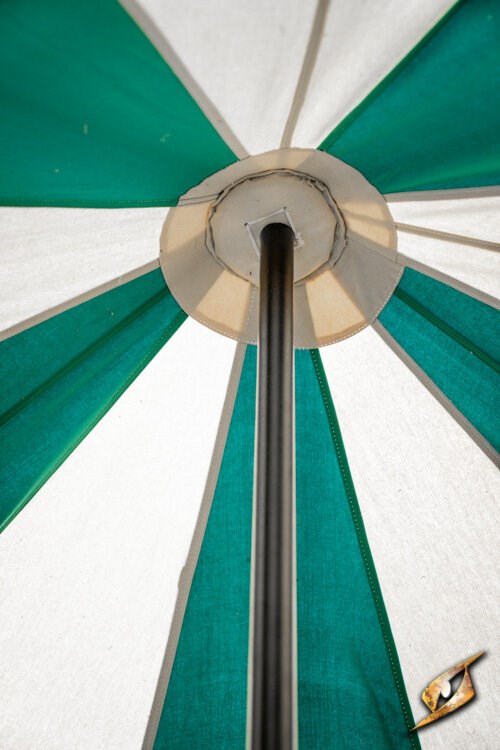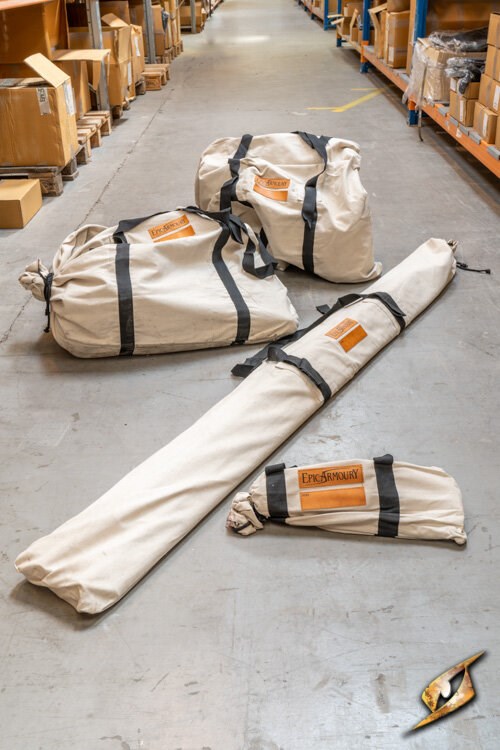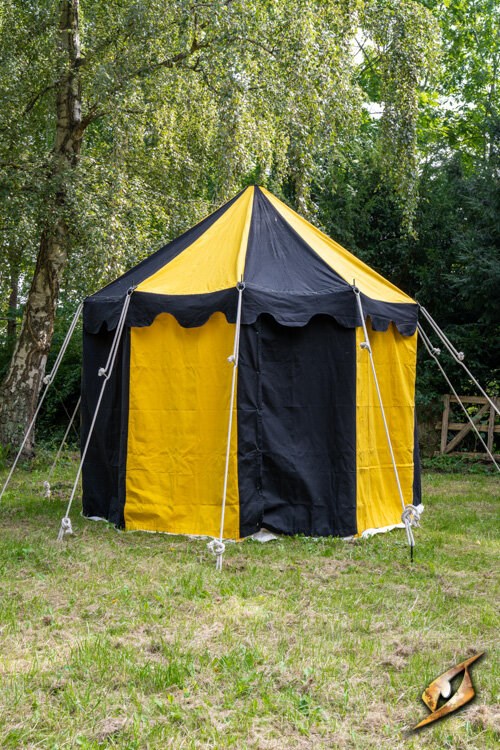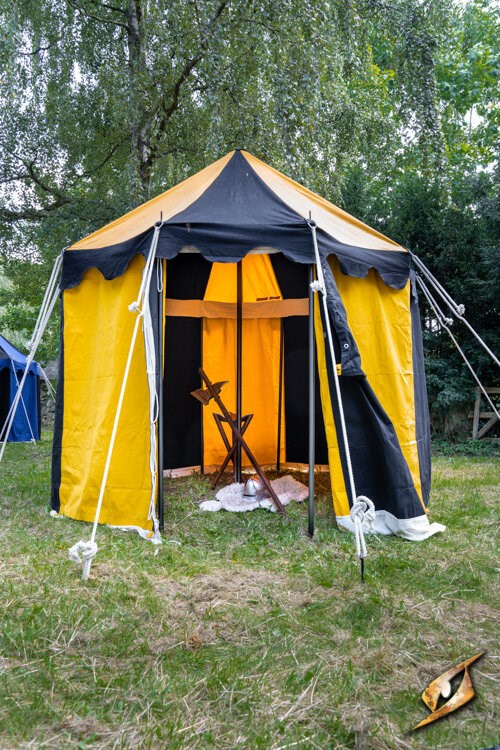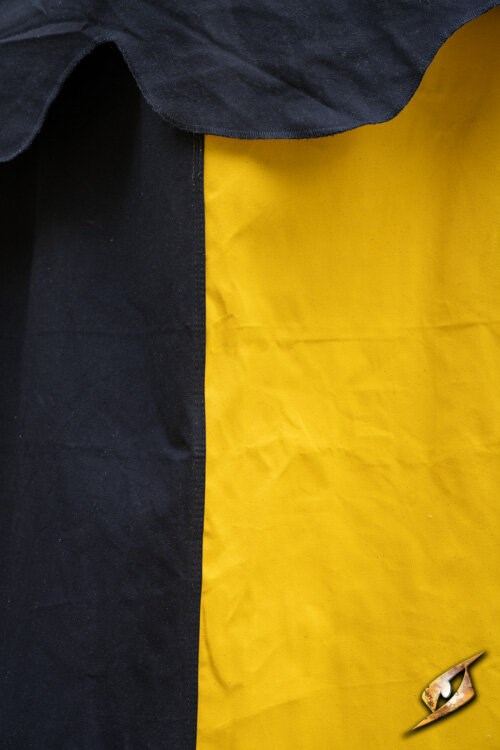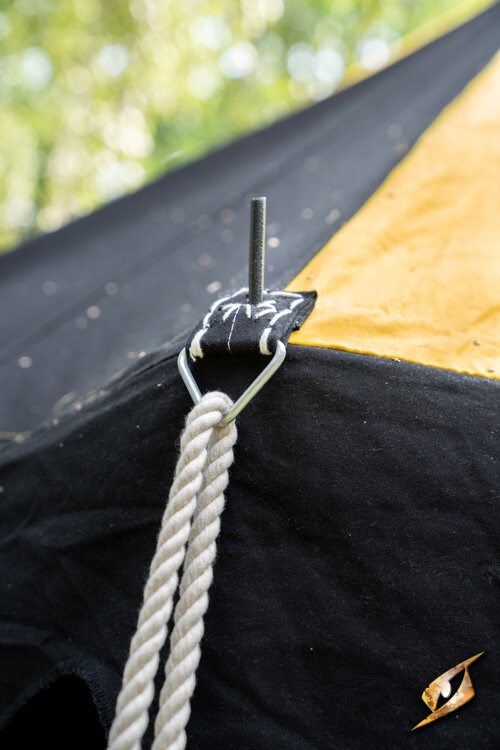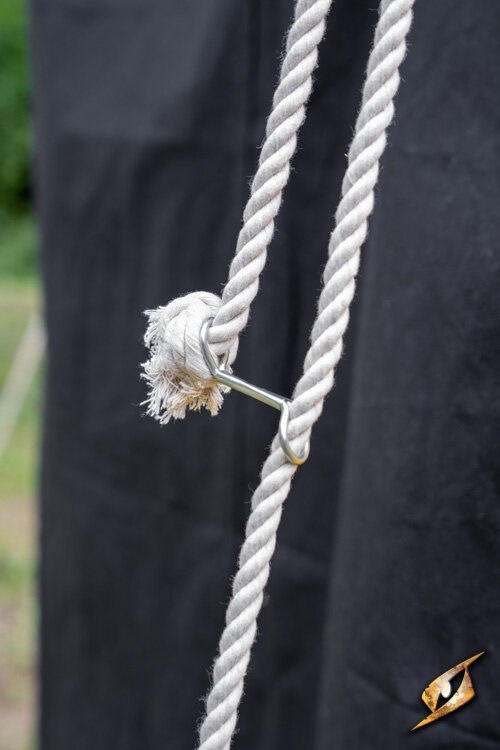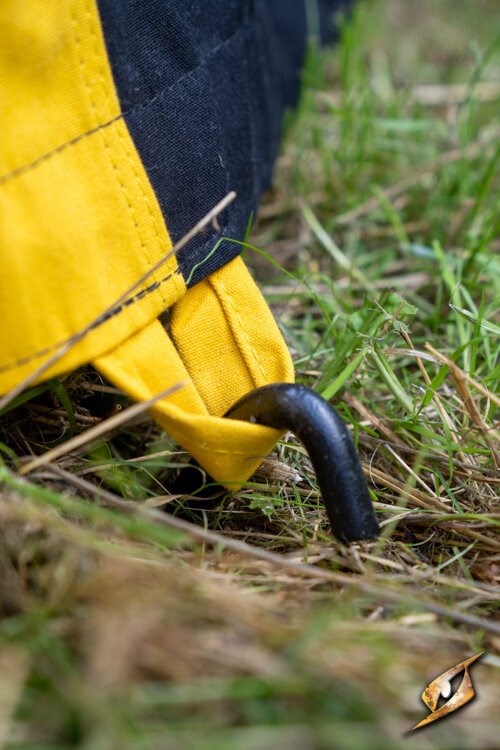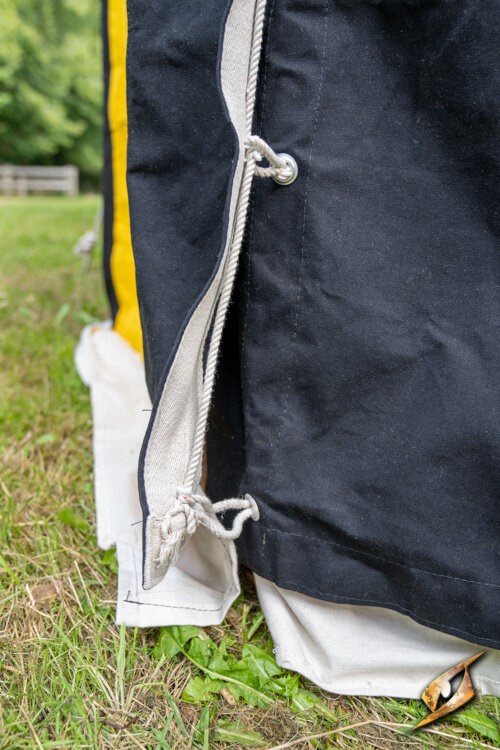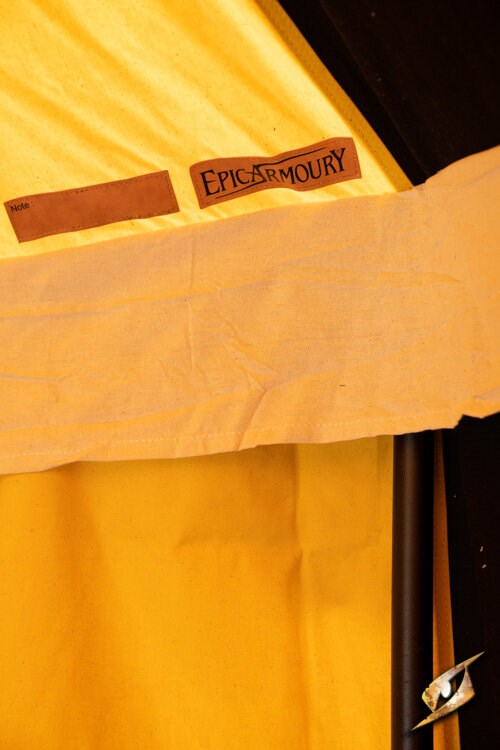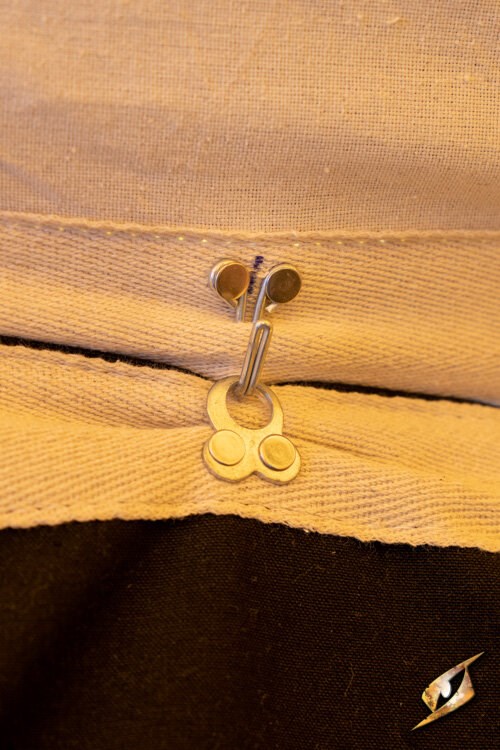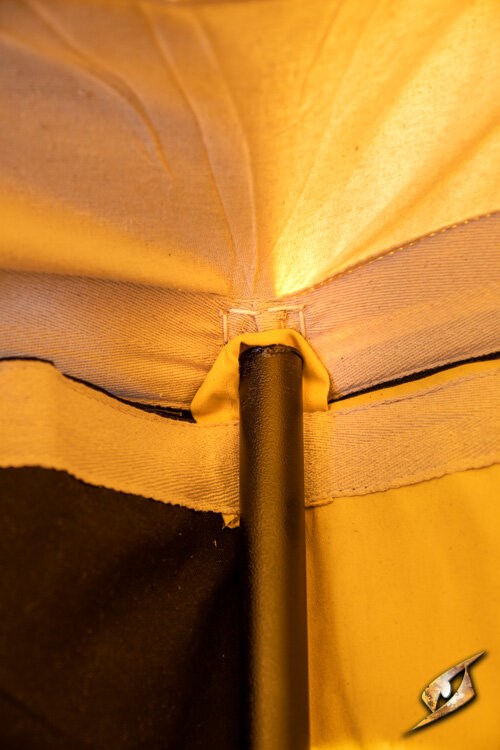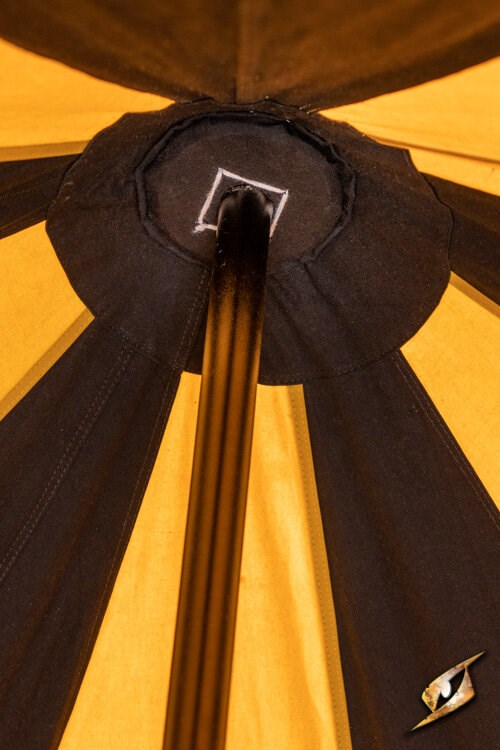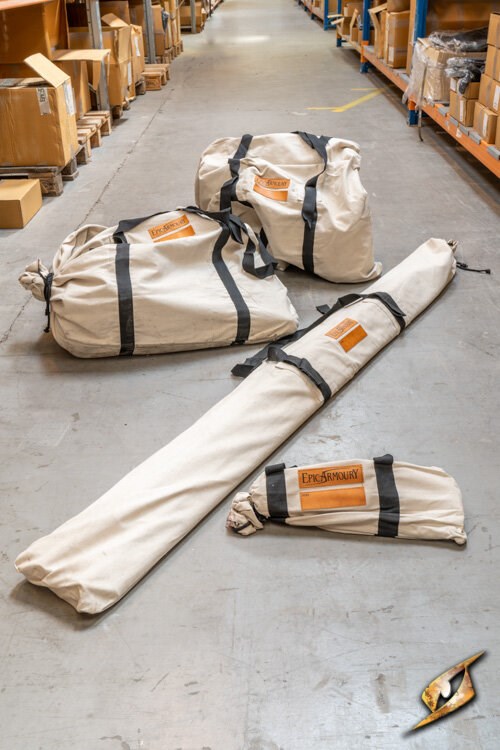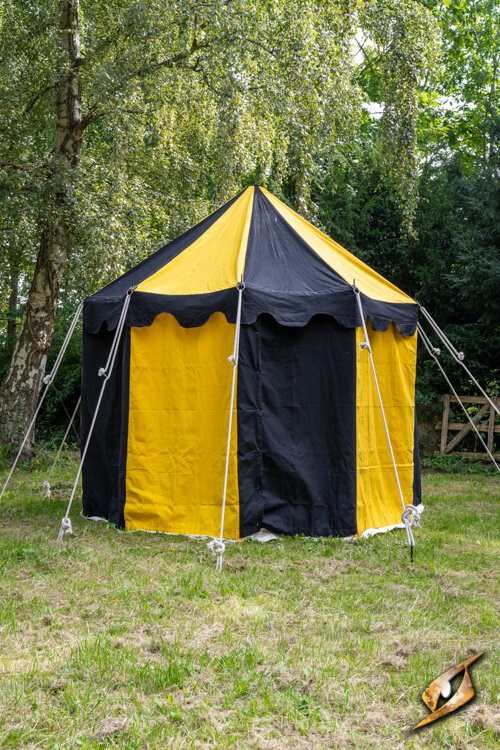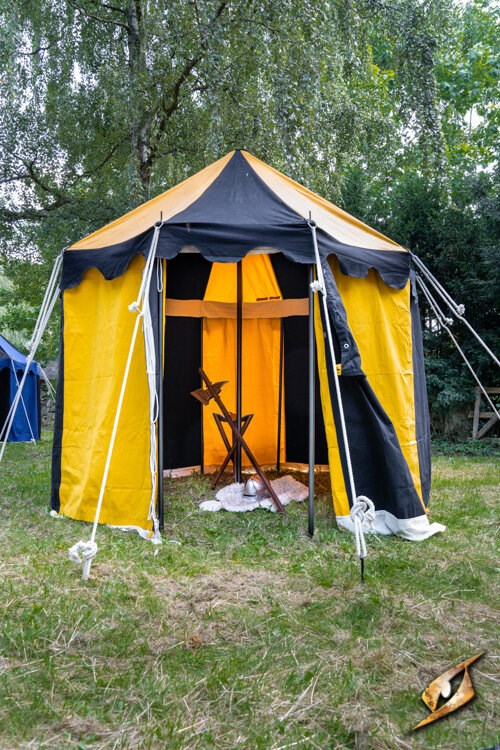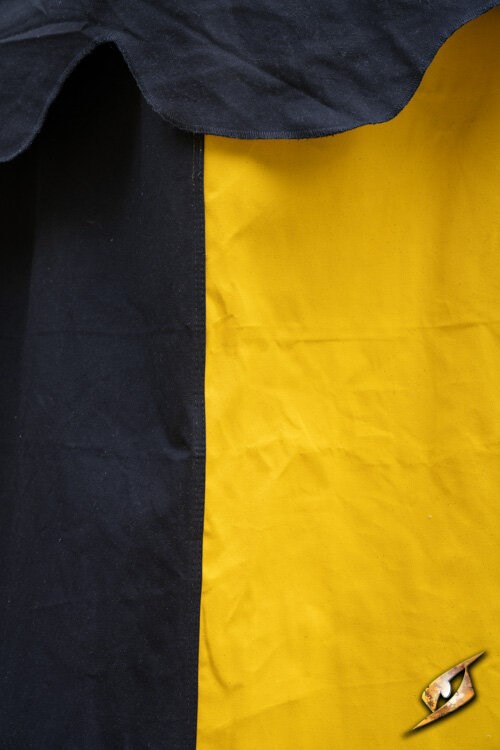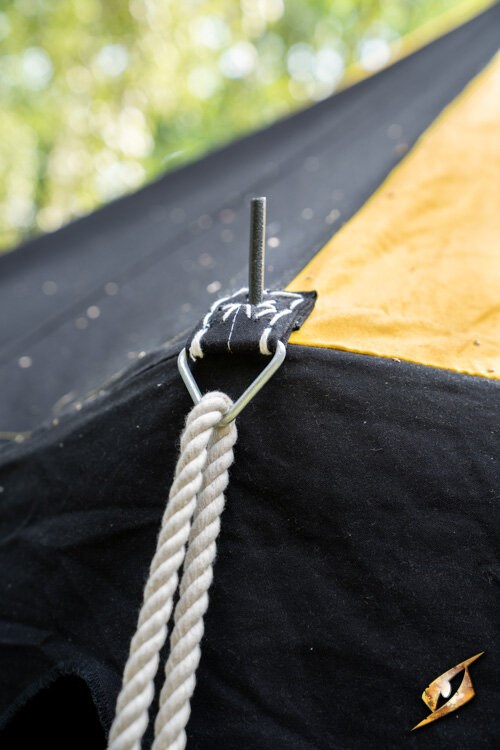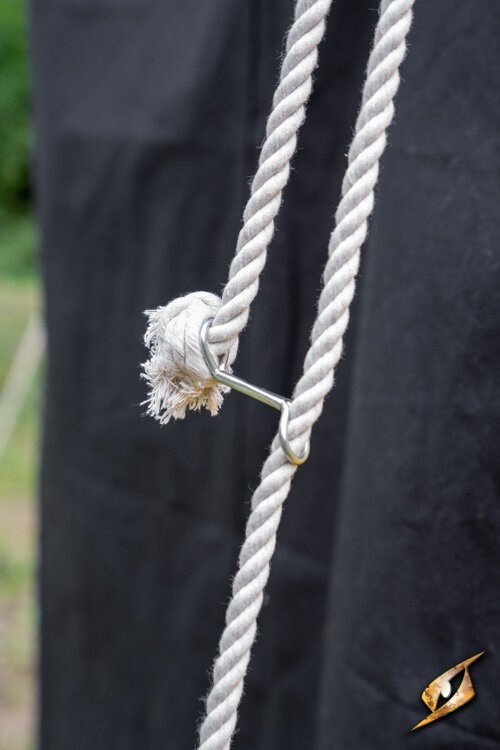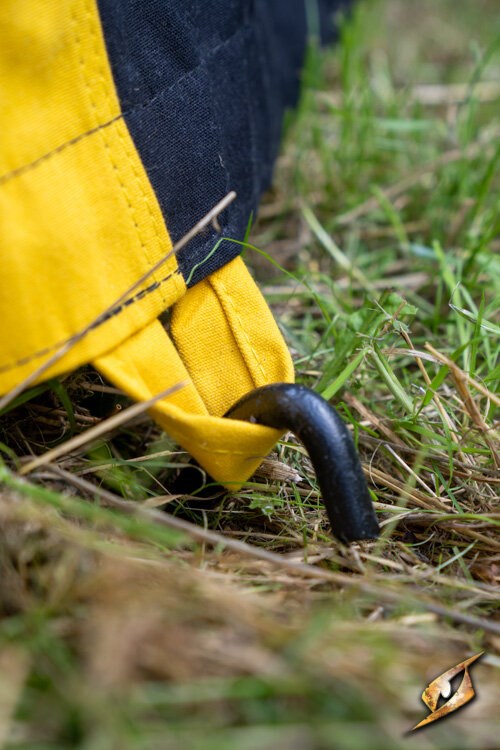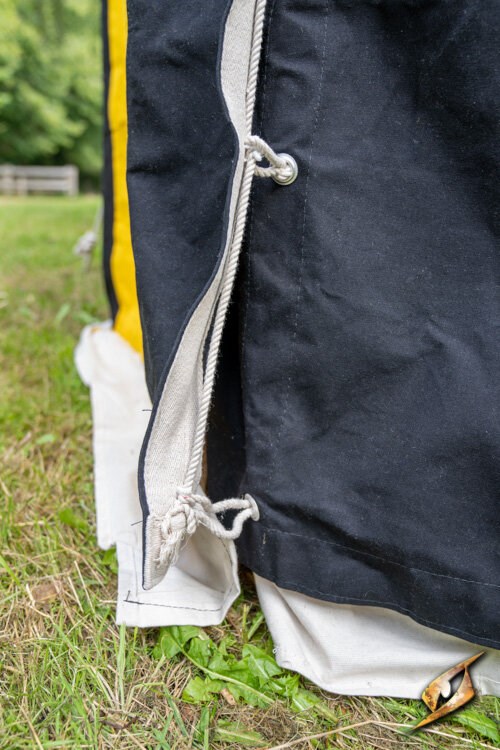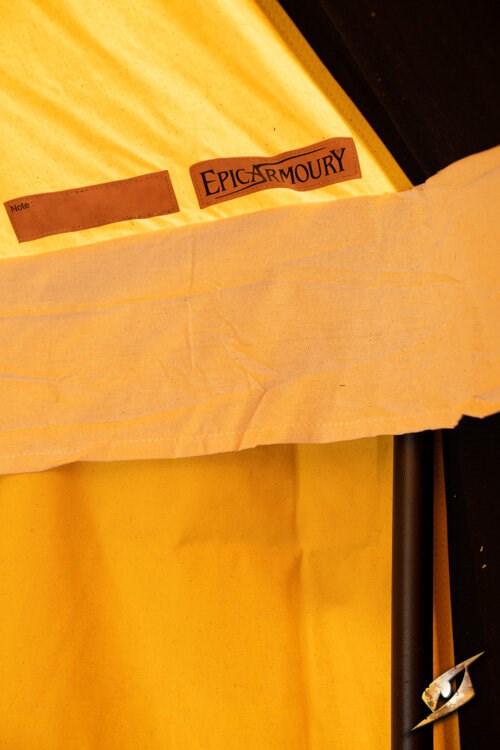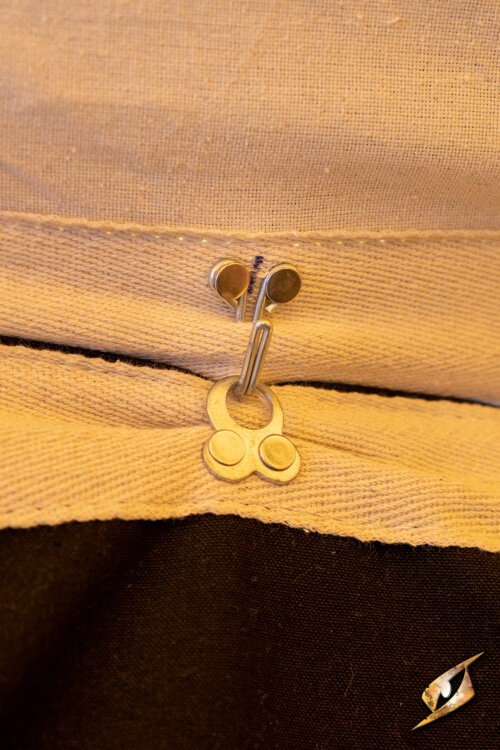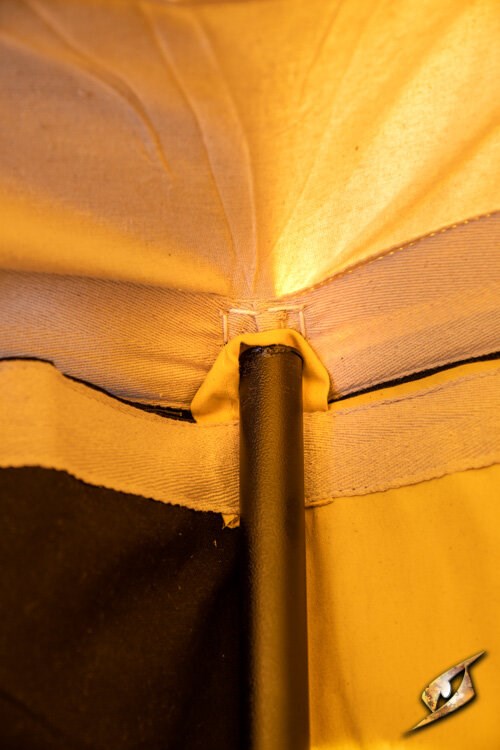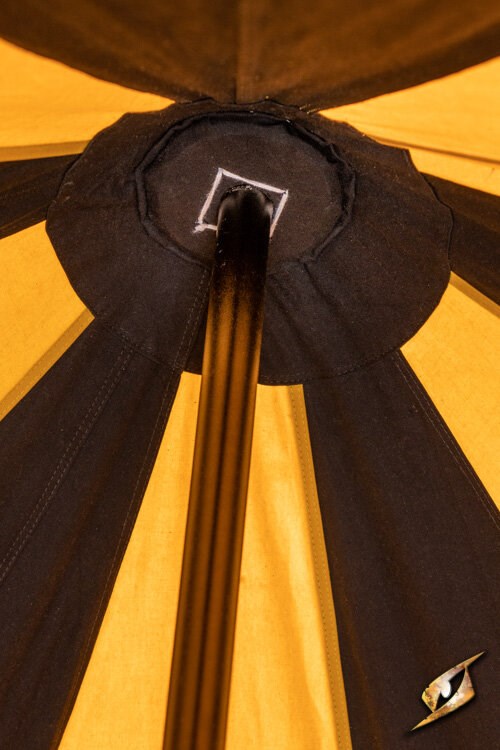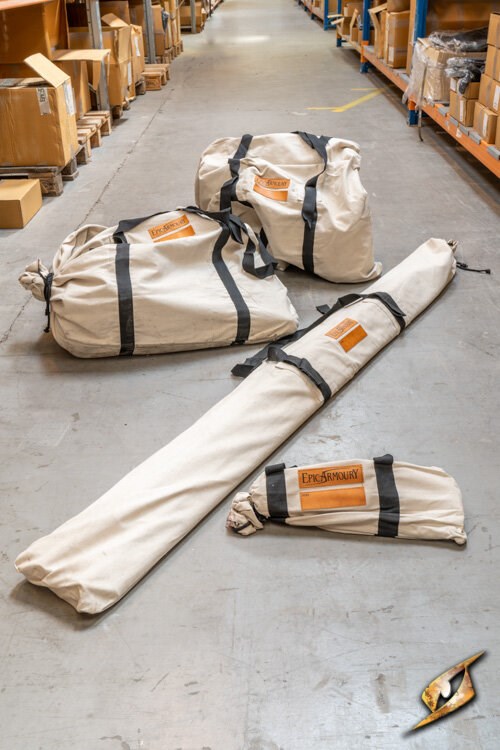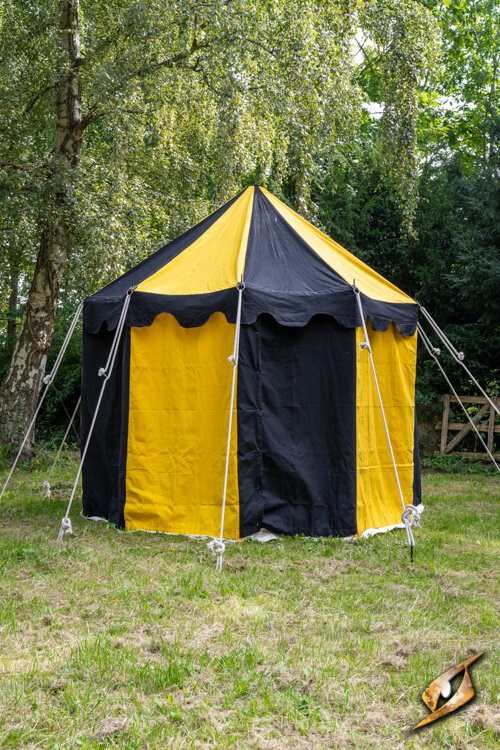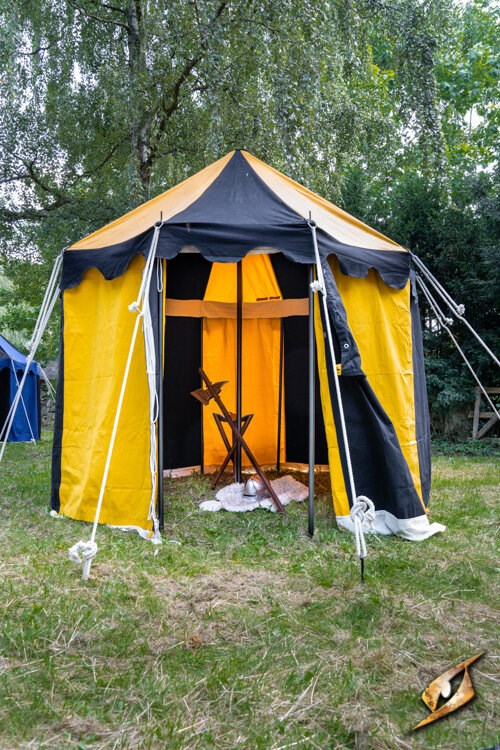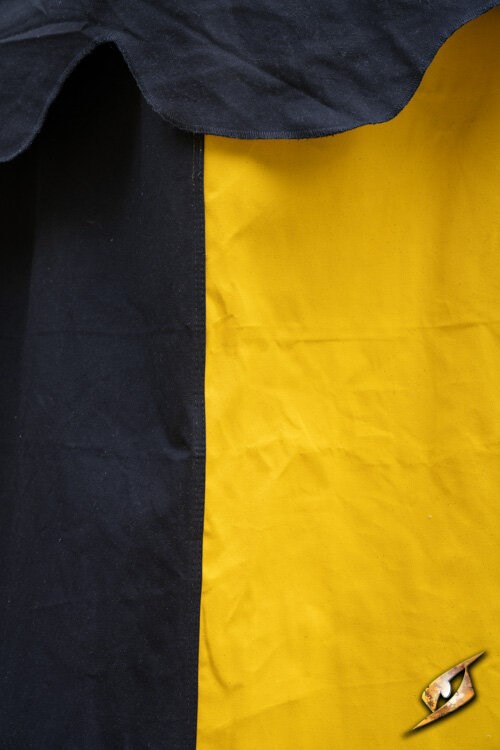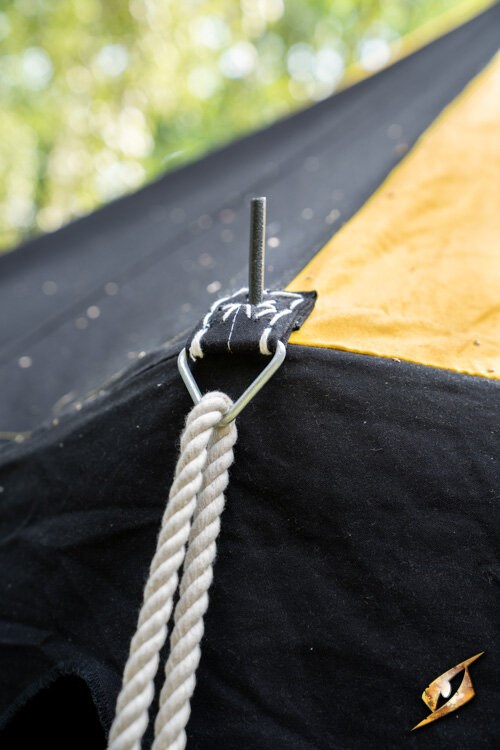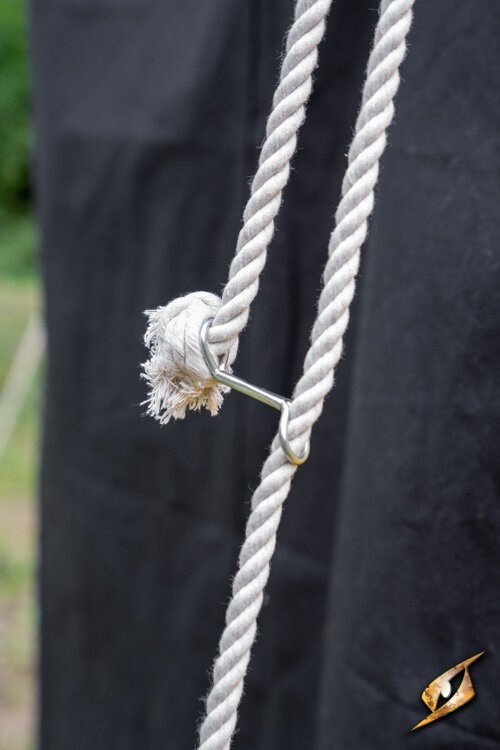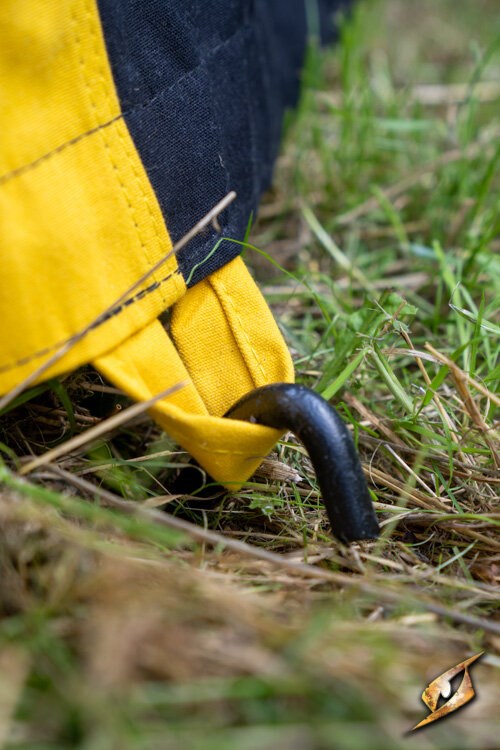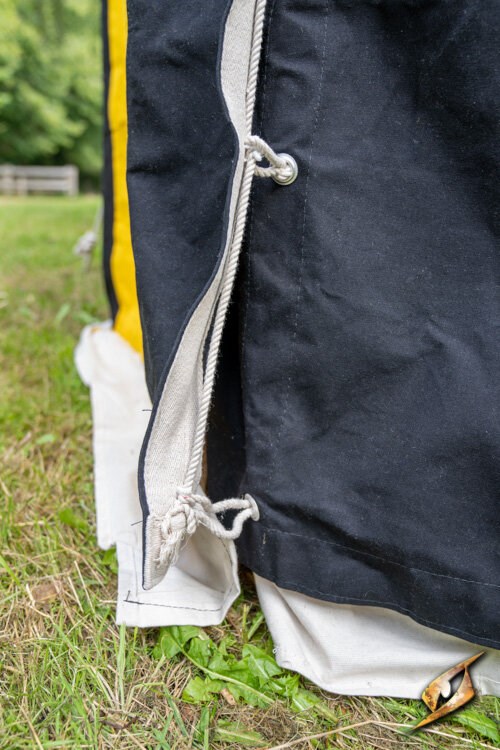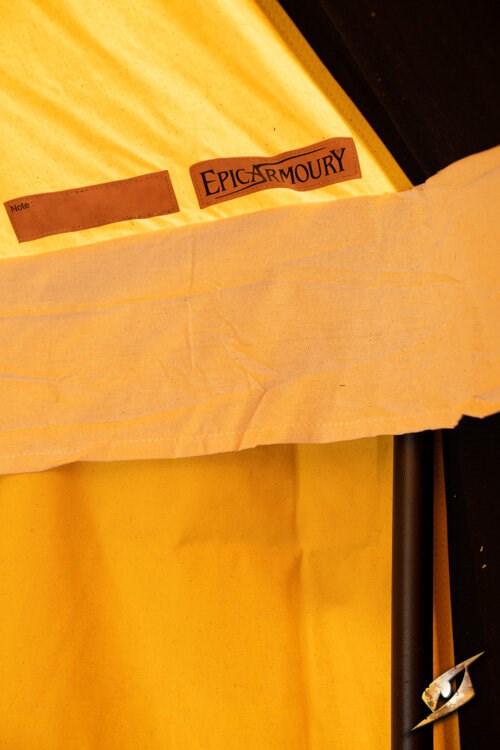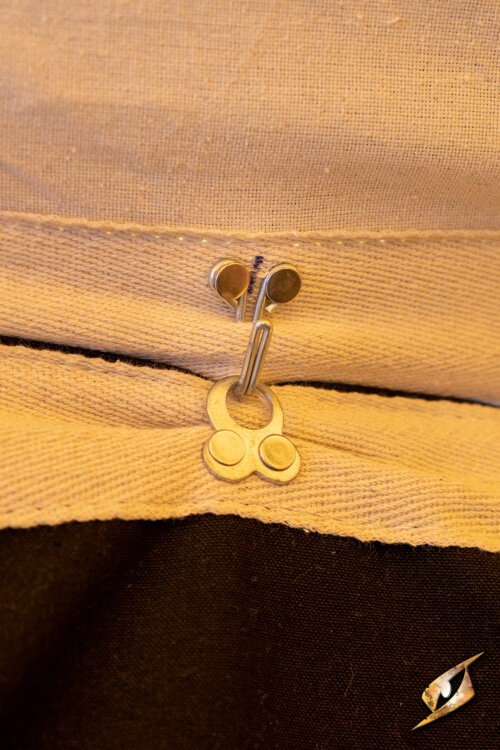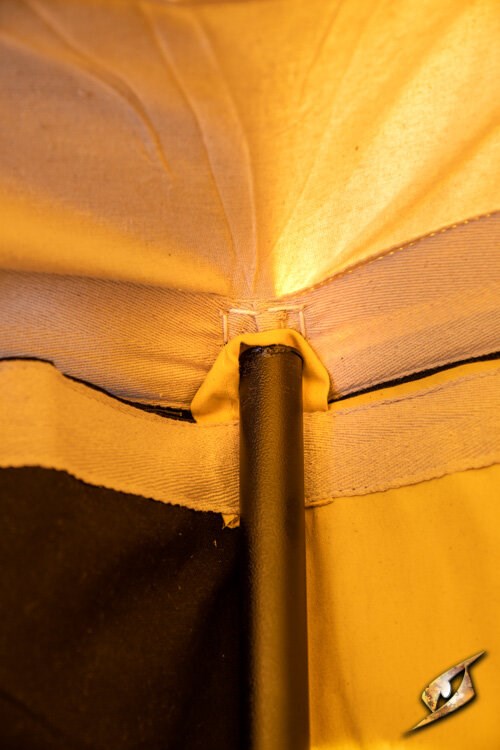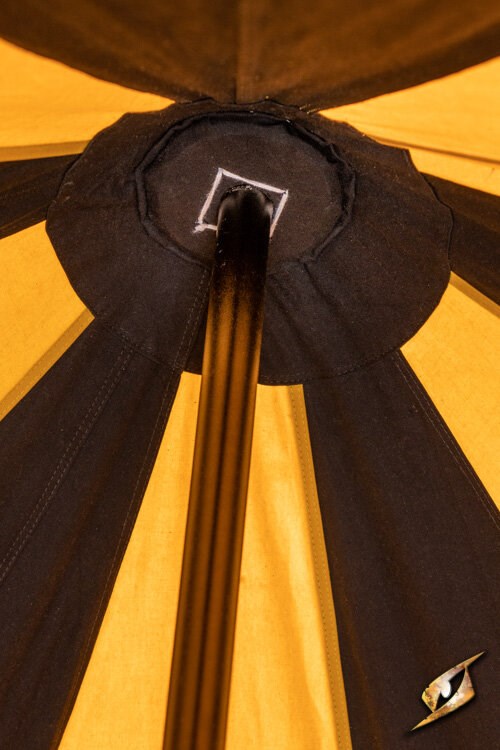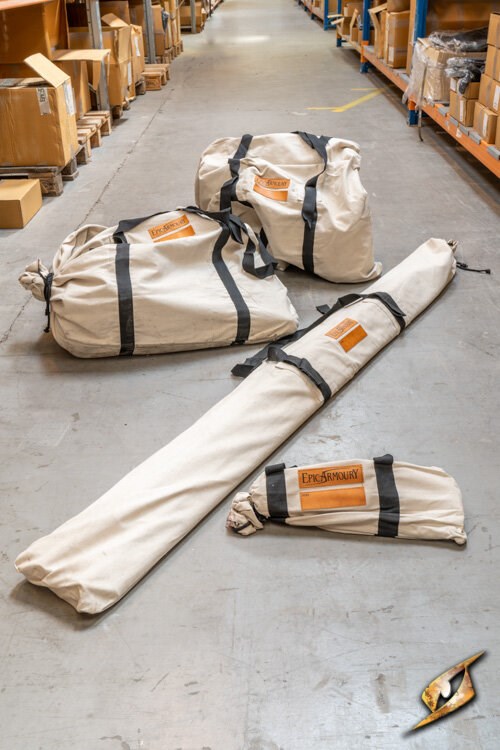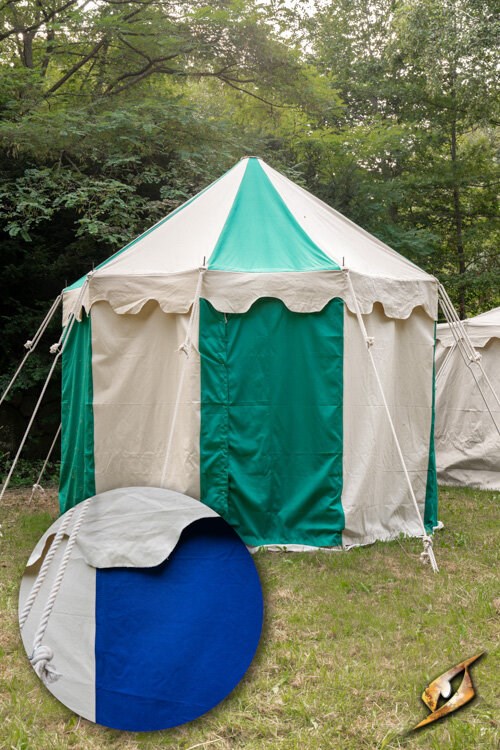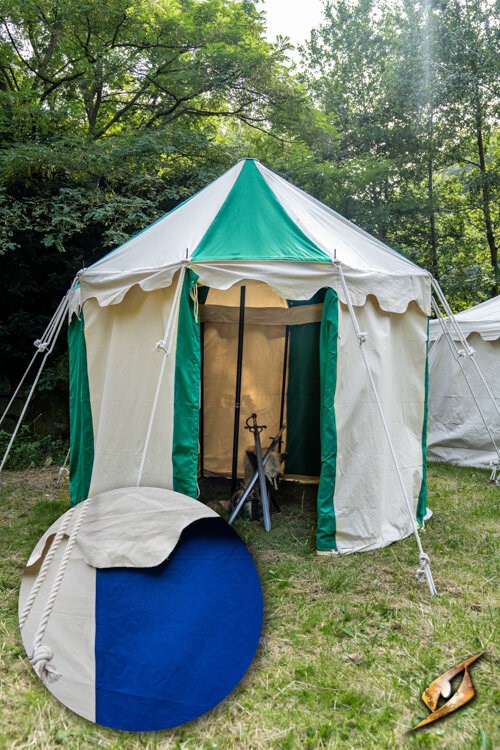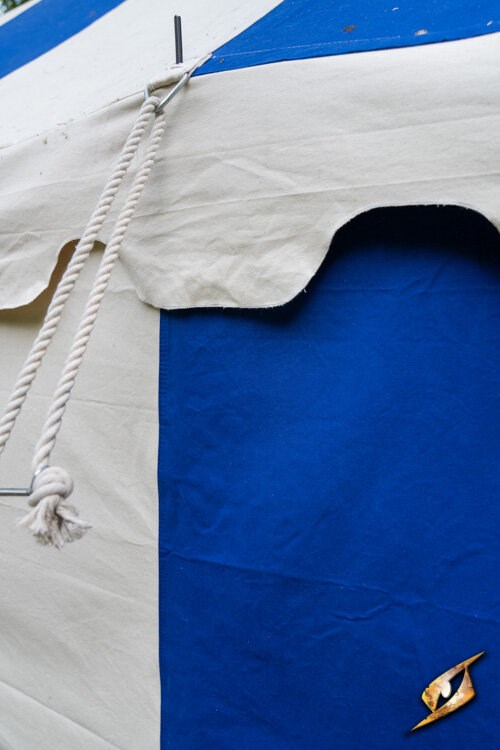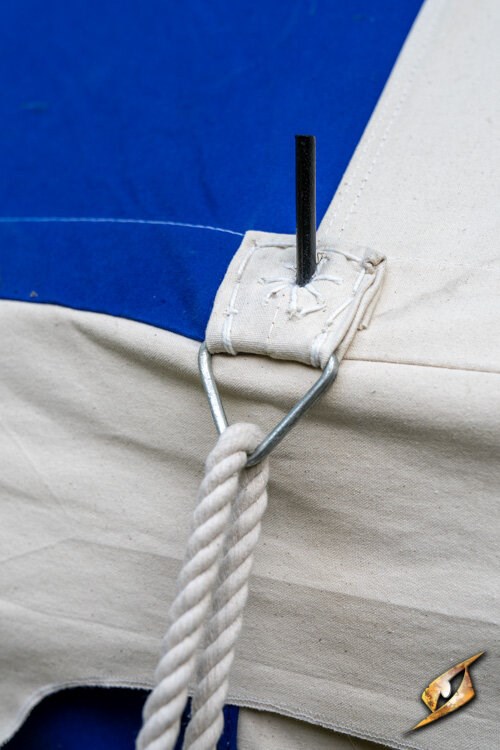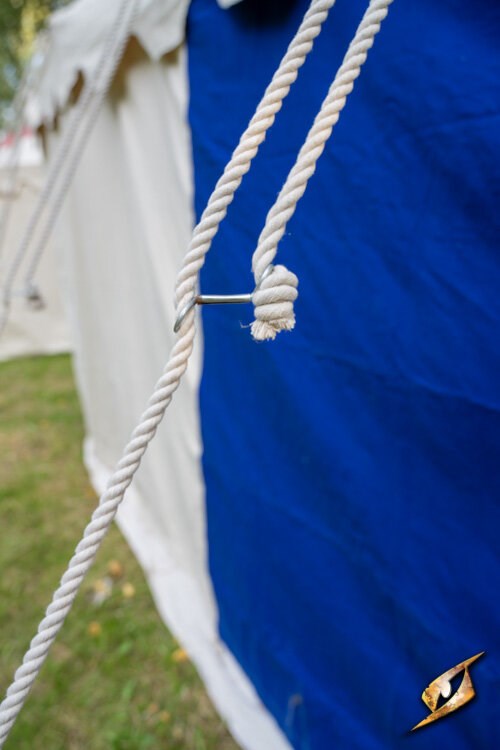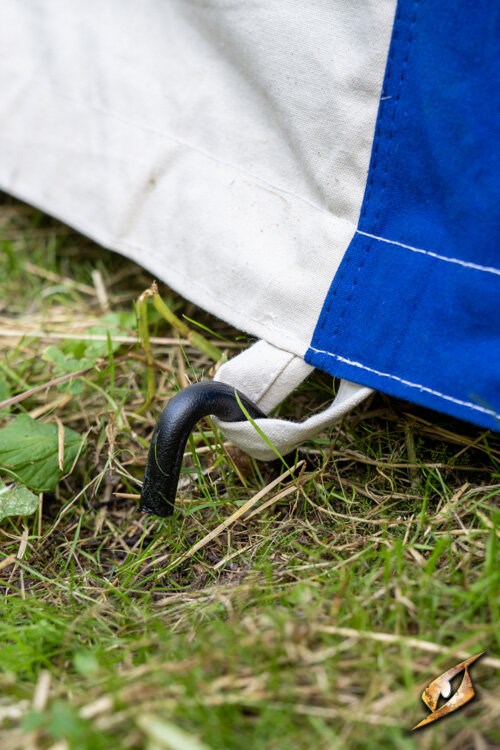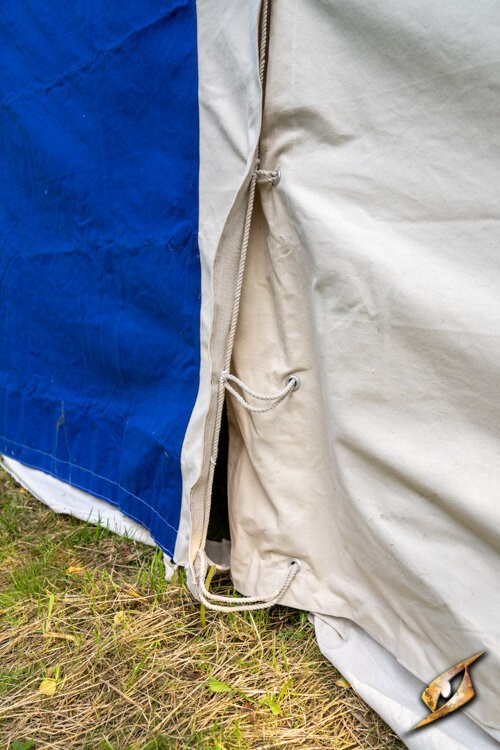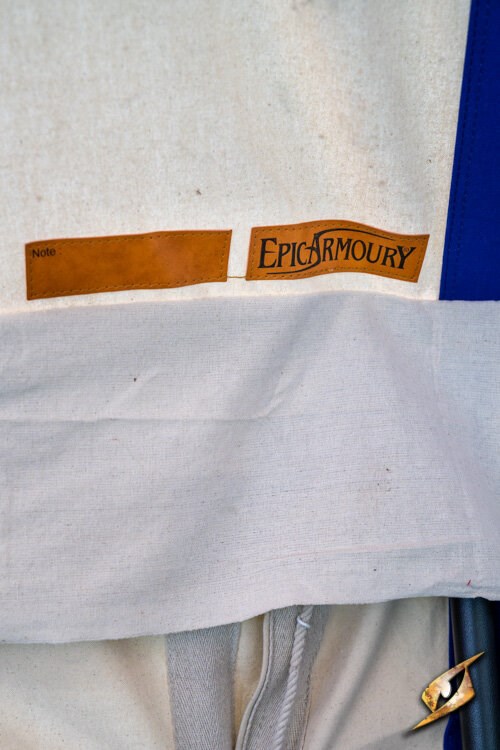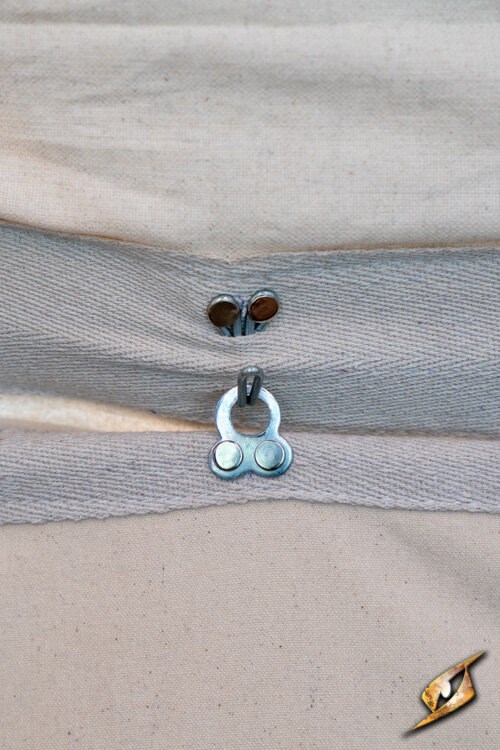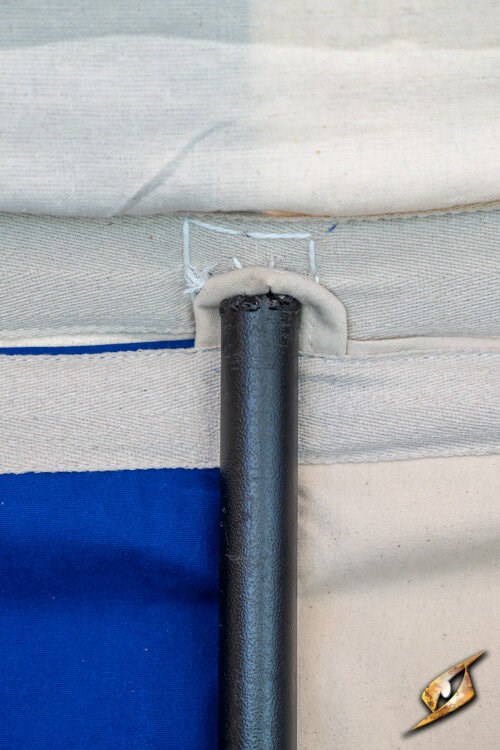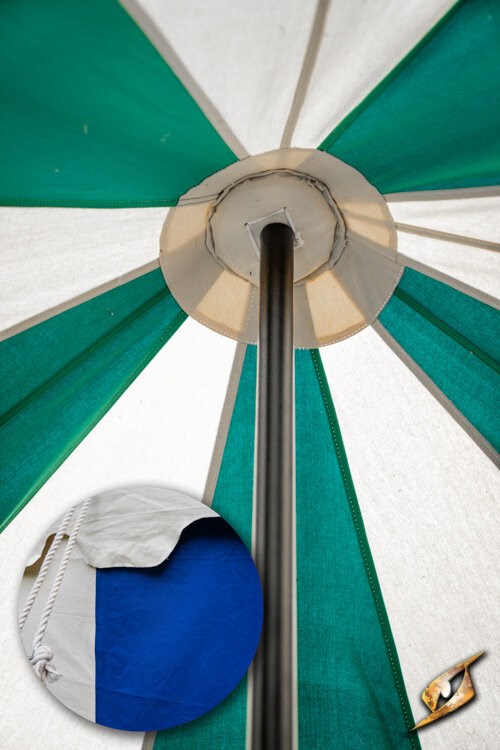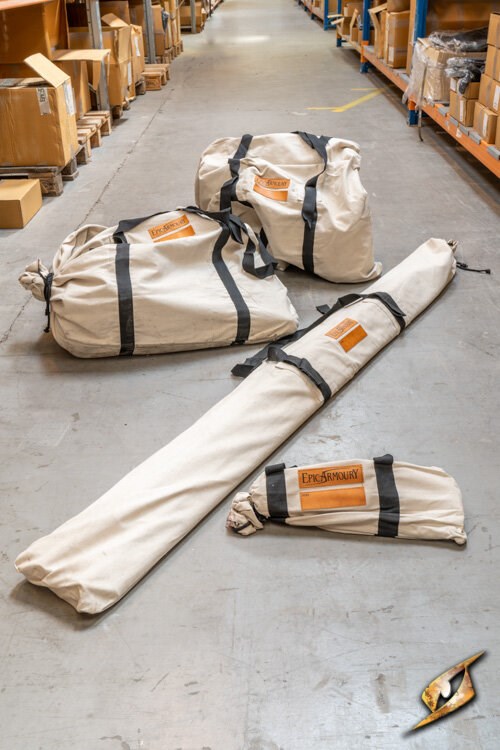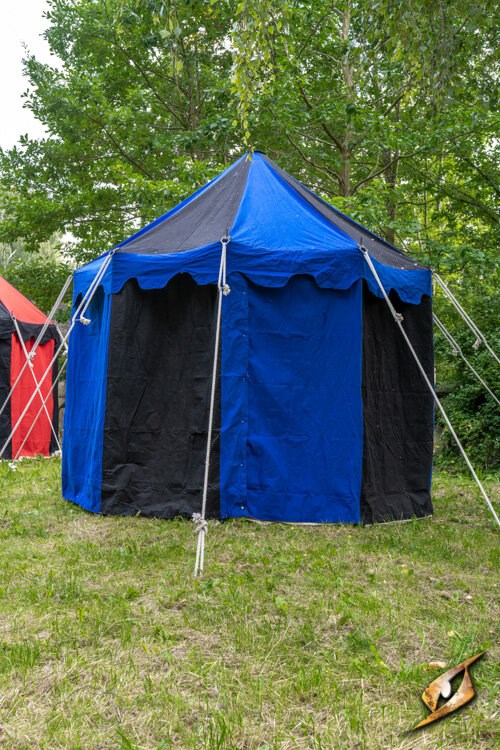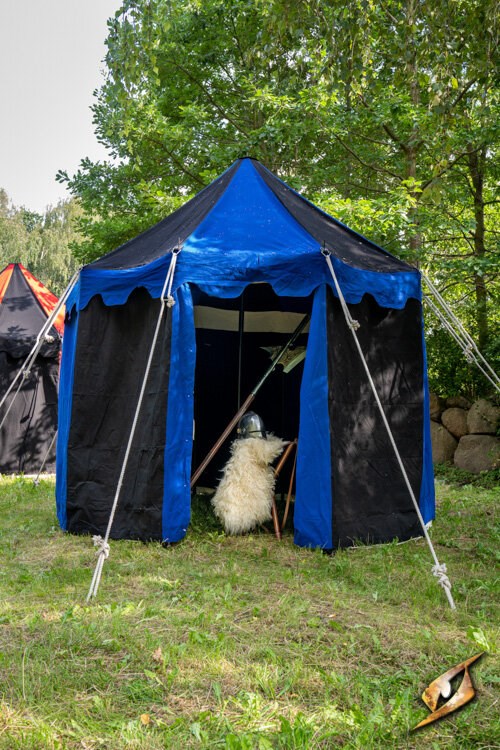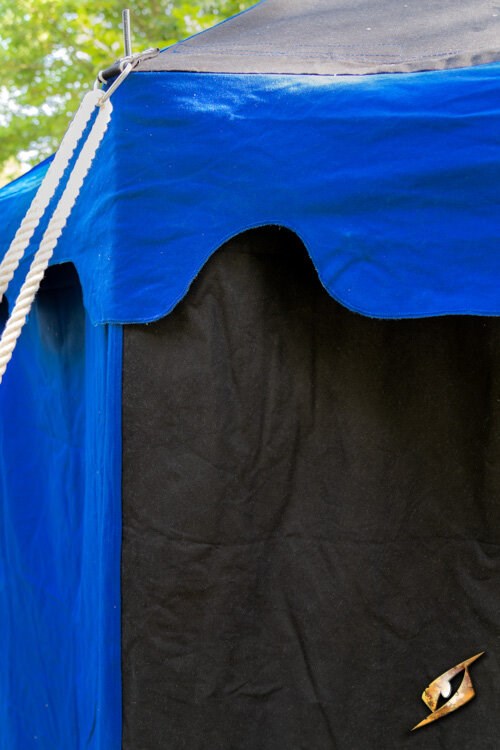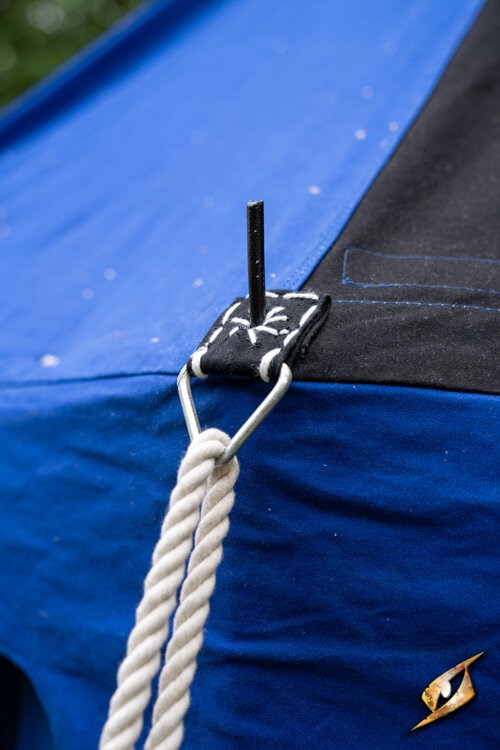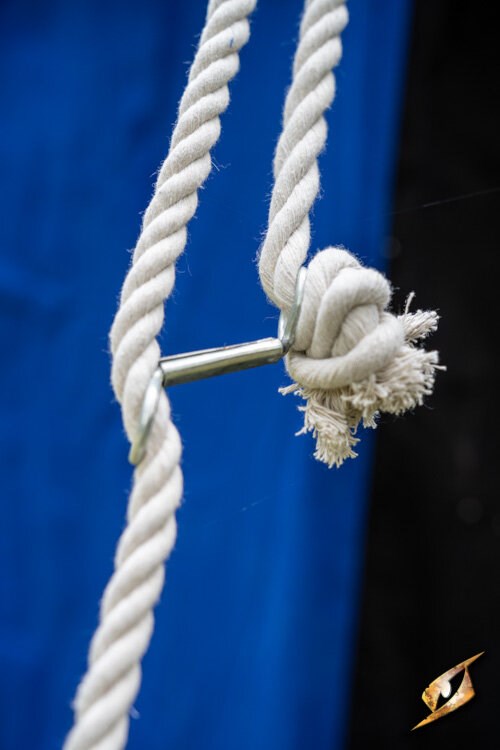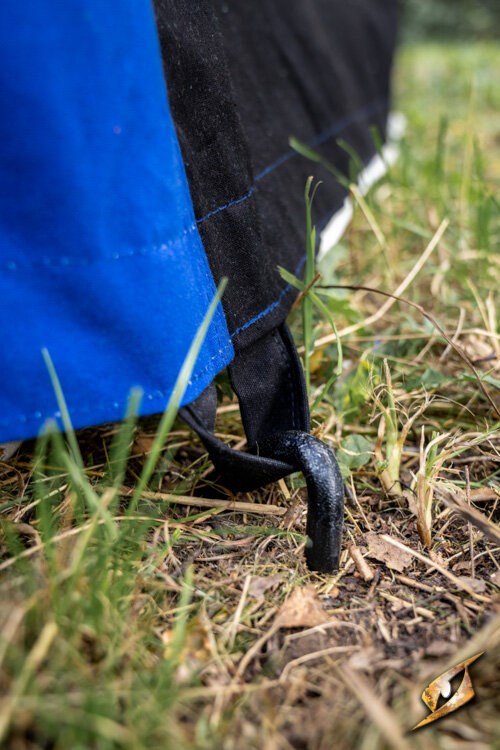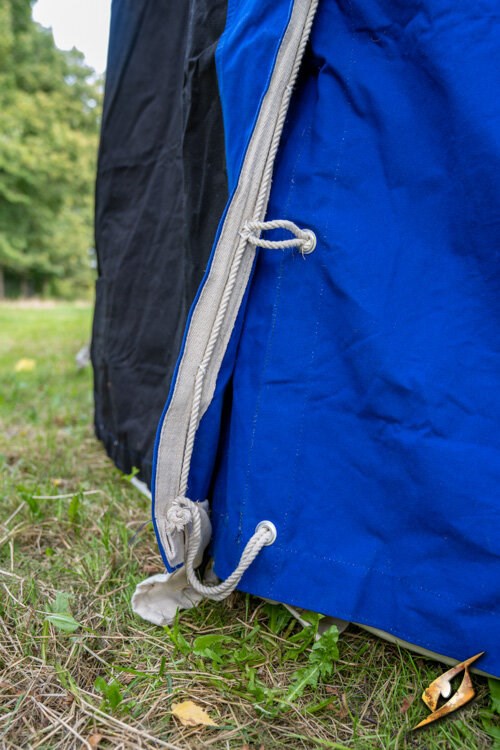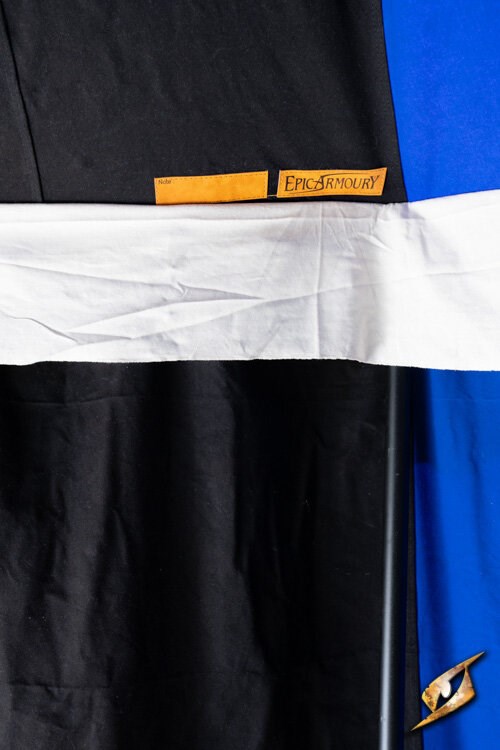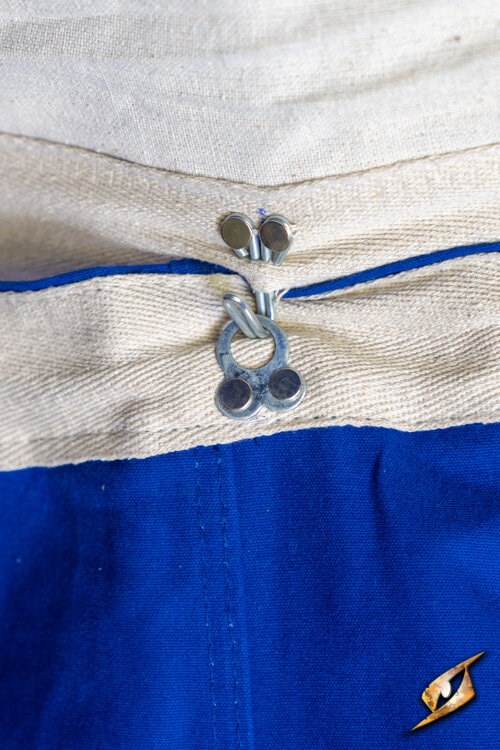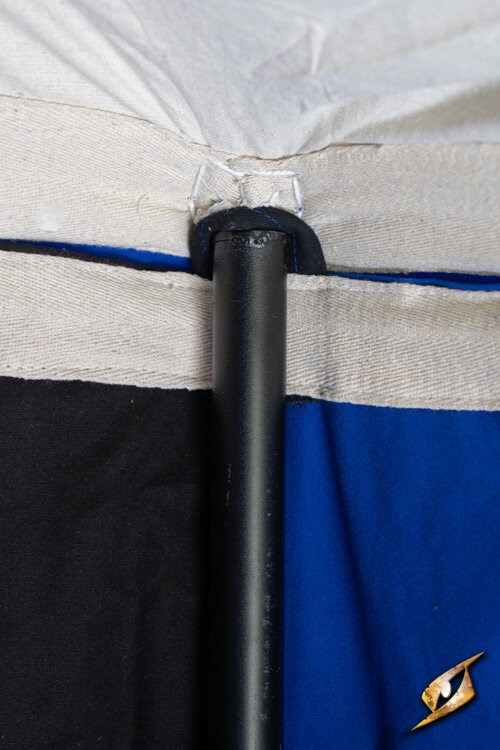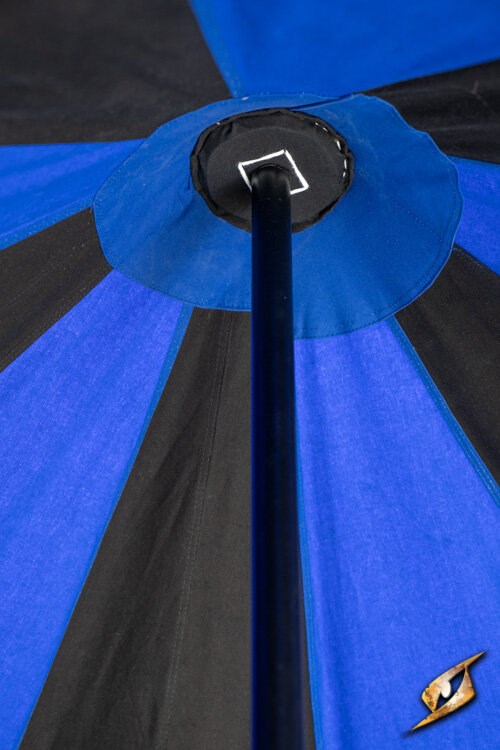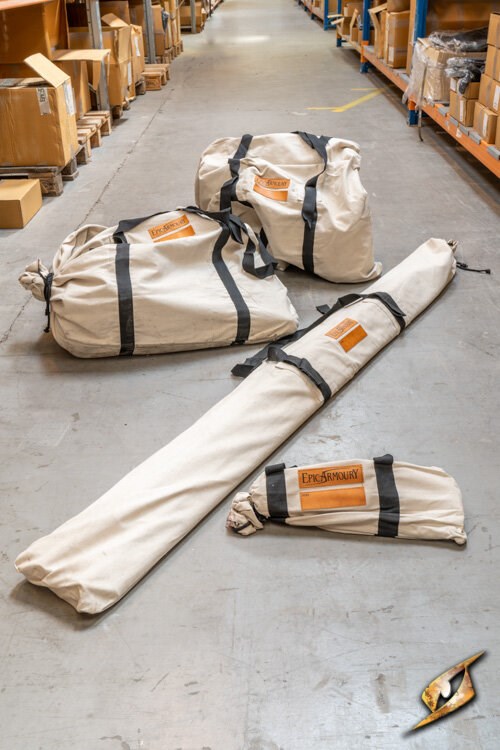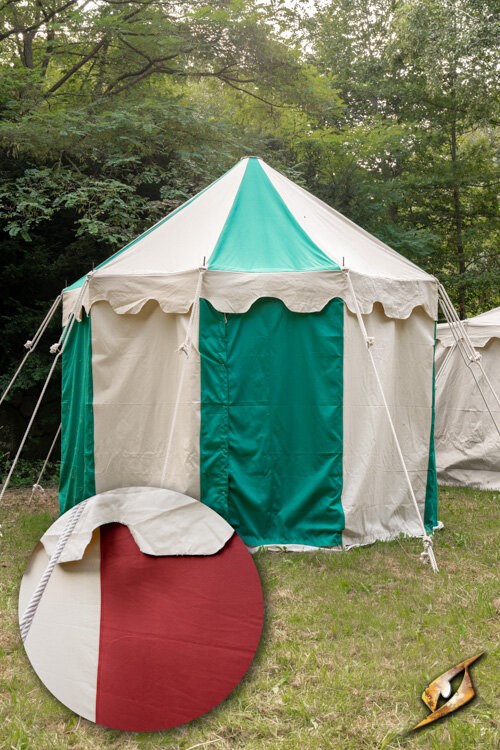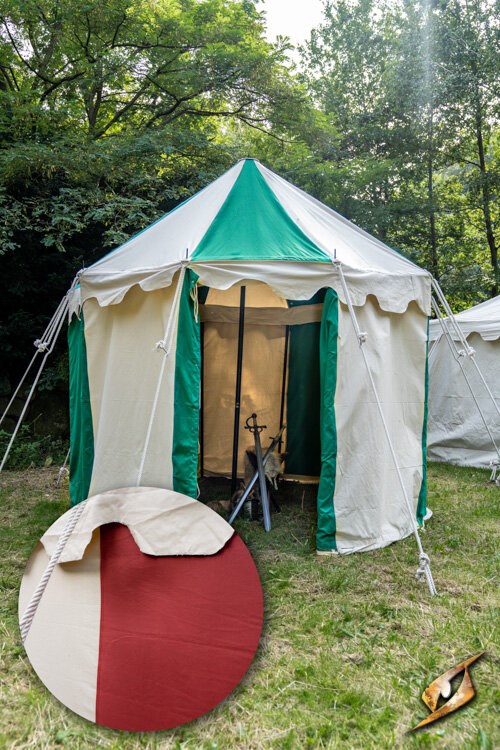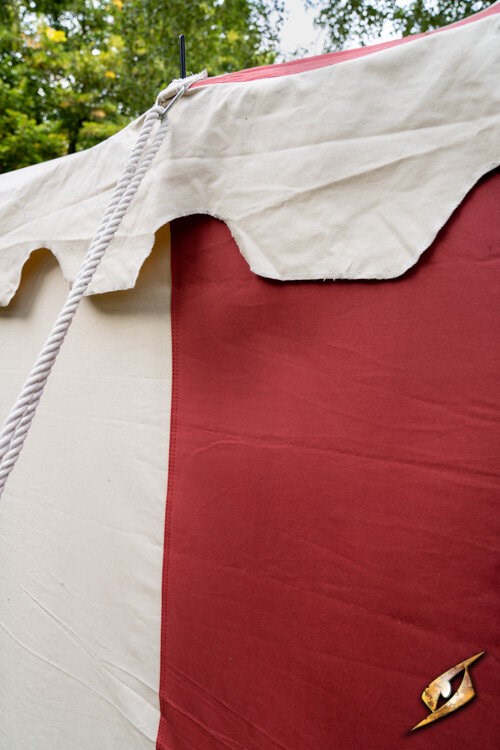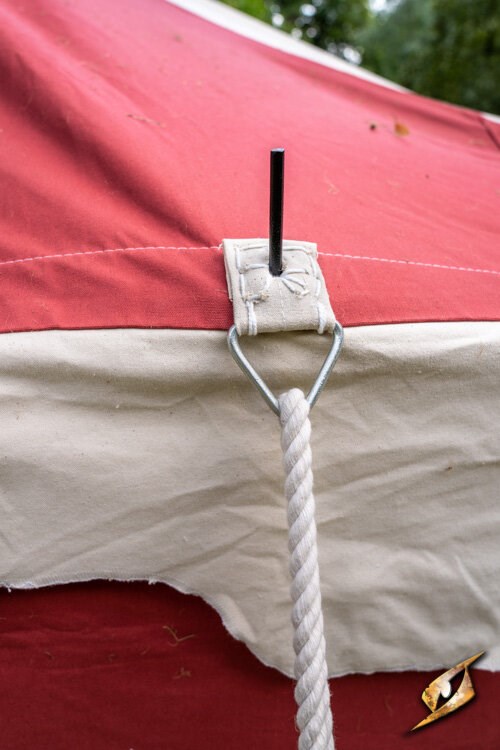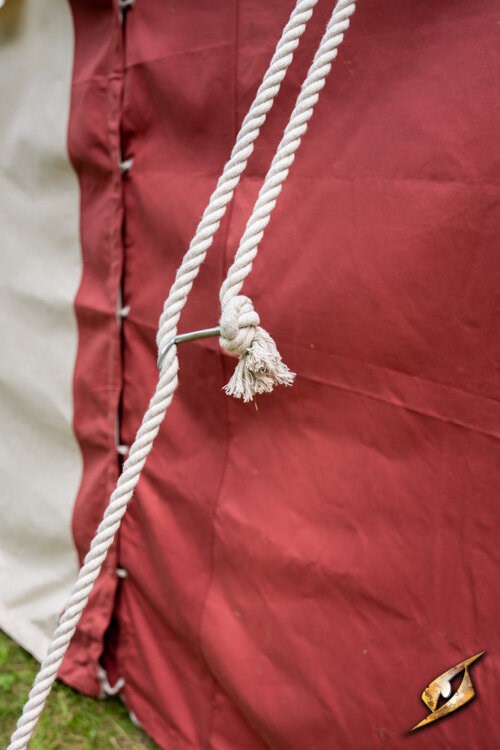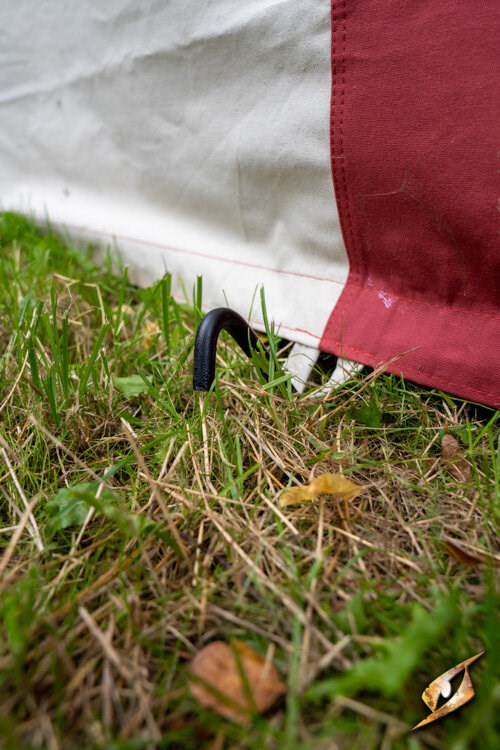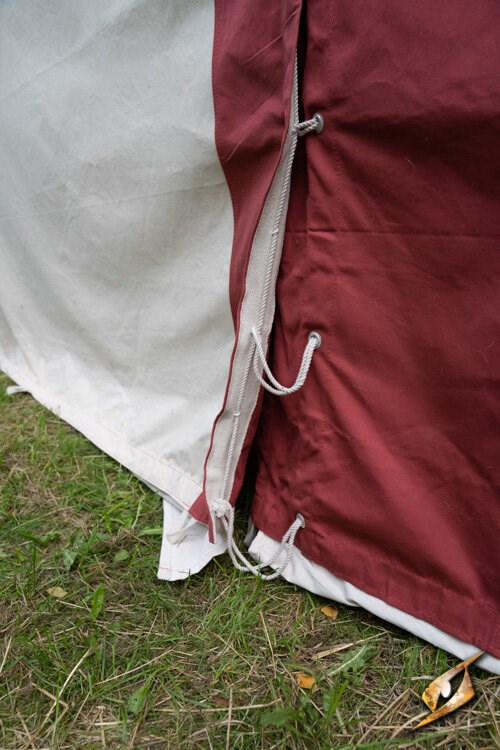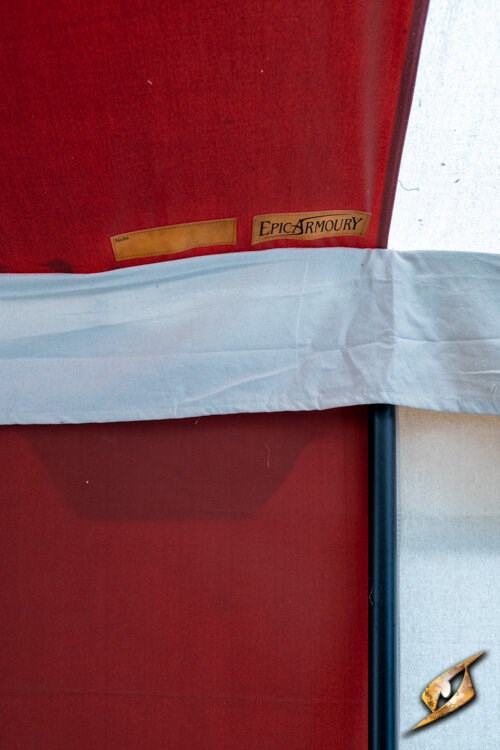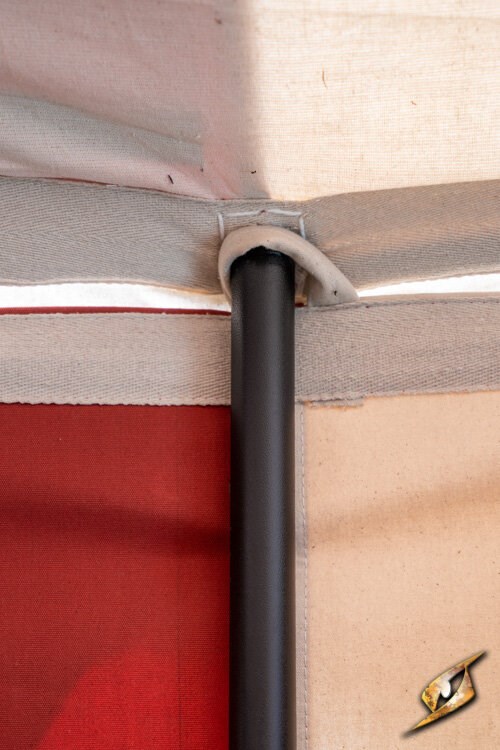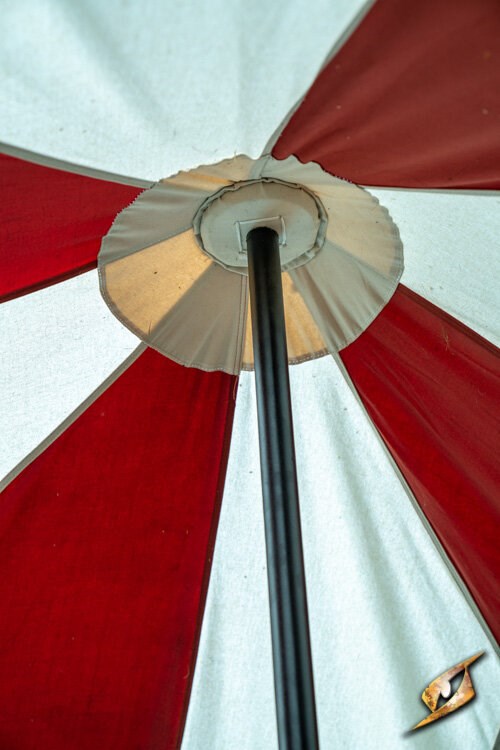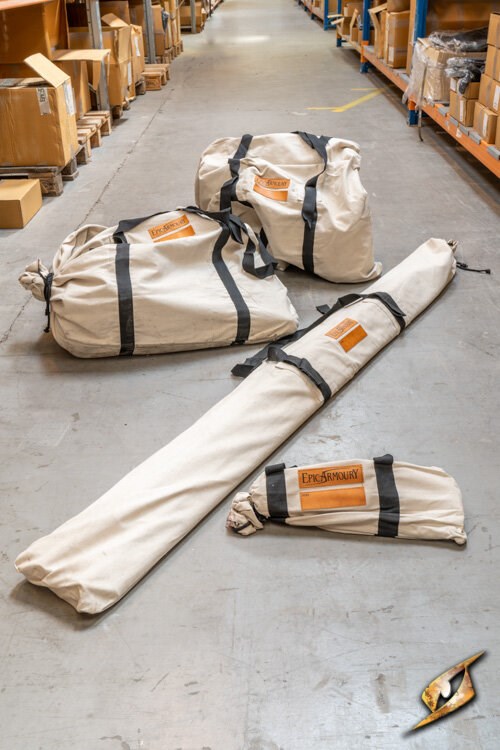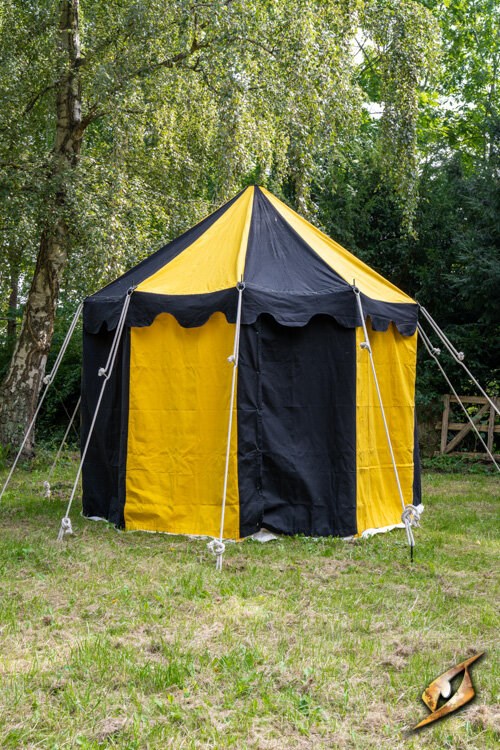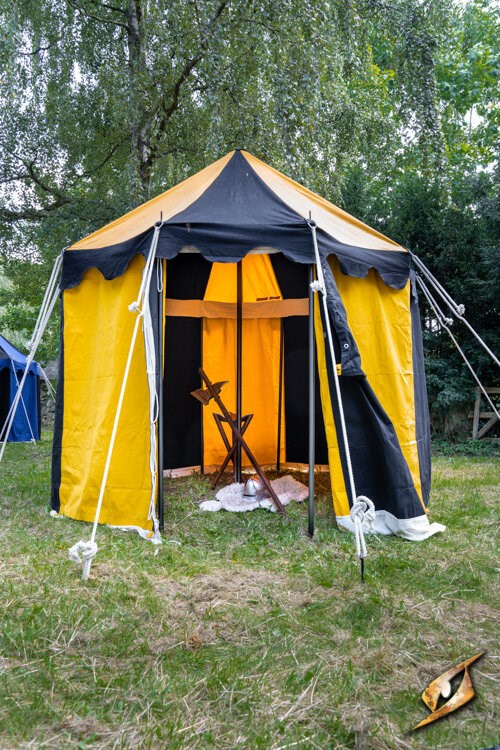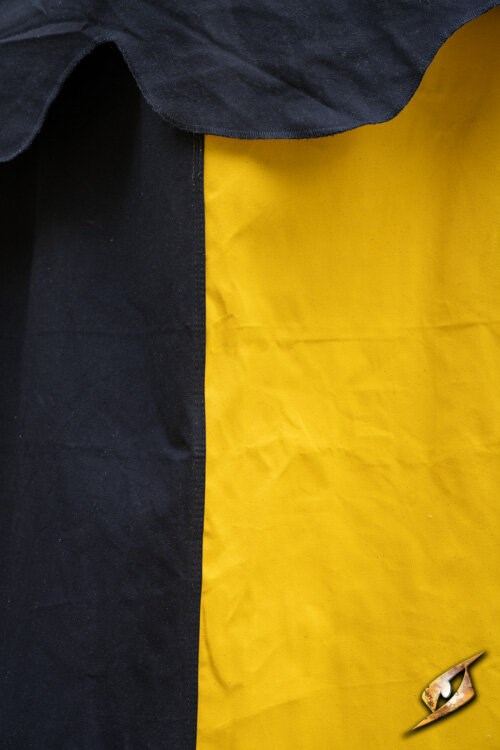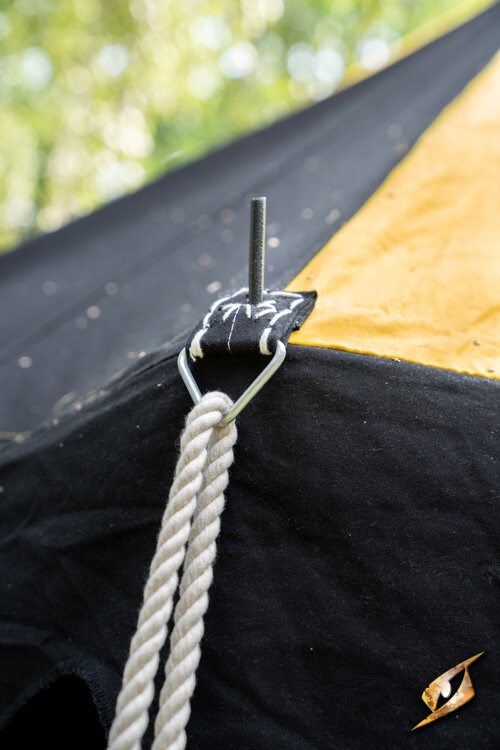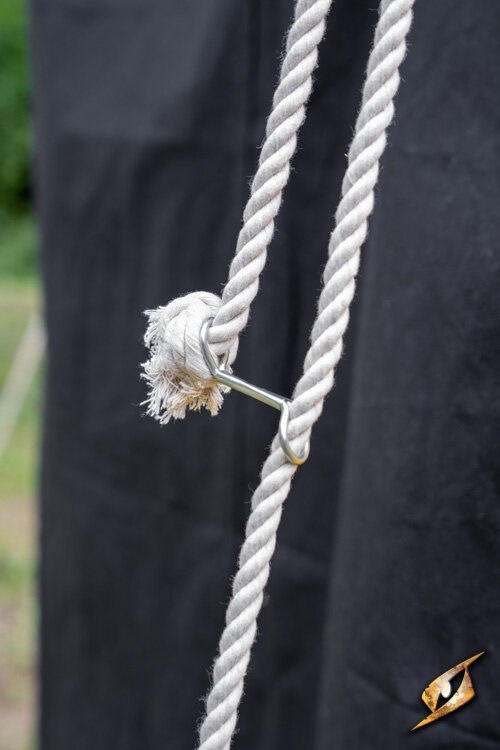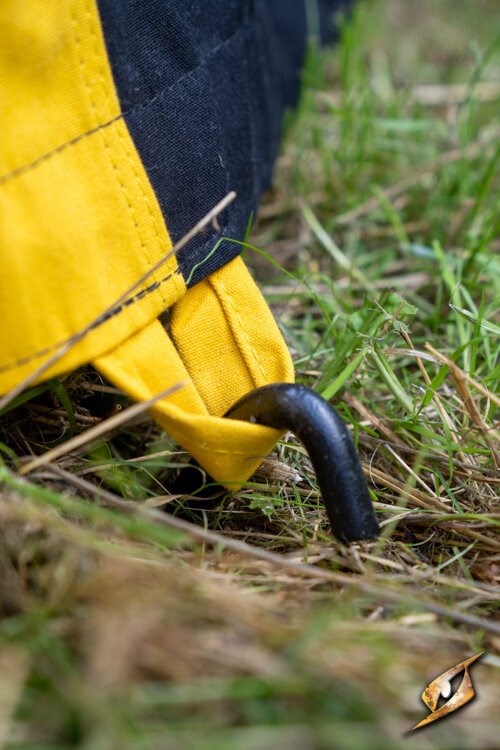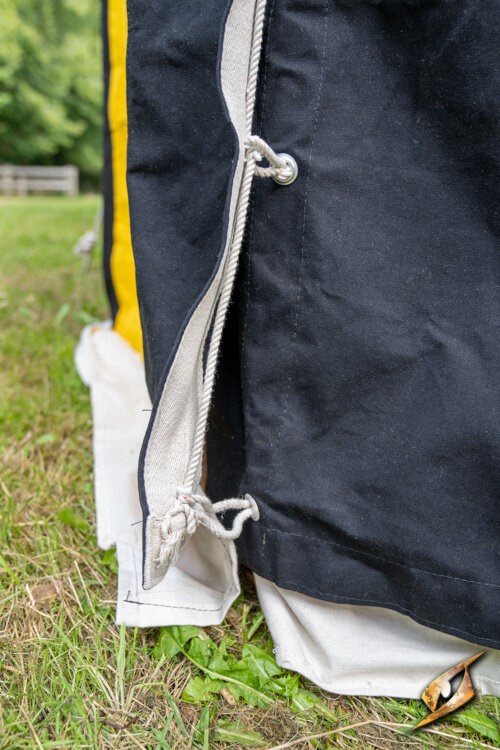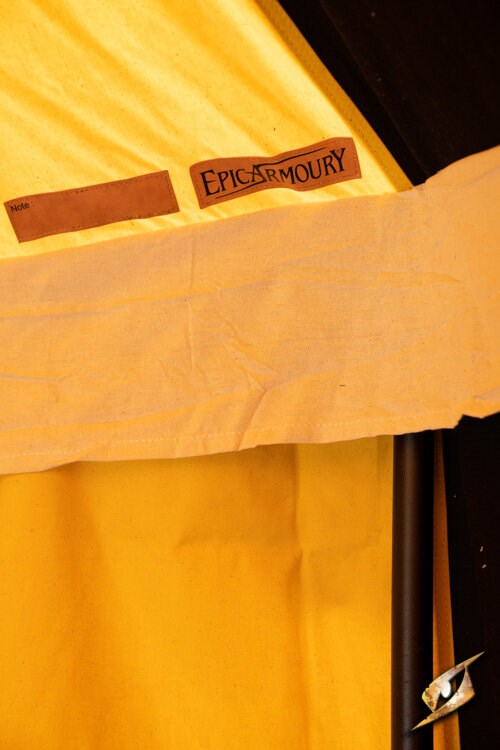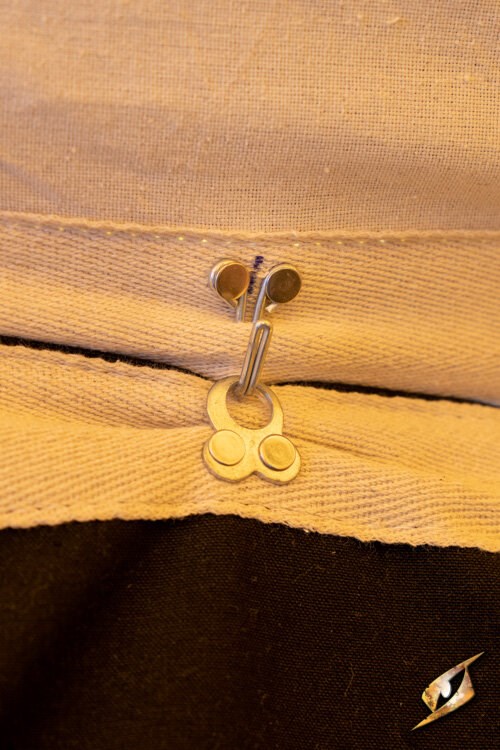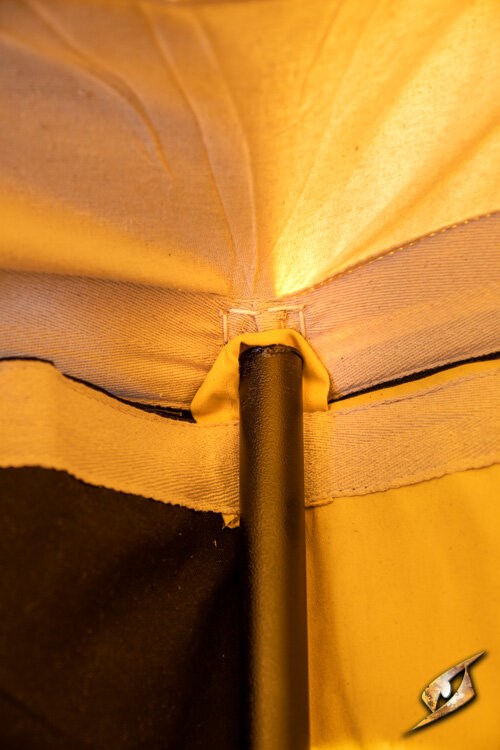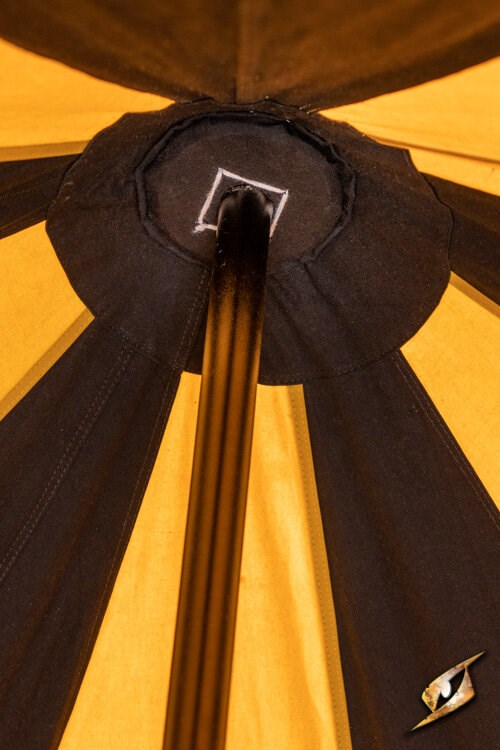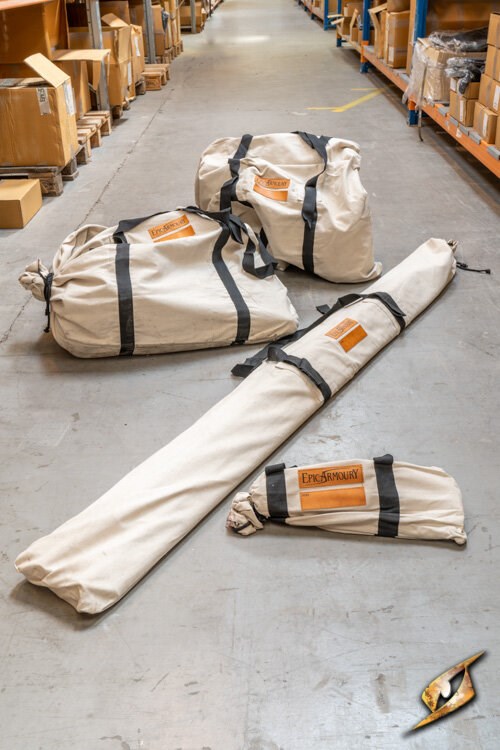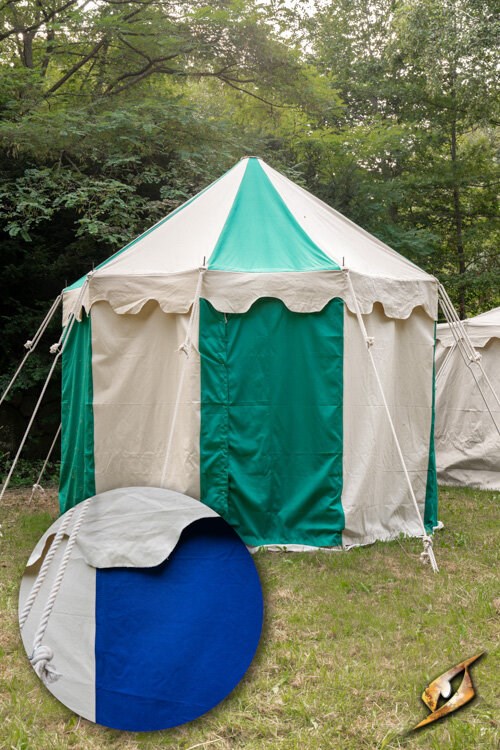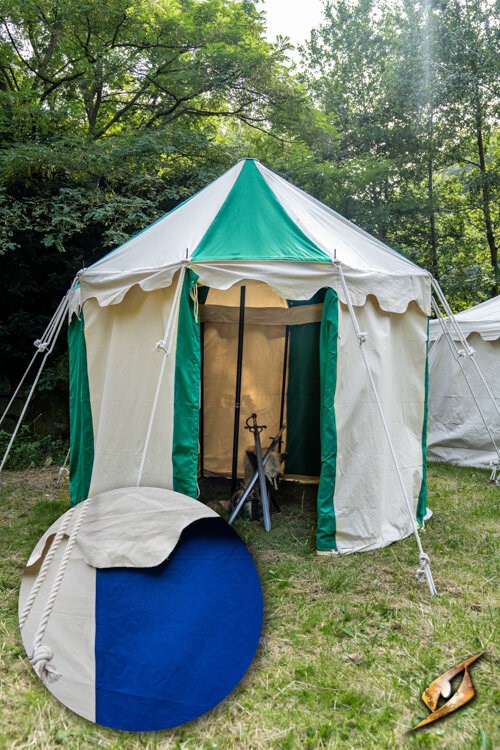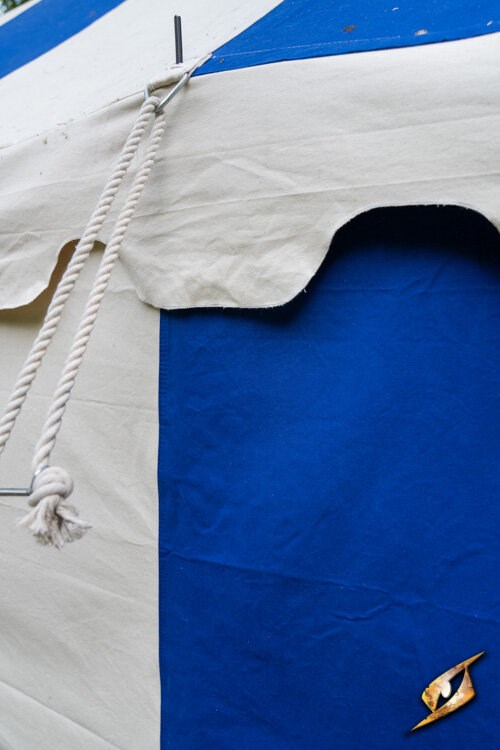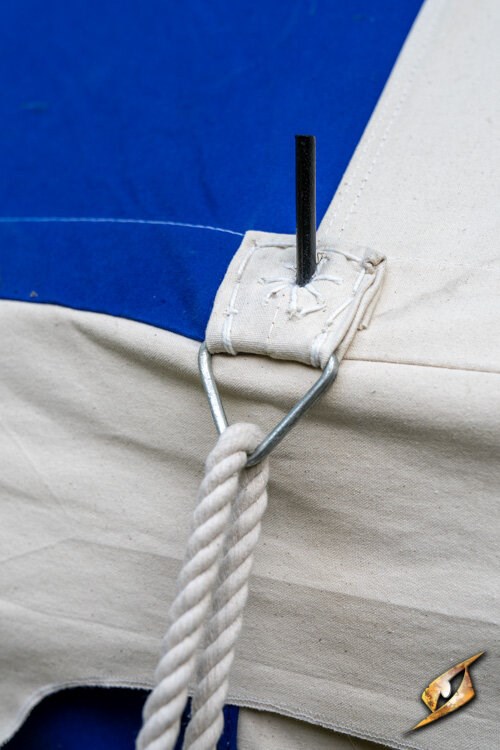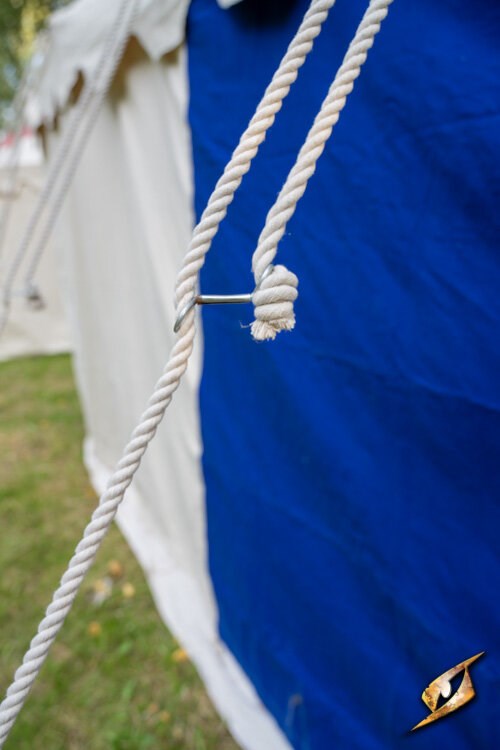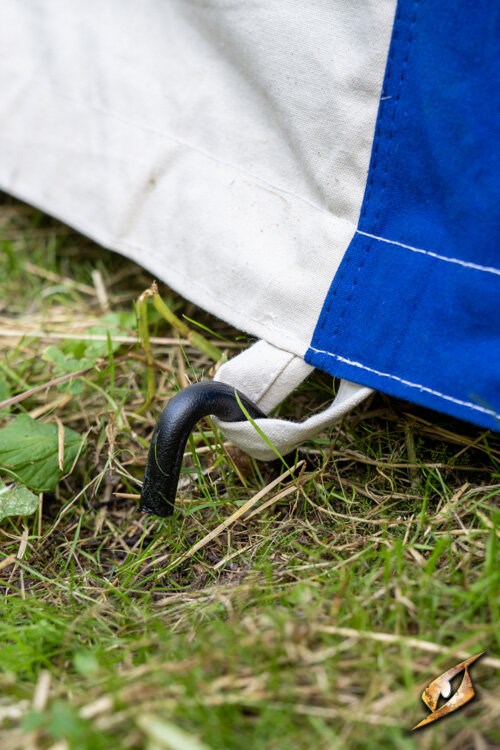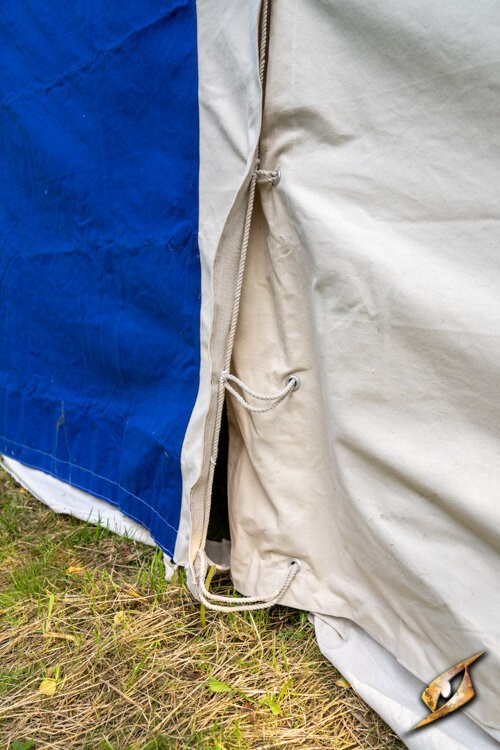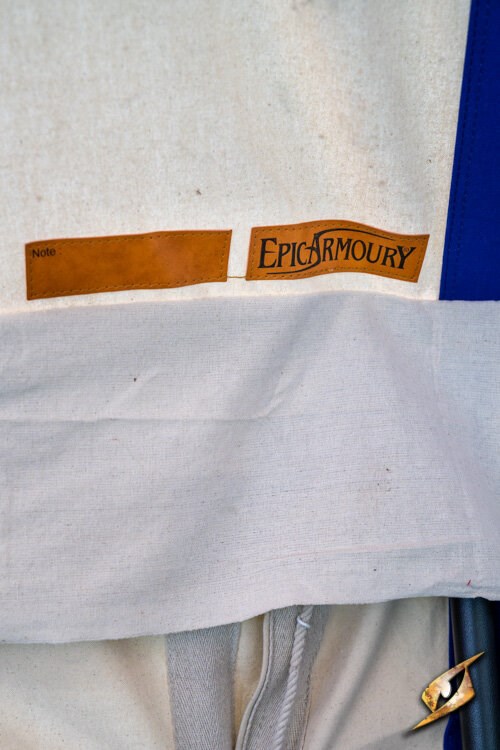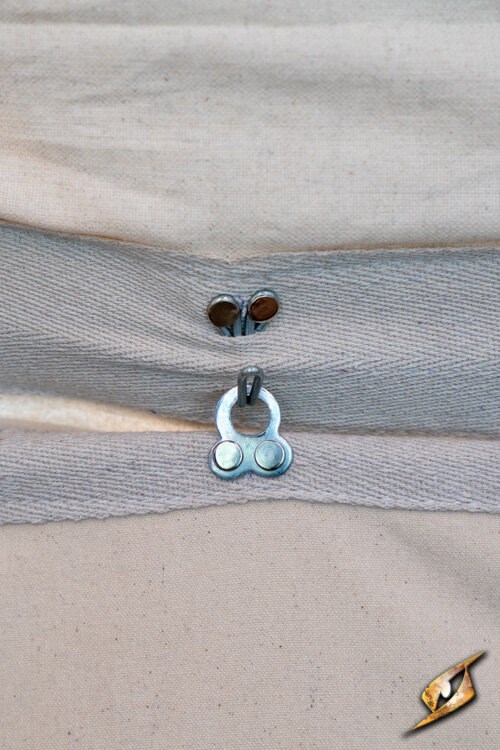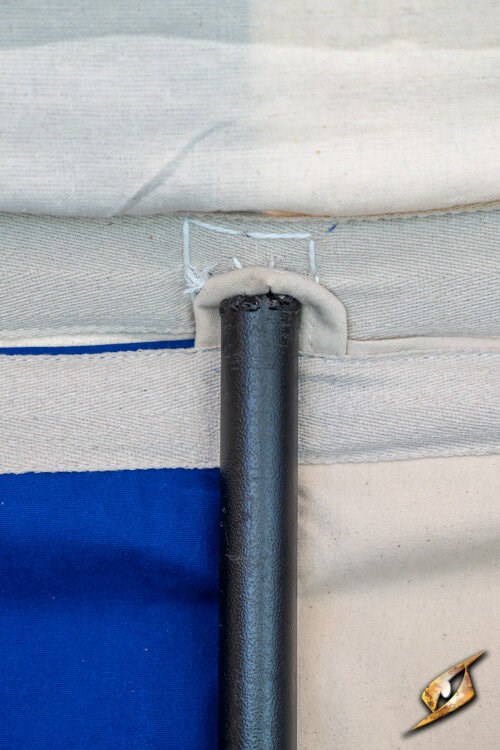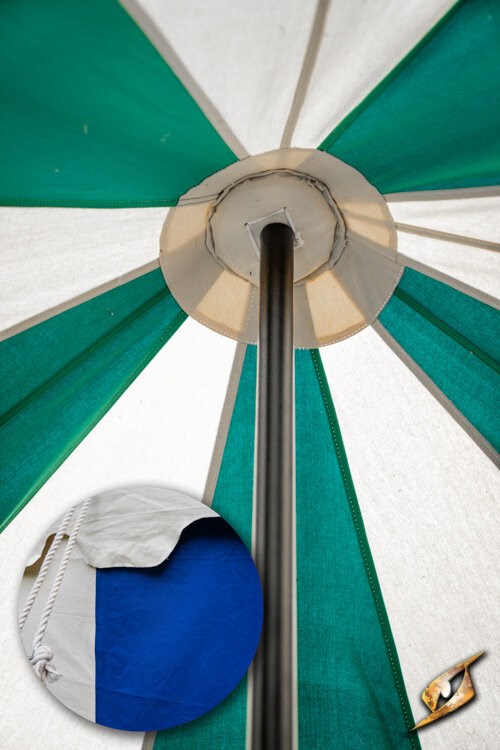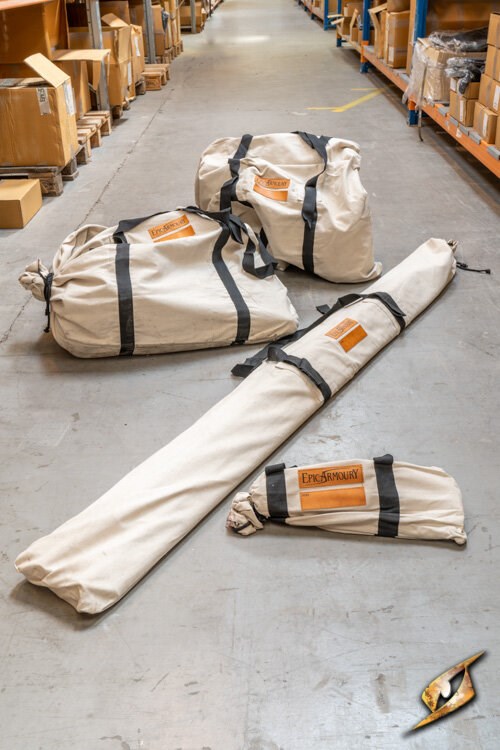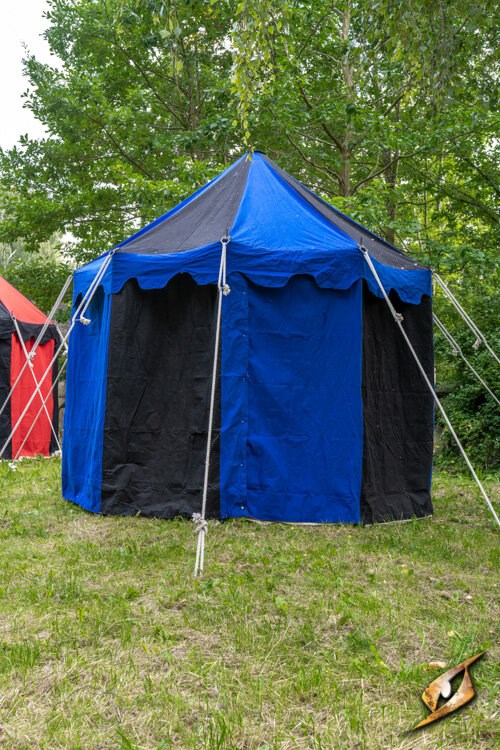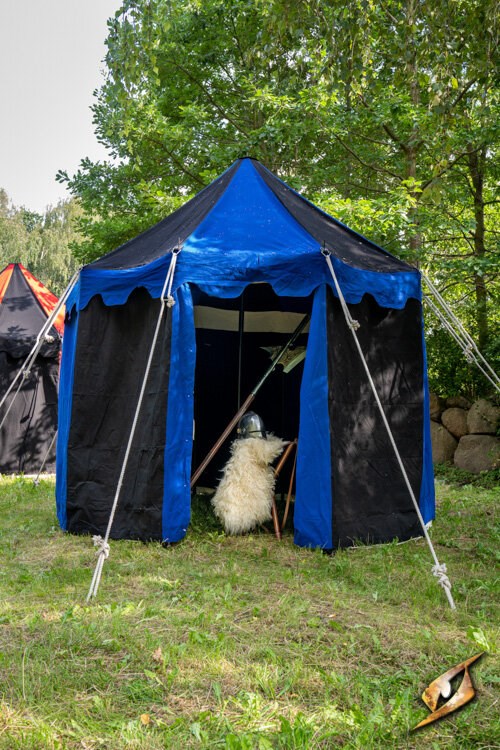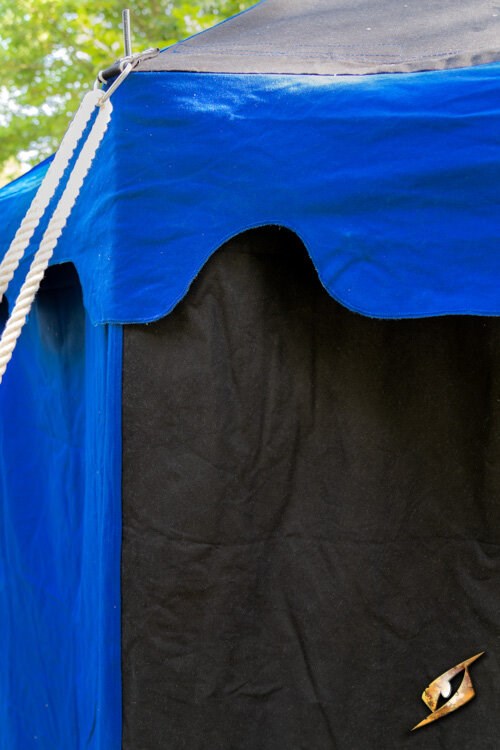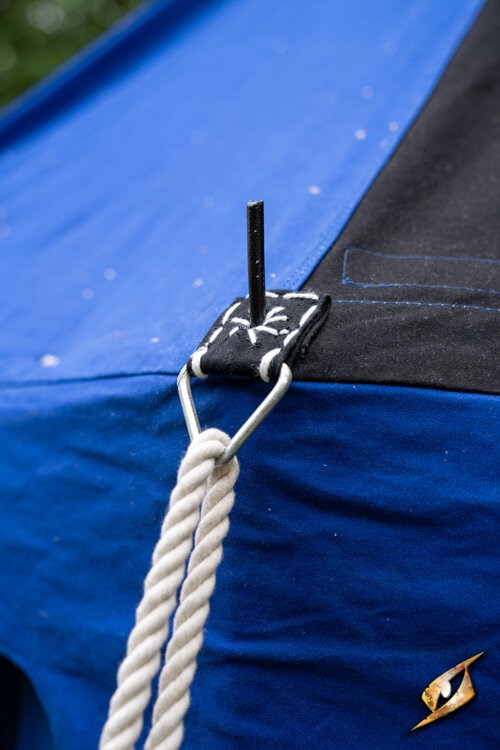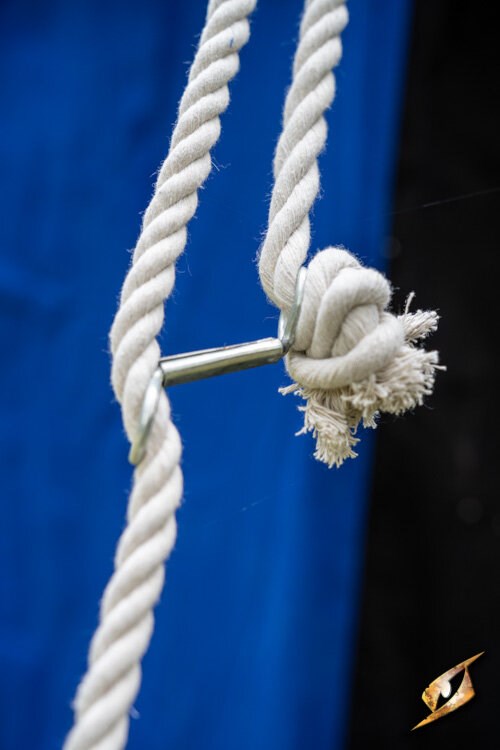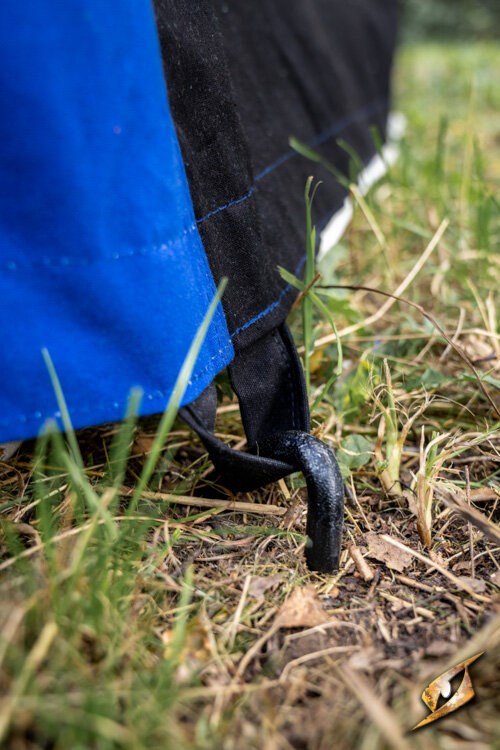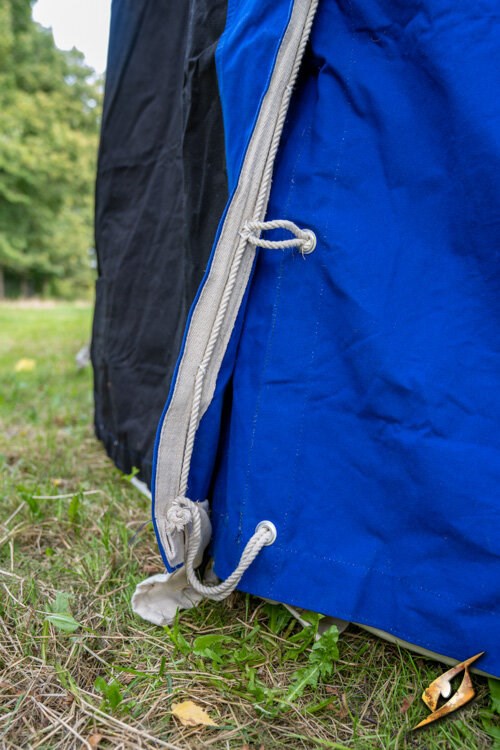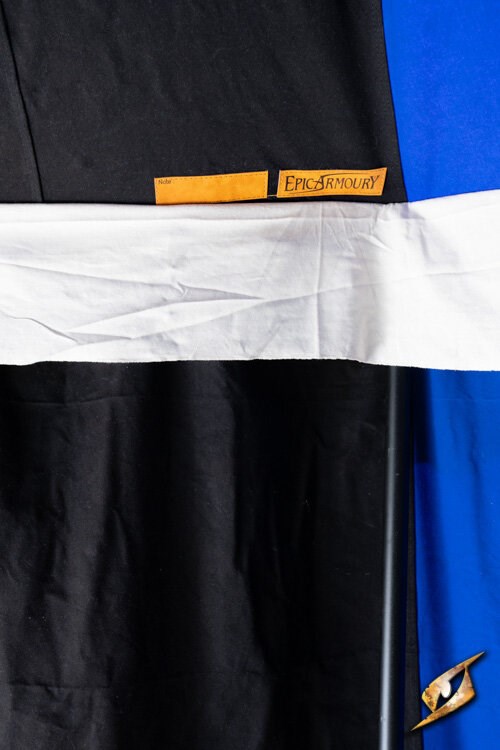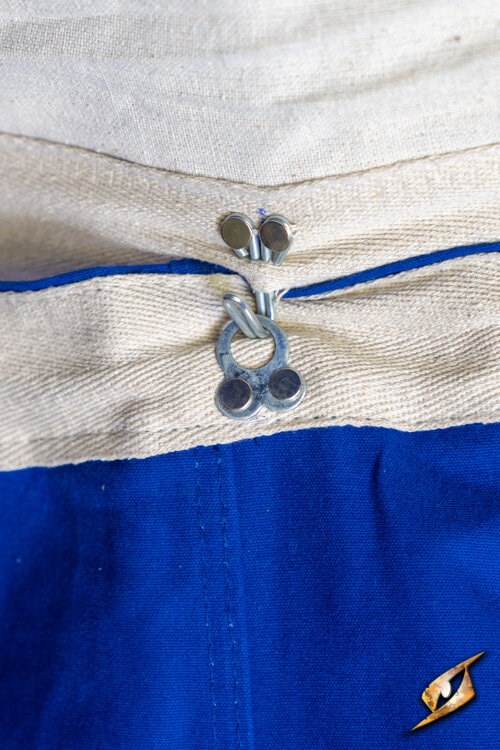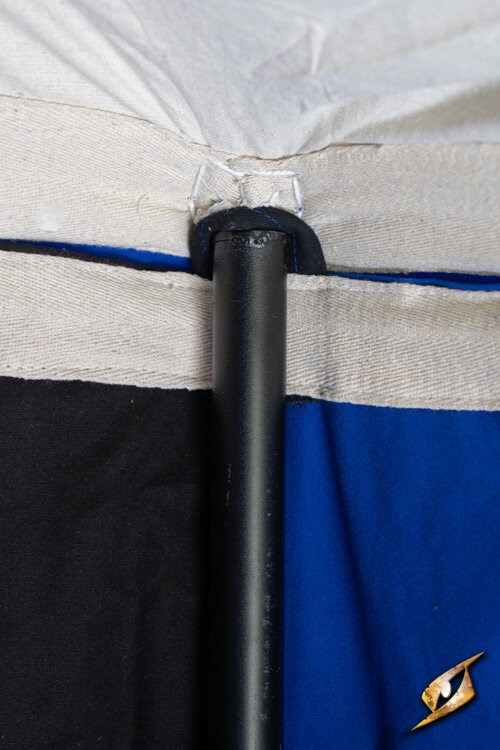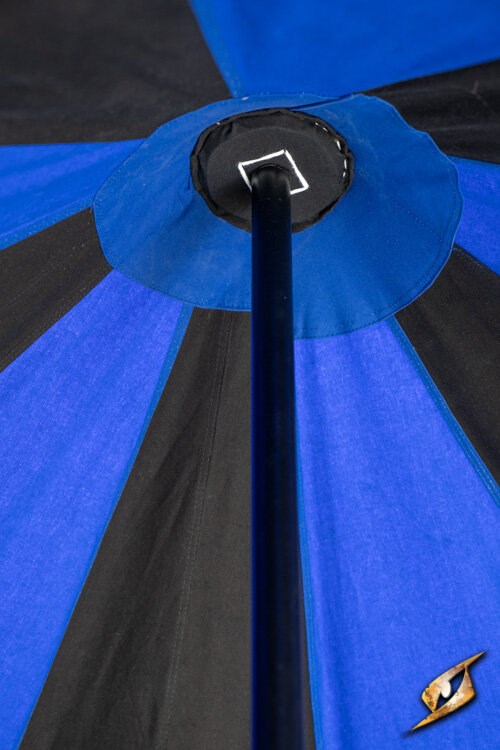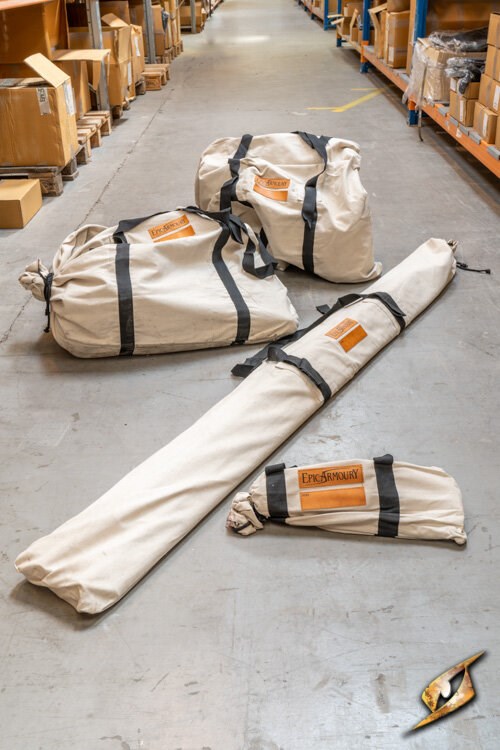 Description

Fitting

Technical Details
"On the fields of battle, he was the Marshal, and there he was invincible. But even he had to sleep at some point. And it was midnight when he finally entered his pavilion tent and removed his boots. His feet were as smelly as a ten-day-old corpse after being stuck in his boots all day through the heat and humidity. As he lay down on his cot, he felt the feeling returning to them, stinging like someone stabbing his feet with a sword. It was going to be a long night."
Epic Armoury's Round Pavilion Tent is based on designs known since the mediaeval crusades. It offers a spacious and private abode for you to rest or have clandestine meetings while on the LARP fields. The colour of the tent is two-toned, giving an authentic feel of how tents were made during the time of the armoured knights.
The roof and walls are supported by poles, allowing for an open canopy setup without walls or a secluded setup with walls. As an upgrade from the typical design with tedious rope hoops, the wall pieces of the Epic Armoury tent attach easily to the roof piece with fastening hooks. We have crafted the poles from powder-coated iron while the fabric consists of 100% heavy-duty (425g/m²) cotton, weatherproofed with paraffin wax for extra durability.
You can choose between regular and compact tent poles when buying your tent. The regular poles feature full length, except for the centre poles and ridge poles, assembled from two or three pieces to ensure that no pole piece exceeds 200 centimetres. This provides a durable and simple setup, which may be preferable when there is plentiful packing space. The compact tent poles are designed so that no piece exceeds 110 centimetres, which means a lot when packing space is a concern. The compact tent poles are designed without locking mechanisms as the weight of the tent canvas ensures that a well-fastened tent stays safely on the ground. Remember to check and tighten the guy ropes regularly.
As our canvas tents and canvas tent roof pieces have considerable volume and weight, the standard calculator for shipping does not apply when ordering this product type. After ordering a tent or roof piece from our website, we will contact you and provide an exact shipping offer based on your location, which you must confirm before packing and shipping your order.
Each Round Pavilion Tent - 3m consists of the following: Roof - Round Pavilion, 1 Side - Round Pavilion, 1 Pole Pack and 1 bag of Pegs. All colours, packs and bags match your chosen tent.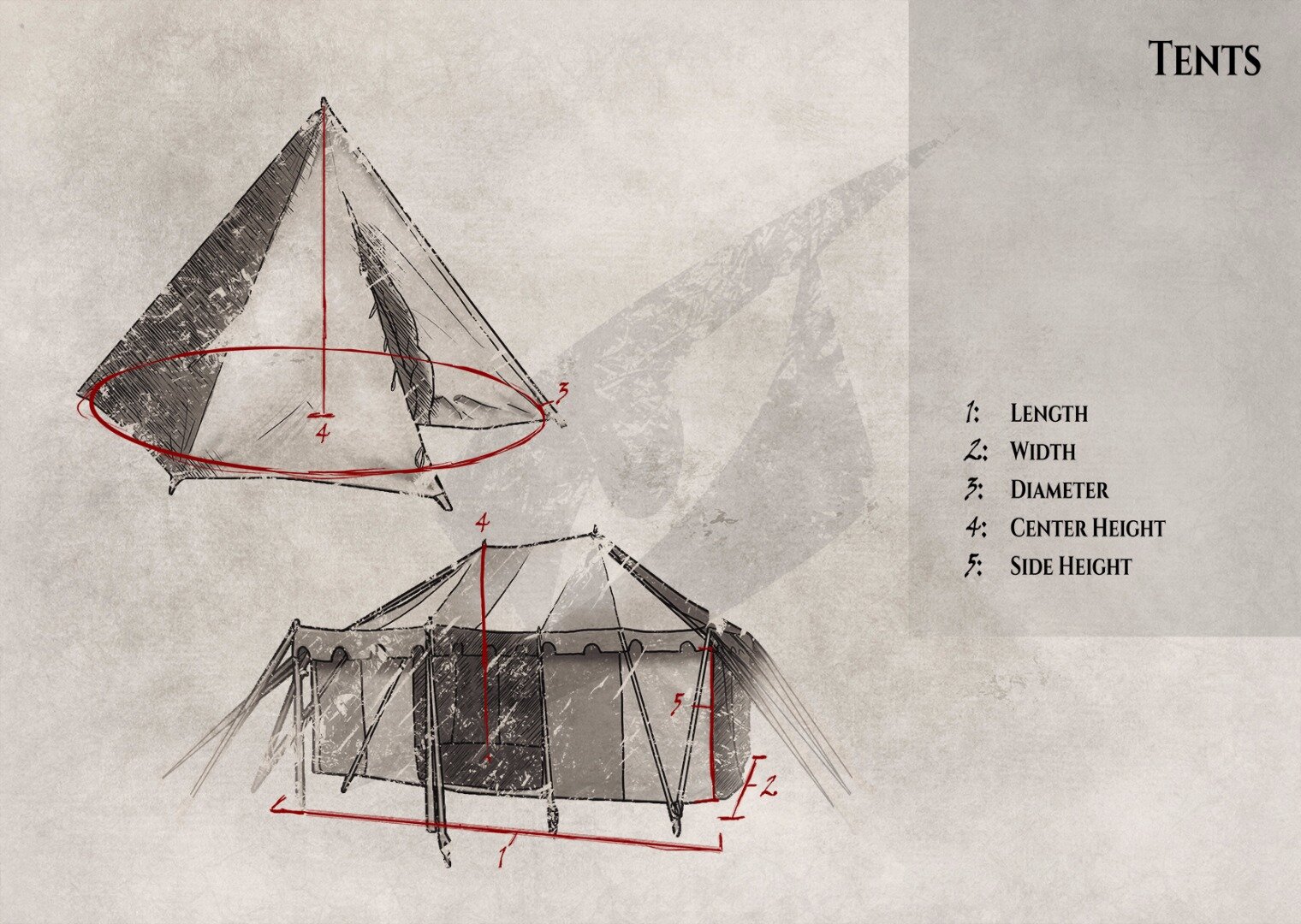 Brand:
Epic Armoury
Materials:
Tent Canvas
Product type:
Tent
Release date:
11/08/2021
Maintenance
Evil tongues whisper that most LARP equipment perish under the curse of neglectful maintenance. Unfortunately, tent equipment is no exception to this unless you are capable of a mending spell. While we strive to provide tents of high quality with easy setup, there is one golden rule worth the entire treasury of Erebor: Make sure your tent is clean and dry before longtime storage! Undoubtedly, your tent will eventually endure the hardships of rain and mud. It is fine to pack up the tent in wet condition, but remember to allow the canvas to dry and brush away dirt and grime once you are home from your adventures. You can then repack the tent for longtime storage and celebrate the end of your journey with a mug of dwarven stout or a glass of elven wine.