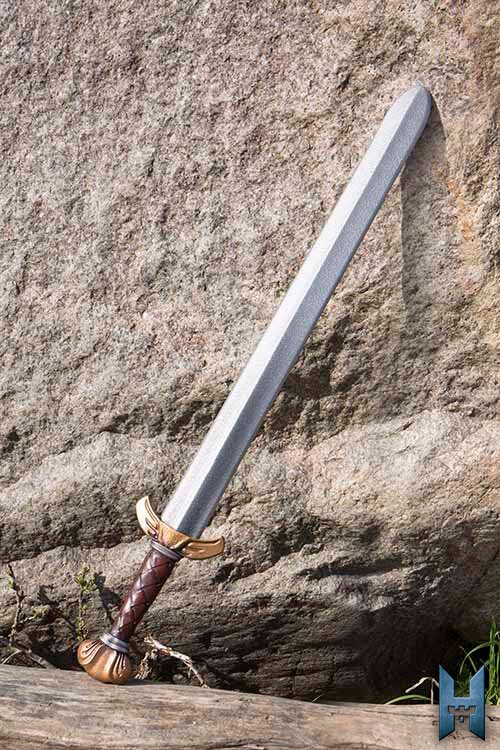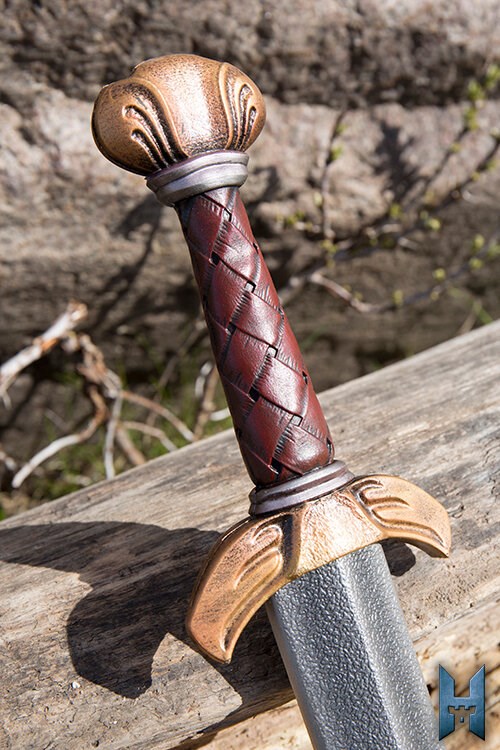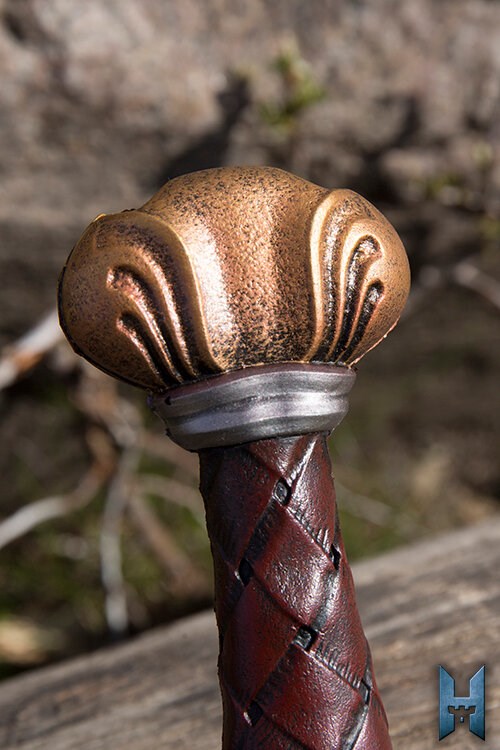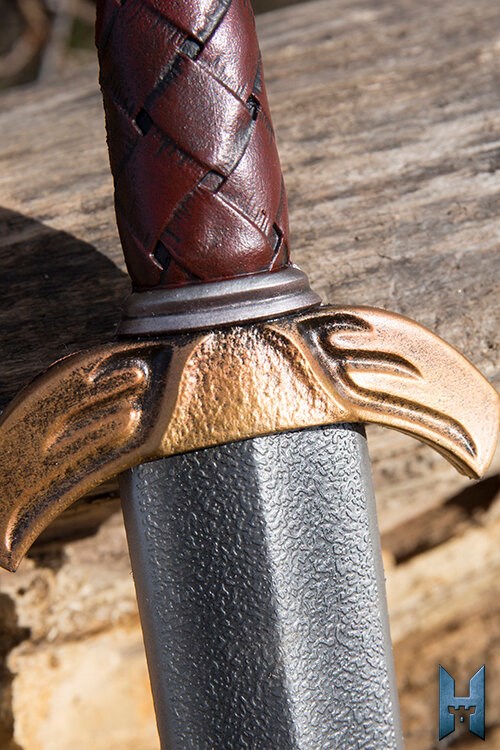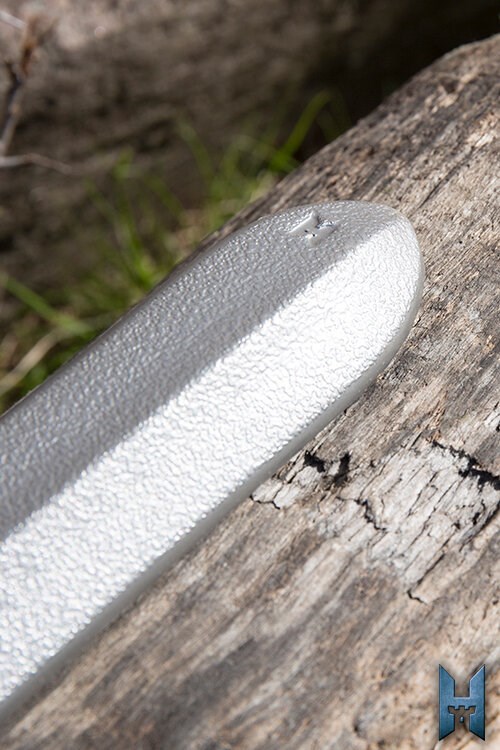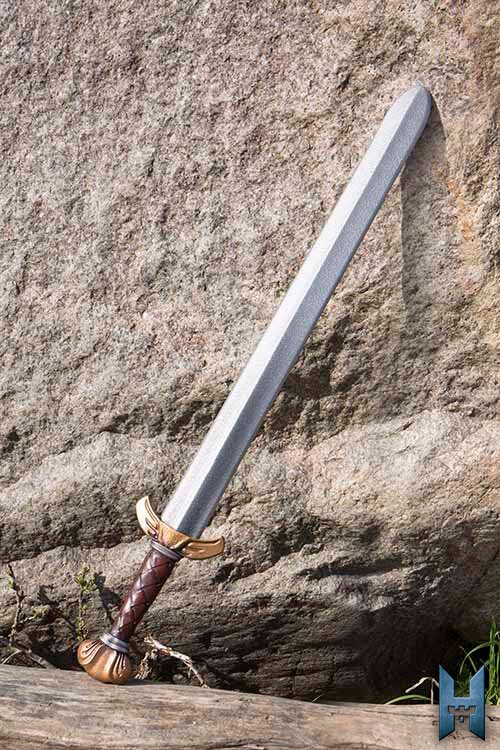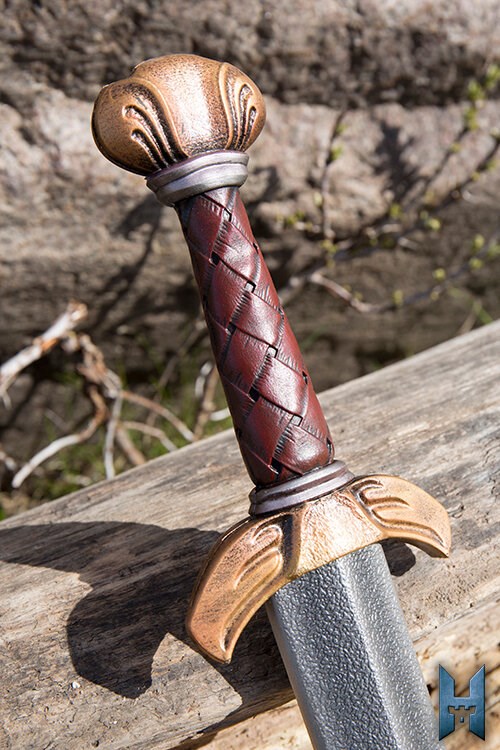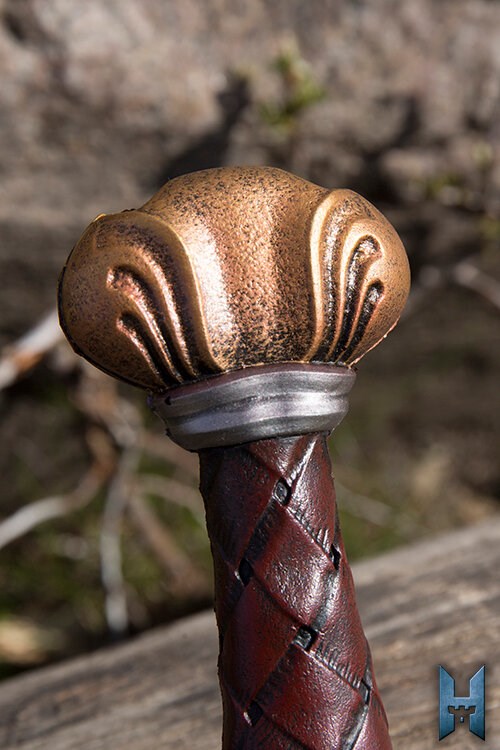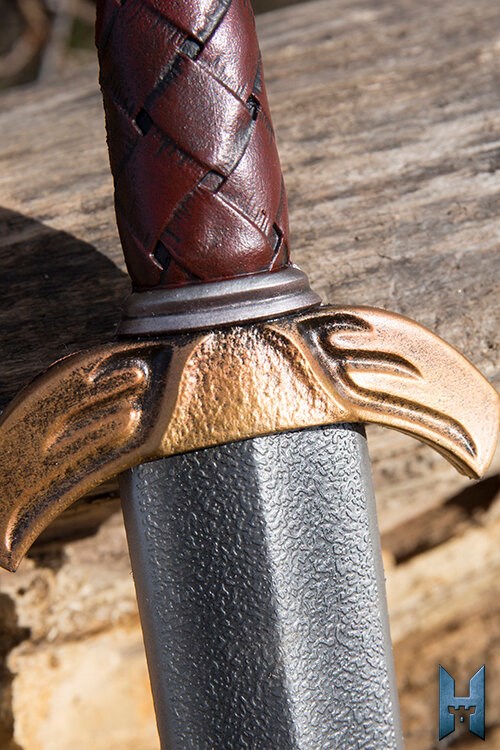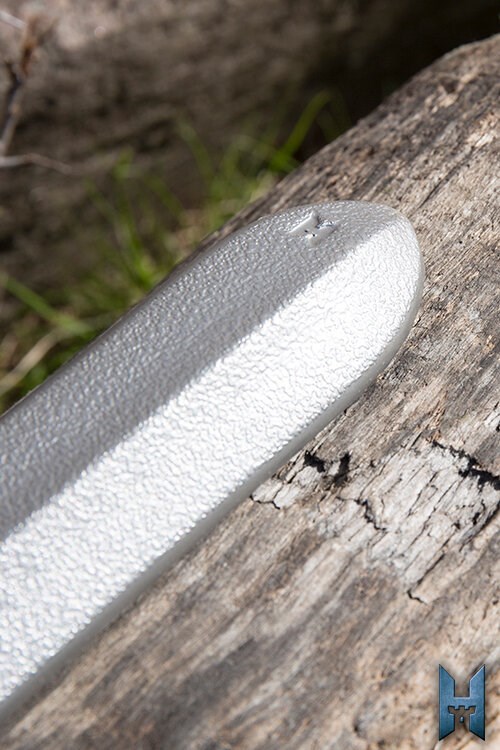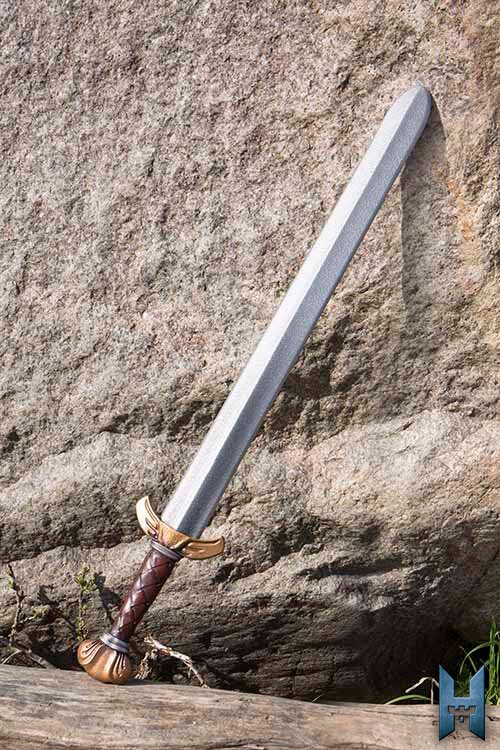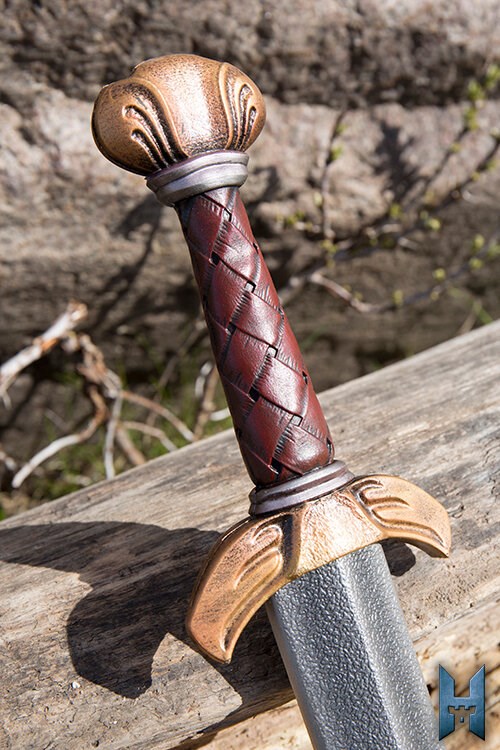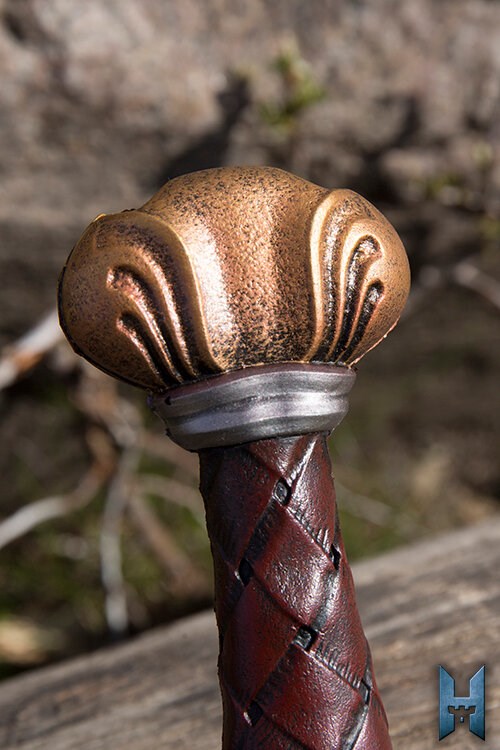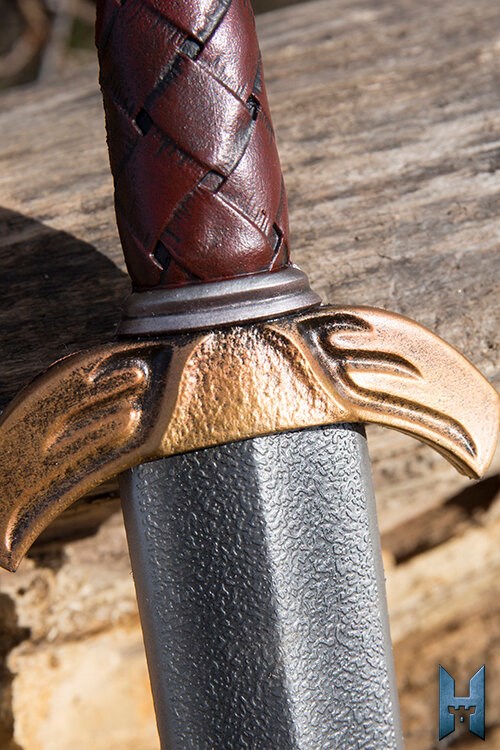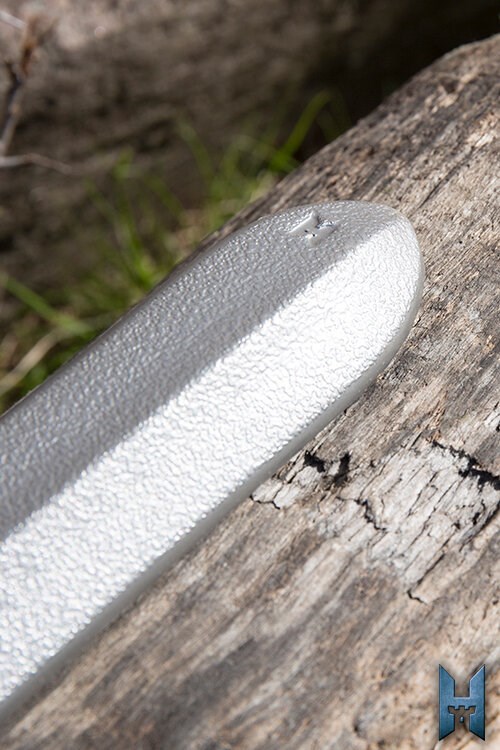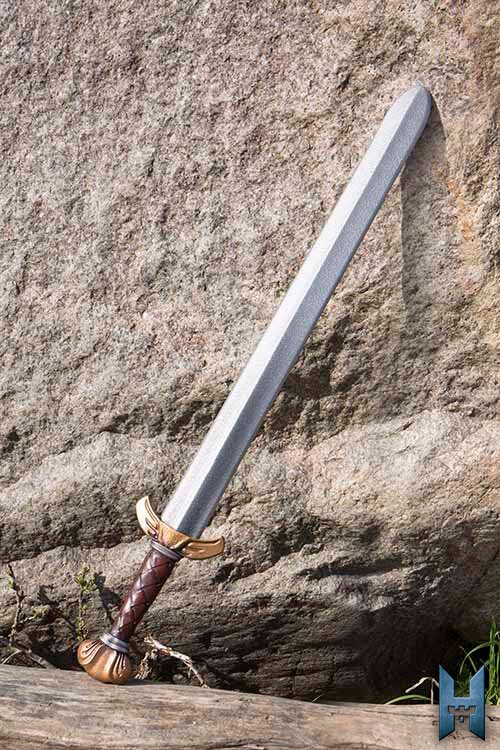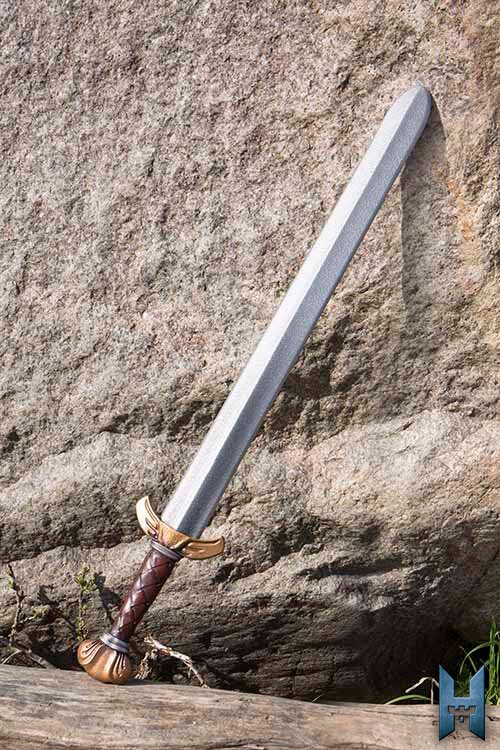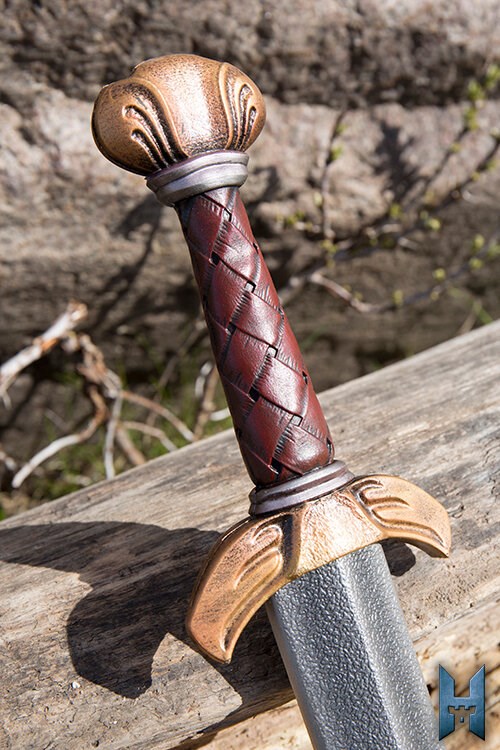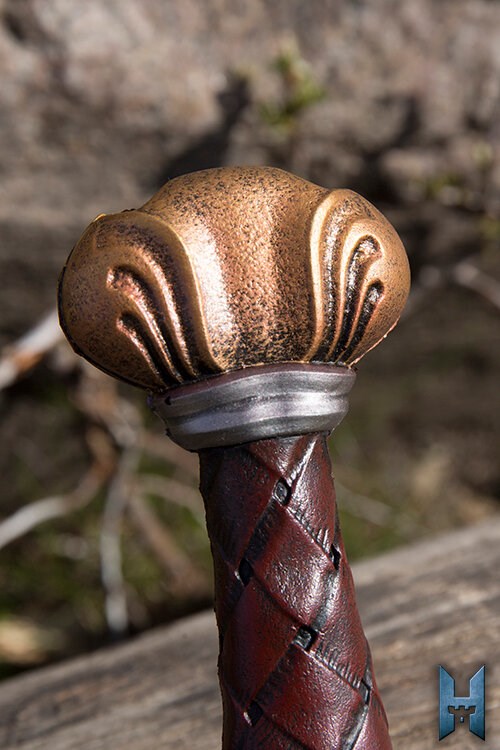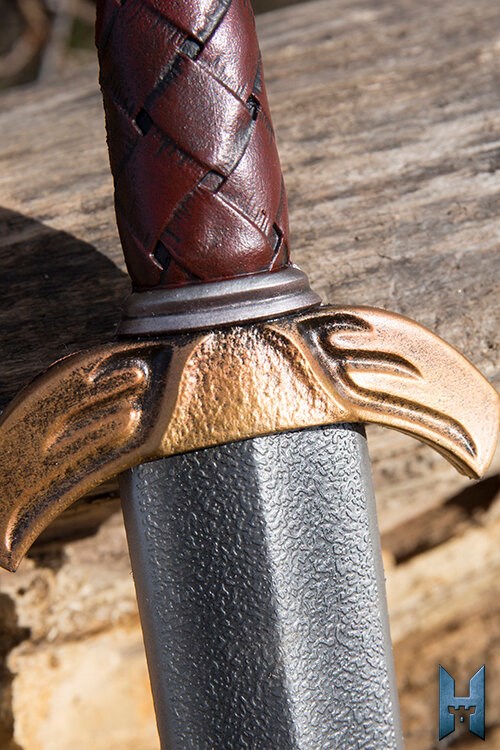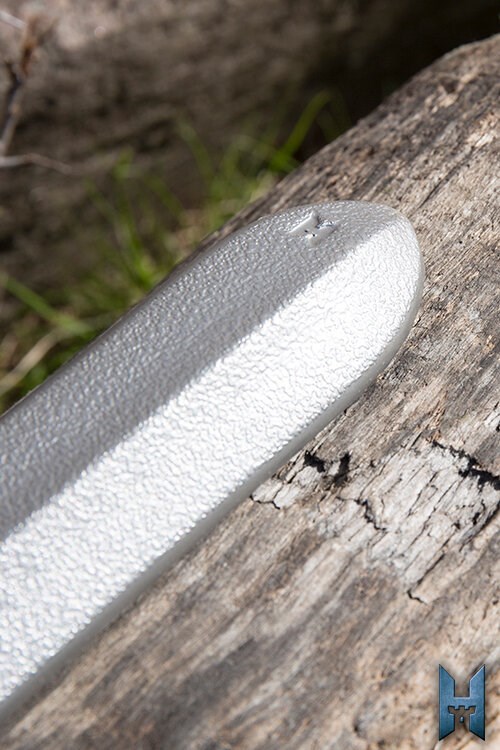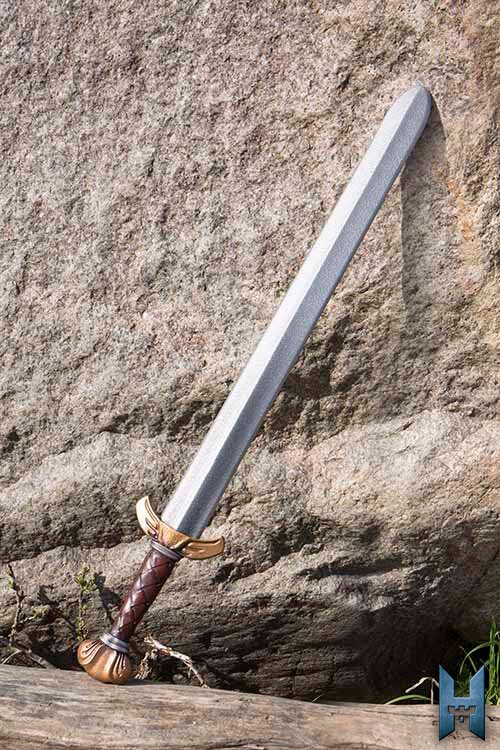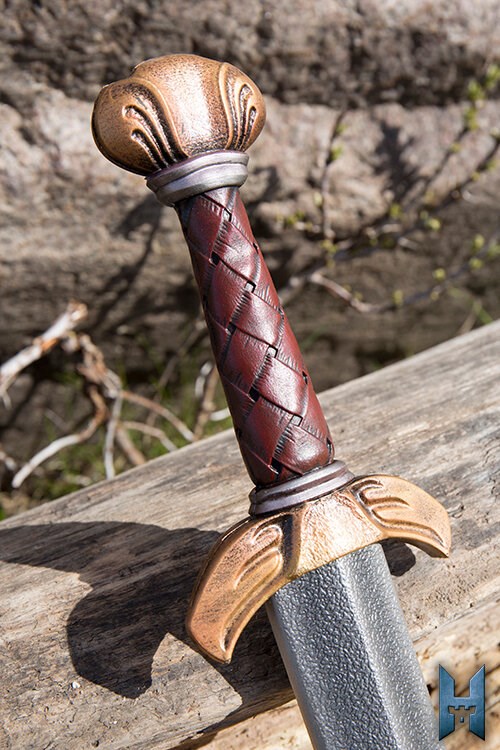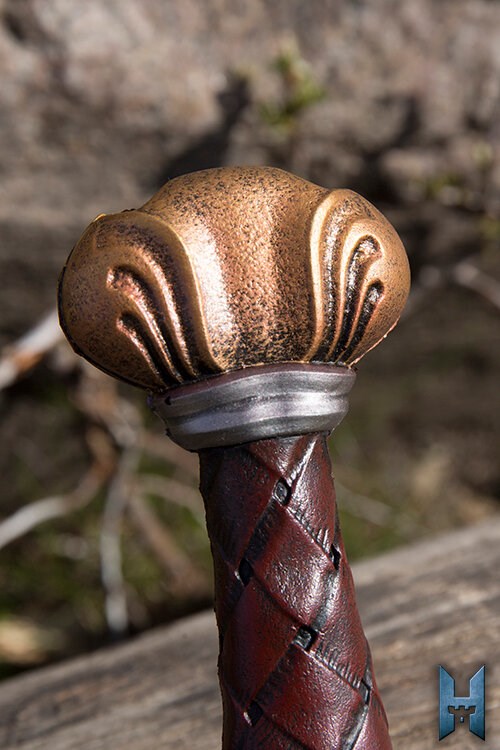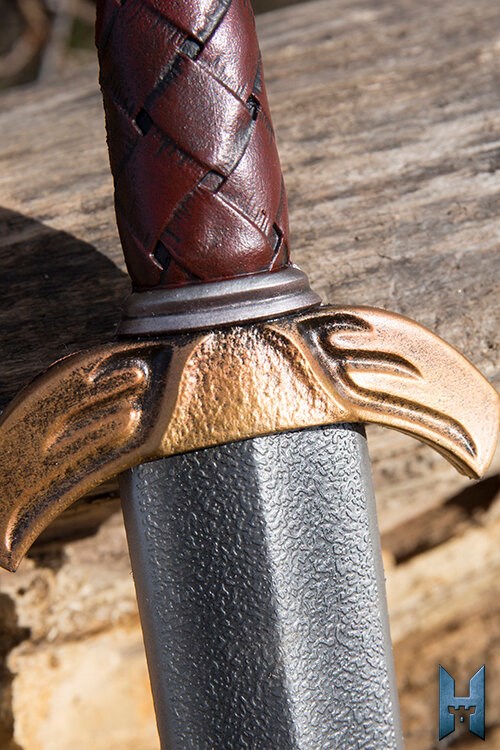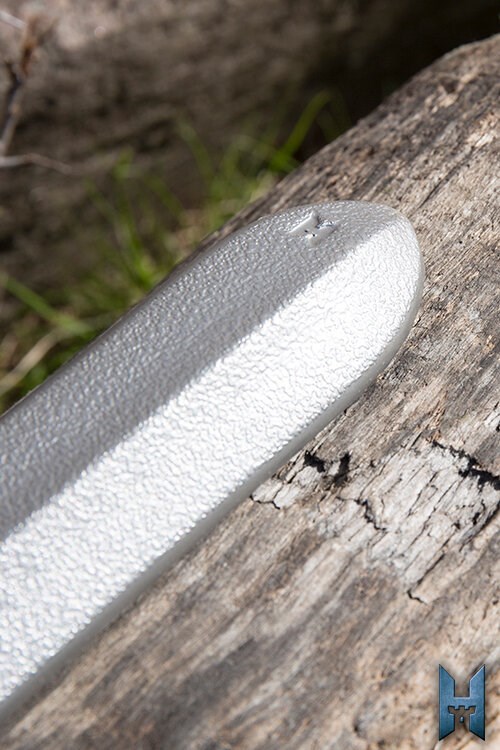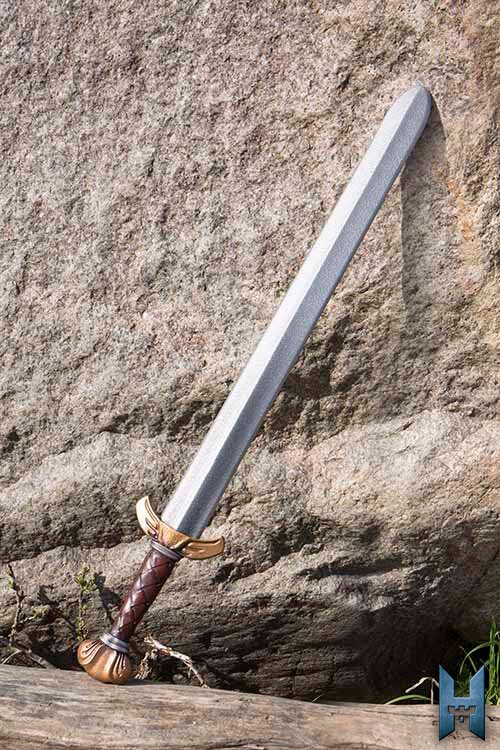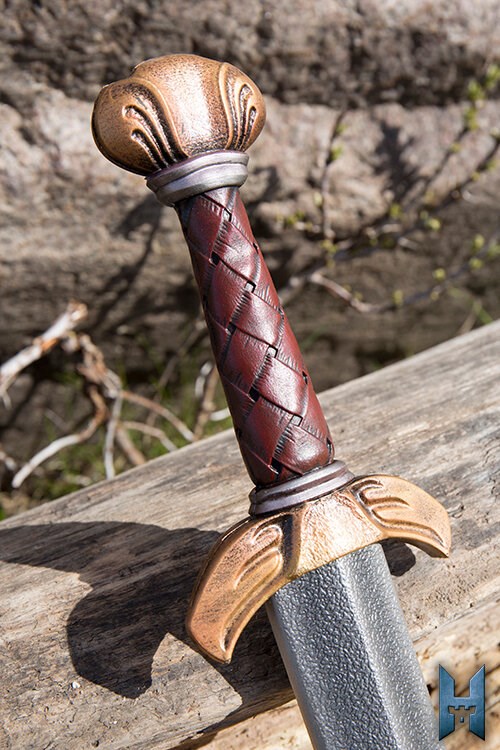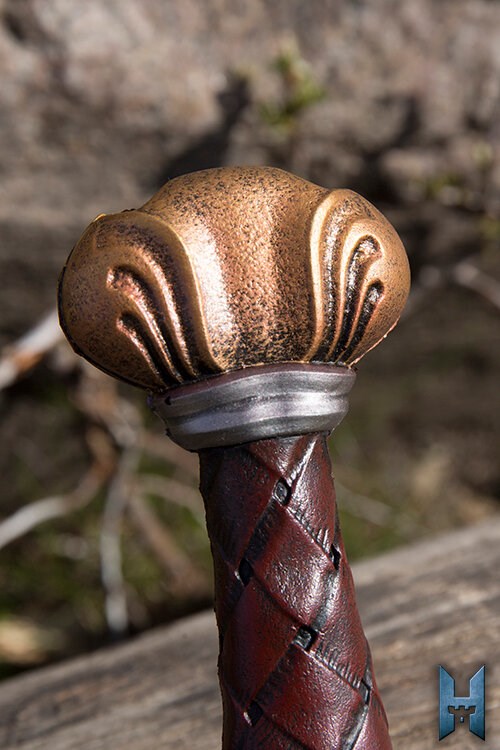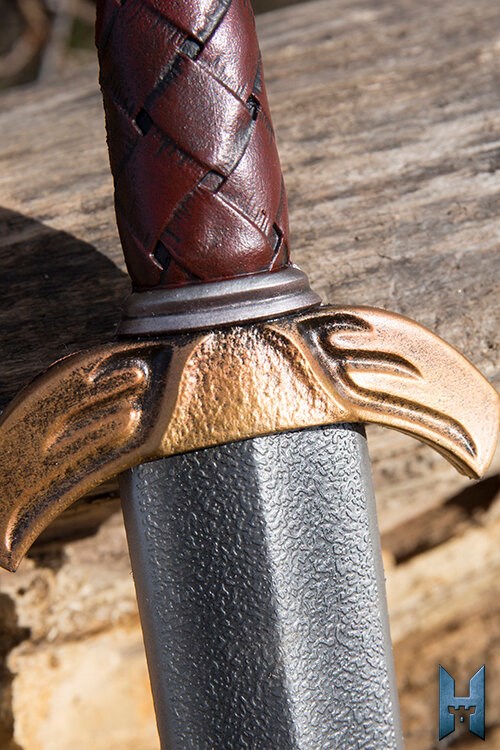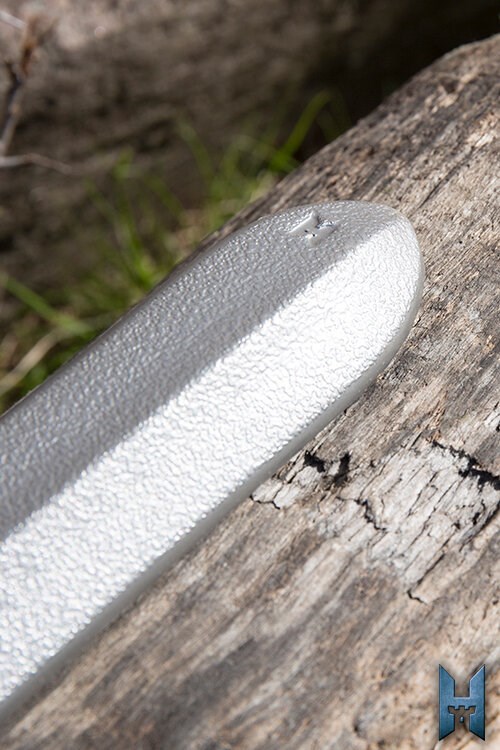 Description

Fitting

Quality

Technical Details
The likelihood of a scout getting lost was slim, but bound to happen eventually--you just never expected that such a thing might happen to you. You swear you've been by this same tree three or four times. Yes, you're sure of it. You left notches in one of its limbs using your Scout Sword.
Suddenly you grow quiet, clutching tightly around the leather of your sword's handle as you hear nearby voices. Just around the next tree you spot two of the enemy's scouts...and they look just as lost as you do. Perhaps there is more going on here than you first realized.
DETAILS
Stronghold's Scout Sword is a medium sword inspired by nordic weaponry. The sword is 75 cm long and has a 58 cm double-edged blade with a central ridge. The handle has a lot of detail, including a curved crossguard and 'cocked-hat' pommel--both similar to those seen on uncovered Viking swords. The crossguard and pommel are handpainted to looks like faded iron and bronze. The 10 cm grip is cast and painted to look like woven leather, ergonomically shaped to fit the hand comfortably.
Stronghold weapons are foam weapons designed for tough combat at LARPs. They require no maintenance, unlike latex weapons, and feature detailed polyurethane handles.
This Stronghold blade is crafted using a unique Epic Foam that weighs the same as latex without requiring the constant upkeep. Additionally, the blade tip is stab-proof thanks to our new innovative construction. Lightweight and shaped with a realistic and cushioned edge, this weapon is designed to be safe--leaving your friends unbruised and unbroken!
HISTORY
'Cocked hat' pommels were popular with Viking-styled weapons, developing into single piece versions over the years
Blades with a strong central ridge were better for thrusting, due to its rigidity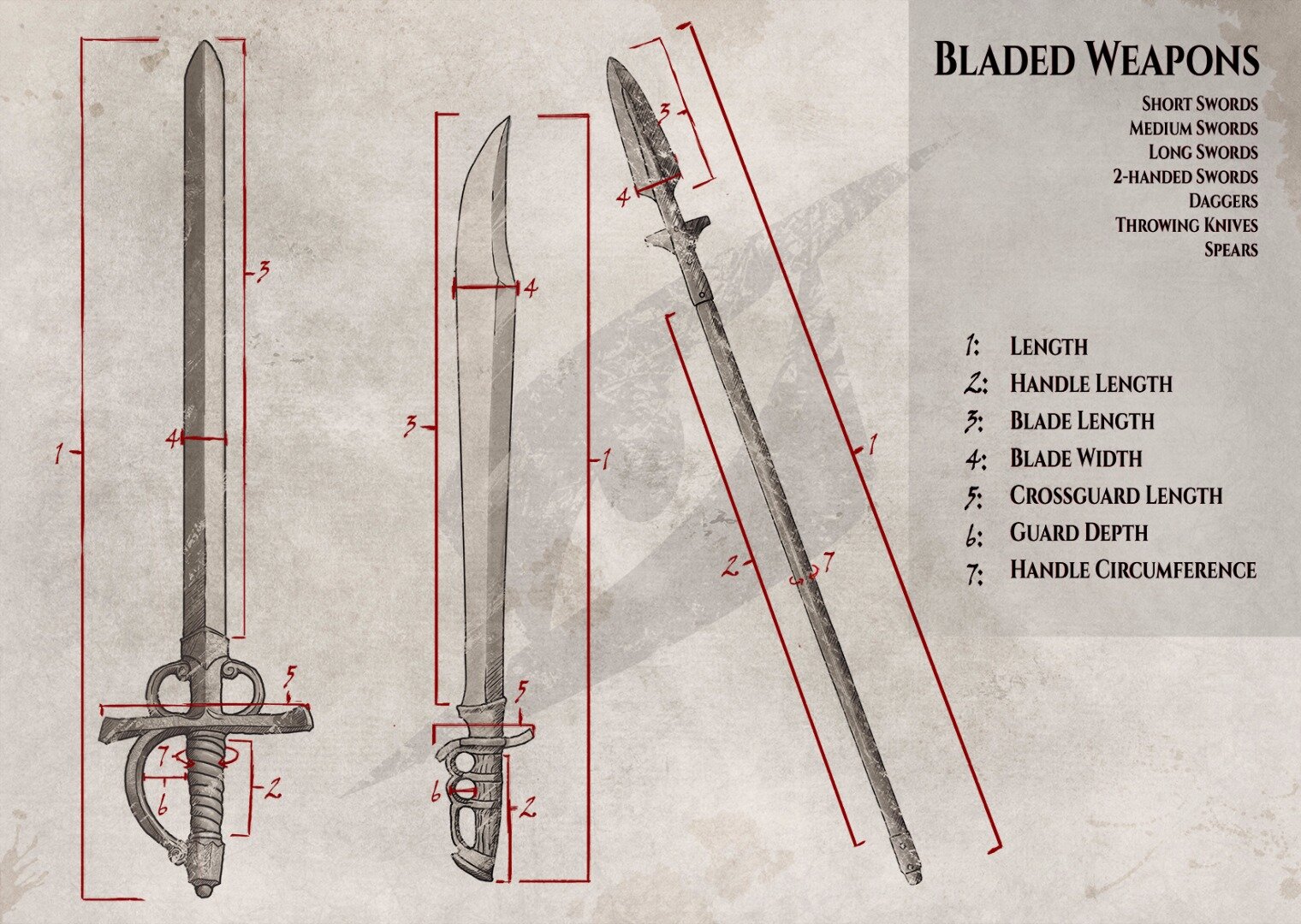 This Stronghold Weapon is constructed for tough combat and requires no maintenance!
Epic Foam blades are lightweight and stab-proof
Handle is a polyurethane foam cast, giving it more realistic texture and details
Handle is very durable, will last longer than a latex version, and is less slippery than a silicone treated alternative
High safety
This product is handmade and hand-painted and therefore unique. As a result, when compared with similar item numbers, this product can have natural deviations in pattern, colour and shape, which are not considered defects or faults.
We produce our image material in a natural environment, where lighting and surroundings can affect colors and contrast. The displayed images may therefore appear different from the product you receive from us.
Measurements are all in cm if not stated otherwise.
Brand:
Stronghold
Universe:
Sovereign
Product type:
Sword
Release date:
06/15/2017
Maintenance
This Stronghold weapon's handle and blade do not require any special maintenance. Store your weapon flat or on its pommel--NEVER on its tip. Keep your weapon in a cool, dry environment.