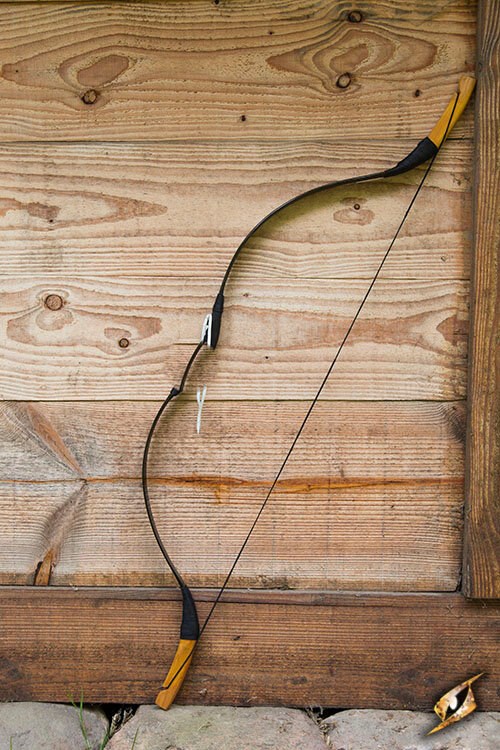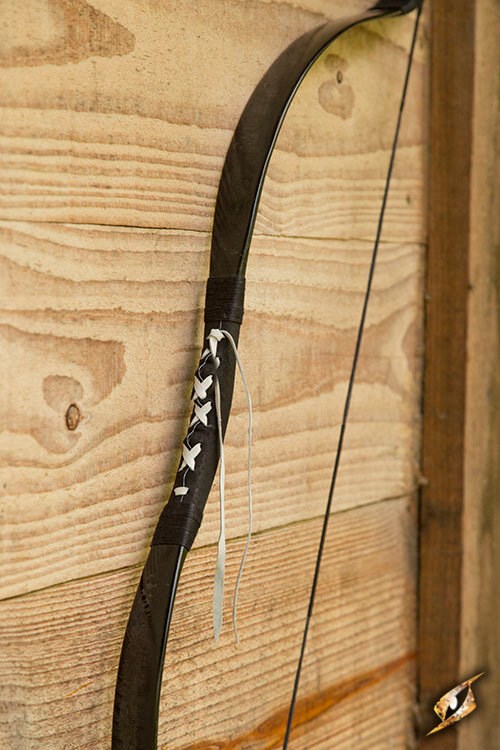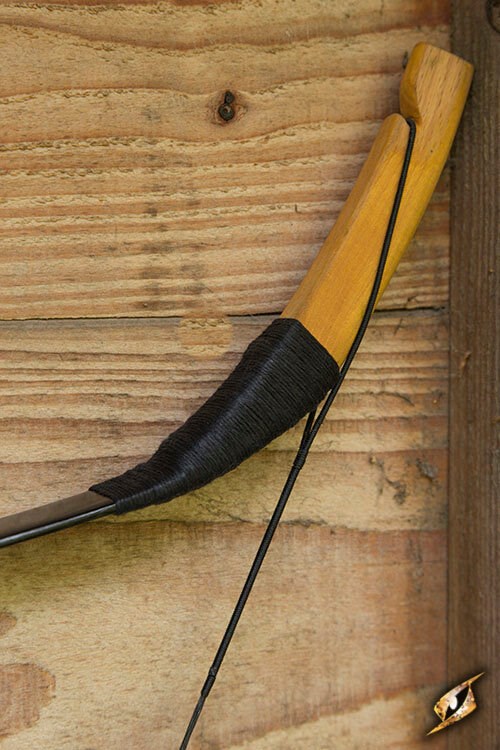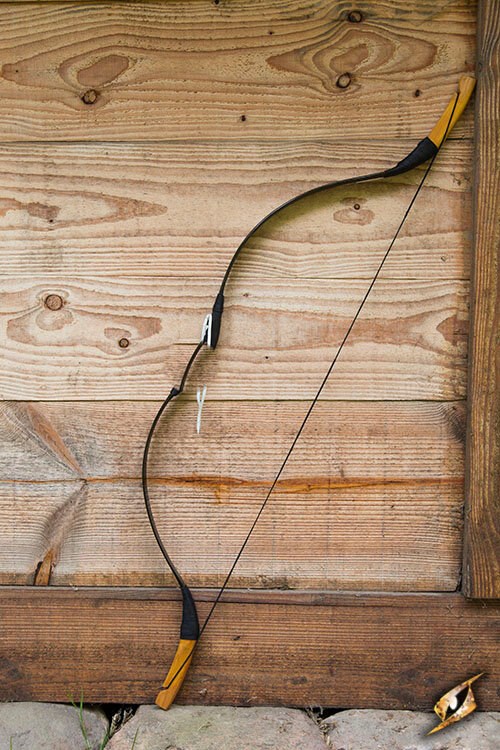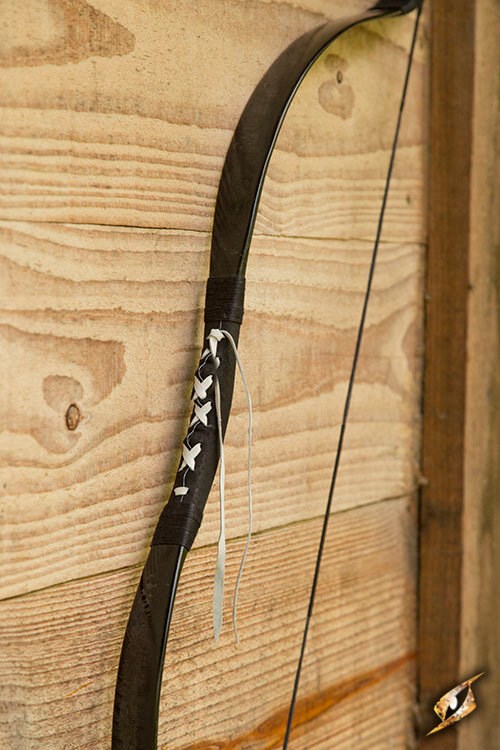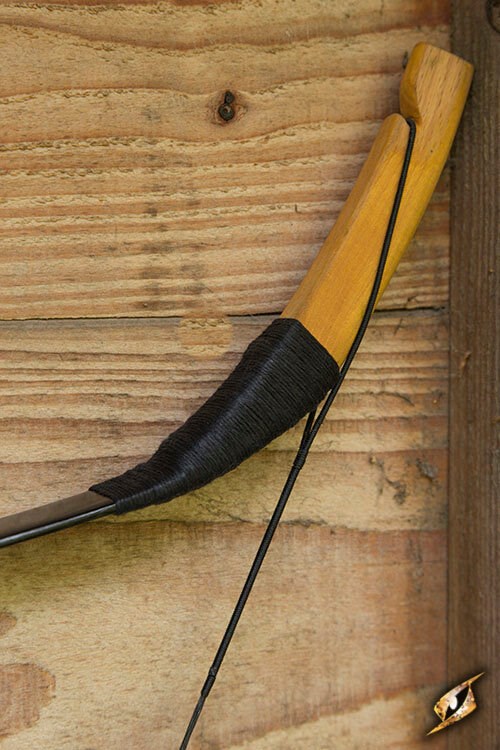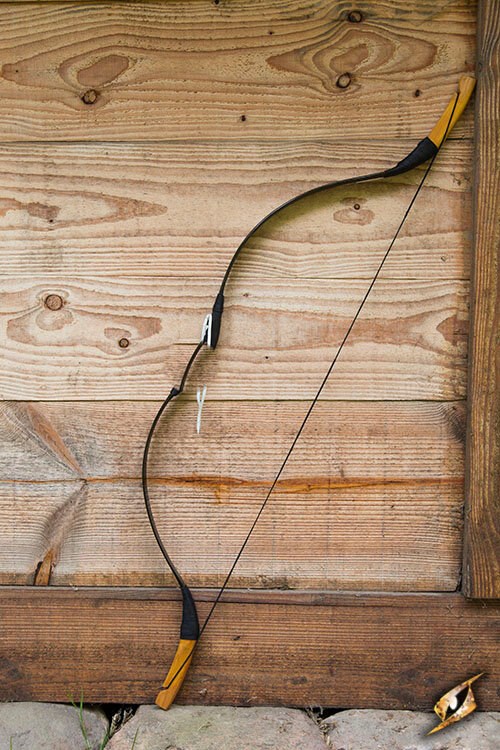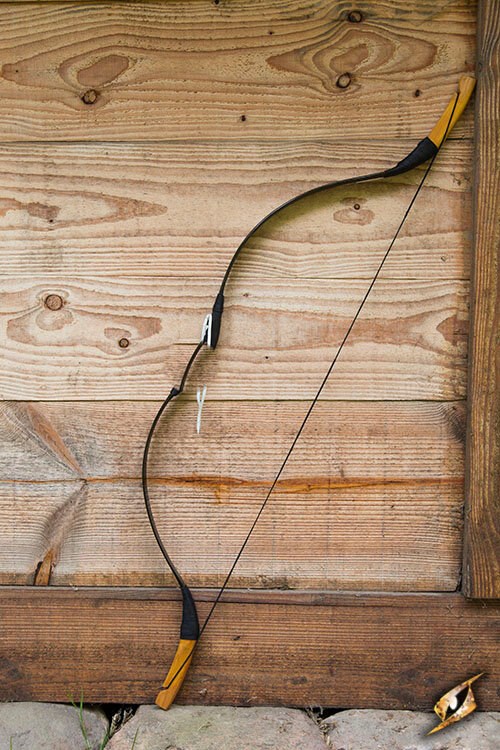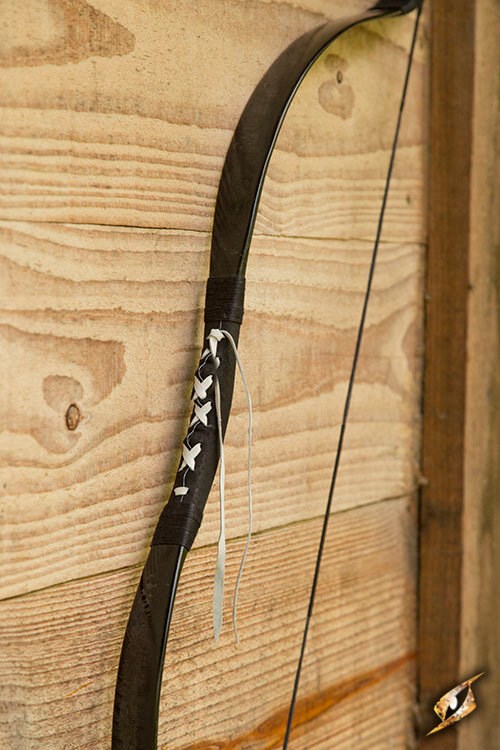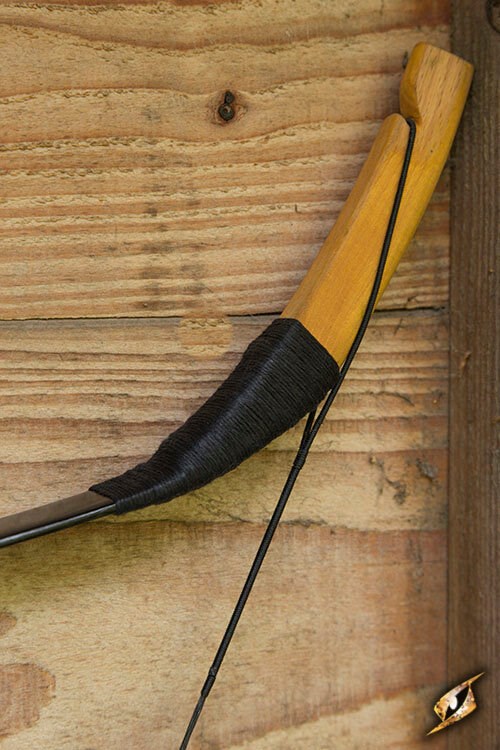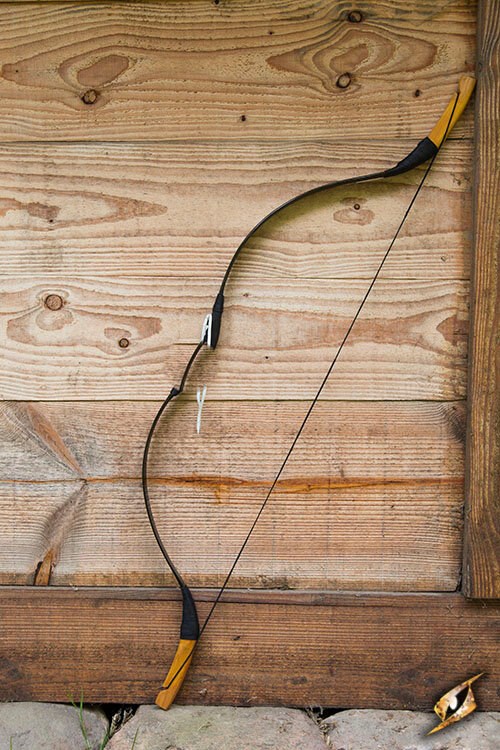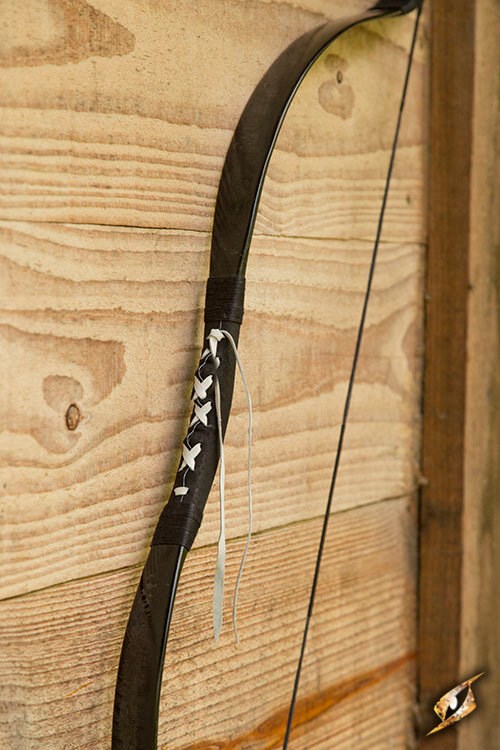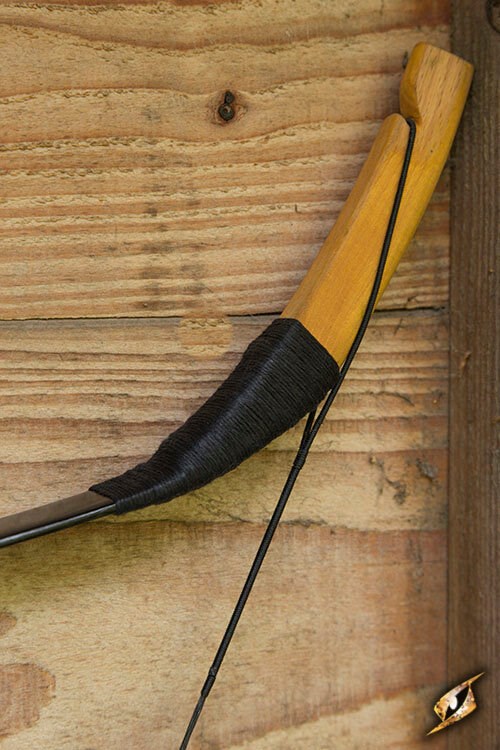 Description

Fitting

Quality

Technical Details
The old khan sat astride his favourite horse, its warmth penetrating the saddle. This was where he was at his most comfortable. A horse beneath him, the open sky above him, and the frigid rain caused his face to go numb and icicles to form in his beard. Seeing the enemy, he touched his bow, enjoying the smooth, well-worn leather as he caressed it like a younger man would caress their lover. As he gave the command, thousands of arrows flew across the sky, blotting out the sun and killing the enemy by the score. It promised to be a great day.
The Ready for Battle Horsebow Deluxe is a realistic-looking bow made in the image of the composite bows used by such horseriders as the Mongolian hordes of the 12 and 1300s. The bow has a fibreglass core, and is covered in soft suede. Its draw weight of 24-26 lbs. ensures that the bow is built to last while not having so much force that you might injure an opponent. The leather grip is not only a stylish and interesting detail but also ensures that you have a better grip.
A few things to note with this bow is that it is handmade. It has been sanded down to be smooth and comfortable to use. The bowstring is handmade as well and might have a few strands loose. These can be removed and closed with a controlled flame, but be careful not to overdo it. The string is included with the bow.
The bow's draw weight is 24-26 lbs, measured with a 28" shaft, but it can vary +/- 3 lb, as it is made from natural materials. Similarly, the appearance can vary as well.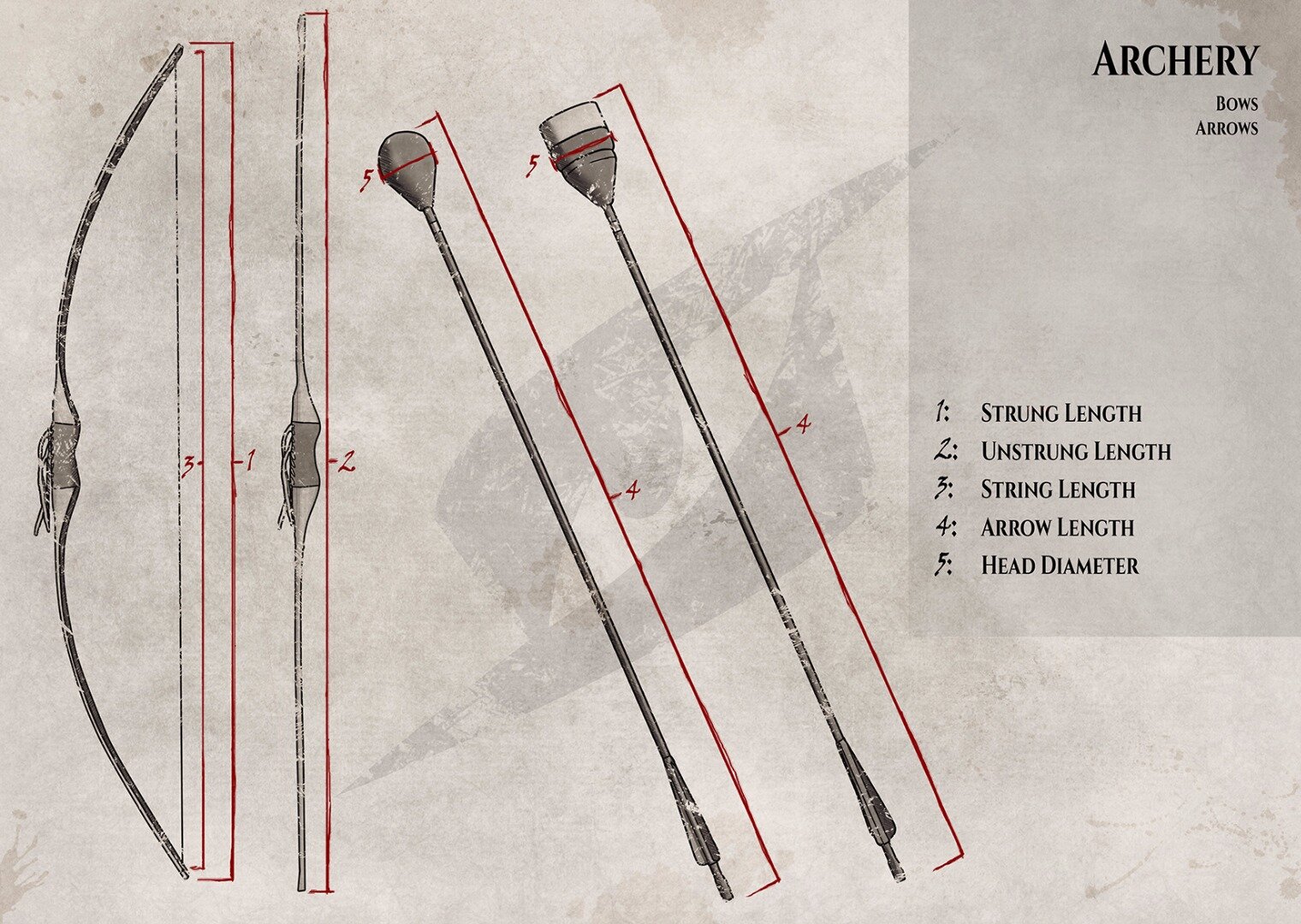 One of our bestsellers!
Made from durable, flexible fibreglass and laminated wood
Suede Leather grip for better hold
24-26 lbs. draw weight
This product is handmade and hand-painted and therefore unique. As a result, when compared with similar item numbers, this product can have natural deviations in pattern, colour and shape, which are not considered defects or faults.
We produce our image material in a natural environment, where lighting and surroundings can affect colors and contrast. The displayed images may therefore appear different from the product you receive from us.
Measurements are all in cm if not stated otherwise.
Brand:
Epic Armoury
Materials:
Fibre Glass, Wood
Product type:
Bow
Release date:
10/09/2018
Maintenance
When not in use, keep the bow unstrung to increase its life. Store the bow horizontally in order to protect the tips. Do not leave it in the sun for long periods of time, if you do, make sure it cools down before use. Never release the string without an arrow, since the shock of the shot will be absorbed by the bow and might cause damage.
Cleaning
Use a damp cloth to wipe away any dirt from the bow and then wipe dry. Simple as that! The only thing you might have to worry about is the string, which may eventually appear ratty or worn. Replace the string when this happens. String is cheaper than replacing a broken bow from a string snapping!
If you want to increase the life of your string, you can add a little bit of wax. Wax will protect the string from moisture while also keeping the threads together.