TOWARDS THE FRONTLINE
Adventures are tricky, and one size never fits all. We know this from our own experience. The Epic Armoury Classic, Epic Armoury Hybrid and Stronghold series are known for their aesthetics and durability. The release of the Stronghold line was revolutionary, offering the most innovative live-action role-playing (LARP) weapons so far, emphasising high security, low energy transfer by impact, extreme durability, minimal maintenance and intricately designed realistic appearance.
Meanwhile, a different type of weapon rested in our forges. We embarked on this quest in 2015 and almost perfected the foam quality within a few years. Keen eyes may even have spotted one of these enigmatic blades in our 2017 product catalogue! But "almost" is not enough to be epic, and with adumbral determination, our artisans worked in the following years while other projects and products conquered the limelight. The aim was to create a new line of weapons – just as durable and visually appealing but offered at a considerably lower price.
However, an early result of the project was a new type of polyurethane handle, which offered a firm grip and a high level of artistic detail. Combining the handles with existing EVA-based blades resulted in a new line of swords known as Epic Armoury Hybrid. The blade foam formula was revisited and improved multiple times. And now, in late 2023, it is done. Introducing Epic Armoury Vanguard: A new series of highly durable, price-competitive weapons and a worthy means of protection on your next live-action role-playing journey.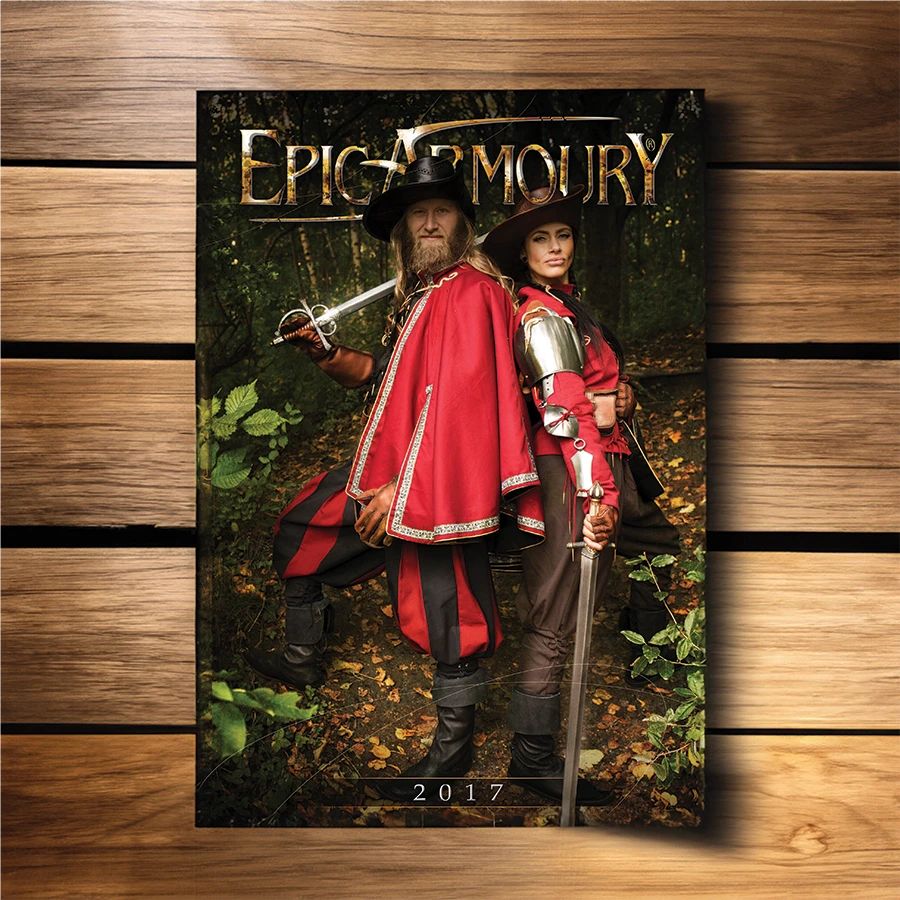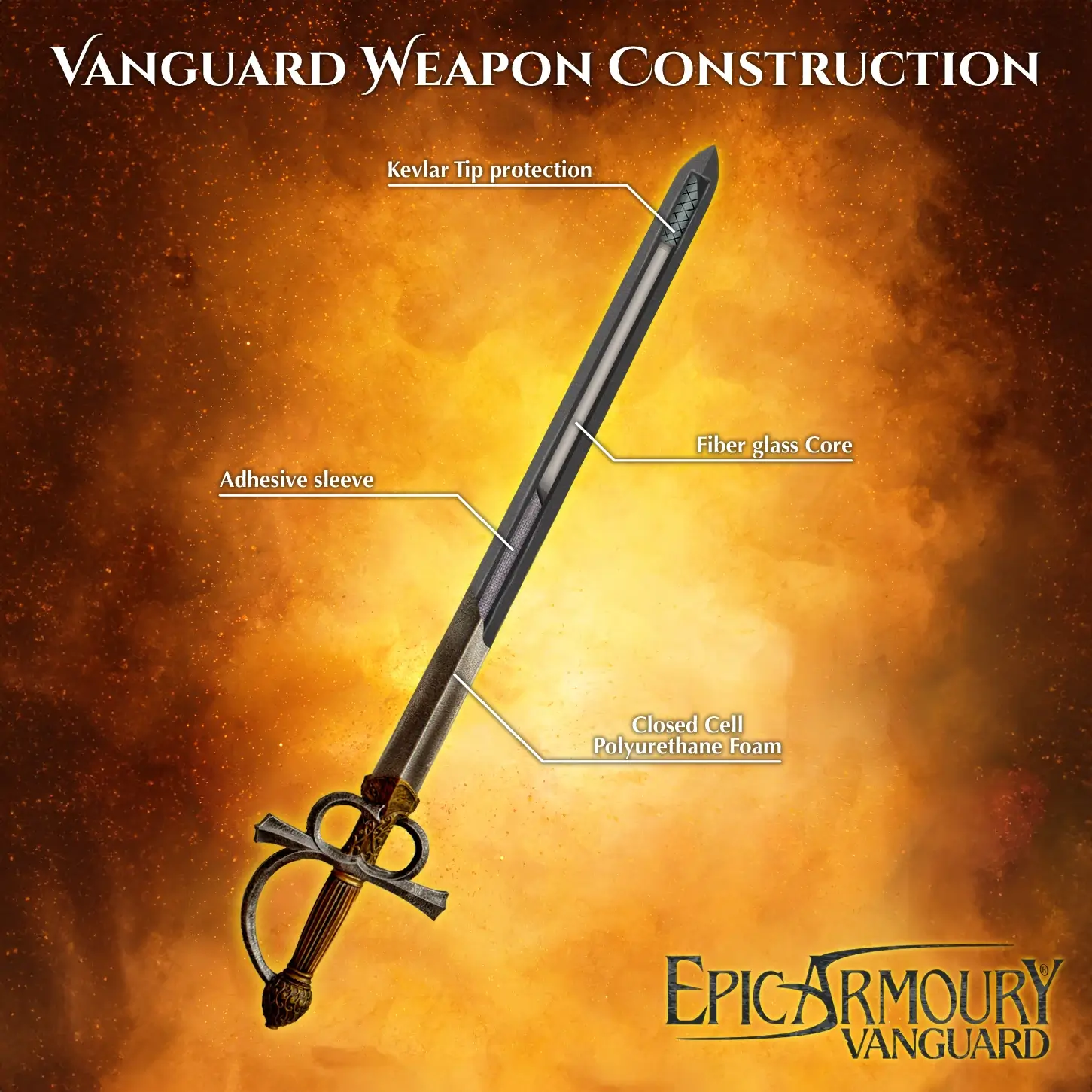 PROCESS & CONSTRUCTION
Almost a decade in the making, the Epic Armoury Vanguard line required us to develop new techniques by sacrificing many battle-tested prototypes. The weapons were tested in several extreme weather conditions, with the help of enthusiastic LARPers worldwide – from the intense heat of the Australian summers to the bitter cold of Scandinavian winters.
Weight and weight distribution were also important to get right. Vanguard has a different weight distribution than our other lines, making it heavier to handle for a more realistic fighting experience. As with our Stronghold weapons, the Epic Armoury Vanguard blades' foam structure is smooth and uniform with a consistent density throughout the entire length.
The handles are made of a heavier and more compact polyurethane, allowing for a high level of detail when moulded, contributing to an aesthetically pleasing and realistic appearance.
Following the standards of our other products, the Epic Armoury Vanguard weapons are constructed and produced with rigorous attention to safety and testing. As the polyurethane foam requires no regular maintenance, these are also weapons suitable as collector's items for display.
TESTIMONIALS
"I'm Andrew, and I was on the testing team for the Vanguard series here in Australia. The biggest challenge for LARP equipment that I've found here in Australia is the durability to withstand our climate. I'm extremely impressed with my vanguard blade as it's held up to both my combat in-game and the harsh conditions of the Australian environment. The handle is well-designed and great for my larger hand, and the blade is sturdy enough to parry larger swords. I like to thrust with my dagger and can easily say this is the most durable tip on a larp weapon I've ever owned. I can't wait to see how many more designs become available in the Vanguard range. Still, I strongly recommend anyone beginning their adventures or the veterans amongst us to purchase a Vanguard blade and experience the benefits of these new designs for yourself."
Andrew Jones
Heroes Odyssey, Australia
"I have used Stronghold swords for years and appreciate their light weight and balance for a competitive fighting style where speed is crucial for winning. With Epic Armoury Vanguard, I get a heavier alternative well-suited for dramatic and slower-paced show-fighting. In a way, the added weight adds to the realism. So, if I were attending a realistic live-action role-playing show fight, I would choose a sword from Epic Armoury Vanguard."
Daniel Vedel
Hareskoven, Denmark
"For most of my live-action role-playing characters, I design and create homemade scabbards, which cause a lot of wear and tear on latex-covered blades due to friction. That problem does not exist with this new type of foam. If you need a durable, stab-proof weapon for live-action role-playing with ornamentally detailed handles, I highly recommend Epic Armoury Vanguard."
Joel Andersson
Scenographer, Conradi Design