LONG REST
– YOUR HOME ON THE JOURNEY!
MORE THAN A HOME

A home is not just a home. A home is a place to rest, sharpen your blade, and quiet your mind. It is the place you long for when in peril far, far away. But a home can also be something you and your adventuring party carry along. It will protect you against the weather, shelter your privacy, and reflect your style and colours of choice. On the road, your home is not just a home: It is a tent! At Epic Armoury, we stand at your service and offer several tent models for all kinds of adventure!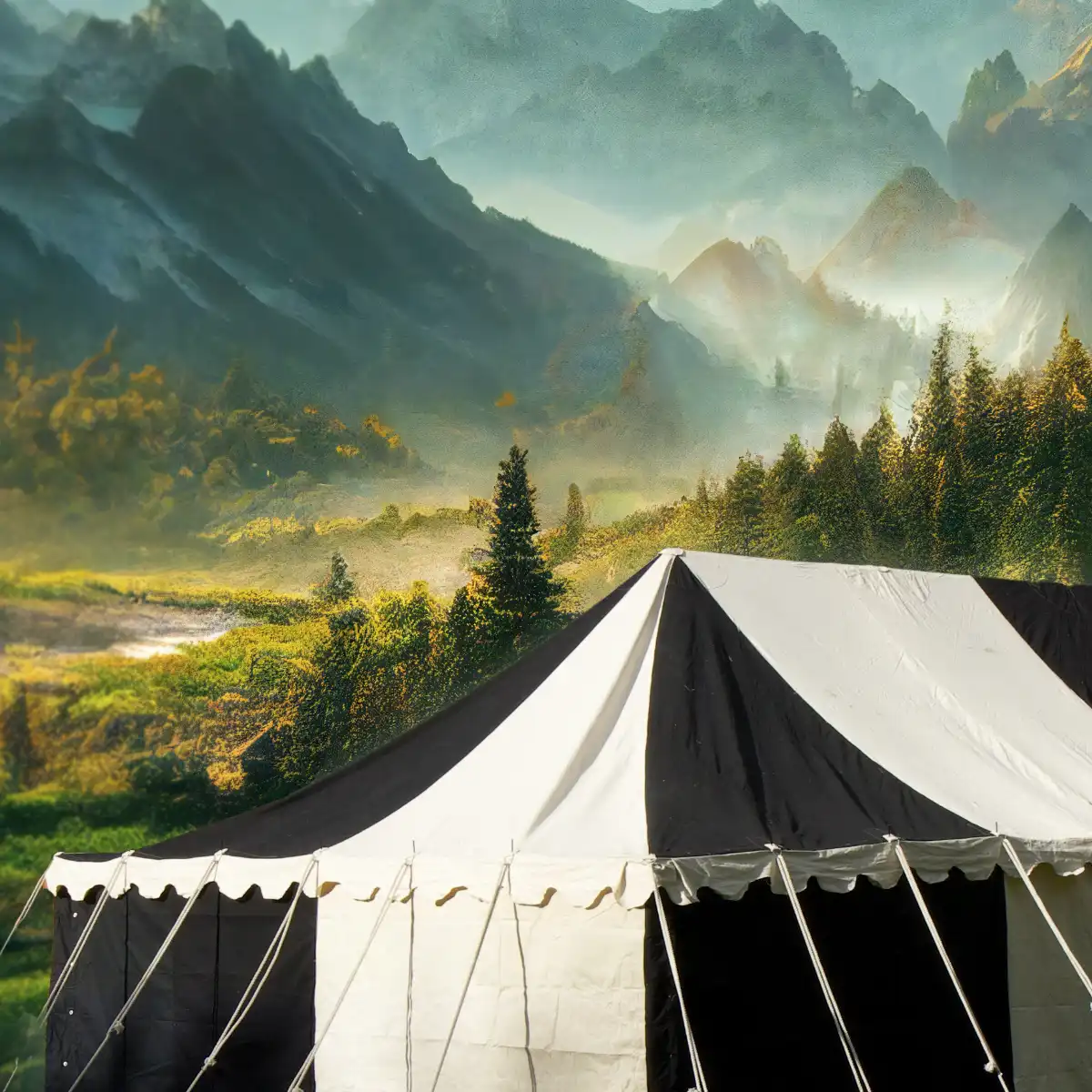 GUIDE:
MARQUEE TENT

The Epic Armoury Marquee Tent is based on designs that have been known since the mediaeval crusades. Whether you are a wealthy knight or part of an entire mercenary band, the Epic Armoury Marquee Tent offers a spacious and stylish abode with lined colours to signal your allegiance or natural colour for a versatile, non-aligned look. The roof is supported by two centre poles and 20 side poles, allowing for an open canopy setup without walls or a secluded setup with walls. As an upgrade from the typical design with tedious rope hoops, the wall pieces of the Epic Armoury Marquee Tent attach easily to the roof piece with fastening hooks. With correct maintenance, the Epic Armoury Marquee Tent will keep you and your party sheltered throughout many adventurous seasons! Watch as Brian the Bold guides us through setting up the tent!
GUIDE:
DOUBLE WEDGE TENT

Whether you are a merchant family, alchemist partners or an itinerant artist, the Epic Armoury Double Wedge Tent offers a graceful and smooth dwelling on the road. Two centre poles support the tent, and a score of tent pins keep the tent securely fastened to the ground, which allows for an elegantly easy setup. We have crafted the poles from powder-coated iron while the canvas is made of an unbleached, heavy-duty fabric, weatherproofed with paraffin wax for extra durability. The Epic Armoury Double Wedge Tent will elegantly shelter you and your close companions on journeys to come. Watch as Brian demonstrates a successful erection… of the tent!