Ardent adventurers equip themselves in the Epic Armoury before venturing forth! Our leading brand, Epic Armoury, resounds from the sweltering forge echoing with dwarven hammers below the mountain to the moonshine-clad looms among the fair folk to prepare you for adventure! Live-action role-playing (LARP) players worldwide who desire stylish and durable products, such as foam weapons, armour, apparel and equipment, will appreciate an Epic Armoury kit!
Above all, Epic Armoury products rely on safety. Each product is designed to be ready for use right out the box! We apply only the best quality materials and crafting techniques to sustain long-lasting kits with proper maintenance and care. The Epic Armoury product range will serve many characters and styles without breaking your budget! Check back regularly for new products, or sign up for our newsletter to get new product announcements straight to your inbox.

The invaluable icing on the courageous cake is the special effects. It is woefully known that many live-action role-players (LARPers) forget the details that make the good look great and the excellent appear epic. Epic Effect is all about that! Epic Effect offers the final touch of detail with an ever-growing range of high-quality masks, prosthetics, trophies, contact lenses, make-up, and special effects.
The Epic Effect make-up range is quality make-up and prosthetics designed especially for LARP. The water-based colours provide full coverage make-up, which becomes very durable combined with the Epic Effect Setting Spray.
The Epic Effect masks and prosthetics are made from natural latex and are available in various designs and sizes. Each of these products is hand-painted and detailed with realistic effects from the highest standards of craftsmanship. The masks have wide eye holes for better vision and a unique open mouth design for better comfort and expression during play.
The Epic Effect eye contact lenses vary in colour, design, and size, ranging from the standard 14,5 mm lenses to the 22 mm full eye sclera lenses. The contact lenses are made from soft, flexible and water-absorbent polyhydroxyethylmethacrylate (pHEMA) hydrogel that comfortably adapts to the shape of the eye.

READY FOR BATTLE
There is a first time for everything, and even the mightiest heroes were once mere fledgelings on the adventurous roads. The Ready for Battle collection offers attractive weapons and costuming for young and new players. The range includes all the live-action role-playing (LARP) basics you need to complete your kit. It includes weapons, shields, metal and leather armour, apparel and accessories.
The most popular products in the Ready for Battle range are designed like their counterparts in the Epic Armoury range but focused on simplicity to offer a lower price. If desired, the products can easily be modified and embellished. We wish to provide every young adventurer with an affordable chance to be Ready for Battle. Are you ready to venture forth?

The weapons from the Epic Armoury are dazzling and durable, but the blades from the Stronghold bring craftsmanship to another level. The Stronghold range of foam weapons is our most realistic, intricately designed, and innovative live-action role-playing (LARP) weapons so far.
The construction of Stronghold weapons differs from other LARP weapons on the market by consisting of four assembled components. By constructing a sword this way, it is possible to choose the material of each part to optimise their respective functions. The Stronghold design emphasises high security, low energy transfer by impact, extreme durability, minimal maintenance and realistic appearance. Stronghold swords are hand-painted on the handle and blade to provide a beautiful and genuine aesthetic.
Stronghold blades consist of a simple yet robust type of foam. The foam structure is smooth and uniform, allowing us to create a blade that has a consistent density throughout the entire length. The foam is lightweight and can collapse quickly, resulting in reduced power transmission when striking an opponent.
Stronghold handles are made of a heavier and more compact foam that provides a more controllable weapon by putting more weight towards the handle. In addition, the foam also allows for a high level of detail when moulded, which contributes to an impressive and realistic appearance.

The pale moon shines forebodingly like an ominous beacon in the darkness of a bleak and corrupt future. Something sinister lurks down every narrow alley, and each predator will soon find themselves chased as prey. While the situation is dire, you are precisely the sort of fighter who will survive. The Dark Moon range features grim and improvised weapons for modern, future, and post-apocalyptic live-action role-play. Guard yourself with a sewer shield, smack zombies with a barbed wire bat or wrench or cleave abominations with a chainsword – to name a few!
The Dark Moon product range is designed with safety in mind. Our latex weapons are designed with layers of foam coated in 100% natural latex, while injection-moulded weapons are made by injecting or pouring expanding polyurethane foam into a base mould. The weapons are constructed with a fibreglass core providing durability and flexibility for comfort and control. These cores can excellently absorb impact and minimize the force of a blow.
Whether you play as a stealthy survivor, a motor rig enthusiast, or a noble futuristic knight, we have a design that fits your needs!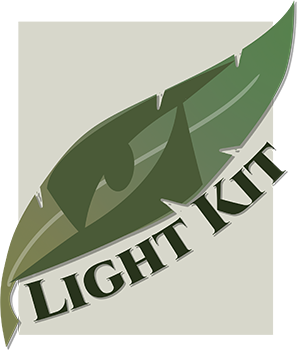 Few things offer better protective qualities than iron and steel with historical armour. But with it also comes disadvantages like weight, inflexibility and the need for constant maintenance to protect against rust. Nevertheless, in this day and age, unless you are on the re-enactment battlefield, you don't need the protection of steel.
As an alternative, we offer the Light Kit brand, a range of armours made of polyurethane (PU) to resemble authentic metal, quarter the weight of steel. Each piece is hand-painted with a durable acrylic finish and detailed to appear as realistic as possible. In contrast to traditional metal armours, the Light Kit armours are more comfortable and maintenance-free. The flexible design enables it to bend to your body contours in ways rigid steel cannot.