WHY THE EPIC ARMOURY GATHERING?
---
So that you can explore an unparalleled opportunity to network with an international community of passionate LARPers, industry influencers, and professionals, learn from guest speakers sharing their specialties and passions. Discover what's new at Epic Armoury, and get a sneak peek at our exciting new products; we have created the Epic Armoury Gathering.
But it's not just about learning and networking. It's also about having fun. Enjoy good food, drinks, workshops, competitions, and games with attractive prizes. In a safe space, where we can form a community that values knowledge, fosters creativity, and embraces the joy of connecting with fellow LARPers.
Our vision is to create a recurring event where role-players can gather to inspire each other across cultures and boundaries.
The Epic Armoury Gathering is something entirely new, and we are committed to building your trust and exceeding your expectations. Your support is vital to us, as we strive to create a Gathering that resonates with your desires and expectations. Our team is working to deliver an experience that holds exceptional value, and we eagerly anticipate learning from you to shape the upcoming events together.
Join us at the Epic Armoury Gathering - celebrate, learn, and share. We can't wait to welcome you!
INTRODUCTION VIDEO:
---
WHERE AND WHEN?
---
The Epic Armoury Gathering will take place from 15:30 CEST on the 1st of September 2023 at Epic Armoury, Kornmarksvej 12, 2605 Brøndby, Copenhagen, Denmark. The opening speech will be at 17:00 – so be punctual. Even wizards can be late!
Find more information regarding transport and accommodation on the ticket page.
WHAT TO EXPECT?
---
An exceptional opportunity to peek behind the scenes of Epic Armoury, but not only that. It will be a sensational symposium with: an immersive  adventure, exciting workshops & keynotes about LARP, a delightful selection of foods accompanied by refreshing beverages, games with glittering prizes, legendary loot, a fashion show revealing a new collection of LARP gear, an after party and much more! 
LANGUAGE
---
This is an international event held in English.
WHAT IS INCLUDED?
---
Access to all the activities
A loot bag with Epic Armoury products with a value of over 250€, including a weapon and a large Limited Edition D20.
Food (vegan options available), soft drinks, beer and wine
Note: Ticket sales end at 11:59 am on August 11th, 2023.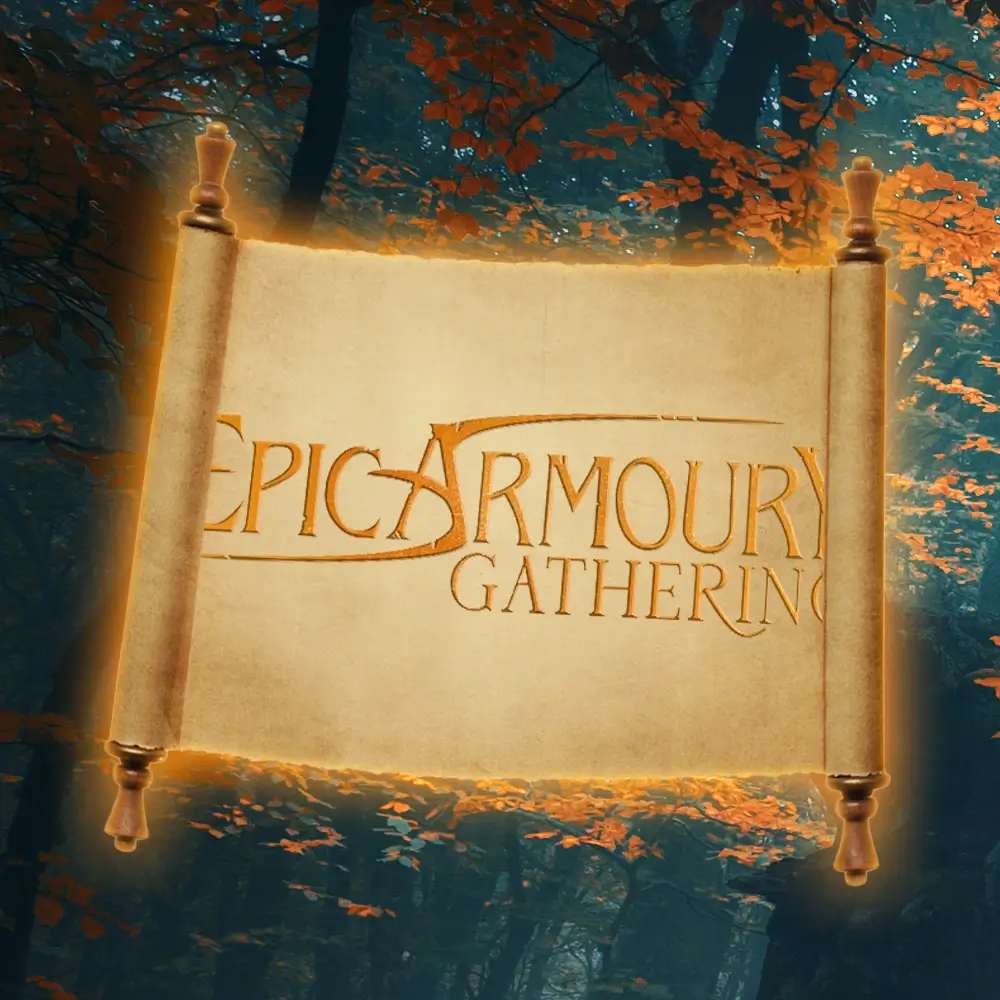 THE GATHERING GUIDE
---
We have created a Gathering Guide for those who prefer to have all the relevant information in one place. In this guide you'll find all the practical information, the program, the highlights, etc.
EPIC LOOT BAG & GAMES
---
Every attendee will receive an opulent loot bag with Epic Armoury gear, valued at more than 250€ – including a weapon and a large Limited Edition D20.

Your D20 will serve as a key instrument in bountiful dice games played amongst the attendees, giving you a chance to win a number of prizes!
CHARACTER KEYNOTE
---
Mick Hart, our content creator, and Gabriele Stazi, our costume designer with vast experience from the film industry, will present our design universes and lead a discussion on characterization and how you can use props and costuming to inspire your character creation process and background story. Whether you're a seasoned player or just starting out, Mick and Gabriele will offer valuable insights on how to take your character to the next level.
WARRIOR WORKSHOP
---
Experience Warrior Training with Søren Stadsholt and Peter Roland Christensen. This is a workshop for some sophisticated reflection, but mostly for hands-on exercise, led by experienced Vikings. Over the centuries, Vikings developed a remarkable ability to dictate the pace of battle through use of the famous shield wall formation. You'll learn about historical combat, LARP combat and the value of leadership and teamwork.
SPECIAL GUEST SPEAKER:
ZAN CAMPBELL
---
Zan Campbell, the visionary founder of Fell & Fair, emerges as a true pioneer in bringing quality medieval and fantasy costume design to the community. With an unwavering passion for magical realism, Zan's creative prowess has inspired millions, bringing enchanting characters and immersive experiences to life. Not content with merely captivating the imagination through clothing, Zan also founded the Weekend Warrior Experience, an awe-inspiring venture that transports adventurers to the wondrous world of medieval fantasy, allowing them to become heroes in their own epic tales.
Zan will be presenting his take on epic storytelling and the importance of costume design for immersive experiences.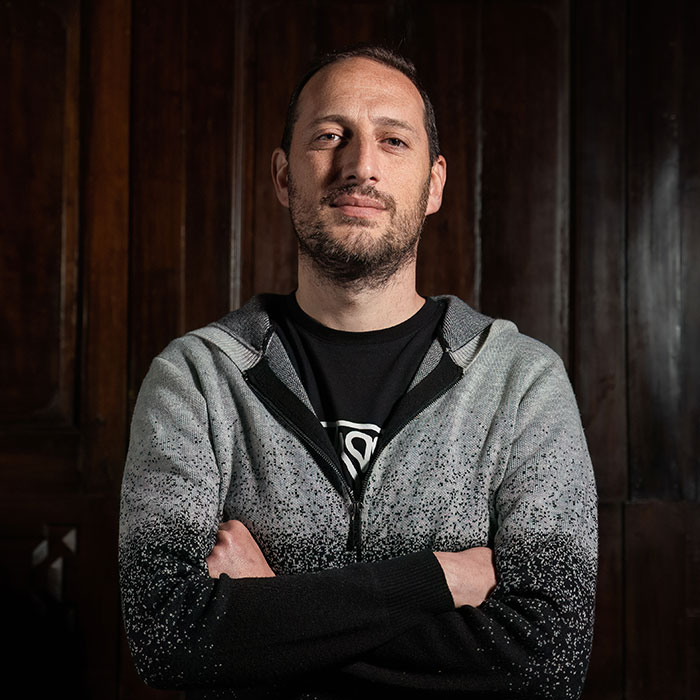 KEYNOTE SPEAKER:
ALESSANDRO GIOVANNUCCI
---
Through Alessandro's keynote you'll learn how to create immersive larps through locations, costumes, props and design. How do you attract people to sign up? And how do you make sure players are involved during the game? You will also get a closer look at the behind-the-scenes of some specific projects like the immensely successful Myskatonic University and Sahara Expedition; LARPs that have welcomed thousands of players from all over the world and still have people asking for more.
DESIGN IN DISTRESS
---
Join us as our founder, René Vendt, and our head of production, Tiim Välimaa, go on stage to provide fascinating insights into the journey our products undertake from the drawing board to the store shelves. Discover the benchmarks our products must pass and the roadblocks they overcome along the way. Prepare for exclusive sneak peeks of concepts and upcoming products, as well as a glimpse into the gear that didn't quite make it into our shop. It's an opportunity you won't want to miss!
DESIGN COLLECTION WORLD LAUNCH
---
During the Gathering, you will witness the premiere world launch of a new collection that our designers have secretly worked on for a long time. This is the very first time that Epic Armoury will release a full design collection, with weapons, armour, clothing, and accessories all created to be worn as a stunning ensemble. - You'll see it first!
COSTUME CONTEST
---
This is a great opportunity to showcase your creativity and skill in creating a costume that truly embodies your character. Whether you're a seasoned LARPer or just getting started, this is your chance to shine. All participants are welcome to wear their best costume and join in the fun, but of course this isn't mandatory.
The winner will be decided by popular vote from participants during the event, and will then be finalised by an Epic Armoury jury. The winner will be presented during the after party and will receive an amazing Epic Armoury prize!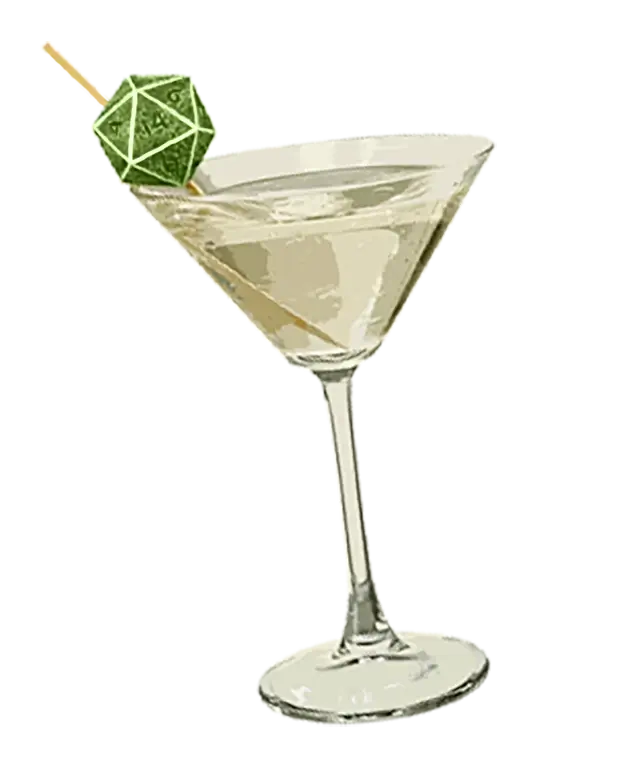 AFTER PARTY!
---
Lively and engaging, the afterparty promises to be a great time with plenty of opportunities to mingle and make new friends amongst fellow LARPers. Stick around and enjoy the great company, share your experiences and tips, and perhaps even get inspired for your next LARP character. So get ready to show off your best costume and join us for a night of fun, excitement, and great company. We can't wait to see what you come up with!
Soft drinks, beer and wine are included. Cocktails are available at an extra charge.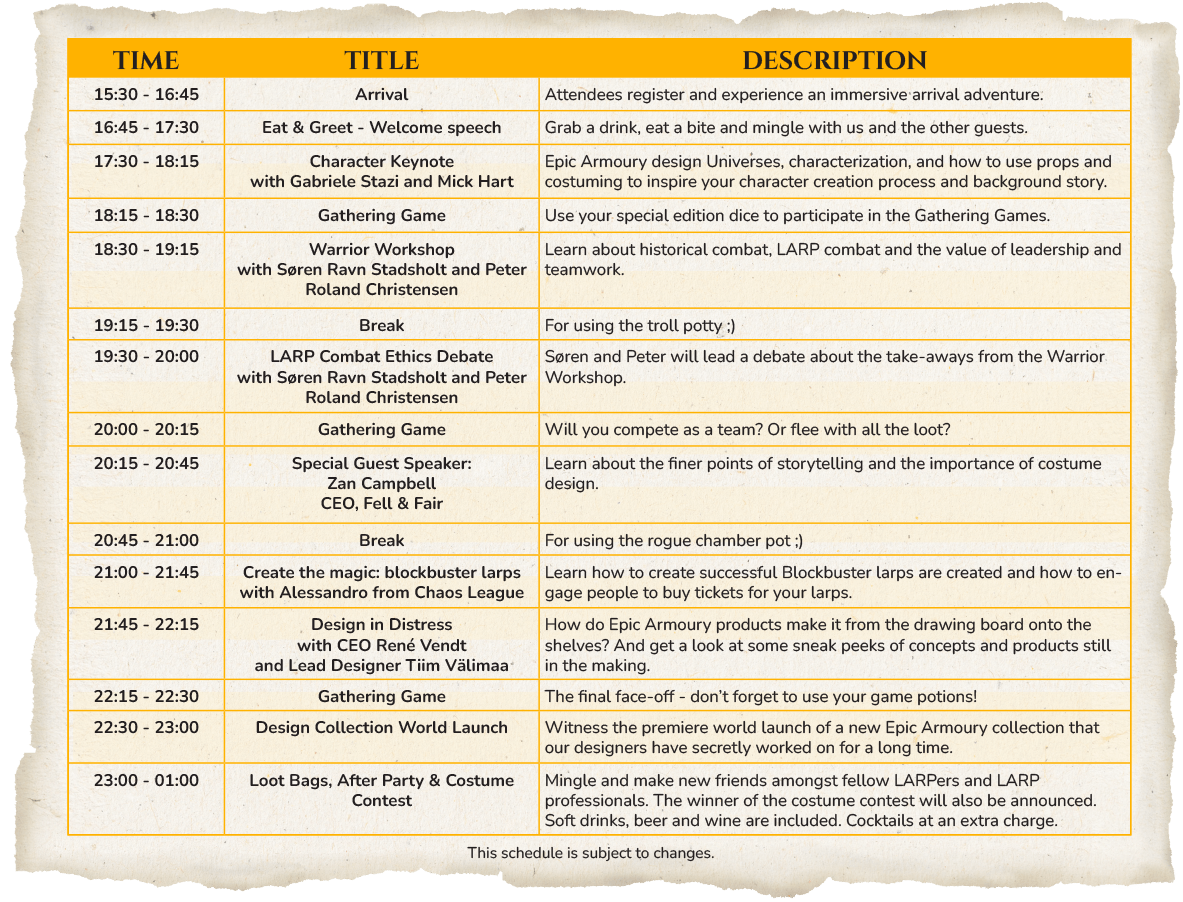 SPECIAL GUESTS
---
Meet our special guests who have flown in from all around the world. Rub shoulders with famous cosplayers, seasoned LARP store professionals, and talented LARP organizers. Just like at a convention, but without the queues! Engage in meaningful conversations, seek their advice, gain valuable insights, and unlock a world of networking.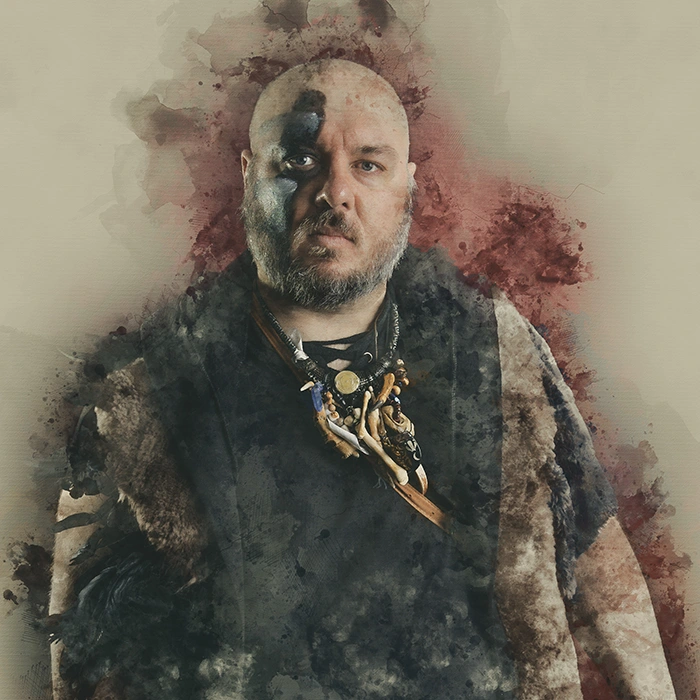 HEFTY YETI
GAMER AND LARPER (UK)
Meet Steve, commonly known by his Twitch username Hefty Yeti, at the Epic Armoury gathering 2023! Steve is a military veteran from the UK who has been roleplaying and LARPing for over 20 years across various systems. Whilst his content is often centred on the system he mainly plays, Empire LRP in the UK, Steve loves to host international guests and explore LARPs from across the globe. His streams and community have been a gateway for many new players into the LARP hobby, with Steve using his platform to share his stories and for others to do so. A standard bearer for the ever-growing LARP hobby, Steve is excited to explore the Gathering and all it has to offer!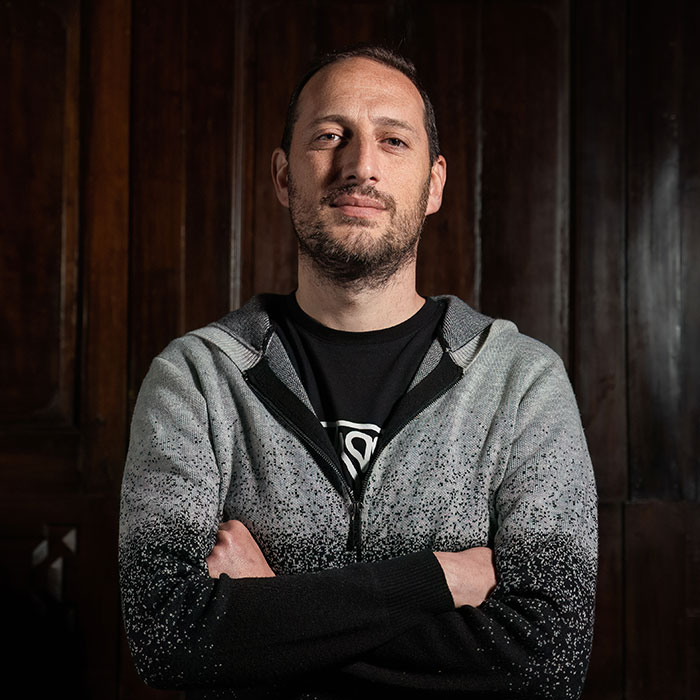 ALESSANDRO GIOVANNUCCI
LARP ORGANIZER AT CHAOS LEAGUE (ITALY)
Alessandro Giovannucci is an Italian lecturer and award-winning larp designer. He is co-founder of Chaos League and author of the Southern-Way larp manifesto. He has written some of the most influential international larps (Sahara Expedition, Bunker 101, Miskatonic University). He is regularly invited as speaker to conferences and workshops, and he published many articles about larp and immersive experiences. He's curious, friendly, crazy about new adventures and looking forward to meeting you!
EPIC STAFF
---
Many members of our staff will be present to meet you. They are the passionate individuals behind Epic Armoury. Engage in insightful conversations about LARP gear, design, photography, and more. Whether you have questions, seek advice, or simply want to connect with fellow enthusiasts, our team is eager to meet you, to share their expertise, and to exchange ideas.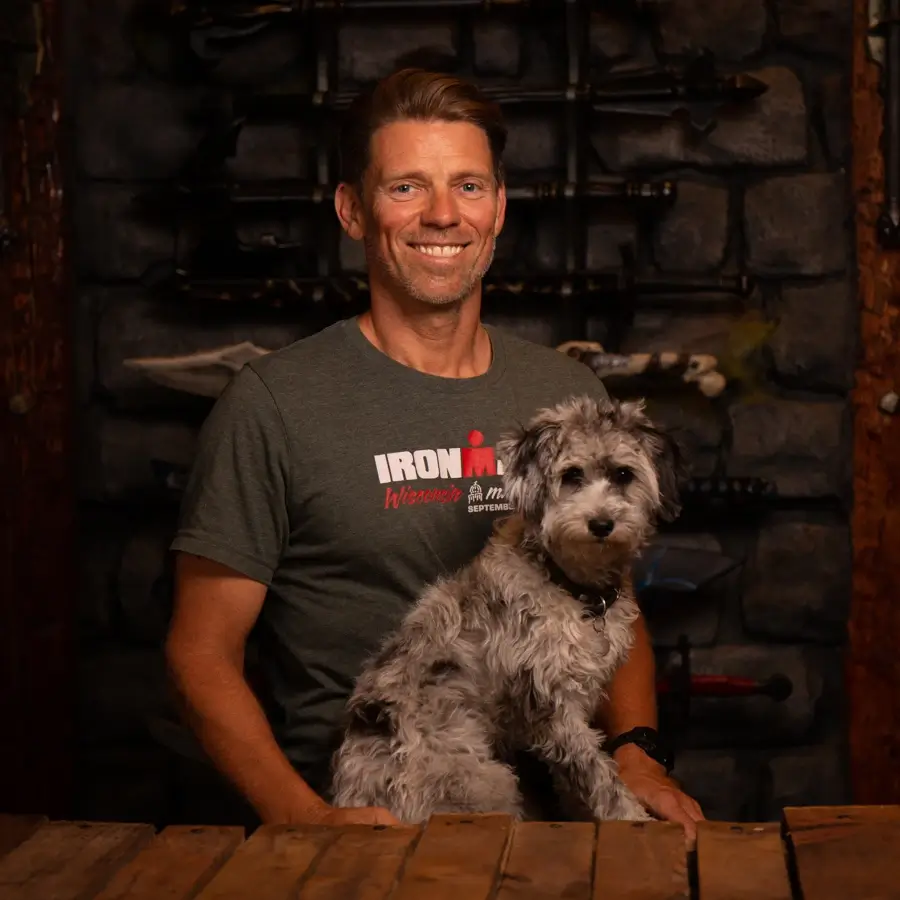 RENÉ VENDT
As co-founder and Chieftain Epic Overlord (CEO) of Iron Fortress, René has immersed himself in LARPing and DnD since 1991. Launching five Dragons Lair hobby shops in Denmark from 1996 to 2004, he founded Iron Fortress in 2008 to create affordable, high-quality LARP gear.
During the Epic Armoury Gathering he will be presenting a Keynote about the Epic Armoury design processes.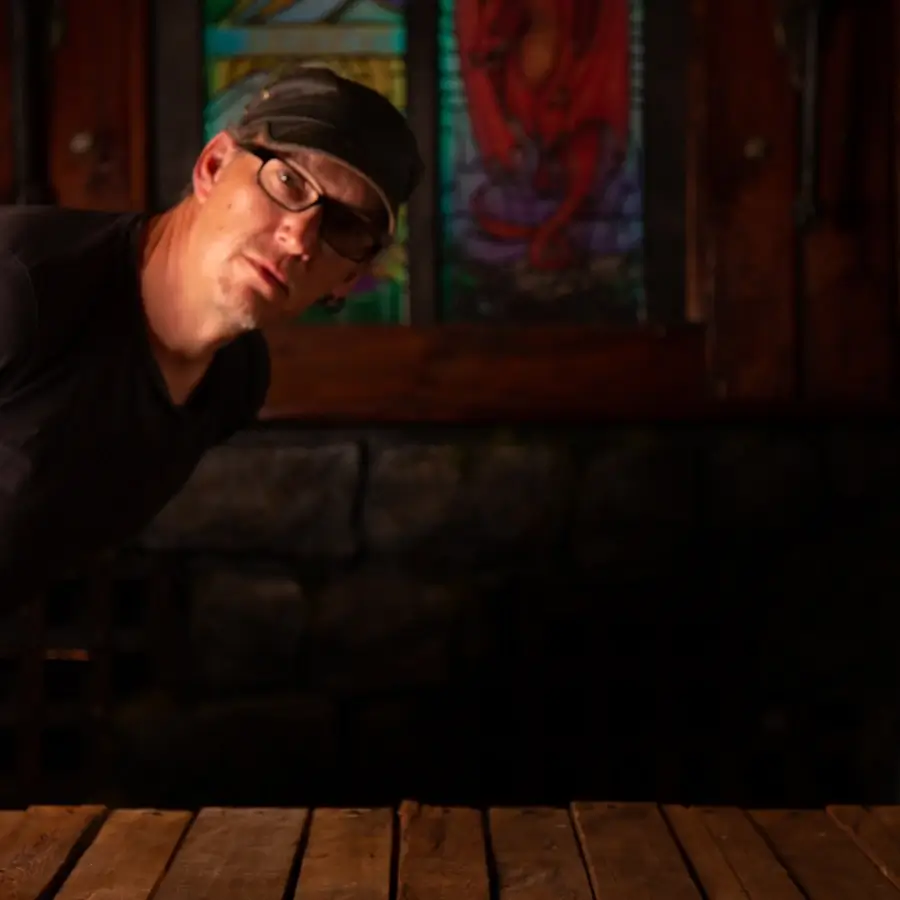 TIIM VALIMAA
Tiim is our seasoned product designer. He has been an integral part of Epic Armoury since its inception. With over 20 years of experience in product design, Tiim brings a wealth of expertise to the team.
It is very likely that the Epic Armoury weapon you have on your shelf was designed by Tiim.
During the Epic Armoury Gathering Tiim will be talking about the design philosophy and the various processes that go into creating LARP gear.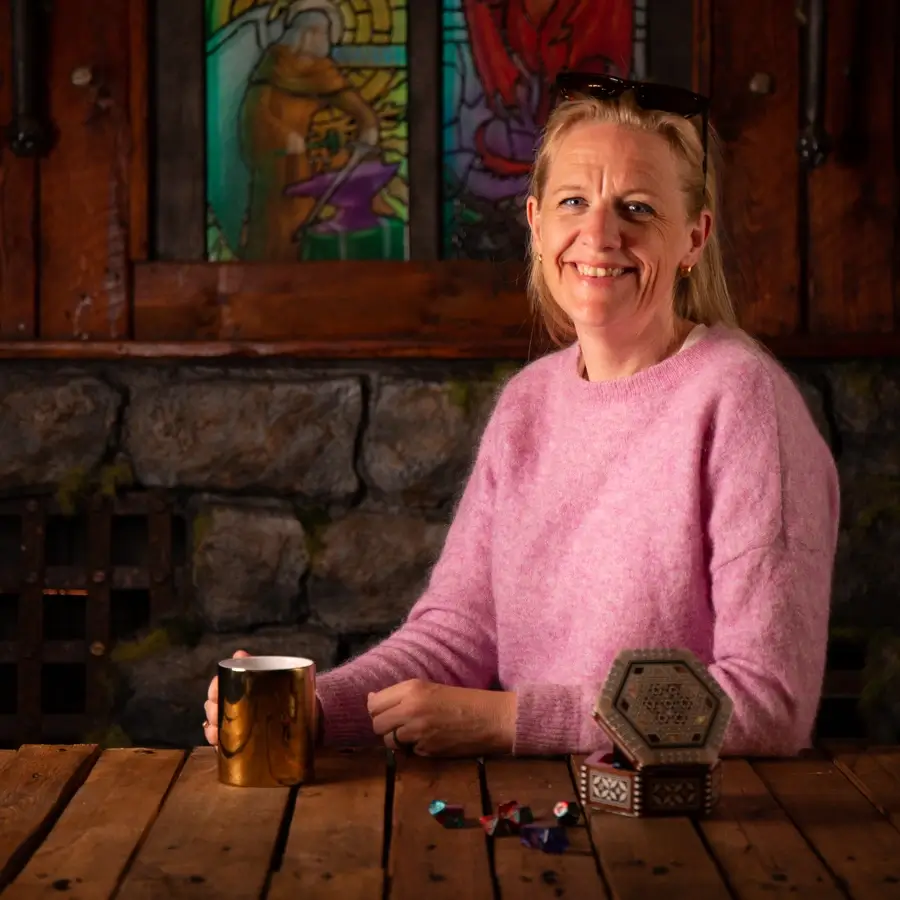 JULIE HOLM
Julie is our clothing and accessory designer. Collaborating with the team, she brings characters to life and orchestrates enchanting photoshoots that unveil the doorways to our brand's unique universes.
When you're wearing Epic Armoury clothing, chances are you are in fact "wearing Julie Holm".
During the Epic Armoury Gathering Julie will be presenting a brand new design collection.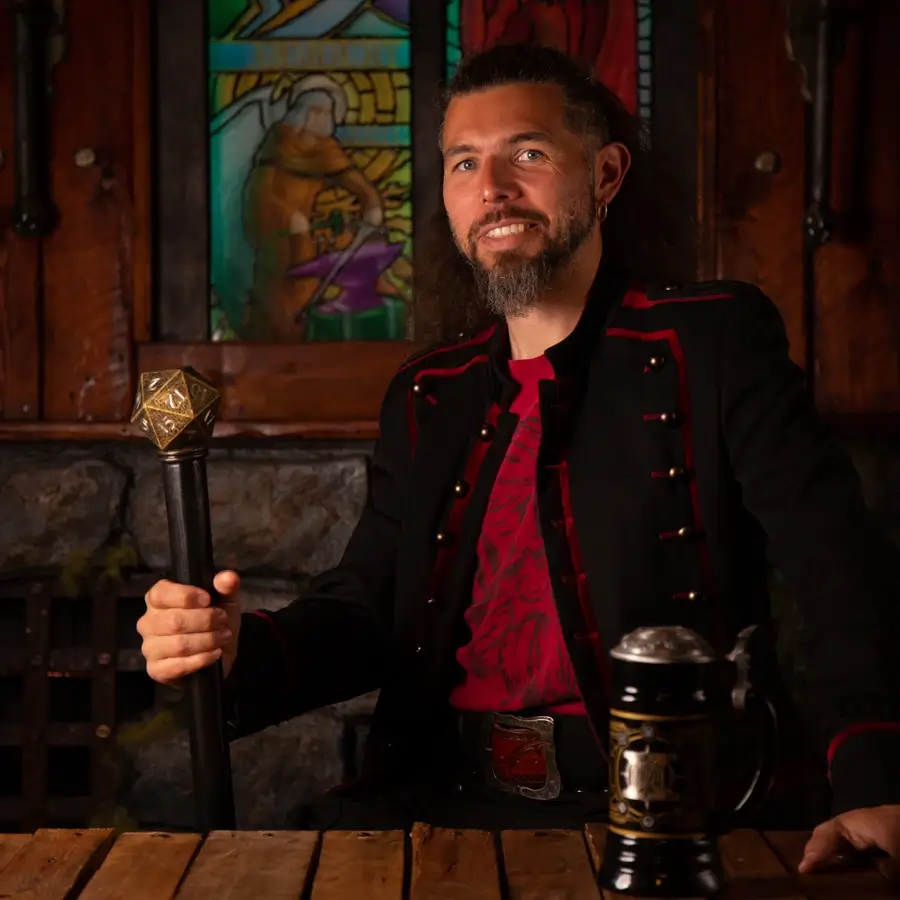 GABRIELE STAZI
Gabriele is our costume designer, excelling in leatherworking and fantasy armours. His film industry experience includes projects like 'Pirates of the Caribbean' and 'Ben-Hur'. Many of the more recent additions to our collection have been created by Gabriele.
During the Epic Armoury Gathering he will be holding a Keynote about character costuming at LARP and on movie sets.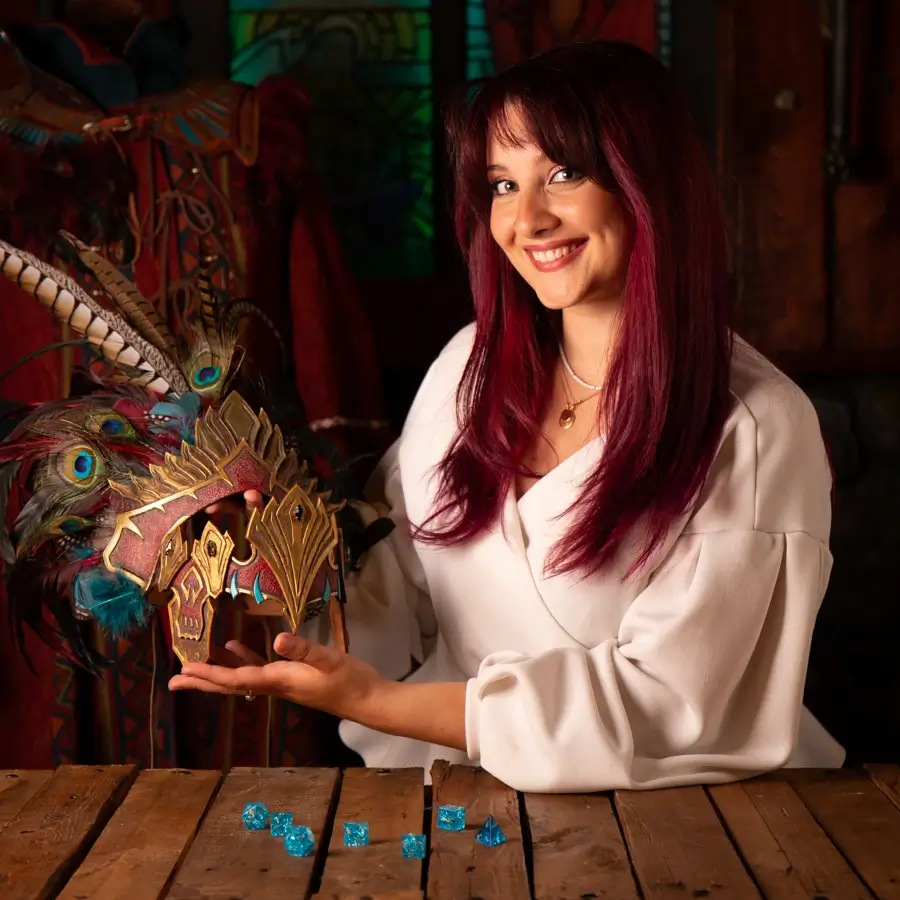 FRANCESCA TRANI
Francesca is our Textile designer. Her collaborations with renowned figures in the film industry showcase her exceptional talent, and with her enthusiasm for and expertise of historical fashion, she is currently working on new designs to enrich our collection. 
During the Epic Armoury Gathering she will be revealing a secret project she has been working on for the past 6 months.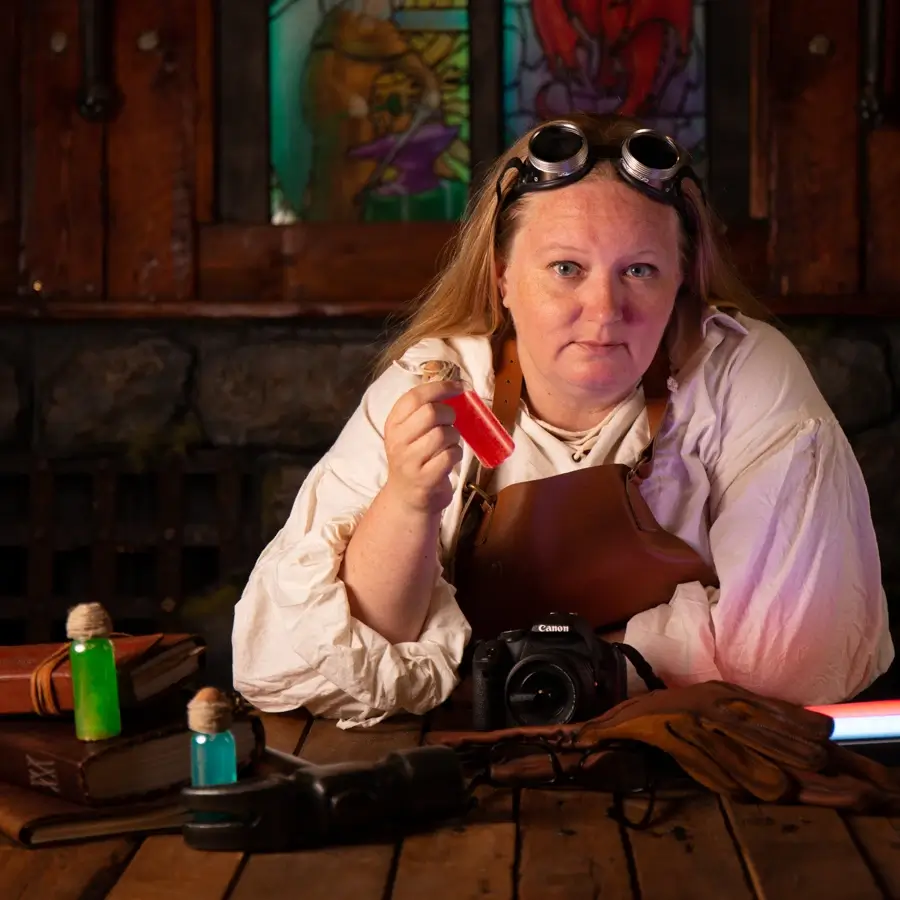 TONIE JOCHUMSEN
Tonie is our photographer. She is dedicated to capturing stunning images that transport viewers into a world of adventure. Her images showcase our products in their various angles and details.
With her keen organisational skills, she is also the one keeping our product information up-to-date.
During the Epic Armoury Gathering she will be taking pictures of the attendees, capturing memories for posterity.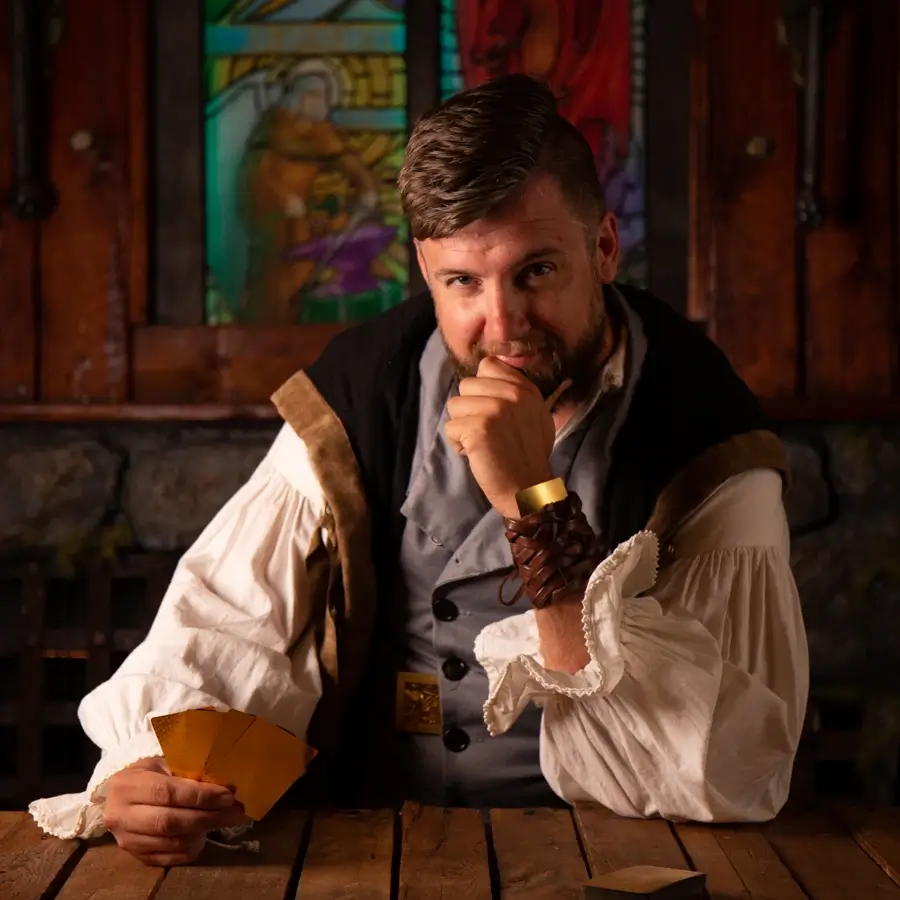 BRIAN HOLTE
Brian Holte is our dedicated merchant and customer relations manager. Since 2009, Brian has been dedicated to the LARP community, spent 9 years as a successful LARP shop manager in Copenhagen.
If you have exchanged emails with Epic Armoury, the chance is high that he was the dedicated worker on the other end.
During the Epic Armoury Gathering Brian will be giving you a guided tour through our warehouses and offices.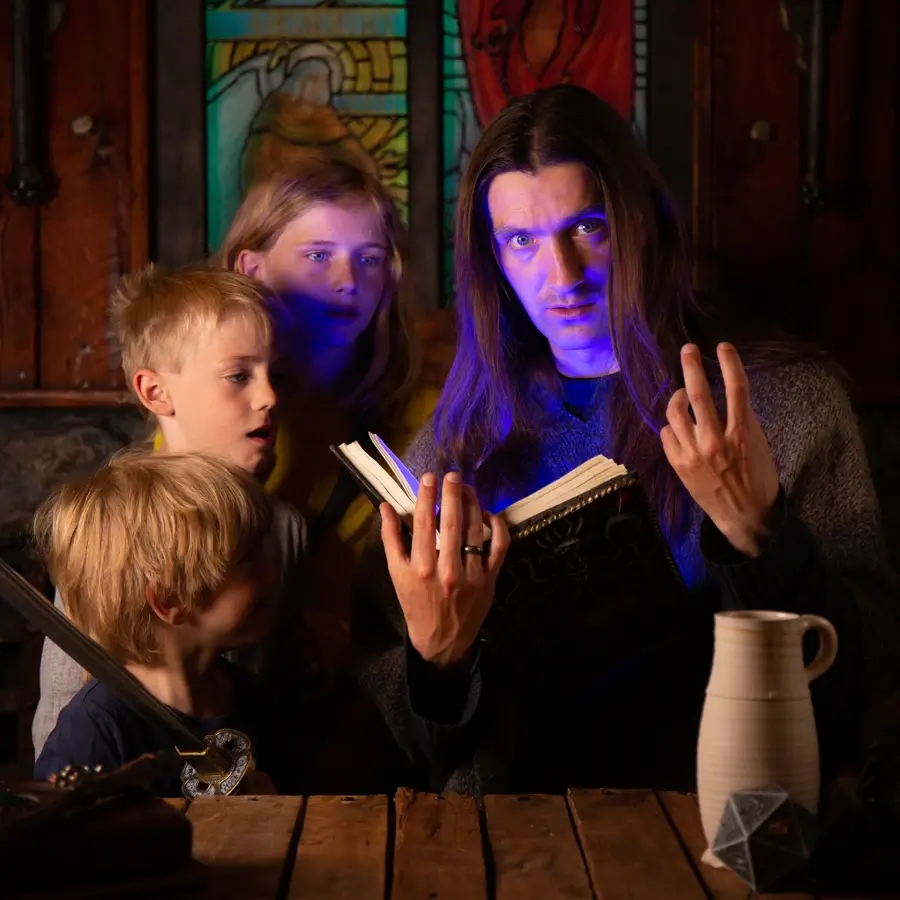 MICK HART
Mick is our storyteller and Content Creator. The tip of his quill is sharp as the puns and ambiguities spun from his silver tongue. He creates the visual content and copywriting for Epic Armoury. Remember those many fun short clips you've seen on Social Media recently? Yeah - that's him!
During the Epic Armoury Gathering Mick will present a Keynore about character building.