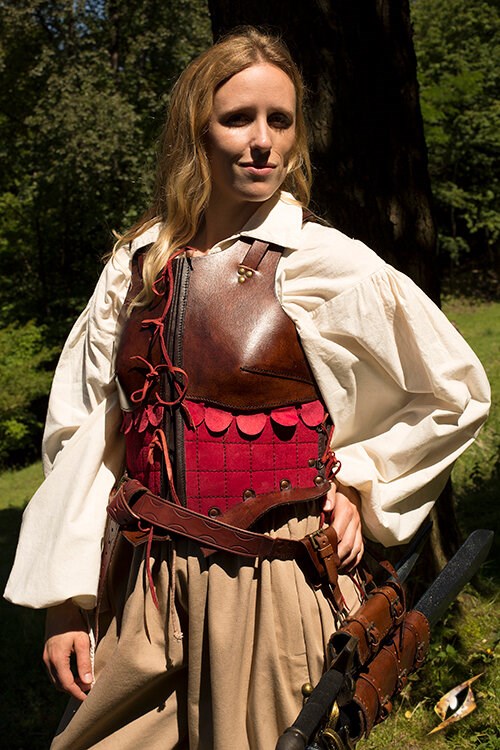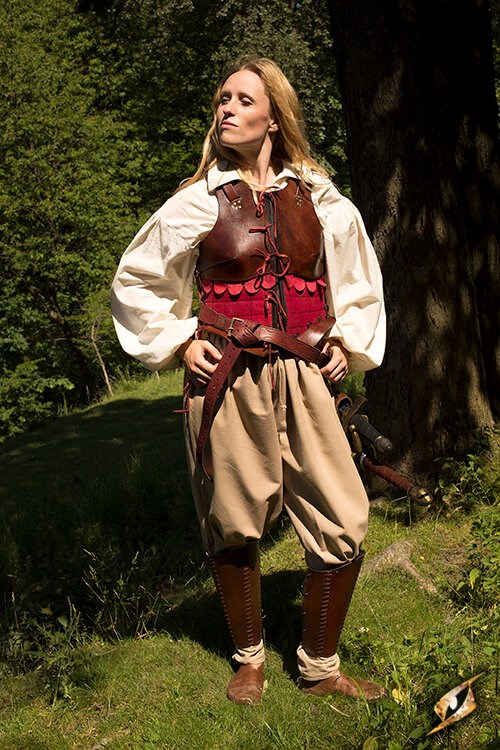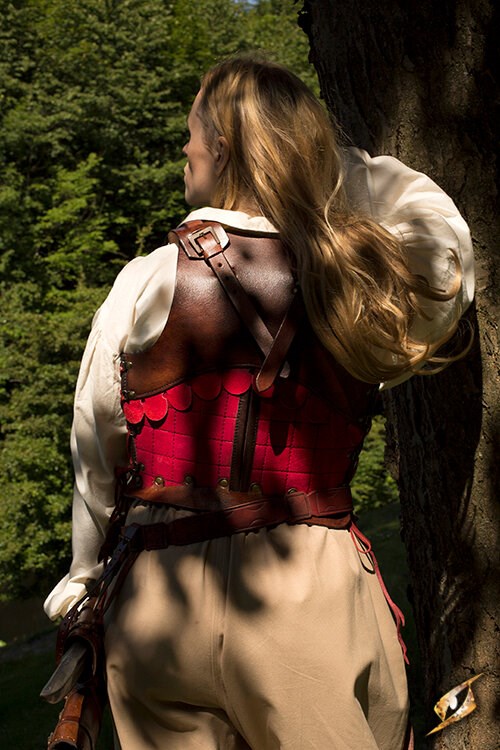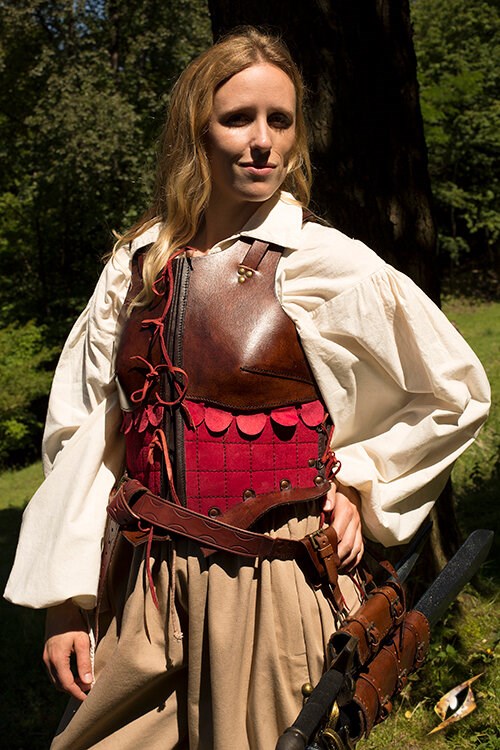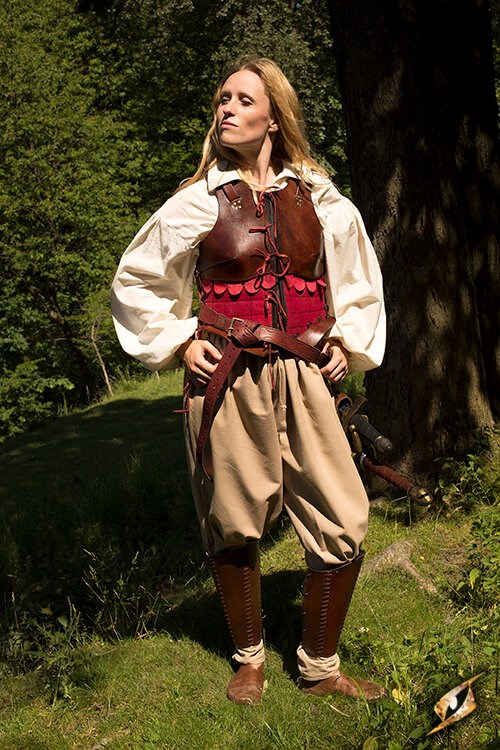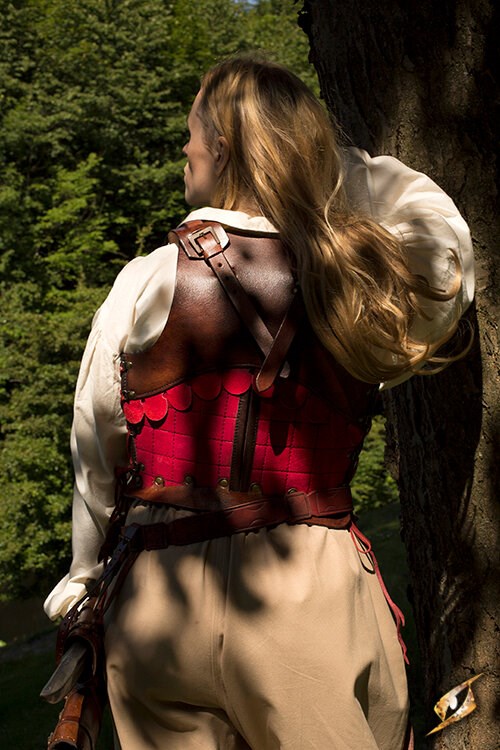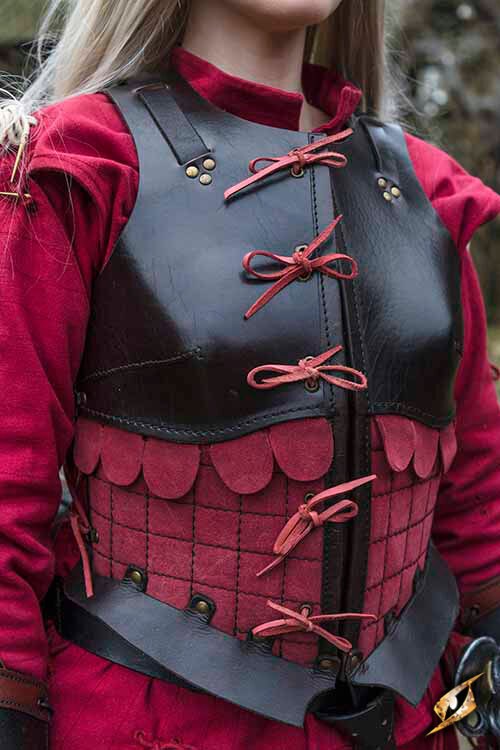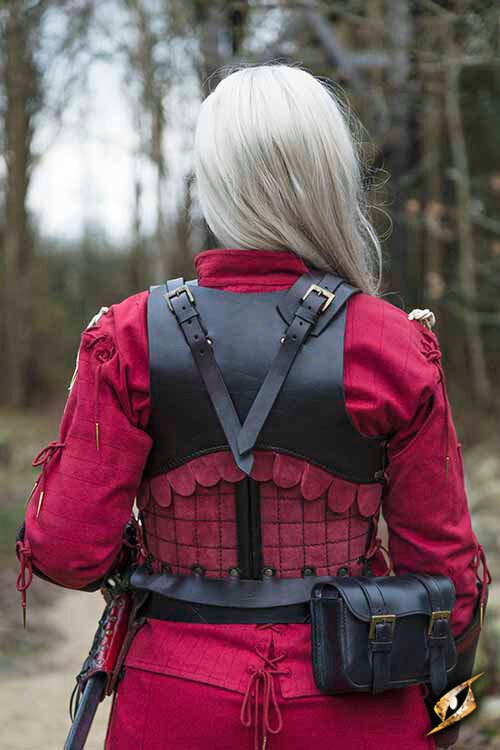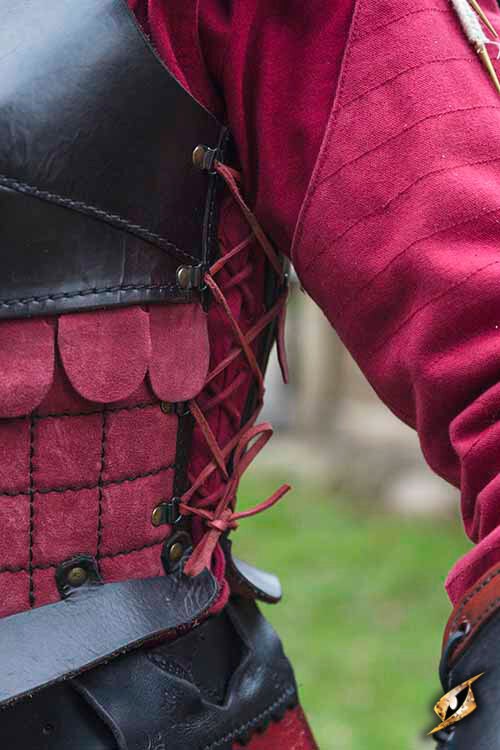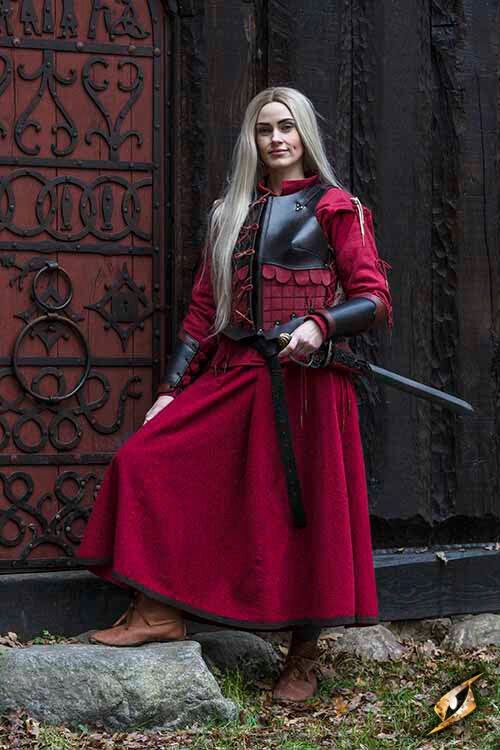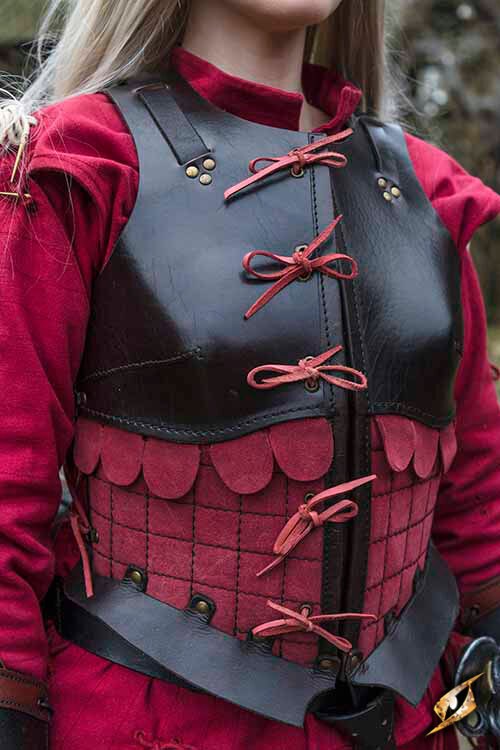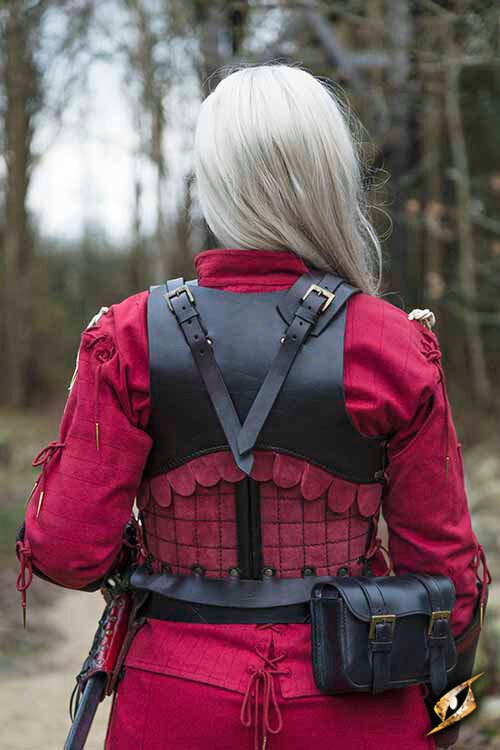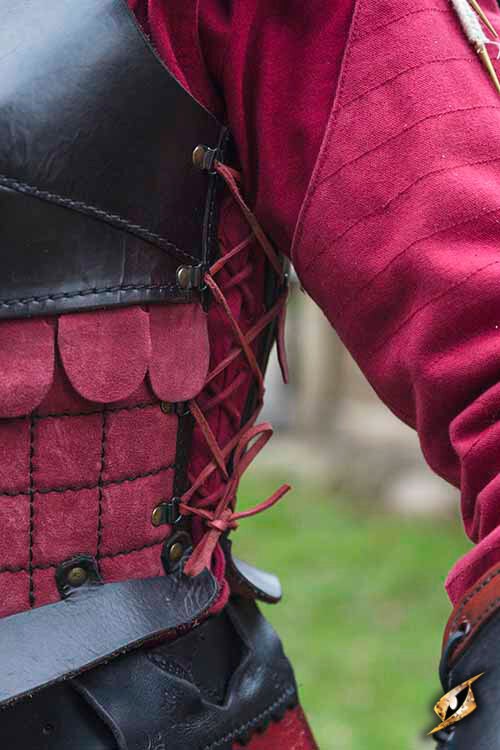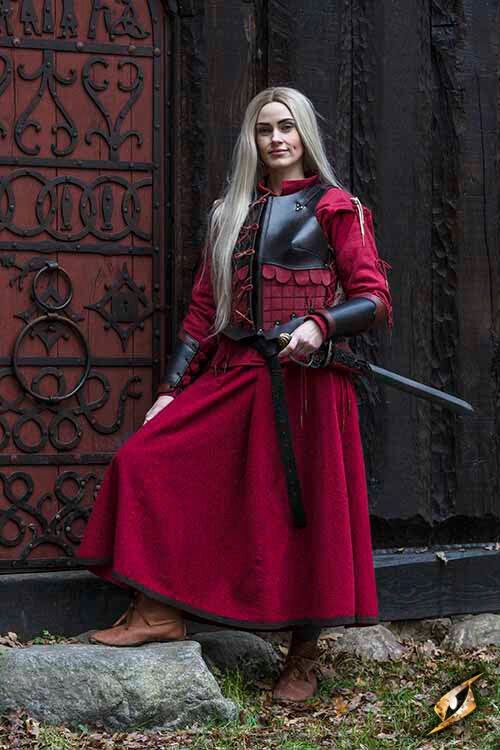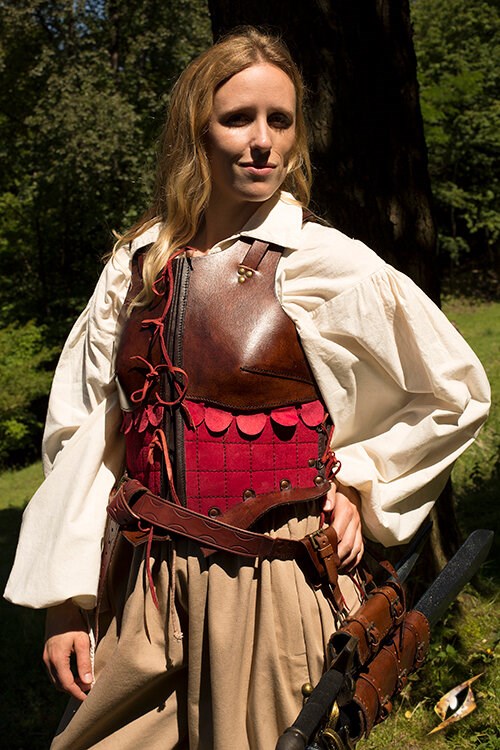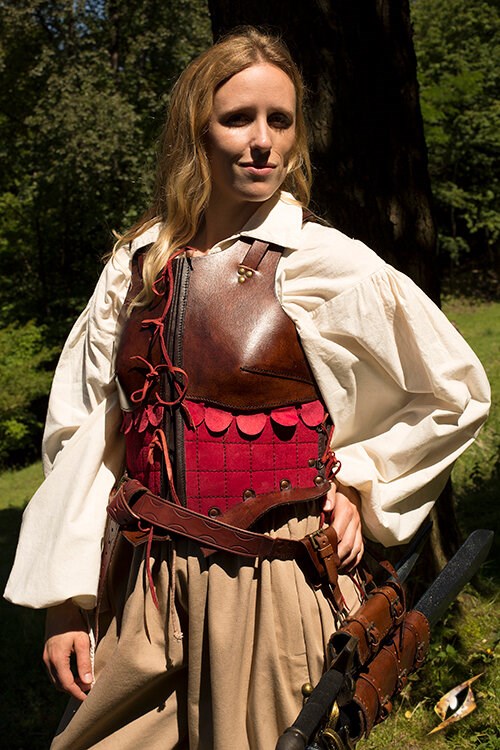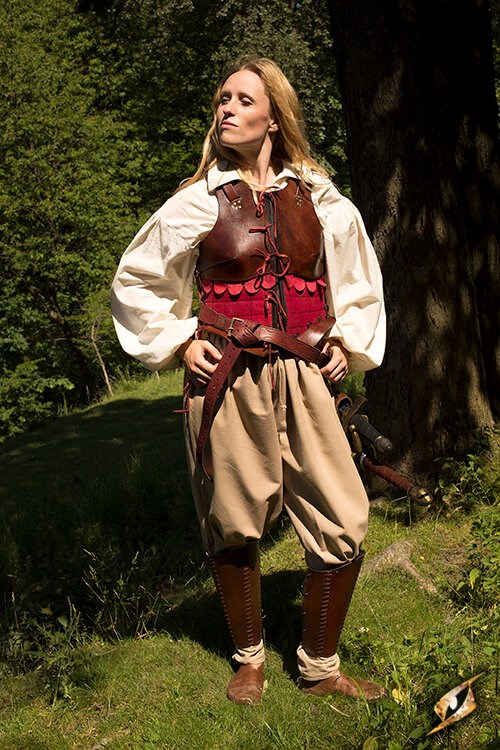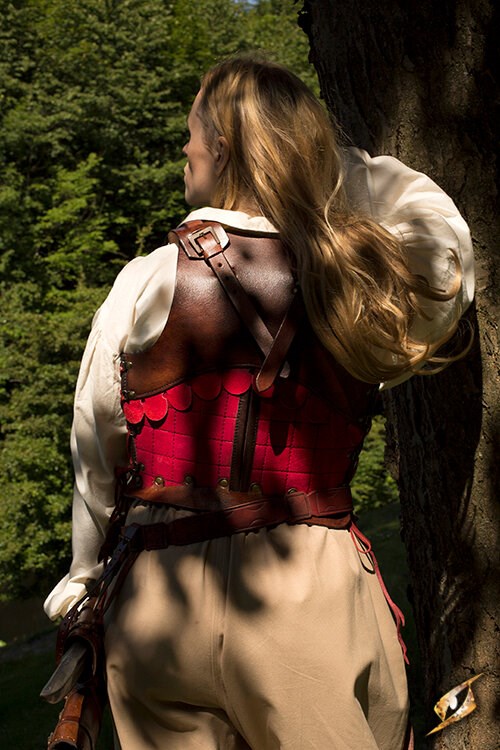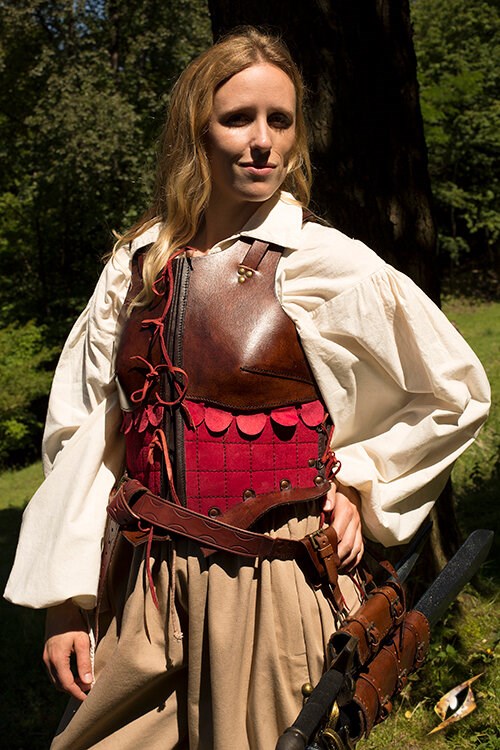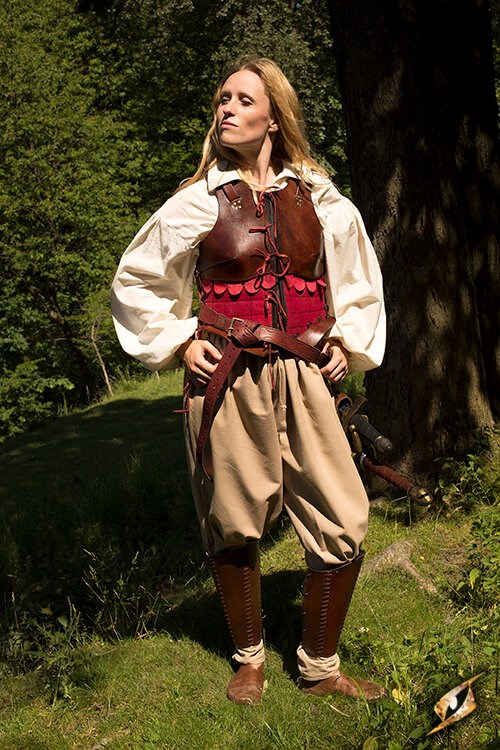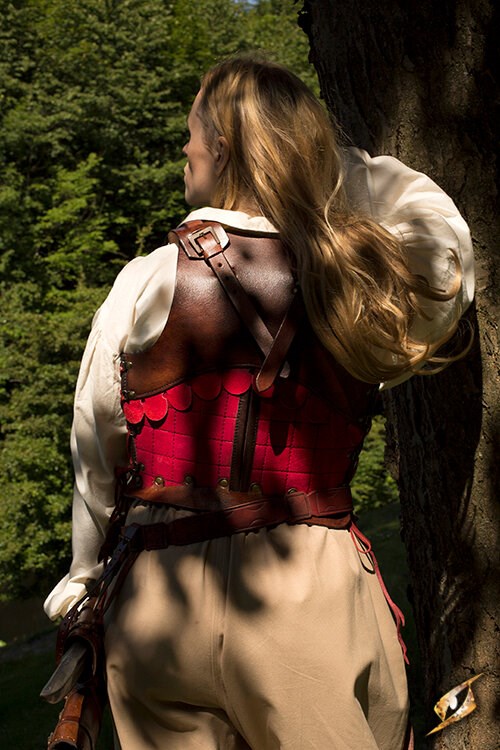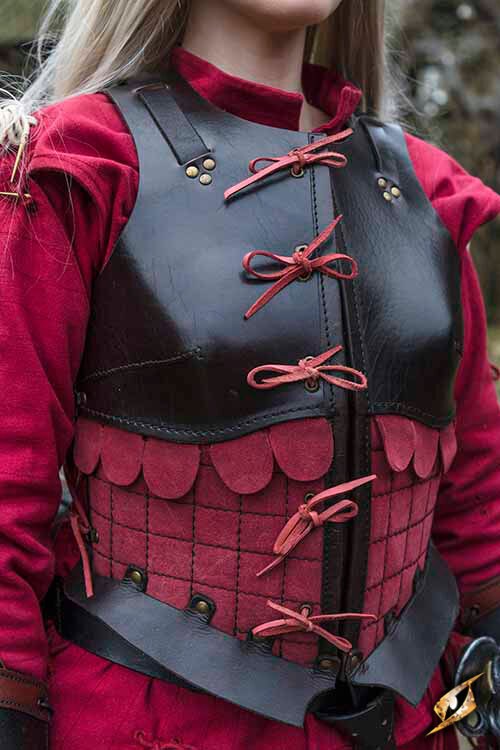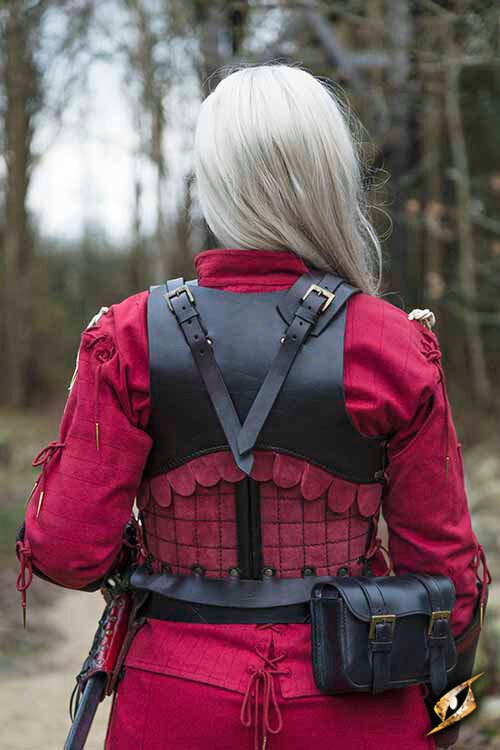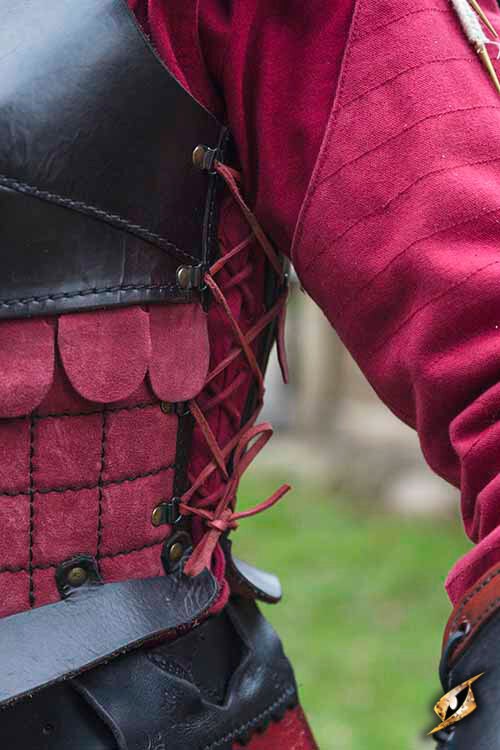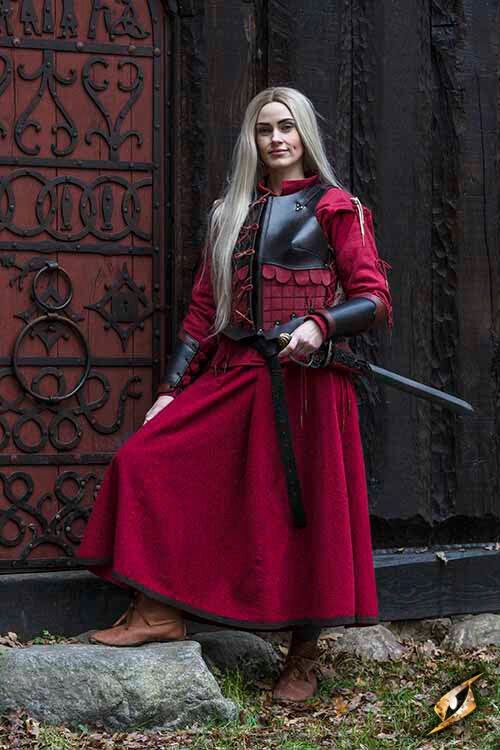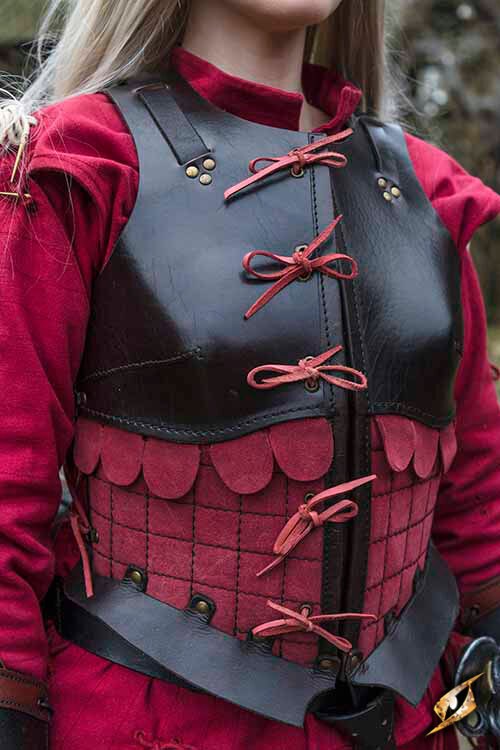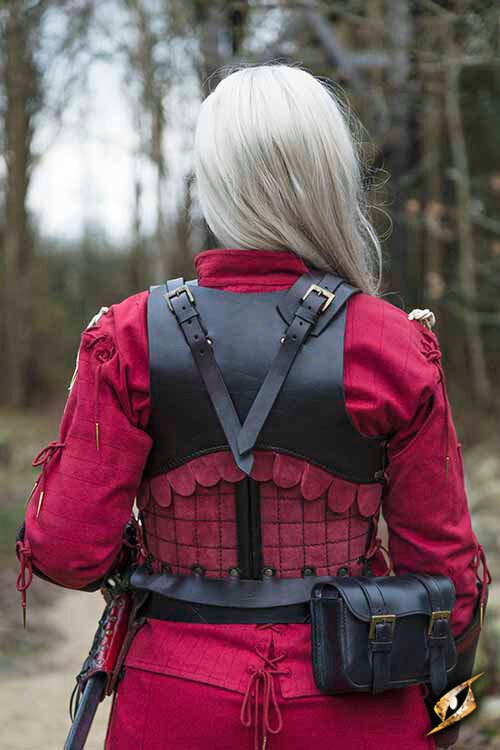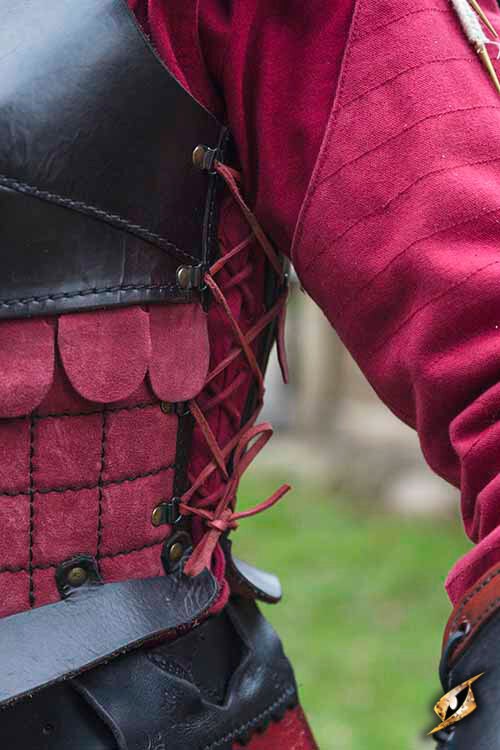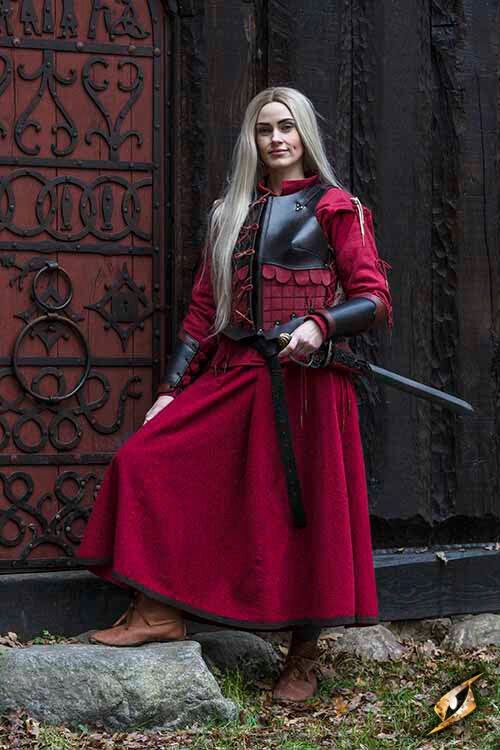 Female Leather Armour
Epic Armoury, Sovereign
In Stock
Available
(choose variant)
Prices from {{ variantsPriceFrom }}
Description

Sizeguide

Fitting

Quality

Technical Details
Dawn is still an hour away, the sky still a deep blue as you don your Female Leather Armour and head out to the training grounds. You are a warrior and a loyal soldier, and you take your role seriously. Before the sun rises you will have practiced your sword strikes one thousand times.
Your muscles are perfected with the ingrained memory of those strikes. Your dedicated training makes combat as easy as breathing, and you look forward to testing your skills once more on the battlefield.
DETAILS
Epic Armoury's Female Leather Armour is a leather cuirass designed to protect the female torso while also providing great flexibility. The upper chestplate, shaped to the female body, is made from sturdy full-grain leather and covers the shoulder, chest, and under the arms. Soft split-leather covers the abdomen and back to allow great mobility, embellished with a squared stitching pattern and a scalloped edge along the top. A stiff full-grain leather flange is stitched to the lower edge to help turn blows away from the hips.
Wear the Female Leather Armour by adjusting the leather cords along the flanks and front opening, and the leather straps along the shoulders. This armour is fully compatible with other Epic Armoury leather and metal armour pieces. While designed to fit an Imperial setting, the style will also match a broad range of worlds and characters, allowing you the freedom to create your own unique style.
Available in colours Black, Brown/Red and Dark Brown/Red; and sizes Small, Medium and Large.
HISTORY
Historically looked down upon as a form of armour, as metal was preferred
Finely crafted leather cuirasses were often worn by high-ranking officers and officials, including several Roman Emperors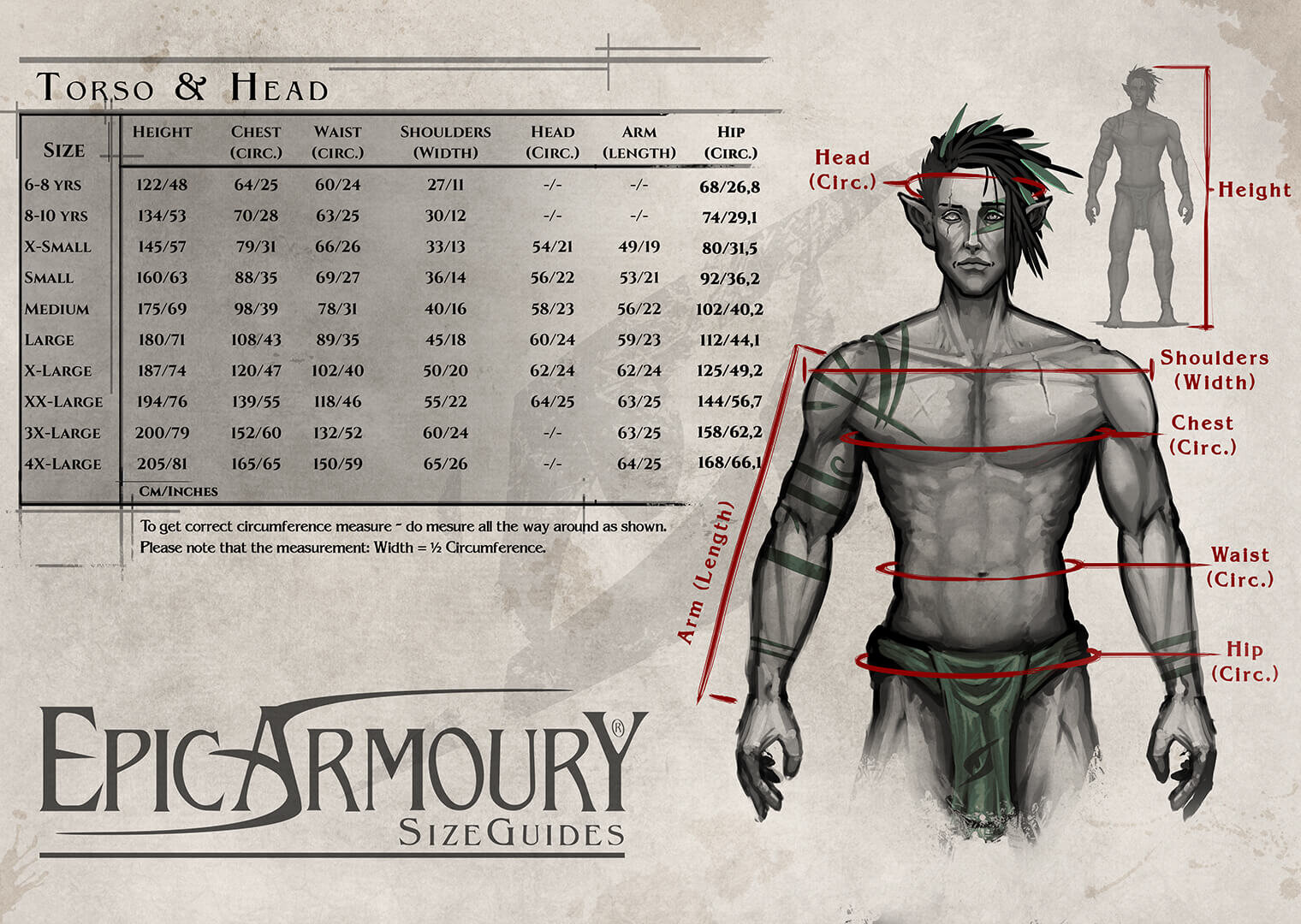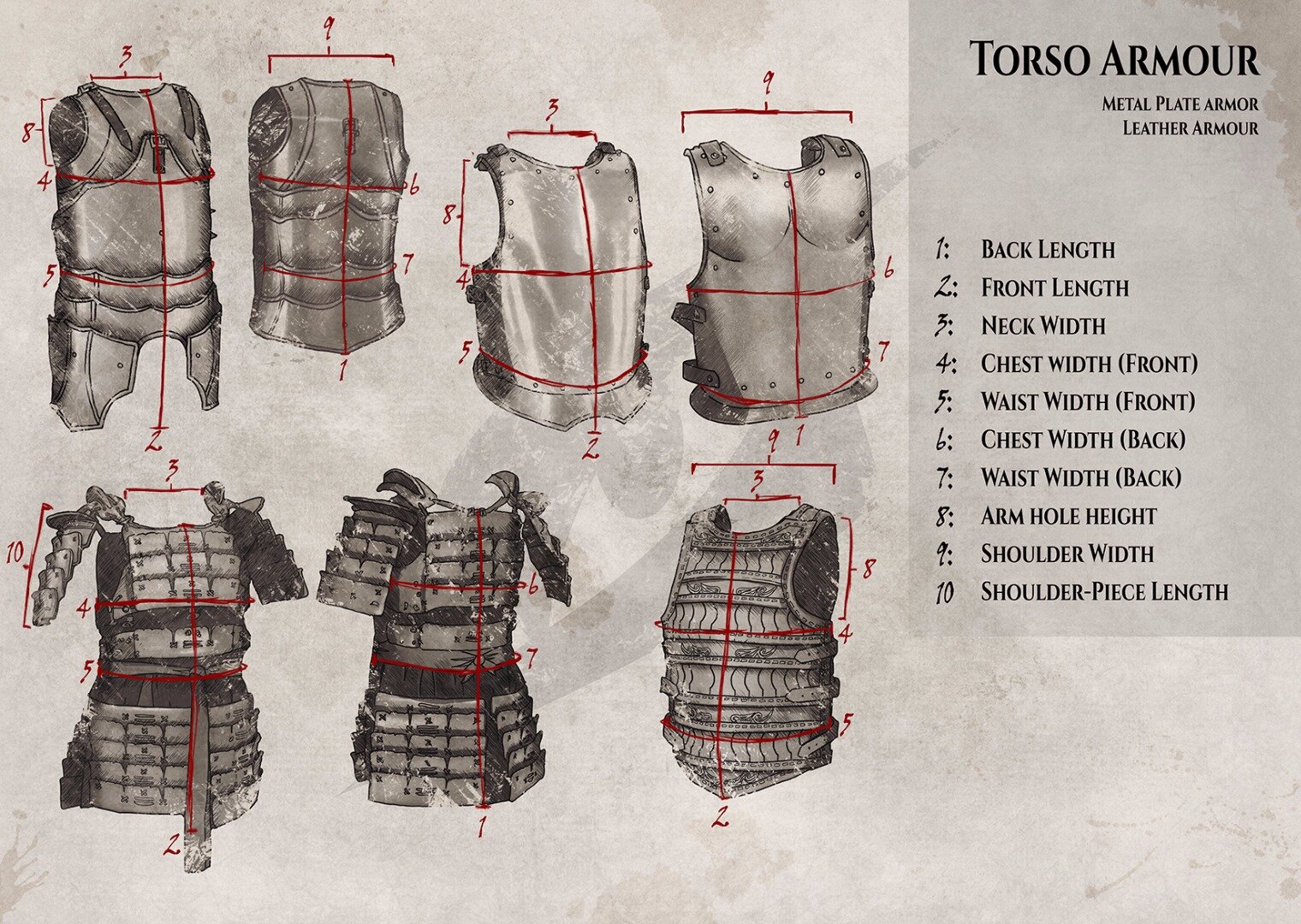 Made from natural, full-grain quality leather
Straps and fittings made from natural, top-grain quality leather
Top-grain leather fittings
Stitching around edges strengthen structural stability and increase lifetime
Colours dyed into material
Handmade by qualified professionals. Measurements are approximations.
This product is handmade and hand-painted and therefore unique. As a result, when compared with similar item numbers, this product can have natural deviations in pattern, colour and shape, which are not considered defects or faults.
We produce our image material in a natural environment, where lighting and surroundings can affect colors and contrast. The displayed images may therefore appear different from the product you receive from us.
Measurements are all in cm if not stated otherwise.
Brand:
Epic Armoury
Universe:
Sovereign
Materials:
Leather, Suede
Position:
Torso
Product type:
Torso Armour
Release date:
02/02/2020
Maintenance
Natural leather products are very durable, but require regular maintenance with leather care products to stay flexible and to increase life-time. Make sure your leather products are kept dry when stored. Let wet leather dry naturally before treating. If frequently wet and dry, increase frequency of maintenance.
Cleaning
Clean by removing dirt with a hard brush, then gently rub on leather soap with a clean, damp cloth until the leather appears clean. Remove soap with a separate damp cloth to wipe away any soap residue and then use a dry cloth to wipe away any remaining water from the leather.
Conditioning
You should always condition leather after cleaning, since the soap will have removed some of its natural oils. Treat the leather with mink oil, olive oil, or beeswax polish with a clean cloth, gently rubbing a small amount of oil or polish in circles into the leather. Allow the leather to soak in the oil before wiping the leather with a final clean cloth to remove any excess residue.